Arsenal of Information
---
---
---
Dossiers:
Marshall Islands Lawsuit
Conference on the Humanitarian Impact
MOX / Plutonium Disposition
CMRR-Nuclear Facility
Nuclear Testing Since 1945
Atomic Histories
Fukushima Disaster and Updates
---
---
Nuclear Watch Interactive Map of the
Nuclear Weapons Complex
View full size
Facilities:
Kansas City Plant
Lawrence Livermore National Labs
Los Alamos National Laboratory
Nevada National Security Site
Pantex Plant
Sandia National Laboratories
Savannah River Site
Washington DC
Waste Isolation Pilot Plant (WIPP)
Y-12 National Security Complex
Facility Spotlight:
- NNSA Cuts Los Alamos Lab's Award Fees by 90%
- DOE IG Report: Sandia Labs Misused Federal Funds
- Y-12: Poster Child For A Dysfunctional Nuclear
Weapons Complex
Follow the Money!

---
NNSA FY 2016 Budget Request
- Nuclear Watch Analysis/Compilation (PDF)
---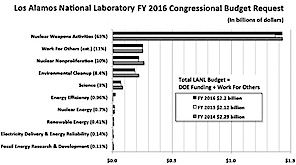 LANL FY 2016 Budget Request
Click to view full PDF incl. annotations
---
Lawrence Livermore FY 2016 Budget Request


View full PDF incl. annotations
Chart by Tri-Valley CARES
---
Congressional Budget Office report:
Projected Costs of Nuclear Forces 2014-2023

CBO presentation based on the report: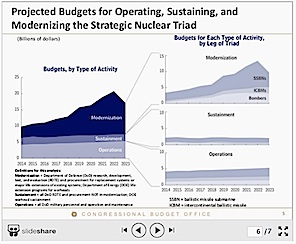 Click to view presentation
---
For Immediate Release, Dec. 21, 2013:
One Trillion Dollars Over Thirty Years:
Nuclear Weapons "Modernization"
Locally, Los Alamos Lab Cleanup and Job Creation Are Imperiled
(View/download NWNM Press Release PDF)
---
Stockpile Stewardship and Management Plan
View/Download FY 2015 SSMP (PDF)
NWNM Analysis (PDF) / Analysis Summary (PDF)
---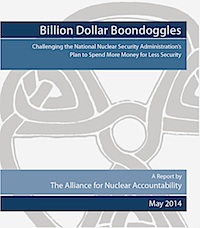 Billion Dollar Boondoggles
Alliance For Nuclear Accountability Report 5/2014

---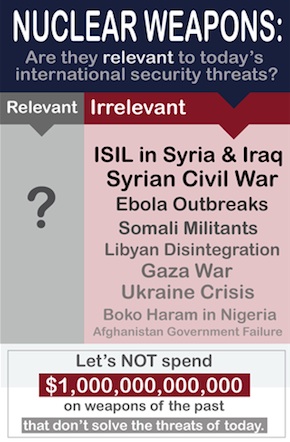 Credit: Chain Reaction/Livable World
---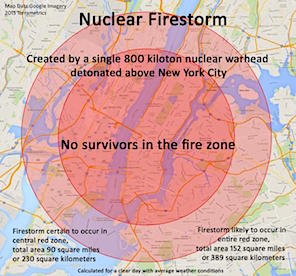 What would happen if an 800-kiloton nuclear warhead detonated above midtown Manhattan?
You should read this.
---
Nuclear Watch Media
---
See the NukeWatch YouTube channel
for our collection of videos.
---
Tom Collina on Federal News Radio:
April 8, 2015, "In Depth" with Francis Rose: Mr Collina discusses Congress avoiding tough decisions on defense budget by bloating Overseas Contingency Operations, the Smarter Approach to Nuclear Expenditures Act, and the Budget Control Act. (Listen/download audio)
---
The Carnegie Int'l Nuclear Policy Conference
held March 23-24 in Wash. DC, has ended; videos of talks and forums can be seen at the Carnegie site.
---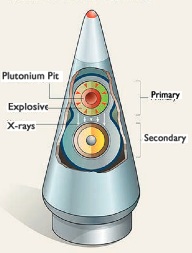 Successful Citizen Activism Against
Expanded U.S. Plutonium Pit Production
This is the unsung story of successful citizen activism against repeated government attempts to expand the production of plutonium pit cores, which has always been the choke point of resumed U.S. nuclear weapons production. This history is a critical part of the march toward a future world free of nuclear weapons. We gratefully dedicate it to Leroy Moore, longtime activist with the Rocky Mountain Peace and Justice Center, and J. Carson Mark, retired director of the Los Alamos Lab's Theoretical Division and ardent arms control advocate.
(View/download full report- PDF)

Update, 2/27/15:
"[Sen.] Udall can't have it both ways, wishing for future limits on plutonium pit production while supporting the very programs and facilities that will expand production. He needs to stand up, pick one or the other, and make clear whether he is working for a world free of nuclear weapons or not."
-Jay Coghlan, executive director of Nuclear Watch New Mexico, in a published comment on a Feb 22 Santa Fe New Mexican article titled "Udall weighs in on LANL's next mission: Pits".
---
March 27: NukeWatch Fact Sheet
Plutonium Pit Production
In 1989, an FBI raid investigating environmental crimes abruptly stopped the annual production of hundreds of plutonium pits at the Rocky Flats Plant near Denver.
In 1997 the Department of Energy reestablished limited production of up to 20 pits per year at the Los Alamos National Laboratory (LANL).
Since the turn of the century citizen activists have stopped the National Nuclear Security Administration in each of its four attempts to expand production far beyond the 20 plutonium pits per year.
Plutonium pit production has always been the choke point for resumed U.S. production of new nuclear weapons. See the NukeWatch fact sheet including a timeline of pit production restart attempts:
(View/download "Plutonium Pit Production at LANL")
---

Recent visitors - click to enlarge
---

"If you really want a future world free of nuclear weapons, you can hardly make a better investment than to give to Nuclear Watch New Mexico. They need and deserve your support so that they can carry on their groundbreaking work. I urge you to be generous with them!" - Danielle Brian, Executive Director, Project on Government Oversight.
Please support our work! Donations are tax-deductible

New & Updated
---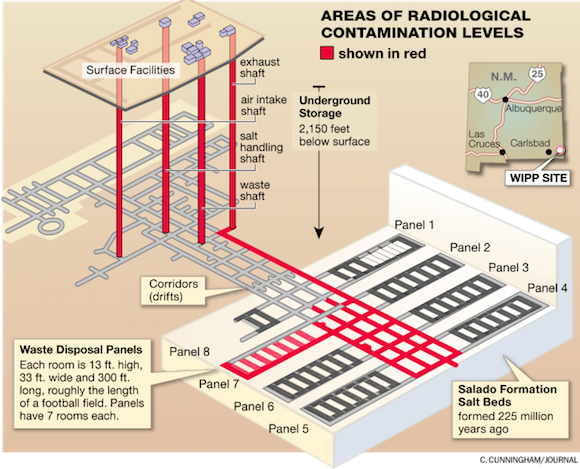 Los Alamos Town Hall Meeting on WIPP Accident Investigation Board Findings
On Thursday, April 23, the Department of Energy will host a Town Hall meeting in Los Alamos to discuss the Accident Investigation Board (AIB) findings from the Feb. 14, 2014 drum breach that shut the Waste Isolation Pilot Plant down. Members of the AIB, will be on hand to present the findings and answer questions. The meeting will begin at 5:30 p.m. April 23 at Fuller Lodge, 2123 Central Ave, Los Alamos.
The meeting will be broadcast live on radio stations KRSN 1490 AM and FM 107.1. It will also be audio-streamed live on the KRSN website.
Questions from listeners can be emailed to toni.chiri@nnsa.doe.gov
A video of the meeting will be posted to YouTube Friday titled 'Los Alamos AIB Town Hall'.
- Here is the AIB's Carlsbad presentation, which we believe will be given in Los Alamos as well:
View/download PDF
- Here is the AIB Phase II Report View/download PDF
- More information on our WIPP page

WIPP Leak: Federal Investigators Blame LANL & WIPP Contractors, DOE, NNSA
The Accident Investigation Board, appointed by the Department of Energy, has found that:
- "Managers at LANL were not receptive to bad news and would retaliate in response to reported issues."
- "Management didn't listen when workers at the waste processing facility reported witnessing 'foaming and an orange or yellow colored smoke coming from drums.'"
- "One employee also said 'when workers questioned the logic of using organic cat litter, 'they were told to focus on their area of expertise and not to worry about other areas of the procedure.'" (Albuquerque Journal)
"Federal investigators found that a dozen problems at the lab and Department of Energy offices overseeing waste processing contributed to the accident, including failure of Los Alamos National Security to effectively review and control waste packaging, train contractors and identify weaknesses in waste handling. The board also found that contractors Los Alamos National Security and Energy Solutions, and the National Nuclear Security Administration office at the lab failed "to ensure that a strong safety culture existed within... the organization at the lab." (New Mexican)

Critical failures of leadership at every level
New Mexico's congressional delegation said in a joint statement "a series of critical failures of leadership at every level led to the very serious accident and release that put numerous New Mexicans at risk, shuttered WIPP for over a year and (has) already cost taxpayers tens of millions of dollars. This report makes clear that the DOE and its contractors failed to keep faith with the people of New Mexico."
LANL director Charles McMillan wrote in a letter to staff that "the report points out serious deficiencies in our processes and procedures... We now know from the investigations that if LANL had followed certain basic steps, this event would not have happened. Also, if we had complied with our hazardous waste permit, we would have avoided the serious legal and credibility issues we now face... Quite simply, we failed to execute sufficient regulatory and technical reviews in our management of the legacy (transuranic waste) nitrate-salt waste stream."
Director McMillan, whose annual compensation exceeds $1.5 million, outlined LANL's long list of changes and improvements that have been made. "I believe we are turning a corner on this difficult time for the Lab."
One wonders if LANL will be turning that corner together with the current management.
(Sources: Albuquerque Journal, Santa Fe New Mexican, AP Wire News)
---
MOX Update April 22:
UCS reports new DOE estimate: $47.5 billion, up 90% in one year
Union of Concerned Scientists is reporting today that the DOE's new MOX report puts "to-go" cost at $47.5 billion, compared to the $25.1 billion 'to-go' estimate in 2014. But it gets worse... read the details here.
---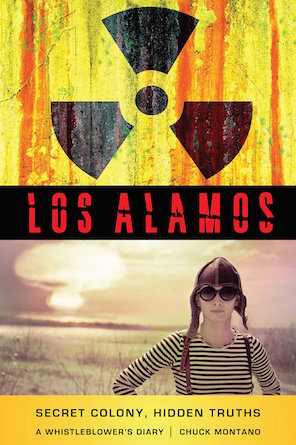 Los Alamos: A Whistleblower's Diary
"A shocking account of foul play, theft and abuse at our nation's premier nuclear R&D installation, uncovering a retaliatory culture where those who dare to question pay with their careers and, potentially, their lives.
"Tommy was unrecognizable. His face was swollen, bruised, and stained with blood, his eyes barely visible through ballooning eyelids and a broken jaw. On his cheek was a ghostly imprint- the tread mark of someone's shoe. Suddenly, with a slight movement of his hand, Tommy waved me in closer to hear him. Speaking softly through lips that barely moved, he said, 'Be careful . . . They kept telling me to keep my fucking mouth shut; they kept telling me to keep my fucking mouth shut,' he repeated." (read more excerpts at the book's website)
Los Alamos: A Whistleblower's Diary, by Chuck Montano. Release date April 28, 2015. Pre-order your copy from Amazon, or better yet, from the author directly.
Chuck Montano serves on Nuclear Watch New Mexico's Steering Committee.
---
Sen. Markey (D-Mass.) and Rep. Blumenauer (D.Ore.) Introduce SANE Act
Senator Edward J. Markey (D-Mass.) and Congressman Earl Blumenauer (D-Ore.) today introduced bicameral legislation that would cut $100 billion from the bloated nuclear weapons budget over the next decade.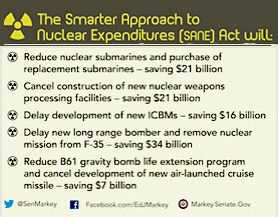 Click to enlarge

The Smarter Approach to Nuclear Expenditures (SANE) Act cuts specific nuclear weapons and related programs without harming national security. The United States spends more money on nuclear weapons than all other countries combined. "We are robbing America's future to pay for unneeded weapons of the past," said Senator Markey. "As we debate the budget and Republicans rally around devastating cuts to Medicare, Head Start and investments in research and science, it makes no sense to fund a bloated nuclear arsenal that does nothing to keep our nation safe in the 21st century. We should cure disease, not create new instruments of death. We should fund education, not annihilation. Even within its own budget, the Defense Department should prioritize spending for current threats from ISIL, al Qaeda and cyberterrorists. The SANE Act cuts the nuclear weapons and delivery systems that we don't need and will never use so we can invest in the people and programs that will make America safe and prosperous in the future." (View/download SANE Act text)
View/download Sen.Markey and Rep. Blumenauer joint press release
Tell your Congresspeople you support the SANE Act
---
The Nuclear Non-Proliferation Treaty entered into force 45 years ago this month
From the White House statement:
"As I stated in Prague in 2009, reinforced in Berlin in 2013, and again reaffirmed last month in my National Security Strategy, the United States seeks the peace and security of a world without nuclear weapons. We encourage all states to strengthen the NPT as a basis for international cooperation to achieve that shared goal. The NPT remains essential today, and our efforts to achieve nuclear disarmament cannot succeed unless we stand together to prevent the spread of nuclear weapons and work for full compliance with the NPT."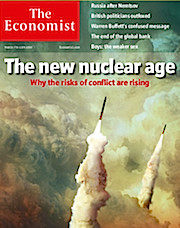 And yet, as the Economist wrote in the cover story for its March 7 issue, "...there has been no attempt to reduce the role of nuclear weapons in the military and security doctrines of the five permanent members of the UN Security Council, despite their commitments under the NPT." (source)

Note that the Republic of the Marshall Islands brought a lawsuit against the US government for not meeting its obligations under the treaty; the lawsuit was thrown out of court on jurisdictional grounds in February. (A parallel lawsuit has been filed in the Hague with the ICJ.)

In the absence of real movement toward a nuclear-free world, more states are now eyeing the nuclear option, and the nuclear states are all "modernizing" their arsenals. "Every nuclear power is spending lavishly to upgrade its atomic arsenal (see article). Russia's defense budget has grown by over 50% since 2007, and fully a third of it is devoted to nuclear weapons: twice the share of, say, France. China, long a nuclear minnow, is adding to its stocks and investing heavily in submarines and mobile missile batteries. Pakistan is amassing dozens of battlefield nukes to make up for its inferiority to India in conventional forces. North Korea is thought to be capable of adding a warhead a year to its stock of around ten, and is working on missiles that can strike the west coast of the United States. Even the Nobel peace laureate in the White House has asked Congress for almost $350 billion to undertake a decade-long program of modernization of America's arsenal." See Economist, "The New Nuclear Age".
The 2015 Review Conference of the Parties to the Treaty on the Non-Proliferation of Nuclear Weapons (NPT) will meet April 27- May 22, 2015 in New York City. (See 'Critical Events' at top right.) - See the NPT text at the UN site
---
For immediate release: March 5, 2015
Watchdog Groups Praise NNSA Decision to Obey the Law,
Prepare Supplement Analysis on Bomb Plant
"The National Nuclear Security Administration's disclosure that the agency is "in the process" of preparing a Supplement Analysis for the much-changed Uranium Processing Facility (UPF) at the Y-12 nuclear weapons production plant brought praise from the Oak Ridge Environmental Peace Alliance (OREPA) and Nuclear Watch New Mexico. Just two days ago the two grassroots watchdog groups filed an expedited Freedom of Information Act request asking for the Supplement Analysis. At the same time the two groups noted that NNSA could be legally vulnerable without one. ..." View/download full press release
---
February 20, 2015:
Projected Costs of U.S. Nuclear Forces, 2015 to 2024
Michael Bennett, National Security Division, Congressional Budget Office
(View/download full size chart with keys and annotations)
---
February 20, 2015: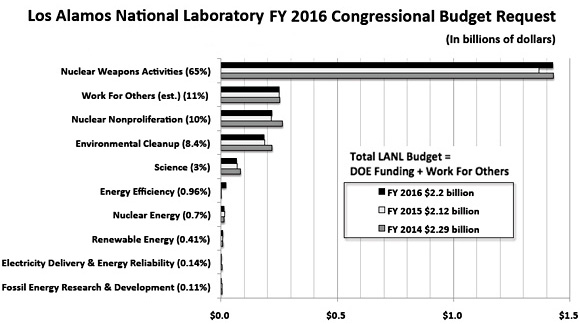 Los Alamos National Laboratory FY 2016 Congressional Budget Request
(View/download full size chart with keys and annotations)
---
January 22, 2015:


Doomsday Clock: Three Minutes to Midnight
"Today, more than 25 years after the end of the Cold War, the members of the Bulletin of the Atomic Scientists Science and Security Board have looked closely at the world situation and found it highly threatening to humanity- so threatening that the hands of the Doomsday Clock must once again be set at three minutes to midnight, two minutes closer to catastrophe than in 2014."
"In 2015, unchecked climate change, global nuclear weapons modernizations, and outsized nuclear weapons arsenals pose extraordinary and undeniable threats to the continued existence of humanity, and world leaders have failed to act with the speed or on the scale required to protect citizens from potential catastrophe. These failures of political leadership endanger every person on Earth."
- Read the full Bulletin statement here.
- See a chronology of the changes to the Doomsday Clock, and the reasons for the changes, included in this Washington Post article.
- See a chart of these changes since 1947

The risks are higher now...
Theodore Postol recalls the sequence of coincidences 20 years ago this week which nearly triggered a US-Russia nuclear war- during a less antagonistic climate than we have today:
"How the Nuclear Near-Miss in 1995 Would Be a Disaster Today"
- See also David Wright: "Nuclear War and the Science Experiment of January 25, 1995"
- Related UCS Fact Sheet:
"U.S. Military and Political Leaders Urge Taking Nuclear Weapons Off Hair-Trigger Alert" (PDF)
Essential Capabilities for Nuclear Security
A National Program for Nonproliferation and Verification Technology Development
A new report from Dr. James Doyle and Nuclear Watch New Mexico
From the executive summary:
"Achieving nuclear security in the 21st century and beyond requires a far more diverse set of national capabilities than during the Cold War. Today's nuclear threats are more geographically dispersed, varied and nuanced...
"Nuclear weapons... cannot counter the full spectrum of nuclear security challenges facing the nation and the world in the decades ahead. Nor can they counter or deter the most likely nuclear threats to the nation...
"...almost five years after the 2010 Nuclear Posture Review called for a national program on 'expanded work on verification technologies and the development of transparency measures', there has been no substantial follow-up. As a consequence, the technical and human capabilities needed to reduce the most likely nuclear threats to the nation are being neglected with perilous consequences.
- Read more, including report recommendations: Executive Summary (PDF)
- Full report (PDF)- Essential Capabilities for Nuclear Security: A National Program for Nonproliferation and Verification Technology Development
---
Game On: East vs. West, Again
In 1990, Mikhail Gorbachev was apparently assured by top US officials that in return for allowing East and West Germany to unite and be a full NATO member, NATO would not expand "one inch" to the east. But by 2009, 12 more ex-Warsaw Pact nations had joined NATO.


Andrew Cockburn details the sequence of events that brought us to today's crisis in Ukraine:
"[For the arms contractors] one especially promising market was among the former members of the defunct Warsaw Pact. Were they to join NATO, they would be natural customers for products such as the F-16 fighter that Lockheed had inherited from General Dynamics... (more)
---
Critical Events

---
April 24-26, New York City:
Live-streaming: Peace and Planet Mobilization
Watch the conference live-streamed here.
- See the Conference Program
The Opening Ceremony begins at 6:30 pm EDT (3:30 pm PDT) Friday April 24; followed by the Opening Plenary- 'Connecting the Struggles for a Nuclear-Free, Peaceful, Just, and Sustainable World', at 7:30 pm EDT (4:30 pm PDT).
The Second Plenary, featuring parliamentarians and mayors, starts on Saturday morning April 25 at 9 am EDT (6 am PDT).
Between the Second and Closing Plenaries, two workshops will be livestreamed: 'Global Hibakusha and Creative Peacemaking' starting at 11 am EDT (8 am PDT), and 'Doomsday Machines: Renewed Great Power Confrontations and the Risk of Nuclear War', featuring Daniel Ellsberg, at 2 pm EDT (11 am PDT).
The Closing Plenary- 'Looking Forward: Movement-Building and Actions for the Future', will start at 4:30 pm EDT (1:30 pm PDT).
- Thousands are expected for the big mobilization on Sunday the 26th: A rally and march to the UN, the day before the 2015 NPT Review Conference begins- more info at peaceandplanet.org
April 25, Pace University, New York City
Opposing New Nuclear Warhead Production:
A Primer to Empower and Inform Effective Activism to Move the Money and Achieve Disarmament
A Peace and Planet conference, sponsored by the Alliance for Nuclear Accountability.
11 AM, Room 612, Pace University, One Pace Plaza (across from City Hall at Broadway and Murray St.)
Workshop participants include Marylia Kelley, Tri-Valley CAREs; Natalia Mironova, former legislator and founder, Movement for Nuclear Safety (Russia); Jay Coghlan, Nuclear Watch New Mexico; Moderated by Ann Suellentrop, Physicians for Social Responsibility-Kansas City.
This workshop will expose the hypocrisy, and the financial and human costs, of "Life Extension Programs" that seek to indefinitely preserve US nuclear weapons while simultaneously endowing them with new, proliferation-provocative military capabilities. It will also reveal the size, cost and mission of new U.S. production factories for the plutonium, uranium and nonnuclear components for nuclear weapons, expected to be operational until ~2075, contrary to US disarmament obligations under the nuclear Non-Proliferation Treaty. A Russian NGO perspective will be offered on these developments and the Russian government's reaction to them.
This workshop will close by exploring positive, concrete and creative actions that US and global citizens can take to influence nuclear weapons policy and budgets, while pressuring their governments toward nuclear abolition.
April 27- May 22, New York City:
2015 NPT Review Conference
The 2015 Review Conference of the Parties to the Treaty on the Non-Proliferation of Nuclear Weapons (NPT) will meet from April 27 to May 22 in New York City, with special events beginning the 24th of April. There are literally dozens of conferences and briefings scheduled; have a look at the updated
- Calendar of Events
- Information for civil society participation
April 28, United Nations, New York City:
NPT Conf. Panels: Irreconcilable Differences
The "Modernization" of Nuclear Weapons and the Disarmament We Seek
Diplomats, parliamentarians and NGOs are invited to attend panel discussions of experts and analysts Tuesday, April 28, 2015 from 3 PM to 6 PM in the UN Conference Room C.
- 1st Panel at 3 PM: Global "Modernization" of Nuclear Weapons & Bomb Plants
With Hans Kristensen, Federation of American Scientists; Natalia Mironova, former legislator, Movement for Nuclear Safety, Russia; Jean-Marie Collin, French Coordinator, Parliamentarians for Nuclear Non-Proliferation and Disarmament; Dave Webb, CND, UK; Wilbert van der Zeijden, PAX, Netherlands; moderated by Marylia Kelley, Tri-Valley CAREs, USA.
- 2nd Panel at 4:30 PM: U.S. "Modernization" of Nuclear Weapons & Bomb Plants
With Matthew McKinzie, Natural Resources Defense Council; Ralph Hutchison, Oak Ridge Environmental Peace Alliance; Marylia Kelley, Tri-Valley CAREs, Livermore; Jay Coghlan, Nuclear Watch New Mexico; James Doyle, nuclear security and nonproliferation specialist, formerly at Los Alamos National Laboratory; moderated by Rick Wayman, Nuclear Age Peace Foundation. (event poster)
April 28 & 29, May 6 & 13, UNHQ, New York City:
Film Series on Nuclear Disarmament
The UN Office for Disarmament Affairs will present a documentary film series on nuclear disarmament at UNHQ, New York, April 28 & 29, May 6 & 13. (more info)
May 14, 2015, Santa Fe, NM
Father John Dear at Mountain Cloud Zen Center
Mountain Cloud Zen Center is pleased to announce that Fr. John Dear will speak at 6:30 pm Thursday, May 14. John Dear was nominated for the Nobel Peace Prize by Nobel laureate Archbishop Desmond Tutu, who called him "the embodiment of a peacemaker".
John will talk about planned events in Santa Fe and Los Alamos for the 70th anniversaries of the Hiroshima and Nagasaki atomic bombings in August, including a conference featuring many prominent civil rights and anti-war activists. All are welcome to this special event. (more info)
May 18-20, 2015, Wash. DC
DC Days! 2015
Organized by the Alliance for Nuclear Accountability.
(Training Day Friday May 17.)
Registration now open. (more info)
---
For an extensive weekly listing of nuclear-related events worldwide, subscribe to the Nuclear Calendar
---
LANL's Central Mission
Los Alamos Lab officials have recently claimed that LANL has moved away from primarily nuclear weapons to "national security", but what truly remains as the Labs central mission? Here's the answer from one of its own documents: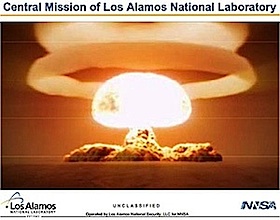 LANL's "Central Mission"- Presented at: RPI Nuclear Data 2011 Symposium for Criticality Safety and Reactor Applications
(PDF) 4/27/11
Quote of the Week

---
"We certainly urge the United States to work with Russia and we have been urging them to separate the issue of the day, which is Ukraine, from the issue of the decades, which is nuclear disarmament. Deterrence is even less stable in a multipolar world. We might ask, 'Are nations, including our own, serious about nuclear disarmament if they are modernizing nuclear weapons systems?'"
- Stephen Colecchi, director of The United States Conference of Catholic Bishops Office of International Justice and Peace
(Time, April 10, 2015)
---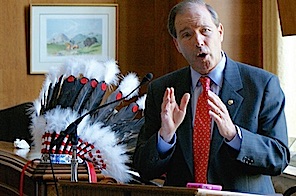 From the Watchblog this week: Sen. Udall's Unlikely Alliances: Chemical, Nuclear Industries

Update:
Sen. Boxer: Chemical 'reform' bill introduced by Sens. Udall & Vittner was drafted by American Chemical Council (The Hill, March 19)
---
Nuclear News
---
---
Radioactive Quotes

---
"Launch-on-warning is a relic of Cold War strategy whose risk today far exceeds its value. In periods of heightened tensions and reduced decision times, the likelihood of human and technical error in control systems increases... Our leaders urgently need to talk and, we hope, agree to scrap this obsolete protocol before a devastating error occurs."

Former STRATCOM commander Gen. James Cartwright and Major General Vladimir Dvorkin who led the research institute of Russia's Strategic Rocket Forces, in a New York Times OpEd April 20, 2015.

[link]
"Let me remind you that nuclear disarmament is not just an ardent desire of the people, as expressed in many resolutions of the United Nations. It is a legal commitment by the five official nuclear states, entered into when they signed the Non-Proliferation Treaty."

Joseph Rotblat, Pugwash Conf, awarded Nobel Peace Prize 1995

[link]
---
Every little bit helps!
Remember: contributions are tax-deductible!
*Go to donations page* Thanks for your support!