Arsenal of Information
---
---
---
New Infographic page:
Nuclear Testing Since 1945
---
Nuclear Watch Interactive Map of the
Nuclear Weapons Complex- View full size
Facilities:
Facilities:
Kansas City Plant
Lawrence Livermore National Labs
Los Alamos National Laboratory
Nevada National Security Site
Pantex Plant
Sandia National Laboratories
Savannah River Site
Washington DC
Waste Isolation Pilot Plant (WIPP)
Y-12 National Security Complex
---

Recent visitors - click to enlarge
---
"If you really want a future world free of nuclear weapons,
you can hardly make a better investment than to give to Nuclear Watch New Mexico. They need and deserve your support so that they can carry on their groundbreaking work. I urge you to be generous with them!"
- Danielle Brian, Executive Director, Project on Government Oversight
---
Follow the Money!
---
NNSA FY 2015 Budget Request
- Nuclear Watch Analysis/Compilation (PDF)
- Nuclear Watch New Mexico's analysis (PDF)
- NNSA's FY 2015 budget
- Best press coverage
Congressional Budget Office report:
- Projected Costs of Nuclear Forces 2014-2023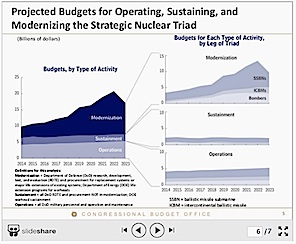 View CBO presentation:
Projected Costs of U.S. Nuclear Forces 2014 to 2023
---
U-S Nuclear Weapons Budget At Cold War-Era Levels
March 13, 2014. Troy Wilde of Public News Service with Jay Coghlan, NukeWatch executive director: "America spends as much maintaining its nuclear weapons arsenal now as it did during the Cold War."
---
John Fleck, Albuquerque Journal, Jan 21: Nuke Mission Strains Against 'Budgetary Gravity'
"In the years since Oppenheimer brought the World War II Manhattan Project to Los Alamos, New Mexico hitched its economic wagon to this stream of federal spending. Our state's economic growth in the years since the Great Recession is among the slowest in the country; at the same time, the National Nuclear Security Administration, wrestling with problems managing its nuclear program, has become an increasingly unreliable horse... an increasingly unreliable economic partner."
"The authors of a second recent report on the nuclear budget, by the James Martin Center for Nonproliferation Studies, wrote, 'It is unclear how long the nation's nuclear weapons program can defy budgetary gravity'. Those thinking about the future of New Mexico's economy should take note." (read the full ABQ Journal story)
---
Nuclear Watch Press Release, Jan.14, 2014:
Budget Deal a Mixed Bag for Nuclear Weapons Programs- Planned Long-Term Trend Not Sustainable
View/download press release PDF
View/download the appropriations bill (n.b. NNSA section begins p.34; the PDF at p.70)
---
New CBO Report Dec 20, 2013:
U.S. nuclear weapon plans to cost $355 billion over a decade
Reuters: The Obama administration's plans for the U.S. nuclear weapons complex, including modernization of bombs, delivery systems and laboratories, will cost the country about $355 billion over the next decade, nearly $150 billion more than the administration's $208.5 billion estimate in a report to Congress last year; since the modernization effort is just beginning, costs are expected to greatly increase after 2023. (read more) (View/download CBO report-PDF) (analysis: Are New Nuclear Weapons Affordable?)
---
Nuclear Watch Press Release, Dec. 21, 2013:
Nuclear Weapons "Modernization" Will Cost One Trillion Dollars Over Thirty Years; Locally, Los Alamos Lab Cleanup and Job Creation Are Imperiled
(View/download NWNM Press Release PDF)
---

LANL FY 2014: Click to enlarge (PDF)
---
Fiscal Year 2014
Stockpile Stewardship and Management Plan
View/Download PDF

Related:
The "3+2 Vision" for U.S. Nuclear Forces
John R. Harvey of the Department of Defense spoke to a breakfast seminar in Washington DC June 13 on "...progress we have made over the past year, under the auspices of the DOD-DOE Nuclear Weapons Council, in advancing what we call the '3+2' vision for the future nuclear stockpile, and in developing a 'baseline plan' to start down the path to get there."
View/download full text of Harvey's remarks (PDF)
---
"No decrease in the number of warheads"
- Senator Diane Feinstein, speaking on a conference call November 13th: "While I support reductions to the stockpile and the savings that come with it, the 3+2 plan requires spending tens of billions of dollars more on life extension programs as well as increasing technical risks such as design changes... The promise of the 3+2 plan was to provide a smaller stockpile in exchange for a larger investment. However, when the plan is examined, there is no decrease in the number of warheads... In addition, sequestration, shrinking budgets and NNSA's long history of cost overruns and schedule delays raise serious concerns about the agency's ability to execute this mission." (ref)
---
$1 Billion for a Nuclear Bomb Tail
Hans M. Kristensen, April 12, FAS/Strategic Security
Update Feb 4: Tailkit assembly successfully tested
---
Nuclear Weapons Lobby Reportedly Spent $2.9 Million To Stave Off Military Cuts


"The nuclear weapons industry is erecting a missile shield of money to prevent federal government spending cuts worth billions of dollars. In the 2012 election cycle, nuclear weapons lobbies have given a total of $2.9 million to key members of Congress and deployed no fewer than 137 revolving-door lobbyists to Capitol Hill, according to a new report that details the lengths to which arms makers will go to protect their turf." (story)
"Bombs Versus Budgets: Inside the Nuclear Weapons Lobby", prepared by the Center for International Policy. (download PDF)
---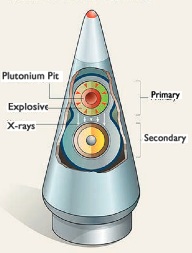 Successful Citizen Activism Against
Expanded U.S. Plutonium Pit Production
This is the unsung story of successful citizen activism against repeated government attempts to expand the production of plutonium pit cores, which has always been the choke point of resumed U.S. nuclear weapons production. This history is a critical part of the march toward a future world free of nuclear weapons. We gratefully dedicate it to Leroy Moore, longtime activist with the Rocky Mountain Peace and Justice Center, and J. Carson Mark, retired director of the Los Alamos Lab's Theoretical Division and ardent arms control advocate.
(View/download full report- PDF)

---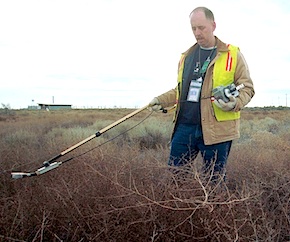 Hunting Radioactive Tumbleweeds at Hanford
Tumbleweeds Spread Hanford Contamination
Hanford, the most contaminated nuclear site in the U.S., has a "Biological Control" program to deal with 'biological vectors' in the spread of radioactive contamination. These have included rabbits, fruit flies, even a badger; but the most visible is the tumbleweed. The principal tumbleweed species is Kali tragus, or Russian thistle, an invasive species which came to the western US in the 1870's. Tumbleweed taproots can creep 20 feet down, bringing up radioactive waste from underground burial sites. Each winter, the deep taproot on the plant decays, and the spiny brown skeleton aboveground breaks off and rolls away in the wind, spreading whatever contamination it picked up.
(Gizmodo: How Tumbleweeds Spread Radiation From Old Nuclear Sites )
More strange Hanford contaminations at The Hanford X-Files
See also: Hanford nuclear site clean-up: The mess gets worse, an NBC News investigation, 11/18/13.
---
Cost Comparison Debunks LANL's Outrageous Cleanup Estimate
Can it possibly cost $29 billion to clean up 51 acres? (That's $568.6 million per acre!) The answer is yes if the estimate comes from Los Alamos National Laboratory.
NukeWatch has run cost comparisons between the estimate for Area G and two other excavation projects at the Lab. At six acres, excavation of Materials Disposal Area B is almost complete, so we have hard costs. (It is around $22.7 million per acre.) An evaluation of Materials Disposal Area C was released this September. The estimated costs for excavation of the 11.8-acre site came out to be $66.7 million per acre. Read the Cost comparison here.
GAO: accounting problems at DoD so significant that a federal audit cannot be done.
Read the January 17, 2013 GAO Report
---
Nuclear Watch Media
---
See the NukeWatch YouTube channel
for our collection of videos.
---
Jay Coghlan on the Nuclear Defense Industry
KSFR Santa Fe: Living on the Edge, October 17, 2013. David Bacon with Jay Coghlan, NukeWatch E.D. (online podcast)
More audio podcasts:
Jay Coghlan on Unicopia Radio
November 10, 2012; October 6, 2012; August 25, 2012
---
LANL's Future: More Plutonium or More Cleanup?
Jay Coghlan speaking in Santa Fe, Oct.21, 2012
---
---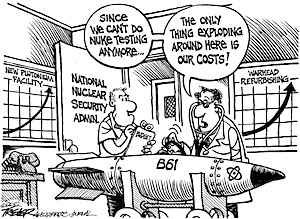 click to enlarge Exploding Costs by Trever, ABQJournal
---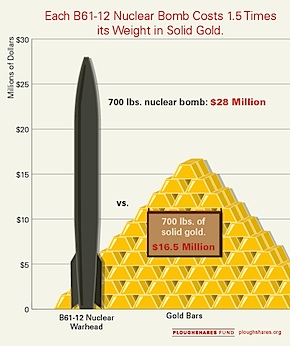 B-61 Nuclear Bomb:
Worth more than twice it's weight in gold
Each 700-pound B61 nuclear bomb will soon be overhauled at a price tag of $28 million. But 700 lbs. of solid gold is currently worth only $12.4 million. It would actually be cheaper to make the B61 nuclear bomb out of gold. Use this online form to tell your representative to cut B61 funding!
---
Who Will Claim Ronald Reagan's Mantle On

Nuclear Disarmament Today?
"It is my fervent goal and hope... that we will someday no longer have to rely on nuclear weapons to deter aggression and assure world peace. To that end the United States is now engaged in a serious and sustained effort to negotiate major reductions in levels of offensive nuclear weapons with the ultimate goal of eliminating these weapons from the face of the earth." -Pres. Ronald Reagan, Oct. 20, 1986
---

"The people who are the most anti-nuclear are the ones who know the most about it." -Eric Schlosser, author, "Command and Control" (ref)
Please help NukeWatch in our work to rid the world of the dangers of nuclear weapons. We need your support! Consider making a tax-deductible donation to support our efforts. Thank you!
(See our donations page for more info)
---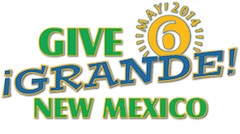 May 6 2014 is Give Grande Day!
Let's have a day of support for local non-profits: GiveGrandeNM.org
---
New & Updated
---
Analysis: National Nuclear Security Administration 2015 Budget Request
Nuclear Weapons Budget Surpasses Cold War Record
- Up 20%: Bomb with New Military Capabilities
- Cut By Nearly Half: Dismantling Weapons
- Compromised: Nuclear Facility Safety
See NukeWatch's analysis and compilation of NNSA nuclear weapons and nonproliferation programs budgets and individual site funding.

March 25, Santa Fe. Contrary to President Obama's rhetoric about a future world free of nuclear weapons, most famously expressed in his April 2009 speech in Prague, the President is asking for a 7% increase for nuclear weapons research and production programs under the Department of Energy's semi-autonomous National Nuclear Security Administration (NNSA). NNSA's "Total Weapons Activities" are slated to rise to $8.3 billion in FY 2015, and to $9.7 billion by FY 2019, 24% above this current fiscal year 2014.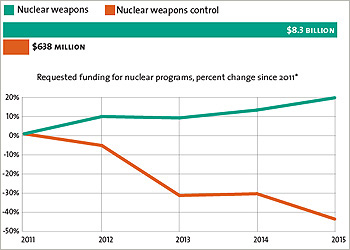 Center for Arms Control and Non-Proliferation

The Obama Administration asserts that its FY 2015 budget request meets the two-year budget agreement reached with Congress in last December's Bipartisan Budget Act. However, the Administration is also proposing a $56 billion Opportunity, Growth and Security Initiative (OGSI), that it claims is fully paid for through "a balanced package of tax loophole closers and spending reforms." OGSI will be split evenly between defense and non-defense spending, out of which $504 million will go to NNSA nuclear weapons programs "to accelerate modernization and maintenance of nuclear facilities" and $96 million to nonproliferation programs. With that, Obama's FY 2015 budget request sets a new record for Department of Energy nuclear weapons spending, even exceeding the Cold War high point in 1985 under President Reagan's military buildup.
See March 17 Nuclear Watch Press Release on the FY 2015 Budget .
---
In Desperate Need of Spring Cleaning? The US Nuclear Complex
March 20, 2014, Amanda Waldron, Ploughshares.org
"While the rest of the nation is concerned with shrinking budgets,

incompetence among the nuclear personnel, and pullback from wars abroad, the Obama Administration's FY 2015 budget inexplicably calls for an increased nuclear weapons budget. Even more disturbingly, the Administration is calling for a decrease in programs to stop the spread of nuclear weapons and a slowdown in the dismantlement of nuclear weapons that we've already committed to destroying.
"To get an expert view, we talked to our grantee, Executive Director Jay Coghlan of Nuclear Watch New Mexico. Here, he describes how the time is ripe for reform to the American nuclear weapons complex..." more at Ploughshares.org
---
More on NNSA FY 2015 Budget
- Kingston Reif, Center for Arms Control and Non-Proliferation: Fact Sheet: FY 2015 Budget Request for Replacement Nuclear Delivery Systems and Warhead Life Extension Programs
- More analysis and critiques here
---
Oak Ridge UPF Fiasco:
OREPA on GAO Report: Management Problems Not Corrected, Getting Worse
"For anyone who might be interested in figuring out exactly how the UPF Project in Oak Ridge has wasted a billion dollars and has virtually nothing to show for it, The most recent report of the Government Accountability Office provides remarkable insights. ...The chief insight in the report is that management problems that lie behind the failed UPF project have not been corrected. They not only haven't gotten better, they have gotten worse. They persist and they plague virtually every aspect of the project."
See the detailed response to the GAO report by Oak Ridge Environmental Peace Alliance here.
---

Ukraine Crisis: Nuclear Dimensions
- Nuclear Power: Following the Fukushima disaster, Germany had taken the lead in moving away from nuclear power; planning on total de-nuclearization by 2022. But the plan depended heavily in the near-term on natural gas imports from Russia, something which in the current climate seems less dependable. "Germany's reliance on Russian gas can effectively limit European sovereignty, I have no doubt. I'll be speaking very openly with [Chancellor] Merkel, making it clear that the existing climate and natural gas policies risk posing a threat to the security and sovereignty of Europe as a whole." - Polish Prime Minister Donald Tusk (NYTimes)
- Nuclear Security: The 2014 Nuclear Security Summit, held in The Hague March 19-25, has been "overshadowed" by the events in Crimea. President Obama called the G7 to a meeting alongside the summit to discuss Russian actions regarding Ukraine. Deutsche Welle, March 25: "Russia's recent annexation of Crimea means nuclear safety won't be at the top of the agenda." and Nuclear security in jeopardy as Russia kicked out of G8
- Nuclear Arms Reduction: Russia's Ministry of Defense said Saturday that it may halt international inspections of its nuclear weapons required under the START treaty in response to threats of sanctions from the U.S. and other Western countries. (WaPo)
- Nuclear Proliferation: When the Soviet Union collapsed in 1991, Ukraine held the world's third-largest nuclear weapons stockpile, larger than those of Britain, France, and China combined. Ukraine transferred all 1900 strategic nuclear warheads to Russia for dismantling between 1994 and 1996, in exchange for guarantees of territorial integrity from the US, UK, and Russia as laid out in the Budapest Memorandum of Assurances.
Many in Ukraine are now saying Russia would have been less likely to attempt to annex Crimea had Ukraine kept a nuclear deterrent. Pavlo Rizanenko, a member of the Ukrainian parliament, said "We gave up nuclear weapons because of this agreement. Now there's a strong sentiment in Ukraine that we made a big mistake. If you have nuclear weapons, people don't invade you." (NPR)
Mikhail Golovko, an MP of the Ukrainian right-wing Svoboda party, has threatened to "restock Ukraine's nuclear arsenal". Quoting Golovko: "We'll regain our status as a nuclear power and that'll change the conversation. Ukraine has all the technological means needed to create a nuclear arsenal which would take us about three to six months." This may come to be a serious blow to non-proliferation efforts, since other countries too may draw the conclusion that big power "assurances" cannot protect them from encroachment or invasion by big powers and that only nuclear weapons can. Update March 13: Ukrainian Prime Minister Arseniy Yatsenyuk told the UN Security Council today "The way our Russian neighbors acted undermines the entire global security and nuclear non-proliferation program. After these actions, it will be very difficult to convince anyone in the globe not to have nuclear weapons." (ref)
Speaking at the Nuclear Security Summit in The Hague, U.N. Secretary General Ban Ki-moon said, "the credibility of the assurances given to Ukraine in the Budapest Memorandum of 1994 has been seriously undermined by recent events... The implications are profound, both for regional security and the integrity of the nuclear nonproliferation regime." (ref: U.N. Chief Warns Ukraine Incursion May Undercut Nonproliferation Regime, March 25, Global Security Newswire.)
- Finally, in this hundredth anniversary year of the start of World War 1, there is the possibility of an undesired military conflict between NATO and Russia. Former German Chancellor Helmut Kohl, in a statement to Bild, the country's biggest-circulation newspaper, said "The mood of revolt in Ukraine was not intelligently followed. Equally there was a lack of sensitivity in the dealings with our Russian neighbor, especially President Putin... We cannot forget: war is not policy." A German Social Democratic Party statement said, "Europe stands dangerously close to the brink of a military confrontation... One hundred years after the start of World War I, military force should never again become the means of conducting politics... Europe stands at a crossroads; we must do everything in our power to prevent a new division of our continent and a regression into a pattern of confrontation long considered overcome." (NYTimes)
Might be a good time to review Russia's official Putin-era military doctrine. And here is a 1995 U.S. StratCom document, recently declassified, titled "Essentials of Post-Cold War Deterrence".
March 28: Russia Launches Nuclear-War Drill, Saying It Was Long Scheduled
---
Excerpts from an important piece by Hans Kristensen of the Federation of American Scientists:
General Confirms Enhanced Targeting Capabilities of B61-12 Nuclear Bomb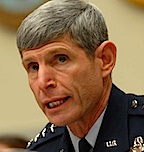 "The former U.S. Air Force Chief of Staff, General Norton Schwartz, confirmed last week that the B61-12 nuclear bomb planned by the Obama administration will have improved military capabilities to attack targets with greater accuracy and less radioactive fallout. The confirmation is important because the 2010 Nuclear Posture Review (NPR) pledged that nuclear warhead 'Life Extension Programs' will not support new military missions or provide for new military capabilities. In addition to violating the NPR pledge, enhancing the nuclear capability contradicts U.S. and NATO goals of reducing the role of nuclear weapons and could undermine efforts to persuade Russia to reduce its non-strategic nuclear weapons posture.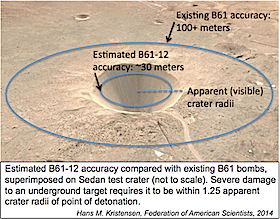 "Increasing the accuracy broadens the type of targets that the B61 can be used to attack. The effect is most profound against underground targets that require ground burst and cratering to be damaged by the shock wave.
"General Schwartz's confirmation came during a conference organized by the Stimson Center in response to a question from Steven Young whether the relatively low yield and increased accuracy of the B61-12 in terms of targeting planning would change the way the military thinks about how to use the weapon. General Schwartz's answer was both clear and blunt: 'Without a doubt. Improved accuracy and lower yield is a desired military capability. Without question.' When asked whether that would result in a different target set or just make the existing weapon better, General Schwartz said: 'It would have both effects.'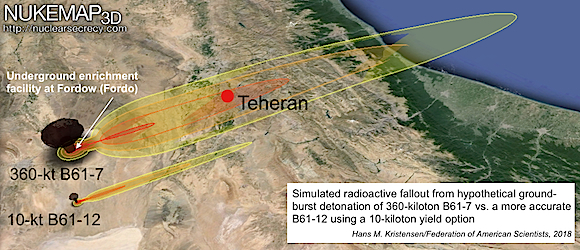 "With the increased accuracy of the B61-12 the strike planners will be able to select a lower yield and still achieve the same (or even better) damage to the underground target. Using lower yields will significantly reduce collateral damage by reducing the radioactive fallout that civilians would be exposed to after an attack. The difference in fallout from a 360-kiloton B61-7 surface burst compared with a B61-12 using a 10-kiloton selective yield option is significant.

"General Schwartz said that the B61 tail kit 'has benefits from an employment standpoint that many consider stabilizing'. I later asked him what he meant by that and his reply was that critics (myself included) claim that the increased accuracy and lower yield options could make the B61-12 more attractive to use because of reduced collateral damage and radioactive fallout. But he said he believed that the opposite would be the case; that the enhanced capabilities would enhance deterrence and make use less likely because adversaries would be more convinced that the United States is willing to use nuclear weapons if necessary.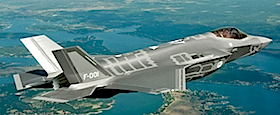 "With the increased accuracy of the B61-12 and combined with the future deployment of the F-35A Lightning II stealth fighter-bomber to Europe, it is clear that NATO is up for quite a nuclear facelift.
"Initially the old NATO F-16A/B and Tornado PA-200 aircraft that currently serve in the nuclear strike mission will not be able to make use of the increased accuracy of the B61-12, according to U.S. Air Force officials. The reason is that the aircraft computers are not capable of 'talking to' the new digital bomb. As a result, the guided tail kit on the B61-12 for Belgian, Dutch, German, Italian and Turkish F-16s and Tornados will initially be 'locked' as a 'dumb' bomb. Once these countries transition to the F-35 aircraft, however, the enhanced targeting capability will become operational also in these countries.

"It is unclear how improving the nuclear posture in Europe fits with NATO's arms control goal to seek reductions in Russian non-strategic nuclear weapons in Europe. Instead, the increased military capabilities provided by the B61-12 and F-35 would appear to signal to Russia that it is acceptable for it to enhance its non-strategic nuclear posture in Europe as well.
Such considerations ought to be well behind us, more than two decades after the end of the Cold War, but they continue to tie down posture planning and political signaling."

(See Hans Kristensen's full report here)
---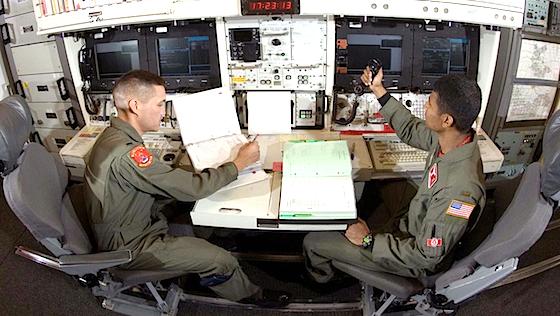 With ICBM Mission Increasingly Irrelevant, Morale Is Low and Failures Multiply
Updates:
Malmstrom Air Base: Senior Commander Resigns, Nine Mid-Level Commanders Fired
Time: Air Force Applies a Band-Aid to a Sucking Chest Wound
"It's implausible that missileer cheating was confined to Malmstrom..."

Recent scandals and failures involving US strategic missile forces personnel on all levels have thrown a spotlight on morale issues in what was once the critical front line of defense, but now a mission with little relevance to today's needs. Here's a selection of recent press:

Nuclear Corps, Sidelined in Terror Fight, Produces a Culture of Cheating
Helene Cooper, NYTimes, Jan. 22, 2014
"Many military officials believe that demoralization may have led to a spate of recent mishaps among Air Force nuclear missile officers. In the past year, a general who oversaw nuclear weapons was dismissed for drunken antics during an official trip to Moscow, 17 officers assigned to stand watch over nuclear-tipped Minuteman missiles were removed for violating safety codes and having bad attitudes, and missileers with nuclear launch authority were caught napping with the blast door open... Defense Secretary Chuck Hagel flew to Wyoming and Nebraska on Jan. 9 to reassure disheartened missileers that what he called their lonely work was still valued. It was the first visit to missile crew members by a Pentagon chief since 1982. But on the day of his trip, another scandal erupted as investigators reported that dozens of missile launch officers had been implicated in an investigation into illegal drugs. That inquiry eventually widened to include the cheating scandal at Malmstrom..." [by month's end 92 of the the missile launch officers at Malmstrom - nearly half- were implicated.]

Nuclear Cheating Scandal: Blame the Mission, Not the Missileers
Tom Collina, Arms Control Association, Jan 29, 2014
"In the wake of alarming reports that some Air Force nuclear-armed missile operators have been cheating on performance tests, using drugs, napping on duty, failing to follow safety rules, and more, the Pentagon announced Jan. 23 it is setting up an independent review of all U.S. nuclear forces, to be completed in 90 days. Secretary of Defense Chuck Hagel says he is 'deeply concerned' about 'the overall health, and the professionalism, and discipline of our strategic forces.'
"But the scope of this review- limited to personnel issues- must be expanded. At its core, the problems facing the nuclear force have little to do with people and everything to do with the declining mission. As Hagel well knows, nuclear deterrence is no longer a high priority mission for defending the United States. It is a backwater, a dead end assignment. As the Pentagon put it in 2010, 'The massive nuclear arsenal we inherited from the Cold War is poorly suited to address the challenges posed by suicidal terrorists and unfriendly regimes seeking nuclear weapons.'"
- March 25: Listen to a discussion previewing the Missileer investigation, with Lt. General Arien Jameson, Hans Kristensen, and Jon Wolfstahl, moderated by Kingston Reif.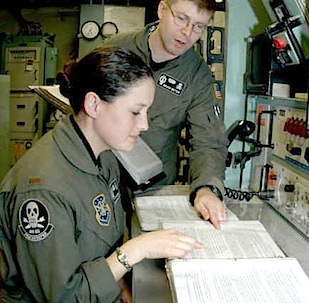 For Air Force Officers, The Long Wait For A Nuclear Attack Can Be A Bore
Washington Post, Feb 3, 2014
"It's not stress, drugs or cheating on proficiency tests that's the problem for about 550 Air Force officers who serve 24-hour shifts in capsules 60 feet underground. They're waiting as their predecessors have done for 50 years to launch nuclear-tipped intercontinental ballistic missiles. The real cause of their difficulties is their 'mission': to be ready to turn keys and press buttons on a moment's notice in response to an attack that no one really expects will ever come. The Cold War ended more than 20 years ago. Then-President George H.W. Bush took the B-52s and B-1 long-range strategic bombers off nuclear alert. Why do we still keep 90 Air Force officers in capsules 24 hours a day babysitting all 450 ICBMs ready to go when there is no immediate danger?"

Nuclear Missile Force Poses A Headache For US Military
Agence France-Presse, Jan. 19, 2014.
"Commanders have said they would support reducing the costly arsenal of land-based nuclear missiles, as weapons aboard submarines are able to reach any target on the globe. But lawmakers whose states host the silos oppose any cutbacks, said Joseph Cirincione, president of the Ploughshares Fund, which promotes reducing nuclear weapons stockpiles.
'There's no purpose to their mission anymore... This is an outdated command, fielding obsolete weapons ...The only mission for the ICBM is to immolate millions of innocent civilians.'"

Earlier review of cases: "A Second Nuclear Commander Relieved of Duty"
---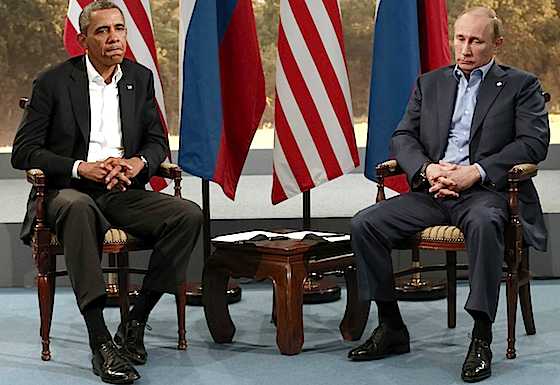 Trouble Brewing for U.S.- Russia Nuclear Treaties
As this is written, news is breaking of the leak of a phone conversation between US officials re the Ukraine crisis; the White House has blamed Moscow and called it a "new low" in relations. There've been several 'new lows' recently, including the Snowden affair, and the press last year saw a number of obituaries for the "reset" Obama had promised. And below the surface of the short-term news, tensions have been brewing concerning US and Russian nuclear deployments, suggesting that in the absence of initiative, the inertia of the two countries' nuclear forces give these enterprises a life of their own, setting up possible conflicts. Unfortunately, as the Times reported last year, "the United States is quietly adopting a new approach to its old cold war rival: the cold shoulder."
Here are some of the current disputes:

Intermediate-Range Nuclear Forces Treaty
Suspicion regarding Russian INF commitment
U.S. Says Russia Tested Missile, Despite INF Treaty- Michael Gordon, NYTimes, 1/29/14
"Russia has tested a new ground-launched cruise missile- prohibited by the treaty banning medium-range missiles that was signed in 1987 by President Ronald Reagan and Mikhail S. Gorbachev. Beginning in May, Rose Gottemoeller, the State Department's senior arms control official, has repeatedly raised the missile tests with Russian officials, who have responded that they investigated the matter and consider the case to be closed.
"With President Obama pledging to seek deeper cuts in nuclear arms, the State Department has been trying to find a way to resolve the compliance issue, preserve the treaty and keep the door open to future arms control accords.
"It is little secret that some quarters in Moscow have long had objections to the INF Treaty. In February 2007, Russian President Vladimir Putin expressed concern that Russia and the United States were barred from having INF missiles while other countries could have them*. At the same time, Sergei Ivanov, then minister of defense and now chief of Putin's presidential administration, called the INF Treaty a mistake. More recently, however, Russian officials have seemed more comfortable with the treaty. In May 2012, the chief of the Russian General Staff explicitly ruled out withdrawal."
"If the charge regarding the ground-launched cruise missile is true, it will have implications for U.S.-Russia arms control, bringing into question Moscow's good faith in meeting treaty obligations. Capitol Hill critics wasted little time in using the New York Times story to challenge the administration's entire approach to arms control, even with regard to the Iran nuclear deal and arrangements to destroy Syria's chemical weapons."

*The Russians note that while the US is unlikely to need INF capabilities in dealing with Mexico or Canada, Russia's geographical situation is different. One of Russia's concerns with the INF restrictions could be neighboring China: for example it's deployment of Long Sword, a ground-launched long-range cruise missile. See an inventory of Chinese cruise missiles here. Note that a joint Indian-Russian program is developing a hypersonic cruise missile, the BrahMos 2, to be ready for Indian forces in 2017.

Daily Beast, 11/26: U.S. Knew Russia Violated Intermediate-Range Nuclear Forces Treaty
Nikolai Sokov's response at Arms Control Wonk: "Allegations of Russian Arms Control Cheating are Unfounded, But a Good Reason to Revisit Treaty Options"

Update, February 11, 2014:
Is Russia Violating the INF Treaty?
"The issue of INF compliance encompasses three separate, but closely related strands. One is technical- the substance of allegations, the properties of the missiles in question, and verification issues. Another relates to arms control and strategic concerns- how the INF treaty provisions fit or don't fit into the Russian national-security strategy. The third is politics- the reasons why allegations about treaty noncompliance continue to surface in public debate and the likely consequences for US foreign policy."
Nikolai Sokov and Miles A. Pomper, writing in The National Interest, give an in-depth analysis of the issues surrounding allegations of Russian violations of the INF treaty. (article here)
Update Feb 26, Global Security Newswire: Ex-Chief of Russian Strategic Forces: U.S. Has Violated Arms Control Pact 'Numerous' Times

US Europe-Based Ballistic Missile Defense Systems
US BMD deployments in Europe- Russian withdrawal from START?
The USS Donald Cook has deployed in Spain, the first of four ships carrying Aegis' ballistic missile defense system planned for stationing in Europe. The deployment was announced at the Munich Security Conference by Defense Secretary Chuck Hagel, who called it, "An important posture enhancement is European missile defense in response to ballistic missile threats from Iran."
Mikhail Ulyanov, director of the Russian Foreign Ministry department for security and disarmament said, "We are concerned that the US is continuing to build up missile defense capability without considering the interests and concerns of Russia. Such a policy can undermine strategic stability and lead to a situation where Russia will be forced to exercise its right of withdrawal from the START treaty."
Read more at Voice of Russia: Russia may quit START III after US deploys the USS Donald Cook, equipped with the Aegis Ballistic Missile Defense System, in Spain

Tactical Nuclear Weapons
Russia will not disclose, says U.S. in violation of NPT
Feb. 2, 2014. Russia does not intend to disclose information about the storage locations for its tactical nuclear weapons or about their amount, director of the Russian Foreign Ministry department for security and disarmament Mikhail Ulyanov has said.
"Yes, we are invited to adopt some confidence-building measures by disclosing the storage places of the armaments and their quantity. But whom will it make life easier for, if we disclose such information? Only for terrorists."
As for U.S. and and NATO calls for Russia to reduce tactical nuclear armaments, Ulyanov said: "The subject of Russian tactical nuclear armament is far-fetched and fanned quite artificially. In the past 20 years Russia reduced its tactical nuclear armaments by 75%. All these armaments are deployed solely on Russian territory. They are stored at centralized facilities, i.e. are not deployed and pose no threat to anyone. The situation is absolutely different with NATO and the Americans. Approximately 200 tactical nuclear warheads are located in six countries of Europe and they are deployed. Which means they pose a potential threat to us. Moreover, NATO has such a notion as nuclear sharing which means that pilots from non-nuclear countries are trained to pilot nuclear-carrying aircraft. From the viewpoint of nuclear nonproliferation this is a violation of the letter and sprit of the NPT. Many countries share this viewpoint. We are not refusing to conduct a dialogue but we don't see a subject for even a preliminary conversation until all these weapons are withdrawn beyond Europe and before the infrastructure that permits their rapid return to the European continent is liquidated." (ref: Voice of Russia)

Further reference: Nonstrategic Nuclear Weapons, Congressional Research Service, Jan. 2014.
See previous: 'Obama says Putin is trapped in Cold War logic, it's true. But so is Obama'
Also:
How to Avoid a $60 Billion Bailout for Navy Submarines
No More Nuclear-Tipped Cruise Missiles
---
---

"If you really want a future world free of nuclear weapons, you can hardly make a better investment than to give to Nuclear Watch New Mexico. They need and deserve your support so that they can carry on their groundbreaking work. I urge you to be generous with them!" - Danielle Brian, Executive Director, Project on Government Oversight.

Please support our work! Donations are tax-deductible

---
Waste Isolation Pilot Plant: Truck Fire and
Contamination Release


Latest: "The local WIPP Emergency Operations Center was ineffective, and the DOE (Department of Energy) emergency center at headquarters in Washington, D.C., was never notified." - Defense Nuclear Facilities Safety Board Chairman Peter Winokur (AP)- get the latest on the Watchblog.
- View/download the DOE report (PDF)
- View archived video clips from the 3/13 Carlsbad Town Hall Meeting on WIPP Leak.
What's Wrong With WIPP?
Read a detailed analysis of the problems by Don Hancock, director, Southwest Information and Research Center.
See also:
The WIPP problem, and what it means for defense nuclear waste disposal
- Robert Alvarez, writing in the Bulletin of Atomic Scientists, 3/23/14.
---
Critical Events

---
May 7, 2014:
The Nonviolent Life
A book talk on peace making with Father John Dear, at the Unitarian Church, 107 W. Barcelona, Santa Fe, NM 87505. Suggested donation: $10 Refreshments @ 6:30 pm
---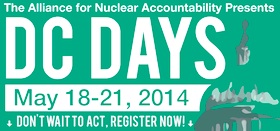 Come to D.C. and join activists from across the country for four days of training and advocacy! Combining advocacy, networking, and fun; DC Days is a unique opportunity to learn how to effectively voice your concerns about nuclear weapons, power, and waste. We will meet with and educate members of Congress, and the Obama administration. DC Days provides a unique opportunity to gain valuable skills and experience in political activism and advocacy. It is a great way to make a difference, meet new friends, and have fun! Register by April 15th to take advantage of the Early Bird Special!
---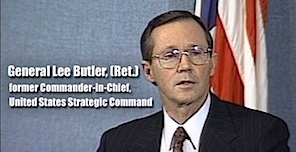 Quote of the Week

---
"[It] took me almost 40 years to grasp what I now see as the truth of the nuclear era. What I have come to believe is that much of what I took on faith was either wrong, enormously simplistic, extraordinarily fragile, or simply morally intolerable. What I have come to believe is that the amassing of nuclear capability to the level of such grotesque excess as we witnessed between the United States and the Soviet Union over the period of the Cold War was as much a product of fear, and ignorance and greed, and ego and power, and turf and dollars, as it was about the seemingly elegant theories of deterrence."
- General Lee Butler, former Commander in Chief U.S. Strategic Command, in a speech given to the Canadian Network Against Nuclear Weapons, Montreal 3/11/99.
---

R.I.P. Jonathan Schell
Jonathan Schell was perhaps the most respected and influential critic of nuclear weapons and nuclear weapons policies. His work includes:
- The Seventh Decade: The New Shape of Nuclear Danger (2010)
- The Unfinished Twentieth Century: The Crisis of Weapons of Mass Destruction (2003)
- The Fate of the Earth and The Abolition (combined re-edition, 2000)
- The Gift of Time: The Case for Abolishing Nuclear Weapons Now (1998)

We've set up a playlist of Jonathan Schell's recent interviews and media appearances on the NukeWatch Youtube channel. Below, on Charlie Rose in 2008:
---
New in the NukeWatch site:



LANL Area G:
NukeWatch Presentation to Northern New Mexico Citizens' Advisory Board: View presentation (PDF) - See the NukeWatch Area G page for more on this issue

B61 Upgrade: Developments in Italy, Belgium, Netherlands That May Affect B61 Debate

Nayarit Conference report: Second International Conference on the Humanitarian Impact of Nuclear Weapons

New from the Union of Concerned Scientists:
Fukushima: The Story of a Nuclear Disaster
by Lochbaum, Lyman, and Stranahan, UCS 2014
A book-length account of the unfolding Fukushima catastrophe from the Union of Concerned Scientists.
---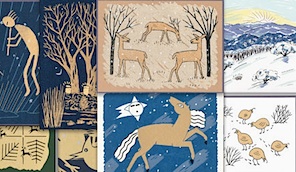 Cathie Sullivan's charming hand-printed note cards are now available at Etsy.com. Cathie is a long-time supporter and board member of Nuclear Watch New Mexico, and she is generously donating part of each sale to Nuclear Watch. Enjoy her selection at Etsy- and please Tweet and Facebook her cards too!
---
Rachel Maddow March 27, 2014:
Nuclear base scandals raise concerns of 'rot'
Rachel Maddow talks with Joe Cirincione, president of the Ploughshares Fund, about firings at a U.S. nuclear base over a cheating scandal that was exposed following a drug scandal, and discusses whether the U.S. nuclear mission is inherently troubled.
---
US Nuclear Arsenal, 1945 to 2013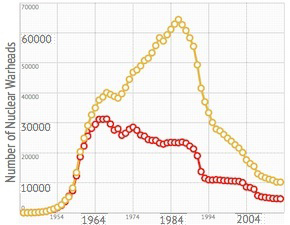 Graphic by Matt Vasilogambros, writing in the National Journal Jan 17; based on the Bulletin of Atomic Scientists' September survey.
The United States and the Soviet Union account for 97% of the 125,000 nuclear warheads built since 1945. Of the total, the US built 66,500 warheads, of which 59,000 have been disassembled.
---

Joseph Cirincione
and Eric Schlosser
Commonwealth Club 1/8/14
---
Feb 24, 2014:
The Myth of American Nuclear Obsolescence
"The United States is, in fact, engaged in the world's largest and most expensive nuclear weapons modernization program... Every aspect of the US nuclear deterrent is being modernized and updated... America is on pace to match the size of the Reagan nuclear build up during the 1980s, despite the very changed security and economic realities facing our nation..."
A report from the James Martin Center for Nonproliferation Studies, by Jon Wolfsthal, Feb 24, 2014.
---
Nuclear Nightmares
Ploughshares Fund President Joe Cirincione speaking at the Carnegie Council Dec. 10, 2013, on current prospects for non-proliferation and nuclear arms reduction. "Will the trend toward disarmament continue, or are we on the brink of a new arms race- or worse, nuclear war?" Highly recommended- Cirincione makes many important points.
---
Nuclear News
---
---
LANL's Central Mission
Los Alamos Lab officials have recently claimed that LANL has moved away from primarily nuclear weapons to "national security", but what truly remains as the Labs central mission? Here's the answer from one of its own documents: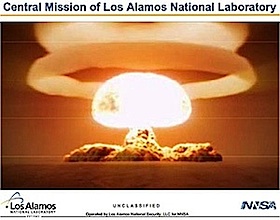 LANL's "Central Mission"- Presented at: RPI Nuclear Data 2011 Symposium for Criticality Safety and Reactor Applications
(PDF) 4/27/11
---
---
Radioactive Quotes

---
"The disconnect between the Presidentís blunt talk about the nuclear threat to Manhattan and his administrationís attempt to eviscerate Securing the Cities program is absurd. The White House needs to intervene and show the same nuclear security leadership at home that it does abroad."

Richard Falkenrath, former deputy commissioner of counterterrorism at the NYPD and former deputy homeland security advisor to President George W. Bush. He is now principal at the Chertoff Group.

[link]
"Russia's actions are a problem. [But] they don't pose the number one national security threat to the United States. I continue to be much more concerned when it comes to our security with the prospect of a nuclear weapon going off in Manhattan."

President Barack Obama, speaking at the Nuclear Security Summit in The Hague, March 2014

[link]
---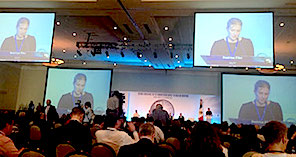 Nayarit Conference: Momentum Building Toward a Nuclear Weapons Ban
See our coverage and resources
---