Arsenal of Information
---
---
---
Dossiers:
Kirtland AFB Nuclear Weapons Complex
LRSO: New Nuclear Cruise Missile
B61-12 Enhanced Nuclear Bomb
Marshall Islands Lawsuit
Lockheed and Contractor Lobbying Abuses
MOX / Plutonium Disposition
CMRR-Nuclear Facility
Conference on the Humanitarian Impact
Nuclear Testing Since 1945
Fukushima Disaster and Updates
Atomic Histories
---
Nuclear Watch Interactive Map of the
Nuclear Weapons Complex
View full size
Facilities:
Kansas City Plant
Lawrence Livermore National Labs
Los Alamos National Laboratory
Nevada National Security Site
Pantex Plant
Sandia National Laboratories
Savannah River Site
Washington DC
Waste Isolation Pilot Plant (WIPP)
Y-12 National Security Complex
Facility Spotlight:
May 13: Pantex Plant Report Released
"Scathing" NNSA Performance Evaluation Report on the Pantex Plant: In one case, Pantex put the wrong tailkit assembly- the key element of the 'modernized' weapon- on a B61-12 nuclear bomb- and sent it on to the Dept. of Defense. Other issues plagued the plant, including the use of an incorrect O-ring on one of the B61 bombs and a duplicated serial number on W76-1 warhead parts. The NNSA criticized CNS' self-evaluation assessment of "Very Good" and gave an overall assessment of 57 percent. (read more)
---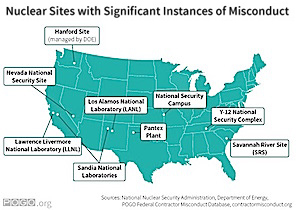 Nuclear Weapons Complex Misconduct
Dec. 3, 2015. POGO: Updated Federal Contractor Misconduct Database, focussing on Nuclear Complex (see report at POGO)
---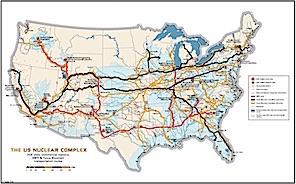 Click the image to view and download this large printable map of DOE sites, commercial reactors, nuclear waste dumps, nuclear transportation routes, surface waters near sites and transport routes, and underlying aquifers. This map was prepared by Deborah Reade for the Alliance for Nuclear Accountability.
Quote of the Week

---
"The GAO's findings of abysmal whistleblower protection at the Department of Energy are not by accident or coincidence. DOE whistleblower retaliation is historic, systemic and by design, seeking to suppress public knowledge of the inside secrets of the dirty nuclear weapons business. Now is the time for serious oversight and a realistic approach to these issues in order to stop an emerging arms race and avoid wasting billions of dollars we cannot afford."
-Jay Coghlan, executive director, Nuclear Watch New Mexico (McClatchy: Department of Energy fails to protect nuclear whistleblowers)
---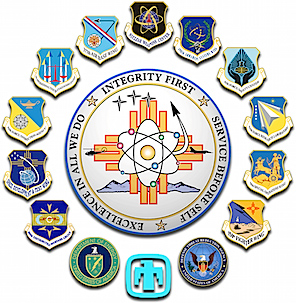 Dossier:
The Kirtland AFB Nuclear Weapons Complex
Kirtland Air Force Base, which abuts and shares some runways with the Albuquerque airport, has become a major nuclear weapons complex of it's own. It hosts the Air Force's Nuclear Weapons Center, Sandia National Laboratories, and what is probably the nation's (and perhaps the world's) largest repository of nuclear weapons, estimated at up to 2,500 warheads... (read more)
---
Follow the Money!

---
NNSA FY 2017 Budget Request
- Nuclear Watch Analysis/Compilation (PDF)
---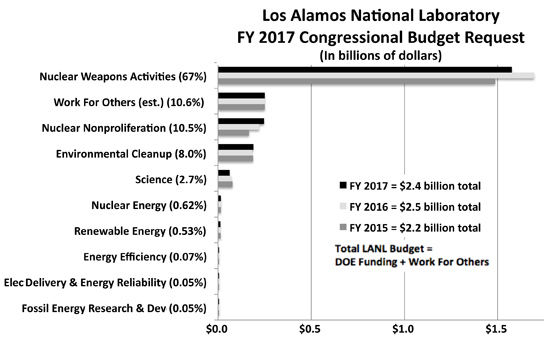 LANL FY 2017 Budget Request
Click to view full PDF incl. annotations
---
Lawrence Livermore FY 2017 Budget Request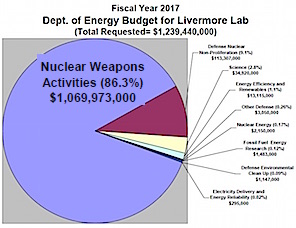 For Livermore Lab, Nuclear Weapons Activities still dominate the budget, increasing to over 86%.
Chart by Tri-Valley CARES
---
Congressional Budget Office report:
Projected Costs of Nuclear Forces 2014-2023

CBO presentation based on the report: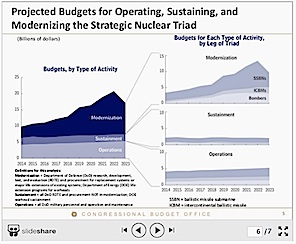 Click to view presentation
---
Stockpile Stewardship and Management Plan
- View/Download FY 2017 SSMP (PDF)
-SSMP Analysis of Hans Kristensen, FAS: Nuclear Transparency and the Stockpile Stewardship and Management Plan
- View/Download FY 2015 SSMP (PDF)
- NWNM Analysis (PDF) / Analysis Summary (PDF)
---
Nuclear Watch Media
---
Jay Coghlan, Nukewatch Director Interview
Earth Matters Radio re legacy of the US nuclear weapons program on the 70th anniversary of the Hiroshima/Nagasaki bombings. Thursday Aug 6 at 10 am and 8 pm on 89.1FM. Archived podcast here
---
NukeWatch YouTube Channel
See our playlists of key video clips.
---
Chuck Montaño
---

June 12 OpEd, ABQ Journal:
- Public kept in dark over LANL

- Letter to House Subcommittee on Oversight requesting resumption of its investigation into sudden terminations of LANL fraud investigators in view of new evidence and testimony: view/download PDF

- US Justice Dept. Needs To Investigate Los Alamos Cover-Up: A petition requiring officials to stop ignoring retribution against whistleblowers that is standard practice at Los Alamos National Laboratory.



POGO Book Review:
- Once Upon a Time in Los Alamos

Los Alamos: A Whistleblower's Diary, by Chuck Montaño, 2015. (More info)

April 21, Los Alamos Daily:
Chuck Montaño was given the ANA Whistleblower award in Washington DC: (story)

Chuck Montaño serves on Nuclear Watch New Mexico's Steering Committee.
---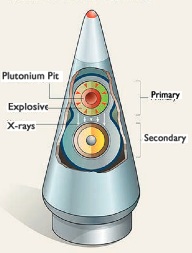 Successful Citizen Activism Against
Expanded U.S. Plutonium Pit Production
This is the unsung story of successful citizen activism against repeated government attempts to expand the production of plutonium pit cores, which has always been the choke point of resumed U.S. nuclear weapons production. This history is a critical part of the march toward a future world free of nuclear weapons. We gratefully dedicate it to Leroy Moore, longtime activist with the Rocky Mountain Peace and Justice Center, and J. Carson Mark, retired director of the Los Alamos Lab's Theoretical Division and ardent arms control advocate.
(View/download full report- PDF)
Updates: Plutonium Pit Production


July 14, 2017:
Debate Is On Over Making More Nuclear Triggers At Los Alamos Lab
"The National Nuclear Security Administration is under orders from Congress to produce as many as 80 new nuclear weapons triggers a year by around 2030, and Los Alamos National Laboratory is the only place in the country that is equipped to make them now... The plans for a higher-capacity plutonium pit production facility make Los Alamos key - some call the lab 'ground zero'..." (ref: Albuquerque Journal)

April 23, 2015: NukeWatch Fact Sheet
(View/download "Plutonium Pit Production at LANL")
---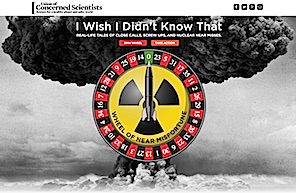 What is both sobering and addictive?
This "Wheel of Near Misfortune" created by Union of Concerned Scientists- don't miss it!
---
Dr. Perry's Nuclear Nightmare
Dr. William J. Perry, the 19th Secretary of Defense, shares his nuclear nightmare in this video produced by the William J. Perry Project.
---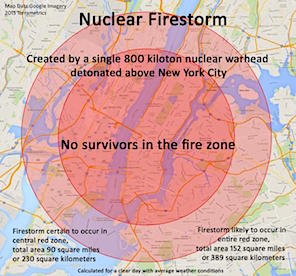 What would happen if an 800-kiloton nuclear warhead detonated above midtown Manhattan?
You should read this.
---

ANA 2015: The Growing U.S. Nuclear Threat
Spending on "modernization" increases the nuclear danger. Lack of accountability wastes billions and puts the public at risk.
Alliance For Nuclear Accountability Report 5/2015

---
Brief terrifying history of US nuclear mishaps
Eric Schlosser recounts the United States' clumsy history with nuclear weapons. And it's terrifying.
---
Who Will Claim Ronald Reagan's Mantle On

Nuclear Disarmament Today?
"A nuclear war cannot be won and must never be fought. The only value in our two nations possessing nuclear weapons is to make sure they will never be used. But then would it not be better to do away with them entirely?" -1984 State of the Union
(Read more of "Ronald Reagan, Republicans, and Nuclear Weapons" by Jonathan Granhoff, President, Global Security Institute)
---
The nuclear threat has changed. Former U.S. Secretary of Defense Bill Perry tells a harrowing story of a false alarm that almost set off nuclear Armageddon. Former U.S. Senator Sam Nunn explains why we can't rely on technology to work perfectly in an age of cyber attack and terror.
---

Recent visitors - click to enlarge
---

"If you really want a future world free of nuclear weapons, you can hardly make a better investment than to give to Nuclear Watch New Mexico. They need and deserve your support so that they can carry on their groundbreaking work. I urge you to be generous with them!" - Danielle Brian, Executive Director, Project on Government Oversight.
Please support our work! Donations are tax-deductible

New & Updated

---
For immediate release, July 28, 2016
LANL Estimate of $2.9 Billion for "Remaining" Cleanup Leaves Nuclear and Toxic Wastes Behind and Kills Needed Jobs
"Santa Fe, NM. The Department of Energy (DOE) has announced that the cost of "Remaining Legacy Cleanup" of radioactive and toxic wastes from more than 70 years of nuclear weapons research and production at the Los Alamos National Laboratory (LANL) will cost $2.9 billion through fiscal year 2035, averaging $153 million per year.
"That cost estimate clearly assumes that the Lab's major radioactive and toxic wastes dumps will not be cleaned up. Instead they will be "capped and covered," leaving some 200,000 cubic yards of radioactive and toxic wastes at Area G, its largest waste dump. Those wastes sit in unlined pits and trenches, 800 feet above groundwater and three miles uphill from the Rio Grande (plutonium contaminants have been detected 200 feet below Area G). During this same period of time the Lab's nuclear weapons programs that caused the mess to begin with will cost ten times as much, even before expected funding increases for expanded production of plutonium bomb core "pits" and increasingly aggressive "Life Extension Programs" that give existing nuclear weapons new military capabilities..." (View/download full press release PDF)
---
For immediate release, July 19, 2016
Nuclear Watch NM Amends LANL Cleanup Lawsuit - Claims New Consent Order To Be Invalid
"Nuclear Watch New Mexico has amended its federal lawsuit against the Department of Energy (DOE) and Los Alamos National Security, LLC (LANS) that alleges twelve violations of a 2005 Consent Order governing cleanup at the Los Alamos National Laboratory (LANL). Those violations could result in potential penalties of more than $300 million dollars that would go to the state, if only the New Mexico Environment Department (NMED) were to enforce them. Nuclear Watch now asks the court to declare the new 2016 Consent Order to be invalid because the requirement for the opportunity of a public hearing was not met."
(view/download full press release PDF)
---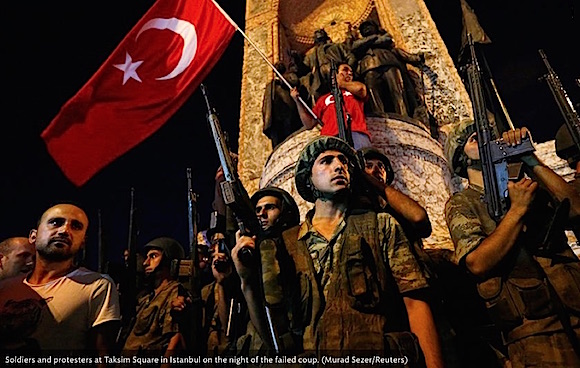 Turkey Failed Coup: What About Those Nuclear Weapons Stored at Incirlik?
- Foreign Policy, 18 July:
America's Nukes Aren't Safe in Turkey Anymore
But is there anywhere else in Europe that would take them?
Jeffrey Lewis, director at the James Martin Center: "... If a hostile junta were to seize control of a country with U.S. nuclear weapons stationed in it, things might be dicier. An airbase is a not a fortress; it is not intended to withstand a siege by the host government any more than an embassy might. Use control devices such as "Permissive Action Links" can prevent someone from easily using a stolen weapon, but may eventually be bypassed (the codes were set to "00000000" for 20 years. Hope they're tougher now.) ... So while the precautions to protect U.S. nuclear weapons at Incirlik are reasonable, they are based on a series of assumptions about the stability and friendliness of the country. The sight of the Incirlik base commander being frog-marched off the base is disquieting precisely because it undermines such assumptions... The security situation in Turkey has been deteriorating for some time..." (more at FP)
- The Guardian, 17 July:
Turkey Coup Attempt Raises Fears Over Safety of US Nuclear Stockpile
Hans Kristensen, Federation of American Scientists: "I think the key lesson is that the benefits of storing nuclear weapons in Turkey are minimal but the risks have increased significantly over the past five years. I would say that the security situation in Turkey and in the base area no longer meet the safety requirements that the United States should have for storage of nuclear weapons. You only get so many warnings before something goes terribly wrong. It's time to withdraw the weapons." (ref)
- The New Yorker, July 17, 2016:
The H-Bombs in Turkey
Eric Schlosser: "Among the many questions still unanswered following Friday's coup attempt in Turkey is one that has national-security implications for the United States and for the rest of the world: How secure are the American hydrogen bombs stored at a Turkish airbase?" (ref)

Turkey Purge: Latest Updates July 28:
Turkish officials are demanding the US extradite Fethullah Gulen, who seems to play for Erdogan the role that Emmanuel Goldstein played in Orwell's "1984". Many see Gulen differently. "Gulen built up his reputation as a Sunni Muslim preacher with intense sermons. His movement, known as Hizmet, or 'Service' in Turkish, set up hundreds of schools and businesses in Turkey, and later abroad. His philosophy stresses the need to embrace scientific progress, shun radicalism and build bridges to the West and other religious faiths." (Ece Toksabay and Can Sezer for Reuters/World Post) It's a complicated story though... see this BBC report.
Turkey coup postscript: it's beginning to look like Erdogan was already planning a massive purge of Turkish society, and the plotters got wind of it, and rushed into the coup to pre-empt. In any case Erdogan had long lists of Gulenist sympathizers ready for purging.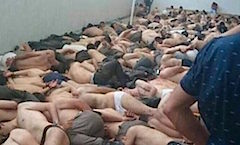 Turkish military detainees- UK Sun- click for source

Erdogan's purge so far (July 28):
15,200 education ministry officials, 21,000 teachers, 1,577 university deans, 492 clerics, 250 cabin crew from Turkish Airlines; 3000 members of judiciary, including 1,481 judges, 1,500 finance ministry officials, 393 social policy ministry officials, 300 from energy ministry, 257 from PM's office staff; the Presidential guard disbanded; Closed: 1331 media outlets, including the wide-circulation "Zaman", 3 news agencies and 16 television channels, 45 newspapers, 15 magazines and 29 publishers; 97 journalists arrested, 25 media house licenses revoked, 20 news websites blocked; 8000 police, 1,684 military personnel, including 149 generals and admirals, and 100 intelligence officials purged;
Amnesty International has said detainees may have suffered human rights violations, including beatings and rape.
---
July 10, 2016 Washington Post report:
Obama plans major nuclear policy changes in his final months
Possibilities for executive action: Declaring 'no first use', taking deployed nukes off 'hair trigger', canceling the LRSO, naming a 'blue-ribbon panel of experts' to review and scale back triad modernization plans. Washington Post, 7/10/16
- Physicians for Social Responsibility has provided an online form letter you may send (modify as wished) to the president urging him to 1) declare a policy of "no first use" of nuclear weapons, and 2) to cut the new nuclear cruise missile from the budget.
- Nuclear Age Peace Foundation has also posted an online form letter you can use to urge the president to act on 7 nuclear policy changes, including removing US nukes from foreign deployment and eliminating land-based nuclear weapons.
---
For immediate release, June 29, 2016:
NM Environment Dept. Finalizes Consent Order on Los Alamos Lab Cleanup; Surrenders Enforcement to Nuclear Weaponeers
"The new Consent Order is a giveaway to the Department of Energy and the Lab, surrendering the strong enforceability of the old Consent Order. The new Order is also clearly the opposite of the old Consent Order, whose underlying intent was to make DOE and LANL get more money from Congress for accelerated cleanup. In contrast, the new Consent Order allows them to get out of future cleanup by simply claiming that it's too expensive or impractical to clean up..."
(view/download full press release PDF)
---
June 21, 2016:
Joe Cirincione Testifies on Nuclear Dangers at Democratic Platform Committee
Ploughshares President Joe Cirincione testified at the Democratic Platform Drafting Committee,

highlighting the urgent threats posed by nuclear weapons:
"The use of one nuclear weapon on one city would be a level of destruction not seen since the end of the Second World War. The use of ten nuclear weapons on ten cities would be a catastrophe unprecedented in human history. The use of 100 weapons on 100 cities could destroy all humanity has created over the millennia...
"One has to be irrationally optimistic to believe that we can keep these weapons in fallible human hands indefinitely and something terrible will not happen. We can and must steadily reduce the risk of nuclear explosions by accident, miscalculation or madness before it is too late."
Read and download Cirincione's full written testimony here.


Ploughshares Fund is a supporter of Nuclear Watch New Mexico
---
June 17, 2016:
Representative Adam Smith (D-WA), ranking member on the House Armed Services Committee, writes in Foreign Policy:
America Already Has More Than Enough Nuclear Missiles
"But Republicans are pushing a $1 trillion nuclear modernization program, which would not only bankrupt the Pentagon but could spark a global nuclear arms race.
"Any rational attempt to plan for America's future security must begin with a clear-eyed reassessment of the costs, trade-offs, and dangers of the trillion-dollar plan Washington is undertaking to modernize the U.S. nuclear weapons complex. That reassessment should include an effort to eliminate the new nuclear cruise missile.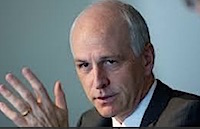 "The United States needs a strong and credible nuclear arsenal. But our current nuclear forces are excessive. With over 5,000 deployed and stockpiled nuclear weapons- and thousands more awaiting dismantlement- we have a nuclear force stacked with redundancy. The "nuclear triad" that we would use to deliver these weapons consists of over 400 land-based intercontinental ballistic missiles on high alert and undetectable nuclear ballistic submarines, each armed with two types of warheads. We also deploy nuclear gravity bombs that could be delivered from bombers or fighter aircraft, and air-launched nuclear cruise missiles. In addition, the United States maintains non-deployed nuclear weapons that act as an additional hedge to our deployed nuclear weapons, along with thousands of nuclear components and, of course, the ability to build even more nuclear weapons.
"The truth is that the United States can retain a credible nuclear deterrent with significantly fewer nuclear weapons and fewer delivery systems, at a fraction of the cost. Instead, and with little debate, Congress has embarked on a plan to modernize all of these systems and increase these capabilities at an estimated total cost of $1 trillion over 30 years. That plan means purchasing new nuclear weapons production facilities and labs, refurbishing warheads, land-based ballistic missiles, ballistic missile submarines, building new strategic bombers and nuclear-capable fighter aircraft, and, to top it all off, a new nuclear cruise missile.
"These expenses will soon constitute a huge proportion of the U.S. defense budget. The comptroller of the Department of Defense has called the cost of nuclear modernization "the biggest problem we don't know how to solve yet." Meanwhile, Republicans on the House Armed Services Committee repeatedly voted down and blocked amendments that would require more comprehensive cost assessments for these plans.
"Now is the time for serious oversight and a realistic approach to these issues in order to stop an emerging arms race and avoid wasting billions of dollars we cannot afford." (read more)
---
Public Integrity on Vol. 2 of General Butler's memoir, "Uncommon Cause"
Excerpts: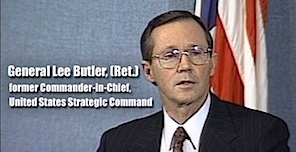 "Butler writes that in the nuclear war contemplated in his years at the Strategic Air Command roughly 10,000 nuclear weapons would have been used by America and another 10,000 by Russia in the space of just a few hours. 'I saw the arms race from the inside... I was responsible for nuclear war plans with some 12,000 targets, many planned to be struck with repeated nuclear blows, some to the point of complete absurdity,' he recalled.
"'Wholesale nuclear war'- of the type that he and his colleagues expected, planned for, and practiced in simulations- 'would have made life as we know it unsustainable,' Butler writes. 'Billions of people, animals, every living thing would perish under the most agonizing conditions imaginable.'
"And it could still happen today, he believes, because U.S. officials remain in the grip of the delusion that nuclear deterrence is an effective and safe policy."

"Butler says he has many lingering frustrations about the military's failure to hear his alarms about the dangers of keeping large nuclear stockpiles, and about what he regards as the continuing ability of today's nuclear strategists and the large corporations that profit from such work to pull the government more deeply into archaic nuclear roles.
"When he was asked in 1989 to attend an interagency briefing by senior officials at the Department of Energy- which oversees the production of nuclear warheads- on their future plans to double the capacity of the complex at a cost of billions of dollars, he shocked the room. All those attending, he writes, had 'lauded the briefing with lip-smacking anticipation of what it would mean for his or her piece of the pie.' But when Butler said the military would instead be cutting nuclear weapons requirements by 50 percent, 'dead silence ensued. No one moved' and the meeting was swiftly adjourned.
"After taking the Strategic Air Command's helm in 1991, Butler writes, he summoned to Omaha the leaders of firms that he said had 'pocketed trillions of dollars in profits' by making Air Force and Navy strategic hardware- Boeing, Lockheed, Northrop, Rockwell, General Dynamics, McDonnell Douglas, Raytheon, and others- to tell them it was time to stop growing and start cutting the nuclear weapons business. Most of those present greeted his words 'with disbelief and denial,' he recalls. And when he conveyed the same message at a separate meeting that year to directors of the three U.S. nuclear weapons laboratories, 'there followed an incredulous silence.'" - (Ref: A Fmr. Sr. Gen'l Again Calls for Abolishing the Nuclear Forces He Once Commanded)
- Uncommon Cause - Volume I: A Life at Odds with Convention - The Formative Years
- Uncommon Cause- Volume II: A Life at Odds with Convention - The Transformative Years
---
Public comments on the proposed (revised) LANL Consent Order
On March 30, 2016, the New Mexico Environment Department (NMED) released for public comment its proposed 2016 Compliance Order on Consent ("Consent Order") governing cleanup at the Los Alamos National Laboratory (LANL). If implemented, the revised Consent Order will almost certainly create serious barriers to achieving cleanup, especially given the Lab's known opposition to full and complete cleanup. In addition, the proposed revised Consent Order limits public participation opportunities; undermines enforceability by the Environment Department; puts the Department of Energy (DOE) in the driver's seat; and lacks a final milestone compliance date. The proposed 2016 Consent Order is potentially a giant step backwards if the goal is to achieve genuine, comprehensive cleanup at LANL.
Thanks to all of you that sent in your comments.
See comments submitted by the public (PDF)
See comment submitted by NukeWatch (PDF)
We await NMED's response to all submitted comments.
---
Flawed Pentagon Nuclear Cruise Missile Advocacy
June 10, 2016; Hans Kristensen, Federation of American Scientists, writes:
"The Pentagon's arguments for why the LRSO is needed and why the amendments [to strip funding] are unacceptable are amazingly shallow - some of them even plain wrong."
Here is a particularly disturbing argument:
"The Kendall letter from March also defends the LRSO because it gives the Pentagon the ability to rapidly increase the number of deployed warheads significantly on its strategic launchers. He does so by bluntly describing it as a means to exploit the fake bomber weapon counting rule (one bomber one bomb no matter what they can actually carry) of the New START Treaty to essentially break out from the treaty limit without formally violating it:
'Additionally, cruise missiles provide added leverage to the U.S. nuclear deterrent under the New Strategic Arms Reduction Treaty. The accounting rules for nuclear weapons carried on aircraft are such that the aircraft only counts as one weapon, even if the aircraft carries multiple cruise missiles.'
"It is disappointing to see a DOD official justifying the LRSO as a means to take advantage of a loophole in the treaty to increase the number of deployed strategic nuclear weapons above 1,550 warheads. Not least because the 2013 Nuclear Employment Strategy determined that the Pentagon, even when the New START Treaty is implemented in 2018, will still have up to one-third more nuclear weapons deployed than are needed to meet US national and international security commitments." (more at FAS)
See the DOD letter circulated to Congress in May.
---
UNM Will Host "Symposium" Promoting Nuclear Weapons, Nuclear Triad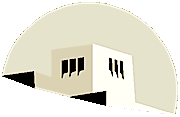 Albuquerque, June 20-21:
University of New Mexico will host an 'unprecedented' 2-day event featuring top military and Energy Dept. nuclear brass, along with weapons industry lobbyists, to promote nuclear weapons, and specifically, to support the modernization of all three legs of the nuclear triad in the face of growing criticism.
That UNM is hosting the Symposium is more evidence of the University of New Mexico's deepening involvement in nuclear weapons programs. UNM recently announced with Boeing, the U. of Texas and others that it was going to bid on the Sandia Labs management contract. (more on this at the Watchblog)
The 2016 Strategic Deterrence Symposium is organized by the 'Strategic Deterrent Coalition'- a self-proclaimed "non-profit, non-partisan, community-based organization of concerned citizens." (Whose address is given as: 1050 Connecticut Ave. NW, Washington, DC.)
"The single-issue focus of the Strategic Deterrent Coalition" is that the US "maintains a modern, safe, secure, effective and stabilizing Nuclear Triad deterrent".
Speakers will include Admiral Cecil Haney, Commander of US Strategic Command; General Robin Rand, Commander of Air Force Global Strike Command; Major General Scott Jansson, Commander, Nuclear Weapons Center; NNSA administrator Frank Klotz, and officials from the Los Alamos, Lawrence Livermore and Sandia Labs.

"Rationality has never been the hallmark of any nation pursuing a nuclear arsenal or thinking about its employment. Such arsenals take on a life and logic of their own, commanding huge budgets and compelling decisions that march at an ever increasing tempo to the beat of fear, technology, status and vested interests."
- General George Lee Butler (Ret.) Former Commander US Strategic Command, in his memoir, "Uncommon Cause".


Note: The aforementioned 'Nuclear Weapons Center' is based at Kirtland AFB (adjoining the Albuquerque airport), and Kirtland is also the third largest installation of the Air Force Global Strike Command. Read more about Kirtland's emergence as a major hub of the nuclear weapons complex in our Kirtland AFB dossier.
More from the SDC website:
- "Founding organizations" include Barksdale Forward, Kirtland Partnership Committee, Minot Task Force21, Montana Defense Alliance...
- Sponsors of the event include Northrup Grumman, Boeing, Lockheed Martin, BAE Systems, and Orbital ATK...
---
Worries Growing Over Future Nuclear Conflict in East Asia
Donald Kirk reports for Forbes from the Jeju Peace Forum: "Rumors of secret nuclear activities fly around the region, coming up at conferences, in editorials, in common conversation." (more)
In depth: Mark Fitzpatrick analyzes the past nuclear pursuits and current proliferation drivers of Japan, South Korea and Taiwan. Under what conditions would the democracies in Northeast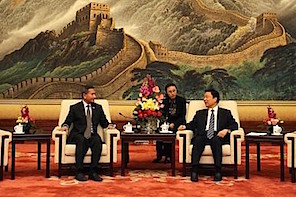 Singapore's Minister for Foreign Affairs Balakrishnan with China Vice President Li Yuanchao, in effort to defuse South China Sea tensions with a naval protocol. credit: Ministry Foreign Affairs

Asia seek to join the nuclear weapons club?
US Defense Secretary Ashton Carter told the Security Summit that China's militarisation of the South China Sea is destabilising the region, and urged it to abide by the pending international tribunal legal ruling. Beijing vowed to ignore the ruling; the US stepped up patrols. Major-General Yao Yunzhu, of the People's Liberation Army, speaking at the summit on Saturday, said the US military's presence in the disputed waters are unwarranted and could be interpreted as "battlefield preparations".

The Union of Concerned Scientists has just published a report titled "The Risk of Nuclear War with China". They write:
"Both governments are preparing for war. Both governments believe that a demonstrable readiness to use military force- including nuclear weapons- is needed to ensure the other will yield in a military confrontation.
"Twenty-four hours a day, 365 days a year, the governments of the United States and the People's Republic of China are a few poor decisions away from starting a war that could escalate rapidly and end in a nuclear exchange. Mismatched perceptions increase both the possibility of war and the likelihood it will result in the use of nuclear weapons. Miscommunication or misunderstanding could spark a conflict that both governments may find difficult to stop."
- UCS:The Risk of Nuclear War with China full report (PDF)
- Al Jazeera: Tensions escalate over South China Sea claims
- Forbes: As Obama Mourns Hiroshima, Experts Fear A Nuclear War In Northeast Asia
---
New Report from Carnegie: Perspectives on the Evolving Nuclear Order
A report from the Carnegie Endowment for International Peace
by Toby Dalton, Togzhan Kassenova, and Lauryn Williams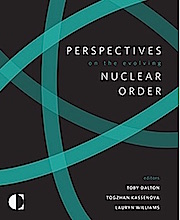 Published June 6, 2016
"The global nuclear order appears increasingly tense, primarily because many states feel that the structure and distribution of benefits is unjust. Among the states that will determine how the nuclear order will adapt, Argentina, Brazil, China, India, and Pakistan are particularly important.
"One common theme across middle-ground states pertains to perceptions of the salience of nuclear weapons and the politics of the dominant states in the nuclear order. Recent events in Syria and Ukraine suggest that Moscow is reinvigorating its reliance on nuclear weapons and deterrence, while U.S. efforts to reverse this trend are primarily inhibited by security commitments to European allies, as well as Japan and South Korea, all of which enjoy protection under the U.S. nuclear umbrella. And though the United States and Russia have reduced their arsenals by more than 80 percent since the Cold War, 3 non-nuclear states see the current focus by China, Russia, and the United States on arsenal modernization as an indication that they plan to sustain possession for decades to come.
"This, in turn, reinforces perceptions among non-nuclear-weapon states that nuclear-weapon states are ultimately more interested in pursuing arms control or management measures than in eliminating their stockpiles. Indeed, the United States plans to spend nearly $1 trillion on these efforts over the next few decades, while Russia in 2015 announced the planned addition of new long-range missiles to its arsenal..." read more / download report (PDF)
---
NIS sets out new vision for nuclear bomb factory after Trident work ends
June 2016. One of the UK's top scientists has said it is time to address how the skills and resources at Britain's nuclear weapons factory could be used if the government decided to cancel the Trident program.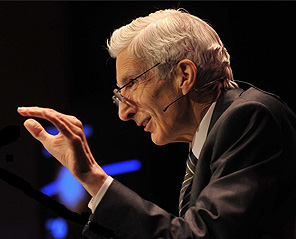 Sir Martin Rees, UK Astronomer Royal

"Writing in the foreword to a new Nuclear Information Service report about the Atomic Weapons Establishment (AWE), the Berkshire factory where the UK's Trident nuclear warheads are built and maintained, Professor Martin Rees (Lord Rees of Ludlow), Astronomer Royal and a former President of the Royal Society, said that it was 'highly relevant' to consider how these skills and resources 'might be gradually redeployed in the civil sector'.
"'The prospects for a post-Trident AWE to move away from its current role into civil sector markets are good, and are compatible with regional economic development strategies for the Thames Valley which aim to increase technological innovation in the area. As a result, 'jobs and economic benefits at AWE need not be lost in the short to medium term' and could be conserved in the long term 'by putting the Establishment's assets and skills to work in pursuit of innovative new civil sector business opportunities'". more/download report (PDF)
---
For immediate release May 17, 2016:
Nuclear Watch NM Files Lawsuit Over Lack of Cleanup at the Los Alamos Lab Santa Fe, NM. Nuclear Watch New Mexico has filed a lawsuit in federal court against the Department of Energy and Los Alamos National Security LLC (LANS), the for-profit operator of the Los Alamos National Laboratory, over their failure to meet cleanup milestones under a 2005 "Consent Order" they agreed to with the New Mexico Environment Department. The New Mexico Environmental Law Center is representing NukeWatch in this legal action to enforce cleanup at LANL.
The suit claims twelve violations, each ranging up to 675 days, with a civil penalty up to $37,500 for each day of violation. Our current cost estimate of the alleged violations approaches 300 million dollars and counting.
Jay Coghlan, NukeWatch Executive Director, commented, "The federal government plans to spend a trillion dollars over the next 30 years completely rebuilding U.S. nuclear forces. Meanwhile, cleanup at the Los Alamos Lab, the birthplace of nuclear weapons, continues to be delayed, delayed, delayed. We seek to make the for-profit nuclear weaponeers cleanup their radioactive and toxic mess first before making another one for a nuclear weapons stockpile that is already bloated far beyond what we need. Real cleanup would be a win-win for New Mexicans, permanently protecting our water and environment while creating hundreds of high paying jobs." (view/download full press release PDF)
---
For immediate release: April 7, 2016:
NukeWatch Files a Second FOIA Request for FY 2015
Los Alamos and Sandia Labs Performance Evaluation Reports
- Demands Expedited Release to E-FOIA Reading Room
Santa Fe, NM. Nuclear Watch New Mexico has filed a second request under the Freedom of Information Act (FOIA) for the National Nuclear Security Administration's FY 2015 Performance Evaluation Reports for the Los Alamos and Sandia National Laboratories. Nuclear Watch filed its first request on December 22, 2015, which has still not been fulfilled despite the law's statutory requirement that FOIA requests be honored within 20 working days. Because of that, Nuclear Watch is demanding expedited processing and posting of these reports to an electronic FOIA reading room, as required by the 1996 E-FOIA amendments.
Jay Coghlan, Nuclear Watch New Mexico director, commented, "It is unconscionable that the National Nuclear Security Administration withholds information from the American taxpayer on how fat contractors who constantly bust budgets are paid, especially when these same contractors always have their hands out for yet more taxpayer money for nuclear weapons, forever. The question is, what do NNSA and its contractors have to hide? To answer that, Nuclear Watch will not only demand that the Performance Evaluation Report be publicly released, but that from this point on the reports be automatically posted to an electronic FOIA reading room as the law requires. The American taxpayer should not have to fight this battle year after year just to keep greedy nuclear weapons contractors accountable."
(view/download full press release PDF)
---

Every little bit helps!
Remember: contributions are tax-deductible!
*Go to donations page* Thanks for your support!
---


Alliance For Nuclear Accountability Report
Out-of-control U.S. nuclear weapons programs accelerate spending, proliferation, health and safety risks: The Trillion Dollar Trainwreck (PDF)

---
Critical Events
---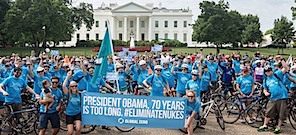 Bike Around the Bomb, 2015
Worldwide, August 6, 2016:
Bike Around The Bomb August 6
Participants in cities all over the world will be biking around the circumference of urban devastation which would result from a nuclear bomb. Nuclear weapons are designed to inflict enormous devastation, wiping entire cities of innocent civilians off the map and poisoning entire regions with radiation and fallout. Yet despite the humanitarian consequences, leaders of the nine nuclear countries insist on maintaining over 15,000 of these devastating weapons... Join the event on August 6 and call on your representatives to make the world a safer place by eliminating nuclear weapons once and for all.
(more info at Global Zero)

Santa Fe Bike Around The Bomb August 6
Rally: 8-9:00am Cathedral Park, 213 Cathedral Place
Guest speakers will include Valerie Plame Wilson (former CIA ops officer), Dr. Jim Doyle (former Nuclear Safeguards and Security Specialist at LANL), and Tina Cordova (Co-Founder of Tularosa Basin Downwinders Consortium)
After the rally and speakers, we'll be biking around the downtown area of Santa Fe, roughly tracing the circumference of the blast at Hiroshima to symbolize what a "small" nuclear detonation would look like in our city and what we stand to lose. What to bring- yourself, your friends, and your bikes (the friendly folks at Mellow Velo are just down the street at 132 E. Marcy Street if you need a rental!)
(contact:Jesse at globalzeronm@gmail.com)

Albuquerque Bike Around The Bomb August 6
9-11am, Netherwood Park, Albuquerque
(more info)
August 2016:
Hiroshima Events Calendar
Physicians for Social Responsibility has posted an interactive online calendar and map for events related to the 71st anniversary of the destruction of Hiroshima and Nagasaki. (Use the "fill out this form" link to add an event to the calendar.)
---
Public Comment period, April through summer:
Finding Long-Term Solutions for Nuclear Waste
DOE call for public comment as part of "consent-based siting" initiative. "We are requesting feedback from communities, states, Tribal Nations, and interested stakeholders on important considerations in designing a fair and effective process."
April 11: Atlanta; April 26: Sacramento; May 24: Denver; June 2: Boston (more dates and details)
---
- Nuclear Calendar: Free subscription to this extensive email listing of all nuclear-related events, from the Friends Committee on National Legislation.

- National Security Legislative Calendar
From the Council for a Livable World: ref
---
---
NukeWatch YouTube Channel
See our playlists of key video clips.
---
Command and Control- the Day We Almost Nuked Arkansas
"Cold War-era thriller with post-apocalyptic nightmare. Given it's all true, this one will stay with you for days after viewing." - Rolling Stone Screenings schedule / website
---
---
---
---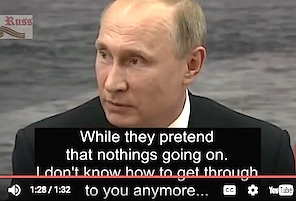 In Europe and Russia, There's Talk of War
-Jill Dogherty, Wilson Center (ref)
See our report: Nuclear Flashpoints: NATO-Russia
---
Nuclear News
---
Why You Should Care About Nukes
"Thanks to the Future of Life Institute for helping support this video and to Max Tegmark for guest narrating. For info about divesting from nuclear weapons companies, go to FLI Responsible Investing."
---
Dr. James Doyle
---
The Full Price of Nuclear Deterrence
- The Bulletin, Feb. 29, 2016

DOE's Disinformation Undercuts US Credibility,
Nonproliferation Efforts
- The Hill, Dec. 11, 2015

Keeping Russia's Missiles Away from Europe
- National Interest, Oct 1, 2015

Beware the Nuclear Experts
- Defense News, Aug. 20, 2015

The Material World of Nuclear Weapons
- Arms Control Today, March, 2015


---
LANL's Central Mission
Los Alamos Lab officials have recently claimed that LANL has moved away from primarily nuclear weapons to "national security", but what truly remains as the Labs central mission? Here's the answer from one of its own documents: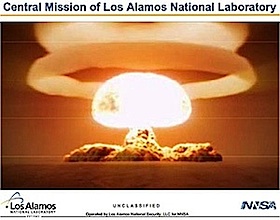 LANL's "Central Mission"- Presented at: RPI Nuclear Data 2011 Symposium for Criticality Safety and Reactor Applications
(PDF) 4/27/11
---
Current nuclear stockpiles- for country reports and other details see original annotated infographic at Ploughshares.org.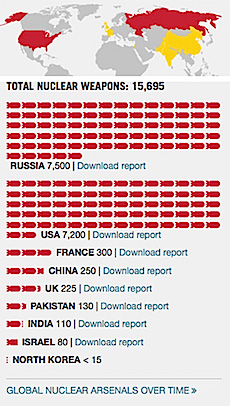 ---
Beyond the Summit:
New Approaches to Nuclear Security
William Perry: "Danger of a nuclear catastrophe is greater than during the Cold War. Our public is blissfully unaware. Consequently, the policies that this country follows are in no way commensurate to the danger."
---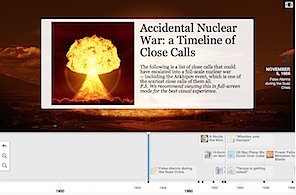 Accidental nuclear war- think it can't happen?
It almost did, quite a few times. See this timeline of nuclear close calls, presented by The Future of Life Institute.
---
Don't Bank on the Bomb 2015
In a 50% increase over last year's totals, 53 financial institutions prohibit or limit investments in nuclear weapon producers, according to Don't Bank on the Bomb (2015), published in November by Dutch peace organization PAX. The increase illustrates the growing stigmatization of nuclear weapons due to the renewed focus on their humanitarian consequences. The report also identifies 382 banks, insurance companies, and pension funds which have made USD 493 billion available to nuclear weapons producers since January 2012. View/download PDF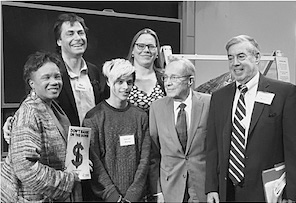 April 11, 2016:
Cambridge Divests $1 Billion From Nukes Following Grassroots Campaign
Above: Cambridge Mayor Denise Simmons, MIT's Max Tegmark, Lucas Perry, Susi Snyder, Former Secretary of Defense William Perry, and Dr. Jonathan King after the public announcement of the Cambridge nuclear divestment plan. (ref)
---
---
Radioactive Quotes

---
"What is the only provocation that could bring about the use of nuclear weapons? Nuclear weapons. What is the priority target for nuclear weapons? Nuclear weapons. What is the only established defense against nuclear weapons? Nuclear weapons. How do we prevent the use of nuclear weapons? By threatening the use of nuclear weapons. And we can't get rid of nuclear weapons, because of nuclear weapons. The intransigence, it seems, is a function of the weapons themselves."

Martin Amis, Einstein's Monsters

[link]
"One has to be irrationally optimistic to believe that we can keep these weapons in fallible human hands indefinitely and something terrible will not happen. We can and must steadily reduce the risk of nuclear explosions by accident, miscalculation or madness before it is too late."

Joseph Cirincione, testifying before the Democratic Platform Committee, June, 2016

[link]
---
Nuclear weapons: Write 'em off!


Remember, contributions are tax-deductible!
*Go to donations page* Thanks for your support!
---
Help us boost public awareness of the reality and risks of nuclear weapons today. Please share Nukewatch.org with your friends using the buttons below: