Arsenal of Information
---
---
---
Dossiers:
Kirtland AFB Nuclear Weapons Complex
LRSO: New Nuclear Cruise Missile
B61-12 Enhanced Nuclear Bomb
Marshall Islands Lawsuit
Lockheed and Contractor Lobbying Abuses
MOX / Plutonium Disposition
CMRR-Nuclear Facility
Conference on the Humanitarian Impact
Nuclear Testing Since 1945
Fukushima Disaster and Updates
Atomic Histories
---
Nuclear Watch Interactive Map of the
Nuclear Weapons Complex
View full size
Facilities:
Kansas City Plant
Lawrence Livermore National Labs
Los Alamos National Laboratory
Nevada National Security Site
Pantex Plant
Sandia National Laboratories
Savannah River Site
Washington DC
Waste Isolation Pilot Plant (WIPP)
Y-12 National Security Complex
Facility Spotlight:
GAO Blasts Lack of Whistleblower Protection at Nuclear Facilities
"The GAO's findings of abysmal whistleblower protection at the Department of Energy are not by accident or coincidence. DOE whistleblower retaliation is historic, systemic and by design, seeking to suppress public knowledge of the inside secrets of the dirty nuclear weapons business. Now is the time for serious oversight and a realistic approach to these issues in order to stop an emerging arms race and avoid wasting billions of dollars we cannot afford." -Jay Coghlan, executive director, Nuclear Watch New Mexico (McClatchy: Department of Energy fails to protect nuclear whistleblowers) / (read more)
---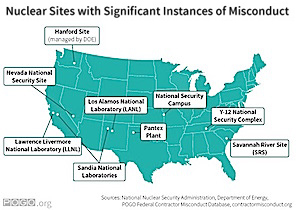 Nuclear Weapons Complex Misconduct
Dec. 3, 2015. POGO: Updated Federal Contractor Misconduct Database, focussing on Nuclear Complex (see report at POGO)
---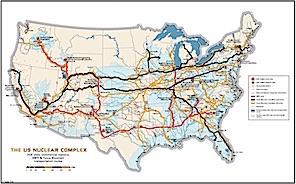 Click the image to view and download this large printable map of DOE sites, commercial reactors, nuclear waste dumps, nuclear transportation routes, surface waters near sites and transport routes, and underlying aquifers. This map was prepared by Deborah Reade for the Alliance for Nuclear Accountability.
Quote of the Week

---
"As long as nuclear weapons exist, there is a risk that they could be used- by accident, via a technical failure, or though the evil will of a man or madmen or terrorists.
"A nuclear-free world is not a utopia, but an imperative. Yet it can be achieved only through the demilitarization of international relations."
- Mikhail Gorbachev, speaking in Reykjavik, marking the 30th anniversary of the 1986 Soviet-American summit. (ref)
---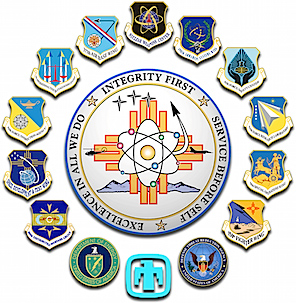 Dossier:
The Kirtland AFB Nuclear Weapons Complex
Kirtland Air Force Base, which abuts and shares some runways with the Albuquerque airport, has become a major nuclear weapons complex of it's own. It hosts the Air Force's Nuclear Weapons Center, Sandia National Laboratories, and what is probably the nation's (and perhaps the world's) largest repository of nuclear weapons, estimated at up to 2,500 warheads... (read more)
---

"You have got to understand that this isn't a military weapon. It's used to wipe out women and children and unarmed people, and not for military uses. So we have got to treat this differently from rifles and cannon and ordinary things like that." -Pres. Truman 1948 (ref)
---
Follow the Money!

---
NNSA FY 2017 Budget Request
- Nuclear Watch Analysis/Compilation (PDF)
---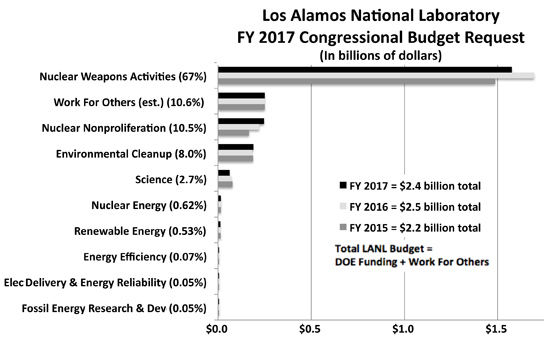 LANL FY 2017 Budget Request
Click to view full PDF incl. annotations
---
Lawrence Livermore FY 2017 Budget Request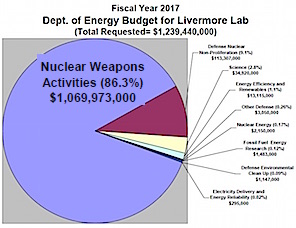 For Livermore Lab, Nuclear Weapons Activities still dominate the budget, increasing to over 86%.
Chart by Tri-Valley CARES
---
Congressional Budget Office report:
Projected Costs of Nuclear Forces 2014-2023

CBO presentation based on the report: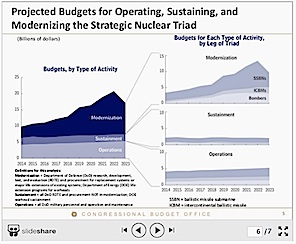 Click to view presentation
---
Stockpile Stewardship and Management Plan
- View/Download FY 2017 SSMP (PDF)
-SSMP Analysis of Hans Kristensen, FAS: Nuclear Transparency and the Stockpile Stewardship and Management Plan
- View/Download FY 2015 SSMP (PDF)
- NWNM Analysis (PDF) / Analysis Summary (PDF)
---
Nuclear Watch Media
---
KUNM FM: LANL's Long Environmental Cleanup
KUNM public radio discussion of Los Alamos cleanup, and Nukewatch lawsuit Archived podcast here
---
Jay Coghlan, Nukewatch Director Interview
Earth Matters Radio re legacy of the US nuclear weapons program on the 70th anniversary of the Hiroshima/Nagasaki bombings. Thursday Aug 6 at 10 am and 8 pm on 89.1FM. Archived podcast here
---
NukeWatch YouTube Channel
See our playlists of key video clips.
---
Chuck Montaño
---

June 12 OpEd, ABQ Journal:
- Public kept in dark over LANL

- Letter to House Subcommittee on Oversight requesting resumption of its investigation into sudden terminations of LANL fraud investigators in view of new evidence and testimony: view/download PDF

- US Justice Dept. Needs To Investigate Los Alamos Cover-Up: A petition requiring officials to stop ignoring retribution against whistleblowers that is standard practice at Los Alamos National Laboratory.



POGO Book Review:
- Once Upon a Time in Los Alamos

Los Alamos: A Whistleblower's Diary, by Chuck Montaño, 2015. (More info)

April 21, Los Alamos Daily:
Chuck Montaño was given the ANA Whistleblower award in Washington DC: (story)

Chuck Montaño serves on Nuclear Watch New Mexico's Steering Committee.
---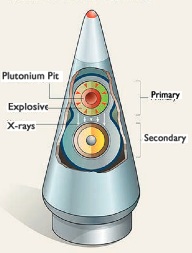 Successful Citizen Activism Against
Expanded U.S. Plutonium Pit Production
This is the unsung story of successful citizen activism against repeated government attempts to expand the production of plutonium pit cores, which has always been the choke point of resumed U.S. nuclear weapons production. This history is a critical part of the march toward a future world free of nuclear weapons. We gratefully dedicate it to Leroy Moore, longtime activist with the Rocky Mountain Peace and Justice Center, and J. Carson Mark, retired director of the Los Alamos Lab's Theoretical Division and ardent arms control advocate.
(View/download full report- PDF)
July 14, 2016:
Debate Is On Over Making More Nuclear Triggers At Los Alamos Lab
"The National Nuclear Security Administration is under orders from Congress to produce as many as 80 new nuclear weapons triggers a year by around 2030, and Los Alamos National Laboratory is the only place in the country that is equipped to make them now... The plans for a higher-capacity plutonium pit production facility make Los Alamos key - some call the lab 'ground zero'..." (ref: Albuquerque Journal)

April 23, 2015: NukeWatch Fact Sheet:
"Plutonium Pit Production at LANL"
(View/download PDF)
---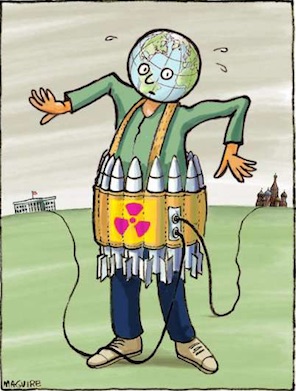 Nuclear Risk, 2016:
"Imagine that a man wearing a TNT vest were to come into the room and, before you could escape, managed to tell you that he wasn't a suicide bomber. He didn't have the button to set off the explosives. Rather, there were two buttons in very safe hands. One was in Washington with President Obama and the other in Moscow with President Putin, so there was nothing to worry about. You'd still get out of that room as fast as you can!
"Just because we can't see the nuclear weapons controlled by those two buttons, why do we stay here? As if confronted by that man, we need to be plotting a rapid escape. Instead, we have sat here complacently for over 50 years, trusting that because Earth's explosive vest hasn't yet gone off, it never will. If you agree that it's high time we stopped sitting around and started solving this problem, please read on-" NuclearRisk.org.
---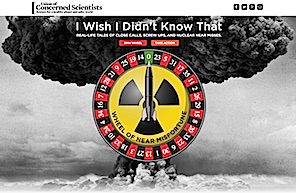 What is both sobering and addictive?
This "Wheel of Near Misfortune" created by Union of Concerned Scientists- don't miss it!
---
Dr. Perry's Nuclear Nightmare
Dr. William J. Perry, the 19th Secretary of Defense, shares his nuclear nightmare in this video produced by the William J. Perry Project.
---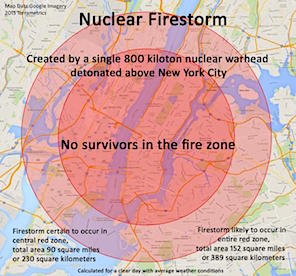 What would happen if an 800-kiloton nuclear warhead detonated above midtown Manhattan?
You should read this.
---
Brief terrifying history of US nuclear mishaps
Eric Schlosser recounts the United States' clumsy history with nuclear weapons. And it's terrifying.
---
Jan 26, 2016
Doomsday Clock: Three Minutes to Midnight
"The world situation remains highly threatening to humanity, and decisive action to reduce the danger posed by nuclear weapons and climate change is urgently required." (The Bulletin, Jan 26, 2016)
---
The nuclear threat has changed. Former U.S. Secretary of Defense Bill Perry tells a harrowing story of a false alarm that almost set off nuclear Armageddon. Former U.S. Senator Sam Nunn explains why we can't rely on technology to work perfectly in an age of cyber attack and terror.
---

Recent visitors - click to enlarge
---
Help us boost public awareness of the reality and risks of nuclear weapons today. Please share Nukewatch.org with your friends using the buttons below:
---

"If you really want a future world free of nuclear weapons, you can hardly make a better investment than to give to Nuclear Watch New Mexico. They need and deserve your support so that they can carry on their groundbreaking work. I urge you to be generous with them!" - Danielle Brian, Executive Director, Project on Government Oversight.
Please support our work! Donations are tax-deductible

New & Updated

---
Marshall Islands Lawsuit rejected by Hague Court
The 16 judges were deadlocked 8-8; court president Ronny Abraham cast the tie-breaking vote for rejection of the case on a jurisdictional issue. (ref) Abraham acknowledged that the Marshall Islands has a particular interest in nuclear disarmament "by virtue of the suffering of its people" during years of testing at Bikini and Enewetak atolls between 1946 and 1958. But he said the country had not proved that an actual dispute existed between itself and nuclear-armed states when it filed its case.
"We are extremely disappointed," said Phon van den Biesen, the Dutch lawyer who led the Marshall Islands team. "The court is very divided and turned down the case on a 'microformality'". The hearings in the case focused only on the matter of jurisdiction. With its decision on Wednesday, the court will not consider the merits of the case presented by the Marshall Islands, and there can be no appeal. (ref) / (see our Marshall Islands lawsuit dossier)

The Marshall Islands decision came against a backdrop of increasing momentum in international efforts to reduce the nuclear danger:

Security Council urges all to ratify Comprehensive Test Ban Treaty
23 September 2016. "Reaffirming that proliferation of weapons of mass destruction, and their means of delivery, threatens international peace and security, the United Nations Security Council today adopted a resolution urging all States who haven't done so to sign the Comprehensive Nuclear-Test-Ban Treaty". (ref)
Lassina Zerbo, Executive Secretary of CTBTO: "A world free of nuclear of weapons goes by stopping testing too, and then taking steps that will reinforce the agreements that are already here, and then leading us towards what we all want: a world free of nuclear weapons; a world free of any attempt of modernization that some are talking about today." (ref)

Success With Movement to Ban at the UN:
September 22, 2016. Austria's foreign minister, Sebastian Kurz, announced his country would join other UN member states in tabling a resolution next month to convene negotiations on a legally binding instrument to prohibit nuclear weapons in 2017.
The Austrian-sponsored resolution would take forward this recommendation by establishing a formal mandate for negotiations. The deadline for tabling the resolution in the General Assembly's First Committee, which deals with disarmament matters, is 13 October. Following the tabling, nations will debate the resolution, then vote on whether to adopt it in the final week of October or first week of November. A second, confirmatory vote will take place in a plenary session of the General Assembly early in December.
Myanmar said on Monday 10/10: "Many in the room have expressed that nuclear weapons must be banned like other WMDs. They must be outlawed, in all aspects, as an interim measure leading to their total elimination."

Meanwhile, as relations with Moscow continue to deteriorate...

Russia has pulled out of the troubled MOX project
Citing "the threat to strategic stability posed by US hostile actions against Russia". (ref)
Russia's Lavrov: MOX pact exit is a signal to Washington that: "speaking in the language of sanctions & ultimatums won't work" (ref)
The Russian Non-Proliferation Department's official reason: US did not officially inform on planned change of PU disposal method (from MOX plant to WIPP disposal) as required in 2000 pact. (ref)
MOX- a good idea gone bad.

WIPP Pu plans will go on even if Russia quits plutonium deal
The Albuquerque Journal reports: "At Los Alamos and Sandia National Laboratories, the breakdown in the bilateral agreement may deal a decisive blow to already deteriorated relationships between scientists at New Mexico's national laboratories and their Russian counterparts, who had been working together to iron out the technical aspects of plutonium disposition under the deal, according to Don Hancock with the Southwest Research and Information Center in Albuquerque."
Ed Lyman of Union of Concerned Scientists said "Even until last week, the U.S. was optimistic that this was one area that Russia and the U.S. could cooperate." (ref)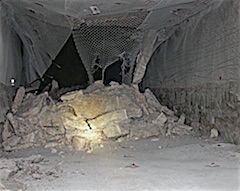 But WIPP has its own problems
Part of a ceiling at WIPP just collapsed- the 2nd time it's happened in a week. (ref)
Anyway, WIPP is still closed following the February 2014 explosion of a waste barrel and an ensuing radiation leak. DOE has been saying since February WIPP would open by the end of the year; now DOE is saying 'in the month of December'. (By Christmas?) (ref)

What about Deep Borehole? Not yet.
The first step, a deep borehole test drill, was rejected by communities in both North and South Dakota. (ref) Science notes local "fears that the project would open the county up to a future as a disposal site, or that drilling could go awry and pollute aquifers..."

Speaking of polluting aquifers...
Nukewatch has received the Santa Fe Mayor's Sustainability Award in the category of Environment for it's work to protect Northern New Mexico aquifers from radioactive wastes dumped over the last 70 years of atomic bomb production at Los Alamos Lab. See more on our LANL cleanup page...
---
For immediate release, September 21, 2016
New Mexican Politicians Should Not Be Misled-
Energy Dept. Misrepresents Cost and Scope of Los Alamos Cleanup
"...The DOE report is far from honest. It intentionally omits any mention of approximately 150,000 cubic meters of poorly characterized radioactive and toxic wastes just at Area G alone (LANL's largest waste dump), an amount of wastes 30 times larger than DOE acknowledges in the 2016 Lifecycle Cost Estimate. In reality, DOE and LANL plan to not clean up Area G, instead installing an "engineered cover" and leaving the wastes permanently buried. This will create a permanent nuclear waste dump above the regional groundwater aquifer, three miles uphill from the Rio Grande. Radioactive and toxic wastes are buried directly in the ground without liners, and migration of plutonium has been detected 200 feet below Area G's surface..."
(read full press release PDF)
- Sept 21, Albuquerque Journal: Nuke Watch: Lab cleanup report understates costs, waste amounts at Los Alamos
- More on this issue: LANL Cleanup
---
Secretary of Defense Ashton Carter's Nuclear Resolve Tour
Bombs, Deterrence, and Reassurance on the Menu: Putting Any Doubts to Rest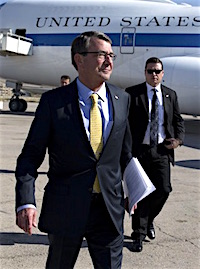 Departing Sept 26, itinerary:
1. Minot AFB- "For a speech on the future of America's nuclear capability." (moving ahead with 'modernization')
2. Kirtland AFB - "To thank personnel at Kirtland AFB for their work to ensure the readiness of the nuclear force."
3. Los Alamos and Sandia Labs - "To thank the scientists and engineers there for ongoing work on the development, assessment, and security of the nuclear triad."
4. San Diego - for a speech on the future of the rebalance to the Asia-Pacific region and ongoing security challenges there. (read: China, North Korea)
5. Pearl Harbor - to host a conference of ASIAN defense ministers, including "demonstrations of U.S. military capabilities" and a dinner aboard the USS Missouri. (reassuring those under the US nuclear umbrella)
(ref)

---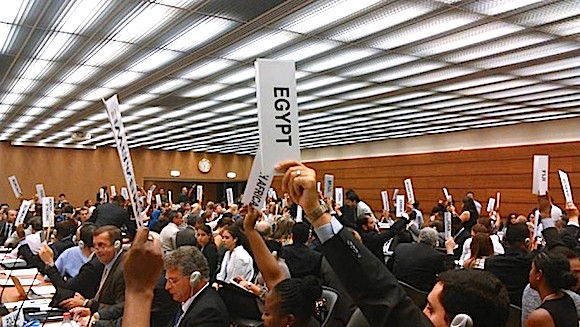 UN OEWG concludes with major breakthrough in effort to ban nuclear weapons
In the most contentious of three recommendations to the General Assembly, 62 countries declared their support for:
"The convening by the General Assembly of a conference in 2017 open to all states, international organizations, and civil society, to negotiate a legally binding instrument to prohibit nuclear weapons leading towards their total elimination."
(Of the 27 opposed, most were NATO countries, with Australia and South Korea - countries under the US 'nuclear umbrella')
ICAN reports: "This breakthrough is result of the new global discourse on nuclear weapons. Since Norway hosted the first conference on the Humanitarian Impact of Nuclear Weapons in 2013, the effect of the weapons on humans and the environment has taken center stage. Three conferences were held on the humanitarian impact of nuclear weapons (Norway, Mexico, Austria). These brought together governments, academia and civil society for fact-based examination of what the weapons can do- and what can be done to mitigate their effect. The conferences found that there is no way to recover from any use of nuclear weapons in populated areas, and no way to prevent the damage from crossing borders..."
"International treaties exist to prohibit all other weapons of mass destruction (chemical and biological) as well as to outlaw other weapons with indiscriminate effects (anti-personnel landmines and cluster bombs). The fact that nuclear weapons are not clearly illegal is simply bizarre.
"No weapon has ever been eliminated before it was made illegal, and nuclear weapons are no exception. A ban would not only make it illegal for nations to use or possess nuclear weapons; it would also help pave the way to their complete elimination. Nations committed to reaching the goal of abolition have shown that they are ready to start negotiations in 2017."
- (read more of ICAN's coverage)
- Susi Snyder (PAX-Netherlands) Op-Ed in Huffington Post
- Ray Acheson, Reaching Critical Will- Editorial
- UN Tribune : UN Votes to Begin Negotiations on a Treaty Banning Nuclear Weapons
---
For immediate release August 10, 2016:
NNSA Set to Approve New Facilities for Expanded Plutonium Pit Production Without Credible Plans and Required Public Review
The National Nuclear Security Administration (NNSA) is a semi-autonomous nuclear weapons agency within the Department of Energy, which has the singular distinction of being the only federal department on the GAO's High Risk List for wasting taxpayer dollars for 25 consecutive years. LANL is NNSA's so-called "Plutonium Center of Excellence" and the nation's only site for pit production, but major operations at PF-4, its main plutonium facility, have been stopped since June 2013 because of nuclear criticality safety concerns. In addition, there is no place for LANL to send its radioactive transuranic wastes from plutonium pit production since one of its waste drums ruptured at the Waste Isolation Pilot Plant in February 2014 and indefinitely closed that multi-billion facility.
Despite all this, funding for NNSA's nuclear weapons research and production programs is being increased to nearly double the Cold War's historic average, while nonproliferation, warhead dismantlement and cleanup programs are being cut or held flat... (read more)

August 12, Albuquerque Journal:
LANL Plutonium Project Called 'a House of Cards'
"Jay Coghlan, director of Nuclear Watch New Mexico, said the GAO report reveals the CMMR project to be 'a house of cards.'" (more)
---
August 9, 2016
Nuclear Disarmament: Basel Peace Office Makes a Novel Proposal in Final Days of UN OEWG
The final session of the UN nuclear disarmament working group (#OEWG) opened in Geneva on Friday August 5; governments will meet for another 4-5 days over the next two weeks, to discuss the OEWG draft report, with the aim to adopt the final report on August 19 for submission to the UN General Assembly. Of particular note: Basel Peace Office introduced a working paper which expanded on a novel proposal calling for a nuclear-ban amendment conference of the Non-Proliferation Treaty. If one-third of the States Parties to the NPT call for such a conference, the NPT depositories (Russia, the United Kingdom and the United States) are legally obliged to hold the conference, invite all States Parties to the NPT to attend and discuss the proposed nuclear weapons ban. "Such an NPT conference could therefore build political momentum and legal impact for a nuclear ban, particularly in nuclear-armed and allied states." (more at UnfoldZero) / (view/download Basel Peace Office proposal full text PDF)
---
August 8, 2016, New York Times Editorial:
A Nuclear Legacy Within Reach
"The Air Force has formally begun the process of asking defense contractors to submit proposals for a new long-range cruise missile and a new land-based intercontinental ballistic missile. These two weapons, capable of carrying nuclear payloads, will cost billions of dollars. The first is unnecessary; the second, debatable.
"The invitations are ostensibly aimed at modernizing the nation's nuclear arsenal. The weapons' dubious value aside, the requests also seem to contradict President Obama's 2009 promise to change American nuclear policy in ways that would make the nation safer by reducing threats from the world's most lethal weapons.
"The new cruise missile, faster and with a greater range than the existing version, should be canceled. And some defense experts, like former Defense Secretary William Perry, have argued that the land-based intercontinental ballistic missiles are no longer needed.
"If Mr. Obama is unwilling to cancel either of these programs, he should at least give his successor the political space to rethink such investments by appointing a commission to examine the full range of the Pentagon's modernization plans.
"The Pentagon and some Republicans are resisting many of these ideas. But Mr. Obama still has the responsibility and, if he moves swiftly, the time to advance his vision of a safer world." (more)
Questions About America's Nuclear Policy
The Times editorial got a lot of attention. Here are some of the letters to the editors that followed.
Update Sept 6, NYTimes:
Obama has decided not to declare a no-first-use nuclear policy
A change was opposed by Sec. Def. Ash Carter, Sec. State John Kerry, and Energy Sec. Ernst Moniz. (report, NYTimes)
---
71 Years. August 6, Hiroshima; August 9, Nagasaki.
"I come and stand at every door" - poem by Naz§m Hikmet; music: Fazil Say
August 6. It's now 71 years since an American plane dropped a nuclear bomb on the city of Hiroshima, then another on the city of Nagasaki. Nuclear weapons have not been used in war since then- "by some measure of skill, luck, and divine intervention, and I suspect the latter in the greatest proportion"- as General Lee Butler, former StratCom chief, put it. But recently former Defense Secretary William Perry and others have warned that we are drifting closer now to nuclear disaster than at any time in the Cold War. And we have begun a massive renewal/modernization of our nuclear arsenal- bombs, delivery systems, the nuclear weapons labs....
On July 10, the Washington Post reported that President Obama, who had spoken eloquently about ridding the world of nuclear weapons in 2009, but had accomplished little on that front since, was planning some "major nuclear policy changes in his final months".
With many experts hoping Obama would announce a reform of nuclear posture, and a scale-back in the trillion dollar modernization plans; the debate was on.
- 14 Senators- most from Nuclear weapons complex states- had just sent a letter to Obama urging him to continue "robust" spending on modernization of all legs of the triad. (Signed by: John Hoeven (R ND), Steve Daines (R MT), Orrin Hatch (R Utah), Marco Rubio (R FL), David Vitter (R LA), John Barrasso (R WY) and Deb Fischer (R NE), and Democrats Tim Kaine (D VA), Joe Donnelly (D IN), Heidi Heitkamp (D ND), Mark Warner (D VA), Martin Heinrich (D NM), Jack Reed (D RI) and Jon Tester (D MT). (more)
- On July 20 House Armed Services Chairman Ranking Member Adam Smith, D-Wash. issued a letter to the President which urged a no-first-use policy declaration and the elimination of the launch-on-warning nuclear posture as "steps that could avoid an unintentional or hasty start to unprecedented and catastrophic nuclear devastation." (ref) Five ranking members signed on: Reps. Smith; Chris Van Hollen, D-Md., of the Budget Committee; Marcy Kaptur, D-Ohio, of the Appropriations Energy and Water Development Subcommittee; Loretta Sanchez, D-Calif., of the Armed Services Tactical Air and Land Subcommittee; Jackie Speier, D-Calif., of the Armed Services Oversight and Investigations Subcommittee. (ref)
- Also on July 20, a separate letter to Obama from 10 Senators (Ed Markey, Al Franken, Jeffrey Merkley, Elizabeth Warren, Patrick Leahy, Dianne Feinstein, Barbara Boxer, Bernie Sanders, Sherrod Brown, and Ron Wyden) urged Obama to "take bold action in your final months in office to restrain U.S. nuclear weapons spending and reduce the risk of nuclear war." (more)

- Then, on July 29, as if to cut short the debate and move on to the exciting stuff, the Air Force Nuclear Weapons Center at the Kirtland AFB nuclear weapons complex issued RFPs for the new nuclear cruise missile (LRSO) and a replacement ICBM (GBSD), the very weapons systems most often mentioned as unnecessary and dangerous; then, on August 1 NNSA announced that the new 'more useful' and much-criticized B61-12 nuclear bomb was ready for production engineering. (See our dossiers on the LRSO nuclear cruise missile and the B61-12 bomb)
[LRSO = Long Range Stand Off] [GBSD = Ground Based Strategic Deterrent]

Meanwhile, there are, for those who listen for such things, worries and rumors of war- in Europe, East Asia, South Asia... Particularly concerning are the growing military tensions between US-NATO and Russia, our equal partner in planetary destructive capability, each of us having thousands of warheads aimed at each other. To those who say it's not the time to reduce our nuclear forces, we say it is exactly the time to do it, before they end up being used, to our everlasting regret. We should have done more long ago; it's not too late to do it now.

Could a nuclear war really break out somewhere? How would that happen? Below is a BBC production which takes a look at that question, made earlier this year, after Turkish forces shot down the Russian jet.
---
NYTimes August Book Review:
Almighty: Courage, Resistance, and Existential Peril in the Nuclear Age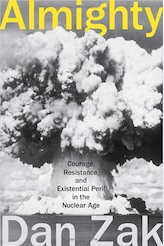 By Dan Zak, reviewed by Kai Bird
"Zak's narrative is a perfectly measured blend of biography, suspense and history. He skillfully uses the small, finite story of the Y-12 protest [the break-in 4 years ago by Sister Rice and friends] to explore our national identity as a people whose culture is now intimately connected with things nuclear. Our bomb culture has not come cheap; the environmental costs have been devastating for many communities. And even though scores of governments- but not our own- are on record supporting a treaty that would ban nuclear weapons, Zak shows this is still an outlier dream. He quotes a United States admiral intoning: 'I don't see us being nuclear-free in my lifetime. Or in yours.'
"We are stuck with Armageddon in our dreams. And in the meantime the Sister Megans of our bomb culture will no doubt try again and again to cry out against our complacency. But truly, it seems hopeless. As Billy Pilgrim laments repeatedly in Kurt Vonnegut's 'Slaughterhouse-Five', 'So it goes.'" (more at NYTimes)
---
For immediate release, July 28, 2016
LANL Estimate of $2.9 Billion for "Remaining" Cleanup Leaves Nuclear and Toxic Wastes Behind and Kills Needed Jobs
"Santa Fe, NM. The Department of Energy (DOE) has announced that the cost of "Remaining Legacy Cleanup" of radioactive and toxic wastes from more than 70 years of nuclear weapons research and production at the Los Alamos National Laboratory (LANL) will cost $2.9 billion through fiscal year 2035, averaging $153 million per year.
"That cost estimate clearly assumes that the Lab's major radioactive and toxic wastes dumps will not be cleaned up. Instead they will be "capped and covered," leaving some 200,000 cubic yards of radioactive and toxic wastes at Area G, its largest waste dump. Those wastes sit in unlined pits and trenches, 800 feet above groundwater and three miles uphill from the Rio Grande (plutonium contaminants have been detected 200 feet below Area G). During this same period of time the Lab's nuclear weapons programs that caused the mess to begin with will cost ten times as much, even before expected funding increases for expanded production of plutonium bomb core "pits" and increasingly aggressive "Life Extension Programs" that give existing nuclear weapons new military capabilities..." (View/download full press release PDF)
---
For immediate release, July 19, 2016
Nuclear Watch NM Amends LANL Cleanup Lawsuit - Claims New Consent Order To Be Invalid
"Nuclear Watch New Mexico has amended its federal lawsuit against the Department of Energy (DOE) and Los Alamos National Security, LLC (LANS) that alleges twelve violations of a 2005 Consent Order governing cleanup at the Los Alamos National Laboratory (LANL). Those violations could result in potential penalties of more than $300 million dollars that would go to the state, if only the New Mexico Environment Department (NMED) were to enforce them. Nuclear Watch now asks the court to declare the new 2016 Consent Order to be invalid because the requirement for the opportunity of a public hearing was not met."
(view/download full press release PDF)
---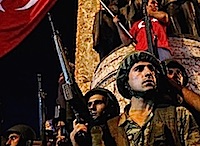 Turkey Failed Coup: What About Those Nuclear Weapons Stored at Incirlik?
Hans Kristensen, Federation of American Scientists: "The security situation in Turkey and in the base area no longer meet the safety requirements that the United States should have for storage of nuclear weapons. You only get so many warnings before something goes terribly wrong. It's time to withdraw the weapons." (more: see our Turkey coup file)
---
For immediate release, June 29, 2016:
NM Environment Dept. Finalizes Consent Order on Los Alamos Lab Cleanup; Surrenders Enforcement to Nuclear Weaponeers
"The new Consent Order is a giveaway to the Department of Energy and the Lab, surrendering the strong enforceability of the old Consent Order. The new Order is also clearly the opposite of the old Consent Order, whose underlying intent was to make DOE and LANL get more money from Congress for accelerated cleanup. In contrast, the new Consent Order allows them to get out of future cleanup by simply claiming that it's too expensive or impractical to clean up..."
(view/download full press release PDF)
---
Public comments on the proposed (revised) LANL Consent Order
On March 30, 2016, the New Mexico Environment Department (NMED) released for public comment its proposed 2016 Compliance Order on Consent ("Consent Order") governing cleanup at the Los Alamos National Laboratory (LANL). If implemented, the revised Consent Order will almost certainly create serious barriers to achieving cleanup, especially given the Lab's known opposition to full and complete cleanup. In addition, the proposed revised Consent Order limits public participation opportunities; undermines enforceability by the Environment Department; puts the Department of Energy (DOE) in the driver's seat; and lacks a final milestone compliance date. The proposed 2016 Consent Order is potentially a giant step backwards if the goal is to achieve genuine, comprehensive cleanup at LANL.
Thanks to all of you that sent in your comments.
See comments submitted by the public (PDF)
See comment submitted by NukeWatch (PDF)
We await NMED's response to all submitted comments.
---
UNM Will Host "Symposium" Promoting Nuclear Weapons, Nuclear Triad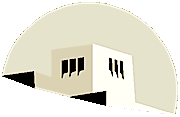 Albuquerque, June 20-21:
University of New Mexico will host an 'unprecedented' 2-day event featuring top military and Energy Dept. nuclear brass, along with weapons industry lobbyists, to promote nuclear weapons, and specifically, to support the modernization of all three legs of the nuclear triad in the face of growing criticism.
That UNM is hosting the Symposium is more evidence of the University of New Mexico's deepening involvement in nuclear weapons programs. UNM recently announced with Boeing, the U. of Texas and others that it was going to bid on the Sandia Labs management contract. (more on this at the Watchblog)
The 2016 Strategic Deterrence Symposium is organized by the 'Strategic Deterrent Coalition'- a self-proclaimed "non-profit, non-partisan, community-based organization of concerned citizens." (Whose address is given as: 1050 Connecticut Ave. NW, Washington, DC.)
"The single-issue focus of the Strategic Deterrent Coalition" is that the US "maintains a modern, safe, secure, effective and stabilizing Nuclear Triad deterrent".


"Rationality has never been the hallmark of any nation pursuing a nuclear arsenal or thinking about its employment. Such arsenals take on a life and logic of their own, commanding huge budgets and compelling decisions that march at an ever increasing tempo to the beat of fear, technology, status and vested interests."
- General George Lee Butler (Ret.) Former Commander US Strategic Command, in his memoir, "Uncommon Cause".

Speakers will include Admiral Cecil Haney, Commander of US Strategic Command; General Robin Rand, Commander of Air Force Global Strike Command; Major General Scott Jansson, Commander, Nuclear Weapons Center; NNSA administrator Frank Klotz, and officials from the Los Alamos, Lawrence Livermore and Sandia Labs.
Note: The aforementioned 'Nuclear Weapons Center' is based at Kirtland AFB (adjoining the Albuquerque airport), and Kirtland is also the third largest installation of the Air Force Global Strike Command. Read more about Kirtland's emergence as a major hub of the nuclear weapons complex in our Kirtland AFB dossier.
More from the SDC website:
- "Founding organizations" include Barksdale Forward, Kirtland Partnership Committee, Minot Task Force21, Montana Defense Alliance...
- Sponsors of the event include Northrup Grumman, Boeing, Lockheed Martin, BAE Systems, and Orbital ATK...
---
For immediate release May 17, 2016:
Nuclear Watch NM Files Lawsuit Over Lack of Cleanup at the Los Alamos Lab Santa Fe, NM. Nuclear Watch New Mexico has filed a lawsuit in federal court against the Department of Energy and Los Alamos National Security LLC (LANS), the for-profit operator of the Los Alamos National Laboratory, over their failure to meet cleanup milestones under a 2005 "Consent Order" they agreed to with the New Mexico Environment Department. The New Mexico Environmental Law Center is representing NukeWatch in this legal action to enforce cleanup at LANL.
The suit claims twelve violations, each ranging up to 675 days, with a civil penalty up to $37,500 for each day of violation. Our current cost estimate of the alleged violations approaches 300 million dollars and counting.
Jay Coghlan, NukeWatch Executive Director, commented, "The federal government plans to spend a trillion dollars over the next 30 years completely rebuilding U.S. nuclear forces. Meanwhile, cleanup at the Los Alamos Lab, the birthplace of nuclear weapons, continues to be delayed, delayed, delayed. We seek to make the for-profit nuclear weaponeers cleanup their radioactive and toxic mess first before making another one for a nuclear weapons stockpile that is already bloated far beyond what we need. Real cleanup would be a win-win for New Mexicans, permanently protecting our water and environment while creating hundreds of high paying jobs." (view/download full press release PDF)
---
Urgent Appeal- Funding Gap Looms

Friends of NukeWatch, we are facing an-end-of-year funding gap. We urgently need to raise enough funds to carry us to the beginning of February, after which we should be good for the rest of 2017. Perhaps you've thought about contributing to support our work; well, this is a good time to do that. Thanks for your support!


Remember, contributions are tax-deductible!

---
NukeWatch v. DOE, LANS
See all docs related to the ongoing Nuclear Watch lawsuit against DOE and LANS (the corporate management of Los Alamos Lab), over multiple missed deadlines and failures to execute cleanup of radioactive wastes at the Los Alamos site: Cleanup Lawsuit.
---
Critical Events

---
October 20, 2016, Washington DC:
Able Archer 83: The Secret History
3:00pm at the Wilson Center, 6th Floor, Moynihan Board Room, 1300 Pennsylvania Ave. NW
Special presentation by Nate Jones on his new book "Able Archer 83: The Secret History". With the author, who is also Director of the Freedom of Information Act Project at the National Security Archive, Thomas Blanton, National Security Archive Director, and Christian Ostermann, of the Nuclear Proliferation International History Project.
(more details here) <
---
October 27, 2016, Silver City, NM:
Valerie Plame to Speak at WNMU
Plame was a CIA covert agent working against nuclear proliferation, until members of the G.W.Bush administration leaked her identity in 2003.


5:30 p.m reception; Lecture at 6:30pm, Book signing 7:30 pm
Light Hall Theater (Event is sold out, but live stream will be available in Light Hall room 213)
(details here)

---
Ongoing since Oct 4, 2016:
Online Course From William Perry:
Living at the Nuclear Brink: Yesterday & Today
"Because most people do not understand just how serious these dangers are today, their governments are not taking adequate preventive actions: actions that are readily achievable. And so, we are drifting towards a nuclear catastrophe. This is why I have dedicated the balance of my life to educate the public about these dangers, and this is the reason I have created this course." (sign up here)
---
Command and Control- Screenings schedule
The day we almost nuked Arkansas... "Cold War-era thriller with post-apocalyptic nightmare. Given it's all true, this one will stay with you for days after viewing." - Rolling Stone Screenings schedule / website
---
- Nuclear Calendar: Free subscription to this extensive email listing of all nuclear-related events, from the Friends Committee on National Legislation.

- National Security Legislative Calendar
From the Council for a Livable World. (ref)
---
---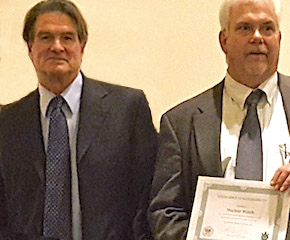 NukeWatch gets a Santa Fe Mayor's Award
In addition to our work toward limiting and ultimately eliminating nuclear weapons, NukeWatch also works to protect Northern New Mexico aquifers from the radioactive wastes dumped over the last 70 years of atomic bomb production at Los Alamos Lab. This week, Nukewatch was given the Santa Fe Mayor's Sustainability Award in the category of Environment for that work. Above: Jay Coghlin (l.) and Scott Kovak (r.) (more)
---


Alliance For Nuclear Accountability Report
Out-of-control U.S. nuclear weapons programs accelerate spending, proliferation, health and safety risks: The Trillion Dollar Trainwreck (PDF)

---
Nobel Obama's Nuke Pledge Reversed
From the same president who in 2009 called for a world free of nuclear weapons and promised to reduce their role in U.S. national security strategy:
A plan to spend a trillion dollars over the next 30 years on nuclear weapons.
Specifically, on 12 new nuclear-armed submarines, 100 new strategic bombers, 400 new intercontinental nuclear missiles, 1000 new nuclear-capable cruise missiles, hundreds of upgraded and improved nuclear bombs and warheads, and major additions and upgrades to all parts of the US nuclear weapons complex. See our nuclear modernization page for more on this.
---
---
---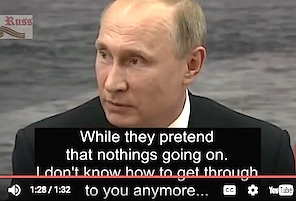 In Europe and Russia, There's Talk of War
-Jill Dogherty, Wilson Center (ref)
See our report: Nuclear Flashpoints: NATO-Russia
---
Nuclear Roundup: daily, at The Bulletin
Daily nuclear news edited by Jodi Lieberman, nonproliferation analyst at Argonne National Laboratory. Online, or emailed to you each day. at The Bulletin
---
Nuclear News
---
---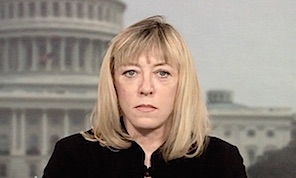 "Governments say a nuclear weapons ban is unlikely. Don't believe it. They said the same about a mine ban treaty."- Jody Williams, Nobel laureate
Why You Should Care About Nukes
"Thanks to the Future of Life Institute for helping support this video and to Max Tegmark for guest narrating. For info about divesting from nuclear weapons companies, go to FLI Responsible Investing."
---
Dr. James Doyle
---
Careful, we might nuke you: The consequences of rejecting a nuclear no-first-use pledge
- Bulletin of the Atomic Scientists, September 2016

Why More Warheads Bring Less Security
Book review, Krepon et al, "The Lure & Pitfalls of MIRVs: From the First to the Second Nuclear Age"
- Arms Control Today, September 2016

The Full Price of Nuclear Deterrence
- The Bulletin, Feb. 29, 2016

DOE's Disinformation Undercuts US Credibility,
Nonproliferation Efforts
- The Hill, Dec. 11, 2015

Keeping Russia's Missiles Away from Europe
- National Interest, Oct 1, 2015

Beware the Nuclear Experts
- Defense News, Aug. 20, 2015

The Material World of Nuclear Weapons
- Arms Control Today, March, 2015



---
LANL's Central Mission
Los Alamos Lab officials have recently claimed that LANL has moved away from primarily nuclear weapons to "national security", but what truly remains as the Labs central mission? Here's the answer from one of its own documents: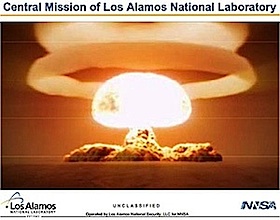 LANL's "Central Mission"- Presented at: RPI Nuclear Data 2011 Symposium for Criticality Safety and Reactor Applications
(PDF) 4/27/11
---
Current nuclear stockpiles- for country reports and other details see original annotated infographic at Ploughshares.org.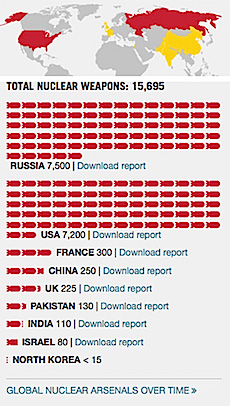 ---
Beyond the Summit:
New Approaches to Nuclear Security
William Perry: "Danger of a nuclear catastrophe is greater than during the Cold War. Our public is blissfully unaware. Consequently, the policies that this country follows are in no way commensurate to the danger."
---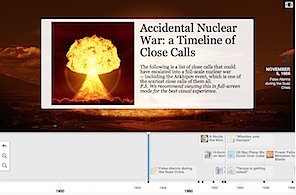 Accidental nuclear war- think it can't happen?
It almost did, quite a few times. See this timeline of nuclear close calls, presented by The Future of Life Institute.
---
Planned Eurasian Apocalypse, c. 1956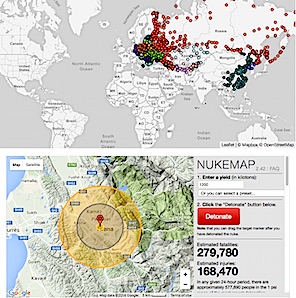 Here are the 1100 [declassified] nuclear targets in the 1956 US target list for the Eurasian communist nations. Click image above to see the interactive infographic at the Future of Life site- clicking on any target dot will bring up a satellite map of the target area with the blast zone, variable depending on the yield you choose, fallout paths, and other info.
---
Don't Bank on the Bomb 2015
View/download Report PDF
---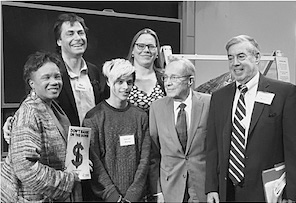 April 11, 2016:
Cambridge Divests $1 Billion From Nukes Following Grassroots Campaign
Above: Cambridge Mayor Denise Simmons, MIT's Max Tegmark, Lucas Perry, Susi Snyder, Former Secretary of Defense William Perry, and Dr. Jonathan King after the public announcement of the Cambridge nuclear divestment plan. (ref)
---
---
Radioactive Quotes

---
"We're busy at the lab when the world is a crazy place, and the world is a crazy place, so we're doing well."

Sandia lab director Jill Hruby quoted in ABQ Journal: "Nuke work continues to fuel Sandia growth, Hruby says"

[link]
"One has to be irrationally optimistic to believe that we can keep these weapons in fallible human hands indefinitely and something terrible will not happen. We can and must steadily reduce the risk of nuclear explosions by accident, miscalculation or madness before it is too late."

Joseph Cirincione, testifying before the Democratic Platform Committee, June, 2016

[link]
---

Every little bit helps!
Remember: contributions are tax-deductible.
*Go to donations page* Thanks for your support!
---