Arsenal of Information
---
---
---
Dossiers:
CMRR-Nuclear Facility
Conference on the Humanitarian Impacts
Nuclear Testing Since 1945
Atomic Histories
Fukushima Disaster and Updates
---
Nuclear Watch Interactive Map of the
Nuclear Weapons Complex
View full size
Facilities:
Kansas City Plant
Lawrence Livermore National Labs
Los Alamos National Laboratory
Nevada National Security Site
Pantex Plant
Sandia National Laboratories
Savannah River Site
Washington DC
Waste Isolation Pilot Plant (WIPP)
Y-12 National Security Complex
Facility Spotlight:
Y-12: Poster Child For A Dysfunctional Nuclear Weapons Complex
Bulletin of the Atomic Scientists, August 4, 2014
---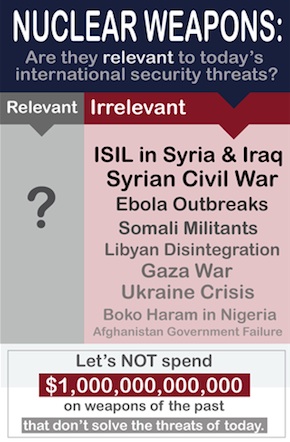 Credit: Chain Reaction/Livable World
---
Follow the Money!

---
NNSA FY 2015 Budget Request
- Nuclear Watch Analysis/Compilation (PDF)
- Nuclear Watch New Mexico's analysis (PDF)
- NNSA's FY 2015 budget
- Best press coverage
Recent posts, budget and economic issues:
Nukewatch Analysis: NNSA FY 2015 Budget Request
More analysis /critiques NNSA FY 2015 Budget
In Desperate Need of Spring Cleaning? The US Nuclear Complex.
---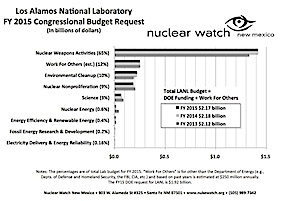 LANL FY 2015 Budget Request
Click to view full PDF incl. annotations
---
Congressional Budget Office report:
Projected Costs of Nuclear Forces 2014-2023

CBO presentation based on the report: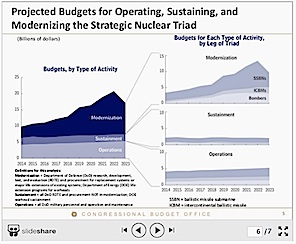 Click to view presentation
---
Nuclear Watch Press Release, Jan.14, 2014:
Budget Deal a Mixed Bag for Nuclear Weapons Programs- Planned Long-Term Trend Not Sustainable
View/download press release PDF
View/download the appropriations bill (n.b. NNSA section begins p.34; on the PDF at p.70)
---
Nuke modernization - sequestration disconnect
Into Thin Air
"Congress and Obama are planning Reagan-era expenditures to modernize U.S. nuclear weapons under sequestration-era budgets. What could possibly go wrong?"
Jeffrey Lewis looks at the numbers and finds they don't add up. Something will have to give... (article)
---
New CBO Report Dec 20, 2013:
U.S. nuclear weapon plans to cost $355 billion over a decade
Reuters: The Obama administration's plans for the U.S. nuclear weapons complex, including modernization of bombs, delivery systems and laboratories, will cost the country about $355 billion over the next decade, nearly $150 billion more than the administration's $208.5 billion estimate in a report to Congress last year; since the modernization effort is just beginning, costs are expected to greatly increase after 2023. (read more) (View/download CBO report-PDF) (analysis: Are New Nuclear Weapons Affordable?)
---
Nuclear Watch Press Release, Dec. 21, 2013:
Nuclear Weapons "Modernization" Will Cost One Trillion Dollars Over Thirty Years; Locally, Los Alamos Lab Cleanup and Job Creation Are Imperiled
(View/download NWNM Press Release PDF)
---
---
Stockpile Stewardship and Management Plan
View/Download FY 2015 SSMP (PDF)
NWNM Analysis (PDF) / Analysis Summary (PDF)
---
"No decrease in the number of warheads"
- Sen. Diane Feinstein: "The promise of the 3+2 plan was to provide a smaller stockpile in exchange for a larger investment. However, when the plan is examined, there is no decrease in the number of warheads... In addition, sequestration, shrinking budgets and NNSA's long history of cost overruns and schedule delays raise serious concerns about the agency's ability to execute this mission." (ref)
---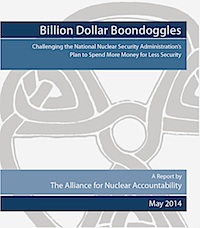 Billion Dollar Boondoggles
Alliance For Nuclear Accountability Report 5/2014

---
Nuclear Weapons Lobby Reportedly Spent $2.9 Million To Stave Off Military Cuts


"The nuclear weapons industry is erecting a missile shield of money to prevent federal government spending cuts worth billions of dollars. In the 2012 election cycle, nuclear weapons lobbies have given a total of $2.9 million to key members of Congress and deployed no fewer than 137 revolving-door lobbyists to Capitol Hill, according to a new report that details the lengths to which arms makers will go to protect their turf." (story)
"Bombs Versus Budgets: Inside the Nuclear Weapons Lobby", prepared by the Center for International Policy. (download PDF)
---
GAO: accounting problems at DoD so significant that a federal audit cannot be done.
Read the January 17, 2013 GAO Report
---
Nuclear Watch Media
---
See the NukeWatch YouTube channel
for our collection of videos.
---
Jay Coghlan on the Nuclear Defense Industry
KSFR Santa Fe: Living on the Edge, October 17, 2013. David Bacon with Jay Coghlan, NukeWatch E.D. (online podcast)
---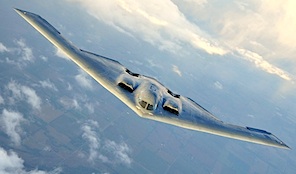 Massive Upgrade For B-2 Stealth
6/25/14: Air Force officials have started planning a ten billion dollar modernization of the B-2 stealth bomber fleet to include a new receiver using VLF waveform technology that allows the bomber to receive messages in the event of a high altitude electro-magnetic pulse, and outfitting the aircraft for next generation digital nuclear weapons such as the B-61 Mod 12 with the new tail kit, and Long Range Stand-Off weapons- (air-launched nuclear cruise missiles). (more)
---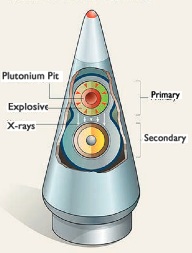 Successful Citizen Activism Against
Expanded U.S. Plutonium Pit Production
This is the unsung story of successful citizen activism against repeated government attempts to expand the production of plutonium pit cores, which has always been the choke point of resumed U.S. nuclear weapons production. This history is a critical part of the march toward a future world free of nuclear weapons. We gratefully dedicate it to Leroy Moore, longtime activist with the Rocky Mountain Peace and Justice Center, and J. Carson Mark, retired director of the Los Alamos Lab's Theoretical Division and ardent arms control advocate.
(View/download full report- PDF)
---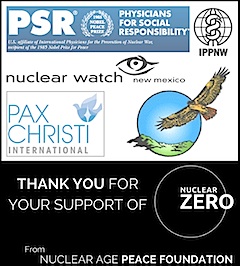 ---
---

"The people who are the most anti-nuclear are the ones who know the most about it." -Eric Schlosser, author, "Command and Control" (ref)
---
Please help NukeWatch in our work to rid the world of the dangers of nuclear weapons. We need your support! Consider making a tax-deductible donation to support our efforts. See our donations page for more info Thank you!

New & Updated
---
October 20, 2014:
The Unaffordable Arsenal:
Reducing the Costs of the Bloated U.S. Nuclear Stockpile
Tom Collina, Ploughshares Fund Director of Policy, in a new report for the Arms Control Association, writes: "The United States currently plans to spend some $355 billion to maintain and rebuild its Cold War-era nuclear arsenal over the next decade (and $1 trillion over the next 30 years), even as the overall U.S. defense budget is declining and U.S. military planners and the president have determined that the United States can deter nuclear threats against the United States and its allies with far fewer nuclear weapons."
"'The Unaffordable Arsenal' outlines common sense ways to save roughly $70 billion over the next decade across all three legs of the triad by scaling-back, delaying, and/or deferring expensive new delivery systems and by taking a more disciplined, straightforward approach to nuclear warhead life-extensions and refurbishments." Read the full report here.
Tom Collina joined the Ploughshares Fund in September after five years as the Research Director of the Arms Control Association.
Also: "Broken Budgets? Make a Withdrawal From the Nuclear ATM"
Jacob Marx reviews the report and summarizes where the $70 billion in savings can be found.

---
Obama Promised a "World Without Nuclear Weapons," But May Now Spend $1 Trillion on Upgrades


Amy Goodman with Elena Sokova, executive director of the Vienna Center for Disarmament and Non-Proliferation DemocracyNow, Oct.24, 2014
Related:
How big a nuclear arsenal do we really need?
"If President Obama wants to use his last two years to further his agenda, here's something he could do that would both advance the cause of global security and save the country money: suspend plans to develop a new arsenal of American nuclear weapons...." Joseph Cirincione, President, Ploughshares Fund, LA Times OpEd, Oct 22.

Next-Gen Subs: Navy's Budget Gimmicks Don't Hold Water
"Passing off the cost of next generation submarines onto the Pentagon is a ridiculous budgetary dodge... And don't for a second think the Army and the Air Force aren't paying close attention to this attempt at budgetary sleight of hand. Because if submarines are 'national assets', what are land-based intercontinental ballistic missiles? What are long range bombers?"
Ryan Alexander, U.S. News and World Report, Oct. 21, 2014

Oct 21. Missile Defense: $41 billion wasted and counting
Sen. Tom Coburn (R-OK) goes after missile defense in a new report on the 100 most wasteful government programs. "Despite obvious flaws, the Missile Defense Agency and Congress are moving forward with a $1 billion decision based on a 30% success rate in tests that fail to replicate in a real world scenario... By the time it is completed, the Defense Department will have spent more than $41 billion on a missile defense system." '2014 Wastebook': full report here.

Full disclosure: Nuclear Watch NM is a grantee of Ploughshares Fund.
---
Nuclear Watch NM Press Release October 9, 2014:

Fired LANL Expert, Lab Watchdogs Team Up;
Launch Project to Increase Nonproliferation Programs,
Cut Exorbitant Nuclear Weapons "Modernization" Programs
"Santa Fe, NM October 9. Today, Dr. James Doyle and Nuclear Watch New Mexico begin a collaborative project to assess and augment the nonproliferation programs of the National Nuclear Security Administration. Our ultimate goal is to redirect the focus of three national security labs from wasteful nuclear weapons research and production programs to expanded research and development of the monitoring and verification technologies needed for global abolition. This project is a direct follow-on to Dr. Doyle's February 2013 study "Why Eliminate Nuclear Weapons?". LANL fired Doyle in July 2014, in what was widely viewed as a political move to punish an internal voice of nuclear weapons abolition. But Doyle is determined now more than ever to favorably impact global nonproliferation issues, perhaps even more effectively after being forced out of the Lab.

"Dr. Doyle commented, 'It is important that the people of New Mexico and the nation pay close attention to taxpayer-funded priorities at our national labs. Only a few hundred conservatively maintained nuclear weapons are needed to deter others while we work towards global abolition. Instead the government plans to waste our treasury on unneeded, provocative, so-called modernization programs. To help counter this, our project will identify and seek to augment nuclear security programs and investments that can truly make the nation and the world safer.'" (View/download full Nukewatch Press Release)

- Dr. Doyle's 2013 study: "Why Eliminate Nuclear Weapons?"
- Dr. James Doyle: Biography

Recent coverage of the Doyle affair below:
Oct 12, 2014. Santa Fe New Mexican:
Fired LANL worker to continue anti-nuke mission with local watchdog group
Sept 16, 2014. Daily Beast:
Senior DOE Official Wants Probe Into Los Alamos' Firing of Analyst James Doyle
Sept. 2, 2014. Survival
In the Matter of James E. Doyle
Dana Allin, Editor
"It is obvious that the real reason for Doyle being investigated and fired is not that he revealed secrets, but that he advocated nuclear disarmament...The classification system... is notoriously overused as a tool not just for protecting legitimate secrets but also for illegitimate censorship. 'Why Abolish Nuclear Weapons?' is, as far as I know, the only Survival article to have been classified by an agency of the US government. There is room for debate on the wisdom and feasibility of nuclear abolition, but before joining that debate, Doyle's article is required reading. Just don't get caught." (article)
July 31, 2014:
Policy Specialist James Doyle Fired by LANL for Nuclear Weapons Critique and Support of Obama's Reduction Goals
"It sure looks like he's being fired for supporting the President's policy." -Jon Wolfsthal, special adviser on nuclear matters to Vice President Biden, 2009 to 2012
" ... two members of a Security Inquiries Team abruptly arrived with a special, silver-colored briefcase for secure documents, and pulled out an article he published a few days earlier on the website of a London nonprofit group.
"They claimed that the article, an impassioned critique of the political theories undergirding the nuclear arms race and a defense of President Obama's embrace of a nuclear weapons-free future, contained classified information.
"The assertion astonished Doyle, since the laboratory's security authorities had already reviewed the article and declared it unclassified. But it was the start of a series of events in which Doyle first had his pay docked and his security clearance withdrawn, and then eventually was fired." (ref: Public Integrity, July 31)
UCS, August 4, 2014: Los Alamos, Freedom of Speech, and Nuclear Disaster
-Lisbeth Gronlund, co-director, Global Security Program, Union of Concerned Scientists.

Updates, August 21, 2014:
- ABQ Journal: DOE Office of Hearings and Appeals denies Doyle's retaliation claim; he appeals.
- Doyle's appeal (PDF).
- Santa Fe New Mexican: F.A.S. Urges Moniz to Reverse LANL Actions Against James Doyle
Related: Nuclear Watch NM Press Release July 31, 2014:
LANL Fires Nonproliferation Specialist; Lab Abuses Classification Procedures to Restrict Nuclear Weapons Abolition Message

"The world must reject the myths and expose the risks of the ideology of nuclear deterrence if it is to meet the challenges of the Twenty-first Century." - "Why Eliminate Nuclear Weapons?"
(View/download PDF)
James E. Doyle, a nuclear security and non-proliferation specialist, had been at Los Alamos National Laboratory for 17 years. He is
the editor of Nuclear Safeguards, Security, and Nonproliferation:
Achieving Security With Technology and Policy (Elsevier, 2008).
See James Doyle's bio here
---
DOE IG: Los Alamos Lab Played a Major Role in Causing the WIPP Accidents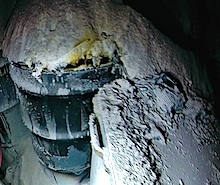 Recovery Plan: 5 Years, $500 million
Oct 1. It seems sloppiness and failures by Energy Solutions*, the private contractor charged with mixing and packaging waste at LANL, along with others by 'Nuclear Waste Partnership', operators of WIPP, will close or cripple the $19 billion installation for 5 years and cost the taxpayer $500 million. And that's the DOE estimate.

The Inspector General Report
"A blistering new federal report says Los Alamos National Laboratory failed to follow its own safety procedures and ignored internal reports warning against mixing potentially volatile chemicals in the handling and packaging of nuclear waste- a series of missteps that may have led directly to a radiation leak at the Waste Isolation Pilot Plant near Carlsbad.
"The report, released Wednesday [Oct 1] by the Department of Energy's Office of Inspector General, paints a disturbing picture of safety and oversight weaknesses at one of the nation's premier nuclear weapons and research laboratories. Though the cause of the leak is still under investigation, the report is the most damning assessment yet of the lab's role in the Feb. 14 incident that exposed more than 20 workers at WIPP to low levels of radioactive contamination and shut down the nation's only underground repository for nuclear waste.
- Patrick Malone, SF New Mexican: Federal report: LANL Violated Environmental Requirements
- DOE Inspector General LANL Report: view/download

The Recovery Plan
"Don Hancock, director of the nuclear waste safety program at the Southwest Research and Information Center, said, 'Thirty-five years ago, DOE was saying WIPP was going to be open by the mid-'80s. Then 25 years ago, in the late '80s, they were saying WIPP was going to be open in the early '90s, and it didn't open until 1999. They weren't realistically looking at what it was going to take to open WIPP then, and now they're not being realistic about when it will reopen. It will take a lot longer than that, and it's going to cost a lot more than they're saying.'
"Without knowing the cause of the leak, the extent of the contamination in the WIPP caverns or whether more breached drums may be lurking in the cavern, Hancock said the Energy Department's recovery plan could be premature. 'Nowhere in the report does it say the fire and radiation leak that happened this year will never happen again', said Hancock, who favors an independent technical investigation and public study to develop a path forward at WIPP that is disconnected from the Energy Department and its contractor operating WIPP, Nuclear Waste Partnership.
"'They're saying, 'Trust us with the safety standards. We'll define what's safe or not.' That's not acceptable,' he said. 'We don't trust them. They've shown themselves not to be trustworthy.' Hancock described the cost estimate outlined in the plan as 'dishonest' because it neglects to mention the more than $150 million in operating expenses at WIPP for the fiscal year ahead, when even the most optimistic estimates envision WIPP will remain mothballed.
"Hancock said the Energy Department's goal of partially reopening WIPP within the next 18 months would be virtually impossible if the department were to follow standard regulatory protocol for the waste dump, which includes public comment on the proposed changes.
"'It's not a recovery plan, it's a shut-out-the-public plan,' Hancock said. 'That's not going to happen. The public is not going to be shut out of this process. It's a nonstarter.'"
- Patrick Malone, SF New Mexican: Cost Of Reviving WIPP After Leak Could Top $500 Million
- DOE Recovery Plan view/download

*On July 2 it was announced that 115 employees of Energy Solutions had been fired.
---

Sept 26: International Day for the Total Elimination of Nuclear Weapons*
As Nuclear Arms Modernizations Surge, Welcome to "The Second Nuclear Age"

Nuclear Watch has been documenting and reporting on the growing discrepancy between, on the one hand, this nation's avowed goal of reducing both our doctrinal reliance on nuclear weapons as well as actual nuclear weapons stockpiles, and on the other, the ballooning budgets assigned to massive, across-the-board 'modernizations' of weapons, delivery systems, and weapons production facilities. There has been a lot of criticism in the expert press and in Congress (and notably from Senator Diane Feinstein), of the Administration's recent FY 2015 budget request, which cuts funds for nuclear security worldwide while increasing funding for new nuclear warheads, ICBMs, strategic bombers, and costly additions to US nuclear weapons facilities.
The New York Times, in an editorial Sept 22 titled Backsliding on Nuclear Promises, wrote "The administration is making a foolish trade-off... Investing in nuclear security protects Americans more than unwise investment in new nuclear weapons."

"A nationwide wave of atomic revitalization"
The Times editors note: "When he first came to office, Mr. Obama was clear-sighted about nuclear dangers and ambitious in his disarmament goals... But to win Republican support for the [New Start] treaty in 2010, Mr. Obama made a Faustian bargain, promising to spend $84 billion to upgrade aging nuclear weapons over the next decade." Now, 4 years later, "the Congressional Budget Office estimates that Mr. Obama's plans will cost $355 billion over the next decade; other studies put the price at $1 trillion over three decades."

What happened? One might say the lack of urgency on the part of the reductions side of the story allowed the inertial momentum of the well-bankrolled and well-connected nuclear weapons industry to drive the course of decision making. In fact it's also a worldwide phenomena, in a kind of mirroring in which the various nuclear adversaries can feel justified in their "modernizations" by the modernizations of the other. Russia, for example, has launched a major revamp of all their strategic systems, particularly in light of NATO moves at it's borders; (NATO moves which themselves are a response to Russian actions to intimidate and prevent Ukraine from joining NATO). Britain is facing controversy over the costs of a massive upgrade to their Trident nuclear deterrent. China, Pakistan and India are all working on new delivery systems, most notably, hypersonic cruise missiles, already under development in the US and Russia.
We are apparently at the beginning of a new nuclear age - but not the one you might have thought was evoked in Obama's Prague speech... rather we seem to be seeing the beginning of an age of unabashed and unapologetic pursuit of more and more 'advanced' nuclear weaponry. In this new nuclear age, when the criticism is raised that our nuclear arsenals are a useless vestige of the Cold War, the response is not, "Then let's take this opportunity to get rid of the damn things" but rather, "OK, let's make them more useful and relevant."

'The Second Nuclear Age': "A world where nuclear weapons count"
Los Alamos National Lab this last summer fired a non-proliferation specialist seemingly for supporting the President's vision of a nuclear-free world and calling into question current deterrence doctrine (see 'Doyle' below). In fact, LANL is now backing a different meme- Paul Bracken's thesis described in his book "The Second Nuclear Age", that the "multiplayer nuclear world" we have now is "more dangerous than the Cold War". And to underline the point, the Wall Street Journal blurb on the cover proclaims, "We are once again in a world where nuclear weapons count." (ref)

We might have thought President Obama had picked up Ronald Reagan's mantle in his Prague speech, reiterating our national policy, in line with UN resolutions and the NPT Treaty, to move toward a world without nuclear weapons. However the US, and other nuclear powers, seem to be moving in the other direction. We might have known that "perhaps not in my lifetime" was too weak a commitment to overcome the inertial tide of the nuclear-military complexes, too conditional to hold up under geopolitical strains. After all, if JFK had used that phrase rather than "within the decade" in his challenge to land our astronauts on the moon we likely never would have made it. It's really time to rethink this, to rethink nuclear weapons altogether, before it's too late to turn it around.

References:
- Hans Kristensen and Robert Norris have done a survey of the various "modernization" programs among the nuclear powers; see a chart here.
- See a chart from the NNSA showing planned and ongoing improvements and additions to US nuclear weapons production facilities here.

Reports:
- Defense One, Oct 13: This Is a Pivotal Moment for the US Nuclear Arsenal
"In recent weeks, the nuclear spending cliff has gained increased attention and has left observers at home and abroad wondering whether the plans- which arise from disparate agency requests to replace each system individually- conflict with the administration's promise to work toward a world without nuclear weapons."
- Sept 21. New York Times: U.S. Ramping Up Major Renewal in Nuclear Arms
- Sept 22 New York Times Editorial: Backsliding on Nuclear Promises
- Sept 25. Center For Arms Control: It's Time To Rein In Nuclear Spending
- Sept 25. Global Security: New U.S. Nuclear Warheads? Politically and Technically, a Bad Idea
- Sept 29. Guardian: Congress pushes nuclear expansion despite accidents at weapons lab
- Sept 30. Daily Beast: US & Russia Re-Arming for a New Cold War
- Oct 2. FAS: New START: Russia and the United States Increase Deployed Nuclear Arsenals
"Three and a half years after the New START Treaty entered into force in February 2011, many would probably expect that the United States and Russia had decisively reduced their deployed strategic nuclear weapons. On the contrary, the latest aggregate treaty data shows that the two nuclear superpowers both increased their deployed nuclear forces compared with March 2014 when the previous count was made."
- Oct 6. Moscow Times: Russia's Nuclear Euphoria Ignores Reality
"Dmitry Rogozin, the deputy prime minister charged with overseeing the defense industry, recently made the sensational statement that Russia would completely renew its nuclear forces by 2020."

- On the Watchblog: "Modernizing for the Second Nuclear Age" -Jay Coghlan, Nuclear Watch New Mexico
- GAO Report to Congress: Nuclear Weapons: Ten Year Budget Estimates for Modernization Omit Key Efforts, and Assumptions and Limitations Are Not Fully Transparent
- NNSA FY 2015 Budget Request
- Nuclear Watch Analysis/Compilation (PDF)
- Nuclear Watch Analysis FY2015 - PDF)
---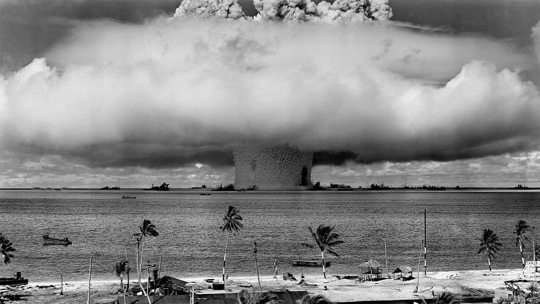 U.S. underwater nuclear test Baker, view from Bikini Atoll, Marshall Islands, July 25, 1946
Nuclear Watch New Mexico Amicus Brief Filed in Marshall Islands Lawsuit
"The U.S. and other nuclear weapons powers have not acted in good faith"
Sept. 1, 2014. Nuclear Watch has filed an amicus brief ("friend of the court") in the Marshall Islands' lawsuit challenging the failure of the nuclear weapons states to meet their Non-Proliferation Treaty obligation to pursue negotiations in good faith leading to nuclear disarmament.
In support of the Marshall Islands, Nuclear Watch informed the court of U.S. plans to spend more than one trillion dollars over the next three decades for "modernization" of nuclear weapons, missiles, subs and bombers. Our brief also argued that current "Life Extension Programs" are endowing existing nuclear weapons with new military capabilities, despite denials at the highest levels of government.
Nuclear Watch's amicus brief is posted here (PDF).
The U.S. motion to dismiss and the other amicus briefs are available here.
Marshall Islands 4/24/14 complaint (PDF)
- September updates from Nuclear Age Peace Foundation
- Latest on the Lawsuit: NuclearZero.org
---
---

"If you really want a future world free of nuclear weapons, you can hardly make a better investment than to give to Nuclear Watch New Mexico. They need and deserve your support so that they can carry on their groundbreaking work. I urge you to be generous with them!" - Danielle Brian, Executive Director, Project on Government Oversight.
Please support our work! Donations are tax-deductible
---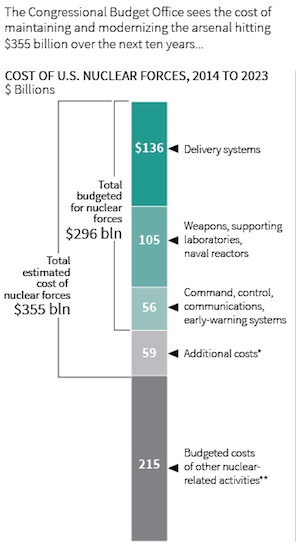 View full-size chart with notes
Michael Corones, "Why the U.S. is spending $1 trillion on nukes", Reuters, 10/21/14
Quote of the Week

---
"The current U.S. plan to maintain and upgrade its nuclear arsenal undermines the quest for nuclear disarmament. The seeming indefinite reliance of the United States on a policy of nuclear deterrence, especially one that includes significant new investments in nuclear weapons, undermines President Obama's stated goal of a world free of nuclear weapons. Excessive spending on nuclear weapons also undermines long-term initiatives to promote human security."
- Bishop Richard Pates, chairman of the U.S.Conference of Catholic Bishops' Committee on International Justice and Peace, in an October 30, 2014 letter to Secretary of Energy Ernest Moniz. (ref)
---
Critical Events

---
Sat-Sun Nov 1-2, 2014:
bGeigie weekend workshop Santa Monica CA
Safecast, the NRDC, and International Medcom are hosting the bGeigie workshop at NRDC's offices in Santa Monica.
Day 1: Participants will assemble and learn how to use Safecast's bGeigie, and hear from individuals and groups involved in citizen radiation monitoring.
Day 2: Participants will log radiation measurements in the field, and practice uploading and mapping the data.
See a report on the April bGeigie workshop in Washington DC. Contact Matthew McKinzie at the NRDC for more info.
December 8-9, 2014, Vienna, Austria:
Third International Conference on the Humanitarian Impacts of Nuclear Weapons
Register today at www.goodbyenuk.es.
Also, registration now open for
- ICAN Civil Society Forum
Vienna, Dec 6-7 2014
January 16, 2015:
Hearing, Marshall Islands Lawsuit
Hearing on a motion by the Justice Department to dismiss the lawsuit brought by the Marshall Islands under the nuclear Non-Proliferation Treaty to end the nuclear arms race and for nuclear disarmament. U.S. District Court for Northern California, 9:00am, Oakland Courthouse, Courtroom 5, Second Floor, 1301 Clay St., Oakland, CA. (more info at NAPF.org)
---
For an extensive weekly listing of nuclear-related events worldwide, subscribe to the Nuclear Calendar
---
Registration now open:
- ICAN Civil Society Forum
Vienna, Dec 6-7 2014
- Carnegie Int'l Nuclear Policy Conference
Washington DC, March 23-24 2015.
---
John Oliver: Nuclear Weapons
Oliver lays it all out- with humor...
---
"What few Americans realize is that the U.S. is completely rebuilding the production side of its nuclear weapons complex, with new multi-billion dollar factories expected to operate until ~2075. The aim of the for-profit nuclear weapons establishment is a never-ending cycle of exorbitant Life Extension Programs for existing nuclear weapons. These programs will not only extend their service lives for up to six decades, but also endow them with new military capabilities, despite denials at the highest levels of government..."
-Jay Coghlan, Nuclear Watch New Mexico; comment on NYTimes article U.S. Ramping Up Major Renewal in Nuclear Arms 21 Sept, 2014.
---
Nuclear News
---
---
---
LANL's Central Mission
Los Alamos Lab officials have recently claimed that LANL has moved away from primarily nuclear weapons to "national security", but what truly remains as the Labs central mission? Here's the answer from one of its own documents: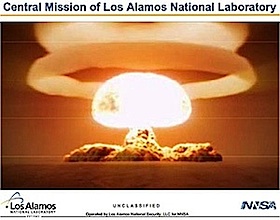 LANL's "Central Mission"- Presented at: RPI Nuclear Data 2011 Symposium for Criticality Safety and Reactor Applications
(PDF) 4/27/11
---
With ICBM Mission Increasingly Irrelevant, Morale is Low and Failures Multiply
Malmstrom Air Base: Senior Commander Resigns, Nine Mid-Level Commanders Fired
Time: Air Force Applies a Band-Aid to a Sucking Chest Wound
See our selection of press coverage and commentary here.
---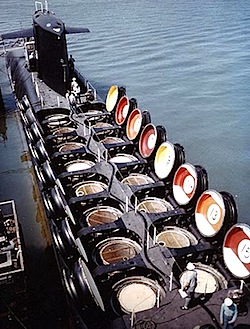 Defense Bills Would Create Separate Fund for New Ohio-Class Nuclear Submarines
"Far-reaching implications"
"The creation of a National Sea-Based Deterrence Fund to pay for an Ohio-class ballistic missile submarine replacement could significantly alter the typically underfunded Navy shipbuilding account, while also establishing a precedent that other military services may attempt to leverage in years to come.
More: Frank Oliveri, CQ Roll Call, 6/9/14
---
---
Radioactive Quotes

---
"We insist on continuing negotiations. We are not just in favor of talks, we insist on negotiating further nuclear arms reductions. The fewer nuclear weapons there are in the world the better. And we are ready for a most serious talk on the issues of nuclear disarmament."

Russian President Vladimir Putin, speaking at the 11th annual Valdai Discussion Club meeting in Sochi, Russia, October 24, 2014

[link]
"We know that the Islamic State group has the means and motive to attain weapons of mass destruction. Until we secure all nuclear materials and eliminate all nuclear weapons, we run the very real risk terrorists will buy, build or steal the bomb - and use it."

Valerie Plame, September 26, 2014

[link]
"Many citizens, scientists and laymen alike, view nuclear-weapons abolition as an essential milestone in the development of human civilization, a moral, ideological and practical campaign that could catalyze the transformation of international relations and improve the outlook for civilization at a critical time."

-James Doyle, LANL Non-Proliferation Policy Specialist, in "Why Eliminate Nuclear Weapons?" Doyle was fired from LANL in July of 2014, apparently for publishing this article.

[link]
---

Recent visitors - click to enlarge
---