Arsenal of Information
---
---
---
Dossiers:
Trump's Nuclear Posture Review
Flashpoint: North Korea
Flashpoint: NATO-Russia
UN Treaty to Prohibit Nuclear Weapons
Plutonium Pit Production at LANL
B61-12 Enhanced Nuclear Bomb
LRSO: New Nuclear Cruise Missile
Kirtland AFB Nuclear Weapons Complex
MOX / Plutonium Disposition
Fukushima Disaster and Updates
Nuke Lab Contractors Illegal Lobbying
Nuclear Testing Since 1945
Atomic Histories
---
Nuclear Watch Interactive Map of the
Nuclear Weapons Complex
View full size
Facilities:
Kansas City Plant
Lawrence Livermore National Labs
Los Alamos National Laboratory
Nevada National Security Site
Pantex Plant
Sandia National Laboratories
Savannah River Site
Washington DC
Waste Isolation Pilot Plant (WIPP)
Y-12 National Security Complex
Facility Spotlight:
At Y-12, the cost of designing the Uranium Processing Facility keeps spiraling: $92 million in '06, $2 billion by '16. (How do you spend 2 billion dollars designing anything?) - See OREPA's June '15 UPF update

- NNSA Cuts Los Alamos Lab's Award Fees by 90%
- DOE IG Report: Sandia Labs Misused Federal Funds
- Y-12: Poster Child For A Dysfunctional Nuclear
Weapons Complex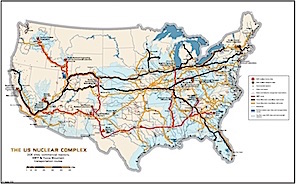 Click the image to download this large printable map of DOE sites, commercial reactors, nuclear waste dumps, nuclear transportation routes, surface waters near sites and transport routes, and underlying aquifers. This map was prepared by Deborah Reade for the Alliance for Nuclear Accountability.
---
Facility Spotlight:
Y-12: Poster Child For A Dysfunctional Nuclear Weapons Complex
Bulletin of the Atomic Scientists, August 4, 2014
---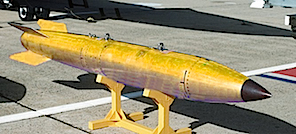 B61 Nuclear Bomb:
Worth more than twice it's weight in gold
Each 700-pound B61 nuclear bomb will soon be overhauled at a price tag of $28 million. But 700 lbs. of solid gold is currently worth only $12.4 million. It would actually be cheaper to make the B61 nuclear bomb out of gold. Use this online form to tell your representative to cut B61 funding!
---
$1 Billion for a Nuclear Bomb Tail
Hans M. Kristensen, FAS/Strategic Security
Also: "B-2 Stealth Bomber To Carry New Nuclear Cruise Missile"
---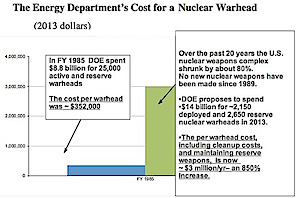 Nuclear Warheads: Exploding Costs 1985-2013
Chart provided by Robert Alvarez, Senior Scholar for Nuclear Policy at the Institute for Policy Studies. (See full bio).
---
---
Dossier:
B61-12 Bomb: Worth Its Weight In Gold- And Causing A Lot Of Trouble.
---
September, 2017:
Controversy After Another Test of the B61-12 Nuclear Smart Bomb
The editor-in-chief of Russia's National Defense magazine, Igor Korotchenko, warned that the second test of the B61-12 could indicate that the US is speeding up its rearmament program while "both Washington and Brussels are considering the scenario of a limited nuclear war in Europe." He added that NATO forces have already conducted drills in the Baltic Sea, including mock nuclear strikes on Russia. "During regular exercises, including those in the Baltic Sea, the air forces of NATO countries have repeatedly carried out combat training tasks involving tactical nuclear strikes on targets located in the northwest of our country," Korotchenko told RIA Novosti (ref).
- NNSA press release on the B61-12 tests: (view/download PDF)
- There are an estimated 180 B61 nuclear bombs stored at NATO bases in Italy, Belgium, the
Netherlands, Germany and Turkey.
- For more on the B61-12 nuclear smart bomb, see our B61 Dossier.
German opposition calling for removal of US nuclear weapons
In August, Martin Schulz, head of the SPD party and candidate for the chancellorship in this fall's elections, said he would have the American nuclear weapons removed from Germany if he was elected. "As chancellor, I will commit Germany to having the nuclear weapons stationed here withdrawn from our country." (ref).

A few days later, Germany's Foreign Minister and Vice-Chancellor Sigmar Gabriel (photo at left) joined Schulz's call for the removal of the US nukes. "I agreed with Mr. Schulz's point that we need to get rid of the nuclear weapons that are in our country."
"Germany has an important voice within NATO and the European Union, and ... it must be used to call for disarmament and arms control." Gabriel said it was critical for the United States and Russia to resume a dialogue on disarmament instead of slipping further into mutual recriminations and a new arms race spiral. (ref)
Now the US is bullying Sweden not to sign Nuclear Weapons Prohibition Treaty
Love our nukes or you're on your own....
Neutral Sweden, which voted for the Nuclear Weapons Prohibition Treaty in July, has been told by General Mattis that if they actually sign the treaty in September as expected, it would "negatively impact" relations with the US. Svenska Dagbladet said "The implication is that if the government signs the convention banning nuclear weapons, including on Swedish territory, it would impact both defense cooperation during peace time and the possibility of military support from the USA in a crisis situation."
In August, Sweden's Foreign Minister Margot Wallström wrote that the government intended to sign the treaty, and "Sweden's vote in favor was entirely in line with our disarmament policy as part of a broader security policy". (ref)
---


September 16, 2016:
Sandia's Rocket Sled Track Simulates High-Speed Accident in B61-12 Test
Sandia has sent a mock B61-12 nuclear weapon speeding down the Labs' 10,000-foot rocket sled track to slam nose-first into a steel and concrete wall in a spectacular test that mimicked a high-speed accident. It allowed engineers to examine safety features inside the weapon that prevent inadvertent nuclear detonation.


Video analysis of impact dynamics
---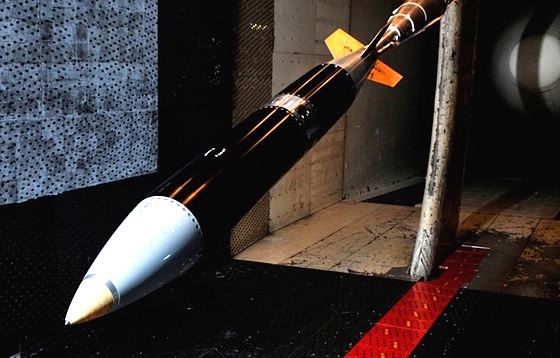 America's New, More 'Usable', Nuclear Bomb In Europe
November 10, 2015. The Guardian has done a useful recap of the issues raised by the B61 upgrade; an excerpt:
"... In non-proliferation terms however the only thing worse than a useless bomb is a 'usable' bomb. Apart from the stratospheric price, the most controversial element of the B61 upgrade is the replacement of the existing rigid tail with one that has moving fins that will make the bomb smarter and allow it to be guided more accurately to a target. Furthermore, the yield can be adjusted before launch, according to the target.
"The modifications are at the centre of a row between anti-proliferation advocates and the government over whether the new improved B61-12 bomb is in fact a new weapon, and therefore a violation of President Obama's undertaking not to make new nuclear weapons. His administration's 2010 Nuclear Posture Review said life extension upgrades to the US arsenal would 'not support new military missions or provide for new military capabilities.'
"The issue has a particular significance for Europe where a stockpile of 180 B61s is held in six bases in five countries. If there is no change in that deployment by the time the upgraded B61-12s enter the stockpile in 2024, many of them will be flown out to the bases in Belgium, the Netherlands, Germany, Italy and Turkey.
"The row has had a semantic tone, revolving on what the definition of 'new' is, but arguably the only definition that counts is whether the generals and officials responsible for dropping bombs, view its role in a different light as a result of its refurbishment. Referring to the B61-12's enhanced accuracy on a recent PBS Newshour television program, the former head of US Strategic Command, General James Cartwright, made this striking remark: 'If I can drive down the yield, drive down, therefore, the likelihood of fallout, etc, does that make it more usable in the eyes of some- some president or national security decision-making process? And the answer is, it likely could be more usable.'"
-The Guardian, November 10, 2015
---
PBS News Hour Report Nov. 5, 2015: The B61 Bomb Upgrade
"The PBS Newshour got exclusive and unprecedented access to labs and facilities across the country to observe how the B-61 nuclear bomb is being upgraded and modernized. Jamie McIntyre, national security correspondent for Al Jazeera America, [above, with Hans Kristensen, F.A.S.] reports on special assignment for the NewsHour."
Note: NukeWatch Exec. Dir. Jay Coghlan appears at 7:10
---
US Deployment of New Nuclear Bombs To Bases in Europe Alarms Russia
In 1997 Ted Carpenter wrote for the Cato Institute, "Clinton administration officials and other supporters of NATO expansion profess to be baffled at Moscow's hostile reaction. But even the most peaceably inclined Russian leader would find it difficult to tolerate a U.S.-dominated military alliance perched on his country's western frontier."
Since then, Romania, Bulgaria, Czech Republic, Slovakia, Hungary, Albania, Croatia, Slovenia, Latvia, Lithuania, Estonia and Montenegro have all joined NATO. Georgia, Macedonia, and Bosnia-Herzegovina wait in the wings. (see graphic)
We can read on the NATO site that "Allied leaders agreed that Georgia and Ukraine- which were already engaged in an Intensified Dialogue with NATO- will become members of NATO." And yet the Russians couldn't be more clear: "Any political game concerning NATO expansion into Georgia and Ukraine is filled with the most serious, most profound geopolitical consequences for all of Europe" Russia's permanent representative to NATO, Alexander Grushko, told LifeNews television channel.



CNN 9/28: Pres. Putin on report of new U.S. nukes to Germany




Enter the B61-12


Against this backdrop, the US is reported to be preparing to replace some 20 nuclear weapons stationed in Germany with the updated version, the B61-12, which is in some ways a guided weapon; this is seen by Russia as constituting an aggressive escalation in her near-abroad. (See Kremlin Threatens Response to U.S. Nuclear Bomb Deployment in Germany) Russian spokesman Dmitry Peskov called the move a potential "violation of the strategic balance in Europe," that would demand a Russian response.
"This could alter the balance of power in Europe," Peskov told reporters at a press conference on Wednesday. "And without a doubt it would demand that Russia take necessary countermeasures to restore the strategic balance and parity." An unidentified "military-diplomatic" source told the Interfax news agency that among other options, that Iskander-M tactical missiles could be redeployed to Kaliningrad, the Russian Baltic enclave between Poland and Lithuania. And so it goes...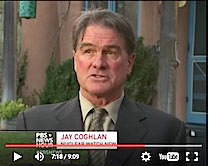 PBS News Hour Report: The B61-12 Deployment


Nov. 5, 2015; Jamie McIntyre with Hans Kristensen (F.A.S.) and NukeWatch Exec. Dir. Jay Coghlan.

- 60 Minutes interview with President Putin
- Kremlin Threatens Response to B61-12 Deployment
- U.S. set to back NATO invitation to Montenegro
- Are We Closer Than Ever To Nuclear War? ABC Australia

---
July 13, 2015:
Russia Claims U.S. Planning Nuclear Deployment In Europe
Anatoly Antonov writes that the test of the B61-12 nuclear bomb confirmed suspected U.S. plans to maintain a nuclear arsenal in Europe capable of striking Russian territory. (ref)
See related: This Bomb May Be the Most Dangerous in America's Arsenal
---
July 8, 2015:
NNSA, Air Force Complete Successful B61-12 Flight Test
The NNSA and the Air Force have completed successfully the B61-12 Life Extension Program Development Flight Test at Tonopah Test Range, carrying out a drop test of the new B61-12 from a F-15E fighter jet. Flight integration is now underway on the F-16, F-15E and Tornado (PA-200) with the B-2A and F-35A to follow.
Hans Kristensen, Director Nuclear Information Project, Federation of American Scientists, notes: "This is the first US guided gravity bomb, a new weapon by any standard - unless you ask the administration."
See NNSA report on the test completion
---
October 22, 2014:
Taking stock of the Ukraine crisis' impact on the prospects for nuclear disarmament in Europe and wider arms control processes.
Anna Sliwon, British-American Security Information Council
"From the violation of Ukrainian national borders, to the breach of the Budapest memorandum, through to Putin's ominous August rhetoric reminding Western leaders of Russia's status as a strong nuclear power, events in Eastern Europe have led to worsening of an already difficult climate for discussions on the issue of removal of American B61 gravity bombs deployed in five European states.
"...existing defense and deterrence mechanisms, international legal and allied security guarantees and assurances, and their viability and effectiveness, have been subject to renewed examination..."
"Against such a climate of uncertainty, insecurity and confrontation, it is difficult to imagine a serious consideration of prospects for nuclear disarmament in Europe by political leaders from NATO member states." (see full article at BASIC)
---
August 6, 2014: B61 Bomb Upgrades- Important Report
The Cost of Teaching an Old Nuclear Weapon New Tricks
Jon Letman, Truthout
"Despite President Obama's 2009 speech in Prague in which he stated 'clearly and with conviction America's commitment to seek the peace and security of a world without nuclear weapons,' the United States plans to spend hundreds of billions of dollars on its own nuclear weapons upgrades, modernization and 'life extension programs' (LEP).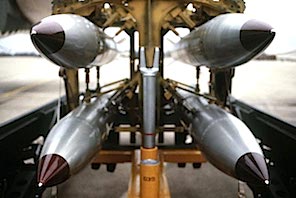 "First built in 1963, the B61 has been called "the bread and butter" of the Los Alamos National Laboratory. The bomb's newest incarnation, B61-12, will be a variable-yield, precision-guided version of one of the most numerous bombs in the US arsenal.
"Excluding submarine-based missiles, the B61 is the only US nuclear weapon deployed outside of the United States today. The United States has around 180 B61s at six bases in five NATO countries - Belgium, Germany, Italy, Holland and Turkey. These nuclear weapons are part of what many call the 'glue' that holds NATO together.
"Who stands to benefit from life extension programs, stockpile stewardship and other modifications to America's nuclear arsenal?
"The Life Extension Programs are critical for the National Nuclear Security Administration (NNSA), which receives around $7 billion a year for maintaining and enhancing nuclear weapons and infrastructure.
"Also poised to benefit are the nuclear weapons laboratories, specifically Sandia (a wholly owned subsidiary of Lockheed Martin) and Los Alamos National Laboratories, which are overseeing the design, manufacture and testing of B61-12.
"William Hartung says that the nuclear laboratories have a perennial quest for new ideas and angles for nuclear weapons. He calls it an 'employment program for nuclear scientists.'"
"Major military defense contractors like Bechtel and Boeing reap great benefits from nuclear upgrades. Hartung says Lockheed Martin 'gets two bites at the apple' because it also designs and builds the F-35A Lightning fighter bomber, which will be fitted to carry the B61-12, as will the F-15E (McDonnell Douglas), F-16 (General Dynamics), B-2A (Northrop Grumman), B-52H (Boeing), Tornado (Panavia Aircraft) and future long-range striker bombers."
"'The parochial politics and endless desire of the nuclear priesthood to come up with new ideas about nuclear weapons is trumping common sense and arms control considerations,' says Hartung.
"A serious lack of understanding of nuclear weapons extends to Congress, says FAS's Kristensen. 'I can tell you from first-hand experience that the number of staffers and . . . members of Congress today that have any clue what this is about is a very, very small group, and it is shrinking.'" (read Jon Letman's report)
---
B61-12 Nuclear Bomb Integration On NATO Aircraft To Start In 2015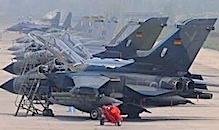 The US Air Force budget request for Fiscal Year 2015 shows that integration of the B61-12 on NATO F-16 and Tornado aircraft will start in 2015 for completion in 2017 and 2018.
(Left: NATO Tornado and F-16 aircraft, 2008, Ghedi Torre nuclear base, Italy, for the Steadfast Noon nuclear strike exercise. Image: EUCOM.)
more: Hans Kristensen, FAS Security Blog

---
NATO Watch reports, 2/26/14:
Developments in Italy, Belgium, Netherlands That May Affect B61 Debate
In Italy, Federica Mogherini was inaugurated as Minister of Foreign Affairs on the 22 February. She is one of the few parliamentarians in Italy openly questioning the continued deployment of US B61 nuclear weapons in Europe.
In Belgium, the Flemish Socialist Party announced at their Party congress (2/22) that the party will not be part of any government if the B61s stay in Belgium.
In the Netherlands, Foreign Affairs Minister Timmermans reiterated that he is committed to achieve the removal of the B61s from the Netherlands and Europe.
(all the details at NATOWatch.org)
---
Excerpts from an important piece by Hans Kristensen of the FAS:
General Confirms Enhanced Targeting Capabilities of B61-12 Nuclear Bomb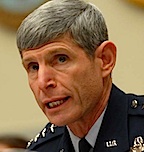 "The former U.S. Air Force Chief of Staff, General Norton Schwartz, confirmed last week that the B61-12 nuclear bomb planned by the Obama administration will have improved military capabilities to attack targets with greater accuracy and less radioactive fallout. The confirmation is important because the 2010 Nuclear Posture Review (NPR) pledged that nuclear warhead 'Life Extension Programs' will not support new military missions or provide for new military capabilities. In addition to violating the NPR pledge, enhancing the nuclear capability contradicts U.S. and NATO goals of reducing the role of nuclear weapons and could undermine efforts to persuade Russia to reduce its non-strategic nuclear weapons posture.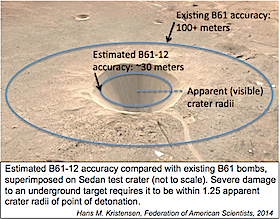 "Increasing the accuracy broadens the type of targets that the B61 can be used to attack. The effect is most profound against underground targets that require ground burst and cratering to be damaged by the shock wave.
"General Schwartz's confirmation came during a conference organized by the Stimson Center in response to a question from Steven Young whether the relatively low yield and increased accuracy of the B61-12 in terms of targeting planning would change the way the military thinks about how to use the weapon. General Schwartz's answer was both clear and blunt: 'Without a doubt. Improved accuracy and lower yield is a desired military capability. Without question.' When asked whether that would result in a different target set or just make the existing weapon better, General Schwartz said: 'It would have both effects.'



"With the increased accuracy of the B61-12 the strike planners will be able to select a lower yield and still achieve the same (or even better) damage to the underground target. Using lower yields will significantly reduce collateral damage by reducing the radioactive fallout that civilians would be exposed to after an attack. The difference in fallout from a 360-kiloton B61-7 surface burst compared with a B61-12 using a 10-kiloton selective yield option is significant.

"General Schwartz said that the B61 tail kit 'has benefits from an employment standpoint that many consider stabilizing'. I later asked him what he meant by that and his reply was that critics (myself included) claim that the increased accuracy and lower yield options could make the B61-12 more attractive to use because of reduced collateral damage and radioactive fallout. But he said he believed that the opposite would be the case; that the enhanced capabilities would enhance deterrence and make use less likely because adversaries would be more convinced that the United States is willing to use nuclear weapons if necessary.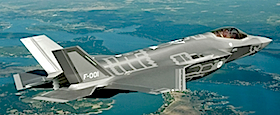 "With the increased accuracy of the B61-12 and combined with the future deployment of the F-35A Lightning II stealth fighter-bomber to Europe, it is clear that NATO is up for quite a nuclear facelift.
"Initially the old NATO F-16A/B and Tornado PA-200 aircraft that currently serve in the nuclear strike mission will not be able to make use of the increased accuracy of the B61-12, according to U.S. Air Force officials. The reason is that the aircraft computers are not capable of 'talking to' the new digital bomb. As a result, the guided tail kit on the B61-12 for Belgian, Dutch, German, Italian and Turkish F-16s and Tornados will initially be 'locked' as a 'dumb' bomb. Once these countries transition to the F-35 aircraft, however, the enhanced targeting capability will become operational also in these countries.

"It is unclear how improving the nuclear posture in Europe fits with NATO's arms control goal to seek reductions in Russian non-strategic nuclear weapons in Europe. Instead, the increased military capabilities provided by the B61-12 and F-35 would appear to signal to Russia that it is acceptable for it to enhance its non-strategic nuclear posture in Europe as well.
Such considerations ought to be well behind us, more than two decades after the end of the Cold War, but they continue to tie down posture planning and political signaling."

(See Hans Kristensen's full report here)
---
Ploughshares Fund- Jan. 15, 2014. For Immediate Release:
Cash-Strapped Congress Fully Funds B-61 Solid Gold Nuke
Omnibus Bill Funds Obsolete Program Over Objections of Military, Ranking Members
Congress this week gave full funding to the $11 billion program to upgrade the B-61 nuclear bomb in the FY 2014 omnibus appropriations bill. Each B61 nuclear bomb, a Cold War relic still stationed in Europe to deter Soviet invasion, has been estimated to cost more than twice its weight in gold. As former Vice Chairman of the Joint Chiefs of Staff Gen. James Cartwright has noted, B-61 bombs have a military value of "practically nil."
"This decision represents the triumph of entrenched nuclear interests over good government. The B-61 is no longer relevant for U.S. national security, but continues to rob billions of dollars from programs that would make America safer," said President Joe Cirincione.
The FY 2014 omnibus appropriations bill fully funds the National Nuclear Security Administration's B-61 Life Extension Program at the requested $537 million, despite multiple attempts in the Senate and House to curtail the program and force the administration to pursue less expensive alternatives.
"The B-61 is a golden example of what is wrong with the nuclear weapons budget. The bomb lost its military purpose two decades ago, but some in Congress are willing to spend endlessly to upgrade them - despite the existence of cheaper alternatives," said Senior Policy Analyst Benjamin Loehrke.
Congressional leaders - such as Sen. Dianne Feinstein (D-CA), Rep. Mike Quigley (D-IL) and Rep. Jared Polis (D-CO) - deserve praise for their efforts to steward taxpayer dollars and bring the B-61 program under control.
Congress will have the opportunity to revisit this decision in the FY 2015 budget cycle. In the meantime, taxpayers will be spending money to refurbish a bomb worth more than its weight in solid gold.
For more information on the B61 bomb, please see these infographics:
Budget Busting Bomb and A Golden Mistake
---
New Mexico Members of Congress Vote for Exorbitant Nuclear Bomb While State Is Ranked as the Worst for Children
July 11, 2013. Santa Fe, NM. Yesterday all three House members of the New Mexican congressional delegation voted against an amendment that would cut money added to a wasteful nuclear weapons program. In April the Obama Administration asked for $537 million in fiscal year 2014 for a "Life Extension Program" for the B61 Cold War nuclear bomb, 45% above the 2013 level. The House Appropriations Committee added $23.7 million to that bloated request, which the amendment would have cut. Overall, the B61 Life Extension Program has exploded in estimated costs to where each warhead will cost twice their weight in gold just to "refurbish" (which does not include original production and ongoing maintenance costs). The sponsor of the amendment, Rep. Mike Quigley, D-Ill., testified during floor debate:
"At a time when we are slashing funds for disease research at the NIH [National Institute of Health], failing to fund our crumbling infrastructure, and underinvesting in our children's education, we are increasing funding to keep hundreds of nuclear bombs in operation that we will never use. The Cold War is over."
(Read the full NukeWatch press release PDF)
---
B61 Upgrades: A Dangerous and Pointless Extravagance
The U.S. is poised to spend $11.6 billion to upgrade a handful of nuclear bombs - with each bomb costing more than twice its weight in gold. These bombs- known as the B61- were originally deployed in Europe to slow a hypothetical massive Soviet land invasion of Western Europe. But the Cold War ended, and the Soviet Union exists no more. George H.W. Bush removed all but 200 of the B61s from the European theater. Now the Obama administration wants to upgrade those remaining, making them more accurate and "useable". These costly bomb upgrades will only rack up more debt while adding no benefit to our security.
Why are the bombs still around? How much gold are we talking about? What else could the U.S. buy with the money? Ploughshares has prepared a colorful multi-panelled infographic on the folly of the Administration's funding plans for the B61 bomb: "Meet the Budget Busting B61 Nuclear Bomb".
August 29. B61-12 Life Extension Program: Radar Drop Tests Completed Successfully (NNSA press release)
These tests were conducted from helicopter. NNSA has announced that in FY 2014 these components will be integrated with the Air Force's Tail Kit Assembly for 'integration testing' with Air Force nuclear certified aircraft (incl. B-2 and F35 stealth bombers); creating new military capabilities for an existing nuclear weapon, contrary to official US policy declared at the 2010 Non-proliferation Treaty Review Conference and elsewhere. (See our post on this at the Watchblog).
Recent Press Items
NTI Report: US wasting billions on B61 nuclear bombs that serve no purpose and are security liability in Europe, Turkey
F-35s in Europe Could Carry B61 Nuclear Warhead Sooner Than Planned
NNSA, Air Force Complete Two Additional B61-12 Life Extension Program Qualification Flight Tests At Tonopah Test Range
Germany: Caught between America and Russia again
Foreign Minister Gabriel joins call to withdraw US nukes from Germany
Huge pacifist sentiment in Germany supports removal of US nuclear weapons
SPD's Martin Schulz wants US nuclear weapons out of Germany
Turkey denies Germany access to Incirlik - Germany likely to pull troops out
Hey, NATO, Let's Move Those 50 US Thermonuclear Weapons Out of Turkey
---
July 27, 2017:
Stars and Stripes: Concerns raised over military presence, nukes stored in Turkey
---
November 2, 2016:
B61 Bomb Cost Updated to $8.3 Billion
Latest updates from Kingston Reif
---
August 1, 2016:
NNSA Greenlights B61-12 Production Engineering
"The decision marks the final development phase prior to actual production. The NNSA says the first production unit of the weapon is planned for fiscal year 2020..." (more)
---
Video Shows Earth-Penetrating Capability of B61-12 Nuclear Bomb
"The capability of the new B61-12 nuclear bomb seems to continue to expand, from a simple life-extension of an existing bomb, to the first U.S. guided nuclear gravity bomb, to a nuclear earth-penetrator with increased accuracy."
1/16. F.A.S. Hans Kristensen and Matthew McKinzie
---
Lockheed F-35s, due to port B61-12s now lined up in bases, just a few minutes flight time from Russia
---
Action Alert!
Use this online form to tell your representative in
Congress to cut the B61 solid gold funding!
---
The B-61 in Europe- a German view:
"American nuclear bombs are still stationed in Europe. In Germany alone, up to 20 B-61 weapons are stored on a German airbase in the village of *****.
"The German government has said on numerous occasions it would like to see those weapons removed, but there is no great chance of that happening anytime soon. Instead, the weapons are expected to be upgraded with enhanced military capabilities." (Spiegel Online, "Nuclear Arsenal: US To Turn Old Bombs Into All-Purpose Weapons", Nov 6, 2013)
---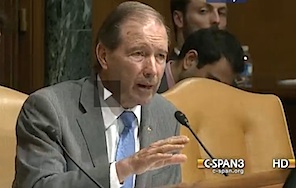 NM Sen. Tom Udall presses for funding B61 upgrade, expanded plutonium facility
"...I want to thank you for your continued advocacy for the B61 Life Extension Program, this program is important to our national security, and I believe the scientists and engineers at our national labs have made great progress in this endeavor..."
---
Udall Needs To Rethink Huge Spending On B61
"Unfortunately, New Mexico's Sen. Tom Udall has been pushing for the gold-plated, $10 billion version of the B61 bomb.... Worse, the gold-plated plan Udall and the Los Alamos and Sandia labs are seeking would also give the B61 significant new military capabilities. Proposed new tail fin guidance kits would transform the B61 into the world's first nuclear "smart" bomb for delivery on the new, stealthy, and costly F35 bomber..." (read more at ABQ Journal)
---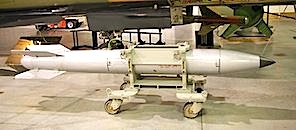 Bombs Away- The Case for Phasing Out U.S. Tactical Nukes in Europe
An extensive report questioning the wisdom of stationing tactical nuclear weapons in Europe (incl. the B-61). Foreign Affairs, July/August 2014 Issue
- Listen to this report by audio stream (32 min.)