Arsenal of Information
---
---
---
Dossiers:
Trump Admin and Nuclear Weapons Policy
Revolving Door: The Case of Heather Wilson
Kirtland AFB Nuclear Weapons Complex
LRSO: New Nuclear Cruise Missile
B61-12 Enhanced Nuclear Bomb
Marshall Islands Lawsuit
Nuke Lab Contractors Illegal Lobbying
MOX / Plutonium Disposition
Plutonium Pit Production at LANL
UN Treaty to Prohibit Nuclear Weapons
Nuclear Testing Since 1945
Fukushima Disaster and Updates
Atomic Histories
---
Nuclear Watch Interactive Map of the
Nuclear Weapons Complex
View full size
Facilities:
Kansas City Plant
Lawrence Livermore National Labs
Los Alamos National Laboratory
Nevada National Security Site
Pantex Plant
Sandia National Laboratories
Savannah River Site
Washington DC
Waste Isolation Pilot Plant (WIPP)
Y-12 National Security Complex
---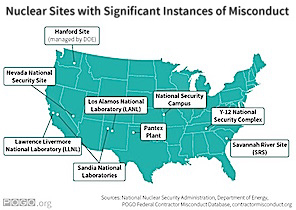 Nuclear Weapons Complex Misconduct
Dec. 3, 2015. POGO: Updated Federal Contractor Misconduct Database, focussing on Nuclear Complex (see report at POGO)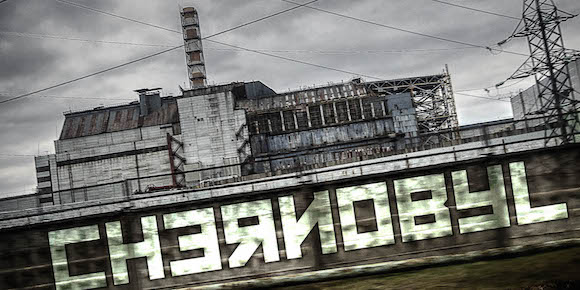 image from Behind Closed Doors, Chernobyl Portfolio
April 26, 2016: Chernobyl 30 Years On
The biggest man-made disaster of all time... (so far)
The Chernobyl disaster released approximately 100 times more radiation than the atomic bombs dropped on Hiroshima and Nagasaki. 800,000 men risked their lives by exposing themselves to radiation in order to contain the situation. 25,000 of these have died (20% of the deaths were suicides) and 70,000 are disabled.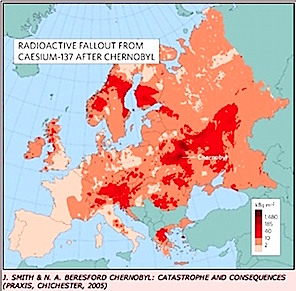 'Most radioactive materials from an atomic [bomb] blast have a maximum half-life of 50 years. However, in the Chernobyl meltdown, most of the actual exploding was due to containment failure and explosions from steam build-up. Chunks of fuel rods and irradiated graphite rods remained intact. Furthermore, the reaction has, both initially and over its life, produced a far higher amount of radioactive materials. This is partly due to the nature of the reaction, the existence of intact fuel to this date, and that the explosion happened at ground level. A fission explosion at ground level creates more radioactive isotopes due to neutron activation in soil. Furthermore, the half-lives of the isotopes made in the Chernobyl accident (because of the nature of the process) are considerably longer. It is estimated that the area will not be habitable for humans for another 20 000 years (Edit: to prevent further debate I rechecked this number. That is the time before the area within the cement sarcophagus - the exact location of the blast - becomes safe. The surrounding area varies between 20 years and several hundred years due to uneven contamination)..."
(ref: Physics discussion: Why can Hiroshima be inhabited when Chernobyl cannot?)
Washington Post: Chernobyl disaster survivors skeptical of plans to contain nuclear radiation
New York Times: 30 Years After Chernobyl Disaster, Shelter Nears Completion
The Bulletin: Chernobyl, Fukushima, and preparedness for a "next one"
PBS Frontline: Return to Chernobyl
Federation of American Scientists: Chernobyl After 30: The Vesuvius of our Time
The Guardian: 'It was anarchy': a family reflects on the Chernobyl disaster, 30 years on
Science Daily: Chernobyl, three decades on
HuffingtonPost: Ukraine Remembers Chernobyl Disaster Victims 30 Years On
McClatchy DC: Ruined Chernobyl nuclear plant will remain a threat for 3,000 years
USA Today: Voices: The endless heartbreak of Chernobyl



A new steel-clad arch, costing 1.5 billion euros, has just been completed. It is designed to prevent further leaks for... 100 years.
---
Special limited edition: Hard Duty:
A Woman's Experience at Chernobyl
by Natlalia Manzurova and Cathie Sullivan.
Hard Duty is the story of a young Russian radiobiologist, Natalia Manzurova, and the four and a half years she spent as part of the cleanup of the 1986 Chernobyl nuclear power plant disaster. Hard Duty introduces the reader to both the causes and history of the accident and provides a first-hand account of a courageous young woman who shared the tragedy of Chernobyl for over 4 years. Illustrated with Manzurova's photos.
60 pages, paperback (self-published). $6.00 plus $1.00 postage.
Only available through NukeWatch: Use this email contact for more details and to order the book. Proceeds from the sale of Hard Duty go to a Chernobyl Survivors group headed by Natalia.
---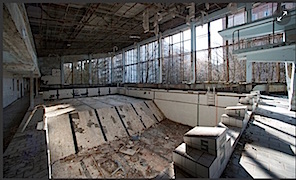 A City Irradiated and Abandoned
Pripyat, 30 years after Chernobyl
Photo essay by Lynn Hilton, The Guardian
---
---
---
---