Arsenal of Information
---
---
---
Dossiers:
Trump's Nuclear Posture Review
Flashpoint: North Korea
Flashpoint: NATO-Russia
UN Treaty to Prohibit Nuclear Weapons
Plutonium Pit Production at LANL
B61-12 Enhanced Nuclear Bomb
LRSO: New Nuclear Cruise Missile
Kirtland AFB Nuclear Weapons Complex
MOX / Plutonium Disposition
Fukushima Disaster and Updates
Nuke Lab Contractors Illegal Lobbying
Nuclear Testing Since 1945
Atomic Histories
---
---
Nuclear Watch Interactive Map of the
Nuclear Weapons Complex
View full size
Facilities:
Kansas City Plant
Lawrence Livermore National Labs
Los Alamos National Laboratory
Nevada National Security Site
Pantex Plant
Sandia National Laboratories
Savannah River Site
Washington DC
Waste Isolation Pilot Plant (WIPP)
Y-12 National Security Complex
Facility Spotlight:
- NNSA Cuts Los Alamos Lab's Award Fees by 90%
- DOE IG Report: Sandia Labs Misused Federal Funds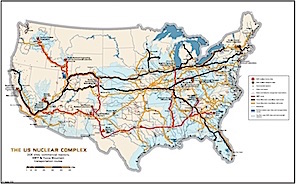 Click the image to download this large printable map of DOE sites, commercial reactors, nuclear waste dumps, nuclear transportation routes, surface waters near sites and transport routes, and underlying aquifers. This map was prepared by Deborah Reade for the Alliance for Nuclear Accountability.
---
Help us boost public awareness of the reality and risks of nuclear weapons today. Please share Nukewatch.org with your friends using the buttons below:
---
Please support our work!
Remember, donations are tax-deductible.

Dossier:
The Revolving Door: The Case of Heather Wilson

---
Update May 8:
On the same day Senator Diane Feinstein officially announced her opposition to the appointment, the full Senate voted to confirm Heather Wilson as Secretary of the Air Force. The vote was 76-22, with both New Mexico Senators Udall and Heinrich voting to confirm.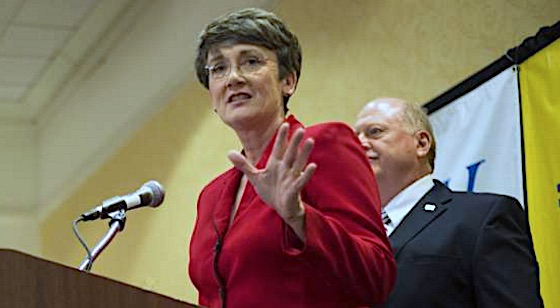 President Trump promised to "drain the swamp".
Then why did he nominate Heather Wilson for Secretary of the Air Force?
Wilson's revolving door career and links with corrupt practices are a caricature of the Congressional-Lobbyist-Contractor-Regulator nexus that she has played so well and for so long. Candidate Trump vowed to put an end to this sort of thing... Well?

February 8, 2017
Patrick Malone at the Center for Public Integrity has done an extensive report on the shenanigans of Heather Wilson, Pres. Trump's nominee for Air Force Secretary, and perhaps the most egregious example of the Congressional-Contractor-Lobbyist-Regulator complex, what Trump himself called "the swamp" which he promised to "drain". Published February 8, 2017 at both Politico and the CPI website, with the latter version including emails between Wilson and Lockheed's subsidiary Sandia Corp.



Air Force Secretary Nominee Helped A Major Defense Contractor Lobby For More Federal Funds


Feb 8, Patrick Malone, Center for Public Integrity:
"Even though Trump promised during the presidential campaign to "drain the swamp" of Washington power brokers that use knowledge gained in public office to pursue private gains, dozens of internal Lockheed and Sandia emails involving Wilson make clear that she is practiced at doing just that."
"When New Mexico Rep. Heather Wilson left Congress in 2009, she went to work the same month as a paid consultant for a subsidiary of weapons-contracting giant Lockheed Martin. That company then capitalized on Wilson's extraordinary familiarity with Washington to craft a lobbying strategy meant to avoid having to compete for the renewal of a government contract that brought in huge profits...
"The strategy relied on discrete meetings between Lockheed officials and powerful members of the fledgling Obama Administration, key members of Congress, and influential Washingtonians who had also passed through the revolving door between government and private industry...
"Wilson, a Republican who had spent four years on the House Armed Services Committee and six years on the Intelligence Committee, spent five months drawing up a roadmap for Lockheed to achieve its key objective: Renewing its existing contract to manage Sandia National Laboratories, a wholly-owned subsidiary that helps make nuclear weapons and has an annual budget of more than $2 billion, without having to compete with any other firm- unlike most federal contractors...
"The Sandia contract was one of three that Wilson executed between 2009 and 2011 with the private firms that produce nuclear weapons. In addition, she collected $195,718 from the privately-run Los Alamos National Laboratory, for whom she arranged meetings with and visits by "senior federal officials who had the ability to impact both funding and future work at the Laboratory in the intelligence arena," according to the 2013 IG report...
"She was also paid $2,500 to attend each of three business meetings at the privately-run Oak Ridge National Laboratory; she also was paid additional funds by the privately-run Nevada Test Site, to advise them about future business opportunities, that report said...
"Public scandal surrounded all of these contracts, once the June 2013 Inspector General report was published. It said none of the invoices that Wilson's firm had sent to the laboratories contained sufficient detail to conclude she actually provided all the services the firm promised to supply. Bills sent for $10,000 a month lacked 'details as to the time expended and nature of the actual services' the firm performed...
"In February 2013, then-House Speaker John Boehner appointed Wilson to the Congressional Advisory Panel on the Governance of the Nuclear Security Enterprise, meant to critique and suggest improvements in the way the government does business with nuclear weapon contractors- including the four that had hired Wilson's firm.
"Wilson's appointment got the attention of an anti-nuclear watchdog group in her home state, Nuclear Watch New Mexico. Wilson ignored pleas by the group's executive director, Jay Coghlan, to step down from the congressional commission over the perceived conflict of interest. The panel recommended that Washington sharply scale back its regulation and oversight of all the nuclear weapons laboratories..."
- Read the full Public Integrity article, with many more details, including the emails exchanged between Wilson and Lockheed's subsidiary Sandia Corp.
- A version of Malone's article also appears in Politico on the same day (without the emails).
---
POGO, January 24, 2017:
Heather Wilson's Past Raises Questions on Appointment for Air Force Secretary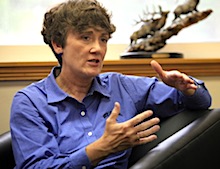 "Unfortunately it appears that another Trump administration national security nominee is a textbook example of the revolving door. Heather Wilson, recently nominated for Air Force Secretary, was formerly a Representative from New Mexico. After leaving the House she spent two years doing contract work for four nuclear facilities, including two New Mexico-based labs, without recording a single deliverable. She was also allegedly involved in an illegal lobbying effort by the Lockheed Martin Corporation.
"The Air Force has direct involvement with two legs of the nuclear triad, which refers to the three ways the United States is able to fire nuclear weapons. The bombs delivered by aircraft and the ground based missiles kept in silos around the northwest are both managed by the Air Force, so the agency will be directly involved in a $1 trillion nuclear modernization plan over the next 30 years- a plan that will also significantly affect the work and funding for the labs Wilson previously worked for. Many have questioned this nuclear modernization plan and how much, if any, of it is necessary. With President Trump's commitment to "drain the swamp," Senators should closely examine Wilson's past work with the nuclear labs, and whether she would recuse herself from decisions involving her former clients to prevent a conflict of interest.
"Wilson left the House in 2009 and a mere one day later signed a contract with Sandia National Laboratories, a New Mexico-based lab that works on maintaining the US nuclear arsenal..." (Read Lydia Dennett's full report at POGO)
Further Updates:

- Trump pick for Air Force boss frustrated auditors with lucrative, murky consulting for nuclear weapons labs - Nuclear Watch of New Mexico: Lockheed and Contractor Lobbying
- Aug 22, 2015 - Watchdogs Denounce Slap on Wrist for Illegal Lobbying Activities ...
- Aug 24, 2015. Lockheed Martin Pays $4.7 Million To Settle Charges It Lobbied For Contract Renewal With Taxpayer's Money.
- The 10 Worst Things About Lockheed Martin's Alleged Lobbying Fraud
- July 10, 2015. Lockheed Martin's illegal lobbying to extend Sandia contract ...
- Dec 12, 2014. NNSA Governance Advisory Panel Condones Diminishing Federal Oversight Of Failing Contractors
- Nuclear weapons lab used taxpayer funds to obtain more taxpayer funds
- Nov 19, 2014. Sandia Probe: Heather Wilson Named in DOE Inspector General's probe




Heather Wilson, with ex-president George W. Bush, Senator John McCain, and ex- NM senator 'Pete' Domenici.

Earlier refs:
- Nov 6, 2013. New Documents Show Former Rep. Ran Through Revolving Door
Nuclear Watch Press Release - November 3, 2013:
Heather Wilson Finalized Contract with Sandia Labs While in Congress;
Payments Started the First Day She Left Congress;
Wilson Should Resign from Council Determining Labs' Futures
The Albuquerque Journal has reported that former Congresswoman Heather Wilson (R.NM) finalized her first contract with the Sandia National Laboratories on December 19, 2008, while she was still representing the district that includes that nuclear weapons facility. Moreover, her first invoice documents that she began to be paid $10,000 a month for "Consultant/Advisory Services" that had no written work requirements on January 4, 2009, her very first day out of office. A few months later she was also being paid $10,000 a month by the Los Alamos National Laboratory (LANL) for a similar contract.
The Albuquerque Journal article builds upon a Department of Energy (DOE) Inspector General investigation, which determined that the Sandia and Los Alamos Labs had made approximately $450,000 in improper payments to Wilson up until March 2011, when she began to campaign for the Senate. The DOE IG report said that the facts indicate that federal funds were used for prohibited lobbying activities, which that office is still investigating. The Labs were forced to return that money to the government, but not Wilson.
The Albuquerque Journal received the new information concerning the dates of Wilson's contract with Sandia from Nuclear Watch New Mexico. The watchdog organization obtained the documents by appealing an initially rejected federal Freedom of Information Act (FOIA) request. Download the press release (PDF)

- Nov 6, 2013. If Wilson followed rules, then rules need changing
- Nov 6, 2013. POGO: New Documents Show Former Rep. Ran Through Revolving Door
- Nov 3, 2013. From Congress to contract: Heather Wilson says 10K per month Sandia Labs deal met ethics rules.
"New documents obtained by Nuclear Watch New Mexico director Jay Coghlan and publicized by the Albuquerque Journal reveal that Wilson left Congress on January 3, 2009, and began working for Sandia National Laboratories for $10,000 a month the very next day..."
- June 13, 2013. Oak Ridge Nat'l Lab defends its contract arrangement with ex-Rep. Heather Wilson ...
- Jun 11, 2013. Nuclear Weapons Labs Made Improper Payments to Heather Wilson; She Should Resign from NNSA Council Determining Their Future.
- Nuclear Watch New Mexico press release June 11, 2013 (View/download PDF)
- June, 2013. POGO: Heather Wilson: DOE Contracting Mismanagement Cost Taxpayers Over $450,000
- March 2, 2013. Heather Wilson Appointed to NNSA Oversight Panel
- Mar 1, 2013. Why the appointment of ex-NM Rep. Heather Wilson to security panel is not a good thing

- Ex-Congresswoman Wilson's contract with Sandia and invoices
obtained through Nuclear Watch New Mexico's Freedom of Information Act request.
- The DOE IG Report (DOE/IG-0889)
---
Heather Wilson Resources
---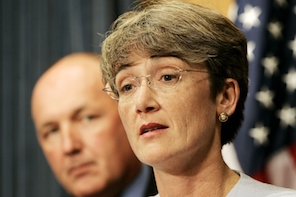 - DOE IG Report June 2013
(View/download report PDF)

- Wilson's Sandia contract and invoices
Obtained through a NukeWatch FOIA request (View/download PDF)

- The 10 Worst Things About Lockheed Martin's Alleged Lobbying Fraud - Forbes, August 2015

February 1, 2017:
Heather Wilson Is Not The Right Choice For Air Force Secretary
(Col. Wes Martin, Independent Journal Review)
---
News Items:
Lockheed, Raytheon get $900 million each to Develop New Nuclear Cruise Missile
GBSD: Northrop, Boeing Win Initial Deal to Replace Land-Based Nuclear ICBMs
---
Current nuclear stockpiles- for country reports and other details see original annotated infographic at Ploughshares.org.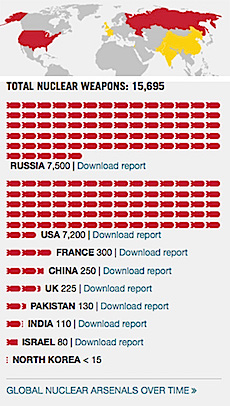 ---