Arsenal of Information
---
---
---
Dossiers:
Trump's Nuclear Posture Review
Flashpoint: North Korea
Flashpoint: NATO-Russia
UN Treaty to Prohibit Nuclear Weapons
Plutonium Pit Production at LANL
B61-12 Enhanced Nuclear Bomb
LRSO: New Nuclear Cruise Missile
Kirtland AFB Nuclear Weapons Complex
MOX / Plutonium Disposition
Fukushima Disaster and Updates
Nuke Lab Contractors Illegal Lobbying
Nuclear Testing Since 1945
Atomic Histories
---
Nuclear Watch Interactive Map of the
Nuclear Weapons Complex
View full size
Facilities:
Kansas City Plant
Lawrence Livermore National Labs
Los Alamos National Laboratory
Nevada National Security Site
Pantex Plant
Sandia National Laboratories
Savannah River Site
Washington DC
Waste Isolation Pilot Plant (WIPP)
Y-12 National Security Complex
Facility Spotlight:
Dec. 12, 2015. Kansas City Plant: Scores of workers have died after making nuclear weapons at the Bannister Road plant. A government review finds more radioactive materials used at the plant than was previously known. The federal government has paid $55 million to sickened workers, but a vast majority are still frustrated that they have not been compensated. (read more)
---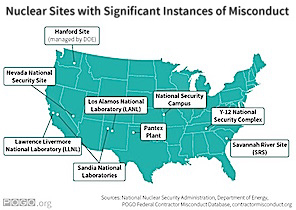 Nuclear Weapons Complex Misconduct
Dec. 3, 2015. POGO: Updated Federal Contractor Misconduct Database, focussing on Nuclear Complex (see report at POGO)
---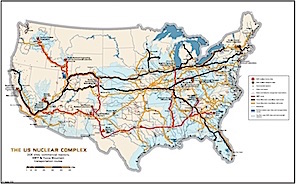 Click the image to download this large printable map of DOE sites, commercial reactors, nuclear waste dumps, nuclear transportation routes, surface waters near sites and transport routes, and underlying aquifers. This map was prepared by Deborah Reade for the Alliance for Nuclear Accountability.
---
---
Dossier:
The New Nuclear-Capable Air Launched Cruise Missile (LRSO)
---
The Air Force has ordered 1,000+ nuclear-capable advanced cruise missiles as part of the planned trillion-dollar modernization of US nuclear weaponry. The missile is called the Long-Range Stand-Off weapon, or LRSO, as it is intended to be launched from bombers up to a thousand miles from enemy borders.
Former Secretary of Defense William Perry, who led the original ALCM program in the late 70s and early 80s, has called on the president to cancel this order and drop the project. The ALCM (air-launched cruise missile) was designed and deployed to extend the viable lifetime of the US B-52 strategic bomber, at a time of increasing sophistication of Soviet air defenses, until the next generation of stealth bombers could be deployed.
---
June 14, 2017:
Mattis "Open To Rethinking" New ICBMs and Nuclear Cruise Missiles
Pressed by Sen. Dianne Feinstein, who opposes the planned nuclear cruise missile (LRSO), Defense Secretary Mattis told a Senate Budget Hearing June 14 he's open to rethinking the triad, as well as the LRSO.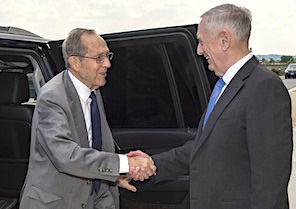 Mattis said he would be consulting with former Defense Secretary William Perry, who has advocated eliminating one leg of the triad by phasing out the land-based intercontinental ballistic missiles. Perry met with Mattis on the day of the hearing, and later tweeted, "Very wide ranging, candid, and productive discussion with Sec Def Mattis at the Pentagon today."
Perry is also strongly opposed to developing new nuclear cruise missiles, which he says are "uniquely destabilizing" weapons, because an adversary cannot tell a conventional missile from a nuclear-armed version, risking miscalculation in a crisis.
"I register loud and clear the potential destabilizing view that some people see this weapon bringing and I'm taking that on board," Mattis said. (story ref)
Note that both ICBMs and the nuclear cruise missiles - the two weapons systems most frequently seen by experts as unnecessary and dangerous, are Air Force systems, and that Heather Wilson, a long time pal of the weapons contractors, is now Secretary of the Air Force.
---
Flawed Pentagon Nuclear Cruise Missile Advocacy
June 10, 2016; Hans Kristensen, Federation of American Scientists, writes:
"The Pentagon's arguments for why the LRSO is needed and why the amendments [to strip funding] are unacceptable are amazingly shallow - some of them even plain wrong."
Here is a particularly disturbing argument:
"The Kendall letter from March also defends the LRSO because it gives the Pentagon the ability to rapidly increase the number of deployed warheads significantly on its strategic launchers. He does so by bluntly describing it as a means to exploit the fake bomber weapon counting rule (one bomber one bomb no matter what they can actually carry) of the New START Treaty to essentially break out from the treaty limit without formally violating it:
'Additionally, cruise missiles provide added leverage to the U.S. nuclear deterrent under the New Strategic Arms Reduction Treaty. The accounting rules for nuclear weapons carried on aircraft are such that the aircraft only counts as one weapon, even if the aircraft carries multiple cruise missiles.'
"It is disappointing to see a DOD official justifying the LRSO as a means to take advantage of a loophole in the treaty to increase the number of deployed strategic nuclear weapons above 1,550 warheads. Not least because the 2013 Nuclear Employment Strategy determined that the Pentagon, even when the New START Treaty is implemented in 2018, will still have up to one-third more nuclear weapons deployed than are needed to meet US national and international security commitments." (more at FAS)
See the DOD letter circulated to Congress in May.
---
The open letter that kick-started the debate:
Former Secretary of Defense Perry and Former Ass't Secretary of Defense Weber to Obama:
Mr. President, Kill the New Cruise Missile
Washington Post Op-Ed, October 15, 2015
Excerpts:
"Because they can be launched without warning and come in both nuclear and conventional variants, cruise missiles are a uniquely destabilizing type of weapon.
"Two years ago, when Britain decided not to pursue a sea-launched nuclear cruise missile, Philip Hammond, then-British defense secretary and now-foreign secretary, explained the problem well: 'A cruise-based deterrent would carry significant risk of miscalculation and unintended escalation. At the point of firing, other states could have no way of knowing whether we had launched a conventional cruise missile or one with a nuclear warhead. Such uncertainty could risk triggering a nuclear war at a time of tension.'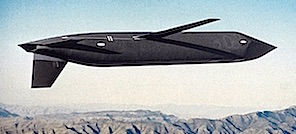 "One of us (William J. Perry) led the Defense Department's development and procurement of the current air-launched cruise missile and the B-2 stealth bomber in the late 1970s and early 1980s. At that time, the United States needed the cruise missile to keep the aging B-52, which is quite vulnerable to enemy air defense systems, in the nuclear mission until the more effective B-2 replaced it. The B-52 could safely launch the long-range cruise missile far from Soviet air defenses. We needed large numbers of air-launched nuclear cruise missiles to be able to overwhelm Soviet air defenses and thus help offset NATO's conventional-force inferiority in Europe, but such a posture no longer reflects the reality of today's U.S. conventional military dominance.
"With the updated B-2 and B61 expected to remain in service for many decades, and the planned deployment of new B-3 penetrating bombers with B61 bombs starting in 2025, there is scant justification for spending tens of billions of dollars on a new nuclear air-launched cruise missile and related warhead life-extension program.
"We therefore urge President Obama to cancel the current plan to develop and buy 1,000 to 1,100 new nuclear-capable air-launched cruise missiles. Such strong U.S. leadership, coupled with a challenge to the other major nuclear powers to eliminate or, in the cases of China and India, forgo deployment of this extremely destabilizing class of weapons, would reduce the risk of nuclear weapons use and be a historic practical step in the direction of a world without nuclear weapons." - William J. Perry and Andy Weber: Mr. President, Kill the New Cruise Missile
William J. Perry was U.S. secretary of defense from 1994 to 1997. Andy Weber was assistant secretary of defense for nuclear, chemical and biological defense programs from 2009 to 2014.


More on the Nuclear Cruise Missile:
- Russia is Proving Why Nuclear-Tipped Cruise Missiles Are a Very Bad Idea
"Those four cruise missiles that crashed in Iran could've been carrying nuclear warheads- which is why the US should ban them, not renew them."
"...inherently ambiguous... can add major risks to a crisis... In 2007, six nuclear-armed cruise missiles were mistakenly loaded onto a B-52 bomber and flown across the United States. Because nuclear-armed cruise missiles are virtually indistinguishable from conventional ones, the error went undetected for 36 hours.." -Tom Collina and William Saetren, Ploughshares Fund.

- Jan. 13: Just How New is the New, Nuclear-armed Cruise Missile?
"Deploying the planned new nuclear-armed cruise missile will actually make the United States less secure. Known as the Long-Range Standoff Weapon, or LRSO, it will be significantly more capable than the existing nuclear-armed air-launched cruise missile (ALCM). And for just that reason, by demonstrating that the United States sees this weapon as a valuable military tool, it will undermine higher priority U.S. security goals. Specifically, pursuing the LRSO ignores the reality that nuclear weapons are no longer a security asset for the United States, but a liability that should be constrained." -Stephen Young, Sr. Analyst, Union of Concerned Scientists

- Dec. 15: Eight Senate Democrats, including three members of the Senate Appropriations Committee, sent a letter to President Obama urging him to terminate the Air Force's plans for its next-generation air-launched cruise missile. (more)

- LRSO: The Nuclear Cruise Missile Mission
"It seems clear from many of these statements that the LRSO is not merely a retaliatory capability but very much seen as an offensive nuclear strike weapon that is intended for use in the early phases of a conflict even before long-range ballistic missiles are used." - Analysis by FAS/Hans Kristensen

- Who Needs a New Nuclear Air-Launched Cruise Missile Anyway?- Steven Pifer, Brookings
- Overkill: The Case Against a New Nuclear Air-Launched Cruise Missile- Kingston Reif/ACA
- You're NUTS: New Nuclear Cruise Missiles are Inherently Destabilizing
- New Nuclear Cruise Missile Won't Control Escalation, Will Erode Stability
---
New Cruise Missile Capability Debated


By Kingston Reif, Arms Control Association, January/February 2016
"The United States is planning to purchase a new fleet of nuclear-capable air-launched cruise missiles (ALCMs) that will be far more advanced than the ones they are slated to replace, according to members of Congress and other sources, raising questions about the plan's consistency with a pledge made by the Obama administration not to provide nuclear weapons with new capabilities.
"The development of the new missile also has sparked a debate about whether it could be more 'usable' than the existing ALCM, thereby lowering the threshold for when the United States might consider using nuclear weapons.
"In a Dec. 15 letter to President Barack Obama urging him to cancel the new cruise missile, also known as the long-range standoff weapon, Sen. Ed Markey (D-Mass.) and seven other senators wrote that the 'proposed missile is a significantly altered version' of the existing ALCM. The letter did not say what specific capabilities the new missile would provide, but claimed the proposal contradicts the policy statement from the 2010 'Nuclear Posture Review [NPR] Report' that efforts to sustain U.S. nuclear weapons 'will not support new military missions or provide for new military capabilities.'
"Advocates of the new missile argue that it provides a continuing ability to quickly add missiles to bombers. They note that the New Strategic Arms Reduction Treaty does not cap the number of weapons that can be carried on each bomber.
"The source said the technical characteristics of the new missile are still being defined because the program is still in the early development stage but that the goal is to increase the range and accuracy of the missile. The source said another goal is to incorporate the latest stealth features, making the missile much more difficult for adversary air defense systems to detect.
"Regarding the proposed life extension program for the ALCM warhead, known as the W80-4, the source who has been briefed said a goal of that program is to permit 'greater flexibility in actually picking' the desired yield. The ALCM warhead is believed have a built-in option to allow detonation at lower or higher yields.
"According to the source, increasing the accuracy of the missile allows for more flexibility in the warhead yield, thus enhancing the overall capability of the weapons system.
"The source said the briefings made it clear that the Pentagon is envisioning potential uses for the new cruise missile that go beyond 'the original mission space' of the ALCM.
"For example, the source said that, in the event of a major conflict with China, the Pentagon has talked about using the new missile to destroy Chinese air defenses as a warning to Beijing against escalating the conflict further."
(Read more: New Cruise Missile Capability Debated
---
Sept. 23, 2017:
B-52s Useless Without New Long-Range Nuclear Cruise Missiles - US STRATCOM Chief
August 23, 2017:
Lockheed, Raytheon Get $900 Million Each
to Develop New Nuclear Cruise Missile
"The Long Range Standoff is a critical capability required to support Gen. John Hyten's war plans."
- Air Force Chief of Staff Gen. David Goldfein (ref)
---
April 24, 2017:
The ambiguity challenge: Why the world needs a multilateral nuclear cruise missile agreement
"The US long-range standoff (LRSO) weapon program is clearly a major factor in the worldwide trend toward fielding nuclear-armed cruise missiles. Public information shows that it will likely have new abilities beyond its predecessor air-launched cruise missile, and these potential properties, and the fact that the Air Force intends to field it on its new stealth bomber, may raise new concerns among potential adversaries and alter strategic calculations." (The Bulletin)
---
August 1, 2016:
LRSO: Air Force Issues Request for Proposals
"The Air Force plans on awarding up to two contract awards for LRSO technology maturation and risk reduction by the fourth quarter of fiscal 2017. By the end of this 54-month stage, contractors will have developed a preliminary design 'with demonstrated reliability and manufacturability,' the service said in a news release. After a competition, the Air Force will downselect a single vendor, with fielding scheduled to kick off by 2030.
"Air Force leaders have argued that it needs a nuclear-armed cruise missile for its bomber fleet to have standoff capability against enemies with more sophisticated air defenses..." (more)
---
After receiving the Leadership Award from Alliance for Nuclear Accountability, Senator Diane Feinstein speaks about the planned new nuclear cruise missile, Washington DC, April 19, 2016.
---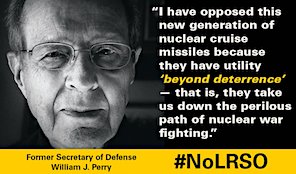 ---
Cruise Control
"Franklin Miller, a veteran nuclear strategist now at the Scowcroft Group, points out that Mr Obama would never have persuaded the Senate to ratify the New START treaty in 2010 had he not pledged to renew America's nuclear weapons on land, sea and in the air. That agreement allows for what is known as the 'bomber discount', which counts an aircraft carrying several bombs as a single warhead. The LRS-B (the upcoming Long-Range Strike Bomber) will be able to carry internally a payload of cruise missiles, the new B61-12 bombs or a smaller stand-off missile with a conventional warhead. It is improbable that any president would forgo that option while Russia retains it." (The Economist, Jan 23, 2016)