Arsenal of Information
---
---
---
Dossiers:
Trump's Nuclear Posture Review
Flashpoint: North Korea
Flashpoint: NATO-Russia
UN Treaty to Prohibit Nuclear Weapons
Plutonium Pit Production at LANL
B61-12 Enhanced Nuclear Bomb
LRSO: New Nuclear Cruise Missile
Kirtland AFB Nuclear Weapons Complex
MOX / Plutonium Disposition
Fukushima Disaster and Updates
Nuke Lab Contractors Illegal Lobbying
Nuclear Testing Since 1945
Atomic Histories
---
Nuclear Watch Interactive Map of the
Nuclear Weapons Complex
View full size
Facilities:
Kansas City Plant
Lawrence Livermore National Labs
Los Alamos National Laboratory
Nevada National Security Site
Pantex Plant
Sandia National Laboratories
Savannah River Site
Washington DC
Waste Isolation Pilot Plant (WIPP)
Y-12 National Security Complex
Facility Spotlight:
Dec. 12, 2015. Kansas City Plant: Scores of workers have died after making nuclear weapons at the Bannister Road plant. A government review finds more radioactive materials used at the plant than was previously known. The federal government has paid $55 million to sickened workers, but a vast majority are still frustrated that they have not been compensated. (read more)
---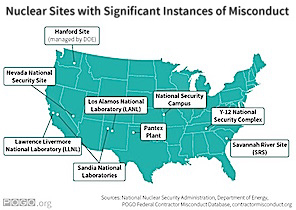 Nuclear Weapons Complex Misconduct
Dec. 3, 2015. POGO: Updated Federal Contractor Misconduct Database, focussing on Nuclear Complex (see report at POGO)
---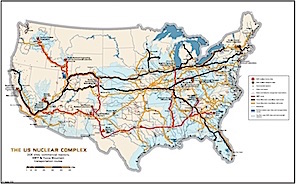 Click the image to download this large printable map of DOE sites, commercial reactors, nuclear waste dumps, nuclear transportation routes, surface waters near sites and transport routes, and underlying aquifers. This map was prepared by Deborah Reade for the Alliance for Nuclear Accountability.
---
---
Dossier:
Turkey under Erdogan- what about those nukes at Incirlik?
---
February 12, 2018:
Erdogan Seems to Call For a Revival of the Ottoman Empire
"Those who think that we have erased from our hearts the lands from which we withdrew in tears a hundred years ago are wrong.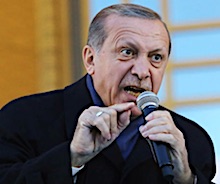 "We say at every opportunity we have that Syria, Iraq and other places in the geography [map] in our hearts are no different from our own homeland. We are struggling so that a foreign flag will not be waved anywhere where adhan [Islamic call to prayer in mosques] is recited.
"The things we have done so far [pale in comparison to the] even greater attempts and attacks [we are planning for] the coming days, inshallah [Allah willing]." (ref-Eng) (ref-Turkish)
Story source Gatestone Institute.

---
March 21, 2017:
Erdogan "not welcome" in Germany
After more slander from Erdogan, Volker Bouffier, vice chairman of German Chancellor Angela Merkel's Christian Democratic Union (CDU) party, said "enough is enough. Mr Erdogan and his government are not welcome in our country, and that must now be understood." (ref)
---
March 2017: Erdogan now bullying, slandering, threatening NATO Allies
Erdogan insists on staging Turkish election rallies all over Europe. The rallies have been banned in Germany, Austria, Netherlands, and Denmark, where large numbers of Turkish citizens live. A German state minister said: "Internal Turkish conflicts have no place in Germany. Election appearances which put at risk domestic peace in our country must be banned."
But Erdogan is undeterred and continues attacking the Western European governments for not "behaving"- as if they were Turkish vassal states. Apparently this belligerence serves his purpose in riling up his extreme nationalist followers in Turkey for the April vote, which will increase and consolidate his power. He has called Germany, Netherlands, Austria and Denmark, 'Nazi fascists', 'banana republics', 'thugs', and 'mass murderers', who need to learn "how to behave". (ref)
Netherlands PM Rutte: the President of Turkey is "increasingly hysterical". German Chancellor Merkel said his remarks were "completely unacceptable", "sad and misplaced".
Erdogan has also threatened to "open the floodgates" of refugees to Western Europe (ref) if his demand for visa-free travel for all Turks to the EU is not met, and his application to join the EU is not fast-tracked.
Two problems with all this:
One, this is Turkey using the harshest, most belligerent and insulting language toward fellow NATO allies.
Two, the US has a stockpile of B61 nuclear weapons at the Incirlik air base in Turkey. Are they secure?
Deutsche Welle is reporting "German lawmakers from across the political spectrum on Sunday called on the Bundeswehr to withdraw troops and jets from its air base in Turkey. The Christian Social Union (CSU), the Bavarian sister-party of Chancellor Angela Merkel's conservative Christian Democrats, cited the worsening relations and escalating war-of-words between Berlin and Ankara as reason to pull troops out of Incirlik..." (Deutsche Welle, March 12)

Last year, following the failed coup and bloody aftermath, Hans Kristensen of FAS wrote regarding the Incirlik air base where US nuclear weapons are stored, "The security situation in Turkey and in the base area no longer meet the safety requirements that the United States should have for storage of nuclear weapons. You only get so many warnings before something goes terribly wrong. It's time to withdraw the weapons." ((ref)
Indeed. And the situation gets worse all the time. Turkey is no longer a safe place to park our NATO nukes.
Meanwhile, speaking of NATO, Turkey is finalizing a purchase of the S-400 missile defense system from Russia. Hmmm. (ref)
---
2016: Coup and aftermath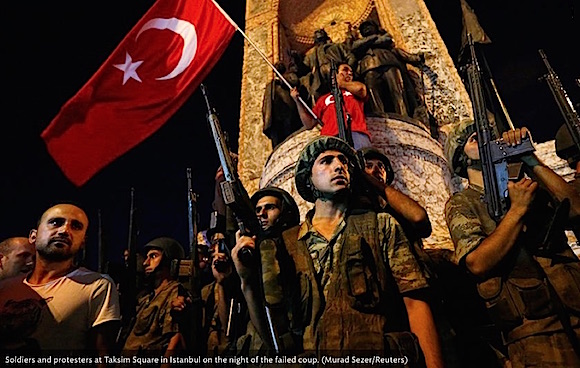 Turkey Failed Coup: What About Those Nuclear Weapons Stored at Incirlik?
- LA Times OpEd, August 11:
Let's get our nuclear weapons out of Turkey
"While we've avoided disaster so far, we have ample evidence that the security of U.S. nuclear weapons stored in Turkey can change literally overnight. Now fully aware of the dangers, the Obama administration should remove any remaining nuclear weapons from Turkey- and the next president should remove all U.S. nuclear weapons from Europe." (more)
- Foreign Policy, 18 July:
America's Nukes Aren't Safe in Turkey Anymore
But is there anywhere else in Europe that would take them?
Jeffrey Lewis, director at the James Martin Center: "... If a hostile junta were to seize control of a country with U.S. nuclear weapons stationed in it, things might be dicier. An airbase is a not a fortress; it is not intended to withstand a siege by the host government any more than an embassy might. Use control devices such as "Permissive Action Links" can prevent someone from easily using a stolen weapon, but may eventually be bypassed (the codes were set to "00000000" for 20 years. Hope they're tougher now.) ... So while the precautions to protect U.S. nuclear weapons at Incirlik are reasonable, they are based on a series of assumptions about the stability and friendliness of the country. The sight of the Incirlik base commander being frog-marched off the base is disquieting precisely because it undermines such assumptions... The security situation in Turkey has been deteriorating for some time..." (more at FP)
- The Guardian, 17 July:
Turkey Coup Attempt Raises Fears Over Safety of US Nuclear Stockpile
Hans Kristensen, Federation of American Scientists: "I think the key lesson is that the benefits of storing nuclear weapons in Turkey are minimal but the risks have increased significantly over the past five years. I would say that the security situation in Turkey and in the base area no longer meet the safety requirements that the United States should have for storage of nuclear weapons. You only get so many warnings before something goes terribly wrong. It's time to withdraw the weapons." (ref)
- The New Yorker, July 17, 2016:
The H-Bombs in Turkey
Eric Schlosser: "Among the many questions still unanswered following Friday's coup attempt in Turkey is one that has national-security implications for the United States and for the rest of the world: How secure are the American hydrogen bombs stored at a Turkish airbase?" (ref)

October 2016: Latest Updates:
Turkish officials are demanding the US extradite Fethullah Gulen, accusing him of being the mastermind of a wide conspiracy to infiltrate the state and overthrow the KP government of Erdogan. Dexter Filkins, in a lengthy article for the New Yorker October 17, traces the history of the Gulenist movement, its onetime alliance with Erdogan's Islamist program and later falling out, its relations with the CIA, and details of the failed coup and aftermath. It seems Turkish intelligence had cracked the encryption of a social app called ByLock used by the Gulenists, and prepared a purge of thousands of users in the armed forces and other state enterprises. When these plans became known to the Gulenist officers, they triggered the coup without full preparation. (Turkey's Thirty-Year Coup)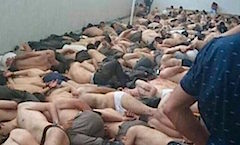 Turkish military detainees- UK Sun- click for source

Erdogan's purge so far (July 28):
15,200 education ministry officials, 21,000 teachers, 1,577 university deans, 492 clerics, 250 cabin crew from Turkish Airlines; 3000 members of judiciary, including 1,481 judges, 1,500 finance ministry officials, 393 social policy ministry officials, 300 from energy ministry, 257 from PM's office staff; the Presidential guard disbanded; Closed: 1331 media outlets, including the wide-circulation "Zaman", 3 news agencies and 16 television channels, 45 newspapers, 15 magazines and 29 publishers; 97 journalists arrested, 25 media house licenses revoked, 20 news websites blocked; 8000 police, 1,684 military personnel, including 149 generals and admirals, and 100 intelligence officials purged;
Amnesty International has said detainees may have suffered human rights violations, including beatings and rape.
---

- Politico.eu, July 17:


Erdogan's 'Reichstag Fire'

"Erdogan's relations with Berlin of late have been even more troubled than those with Washington. A recent resolution by the German parliament declaring the Ottoman Empire's massacre of Armenians in 1915 a genocide triggered an angry response from the Turkish leadership. Erdogan said the 11 German members of the Bundestag of Turkish ancestry who backed the vote essentially supported "terrorism" and demanded "blood tests" to determine "what kind of Turks they are." Since the vote, Ankara has barred German MPs from visiting their country's Turkey-based troops [stationed at the NATO Incirlik base]. Merkel raised the issue this month with Erdogan at the NATO summit in Warsaw but he refused to back down."
- Daniel Pipes, National Review, July 17:


Why I Rooted for the Turkish Coup Attempt


Daniel Pipes, President of the Middle East Forum, not a fan of Erdogan... here's why.
"Military intervention has previously worked in Turkey. Turkey is the country where military coups d'état that have had the most positive effect. In all four of the modern coups (1960, 1971, 1980, 1997), the general staff has shown a disciplined understanding of its role- to right the ship of state and then get out of its way. Their ruling interludes lasted, respectively, five years, two and a half years, three years, and zero years. Turkey would benefit now from a spell of military readjustment, ending Erdogan's increasingly rogue rule, even if that meant replacing him with more reasonable Islamist figures from his own party..." (ref)
---
July 16, 2016 US Embassy Ankara Turkey:
Emergency Message for U.S. Citizens: Incirlik Air Base Operations Suspended


"Be advised that local authorities are denying movements onto and off of Incirlik Air Base. The power there has also been cut. Please avoid the air base until normal operations have been restored." (source)
Incirlik AFB is home to 60 (2015 est.) to 90 (2009 est.) of our B61 thermonuclear bombs, shared to NATO and stationed there, 70 miles from the Syrian border. The latest reports from Turkey indicate the coup attempt has failed and President Erdogan is in control again; there are reports of a wholesale purge of the military and the judiciary. Secretary of State John Kerry warned Turkish Foreign Minister Mevlut Cavusoglu that public suggestions of a U.S. role in the plot were "utterly false" and harmful to relations. (ref: Reuters) Reuters also reports that the Turkish foreign minister said some Turkish military units at the Incirlik AFB had been part of the coup.
The US State Dept. has issued a travel warning, suggesting US citizens "reconsider" travel to Turkey following the coup attempt. The FAA banned all flights into and out of Turkey for U.S. aircraft on Saturday. (ref) President Erdogan is blaming the coup on Fethullah Gulen, the Turkish cleric living quietly in exile in Pennsylvania, and is demanding his immediate extradition. Gulen has said he had nothing to do with the coup attempt, and condemned military coups under any circumstances. John Kerry has said that no evidence has been received to justify an extradition of Gulen.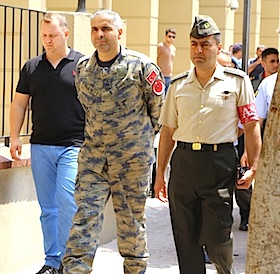 Incirlik Commander General Van Arrested

Update July 17:
Air operations resumed at Incirlik AFB on Sunday, although commercial power was still cut. The commander of the base, Gen. Bekir Ercan Van, and ten other officers from Incirlik have been arrested. (ref)
42 helicopters are missing from the Incirlik Air Base; Gov't fears them to be part of coup; orders to shoot down any helicopters approaching Istanbul. (ref)
Turkey's Labor Minister: "The US is behind the coup attempt." (ref)
Turkish Prime Minister Binali Yőldőrőm went so far as to suggest the U.S. would be "engaged in a serious war" with his country if it didn't hand over Fethullah Gulen, the U.S.-based Muslim cleric Ankara sees as the mastermind of the plot. (ref)
NBC News reported that Erdogan, at the height of the coup attempt, sought asylum in Germany, and Merkel refused. (ref)
- An obscure Azerbaijani website is reporting that sources say that the Turkish government can easily "take away" the nuclear weapons at Incirlik, if the US refuses to extradite fugitive preacher Gulen, who is accused of plotting the attempted coup.
Recent Press Items -
Syria's Rubik's Cube: Everyone Plays With Slippery Fingers
How post-ISIS scramble for advantage in Syria raises risk of wider war
NTI Report: US wasting billions on B61 nuclear bombs that serve no purpose and are security liability in Europe, Turkey
Dozens of US nuclear weapons in Turkey could be in question as the NATO allies fight a proxy war in Syria
Turkey signs deal for Russian S-400 air defense missiles
Germany has put most arms exports to Turkey on hold: minister
Merkel weighs tougher approach to Turkey after arrests
Turkey's Shift From NATO Is Redrawing the Map
German FM Gabriel accuses Erdogan supporters of harassing and threatening his wife as rift deepens
'Who are you? Know your limits!' Erdogan attacks German FM in elections interference row
'Enemies of Turkey': Erdogan tells 'countrymen' in Germany not to vote for Merkel's party
Stars & Stripes: Concerns raised over military presence, nukes stored in Turkey
Turkey bars German MPs from inspecting Konya NATO airbase
Germany starts to withdraw troops from Turkish Incirlik base
Turkey blocks Nato partnerships in row with Austria
Turkey denies Germany access to Incirlik - Germany likely to pull troops out
Hey, NATO, Let's Move Those 50 US Thermonuclear Weapons Out of Turkey
---
May 23, 2017:
Turkey blocks Nato partnerships in row with Austria
Turkey is blocking Nato cooperation with more than 40 partner countries such as Finland, Sweden and Ireland, along with several former Soviet states, in a diplomatic row with Austria, despite the fact that Austria has more than 400 troops serving alongside Nato forces in Kosovo.
Austria on Tuesday accused Turkey of "endangering the security interests of Europe" and branded its action as "irresponsible". The Turkish government is believed to be acting in retaliation for Austrian moves to block it from joining the EU. (source)
---
May 21, 2017:
Hey, NATO, Let's Move Those 50 US Thermonuclear Weapons Out of Turkey
Joe Cirincione, Ploughshares, in DefenseOne
---
May 15, 2017:
Turkey denies Germany access to Incirlik
The Berlin government is mulling moving its troops out of Turkey's Incirlik air base after Erdogan banned German parliamentarians from visiting German troops there a second time. "We're not going to be blackmailed" - Wolfgang Hellmich, Chairman, Bundestag Defense Committee. (Deutsche Welle)
---
March 21, 2017:
Erdogan's Long Torrent of Slander and Threats Has Finally Broken the Bond
Volker Bouffier, vice chairman of German Chancellor Angela Merkel's Christian Democratic Union (CDU) party, said "Enough is enough. Mr Erdogan and his government are not welcome in our country, and that must now be understood." (ref)
---
March 15, 2017:
Turkey blocks some cooperation with NATO partners as EU row escalates
"... sources said it [Turkey] had blocked NATO's 2017 rolling program of cooperation with non-EU countries, including political events, civilian projects and military training." (Reuters)
---
January 24, 2017:
Pro-Erdogan MP: NATO a 'terrorist organization' and 'threat' to Turkey
"in charge of dirty and bloody deeds"... Close Incirlik if Gulen not turned over... (story)
---
EU votes to freeze talks on Turkey accession
Nov. 24. Erdogan says the vote is "worthless", and has threatened to join Russia and China in Shanghai Cooperation Organization if EU delays. (ref)
---
NATO Admiral, wanted by Turks, asks Asylum


August 10: Turkey has issued an arrest warrant for Admiral Mustafa Ugurlu: NATO's Assistant Chief of Staff for Command and Control, Deployability and Sustainability, based in Norfolk, Virginia. He has claimed asylum in the US. (BBC)
---
August 8, 2016:
Where is Turkey Going Under Erdogan?
Turkey under Erdogan has become a wild card in the confrontations in the Middle East and in Eastern Europe. For decades Turkey held a special position in NATO, lying under the Soviet Union's southern flank and surrounding the access to the Black Sea.
And for the last couple decades it was assumed that Turkey, though predominantly Muslim, as an exemplary secular democracy, would eventually join the European Union, once some details were sorted out. Well that's unlikely to happen now, as European leaders are saying outright what was said only privately, that Turkey under Erdogan has gone too far in the wrong direction and will never be admitted to the EU. Erdogan seems to prefer being able to exercise power on the model of the Eurasian elected strongman (e.g. Putin) to submitting to all those troublesome constraints and taboos so dear to the European democracies.
The deal Erdogan made with the EU to slow the refugee flow across Turkey to Europe required the EU to give Turks visa-free travel and promised to fast-track Turkey's entry into the EU. Erdogan has loudly denounced Europe for not living up to their end of the deal, though he seems to be doing everything to make that impossible. Maybe he's decided, post-Brexit, that the EU is falling apart, and that his future as Turkish strongman might better lie somewhere else. Such as with the Eurasianists of the Eurasian Economic Union that Russia has led, or with the Shanghai Cooperation Organization. Erdogan is soon to visit Moscow; will there be an announcement?
Furthermore, Erdogan had tested NATO's commitment to mutual defense in his own peculiar way, by shooting down a Russian jet operating near the Turkish border with Syria, and then demanding that NATO come to his aid against Russia. When NATO reasonably said everyone should cool off and back away from the brink, and made it clear to Moscow that they were keen to avoid an escalation, Erdogan saw a reality check on the mutuality of the NATO commitments
In that context it may be useful to look at a map of the Black Sea region: note that Ukraine, a potential future NATO partner, and Turkey- both Black Sea nations- are roughly the same size and shape... is this tension between Russia and NATO going to end with a de facto swap of Turkey for Ukraine? Clearly Erdogan in style and temperament is closer to the rulers of the 'stans' and Russia than he is to the leaders of Western Europe.
---
Earlier this year, the Bundestag recognized the Armenian Genocide in the Ottoman Empire which occurred a century ago, something which Turkey vehemently denies. Erdogan called the 11 German parliamentarians of Turkish descent who voted for the statement "traitors". Since then, German parliamentarians are currently banned from visiting German soldiers stationed at the NATO base at Incirlik. If this does not end soon, parliament could withdraw German soldiers from Turkey, the website suggests. (ref)

Update August 25, 2016:
Der Spiegel reported today that Germany's military is preparing to pull out of Incirlik AFB.
Germany's mandate expires at the end of this year. "If it is no longer possible to visit our soldiers, then it is out of the question to extend the mandate," -Rainer Arnold, SPD party defense expert. Der Spiegel said the defense ministry is examining whether it could transfer its deployment to Jordan or Cyprus instead.
---
---