Arsenal of Information
---
---
---
Dossiers:
Trump's Nuclear Posture Review
Flashpoint: North Korea
Flashpoint: NATO-Russia
UN Treaty to Prohibit Nuclear Weapons
Plutonium Pit Production at LANL
B61-12 Enhanced Nuclear Bomb
LRSO: New Nuclear Cruise Missile
Kirtland AFB Nuclear Weapons Complex
MOX / Plutonium Disposition
Fukushima Disaster and Updates
Nuke Lab Contractors Illegal Lobbying
Nuclear Testing Since 1945
Atomic Histories
---
---
Nuclear Watch Interactive Map of the
Nuclear Weapons Complex
View full size
Facilities:
Kansas City Plant
Lawrence Livermore National Labs
Los Alamos National Laboratory
Nevada National Security Site
Pantex Plant
Sandia National Laboratories
Savannah River Site
Washington DC
Waste Isolation Pilot Plant (WIPP)
Y-12 National Security Complex
Facility Spotlight:
At Y-12, the cost of designing the Uranium Processing Facility keeps spiraling: $92 million in '06, $2 billion by '16. (How do you spend 2 billion dollars designing anything?) - See OREPA's June '15 UPF update

- NNSA Cuts Los Alamos Lab's Award Fees by 90%
- DOE IG Report: Sandia Labs Misused Federal Funds
- Y-12: Poster Child For A Dysfunctional Nuclear
Weapons Complex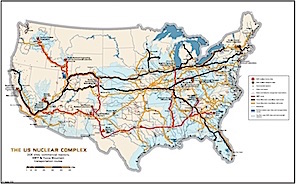 Click the image to download this large printable map of DOE sites, commercial reactors, nuclear waste dumps, nuclear transportation routes, surface waters near sites and transport routes, and underlying aquifers. This map was prepared by Deborah Reade for the Alliance for Nuclear Accountability.
---
"We see no reason why the pathway adopted for the elimination of other weapon systems, including for the elimination of both other types of WMD- that of a legally-binding prohibition- should not equally be applicable as a pathway for the elimination of nuclear weapons. There is no need to reinvent the wheel in order for the international community to move forward: the standard route used in relation to the abolition of other weapon systems... should again be followed."
Statement by the New Zealand delegation to the UN Open Ended Working Group on Nuclear Disarmament, 23 February, 2016 [link]
---
"Another year of stalemate is unacceptable"


Ban Ki-Moon: "Deferring nuclear disarmament indefinitely pending the satisfaction of an endlessly growing list of preconditions can lead only to a world full of nuclear weapons. When I spoke to the Conference on Disarmament in Geneva, I said plainly that the very credibility of the body is at risk. The Conference's record of achievement is overshadowed by inertia that has now lasted for more than a decade. That must change. Another year of stalemate in the Conference on Disarmament is simply unacceptable."
-UN Sec.Gen. Ban Ki-Moon speaking at the Monterey Institute Jan 18, 2013 on nuclear disarmament and non-proliferation efforts. See his full talk here.
---
New Set of Educational Tutorials on Nuclear Non-Proliferation and the Non-Proliferation Treaty
"The Nuclear Threat Initiative (NTI), in partnership with the James Martin Center for Nonproliferation Studies (CNS), has developed a new set of educational tutorials on today's non-proliferation challenges.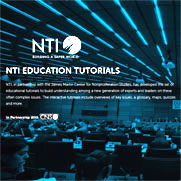 The tutorials are designed to build a basic understanding of these issues for anyone new to the field- including students, young professionals and media- or serve as a refresher course for experienced professionals. They can be used on the job, in the classroom, or on the road to get oriented on key concepts and issues related to nonproliferation.
These mobile-friendly, online tutorials can be used to understand the work of diplomats and experts at the ongoing Preparatory Committee (PrepCom) meeting for the 2015 NPT Review Conference. More info, view the materials
---
Iran Nuclear Deal Reached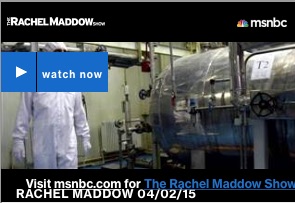 Rachel Maddow briefs on the Iran Deal; with Joseph Cirincione, April 2, 2015.
- White House statement on the deal: "Parameters For a Joint Comprehensive Plan of Action..." [Removed by Trump administration]
- Supporting the deal: roster of organizations, experts, politicians, editorials etc, with quotable excerpts of statements.
---
Symposium, Nuclear Security Policy Studies, MIT:
What New Academic Research Can Teach Us About Nuclear Weapons
Pt. 2: What Do Policymakers Want From Academic Experts On Nuclear Proliferation?
---
SUNY Albany historian Larry Wittner examines the disparity between American public opinion and political attitudes toward nuclear disarmament. Statistically, Americans favor disarmament, while government officials are reluctant.
---
Reason over Relics:
Restructuring our Nuclear Force



Lt. Gen. Robert Gard (Ret.), Chairman, Center for Arms Control and Non-Proliferation:
"With the end of the cold war, the world has changed, and those who ardently defend massive spending on nuclear weapons are either unaware of, or unwilling to consider, the changed strategic landscape. Our current nuclear force structure is a holdover from an era where the overarching goal was deterring a Soviet nuclear attack on the United States or an invasion of Europe. Every submarine in our fleet today can single-handedly destroy every major city in either China or Russia and completely obliterate smaller nations. If the essence of deterrence is a credible threat, then its safe to say we can make significant reductions with no impact whatsoever on our deterrent or security capacity."
(Read "Reason over Relics" at The Hill)
---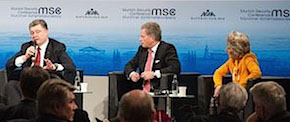 Munich Security Conference Feb 6-9 2015
Ukraine crisis, Iran talks: Here is an excellent collection of press reviews and analyses.
---
Senators Lugar and Nunn Honored
Senators Dick Lugar and Sam Nunn were honored by the Carnegie Endowment for International Peace in The Hague for their role in helping ex-Soviet states secure and dismantle huge stocks of nuclear, chemical and biological weapons. The prize will henceforth carry their names: The Nunn-Lugar Award for Promoting Nuclear Security.
Above, Senator Lugar urging the Senate to continue funding the Nunn-Lugar Act (2009).
---

The President's Remarks at the Nunn-Lugar Cooperative Threat Reduction Symposium
"After all, even with all your success- the thousands of missiles destroyed, bombers and submarines eliminated, the warheads that have been deactivated- we're nowhere near done. Not by a long shot. And you all know this. There's still much too much material- nuclear, chemical, biological- being stored without enough protection... That's why working to prevent nuclear terrorism is going to remain one of my top national security priorities as long as I have the privilege of being President of the United States." (Full transcript) [Removed by Trump administration] (mp3 audio file)
---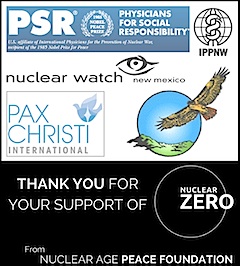 ---
Who Will Claim Ronald Reagan's Mantle On

Nuclear Disarmament Today?
"A nuclear war cannot be won and must never be fought. The only value in our two nations possessing nuclear weapons is to make sure they will never be used. But then would it not be better to do away with them entirely?"
-1984 State of the Union
"We seek the total elimination one day of nuclear weapons from the face of the Earth."
-Inaugural Address, 1985
"It is my fervent goal and hope... that we will someday no longer have to rely on nuclear weapons to deter aggression and assure world peace. To that end the United States is now engaged in a serious and sustained effort to negotiate major reductions in levels of offensive nuclear weapons with the ultimate goal of eliminating these weapons from the face of the earth."
-Speech, Oct. 20, 1986 "My dream is to see the day when nuclear weapons will be banished from the face of the Earth."
-from "Ronald Reagan and His Quest to Abolish Weapons" by Paul Lettow
(Read more of "Ronald Reagan, Republicans, and Nuclear Weapons" by Jonathan Granhoff, President, Global Security Institute)
---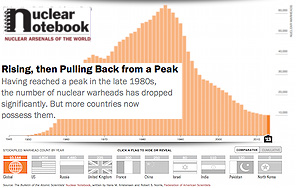 World's Nuclear Arsenals
From The Bulletin: Click to enlarge
---
Help take nuclear weapons off hair-trigger alert- learn more at
Union of Concerned Scientists
---

"Twenty-five years ago this month, I sat across from Ronald Reagan in Reykjavik, to negotiate a deal that would have reduced, and could have ultimately eliminated by 2000, the fearsome arsenals of nuclear weapons held by the United States and the Soviet Union"
From: "Farewell to Arms" by Mikhail Gorbachev
---
Please help NukeWatch in our work to rid the world of the dangers of nuclear weapons. We need your support! Consider making a tax-deductible donation to support our efforts. Thank you!
(See our donations page for more info)

---
Nuclear Arms Reduction and Non-Proliferation - Updates, Recent News
---
January 11, 2017:
Obama Administration Announces Unilateral Nuclear Weapon Cuts
Vice President Joe Biden announced that the Obama administration had cut 553 warheads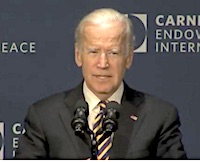 from the US nuclear weapons stockpile since September 2015. The cuts bring the total number of reductions during the last 8 years to 1,255; the current number of nuclear warheads in the stockpile is now at 4,018. These were not, however, "deployed" nuclear weapons. FAS stated, "We estimate that the warheads were taken from the inactive reserve of non-deployed warheads that are stored to provide a "hedge" against technical failure of a warhead type or to respond to geopolitical surprises."
Hans Kristensen noted, "The cut adds significantly to the large inventory of retired (but still intact) warheads that are awaiting dismantlement." That number was estimated by VP Biden to be now 2,800. Most, if not all, of these weapons awaiting dismantlement are stored at the Kirtland AFB storage site in Albuquerque. (Also stored there are some number of "hedge" weapons, so it is possible that these 553 warheads just received a modified designation, but otherwise have not even been moved.) The warheads are meant to be dismantled at the Pantex Plant; however at the current average rate of 278 per year, it will take to 2026 to dismantle the current backlog.
Kristensen notes, "Even so, the Obama administration still holds the position of being the administration that has cut the least warheads from the stockpile compared with other post-Cold War presidencies." (refs and more details at FAS)
---
Security Council urges all to ratify Comprehensive Test Ban Treaty
23 September 2016. "Reaffirming that proliferation of weapons of mass destruction, and their means of delivery, threatens international peace and security, the United Nations Security Council today adopted a resolution urging all States who haven't done so to sign the Comprehensive Nuclear-Test-Ban Treaty". (ref)
Lassina Zerbo, Executive Secretary of CTBTO: "A world free of nuclear of weapons goes by stopping testing too, and then taking steps that will reinforce the agreements that are already here, and then leading us towards what we all want: a world free of nuclear weapons; a world free of any attempt of modernization that some are talking about today." (ref)
---
George Shultz: The Power of Ought
A salute to former Secretary of State George Shultz on his 95th birthday from the organization he co-founded, Nuclear Threat Initiative
---
NTI launches the William J. Perry Project
Former Secretary of Defense William Perry has just published a new book, a memoir titled "My Journey at the Nuclear Brink". At the same time, NTI has launched the online William J. Perry Project, to "educate and engage the public on the dangers of nuclear weapons in the 21st century".
"I hope to encourage young people to take the baton I am trying to pass to them. My generation created this existential problem- their generation must find a way to solve it."- William Perry.
---
Join the Conversation- PSR Nukebusters Short Film Contest 1st Prize
Physicians for Social Responsibility: This film by Jonathan Deaton won the top award in Student category. (more award winners)
---
The Pope and the Bomb: Bishop Oscar Cantú Remarks
Bishop Oscar Cant&uacute, Chairman, Committee on International Justice & Peace, U.S. Conference of Catholic Bishops, at "The Pope and the Bomb: New Nuclear Dangers and Moral Dilemmas" event on September 17, 2015, with moderator E.J. Dionne Jr., Washington Post columnist, former Sen. Sam Nunn, NTI Co-Chairman and CEO, and Prof. Maryann Cusimano Love, Associate Professor of International Relations, The Catholic University of America.
---
At the UN, Pope Francis Calls for the Complete Prohibition of Nuclear Weapons
Pope Francis addressed the UN General Assembly today, Friday Sept. 25, and regarding nuclear weapons had this to say:
"There is urgent need to work for a world free of nuclear weapons, in full application of the Non-Proliferation Treaty, in letter and spirit, with the goal of a complete prohibition of these weapons."
Pope Francis has framed the possession of nuclear weapons as a moral issue, and has been urging the nuclear powers to get back to the task of nuclear disarmament. Last month, Archbishop Bernedito Auza, Ambassador to the UN for the Vatican said, "Today there is no more argument, not even the argument of deterrence used during the Cold War, that could 'minimally morally justify' the possession of nuclear weapons. The 'peace of a sort' that is supposed to justify nuclear deterrence is specious and illusory." (ref).
- See the Nuclear Watch Press Release of Sept 25 on the Vatican's new policy on nuclear weapons view/download PDF
- See transcript of the Pope's Address to The General Assembly
Related resources:
- Statement Of The Holy See To The 59th General Conference Of The International Atomic
Energy Agency, Vienna 14 September 2015
- Nuclear Disarmament: Time for Abolition- Holy See Statement to the UN Dec. 2014.
- From Nuclear Deterrence to Disarmament: Evolving Catholic Perspectives
- The Pope Is Lining Up to Ban Nuclear Weapons (Defense One)
- The Pope: Not just for Catholics anymore (CNN)
On the Watchblog:
- New Mexico's Archbishop Cantu Helps Lead Vatican Charge for Nuclear Weapons Abolition
---
June 2015 Recommended:
An Unnoticed Crisis: The End of History for Nuclear Arms Control?
Alexei Arbatov, Carnegie Moscow Center
"Nearly all negotiations on nuclear arms reduction and nonproliferation have come to a stop, while existing treaty structures are eroding due to political and military-technological developments and may collapse in the near future."
"With the disintegration of the nuclear arms control regime, threats of and plans for the combat use of nuclear forces will return to the strategic and political environment. Mutual mistrust, suspicion, and misunderstanding among nuclear states will also increase, which may lead to a fatal error in a crisis, with grave consequences."
"It appears that many parliamentarians, influential politicians, and civic organizations in both the United States and Russia have embarked on a course of destruction of everything that state leaders, diplomats, and militaries have so painstakingly built in this realm over several decades"
"The history of nuclear arms control has endured periods of stagnation and setbacks before, and some of these were quite lengthy... But the current period of disintegration is unprecedented, with literally every channel of negotiation deadlocked and the entire system of existing arms control agreements under threat. The lack of attention to this situation from the great powers is also unprecedented, but it fits within the drastic deterioration in broader relations between Russia and the United States."
Read more, including Arbatov's suggestions to safeguard the arms control process: view/download PDF
---
May 24, 2015: NPT Rev Con 2015 Fails Over Mideast Nuclear-Free Zone
"Anti-nuclear campaigners, angered by the perceived weakness of the outcome document, view the humanitarian pledge as the most significant result of the troubled diplomatic process." (ref)
At the last NPT RevCon in 2010, it was agreed that there should be a conference on establishing a nuclear-free zone in the Middle East in 2012. That conference never took place. Last month, Egypt, backed by other Arab states and the 100+ non-aligned nations, proposed that U.N. Secretary-General Ban Ki-moon convene a regional conference within 180 days on banning weapons of mass destruction in the Middle East as called for at the 2010 NPT review, with or without Israel's participation, and without a pre-agreed agenda. Those conditions were "unacceptable to Israel and Washington".
Reuters: "Egypt's proposals, Western diplomats say, were intended to focus attention on Israel. Washington and Israel say Iran's nuclear program is the real regional threat." More than a taste of Alice in Wonderland there: Israel after all, has the only nuclear arsenal* in the mideast, and is not a signatory to the Non-Proliferation Treaty; Iran is, on the other hand, a signatory to the treaty, has no nuclear weapons, and indeed has officially forsworn them. More Reuters: "After four weeks of negotiations at the United Nations on ways to improve compliance with the pact, there was no consensus among its 191 signatories." Actually there was a consensus: of the 191 parties, only 3 opposed: US, UK, Canada. Israeli PM Netanyahu telephoned Kerry "to convey his appreciation to President Obama and to the secretary".
*According to recently declassified documents, the US aided Israel in developing its nuclear weapons; what's more, the same Benjamin Netanyahu was a key player in the smuggling of nuclear triggers from the US to Israel.
The Real Outcome: The Austrian Pledge
As the 2015 NPT Review Conference ended, 107 states had endorsed the Austrian pledge, issued at the recent Conference on the Humanitarian Impacts of Nuclear Weapons in Geneva, committing to work for a new legally binding instrument for the prohibition and elimination of nuclear weapons. ICAN: "The wide and growing international support for this historic pledge sends a signal that governments are ready to move forward on the prohibition of nuclear weapons, even if the nuclear weapon states are not ready to join."
"History honors only the brave" declared Costa Rica. "Now is the time to work for what is to come, the world we want and deserve."

Sources:
ICAN, Reuters, The Guardian, Washington Post, NPT News in Review (final, May 25: "Uprising")
---
May 8, 2015:
Four Reasons Why U.S. Claims of NPT Compliance Are False
NukeWatch's Jay Coghlan has recently returned from the NonProliferation Treaty Review Conference at the United Nations. The U.S. claims to be in compliance with the NPT's obligation that all nuclear powers disarm their stockpiles. This is false given the trillion dollar plan for rebuilding nuclear weapons with new military capabilities, new production facilities and new missiles, subs and bombers.
- Read the full NukeWatch fact sheet: view/download PDF
---
Podcast audio: NPT Review with Dr. James Doyle
Here's a good review of the NPT situation going into the Review Conference this month, in a podcast from ABC (Australia): "Who's next- looking back on 45 years of the Nuclear Non-Proliferation Treaty", with Dr. James Doyle, ex-LANL non-proliferation expert. (Listen audio/mp3)
---
April 17, 2015:
NPT Disarmament Obligations and Nuclear Myth-Busting
Dr. James E. Doyle
"On April 14, 2015 the U.S. State Department Bureau of International Security and Nonproliferation released a so-called Fact Sheet entitled "Myths and Facts Regarding the Nuclear Non-Proliferation Treaty and Regime." As such, it represents the official position of the United States Government, and is aimed at international delegations that will be attending the 2015 NonProliferation Treaty (NPT) Review Conference from April 27 to May 22 at the United Nations in New York City. The State Department's fact sheet contains several important statements that are misleading, inaccurate or fail to address the most salient aspects of global efforts to prohibit the military uses of nuclear energy. American nuclear security and non-proliferation agendas would be better served if such misstatements were not repeated and promoted at the NPT Review Conference..." (View/download full report)
---
Obama Promised a "World Without Nuclear Weapons," But May Now Spend $1 Trillion on Upgrades
Amy Goodman with Elena Sokova, executive director of the Vienna Center for Disarmament and Non-Proliferation DemocracyNow, Oct.24, 2014
---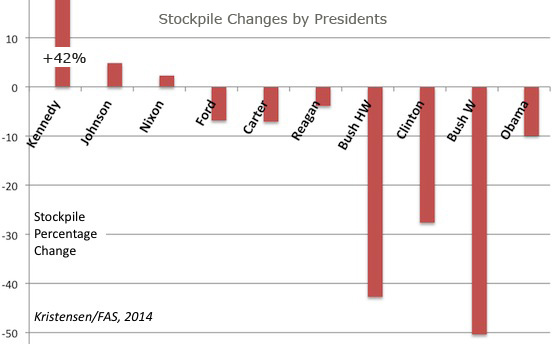 "It's a funny thing: the administrations that talk the most about reducing nuclear weapons tend to reduce the least."
How Presidents Arm and Disarm
Oct 15, 2014: Hans Kristensen analyzes how it is that President Obama, despite his strong rhetoric about reducing the numbers of nuclear weapons, so far has had the least effect on the size of the stockpile of any of the post-Cold War presidents.
Read Kristensen's analysis at the F.A.S. Security Blog, 10/15/14
---
Slowing Nuclear Weapon Reductions and Endless Nuclear Weapon Modernizations: A Challenge to the NPT
Hans M. Kristensen, Robert S. Norris in The Bulletin of the Atomic Scientists, July-August 2014
"The nuclear-armed states have large residual nuclear arsenals, and post-Cold War reductions of nuclear weapons have slowed. Meanwhile, the nuclear nations have undertaken ambitious nuclear weapon modernization programs that threaten to prolong the nuclear era indefinitely.
"These trends present a challenge to the Nuclear Non-Proliferation Treaty community, appearing to contradict the promises by the five NPT nuclear-weapon states to pursue a halt to the nuclear arms race and to seek nuclear disarmament.
"The NPT does not explicitly place limitations on modernizations, but the 2015 NPT Review Conference will have to address whether extending the nuclear arsenals in perpetuity is consistent with the obligations under NPT's Article VI and the overall purpose of the treaty."
"More than 93 percent of the world's nuclear weapons belong to just two countries: Russia and the United States.
"The overwhelming and disproportionate size of the Russian and US arsenals indicates that they predominantly are shaped by each other rather than other nuclear-armed states, and that the sizes of their current arsenals are more an indication of how far the Cold War drawdown has progressed (and how far it still has to go) rather than an expression of how many warheads the two countries actually need for their national security. In other words, were it not for their own large inventories, Russia and the United States could probably reduce their warhead inventories by a factor of 10. Doing so would put significant pressure on the other nuclear-armed states to limit their nuclear arsenals as well." (See the report in full)
---

Nuclear Modernization Briefings at the NPT Conference in New York
Hans Kristensen, FAS:
"Last week I was in New York to brief two panels at the Third Session of the Preparatory Committee for the 2015 Review Conference of the Parties to the Treaty on the Non-Proliferation of Nuclear Weapons (phew!).
"The first panel was on "Current Status of Rebuilding and Modernizing the United States Warheads and Nuclear Weapons Complex", an NGO side event organized on May 1st by the Alliance for Nuclear Accountability and the Women's International League for Peace and Freedom (WILPF). While describing the U.S. programs, I got permission from the organizers to cover the modernization programs of all the nuclear-armed states... it puts the U.S. efforts better in context and shows that nuclear weapon modernization is global challenge for the NPT.
Nuclear Weapons Modernization Programs of Nuclear-Armed States
View download presentation (PDF)
"The second panel was:
The Future of the B61: Perspectives From the United States and Europe.
"This GNO side event was organized by the Nuclear Age Peace Foundation on May 2nd. In my briefing I focused on providing factual information about the status and details of the B61 life-extension program, which, more than a simple 'life-extension', will produce the first guided, standoff nuclear bomb in the U.S. inventory, and significantly enhance NATO's nuclear posture in Europe." View download presentation (PDF)
---
Non-Treaty Reductions to U.S. Nuclear Stockpile
A Report by the Center for Arms Control and Non-Proliferation
Nov 26, 2013. By Kingston Reif and Usha Sahay
(View/download the full report.)

Major Findings:
- The United States has adjusted the number and types of nuclear weapons in its arsenal via multiple different avenues.
- Treaties have been an important, but not the only, means by which the United States has reduced the number and types of nuclear weapons in its arsenal.
- While treaties have focused on the deployed portion of the U.S. strategic nuclear stockpile, presidents have routinely exercised broad authority over non-strategic or "tactical" nuclear weapons and non-deployed or "reserve" nuclear weapons, which together comprise the majority of the U.S. nuclear arsenal.
- Since the end of the Cold War, Republican Presidents- George H.W. Bush and George W. Bush- have been particularly prone to cutting nuclear weapons without treaties pursuant to the authority of the Commander and Chief to set nuclear force levels.
- President Obama has been more intent than his post-Cold War Republican predecessors on a treaty-based approach to nuclear reductions, but has nonetheless come under fire from his opponents in Congress for attempting to reduce the size of the arsenal.
(View/download the full report)
---
Obama Announces Up to One-Third Cut in Nuclear Arms; In Contrast, U.S. Nuclear Agency Plans ˜$60 Billion in Weapons Upgrades and Improvements
Nukewatch Press Release June 19:
"Today, standing in front of the historic Brandenburg gate in Berlin, President Barack Obama declared that he will seek to cut the arsenal of deployed strategic nuclear arms by up to one-third in concert with Russia. He also said he will pursue significant bilateral cuts in tactical or battlefield nuclear weapons in Europe. In contrast, just two days ago, Obamas National Nuclear Security Administration (NNSA) released it plans for over 60 billion dollars in upgrades and improvements to existing nuclear weapons, beginning with a $10 billion upgrade to the B61 tactical bomb based in Europe..." (Read more- view/download NWNM press release PDF)
Full transcript of the President's Berlin Speech at WhiteHouse.gov. [Removed by Trump administration]

- David Krieger, President of the Nuclear Age Peace Foundation, had this to say: "President Obama ... stated, 'Peace with justice means pursuing the security of a world without nuclear weapons no matter how distant that dream may be.' Yes, we all of us need the security of a world without nuclear weapons, but why must the dream be distant? Why must we think of the dream as being distant? Why must President Obama frame it in this way? Is he not demonstrating a deficit of leadership in doing so? Whose interests are being served- those of corporate weapons makers or those of the people of the world?" (Read full column)
---
Why Eliminate Nuclear Weapons?
James E. Doyle
From the journal "Survival: Global Politics and Strategy", a publication of The International Institute For Strategic Studies. James E. Doyle is a nuclear security and non-proliferation specialist at Los Alamos National Laboratory. He is the editor of Nuclear Safeguards, Security, and Nonproliferation: Achieving Security With Technology and Policy (Elsevier, 2008). The views presented in this article are the author's own and do not represent those of the Los Alamos National Laboratory or the US government.

". . . Recent scholarship in the fields of history and deterrence theory questions deeply held beliefs regarding how nuclear weapons might influence the behavior of national decision-makers. For example, declassified official documents from the Cold War reveal occasions when nuclear catastrophe was avoided by luck or seemingly random events rather than by the clearly identifiable operation of nuclear deterrence. There are further examples where existential characteristics of alerted nuclear forces appear to have caused crises that nearly resulted in their use. Finally, a growing number of strategists and technical and political elites regard nuclear weapons and deterrence theory as anachronistic.
"Many citizens, scientists and laymen alike, view nuclear weapons abolition as an essential milestone in the development of human civilisation, a moral, ideological and practical campaign that could catalyze the transformation of international relations and improve the outlook for civilisation at a critical time."
(The above are excerpts- read or download the full text here)
---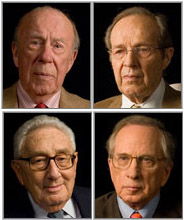 Next Steps in Reducing Nuclear Risks:
The Pace of Nonproliferation Work Today Doesn't Match the Urgency of the Threat
George P. Shultz, William J. Perry, Henry A. Kissinger, and Sam Nunn, WSJ, 3/5/2013
". . . Despite these considerable efforts, nuclear dangers remain all too real. Technological progress and the proliferation of nuclear weapons to additional states are compounded by dangerous complacency. Bilateral relations between the two largest nuclear powers, the United States and Russia, are frayed, and there are continuing difficulties in effectively addressing emerging nuclear threats in North Korea and Iran, punctuated recently by a test explosion in North Korea. Combined with the dangers of suicidal terrorist groups, the growing number of nations with nuclear arms and differing motives, aims, and ambitions poses very high and unpredictable risks.
"Global leaders owe it to their publics to reduce, and eventually to eliminate, these risks. Even during the Cold War, the leaders of the two superpowers sought to reduce the risk of nuclear war. What was possible among declared enemies is imperative in a world of increasing nuclear stockpiles in some nations, multiple nuclear military powers and growing diffusion of nuclear energy. A global effort is needed to reduce reliance on nuclear weapons, prevent their spread, and ultimately end them as a threat to the world. It will take leadership, creative approaches and thoughtful understanding of the perils of inaction. Near-term results would lay the foundation for transforming global security policies over the medium and long term. We suggest four areas requiring urgent consideration:"
Read "Next Steps in Reducing Nuclear Risks: The Pace of Nonproliferation Work Today Doesn't Match the Urgency of the Threat" at NSP
---
At IAEA General Conference, the Holy See Insists on Nuclear Disarmament, Calls For a Middle East Nuclear-Free Zone
"This year marks the 50th Anniversary of the Papal Encyclical 'Pacem in Terris' of Blessed Pope John XXIII... we should ask ourselves whether we really live in a more secure and safer world today compared with that of a few decades ago".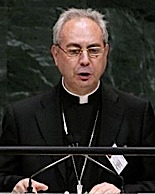 Archbishop Dominique Mamberti, secretary for Relations with States, speaking at the 57th General Conference of the International Atomic Energy Agency in Vienna, 16 September:
"The Holy See shares the thoughts and sentiments of most men and women of good will who aspire to the total elimination of nuclear weapons. Hence, we would like to use this opportunity to renew our call upon the leaders of nations to put an end to nuclear weapons production and to transfer nuclear material from military purpose to peaceful activities."
(Vatican: "50 Years After Pacem in Terris, The Holy See Insists on Nuclear Disarmament")
---
"What is the only provocation that could bring about the use of nuclear weapons? Nuclear weapons. What is the priority target for nuclear weapons? Nuclear weapons. What is the only established defense against nuclear weapons? Nuclear weapons.

How do we prevent the use of nuclear weapons? By threatening the use of nuclear weapons. And we can't get rid of nuclear weapons, because of nuclear weapons. The intransigence, it seems, is a function of the weapons themselves."- Martin Amis, Einstein's Monsters
---
United Nations, July 7, 2017:
Treaty to Prohibit Nuclear Weapons Adopted
122 nations voted to adopt the treaty.
See our reports here
---
- Action Alert:
Rep. Markey has reintroduced his important bill from last year (The SANE Act, aka H.R. 1506) that cuts over $100 billion in nuclear weapons spending. Use this online form to ask the representatives of your state to cosponsor the SANE Act.
---
September, 2016, The New Yorker:
The Virtues of Nuclear Ignorance
Zero-knowledge proof and nuclear disarmament verification: how do you prove a bomb is real without revealing what's inside? (source)
---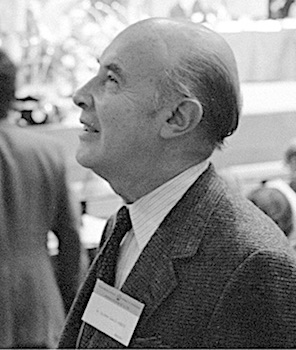 García-Robles' Nobel Medal Sold at Auction
Alfonso García Robles drafted the 1967 Treaty for the Prohibition of Nuclear Weapons in Latin America and the Caribbean. He was awarded the Nobel Peace Prize in 1982. He died in 1991. The Treaty of Tlatelolco, as it became known, was the first of its kind and is credited with keeping Latin America and the Caribbean free of nuclear weapons.
"A towering landmark in non-proliferation and disarmament, the Treaty's principles, safeguards and verification measures remain highly influential today." -Christie's, presenting the Nobel medal for auction April 28, 2017, New York City. (It brought $487,500) (ref)
---
March 14, 2016:
The Secret History of Nuclear Proliferation
Joseph Trento, DC Bureau.
---
Jan. 14, 2016, Commonwealth Club, San Francisco:
Former U.S. Defense Secretary William Perry
A Personal Journey to Reduce the Nuclear Threat
- See archived video podcast
---
2015 NPT Review Conf. April 27- May 22 NYC
#2015NPT #RevCon
The 2015 Review Conference of the Parties to the Treaty on the Non-Proliferation of Nuclear Weapons (NPT) met from April 27 to May 22 in New York City. There were literally dozens of conferences and briefings scheduled; have a look at:
- Calendar of Events.
- Information for civil society participation
- Official Site: NPT 2015 Review Conference
- Background and Key Resources (ACA)
- Conference Resources (CNS)
- More NPT resources at Reaching Critical Will
- Some videos of conference symposia and presentations are archived at UN Web TV

- Text of the Non-Proliferation Treaty
- Archive of statements to the 2015 NPT Review Conf.
---

The Urgency of Action on the CTBT
Contributing to International Peace and Security in an Increasingly Unstable World
28 Apr 2015 - Side Event of the Comprehensive Nuclear-Test-Ban Treaty Preparatory Commission (CTBTO PrepCom)
---
45th Anniversary of the NPT
45 years ago, March 5, 1970, the Nuclear Non-Proliferation Treaty entered into force. In a press statement from the US Secretary of State John Kerry: "All countries profit when there is smart, continuous action in the direction of nuclear disarmament." (read the full statement)
---
---
World Council of Churches
"As long as nuclear weapons exist, they pose a threat to humanity... Nuclear-armed states appear to be flouting majority concerns by emphasizing the continued importance of nuclear weapons, modernizing their arsenals for many more decades of use and minimizing the Non-Proliferation Treaty obligation to negotiate effective measures for nuclear disarmament. Nevertheless, a new global constituency for abolition is transforming nuclear debate. Governments, international organizations, civil society campaigns and religious networks are delegitimizing nuclear weapons on the basis of their health, humanitarian and environmental consequences. The legitimacy and prestige ascribed to nuclear weapons is eroding as a result."
Statement Towards a Nuclear-Free World (July 2014)
---
Disarmament and Related Treaties
Published 4 December 2014 by The United Nations Office for Disarmament Affairs, this publication contains the text of multilateral treaties that focus on nuclear weapons, and nuclear-weapon-free zones and other disarmament treaties.
Ebook version coming soon. PDF version available online now
---
Bombs Away- The Case for Phasing Out U.S. Tactical Nukes in Europe
An extensive report questioning the wisdom of stationing tactical nuclear weapons in Europe (incl. the B-61). Foreign Affairs, July/August 2014 Issue
---
October 22, 2014:
Taking stock of the Ukraine crisis' impact on the prospects for nuclear disarmament in Europe and wider arms control processes.
Anna Sliwon, British-American Security Information Council
"From the violation of Ukrainian national borders, to the breach of the Budapest memorandum, through to Putin's ominous August rhetoric reminding Western leaders of Russia's status as a strong nuclear power, events in Eastern Europe have led to worsening of an already difficult climate for discussions on the issue of removal of American B61 gravity bombs deployed in five European states.
"...existing defense and deterrence mechanisms, international legal and allied security guarantees and assurances, and their viability and effectiveness, have been subject to renewed examination..."
"Against such a climate of uncertainty, insecurity and confrontation, it is difficult to imagine a serious consideration of prospects for nuclear disarmament in Europe by political leaders from NATO member states." (see full article at BASIC)
---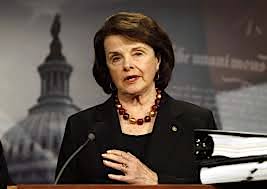 "For the last two years, I have voiced concerns that modernizing the nuclear weapons stockpile not come at the expense of nonproliferation funding. This year is an egregious example of just that happening. And I am determined that it will not stand."
- Senator Diane Feinstein, April 30, 2014; opening statement to the Senate Energy and Water subcommittee hearing regarding nonproliferation cuts in the FY 2015 budget. [no longer online]

Update, August 21, 2014:
White House Faces Democratic Senate Revolt Over Nuclear Security Cuts
---
August 6, a time to reflect:
Hiroshima, Hair-Trigger, and Existential Risks
David Wright, UCS, Global Security Program
"Today's growing tensions with Russia remind us that we are not yet out of the nuclear woods and that crises can still arise that can make it more likely for errors or accidents to lead to a nuclear exchange. Taking steps to reduce the risk of accidental or erroneous launch is probably the most important thing the U.S. can do to increase its security. Removing missiles from hair-trigger alert is an obvious and achievable first step that President Obama can and should take." (ref)
'It is a mistake to think that nuclear war is impossible. In fact, it might not be improbable.' -Anders Sandberg, Washington Post
---
Nuclear Threat Initiative- 10th Anniversary
---
The Saudi Proliferation Question
"The first public hint by Saudi officials that the kingdom would consider acquiring a nuclear weapon as a counterweight to Tehran's nuclear program came in June 2011..." (Bulletin of the Atomic Scientists, 12/17/13)
---
NTI press conference 1/8/14
NTI Co-Chairman Sam Nunn and President Joan Rohlfing applaud the removal of all or most weapons-usable nuclear materials from seven countries since the beginning of 2012. Austria, the Czech Republic, Hungary, Mexico, Sweden, Ukraine, and Vietnam
---
Truth About Israel's Secret Nuclear Arsenal
"Deep beneath desert sands, an embattled Middle Eastern state has built a covert nuclear bomb, using technology and materials provided by friendly powers or stolen by a clandestine network of agents..." Read The Guardian's Julian Borger on the history of Israeli nukes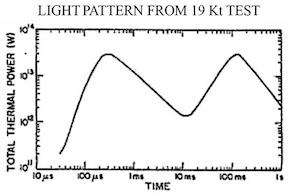 The Vela Incident:
Flash from the past: Why an apparent Israeli nuclear test in 1979 matters today
Bulletin of the Atomic Scientists, Sept 8, 2015
---
The Man Who Warned Congress about Pakistan Nukes in 1987 Paid a Steep Price
"If they had busted those [Pakistani] networks, Iran would have no nuclear program, North Korea wouldn't have a uranium bomb, and Pakistan wouldn't have over a hundred nuclear weapons they are driving around in vans to hide from us." -Richard Barlow, CIA analyst who testified behind closed doors on Capitol Hill in 1987 that the Agency had 'scores' of 'absolutely reliable' reports on Pakistan's clandestine efforts to obtain nuclear bomb technology... Top Reagan administration officials were in 'a panic', because Pakistan was the crucial player in the CIA operation funneling weapons to Islamic 'holy warriors' fighting the Soviet Red Army next door in Afghanistan. If it became known that Pakistan was secretly building a bomb, a law passed by Congress would require a cut-off of military aid..." (ref: Newsweek, 12/03/13)
---

Nuclear NATO
"Deliberately echoing the contradiction at the heart of President Obama's 'Prague Agenda', the 2010 Strategic Concept 'commits NATO to the goal of creating the conditions for a world without nuclear weapons- but reconfirms that, as long as there are nuclear weapons in the world, NATO will remain a nuclear Alliance'. Formerly justified in terms of 'transatlantic burden sharing' and 'Alliance cohesion', the removal of tactical nuclear weapons [B61 bombs] is now on NATO's agenda, with or without a fundamental shift to denuclearize NATO's Security Concept. According to research published in 2011, this is actively sought by 10 NATO member states and opposed by only 3 (France, Hungary and Lithuania). The UK is among 14 who say they would not block, while one NATO member registered as 'don't know'." (Acronym.org)
---
Feb 24, 2014:
The Myth of American Nuclear Obsolescence
"The United States is, in fact, engaged in the world's largest and most expensive nuclear weapons modernization program... Every aspect of the US nuclear deterrent is being modernized and updated... America is on pace to match the size of the Reagan nuclear build-up during the 1980s, despite the very changed security and economic realities facing our nation..."
-Jon Wolfsthal for The James Martin Center for Nonproliferation Studies (see full report at CNS).
---
Click to enlarge:

Click to enlarge
---
Global Zero
Op-eds by George P. Shultz, William J. Perry, Henry A. Kissinger and Sam Nunn:
Next Steps in Reducing Nuclear Risks: The Pace of Nonproliferation Work Today Doesn't Match the Urgency of the Threat
by George P. Shultz, William J. Perry, Henry A. Kissinger and Sam Nunn
The Wall Street Journal, March 6, 2013.

Deterrence in the Age of Nuclear Proliferation
by George P. Shultz, William J. Perry, Henry A. Kissinger and Sam Nunn
The Wall Street Journal, March 7, 2011.

How to Protect Our Nuclear Deterrent
by George P. Shultz, William J. Perry, Henry A. Kissinger and Sam Nunn
The Wall Street Journal, January 19, 2010.

Toward a Nuclear-Free World
by George P. Shultz, William J. Perry, Henry A. Kissinger and Sam Nunn
The Wall Street Journal, January 15, 2008.

A World Free of Nuclear Weapons
by George P. Shultz, William J. Perry, Henry A. Kissinger and Sam Nunn
The Wall Street Journal, January 4, 2007.
---

"The people who are the most anti-nuclear are the ones who know the most about it." -Eric Schlosser, author, "Command and Control" (ref)
---
---
Your contribution is much appreciated! Every little bit helps- and remember, contributions are tax-deductible! *Go to donations page* Thanks for your support!