Arsenal of Information
---
---
---
Dossiers:
Trump's Nuclear Posture Review
Flashpoint: North Korea
Flashpoint: NATO-Russia
UN Treaty to Prohibit Nuclear Weapons
Plutonium Pit Production at LANL
B61-12 Enhanced Nuclear Bomb
LRSO: New Nuclear Cruise Missile
Kirtland AFB Nuclear Weapons Complex
MOX / Plutonium Disposition
Fukushima Disaster and Updates
Nuke Lab Contractors Illegal Lobbying
Nuclear Testing Since 1945
Atomic Histories
---
---
Nuclear Watch Interactive Map of the
Nuclear Weapons Complex
View full size
Facilities:
Kansas City Plant
Lawrence Livermore National Labs
Los Alamos National Laboratory
Nevada National Security Site
Pantex Plant
Sandia National Laboratories
Savannah River Site
Washington DC
Waste Isolation Pilot Plant (WIPP)
Y-12 National Security Complex
Facility Spotlight:
At Y-12, the cost of designing the Uranium Processing Facility keeps spiraling: $92 million in '06, $2 billion by '16. (How do you spend 2 billion dollars designing anything?) - See OREPA's June '15 UPF update

- NNSA Cuts Los Alamos Lab's Award Fees by 90%
- DOE IG Report: Sandia Labs Misused Federal Funds
- Y-12: Poster Child For A Dysfunctional Nuclear
Weapons Complex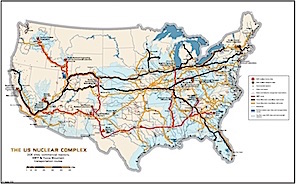 Click the image to download this large printable map of DOE sites, commercial reactors, nuclear waste dumps, nuclear transportation routes, surface waters near sites and transport routes, and underlying aquifers. This map was prepared by Deborah Reade for the Alliance for Nuclear Accountability.
---
Daniel Ellsberg at the Nuclear Age Peace Foundation's 11th Annual Frank K. Kelly Lecture on Humanity's Future in Santa Barbara, CA, Feb. 23, 2012.
Daniel Ellsberg: Nuclear Weapons and Humanity's Future
Ellsberg reviews and reveals some frightening moments and close calls which he knew of as a top-secret Pentagon nuclear analyst. "The problem is not our intelligence. The problem is different- it is our readiness to contemplate, plan, and prepare- and threaten- something that for 20 years we've known meant, probably, the destruction of complex life on earth." -Daniel Ellsberg
---


Poems of the Manhattan Physicists at The Bulletin

Here's one by Klaus Fuchs, physicist and Soviet spy:

The Gulf
Hitler disliked my politics. He blamed
the Reichstag burning on my comrades.
Only Kristel and I escaped the flames
of der Fuhrer's fury. And both of us went mad.
Capital killed democracy. It built
too powerful an engine. Now an engineer
applies the brakes or puts on steam according
to needs of the machine and not its passengers.
Words are ships
crewed by dead souls
their holed hulls
sieves for living thoughts
their only freight
the breath that shifts slack shrouds.
- - -

More scientists' poems at the Bulletin
---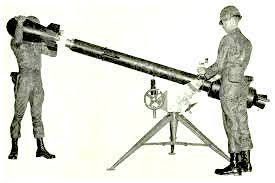 ---
Dossier:
Atomic Histories
---
Since the end of the Cold War, and increasingly in the last years, fragments of the hidden histories of the first atomic age have broken loose from deep classification and emerged in the public view; some once-secret and so disconnected from each other and from the nation's civil forum. Here are some recent finds, and some resources for further research.
---
Black Saturday, October 27 1962.
In the midst of the Cuban Missile Crisis, this was the day Vasily Arkhipov did not use the nuclear torpedo against the US ship dropping depth charges on it. It was also the day a US U2 was shot down over Cuba, killing the pilot. It was also the day this happened.
---
60 yrs ago, the biggest nuclear weapon in the US arsenal was accidentally dropped 5 miles south of Albuquerque, New Mexico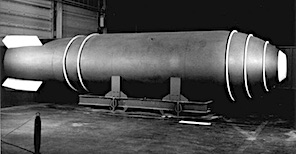 On May 27, 1957, 5 miles south of the Albuquerque airport, a Mark 17 H-bomb (pictured at left) was accidentally dropped from a B-36 Peacemaker on it's way to Kirtland AFB. The plutonium pit was not on board, but the fissile 'spark plug' detonated.

Bits of the bomb, the biggest ever deployed by the US at 15-20 megatons, could still be found in the area (see picture below). But the authors of this 2010 report urged the collecting public to hurry, as the area would soon be covered over by a development called "Mesa del Sol". And so it now is. (source: Carl Willis, "Albuquerque, Ground Zero")
---
Published on Jun 27, 2016:
Cooperation of US and Russian scientists helped avoid nuclear catastrophe
at Cold War's end
Former Los Alamos National Laboratory director Siegfried Hecker recounts the epic story of how American and Russian scientists joined forces to avert some of the greatest post-Cold War nuclear dangers.
Hecker is currently a senior fellow at Stanford University's Center for International Security and Cooperation, and a research professor of Management Science and Engineering.
---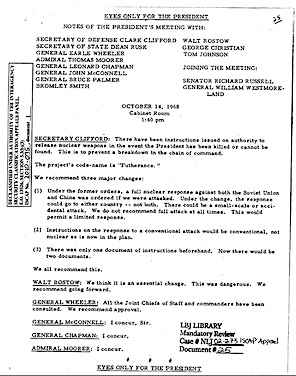 click to enlarge


From the Nukevault:


U.S. Had Plans for "Full Nuclear Response" In Event President Killed or Disappeared during an Attack on the United States.



- Newly declassified document expands limited public record on nuclear "pre-delegation".

- Both USSR and China were to be targeted simultaneously, even if attack were conventional or accidental, and regardless of who was responsible.

- LBJ ordered a change in instructions in 1968 to permit more limited response, avert "dangerous" situation.

- See: Electronic Briefing Book No. 406

---

Transcripts Kept Secret for 60 Years Bolster Defense of Oppenheimer's Loyalty
"...the declassified material, released Oct. 3 by the Energy Department, suggests that Oppenheimer opposed the hydrogen bomb project on technical and military grounds, not out of Soviet sympathies..." - Read more: NYTimes, William J. Broad. Oct. 11, 2014
---
How A War Game Brought The World To The Brink Of Nuclear Disaster
1983: Once-classified documents show how close Soviet Union came to launching nuclear war
"Chilling new evidence that Britain and America came close to provoking the Soviet Union into launching a nuclear attack has emerged in former classified documents written at the height of the cold war... Cabinet memos and briefing papers released under the Freedom of Information Act reveal that a major war games exercise, Operation Able Archer, conducted in November 1983 by the US and its Nato allies was so realistic it made the Russians believe that a nuclear strike on its territory was a real possibility..." (Jamie Doward, The Observer, 10/02/13)
---
Documents release, National Security Archive:
Studies by Once Top Secret Government Entity Portrayed Terrible Costs of Nuclear War -NESC reports included both Soviet and US first strike scenarios
National Security Archive Electronic Briefing Book No. 480. Posted July 22, 2014.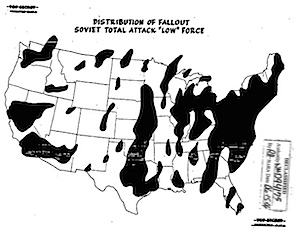 "The NESC reports on nuclear war were multi-volume, highly classified studies and none has ever been declassified in their entirety. The summaries published here today- for the annual reports from 1957 to 1963- provide a glimpse of the full reports, although important elements remain classified. Besides the summaries and fuller reports for 1962 and 1963, today's posting includes a number of special studies prepared by the NESC, including an especially secret report requested by President Eisenhower that led to the production of the comprehensive U.S. nuclear war plan in 1960, the Single Integrated Operational Plan (SIOP)... (read more)
---
New York City, 1982: One Million Rally for Nuclear Freeze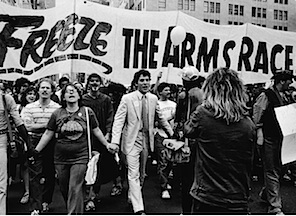 On June 12, 1982, one-million concerned citizens gathered in Central Park in New York in an unprecedented call for "the United States and the Soviet Union . . . to adopt a mutual freeze on the testing, production, and deployment of nuclear weapons." A few months later, Freeze referenda were on the ballots in 9 states and dozens of major cities. Across the nation some 18 million Americans voted on the Freeze in the fall of 1982, with some 10.7 million, or 60 percent, voting in favor. As Congressman Ed Markey (D-Mass.) said years later: "It was the closest our country has ever come to a national plebiscite on nuclear arms control. Within a very brief time the freeze had taken education at the grassroots and translated it into political muscle at the ballot box, delivering to the White House a resounding vote of no confidence in its nuclear buildup."
---
History Archives and Resources

---
Nuclear Files
Nuclear Age Peace Foundation

Nuclear Vault
Nat'l Security Archive, George Washington University, Nuclear Documentation Project

Atomic Heritage Foundation
Extensive historical documentation

Restricted Data
A blog about nuclear secrecy, past and present, run by Alex Wellerstein, a historian of science at the Stevens Institute of Technology.

Archive of Nuclear Data
From the NRDC Nuclear Program

Wilson Center Digital Archive International History Declassified: Nuclear History
See the featured collections

Bulletin of the Atomic Scientists: Digitized archives

Atomic Archive
- Atomic Archive Photo Collection

Poisoned Waters and Poisoned Places
In 2001, ANA activists worked closely with Peter Eisler, an investigative reporter then at USA Today (now at Reuters), to produce this huge series of reports about the breadth of contamination and health risks from the U.S. nuclear weapons venture.

Michael Light, 100 Suns Photo Gallery
---
Nuclear Weapons Treaties Listings
---
A Catalog of Treaties and Agreements -CRS

Treaties- Nuclear Age Peace Foundation

Treaties- Nuclear Threat Initiative

Treaties- Atomic Archive
---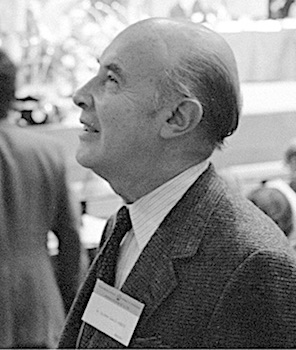 García-Robles' Nobel Medal Sold at Auction
Alfonso García Robles drafted the 1967 Treaty for the Prohibition of Nuclear Weapons in Latin America and the Caribbean. He was awarded the Nobel Peace Prize in 1982. He died in 1991. The Treaty of Tlatelolco, as it became known, was the first of its kind and is credited with keeping Latin America and the Caribbean free of nuclear weapons.
"A towering landmark in non-proliferation and disarmament, the Treaty's principles, safeguards and verification measures remain highly influential today." -Christie's, presenting the Nobel medal for auction April 28, 2017, New York City. (It brought $487,500) (ref)
---
How NATO Became A Nuclear Alliance
Nato Watch unearths a secret document: Briefing Paper No.45 (PDF)
---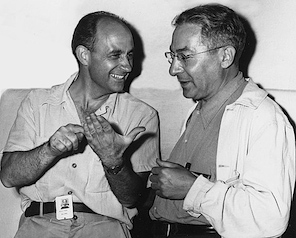 Enrico Fermi (l.) and I.I. Rabi (r.) opposed development of the H-bomb. "Since no limit exists to the destructiveness of this weapon, its existence and knowledge of its construction is a danger to humanity as a whole." (ref)
---
A is For Atom
BBC documentary by the inimitable Adam Curtis, author of The Power of Nightmares, The Trap, and The Century of the Self. Here Curtis looks at the development of industrial nuclear power. Interesting contemporary source materials.
---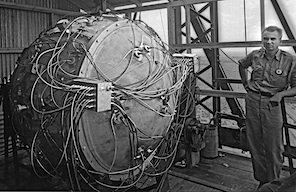 "The Gadget" ready for testing, Los Alamos, 1945, from the NYTimes, "Dawn of Nuclear Weapons, Declassified"
---
In 1950, AEC officials secretly discussed closing Los Alamos Laboratory
In a declassified memorandum dated June 29 1950, the AEC's Walter Hamilton wrote: "The profits which might be gained by moving out of Los Alamos now might be more top scientists in the project, faster progress on weapons research projects, and financial economies which would free dollars for bombs instead of water wells and golf courses for Los Alamos. It's worth thinking about!" View the complete memo (PDF)
---
36-Volume History of Manhattan Project
Once Classified, Now Released
General Leslie Groves, head of the Manhattan Engineer District, in late 1944 commissioned a multi-volume history of the Manhattan Project called the Manhattan District History. Prepared by multiple authors, the classified history was "intended to describe, in simple terms, easily understood by the average reader, just what the Manhattan District did, and how, when, and where." The Office of Classification and the Office of History and Heritage Resources has released the 36 volumes, some parts of which still remain classified. View the full listings and contents here
---