Arsenal of Information
---
---
---
Dossiers:
Trump's Nuclear Posture Review
Flashpoint: North Korea
Flashpoint: NATO-Russia
UN Treaty to Prohibit Nuclear Weapons
Plutonium Pit Production at LANL
B61-12 Enhanced Nuclear Bomb
LRSO: New Nuclear Cruise Missile
Kirtland AFB Nuclear Weapons Complex
MOX / Plutonium Disposition
Fukushima Disaster and Updates
Nuke Lab Contractors Illegal Lobbying
Nuclear Testing Since 1945
Atomic Histories
---
---
Nuclear Watch Interactive Map of the
Nuclear Weapons Complex
View full size
Facilities:
Kansas City Plant
Lawrence Livermore National Labs
Los Alamos National Laboratory
Nevada National Security Site
Pantex Plant
Sandia National Laboratories
Savannah River Site
Washington DC
Waste Isolation Pilot Plant (WIPP)
Y-12 National Security Complex
---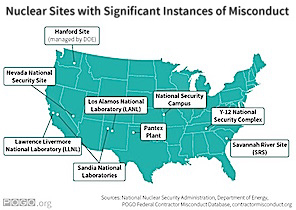 Nuclear Weapons Complex Misconduct
Dec. 3, 2015. POGO: Updated Federal Contractor Misconduct Database, focussing on Nuclear Complex (see report at POGO)
---

Donating to Nuclear Watch of New Mexico
Thank you for your interest in making a tax-deductible donation to Nuclear Watch New Mexico. Your contribution will help us continue our nationally and internationally acclaimed watch-dogging and reporting efforts. Use one of our methods below for making a secure online donation; you will receive a receipt and reply for your accounting and tax purposes.
---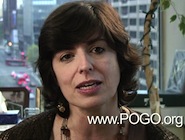 Danielle Brian, Executive Director, The Project on Government Oversight:
"Nuclear Watch New Mexico gives incredible bang for the buck in nuclear weapons issues. This small, lean organization is very effective, and POGO often relies on them for information and advice on the U.S.' nuclear weapons complex.
"As one past example, NukeWatch managed to persuade Senator Jeff Bingaman to legislatively require an independent lifetime study of the plutonium pit cores of nuclear weapons. The resulting expert finding that pits last at least 100 years, more than double the government's previous estimates, led to historic congressional rejection of new-design nuclear weapons and related expanded plutonium pit production.
"Today, NukeWatch is making the contractors that profit from nuclear weapons programs more accountable by forcing the government to release its performance evaluation reports. Most importantly, NukeWatch is in the forefront of the fight against enormously expensive "Life Extension Programs" that give existing nuclear weapons new military capabilities, contrary to official U.S. policy.
"If you really want a future world free of nuclear weapons, you can hardly make a better investment than to give to Nuclear Watch New Mexico. They need and deserve your support so that they can carry on their groundbreaking work. I urge you to be generous with them!"

---
Donate Through Network For Good


---


Make a designated donation to Nuclear Watch New Mexico through
Network For Good:

You will see "Southwest Research and Information Center" (our fiscal agent) at the top. After filling in the form please designate "Nukewatch" or "Nuclear Watch" in the field titled "Designation". (Right below the "Donation Preferences" and "Privacy Preferences").

Why does it say Southwest Research and Information Center on the secure form?

The Southwest Research and Information Center (SRIC) of Albuquerque, NM, a 501(c)3 organization, is the fiscal agent for Nuclear Watch. SRIC performs all of our bookkeeping and accounting, including an annual certified audit that captures our fiscal activities. As such, we are a project of SRIC and utilize their online donation service provider, Network for Good. Your contributions are tax-deductible.

The venerable Network for Good gives small nonprofits a secure, convenient donation system that makes it possible to fundraise online. And it gives donors a way to find us. If you have questions about how this works please visit: Network for Good FAQ

---



Donations by Mail


---


If you wish to send your donation by mail, please make your check out to "Southwest Research and Information Center" (our fiscal agent), and note on the memo line "NukeWatch".

Our mailing address is: NukeWatch, 903 W. Alameda #325, Santa Fe, NM 87501

We will quickly reply to your mailed contribution with a thank you letter that you may use, come tax time, as a record of your donation to a non-profit organization.

Donate With Razoo


---





---

Donate With PayPal


---


If you have a PayPal account, you might rather make your donation through their system. Use this button:

---
Thank You!
We are very grateful for your contribution and hope we can count on your future support. We encourage you to take the opportunity to stay informed about our work by frequenting our web site for its wealth of information and to read or subscribe to feeds from our WatchBlog.
Also check us out on Facebook, Twitter, and Tumblr, and Youtube!
See a listing of significant accomplishments and brief history of our organization

Sincerely,
Nuclear Watch of New Mexico