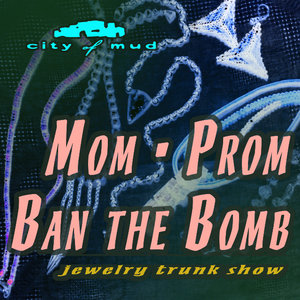 May 4 – 5
City of Mud presents
Mom/Prom/Ban the Bomb
A two-day trunk show of
eight mighty jewelers
(and one acclaimed textile artist)
will benefit Nuclear Watch New Mexico
as they fight proliferation and pollution.
Saturday, May 4 from 11 to 6.
Sunday the 5th from 11 to 4.
1114 A Hickox St, Santa Fe, NM 87505
Miranda Hicks, Leah Siegel, Laird Hovland,
Klara Reitz, Julie DeFeo, Kelly Cozart,
Gilda Meyer-Niehof, Ábrego Jewelry.
Textiles by Natasha Nargis.
Your chance to acquire handmade gifts
for Mother's Day and graduation season,
or a boost for your own jewelry box–
while supporting a great cause!
More info here on the City of Mud website.
City of Mud dedicates the season to workshops and events. Learn new skills or refine the ones you have, as we offer 3-D printing, short-story writing, shibori dyeing, mixed-media art, fiber sculpture, self-publishing, block printing, pop-up book design, glass and jewelry tutorials taught by some of Santa Fe's best-loved creative professionals. Plenty to roll your sleeves up for, and we're filling up the schedule as we go, so stay tuned.