Overview

The U.N. Treaty
on the Prohibition of Nuclear Weapons
On 7 July 2017 – following a decade of advocacy by ICAN and its partners – an overwhelming majority of the world's nations adopted a landmark global agreement to ban nuclear weapons, known officially as the Treaty on the Prohibition of Nuclear Weapons. It will enter into legal force once 50 nations have signed and ratified it.
Prior to the treaty's adoption, nuclear weapons were the only weapons of mass destruction not subject to a comprehensive ban, despite their catastrophic, widespread and persistent humanitarian and environmental consequences. The new agreement fills a significant gap in international law.
It prohibits nations from developing, testing, producing, manufacturing, transferring, possessing, stockpiling, using or threatening to use nuclear weapons, or allowing nuclear weapons to be stationed on their territory. It also prohibits them from assisting, encouraging or inducing anyone to engage in any of these activities.
A nation that possesses nuclear weapons may join the treaty, so long as it agrees to destroy them in accordance with a legally binding, time-bound plan. Similarly, a nation that hosts another nation's nuclear weapons on its territory may join, so long as it agrees to remove them by a specified deadline.
Nations are obliged to provide assistance to all victims of the use and testing of nuclear weapons and to take measures for the remediation of contaminated environments. The preamble acknowledges the harm suffered as a result of nuclear weapons, including the disproportionate impact on women and girls, and on indigenous peoples around the world.
The treaty was negotiated at the United Nations headquarters in New York in March, June and July 2017, with the participation of more than 135 nations, as well as members of civil society. It opened for signature on 20 September 2017. It is permanent in nature and will be legally binding on those nations that join it.
The Nuclear Ban Treaty in a nutshell
Why a ban?
Nuclear weapons are the most inhumane and indiscriminate weapons ever created. That is why it is time to end them, before they end us.
Nuclear weapons are the most inhumane and indiscriminate weapons ever created. They have catastrophic humanitarian and environmental consequences that span decades and cross generations; they breed fear and mistrust among nations, as some governments can threaten to wipe out entire cities in a heartbeat; the high cost of their production, maintenance and modernisation diverts public funds from health care, education, disaster relief and other vital services. Banning these immoral, inhumane weapons under international law was a critical step along the path to ending them.
With the adoption of the UN Treaty on the Prohibition of Nuclear Weapons (TPNW) on July 7th, 2017, the world's majority took a critical step towards making that nuclear-weapon-free future a reality.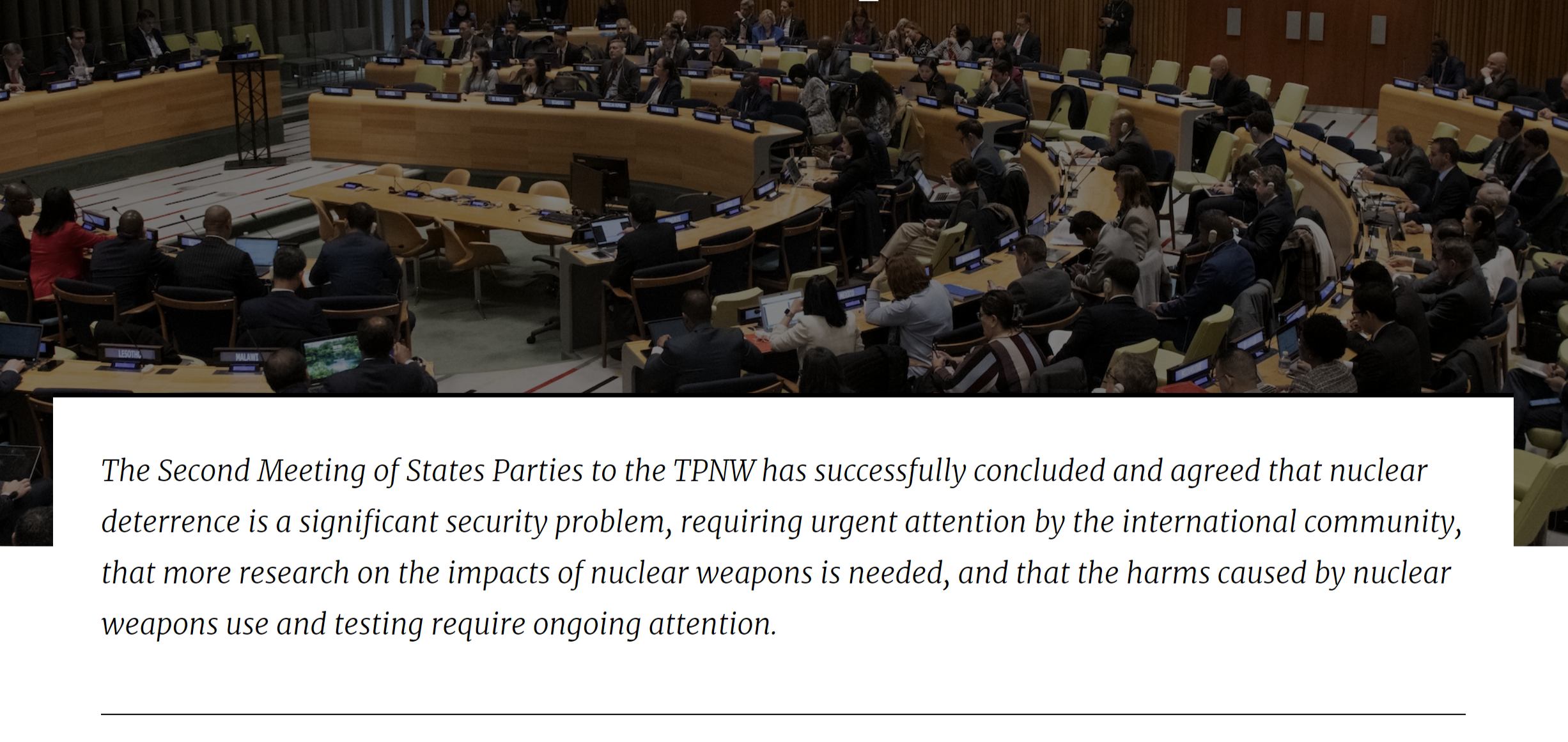 "A joint statement endorsed by 26 nuclear affected community-led organisations, and supported by a further 45 allied organisations said 'We have the right and responsibility to speak about what nuclear weapons really do… We call on States Parties to the TPNW to push relentlessly for its universalisation.'"
ICAN | UPDATES | December 1, 2023 icanw.org
N94 countries participated in the meeting as states parties or observers including some that currently endorse the use of nuclear weapons in their defence doctrines. These countries engaged in a robust and interactive debate during the week, adopting a political declaration and package of decisions.
Nuclear deterrence is a cause of global instability and insecurity
One of the adopted decisions included, for the first time ever, an agreement to work together to challenge the false narratives of nuclear deterrence. States parties mandated states, the International Committee of the Red Cross and ICAN and other stakeholders and experts, "To challenge the security paradigm based on nuclear deterrence by highlighting and promoting new scientific evidence about the humanitarian consequences and risks of nuclear weapons and juxtaposing this with the risks and assumptions that are inherent in nuclear deterrence."
There remains an information gap between what would actually happen as a result of nuclear war and the policies of the nuclear-armed states and their allies, and efforts to bridge this gap are the primary responsibility of those whose policies include the use of nuclear weapons.
New evidence on the impacts of nuclear weapons demand action from the global community
New research was presented during the meeting as well, including that there is much greater understanding of the cascading effects on food supplies, the financial system and energy supplies that help us better predict the likely effects of nuclear detonations.
ICAN IGTV
The international campaign to abolish nuclear weapons on instagram (@nuclearban) tackling some of the more technical legal questions of the treaty: what does entry into force mean, what happens now? Joined with experts, they dive into international law and the TPNW (without getting too technical!) through instagram chats to help break it all down.
Resources
Calling for swift remedies to mend a fractured non-proliferation landscape, nuclear-weapon-free States demanded an immediate end to deterrence policies and the start of dismantling atomic arsenals, as the First Committee (Disarmament and International Security) moved into the third day of its general debate.
UNITED NATIONS MEETINGS COVERAGE GENERAL ASSEMBLY FIRST COMMITTEE SEVENTY-SIXTH SESSION, 4TH MEETING (PM)
As thousands of atomic bombs located around the world pose grave risks to humanity, delegates implored nuclear-weapon States to steer the planet onto a path of peace.  Some suggested such ways to do so, with delegates agreeing that dismantling nuclear arsenals must start now, in line with the Treaty on the Non-Proliferation of Nuclear Weapons and under safeguards established by the International Atomic Energy Agency (IAEA).  Many urged all nations with atomic arsenals to sign, ratify and fully implement existing conventions, including the Treaty on the Prohibition of Nuclear Weapons, which entered into force in January, and some decried the quarter of a century delay in entering into force the Comprehensive Nuclear-Test-Ban Treaty.  To rectify this, many called for nuclear-weapon States to sign and ratify it so that atomic bomb testing can become part of the past.
3 Oct 2020 – The United Nations General Assembly holds a high-level meeting to commemorate the International Day for the Total Elimination of Nuclear Weapons. Because of the COVID-19 pandemic, many leaders speak by pre-recorded video to call for a nuclear-weapon-free world.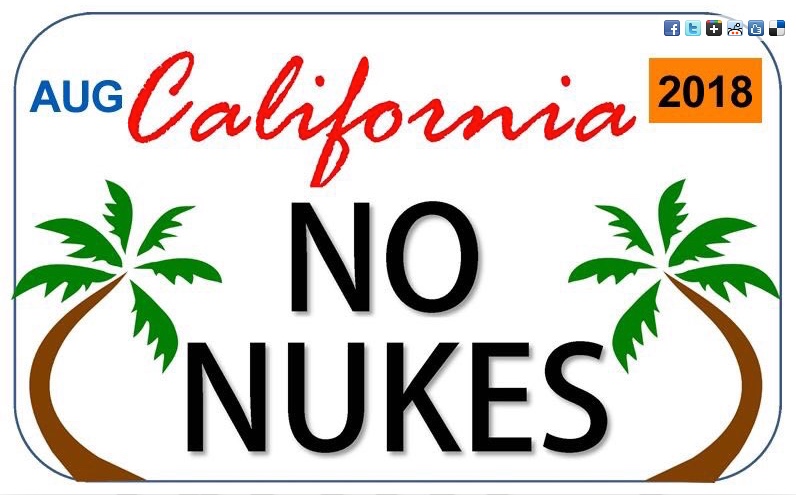 California State Legislature Passes Pro-Nuclear Disarmament Resolution
Sacramento–Assembly Joint Resolution 33 (AJR 33), introduced by Santa Barbara's State Assembly member, Monique Limón, passed in the state Senate today by a vote of 22 to 8. This marks a huge step forward in California's support of nuclear disarmament and puts the state at the forefront of this critical issue.
The resolution calls on federal leaders and our nation to embrace the Treaty on the Prohibition of Nuclear Weapons, make nuclear disarmament the centerpiece of our national security policy, and spearhead a global effort to prevent nuclear war. (More on the Treaty here.)
Rick Wayman, Deputy Director of the Nuclear Age Peace Foundation, a non-partisan, non-profit organization headquartered in Santa Barbara whose mission is to create a peaceful world, free of nuclear weapons, was asked by Limón to testify in support of the Resolution.
6.36 – Address of Nobel Committee leader Berit Reiss-Andersen on the choice of ICAN for the 2017 Peace Prize (view transcript)
35.12 – Presentation of the award to ICAN's Beatrice Fihn and Setsuko Thurlow
44.22 – ICAN Director Beatrice Fihn address (view transcript)
1.03.55 – Setsuko Thurlow address (view transcript)

"The Norwegian Nobel Committee has decided to award the Nobel Peace Prize for 2017 to the International Campaign to Abolish Nuclear Weapons (ICAN). The organization is receiving the award for its work to draw attention to the catastrophic humanitarian consequences of any use of nuclear weapons and for its ground-breaking efforts to achieve a treaty-based prohibition of such weapons. We live in a world where the risk of nuclear weapons being used is greater than it has been for a long time. Some states are modernizing their nuclear arsenals, and there is a real danger that more countries will try to procure nuclear weapons, as exemplified by North Korea. Nuclear weapons pose a constant threat to humanity and all life on earth."
The award was the lead story this morning on Germany's Deutsche Welle with a video interview with Yanthe Hall of ICAN Germany.
Democracy Now, Oct. 6: Amy Goodman interviews Tim Wright, Asia-Pacific director of ICAN on the Nobel award and the ban treaty. (watch segment).
Santa Fe, NM.
Nuclear Watch New Mexico strongly applauds the awarding of the Nobel Peace Prize to the International Campaign to Abolish Nuclear Weapons (disclosure: NukeWatch is one of ICAN's ~400 member groups around the world). This award is especially apt because the peoples of the world are now living at the highest risk for nuclear war since the middle 1980's, when during President Reagan's military buildup the Soviet Union became convinced that the United States might launch a pre-emptive nuclear first strike. Today, we not only have Trump's threats to "totally destroy" North Korea and Kim Jong-un's counter threats, but also renewed Russian fears of a US preemptive nuclear attack… Generally unknown to the American taxpayer, our government has quietly tripled the lethality of the US nuclear weapons stockpile…"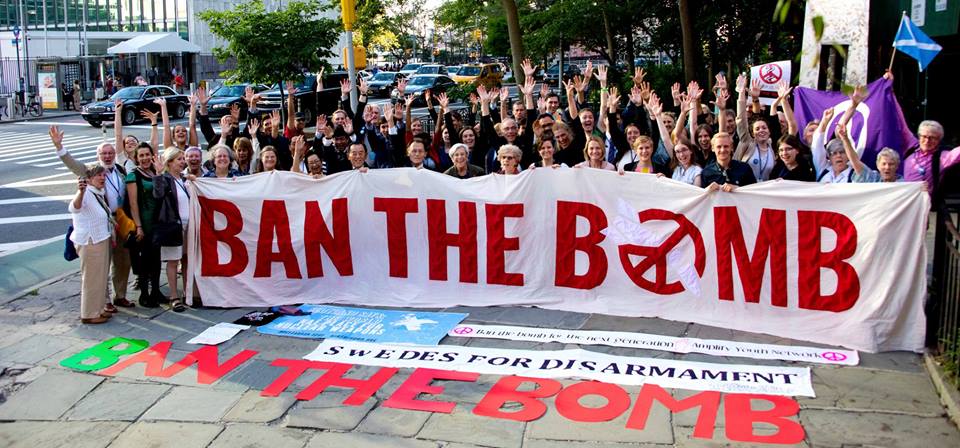 "So here is a question for all of us to think about: how will it change the global conversation when a treaty is affirmed by so many countries from all over the world? What will it feel like to know the clock is ticking down to nuclear weapons abolition . . . instead of worrying that the clock is ticking down to nuclear war? What will be different about the way people talk about the behavior of the states that still stubbornly hold on to nuclear weapons (and threaten each other with them)? In what light will it cast the countries that rely on the "nuclear umbrella" of countries like the US?"
-Joe Scarry, "Nuclear Weapons Abolition: What Will Be Different After September 20?"
122 Countries Overcome U.S. Opposition and Pass Landmark U.N. Global Treaty to Ban Nuclear Weapons
Ray Acheson
"The next process is going to be signing on to the treaty. It'll open for signature at the U.N. in New York on the 20th of September. And after that, they'll have to go through a national ratification process in order for it to enter into force. But that should all happen within the next year or two, and then it will be international law that is binding on all of the countries that have adhered to it, which means, in some cases, they're going to have to change their practices and policies that may enable or facilitate the use or the possession of nuclear weapons.

"There could be economic divestment, for example, from nuclear weapon-producing companies. There could be changes of national law that currently permit transit of nuclear weapons through territorial waters. There could be different shifts in policies and practices around military training exercises that currently involve the preparation to use nuclear weapons. And it will also be an iterative process of building up the stigmatization and the norm against nuclear weapons through the public policy, through parliaments and through national discourse."
Ray Acheson is director of Reaching Critical Will, the disarmament program of the Women's International League for Peace and Freedom; she represents WILPF on the steering committee of the International Campaign to Abolish Nuclear Weapons.
Rick Wayman:
"I think one of the most exciting things about this treaty process is the very deep and meaningful involvement of civil society, of my group, the Nuclear Age Peace Foundation, of the International Physicians for the Prevention of Nuclear War. Many of us were under the umbrella of an international campaign called the International Campaign to Abolish Nuclear Weapons. This voice really was unstoppable, but I also want to mention, to the credit of the nations that participated in this UN process, they gave civil society a big voice. It was really unlike any other UN process that I have been a part of before. I think that this, in many ways, revolutionized the way that international diplomacy and international treaties are made, so I'm very excited about that and very hopeful for the future."
Ira Helfland:
"The nuclear weapons states did not participate in this process and that's been the root of the problem. They have not wanted to honor their obligations under the Non-Proliferation Treaty to eliminate their nuclear arsenals. The rest of the world has finally lost patience. They're concerned by the overwhelming medical evidence that even a very limited nuclear war would be a worldwide catastrophe. The rest of the international community has issued a real challenge saying that they will no longer accept a situation in which nine countries hold the entire world, including their own people, hostage to these terribly dangerous nuclear arsenals."
Read the full interview at The RealNews.com
Rick Wayman is the Director of Programs and Operations at the Nuclear Age Peace Foundation. He also serves on the Board of Directors of the Alliance for Nuclear Accountability, and is Co-Chair of the 'Amplify: Generation of Change' network for nuclear abolition.
Ira Helfand is a co-Founder and Past President of Physicians for Social Responsibility and co-President of PSR's global federation the International Physicians for the Prevention of Nuclear War.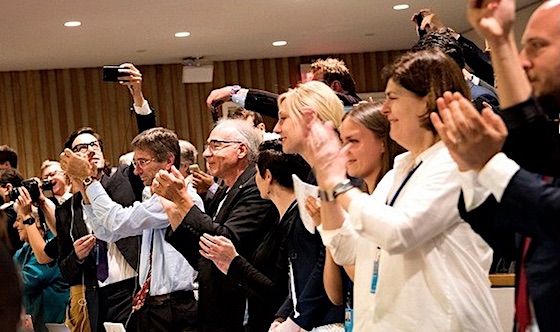 The treaty prohibits nations from developing, testing, producing, manufacturing, transferring, possessing, stockpiling, using or threatening to use nuclear weapons. It also prohibits them from assisting, encouraging or inducing anyone to engage in any of those activities. In addition, nations must not allow nuclear weapons to be stationed or deployed on their territory. (See FAQs on the treaty provisions at ICAN)
ICAN's executive director, Beatrice Fihn: "We hope that today marks the beginning of the end of the nuclear age. It is beyond question that nuclear weapons violate the laws of war and pose a clear danger to global security… No one believes that indiscriminately killing millions of civilians is acceptable- no matter the circumstance- yet that is what nuclear weapons are designed to do. Today the international community rejected nuclear weapons and made it clear they are unacceptable." (ref: ICAN)
Ray Acheson, director of the Women's International League for Peace and Freedom disarmament program, 'Reaching Critical Will': "This is a treaty made by people. By diplomats who got inspired by an idea and went home to change their government's positions. By activists writing, thinking, and convening, bringing together governments and civil society groups to figure out how to make things happen. By survivors who give their testimony despite the personal trauma of reliving their experiences… By campaigners who mobilize nationally to raise awareness and pressure their governments. By politicians who truly represent the will of their people and speak the truth in parliaments…" (Nuclear Ban Daily July 8)
Perry Project statement: UN Adopts New Treaty on the Prohibition of Nuclear Weapons
Arms Control Assoc: New Nuclear Weapons Prohibition Treaty Marks a Turning Point
Union of Concerned Scientists: Historic Treaty Makes Nuclear Weapons Illegal
Ploughshares Fund: A Stunning Rebuke To The Nuclear-Armed States
US, UK, France joint statement: "We do not intend to sign, ratify or ever become party to it."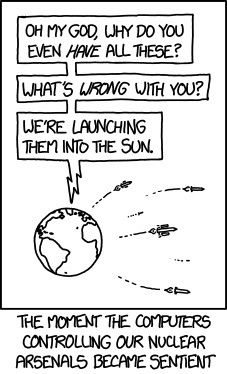 The urgency of banning nuclear weapons
Quotes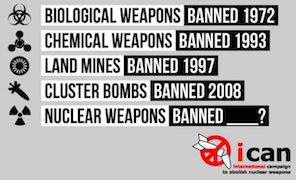 "Many citizens, scientists and laymen alike, view nuclear-weapons abolition as an essential milestone in the development of human civilization, a moral, ideological and practical campaign that could catalyze the transformation of international relations and improve the outlook for civilization at a critical time."