Mission Statement
Through comprehensive research, public education, and effective citizen action, Nuclear Watch New Mexico seeks to promote safety and environmental protection at regional nuclear facilities; mission diversification away from nuclear weapons programs; greater accountability and cleanup in the nation-wide nuclear weapons complex; and consistent U.S. leadership toward a world free of nuclear weapons.
Veteran New Mexican anti-nuclear activists founded Nuclear Watch New Mexico in December 1999. Since then we have engaged in many successful efforts to address nuclear weapons issues, across the spectrum of disarmament, nonproliferation, open government and environmental concerns.
Who We Are
Jay Coghlan, Executive Director
Scott Kovac, Operations and Research Director
Sophia Stroud, Digital Content Manager
NukeWatch staff members can be reached at [email protected]
NuclearWatch Steering Committee members: Chuck Montano, Betty Billups, Richard Johnson, Shelby Miller, Lon Burnam, Paul Carroll, Christopher Paine, Deborah Reade, Mary Riseley
Legal advisor: John Stroud
---
Fiscal Agent
Southwest Research and Information Center of Albuquerque, NM, a 501(c)3 organization, is the fiscal agent for Nuclear Watch New Mexico. Contributions to Nuclear Watch are tax-deductible.
---
Testimonials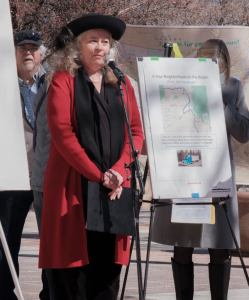 Anna Hansen, Santa Fe County District 2 Commissioner, commented,
"We, the residents of Santa Fe County, City, and the State of New Mexico, are fortunate to have organizations like Nuclear Watch New Mexico. Through this settlement agreement with DOE, Nuclear Watch NM is working to protect the residents of our communities from the dangers of the nuclear, toxic and hazardous wastes that have been generated by LANL over nearly 80 years of operations. I am grateful to Nuclear Watch for their leadership, persistence, and efforts to protect the public from the dangers that DOE creates every day at LANL. It is the hope of the Buckman Direct Diversion Project that DOE will move forward to install the flow monitoring station prior to the coming monsoon season."

March 2022
---
Our Supporters
Nuclear Watch New Mexico is supported by the Ploughshares Fund: Investing in Peace and Security Worldwide, the Windfall Foundation, Santa Fe Community Foundation Donor Advised Grants, the New Mexico Community Foundation, the New-Land Foundation, the Stewart Mott foundation, the MacArthur Foundation and by generous donors like you. Thank You!