"The ALPS treated water will meet both Japanese regulatory standards based on relevant international standards. In other words, tritium levels in the treated water and diluted water will be below those considered safe for drinking."
REUTERS | August 22, 2023 reuters.com
Aug 22 (Reuters) – Japan said late on Monday it had responded to inquiries from China and Russia about the ocean discharge of wastewater from the Fukushima nuclear power station, owned by Tokyo Electric Power Company Holdings (Tepco) (9501.T).
The Japanese government has shared its responses to the two neighbouring countries in a document dated Aug. 18 and posted on the International Atomic Energy Agency's website.
Tepco has been filtering the contaminated water, using machines called Advanced Liquid Processing System (ALPS), to remove isotopes, leaving only tritium, a radioactive isotope of hydrogen that is hard to separate from water. Tepco will dilute the water until tritium levels fall below regulatory limits before pumping it into the ocean from the coastal site.
"The dangers of tritium come from inhalation, ingestion, and absorption… when the radionuclide unites with carbon in the human body, plants, or animals, it becomes organically bound (OBT) and can remain in the human body for 450 to 650 days. One study found traces of tritium in the body 10 years after exposure."

November 4, 2020
The Los Alamos National Laboratory (LANL) proposes to vent up to 114,000 curies of radioactive tritium gas to the open atmosphere while claiming that it poses no public health and safety risks. Public outcry and congressional pressure prompted the National Nuclear Security Administration (NNSA) to host a public information virtual meeting on this issue on October 20. Due to the overwhelming turnout of some 150 interested citizens and ear-splitting technical difficulties NNSA is holding another public virtual meeting at 5:00 pm Thursday November 5.
Interested citizens can join the discussion at https://www.lanl.gov/environment/flanged-tritiumwaste-containers.shtml
If you wish to speak or ask questions you should pre-register at the same site.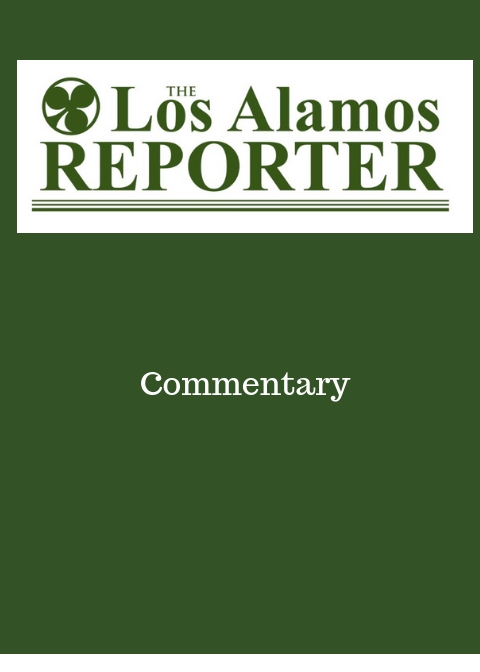 BY DR. VIRGINIA NECOCHEA & CHARLES DE SAILLAN
Tritium is a radioactive isotope of hydrogen. It emits beta radiation, which can be very dangerous if inhaled. Like other forms of ionizing radiation, tritium can cause cancer, genetic mutations and birth defects, and assorted other adverse health effects.
So it is not surprising that many people were dismayed when they learned that the U.S. Department of Energy (DOE) and its contractor at Los Alamos National Laboratory plan to release 114,000 curies of tritium gas into the atmosphere at Technical Area 54 and, possibly, at Technical Area 16. DOE has been storing this waste tritium in four steel canisters at TA-54 at the Laboratory for more than a decade. Over time, pressure has built up in the canisters, which DOE plans to relieve by venting the tritium gas into the atmosphere.
The public will get a chance to comment and learn more about Los Alamos National Laboratory's plans to release radioactive vapors into the atmosphere from several barrels of tritium-tainted waste.
BY: SCOTT WYLAND | santafenewmexican.com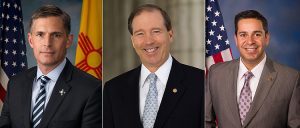 The federal agency that oversees the lab scheduled the meeting for Oct. 20 after three New Mexico delegates — U.S. Sens. Tom Udall and Martin Heinrich and U.S. Rep. Ben Ray Luján — wrote a letter calling for more transparency and public participation.
An open forum on the release of vapors from Cold War waste is especially important for Pueblo people and others who live near the site, the delegates said in the letter to the National Nuclear Security Administration.
"We strongly believe that protecting public health and safety must always be the highest priority at Los Alamos," they wrote in the Oct. 1 letter. "Safety is particularly important when there is a possibility of a release to the environment involving radioactive or hazardous materials."
The agency has said ventilating the containers is necessary to relieve built-up radioactive hydrogen in their headspace, so they can be safely handled and shipped to a commercial storage site.
Continue reading

The public information session will be hosted via Webex; people who wish to attend can join by following this link (meeting password GckhzZ5nv33), or call in by phone at 415-527-5035, access code 199 995 9074 if people do not have internet access.
Media Advisory
CONTACT: Peter Hyde, [email protected]
LOS ALAMOS, N.M., Oct. 8, 2020—The National Nuclear Security Administration is hosting a virtual public information session at 5 p.m. on Tuesday, Oct. 20, to inform the public about the process of venting Flanged Tritium Waste Containers (FTWCs) that are located at Los Alamos National Laboratory.
Flanged Tritium Waste Containers are pressure vessels specifically designed to contain waste metal that has been exposed to tritium. As the tritium ages and separates into helium and hydrogen, those gases can create pressure inside the container. This is expected and accounted for in the design.
To reduce the amount of waste stored on site, Los Alamos National Laboratory will ship the containers off-site to a licensed storage facility. In order to ship the containers, the pressurized gases inside the containers must be vented to meet regulatory requirements of the U.S. Department of Transportation (DOT).
CONCERNED CITIZENS FOR NUCLEAR SAFETY | nuclearactive.org
On Wednesday morning, the public was notified by Los Alamos National Laboratory (LANL) that releases of radioactive tritium could begin as early as Friday, September 11th.  LANL tried to launch this plan last March.  Communities organized against it and the project was halted.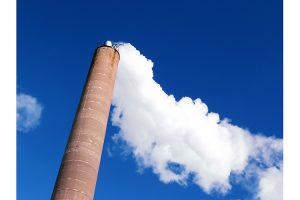 https://tewawomenunited.org/2020/09/action-alert-stop-radioactive-releases-at-los-alamos-national-laboratory , http://nuclearactive.org/lanl-plans-to-release-twice-the-amount-of-tritium-allowed/ , and http://nuclearactive.org/lanl-postpones-tritium-releases-due-to-global-pandemic/
If you were not signed up to receive emails from LANL's Electronic Public Reading Room, you would not have received Wednesday morning's notice.  https://eprr.lanl.gov/  [The subscribe button is on the lower left.]  The notice provided links to letters LANL submitted to the Environmental Protection Agency and the New Mexico Environment Department requesting permission to proceed with venting the four tritium containers.  The containers hold lead and an estimated 114,000 curies of radioactive tritium.
The tritium is in the form of tritiated water, which harms when it is inhaled or ingested.  https://ieer.org/article/energy-security/healthy-start-tritium-issue-38/
Now is the time of harvest.  People are outside and breathing deeply while they bring in the harvest.  The risk for breathing in particulates, pollutants, tritiated water, among other contaminants, has increased due to the COVID-19 global pandemic.  Smoke and ash from the Medio wildfire significantly contributed to poor air quality for weeks, which was finally knocked down on Tuesday night when the rain and snow arrived.  The link between increased COVID-19 death rates and air pollution are well known.
On March 11, the Los Alamos National Laboratory (LANL) sent the federal Environmental Protection Agency (EPA) a formal notice that the Lab will intentionally release up to some 100,000 curies of tritium, a radioactive isotope of hydrogen gas, beginning April 17, 2020.
This massive radioactive venting is due to take place as northern New Mexico begins to grapple with the COVID-19 pandemic, and places a further burden on some of our most vulnerable and at-risk communities. At the same time DOE is ramping up nuclear weapons production and plans to cut cleanup at LANL nearly in half.
NUKEWATCH PRESS RELEASE
[embeddoc url="https://nukewatch.org/wp-content/uploads/2020/03/NukeWatchNM-tritium-PR-3-19-20.pdf" download="all" viewer="browser"]