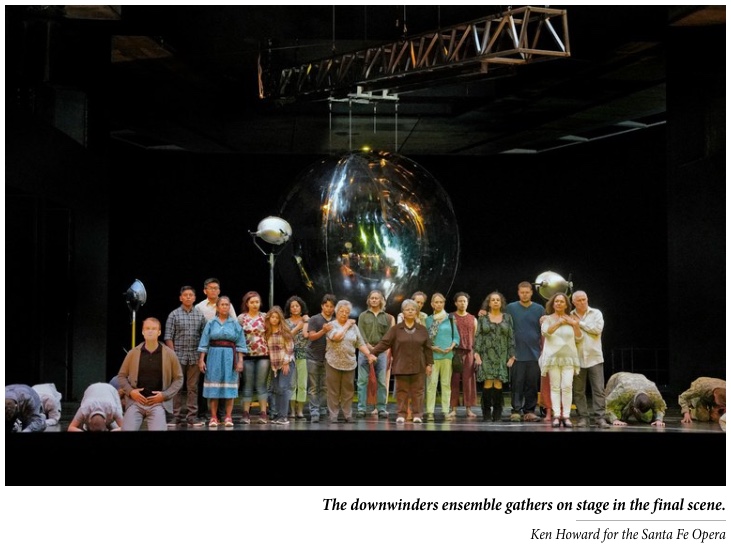 The West's atomic past, in opera halls
On stage and in Congress, Trinity test downwinders fight for recognition.
Elena Saavedra Buckley, High Country News, Aug. 30, 2018
Outside the Santa Fe Opera, a 62-year-old venue nestled in juniper-covered hills, retirees reclined by cloth-covered tables in the parking lot. As the August heat reflected off the asphalt, they tailgated with flutes of champagne. Soon, they would file in to see Doctor Atomic, an opera about physicist J. Robert Oppenheimer and the 24 hours before the first atomic bomb, which he helped create, detonated over New Mexico's Tularosa Basin in the Trinity test.
Doctor Atomic has been performed in New York and San Francisco, but never before in New Mexico, where Manhattan Project scientists from Los Alamos Laboratory created the bomb. John Adams composed the opera in 2005, and Peter Sellars's libretto uses declassified Los Alamos documents, focusing on the scientists' perspective. This was the first time that downwinders — people whose families lived in the Tularosa Basin, in the path of the bomb's radiation — appeared on stage during a performance. This summer, 73 years after Trinity, New Mexico's downwinders are finally receiving some attention — onstage and in Congress.
The Trinity test occurred at 5:30 a.m. on July 16, 1945, about 150 miles south of Santa Fe and the laboratory and only weeks before the bombings in Japan. It bathed the basin in light, creating a half-mile-wide crater. The Tularosa Basin Downwinders believe that blast's radiation gave their families cancer, either from the air or through milk and produce, and that the diseases are being passed down genetically.
Quotes
"I know not with what weapons World War III will be fought, but World War IV will be fought with sticks and stones."
-Albert Einstein
"The release of atomic power has changed everything except our way of thinking … the solution to this problem lies in the heart of mankind. If only I had known, I should have become a watchmaker."
-Albert Einstein