Recent News
Moscow says it would respond with 'countermeasures', after US air force budget item hinted at possible move
Julian Borger and Andrew Roth THE GUARDIAN | September 5, 2023 theguardian.com
The Russian foreign ministry has said Moscow will view any move to return US nuclear weapons to the UK as an escalation and will respond with "countermeasures" for its own security.
The foreign ministry spokesperson Maria Zakharova was responding to a report last week about an item in the 2024 US air force budget for building a dormitory at RAF Lakenheath in Suffolk for personnel on a "potential surety mission" – military jargon for nuclear safety and security. It raised the prospect of the return of US nuclear weapons to British soil for the first time in more than 15 years.
"If this step is ever made, we will view it as escalation, as a step toward escalation that would take things to a direction that is quite opposite to addressing the pressing issue of pulling all nuclear weapons out of European countries," Zakharova said.
Abolishing Nuclear Weapons is a Moral Imperative
View Recording of the March 9th PDA CNM Community Gathering:
PDA CNM Community Gathering - March 9, 2022 - Abolishing Nuclear Weapons is a Moral Imperative
PDA CNM welcomed Archbishop John C. Wester, Archbishop of Santa Fe, and our own executive director of Nuclear Watch New Mexico, Jay Coghlan, to speak at their March 9, 2022 monthly gathering: "[Archbishop Wester's] courage in speaking out against the proliferation of nuclear weapons inspires us at PDACNM to follow his example and continue the fight against this peril, especially given the threat of a possible imminent war between two nuclear powers.
Jay Coghlan, executive director of Nuclear Watch New Mexico, has worked successfully against radioactive incineration at the Los Alamos National Lab, and in Clean Air Act, Freedom of Information Act and National Environmental Policy Act lawsuits against the Department of Energy. He prompted a 2006 independent study that concluded plutonium pits last at least a century, refuting the NNSA's assertion that we "need" new-design nuclear weapons and expanded plutonium pit production."
Overview

The U.N. Treaty
on the Prohibition of Nuclear Weapons
On 7 July 2017 – following a decade of advocacy by ICAN and its partners – an overwhelming majority of the world's nations adopted a landmark global agreement to ban nuclear weapons, known officially as the Treaty on the Prohibition of Nuclear Weapons. It will enter into legal force once 50 nations have signed and ratified it.
Prior to the treaty's adoption, nuclear weapons were the only weapons of mass destruction not subject to a comprehensive ban, despite their catastrophic, widespread and persistent humanitarian and environmental consequences. The new agreement fills a significant gap in international law.
It prohibits nations from developing, testing, producing, manufacturing, transferring, possessing, stockpiling, using or threatening to use nuclear weapons, or allowing nuclear weapons to be stationed on their territory. It also prohibits them from assisting, encouraging or inducing anyone to engage in any of these activities.
The Nuclear Ban Treaty in a nutshell
Why a ban?
A nation that possesses nuclear weapons may join the treaty, so long as it agrees to destroy them in accordance with a legally binding, time-bound plan. Similarly, a nation that hosts another nation's nuclear weapons on its territory may join, so long as it agrees to remove them by a specified deadline.Nations are obliged to provide assistance to all victims of the use and testing of nuclear weapons and to take measures for the remediation of contaminated environments. The preamble acknowledges the harm suffered as a result of nuclear weapons, including the disproportionate impact on women and girls, and on indigenous peoples around the world.
The treaty was negotiated at the United Nations headquarters in New York in March, June and July 2017, with the participation of more than 135 nations, as well as members of civil society. It opened for signature on 20 September 2017. It is permanent in nature and will be legally binding on those nations that join it.
Nuclear weapons are the most inhumane and indiscriminate weapons ever created. That is why it is time to end them, before they end us.
Nuclear weapons are the most inhumane and indiscriminate weapons ever created. They have catastrophic humanitarian and environmental consequences that span decades and cross generations; they breed fear and mistrust among nations, as some governments can threaten to wipe out entire cities in a heartbeat; the high cost of their production, maintenance and modernisation diverts public funds from health care, education, disaster relief and other vital services. Banning these immoral, inhumane weapons under international law was a critical step along the path to ending them.
With the adoption of the UN Treaty on the Prohibition of Nuclear Weapons (TPNW) on July 7th, 2017, the world's majority took a critical step towards making that nuclear-weapon-free future a reality.
Nuclear Weapons Ban Treaty News & Updates
In its report "Wasted: 2022 Global Nuclear Weapons Spending" the International Campaign to Abolish Nuclear Weapons shows in 2022, the year of the Russian invasion of Ukraine, nine nuclear-armed states spent $82.9 billion on their nuclear weapons, more than $157,000 per minute, an overall increase of $2.5 billion from 2021.
By the International Campaign to Abolish Nuclear Weapons (ICAN) | June 12, 2023 icanw.org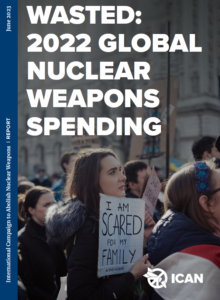 Download the Executive Summary
Read the Executive Summary in Italian
Download the full report
Nine countries spent $82.9 billion on nuclear weapons, of which the private sector earned at least $29 billion in 2022. The United States spent more than all of the other nuclear armed states combined, $43.7 billion. Russia spent 22% of what the U.S. did, at $9.6 billion, and China spent just over a quarter of the U.S. total, at $11.7 billion.
This is the fourth annual report documenting massive investments in global nuclear weapons spending. Through an ever-changing and challenging security environment, from security threats of climate change to the COVID-19 pandemic to the Russian invasion of Ukraine, nuclear weapons spending has steadily increased, with no resulting measurable improvement on the security environment. If anything, the situation is getting worse.
As companies throw money at lobbyists and researchers to assert the continued relevance and value of nuclear weapons, the record shows the inutility of weapons of mass destruction to address modern security challenges — and the legitimate fear, backed by peer-reviewed scientific evidence, that they can end global civilisation as we know it.
ICAN IGTV
The international campaign to abolish nuclear weapons on instagram (@nuclearban) tackling some of the more technical legal questions of the treaty: what does entry into force mean, what happens now? Joined with experts, they dive into international law and the TPNW (without getting too technical!) through instagram chats to help break it all down.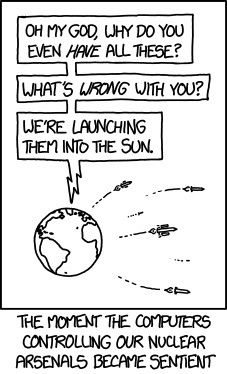 The urgency of banning nuclear weapons
Quotes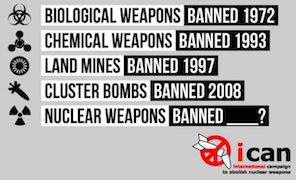 "Many citizens, scientists and laymen alike, view nuclear-weapons abolition as an essential milestone in the development of human civilization, a moral, ideological and practical campaign that could catalyze the transformation of international relations and improve the outlook for civilization at a critical time."
All Nuclear Arms Reduction and Non-Proliferation Updates & Recent News
"…The nuclear arms control treaties that did so much to reduce the danger at the end of the Cold War are now disintegrating. The Intermediate-Range Nuclear Forces Treaty of 1987, the first to liquidate an entire class of nuclear-armed missiles, ended in 2019 with U.S. withdrawal under President Donald Trump over alleged Russian violations."
By the Editorial Board | May 31, 2023 washingtonpost.com
The world is sliding into a new age of nuclear risk — in which miscalculation or accident could lead to catastrophe. The great progress the nuclear powers made in the 1990s through arms control and nonproliferation, reducing nuclear weapons and securing loose materials, is being undone.
The latest retreat came in Minsk, Belarus, on May 25, when Russian Defense Minister Sergei Shoigu and Belarusian Defense Minister Viktor Khrenin signed a formal agreement paving the way for Russia to deploy tactical nuclear weapons in Belarus. These are short-range nuclear weapons such as artillery shells, bombs and missiles for use in battlefield operations — not the long-range weapons deployed on intercontinental missiles. It is not known when Russia will deploy tactical nuclear weapons in Belarus, but the agreement seems to represent the latest act of saber-rattling by President Vladimir Putin since he invaded Ukraine last year. Mr. Putin had earlier said that Belarus would have nuclear facilities ready by July 1 and that Russia would remain in control of them. The United States maintains about 100 tactical nuclear weapons at six bases across five NATO countries.
"We must do everything to prevent Putin's plan to deploy nuclear weapons in Belarus…It directly violates our constitutional non-nuclear status and would secure Russia's control over Belarus for years ahead. And it would further threaten the security of Ukraine and all of Europe," — exiled opposition leader Sviatlana Tsikhanouskaya.
By Mariya Knight, Uliana Pavlova and Helen Regan, CNN | May 28, 2023 cnn.com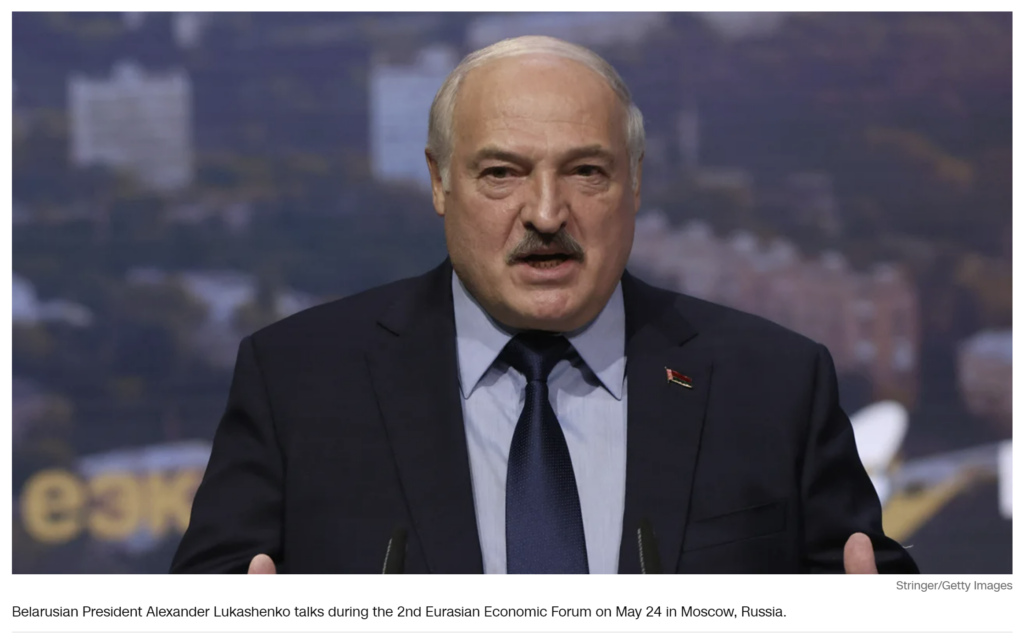 (CNN)—Belarus President Alexander Lukashenko has claimed that nations who are willing "to join the Union State of Russia and Belarus" will be given nuclear weapons, days after confirming the transfer of some tactical nuclear weapons from Moscow to Minsk had begun.
Lukashenko, a close ally of Russian President Vladimir Putin, made the comments in an on-camera interview released Sunday on the state-run Russia 1 channel.
During the interview, Lukashenko said, "no one minds Kazakhstan and other countries having the same close relations that we have with the Russian Federation."
"It's very simple," he added. "Join the Union State of Belarus and Russia. That's all: there will be nuclear weapons for everyone."
"We can begin uncovering this route to a safer, saner world when we recognize that a great many people and governments cling to nuclear weapons because of their desire for national security. After all, it has been and remains a dangerous world, and for thousands of years nations (and before the existence of nations, rival territories) have protected themselves from aggression by wielding military might….
But what if global governance were strengthened to the extent that it could provide national security? "
By Lawrence S. Wittner, Professor of History Emeritus at SUNY/Albany and the author of Confronting the Bomb (Stanford University Press) HISTORY NEWS NETWORK | May 21, 2023 historynewsnetwork.org
It should come as no surprise that the world is currently facing an existential nuclear danger.  In fact, it has been caught up in that danger since 1945, when atomic bombs were used to annihilate the populations of Hiroshima and Nagasaki.
Today, however, the danger of a nuclear holocaust is probably greater than in the past.  There are now nine nuclear powers―the United States, Russia, Britain, France, China, Israel, India, Pakistan, and North Korea―and they are currently engaged in a new nuclear arms race, building ever more efficient weapons of mass destruction.  The latest entry in their nuclear scramble, the hypersonic missile, travels at more than five times the speed of sound and is adept at evading missile defense systems.

"This is more than a missed opportunity. With the world facing the acute risk that nuclear weapons could be used for the first time since Hiroshima and Nagasaki were bombed, this is a gross failure of global leadership. Simply pointing fingers at Russia and China is insufficient. We need the G7 countries, which all either possess, host or endorse the use of nuclear weapons, to step up and engage the other nuclear powers in disarmament talks if we are to reach their professed goal of a world without nuclear weapons" — ICAN Executive Director Daniel Hogsta
Update 20 May 2023: the G7 leaders have just issued the final communique from their summit in Hiroshima. It claims they have "taken concrete steps to strengthen disarmament and non-proliferation efforts, towards the ultimate goal of a world without nuclear weapons with undiminished security for all" but it doesn't say what these steps are. That's because it can't.
What we got from the leaders' discussion on nuclear weapons yesterday was a rehash of ideas and proposals that have failed to deliver progress over the past three decades. They did not announce anything new or concrete. They couldn't even bring themselves to follow the G20 and TPNW member states by condemning all nuclear threats. Instead they reserved their condemnation for Russia's and North Korea's threats, which, while justified, fails to acknowledge how the G7's own nuclear doctrines are based on the threat to use nuclear weapons and so contribute to the acute danger these weapons pose to everyone.
---
The G7's detailed statement "G7 Leaders' Hiroshima Vision on Nuclear Disarmament", issued on May 19, falls far short of providing any meaningful outcomes for nuclear disarmament. After months of preparation and amid high expectations, the leaders are missing the moment to make the world safer from nuclear weapons, instead of confronting nuclear threats with a concrete, credible plan for nuclear disarmament – like the Treaty on the Prohibition of Nuclear Weapons- they are barely even paying lip service to the horrors of Hiroshima, the first city attacked by nuclear weapons.
"Disclosure under New START Treaty follows Russia's decision to suspend its participation in the nuclear agreement"
ALJAZEERA | May 16, 2023 aljazeera.com
The United States has announced it has 1,419 deployed nuclear warheads in its arsenal, as it urged Russia to release its data.
The US Department of State said it was releasing the information publicly as part of its commitments under the New START Treaty, appearing to reverse an earlier decision not to share the data.
"A storage facility cannot be "interim" without a final, designated location. Such a site does not exist. And when it comes to anything nuclear, there's no such thing as interim or temporary."
MY VIEW, THE SANTA FE NEW MEXICAN | May 13, 2023 santafenewmexican.com
The federal government's longstanding failure to build a repository for nuclear waste should not be left for New Mexico to solve.
Yet a decision last week by the Nuclear Regulatory Commission to issue a license to "temporarily" store tons of spent nuclear fuel in New Mexico could mean waste from commercial power plants across the nation will end up buried in the state. It's bad news for us, of course, but it's catastrophic for a nation that has never fully come to grips with the reality of nuclear power.
To recap: The commission said it will allow Holtec International to build and operate a nuclear waste storage facility near the Lea and Eddy County line in far southeast New Mexico.
This, despite the clear message from New Mexico's congressional delegation, governor and statewide elected officials that the state is not interested in being the one-size-fits-all nuclear storage solution for the country. New Mexico already hosts the Waste Isolation Pilot Plant. It stores transuranic waste, a byproduct of the country's nuclear defense program.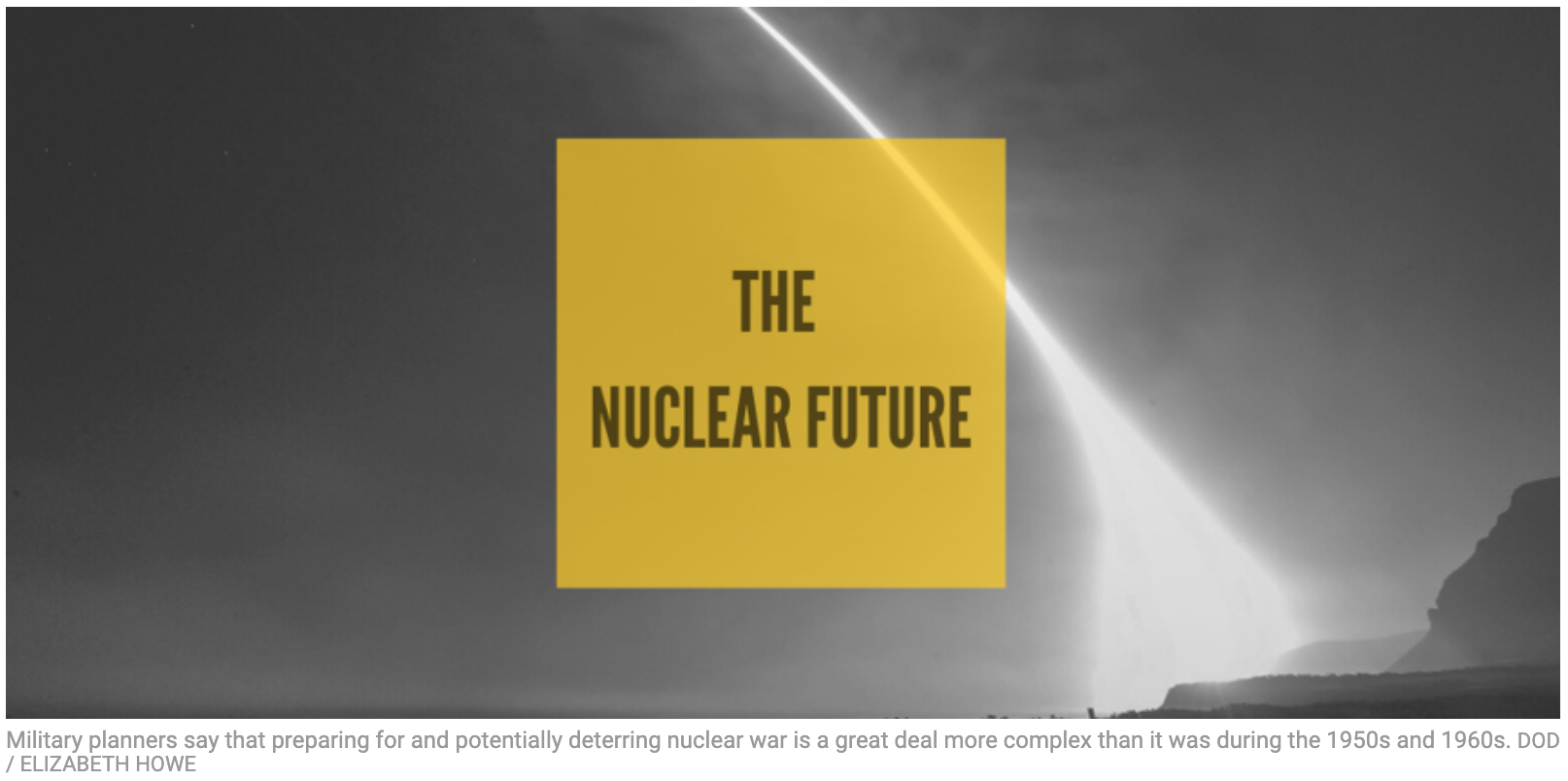 "The US, China, and Russia are locked in a high-tech race to perfect new nuclear capabilities, rendering some Cold War safeguards obsolete."

BY PATRICK TUCKER | Defense One March 14, 2022 defenseone.com
The risks associated with nuclear weapons are rising once again, the heads of three U.S. intelligence agencies told lawmakers last week, as Russia's brutal invasion of Ukraine intensified.
It wasn't supposed to be this way.
At the end of the Cold War, President George H.W. Bush boasted that the United States could now reduce its nuclear forces. But today's arsenals—and global politics—are much different than in 1991. U.S. leaders face threatening dictatorships in Moscow, Beijing, Tehran, and Pyongyang, all racing to create new nuclear bombs and ways to deliver them. Technology, it turns out, is making arms control harder, and that's forcing a big rethink about nuclear deterrence.
"…If we have nuclear weapons, and if we, heaven forbid, got to the point where we use them on each other, it would be catastrophic. And so I want this to be a conversation, not really a historical one about should we have dropped the bomb in Hiroshima and Nagasaki, but I want to be a conversation on: Should we work toward nuclear disarmament?"

KUNM February 24, 2022 kunm.org
New Mexico is where the atomic age began and the nuclear industry still looms large here, with Sandia National Laboratories and Los Alamos National Laboratory bringing significant economic impact.
But the Archbishop of Santa Fe wants the state, and the world, to forge a new way forward. Rev. John C. Wester issued a pastoral letter last month calling for total nuclear disarmament. Wester spoke to KUNM's Megan Kamerick about how his perspective changed during a visit to cities in Japan where the United States dropped atomic bombs in World War II. This interview is an excerpt of a longer interview that will air on New Mexico in Focus Friday Feb. 25 at 7 p.m.
JOHN C. WESTER: It was just so horrific, especially with the children. I mean, the whole thing was difficult. But I read that the children saw the bright light, and they ran to the window to see what the light was, you know, and I can only imagine what happened either then or shortly after with the exposure to the radiation.
German Foreign Minister Annalena Baerbock called for a "new momentum" to nuclear disarmament as she met with her Swedish counterpart with an eye toward a review of a non-proliferation treaty.
By Ali Harb Aljazeera aljazeera.com
Germany and Sweden have paired up to find ways to get the world's nuclear powers to move toward committing to disarmament. The foreign ministers met in Stockholm to plot the way forward ahead of next month's review of the Non-Proliferation Treaty (NPT).
Baerbock has been in talks with her Swedish counterpart Ann Linde and met with the Stockholm Initiative, a group of 16 countries seeking to get rid of nuclear weapons.
"Our joint goal is clear: a world free of atomic weapons," Baerbock said during a press conference with Linde.
"Our message to the review conference will be clear: Nuclear weapons countries have to push ahead with nuclear disarmament," read a statement from the initiative, calling for an irreversible, transparent end to nuclear weapons subject to oversight.
Russia's envoy to the talks, Mikhail Ulyanov, said on Twitter they "started quite successfully." Asked he if was optimistic, Iran's top negotiator, Ali Bagheri Kani, told reporters: "Yes, I am."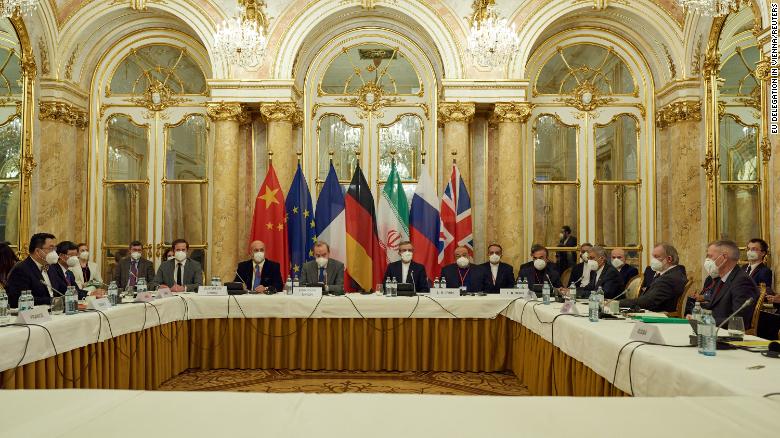 Vienna, Austria EU, Iranian and Russian diplomats sounded upbeat as Iran and world powers held their first talks in five months on Monday to try to save their 2015 nuclear deal, despite Tehran taking a tough stance in public that Western powers said would not work.
Diplomats say time is running out to resurrect the pact, which then-US President Donald Trump abandoned in 2018 in a move which infuriated Iran and dismayed the other powers involved — Britain, China, France, Germany and Russia.
European Union, Iranian and Russian delegates to the talks offered optimistic assessments after the new round began with a session of the remaining parties to the deal, without the United States — whom Iran refuses to meet face-to-face.
"I feel extremely positive about what I have seen today," Enrique Mora, the EU official chairing the talks, said after the meeting — the seventh round of talks aimed at reviving a deal under which Iran limited its disputed uranium enrichment program in return for relief from US, EU and UN economic sanctions.
Mora told reporters the new Iranian delegation had stuck to its demand that all sanctions be lifted. But he also suggested Tehran had not rejected outright the results of the previous six rounds of talks held between April and June.
"They have accepted that the work done over the first six rounds is a good basis to build our work ahead," he said. "We will be of course incorporating the new political sensibilities of the new Iranian administration."
2021 & Earlier
Calling for swift remedies to mend a fractured non-proliferation landscape, nuclear-weapon-free States demanded an immediate end to deterrence policies and the start of dismantling atomic arsenals, as the First Committee (Disarmament and International Security) moved into the third day of its general debate.
UNITED NATIONS MEETINGS COVERAGE GENERAL ASSEMBLY FIRST COMMITTEE SEVENTY-SIXTH SESSION, 4TH MEETING (PM)
As thousands of atomic bombs located around the world pose grave risks to humanity, delegates implored nuclear-weapon States to steer the planet onto a path of peace.  Some suggested such ways to do so, with delegates agreeing that dismantling nuclear arsenals must start now, in line with the Treaty on the Non-Proliferation of Nuclear Weapons and under safeguards established by the International Atomic Energy Agency (IAEA).  Many urged all nations with atomic arsenals to sign, ratify and fully implement existing conventions, including the Treaty on the Prohibition of Nuclear Weapons, which entered into force in January, and some decried the quarter of a century delay in entering into force the Comprehensive Nuclear-Test-Ban Treaty.  To rectify this, many called for nuclear-weapon States to sign and ratify it so that atomic bomb testing can become part of the past.
3 Oct 2020 – The United Nations General Assembly holds a high-level meeting to commemorate the International Day for the Total Elimination of Nuclear Weapons. Because of the COVID-19 pandemic, many leaders speak by pre-recorded video to call for a nuclear-weapon-free world.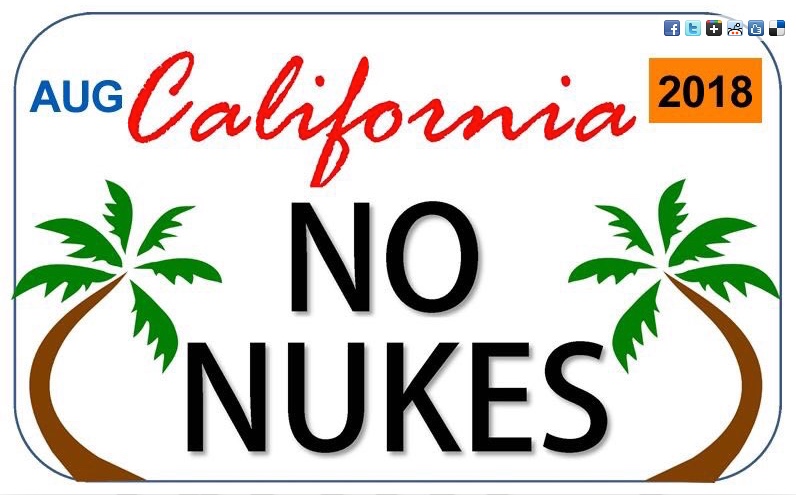 California State Legislature Passes Pro-Nuclear Disarmament Resolution
Sacramento–Assembly Joint Resolution 33 (AJR 33), introduced by Santa Barbara's State Assembly member, Monique Limón, passed in the state Senate today by a vote of 22 to 8. This marks a huge step forward in California's support of nuclear disarmament and puts the state at the forefront of this critical issue.
The resolution calls on federal leaders and our nation to embrace the Treaty on the Prohibition of Nuclear Weapons, make nuclear disarmament the centerpiece of our national security policy, and spearhead a global effort to prevent nuclear war. (More on the Treaty here.)
Rick Wayman, Deputy Director of the Nuclear Age Peace Foundation, a non-partisan, non-profit organization headquartered in Santa Barbara whose mission is to create a peaceful world, free of nuclear weapons, was asked by Limón to testify in support of the Resolution.
6.36 – Address of Nobel Committee leader Berit Reiss-Andersen on the choice of ICAN for the 2017 Peace Prize (view transcript)
35.12 – Presentation of the award to ICAN's Beatrice Fihn and Setsuko Thurlow
44.22 – ICAN Director Beatrice Fihn address (view transcript)
1.03.55 – Setsuko Thurlow address (view transcript)

"The Norwegian Nobel Committee has decided to award the Nobel Peace Prize for 2017 to the International Campaign to Abolish Nuclear Weapons (ICAN). The organization is receiving the award for its work to draw attention to the catastrophic humanitarian consequences of any use of nuclear weapons and for its ground-breaking efforts to achieve a treaty-based prohibition of such weapons. We live in a world where the risk of nuclear weapons being used is greater than it has been for a long time. Some states are modernizing their nuclear arsenals, and there is a real danger that more countries will try to procure nuclear weapons, as exemplified by North Korea. Nuclear weapons pose a constant threat to humanity and all life on earth."
The award was the lead story this morning on Germany's Deutsche Welle with a video interview with Yanthe Hall of ICAN Germany.
Democracy Now, Oct. 6: Amy Goodman interviews Tim Wright, Asia-Pacific director of ICAN on the Nobel award and the ban treaty. (watch segment).
Santa Fe, NM.
Nuclear Watch New Mexico strongly applauds the awarding of the Nobel Peace Prize to the International Campaign to Abolish Nuclear Weapons (disclosure: NukeWatch is one of ICAN's ~400 member groups around the world). This award is especially apt because the peoples of the world are now living at the highest risk for nuclear war since the middle 1980's, when during President Reagan's military buildup the Soviet Union became convinced that the United States might launch a pre-emptive nuclear first strike. Today, we not only have Trump's threats to "totally destroy" North Korea and Kim Jong-un's counter threats, but also renewed Russian fears of a US preemptive nuclear attack… Generally unknown to the American taxpayer, our government has quietly tripled the lethality of the US nuclear weapons stockpile…"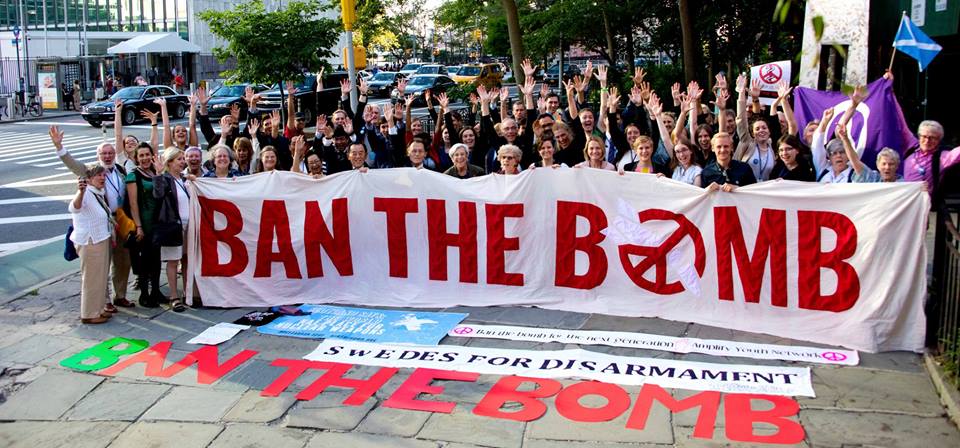 "So here is a question for all of us to think about: how will it change the global conversation when a treaty is affirmed by so many countries from all over the world? What will it feel like to know the clock is ticking down to nuclear weapons abolition . . . instead of worrying that the clock is ticking down to nuclear war? What will be different about the way people talk about the behavior of the states that still stubbornly hold on to nuclear weapons (and threaten each other with them)? In what light will it cast the countries that rely on the "nuclear umbrella" of countries like the US?"
-Joe Scarry, "Nuclear Weapons Abolition: What Will Be Different After September 20?"
122 Countries Overcome U.S. Opposition and Pass Landmark U.N. Global Treaty to Ban Nuclear Weapons
Ray Acheson
"The next process is going to be signing on to the treaty. It'll open for signature at the U.N. in New York on the 20th of September. And after that, they'll have to go through a national ratification process in order for it to enter into force. But that should all happen within the next year or two, and then it will be international law that is binding on all of the countries that have adhered to it, which means, in some cases, they're going to have to change their practices and policies that may enable or facilitate the use or the possession of nuclear weapons.

"There could be economic divestment, for example, from nuclear weapon-producing companies. There could be changes of national law that currently permit transit of nuclear weapons through territorial waters. There could be different shifts in policies and practices around military training exercises that currently involve the preparation to use nuclear weapons. And it will also be an iterative process of building up the stigmatization and the norm against nuclear weapons through the public policy, through parliaments and through national discourse."
Ray Acheson is director of Reaching Critical Will, the disarmament program of the Women's International League for Peace and Freedom; she represents WILPF on the steering committee of the International Campaign to Abolish Nuclear Weapons.
Rick Wayman:
"I think one of the most exciting things about this treaty process is the very deep and meaningful involvement of civil society, of my group, the Nuclear Age Peace Foundation, of the International Physicians for the Prevention of Nuclear War. Many of us were under the umbrella of an international campaign called the International Campaign to Abolish Nuclear Weapons. This voice really was unstoppable, but I also want to mention, to the credit of the nations that participated in this UN process, they gave civil society a big voice. It was really unlike any other UN process that I have been a part of before. I think that this, in many ways, revolutionized the way that international diplomacy and international treaties are made, so I'm very excited about that and very hopeful for the future."
Ira Helfland:
"The nuclear weapons states did not participate in this process and that's been the root of the problem. They have not wanted to honor their obligations under the Non-Proliferation Treaty to eliminate their nuclear arsenals. The rest of the world has finally lost patience. They're concerned by the overwhelming medical evidence that even a very limited nuclear war would be a worldwide catastrophe. The rest of the international community has issued a real challenge saying that they will no longer accept a situation in which nine countries hold the entire world, including their own people, hostage to these terribly dangerous nuclear arsenals."
Read the full interview at The RealNews.com
Rick Wayman is the Director of Programs and Operations at the Nuclear Age Peace Foundation. He also serves on the Board of Directors of the Alliance for Nuclear Accountability, and is Co-Chair of the 'Amplify: Generation of Change' network for nuclear abolition.
Ira Helfand is a co-Founder and Past President of Physicians for Social Responsibility and co-President of PSR's global federation the International Physicians for the Prevention of Nuclear War.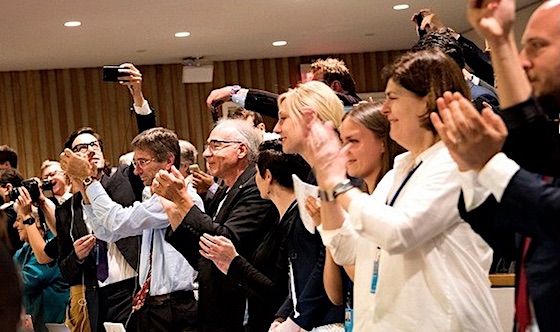 The treaty prohibits nations from developing, testing, producing, manufacturing, transferring, possessing, stockpiling, using or threatening to use nuclear weapons. It also prohibits them from assisting, encouraging or inducing anyone to engage in any of those activities. In addition, nations must not allow nuclear weapons to be stationed or deployed on their territory. (See FAQs on the treaty provisions at ICAN)
ICAN's executive director, Beatrice Fihn: "We hope that today marks the beginning of the end of the nuclear age. It is beyond question that nuclear weapons violate the laws of war and pose a clear danger to global security… No one believes that indiscriminately killing millions of civilians is acceptable- no matter the circumstance- yet that is what nuclear weapons are designed to do. Today the international community rejected nuclear weapons and made it clear they are unacceptable." (ref: ICAN)
Ray Acheson, director of the Women's International League for Peace and Freedom disarmament program, 'Reaching Critical Will': "This is a treaty made by people. By diplomats who got inspired by an idea and went home to change their government's positions. By activists writing, thinking, and convening, bringing together governments and civil society groups to figure out how to make things happen. By survivors who give their testimony despite the personal trauma of reliving their experiences… By campaigners who mobilize nationally to raise awareness and pressure their governments. By politicians who truly represent the will of their people and speak the truth in parliaments…" (Nuclear Ban Daily July 8)
Perry Project statement: UN Adopts New Treaty on the Prohibition of Nuclear Weapons
Arms Control Assoc: New Nuclear Weapons Prohibition Treaty Marks a Turning Point
Union of Concerned Scientists: Historic Treaty Makes Nuclear Weapons Illegal
Ploughshares Fund: A Stunning Rebuke To The Nuclear-Armed States
US, UK, France joint statement: "We do not intend to sign, ratify or ever become party to it."
Resources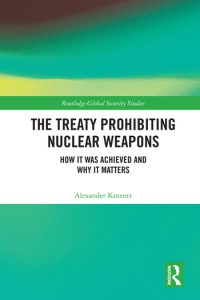 The Treaty Prohibiting Nuclear Weapons: How it was Achieved and Why it Matters
By Alexander Kmentt / Copyright Year 2021
"…An authoritative record of the negotiations and diplomacy behind the Nuclear Weapons Ban Treaty which aims to prohibit the deadliest weapons invented by humankind. Ambassador Alexander Kmentt was at the forefront of the efforts, started over ten years go, to raise awareness of the catastrophic humanitarian and environmental consequences of these weapons. He provides an insightful account of how a small group of countries, supported by civil society, overcame the opposition by major nuclear weapon states…"
---

---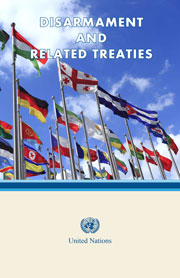 Disarmament and Related Treaties
Published 4 December 2014 by The United Nations Office for Disarmament Affairs, this publication contains the text of multilateral treaties that focus on nuclear weapons, and nuclear-weapon-free zones and other disarmament treaties.
PDF version available online here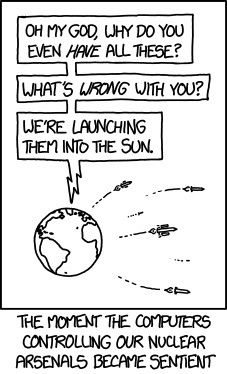 The urgency of banning nuclear weapons
Quotes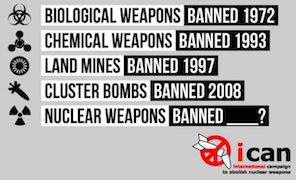 "Many citizens, scientists and laymen alike, view nuclear-weapons abolition as an essential milestone in the development of human civilization, a moral, ideological and practical campaign that could catalyze the transformation of international relations and improve the outlook for civilization at a critical time."