Atomic Histories & Nuclear Testing
See below for recent press & media related to Santa Fe Archbishop John C. Wester's Pastoral Letter "Living in the Light of Christ's Peace: A Conversation Toward Nuclear Disarmament"
ARMS CONTROL ASSOCIATION | January 13, 2023 armscontrol.org Media Contacts: Tony Fleming, director for communications, Daryl G. Kimball, executive director
(Washington, D.C.)—The Energoatom staff at Ukraine's Zaporizhzhia nuclear power plant (ZNPP) were selected as the 2022 Arms Control Persons of the Year through an online poll that drew more than 3,500 participants from nearly 80 countries.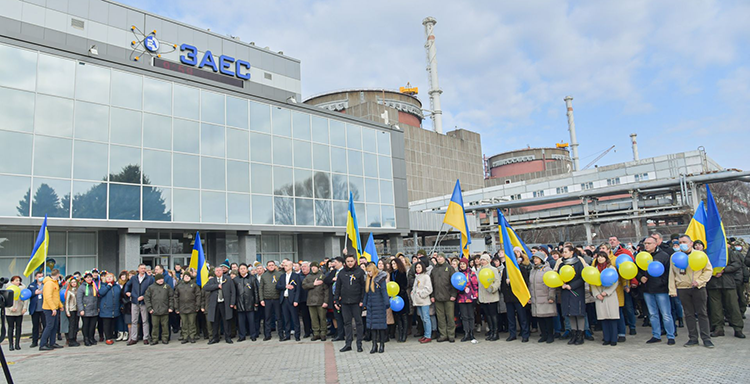 Zaporizhzhia staff gathered Feb. 16, 2022, for a day of unity celebrated by Energoatom's employees. (Photo: Energoatom)
The annual contest is organized by the independent, nongovernmental Arms Control Association to highlight positive initiatives—some at the grassroots level, some on the international scale—designed to advance disarmament, nuclear security, nonproliferation, civilian protection, and international peace, security, and justice.
---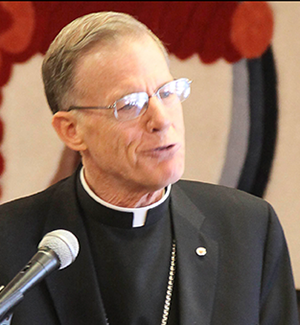 The runner-up in this year's contest was Archbishop John Wester of Santa Fe, nominated for preaching the nuclear disarmament gospel in a religious context. His January 2022 pastoral letter reflects the Catholic Church's long history of speaking out against the threats posed by nuclear weapons and calls on U.S. citizens to take "concrete steps toward abolishing nuclear weapons and ending the nuclear threat."
The December 2022 issue of Arms Control Today includes an interview with Wester by editor Carol Giacomo titled: "Making the Case That Nuclear Weapons Are Immoral."
Nuclear Watch Interactive Map – U.S. Nuclear Weapons Complex
Waste Lands: America's Forgotten Nuclear Legacy
The Wall St. Journal has compiled a searchable database of contaminated sites across the US. (view)
Related WSJ report: https://www.wsj.com