Through comprehensive research, public education and effective citizen action, Nuclear Watch New Mexico seeks to promote safety and environmental protection at regional nuclear facilities; mission diversification away from nuclear weapons programs; greater accountability and cleanup in the nation-wide nuclear weapons complex; and consistent U.S. leadership toward a world free of nuclear weapons.
New & Updated
"The Savannah River pit plant will cost about $11 billion to build, the NNSA said in its latest budget request: nearly two-and-a-half times as much as a preliminary estimate dating back at least to 2018. The Los Alamos pit plant will cost about $4 billion to build, the NNSA estimated in April, quoting figures from the project's critical decision 1 review. It will cost some $30 billion to operate both plants for about 50 years, the NNSA has estimated."
By: Dan Leone | defensedaily.com
The National Nuclear Security Administration cannot meet a legal requirement to make at least 80 new plutonium cores for intercontinental ballistic missile warheads in 2030, the agency's acting boss told lawmakers Thursday.
With the planned Savannah River Plutonium Processing Facility (SPPPF) up to five years behind scheduled, "based on our latest information we assess that meeting the 2030 [deadline] … is not going to be achievable," Charles Verdon, the acting administrator of the Department of Energy's National Nuclear Security Administration (NNSA), said in the final minutes of a hearing of the House Armed Services strategic forces subcommittee.
That cat had been part way out of the bag since late May, when Jill Hruby, the Biden administration's nominee to be the NNSA's permanent administrator, told the Senate Armed Services Committee that SRPPF at the Savannah River Site in Aiken, S.C., would be as many as five years late.
Verdon's testimony Thursday, however, clarified that without the SRPPF — to be built from the partially constructed Mixed Oxide Fuel Fabrication Facility in Savannah River's F-Area — the NNSA's other planned pit plant, at the Los Alamos National Laboratory, cannot shoulder the load on its own by 2030.
Both pit plants are eventually supposed to be capable of surging their manufacturing capacity and staff to single-handedly produce the needed 80 pits annually, but the NNSA has not said when that might be possible. The agency did not reply to a request for comment on Thursday.

Santa Fe, NM – The Biden Administration has finally released budget details for Department of Energy (DOE) programs that clean up Cold War contamination and radioactive and toxic wastes. In January the New Mexico Environment Department sued DOE in order to terminate a 2016 "Consent Order" that subordinated cleanup at the Los Alamos National Laboratory (LANL) to the budget that DOE wants, which is increased nuclear weapons production. The Biden Administration has responded by increasing proposed cleanup funding at the Lab by 33% from $226 million in FY 2021 to $333.5 million proposed for FY 2022 (which begins October 1, 2021).
At the same time the Biden budget request gives a top range estimate of total LANL cleanup costs of $8.43 billion through 2090. To put this in perspective, the Trump Administration proposed to cut cleanup at the Lab by $100 million to $120 million in FY 2021 (which Congress prevented) while successfully giving nearly $1 billion to LANL's nuclear weapons programs. Thus, the Biden request for LANL cleanup is nearly triple what Trump wanted.
Further, as a follow-on to the defective 2016 Consent Order, DOE produced a life cycle cost estimate that lowballed total LANL cleanup at $3.8 billion with a completion date of 2040. It explicitly stated that there was only 5,000 cubic meters of radioactive and toxic wastes to be treated, intentionally ignoring the 300,000 cubic meters of radioactive and toxic wastes in Area G (LANL's largest waste dump) that DOE plans to "cap and cover" and leave permanently buried above our regional groundwater, some three miles uphill from the Rio Grande.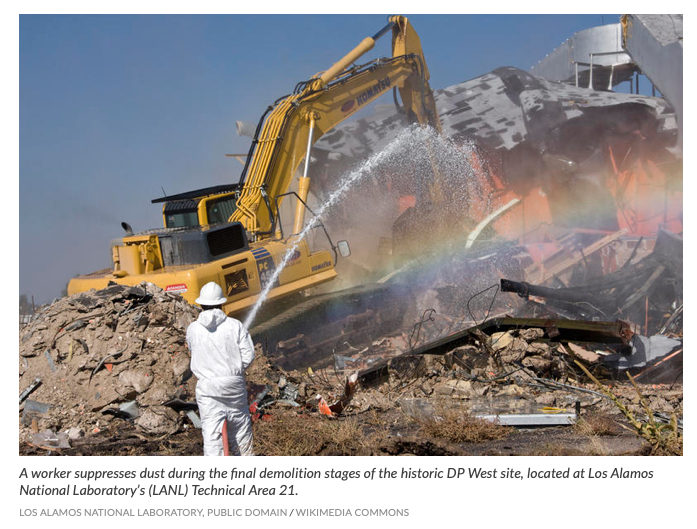 DOE Environmental Management released the Fiscal Year 2022 (FY22) Congressional Budget Request and asked for a $107.5 million increase over last year for legacy cleanup at Los Alamos National Laboratory (LANL). The FY22 EM funding request for cleanup at LANL totaled $333.5 million, which was a record request for cleanup at the Lab.
The Budget Request gives lifecycle costs. LANL has spent $3.8 billion on cleanup from 1997 to 2020. The high estimate is $4.6 billion for FY21 to FY90. This gives a total lifecycle cost of $8.4 billion from 1997 through 2090. The assumption included with these estimates is that most of the waste will remain buried at LANL. This is the first time DOE has mentioned legacy cleanup lasting until 2090. Last year the completion date was given as 2036.
Is legacy cleanup completion being pushed back to prioritize pit production? If DOE starts spending more on cleanup like this year in the future, shouldn't cleanup take less time? The numbers work out to DOE only spending an average of $50 million between now and 2090, so DOE must not have plans to spend $330 million annually through 2090.
during the worst pandemic in a century and when the treaty banning nuclear weapons became law, according to a new ICAN report. It's an inflation-adjusted increase of $1.4 billion from last year.
But that's not all. The report, "Complicit: 2020 Global Nuclear Weapons Spending," dug through thousands of pages of contracts and annual reports to bring you the full picture of nuclear weapons spending. Because it's not just countries' governments that are responsible for wasting resources on weapons of mass destruction. Companies, lobbyists and think tanks are all complicit in 2020 spending on nuclear weapons.
In 2020, the report finds that less than a dozen companies got $27.7 billion contracts to work on nuclear weapons. Those companies then turned around and spent $117 million lobbying decision makers to spend more money on defense. And they also spent upwards of $10 million funding most of the major think tanks that research and write about policy solutions about nuclear weapons.
This spending is immoral and contrary to international law. Every actor in the circle is complicit. It's time to speak up. Tell your country to stop spending money on nuclear weapons and join the TPNW. Protest a company that's building these weapons near you. Ask think tanks to stop accepting money from the companies building nuclear weapons.
Little change to workforce, operations expected
Adrian Hedden Carlsbad Current-Argus |
A new primary contractor could be coming to the Waste Isolation Pilot Plant as the U.S. Department of Energy sought bids from prospective contractors for the management and operations of the nuclear waste site near Carlsbad.
The current holder of the contract Nuclear Waste Partnership began its work at WIPP in 2012 and its contract will expire in September 2021, with an extension carrying the contract through September 2022.
At that point, Vice President of Marketing and Communications at Amentum – NWP's parent company – Keith Wood said the contractor's lifetime would end.
"NWP was established to perform the current mission for the current contract," Wood said. "That company will not be bidding on the next contract. Their sole mission was to perform the work under the current contract."
Wood declined to comment on if any Amentum-led subsidiaries would bid on the new contract to operate WIPP.
The four-year contract will include six, one-year extension options and was valued at $3 billion over a 10-year performance period.
The National Nuclear Security Administration's detailed fiscal year 2022 budget request was (partially) unveiled last week on Friday, May 28, in the evening before a long holiday weekend. The Biden Administration's total NNSA FY22 budget request is just under $20 billion, requesting of $15.48 billion for NNSA "Total Weapons Activities" and following suit with Trump's excessive nuclear weapons budget of $15.35 billion that Congress appropriated for FY 2021.
Of particular note in the budget request is that it will cost more than double what the National Nuclear Security Administration had previously estimated for the total of DOE's Plutonium Bomb Plant construction at Savannah River Site in South Carolina. The facility would be a converted production plant for the fabrication of plutonium "pits," the triggers for nuclear warheads. The cost for the plant has ballooned from the previous estimate of $4.6 billion to a now staggering $11.1 billion. What's more, the schedule for the facility's initial operation has slipped up to five years. The plans for the SRS Plutonium Bomb Plant have already run far over budget and fallen behind schedule, and "these troubling and potentially debilitating developments foreshadow problems to come to the challenging pit-production project," according to the public interest group Savannah River Site Watch.

Will That Change in Future Years?
Santa Fe, NM – In a classic move that discouraged media coverage, the Department of Energy's semi-autonomous National Nuclear Security Administration (NNSA) released its long delayed FY 2022 Congressional Budget Request around 7:30 pm EST Friday, May 28, at the very beginning of the long Memorial Day weekend.
Nuclear Watch New Mexico strongly opposed the 25% FY 2021 increase that the Trump Administration bequeathed to NNSA's nuclear weapons programs. That massive increase was originally sold in testimony to Congress as essential to maintaining the nuclear deterrence but later revealed as necessary to cover NNSA cost overruns and blown schedules.[i] Nevertheless, the Biden Administration has institutionalized Trump's excessive nuclear weapons budget with a FY 2022 request of $15.48 billion for NNSA "Total Weapons Activities," a slight increase above the $15.35 billion that Congress appropriated for FY 2021. The key drivers are new and upgraded nuclear warheads and new production facilities to manufacture them, particularly for plutonium "pit" bomb cores.
As background, DOE's nuclear weapons and environmental management programs have been on the Government Accountability Office's "High Risk List" for project mismanagement and waste of taxpayers' dollars for 28 consecutive years.[ii] Related, the Congressional Budget Office (CBO) has just released a report that projects a 28% increase in costs over the next decade for so-called "modernization" of U.S. nuclear forces,[iii] which between the Defense Department and DOE is expected to cost approximately $1.7 trillion over 30 years. To add to this, the Government Accountability Office has recently issued a report that points to probable technical and schedule problems with "modernization" that will likely cost yet more and could lead to the expansion of the U.S. nuclear weapons stockpile, providing more fuel for the growing nuclear arms race.
"In addition, the Government Accountability Office GAO noted in a report published last September that the NNSA has been unable to plan for and complete major construction projects on time and, over the past two decades, Los Alamos has twice had to suspend laboratory-wide operations after the discovery of significant safety issues."

By: Kingston Reif | armscontrolnow.org
The Energy Department's cost to build the infrastructure to produce new plutonium cores for U.S. nuclear warheads could be as high as $18 billion, according to a department estimate and yet-to-be-released internal estimates detailed to Arms Control Today by a congressional source.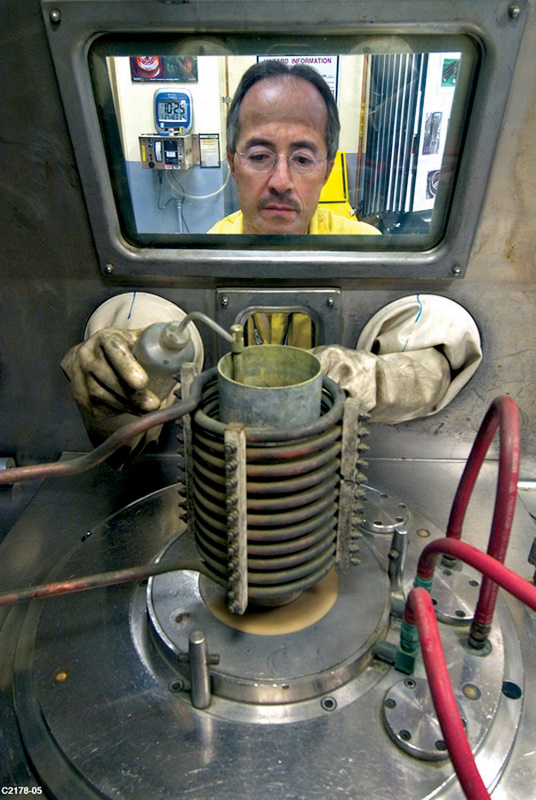 A technician at Los Alamos National Laboratory in New Mexico manipulates plutonium as part of the U.S. Stockpile Stewardship Program in 2005. Current plans call for expanding the production of plutonium pits at both Los Alamos and at the Savannah RIver Site in South Carolina. (Photo: U.S. Energy Department)
The updated price tag is nearly two and half times larger than earlier projections and is likely to raise fresh doubts about the affordability of the department's aggressive plans to sustain and modernize U.S. nuclear warheads and their supporting infrastructure.
The updated estimates are not reflected in the budget plan for the National Nuclear Security Administration (NNSA) that the Trump administration bequeathed to the Biden administration. That means future NNSA weapons program budget requests will require significant increases beyond current plans just to accommodate the growth in the projected cost of pit production.
The sad fact is that if the world's inclination to settle disputes by going to war — whether it be in Iraq or in Israel and Palestine or any of the other dozens of places that teem with hate — results in the use of a nuclear weapon, we won't have enough people to decorate all the graves.
BY: Dave Zweifel | The Capital Times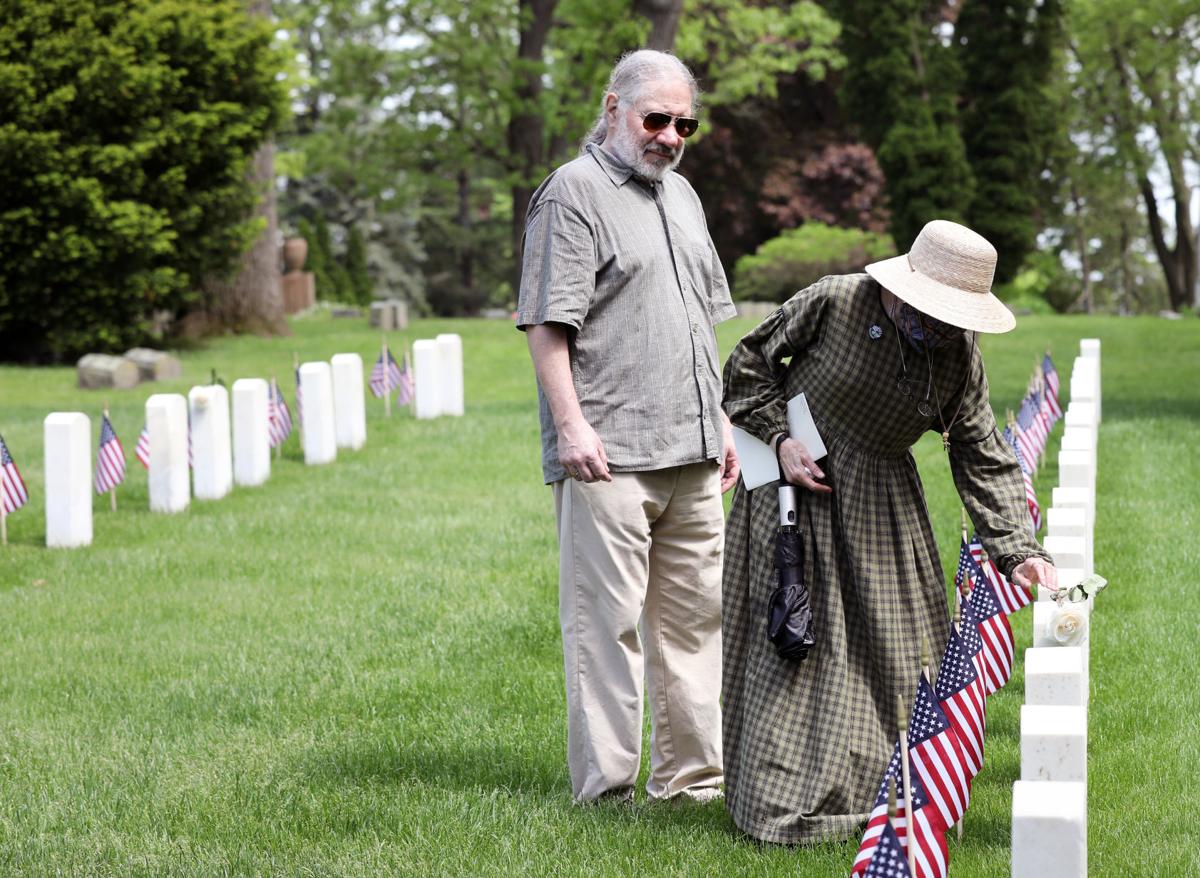 Today's the day we pause to remember the tens of thousands of men and women who paid the ultimate price in service to their country.
When I was a kid this day was known as "Decoration Day." I remember my grandparents taking us kids to the old cemetery in New Glarus to place flowers and flags, decorations if you please, on the graves of their own departed family members. Two of them had served in the Civil War.
Other folks placed memorials on the gravestones of relatives who had served in World War I, and still others paid their respects to those who gave their lives in the most recent world conflict at the time, World War II.
Today thousands of Americans will also be remembering loved ones killed in Vietnam, then Iraq and Afghanistan and countless other "skirmishes" where our leaders chose to place our young people in harm's way. Sometimes the cause was good, more often, not so good.
A couple of weeks ago Buzz Davis, a tireless advocate for peace from Stoughton who's now retired in Arizona, sent along a column he had written that once again calls on all of us to work harder for peace than we consistently do for war.
A Vietnam veteran himself, Davis was a founder of our local Vietnam Veterans for Peace and is still active in the national organization Vets for Peace that spreads the message that we need to find ways to solve our conflicts other than killing each other and filling cemeteries with gravestones to decorate on what we now call Memorial Day.
"Humans have been alive for 200,000 to 300,000 years," he points out. "Nearly every major discovery has been used to 'improve' our ability to kill others.
"From learning how to sharpen sticks, to metal instruments, to explosive power, boats, airplanes, guns, germs and now nuclear reactions — inquisitive men and women 'discover' these and, mostly boys, use them to kill others," he adds.
If Savannah River is delayed in reaching its pit-making goal, Los Alamos lab could be pressured to produce more than 30 pits a year.
"All of this may boomerang on Los Alamos lab, which has been incapable of making a pit for the nuclear weapons stockpile since 2011," said Jay Coghlan, executive director of Nuclear Watch New Mexico.
Coghlan was referring to a contract in which the lab made 11 pits in one year for Navy missiles a decade ago. That was the lab's highest pit production, which soon ceased.
BY: Scott Wyland | © Santa Fe New Mexican
Los Alamos National Laboratory would receive about $1 billion for plutonium operations at the heart of its effort to produce 30 nuclear bomb cores by 2026, according to a partial budget the White House released Friday.
The amount would be more than a 20 percent jump from the $837 million being spent this year on the lab's plutonium work, a clear signal that President Joe Biden will echo his predecessors' calls to modernize the nuclear stockpile to deter China, Russia, Iran and other adversaries that have growing first-strike abilities.
The lab's $837 million plutonium budget this year was 2.7 times larger than the prior year's allocation of $308 million.
The lab's plutonium funding was part of the draft budget for the National Nuclear Security Administration, the federal agency in charge of the country's nuclear weapons program.
The budget also requests $603 million — a 37 percent increase — to move the Savannah River Site in South Carolina toward producing 50 pits a year.
Piketon fears more radiation risk from demolition of former uranium plant. … The demolition in Piketon comes after the federal agency promised the community, which has experienced high cancer rates, independent testing for radiological contaminants. The results are expected to come later this year.
ABQJournal – May 26, 2021 — 
SANTA FE, N.M. — Huge growth at LANL in plutonium pit production raises ethical issues.
THANK YOU to everyone who contacted city officials opposing the Regional Coalition of LANL Communities!

BY MAIRE O'NEILL maire@losalamosreporter.com| losalamosreporter.com  
Members of the Regional Coalition of LANL Communities board voted Friday afternoon to approve a resolution authorizing the direction of the winding down of the RCLC at the point of its termination. The resolution also directs legal counsel Nancy Long, treasurer Los Alamos County Councilor David Izraelevitz and Los Alamos County as the fiscal agent to take all actions necessary and warranted to see that the termination and all matters that need to be attended to upon that termination, are taken care of in an orderly way and ratifies actions that have been taken to this point to accomplish that.
Long said the resolution is the beginning of the process and that the resolution expresses the will of the board that the RCLC be wound down and terminated officially with the actions that are necessary to accomplish that.
"We foresee that there will be matters relating to payment of invoices and completing the audit for the fiscal year and we're hoping to accomplish all those in short order if the board decides this is the direction it wants to take with the organization," she said.
Ironically, the motion to proceed with the resolution for the disbandment and dissolution of the Coalition was made by Rio Arriba County Commissioner Christine Bustos who later said it was her first and last meeting. Santa Fe City Councilor Michael Garcia seconded the motion. Garcia had abstained during voting with his own government in decisions regarding the Coalition.
Only five member entities were represented at the meeting and all five voted in favor of the resolution. Absent were Santa Fe County, Taos County, Jemez Pueblo and Ohkay Owingeh Pueblo.
Garcia thanked the community members for their constant engagement in the RCLC process.
"I think its critical that in the RCLC or any other entity community engagement is critical and I believe that as we move forward through this process we still need to continue to keep our community members engaged and make sure we are working towards our best interests," he said.
Espanola Mayor Javier Sanchez said he learned a lot in terms of what Espanola needs to do in terms of advocacy and what need to be done to champion issues improve the lives of constituents.
"I believe strongly that Pope Francis is right. For peace to flourish, we have to lay down weapons," [Archbishop of Santa Fe John Wester] said, referring to Pope Francis' statement that even the possession of atomic weapons of war was immoral.
"And any continuing development of nuclear weapons, and refining them, is going in the wrong direction."
BY: T.S. Last / Journal North
Published: Wednesday, May 26th, 2021
Copyright © 2021 Albuquerque Journal
SANTA FE – Archbishop of Santa Fe John Wester praises much of the work being done at Los Alamos National Laboratory. The lab's expertise greatly contributes to developments in bioscience, computer science, engineering, medicine and modeling that helped the nation navigate through the COVID-19 pandemic.
But it also builds bombs – the kind capable of killing massive numbers of people. And that's not an easy thing for him – and some Catholics working for the lab – to reconcile.
Wester says that as the archdiocese within which the lab operates, the Santa Fe Archdiocese has a "moral responsibility" to facilitate discussion about the lab's national security mission, most of which is dedicated to weapons production.
"I believe strongly that Pope Francis is right. For peace to flourish, we have to lay down weapons," he said, referring to Pope Francis' statement that even the possession of atomic weapons of war was immoral. "And any continuing development of nuclear weapons, and refining them, is going in the wrong direction."
Wester's remarks come just as Los Alamos National Laboratory is expanding its national security mission through production of plutonium pits, the cores of nuclear warheads that detonate the bombs. As a direct result of the project, the lab has begun expanding into Santa Fe, the city named for St. Francis of Assisi.
The pope's 2019 statement was the harshest condemnation of weapons of mass destruction to date from the church. He could have been speaking about LANL and its new mission to manufacture plutonium pits when he said, "In a world where millions of children and families live in inhumane conditions, the money that is squandered, and the fortunes made in the manufacture, upgrading, maintenance and sale of ever more destructive weapons, are an affront crying out to heaven."
These lawmakers represent states with a direct interest in pouring billions into modernizing and building new weapons.

By: Marcy Winograd and Medea Benjamin | responsiblestatecraft.org

Democrats might control the legislative and executive branches of the U.S. government right now, but a small Republican-dominated Intercontinental Ballistic Missile (ICBM) Coalition exercises outsized influence in a frightening campaign for nuclear rearmament.
The coalition, comprising six senators from states that house, develop, or test underground land-based nuclear weapons, is pushing a wasteful and dangerous $1.7 trillion, decades-long plan to produce new nuclear weapons, some with warheads 20 times more powerful than the atomic bomb dropped on Hiroshima.
While the 1980s witnessed the nuclear freeze and a mass movement to demand nuclear disarmament between the U.S. and Soviet Union, the 1990s gave birth to the missile caucus, the Congressional engine careening the U.S. into a renewed nuclear arms race.
Action Alerts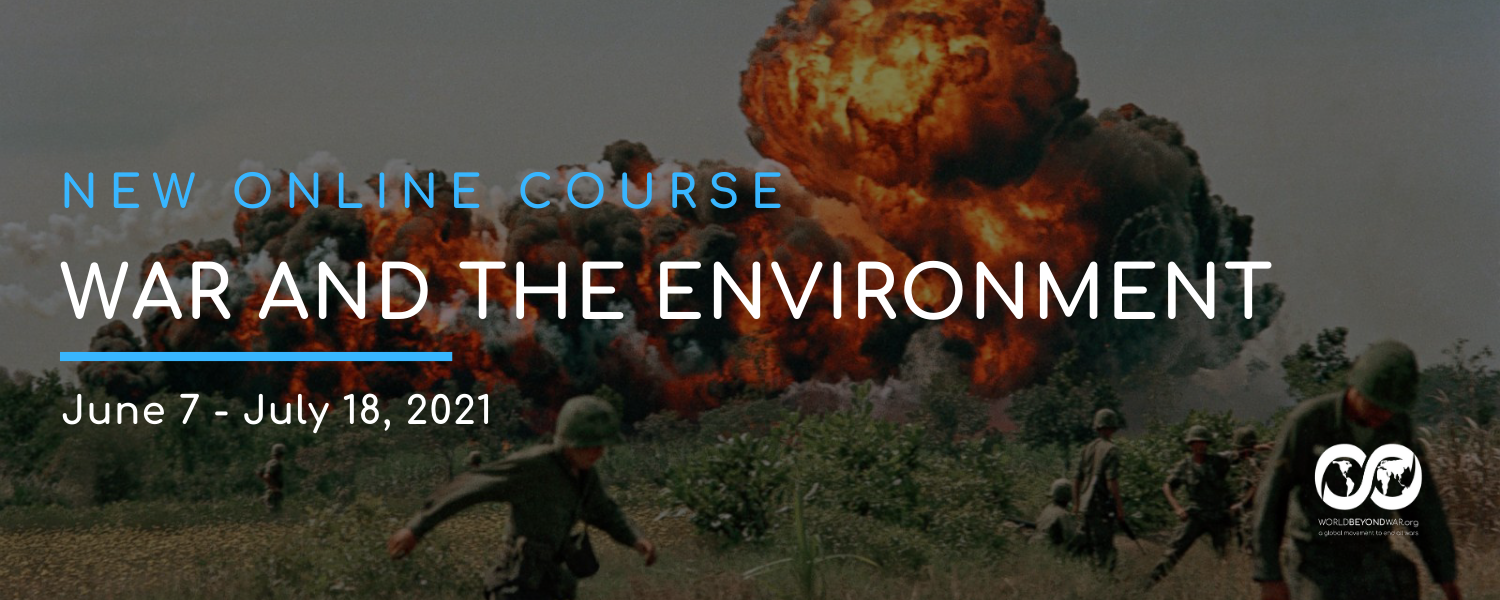 Start: Monday, June 07, 2021 
•

 12:00 PM 

•

 Eastern Daylight Time (US & Canada) (GMT-04:00)
End:

 Sunday, July 18, 2021 

•

 12:00 PM 

•

 Eastern Daylight Time (US & Canada) (GMT-04:00)
Host Contact Info: 

Phill: education@worldbeyondwar.org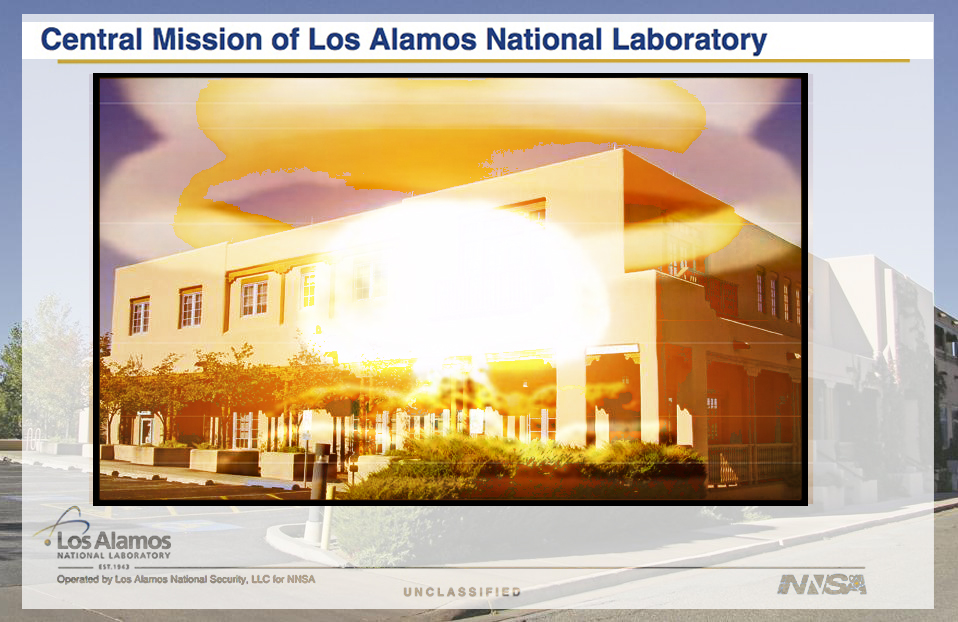 Every Friday and Saturday from noon to 1 pm – Protest LANL signing a 10-year lease (for the former Descartes building) to establish itself in Santa Fe at the corner of Guadalupe and W. Alameda. JOIN US!  We'll have banners.  Please bring a sign.


Non-compliance with 2016 Consent Order causing unacceptable delays, threatening public health and the environment
Click above for more information on the entry into force of the Nuclear Ban Treaty
Nuclear Media
In 1957, America narrowly averted a nuclear meltdown at the Rocky Flats plant in Colorado. A new book explores how close we all came to disaster.
ANDREW COHEN | theatlantic.com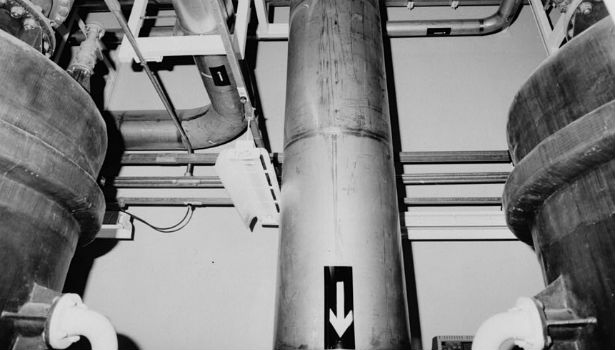 On September 11, 1957 a national catastrophe was unfolding, one you likely have never heard about before. At the Rocky Flats nuclear weapons facility near Denver, inside the plutonium processing building, a fire had started in an area designed to be fireproof. Soon it was roaring over, through, and around the carefully constricted plutonium as one Cold-War-era safety feature after another failed. The roof of the building, the building itself, were threatened. And plumes of radioactive smoke went straight up into Colorado's late summer night air. High into the air, if you believe the witnesses.

For 13 hours on the night of the 11th, into the morning the next day, the fire raged inside that building, until firefighters put it out (with water — exposing themselves, and perhaps the entire front range of Colorado, to an even greater risk of radiation). When it was over, Energy Department officials, and the Dow Chemical officials who then ran the facility, did not share the extent of the catastrophe, or the radiation danger, with local officials or the media. For years, no one really knew how bad it had been, what it meant for those exposed to the radiation, or how such a dangerous event could be prevented in the future.
In the Dark of the Valley is the first feature film to focus on the Santa Susana Field Laboratory, a former nuclear and rocket-engine testing site near Los Angeles. The film is an in-depth exploration into the site's long history of cover-ups and negligence by site owners Boeing, NASA, and the Department of Energy. It also tells the harrowing story of how a community of mothers, led by Melissa Bumstead, have dealt with the struggles of childhood cancer and their new found life of environmental advocacy.
More Nuclear News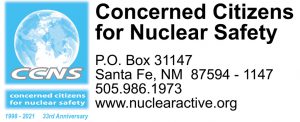 Last week the New Mexico Environment Department virtual public hearing on the new shaft to expand the Waste Isolation Pilot Plant (WIPP) took place over four days, from Monday through Thursday.  The public comment period ended on Friday.

[A special shout out to all those who submitted public comments.  THANK YOU!!!] 
The hearing process continues until at least October with the filing of post-hearing documents by the Parties supporting the expansion, including the Hazardous Waste Bureau of the Environment Department https://www.env.nm.gov/hazardous-waste/ , the Department of Energy (DOE), and Nuclear Waste Partnership, LLC, the contractors at WIPP.  https://wipp.energy.gov/
The Parties opposing the expansion are:  Southwest Research and Information Center http://www.sric.org/ ; CCNS http://nuclearactive.org/ ; Nuclear Watch New Mexico https://nukewatch.org/ ; and individuals, including longtime activist Deborah Reade; former Environment Department Regulator for WIPP, Steve Zappe; and a former Environmental Evaluation Group (EEG) scientist, George Anastas.  Dr. James Channell, another former EEG scientist, testified in opposition to the new shaft and WIPP's physical expansion.  http://www.sric.org/nuclear/eeg.php
CCNS anticipates the Hearing Officer's report and the Parties' comments will end up on the Environment Department Secretary's desk in mid-September.
LANL Cleanup: What you can do
Please consider attending and giving public comments at local public meetings concerning cleanup at Los Alamos. Public comments do make a difference!
Follow NukeWatch and submit public written comments. We frequently comment on environmental impact statements and provide sample comments. Support Us: https://nukewatch.org/get-involved/donate/
Must Reads
Staying engaged in the effort to prevent nuclear war requires an understanding of the history of nuclear weapons and the impact their use and production has had on people and the planet. View this list from Ploughshares Fund of some of the best books about nuclear weapons. From well-loved classics to warnings from the past few years, we hope that this selection sheds some light on the need to prevent the spread and further use of nuclear weapons.
Not for the Faint of Heart: Lessons in Courage, Power, and Persistence, Amb. Wendy R. Sherman. The lead negotiator of the Iran nuclear agreement takes readers inside the world of international diplomacy. An autobiography of one of our most effective negotiators — often the only woman in the room. She shows how we can learn to apply core skills of diplomacy to the challenges in our own lives and to the eventual elimination of nuclear weapons.
Thermonuclear Monarchy: Choosing Between Democracy and Doom, Elaine Scarry. Literary critic and social theorist makes the case that the US president's unchecked power to order a nuclear weapons launch is a violation of the Constitution, and is fundamentally incompatible with the deliberative principles of democracy.
The 2020 Commission Report on the North Korean Nuclear Attacks Against the United States: A Speculative Novel, Jeffrey Lewis. Middlebury College professor, nuclear expert and Ploughshares Fund grantee explores a hypothetical nuclear war involving the United States, North Korea, South Korea and Japan rooted in real historical events, quotes, and facts about nuclear weapons technology. This work of fiction is presented in the style of a report from a government commission charged with investigating the events.
The Doomsday Machine: Confessions of a Nuclear War Planner, Daniel Ellsberg. Former United States military analyst offers his recollections and analysis of a cache of secret documents related to the US nuclear arsenal. The book contains chilling details about narrowly-avoided disasters, flawed launch protocols, and philosophies and strategies regarding the true purpose of the US nuclear arsenal.
My Journey at the Nuclear Brink, William J. Perry. The 19th US Secretary of Defense tells the story of his coming of age during the nuclear era, and reflects on how his experiences over the past 70 years have shaped his thinking about the threat posed by nuclear weapons.
Full Body Burden: Growing Up in the Nuclear Shadow of Rocky Flats, Kristen Iversen. The author, who grew up near the Rocky Flats nuclear weapons facility, presents a detailed account of the government's efforts to hide the effects of the toxic and radioactive waste released by Rocky Flats, and of local residents' attempts to seek justice in court.
Command and Control: Nuclear Weapons, the Damascus Accident, and the Illusion of Safety, Eric Schlosser. Acclaimed author and producer explores the history of nuclear weapons systems in the United States. Sobering accounts of nuclear accidents, near misses, and technological developments raise questions about the management and safety of the US nuclear arsenal. Eric Schlosser is a member of the Ploughshares Fund Board of Directors.
African Americans Against the Bomb: Nuclear Weapons, Colonialism, and the Black Freedom Movement, Vincent Intondi. Associate Professor of African-American Studies at Montgomery College chronicles the history of African-American involvement in the nuclear disarmament movement. and explores the connection between nuclear issues and the fight for racial equality.
Arsenals of Folly: The Making of the Nuclear Arms Race, Richard Rhodes. This Pulitzer Prize-winning author chronicles events during the Ronald Reagan administration that led to the US and the Soviet Union coming within minutes of nuclear war, setting the stage for the 1986 summit in Reykjavik, Iceland.
Able Archer 83: The Secret History of the NATO Exercise That Almost Triggered Nuclear War, Nate Jones. National Security Archive staffer writes about a NATO military exercise that the Soviet Union initially mistook for a real nuclear first-strike.
Hiroshima, John Hersey. Required reading for any aspiring journalist, nuclear policy analyst, or anyone interested in the history, this short book collects essays originally published in the New Yorker written about survivors of the atomic bombing of Hiroshima, Japan.
A graphic novel by Andy Kirk with artist Kristian Purcell
"The U.S. tested nearly a thousand atomic weapons in the Nevada desert 125 miles north of Las Vegas…. Did they really build fake towns out in the desert and then blow the whole place up with atomic bombs? And the answer is yes, in fact, they did do that…
---
"The purpose as stated by the civil defense agencies of creating these "Doom Towns" and then widely disseminating on film their being destroyed was to encourage Americans to be concerned about the possibility of civilians being the target of nuclear attack."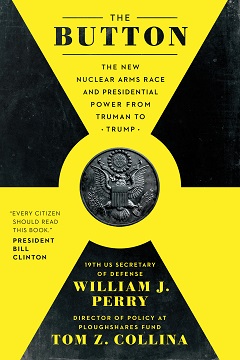 The President has the power to end the world in minutes. Right now, no one can stop him.
Since the Truman administration, America has been one "push of a button" away from nuclear war—a decision that rests solely in the hands of the President. Without waiting for approval from Congress or even the Secretary of Defense, the President can unleash America's entire nuclear arsenal.
Almost every governmental process is subject to institutional checks and balances. Why is potential nuclear annihilation the exception to the rule? For decades, glitches and slip-ups have threatened to trigger nuclear winter: misinformation, false alarms, hacked warning systems, or even an unstable President. And a new nuclear arms race has begun, threatening us all. At the height of the Cold War, Russia and the United States each built up arsenals exceeding 30,000 nuclear weapons, armed and ready to destroy each other—despite the fact that just a few hundred are necessary to end life on earth.
From former Secretary of Defense and Stanford professor of international relations William Perry and nuclear policy think-tank director Tom Collina, The Button is a fascinating narrative of our living nuclear history—one in which the players hold the fate of the whole world at their fingertips—and a look at presidential power from Truman to Trump.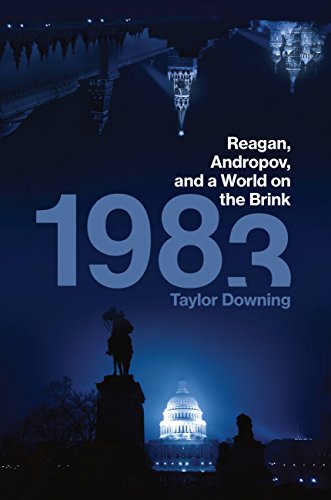 Taylor Downing, Da Capo Press, 4/24/18
Recently, a declassified report lifted the veil on the events of a week in November 1983, the year KAL007 was shot down and America watched "The Day After", when we had in fact, a very close brush with World Death. The Able Archer story is a timely and important reminder of the variety of things that can happen to drive a situation to the brink of nuclear disaster when there is posturing and provocation and no trust.
Excerpts from the Christian Science Monitor book review:
"Able Archer 83 was sparked by a routine NATO military exercise. But, as writer Taylor Downing documents in "1983: Reagan, Andropov and a World on the Brink", a carefully-researched and absorbing book, it occurred when mistrust and suspicion between the superpowers was sky-high. Indeed, relations were so tense that Soviet political and military leadership believed the exercise was a ruse to enable NATO to launch a pre-emptive strike… The Soviets concluded that this was not an exercise but the real thing and put their own military on the highest readiness level. So fully armed fighter planes sat continuously idling on runways waiting for a signal to take off. Meanwhile, in Washington, nothing seemed amiss. Only much later did the United States realize that Soviet leaders had been petrified with fear. A top-secret US report concluded, "We may have inadvertently placed our relations with the Soviet Union on a hair trigger." (source: CSM)
More on Able Archer: Slate's cover story from April 2017:
The Week the World Almost Ended- In 1983, the U.S. simulated a nuclear war with Russia- and narrowly avoided starting a real one. We might not be so lucky next time..
Quotes
"A nuclear war between any nuclear states, using much less than one percent of the current nuclear arsenal, would produce climate change unprecedented in human history. A small nuclear war could reduce food production by 10 to 40 percent for a decade, with massive increases in ultraviolet radiation (which causes deadly skin cancers)."
— Alan Robock, professor of climate science in the Department of Environmental Sciences at Rutgers University
From the article: Professor: Nuclear war might cause crop failures, famine; ways to prevent oakridger.com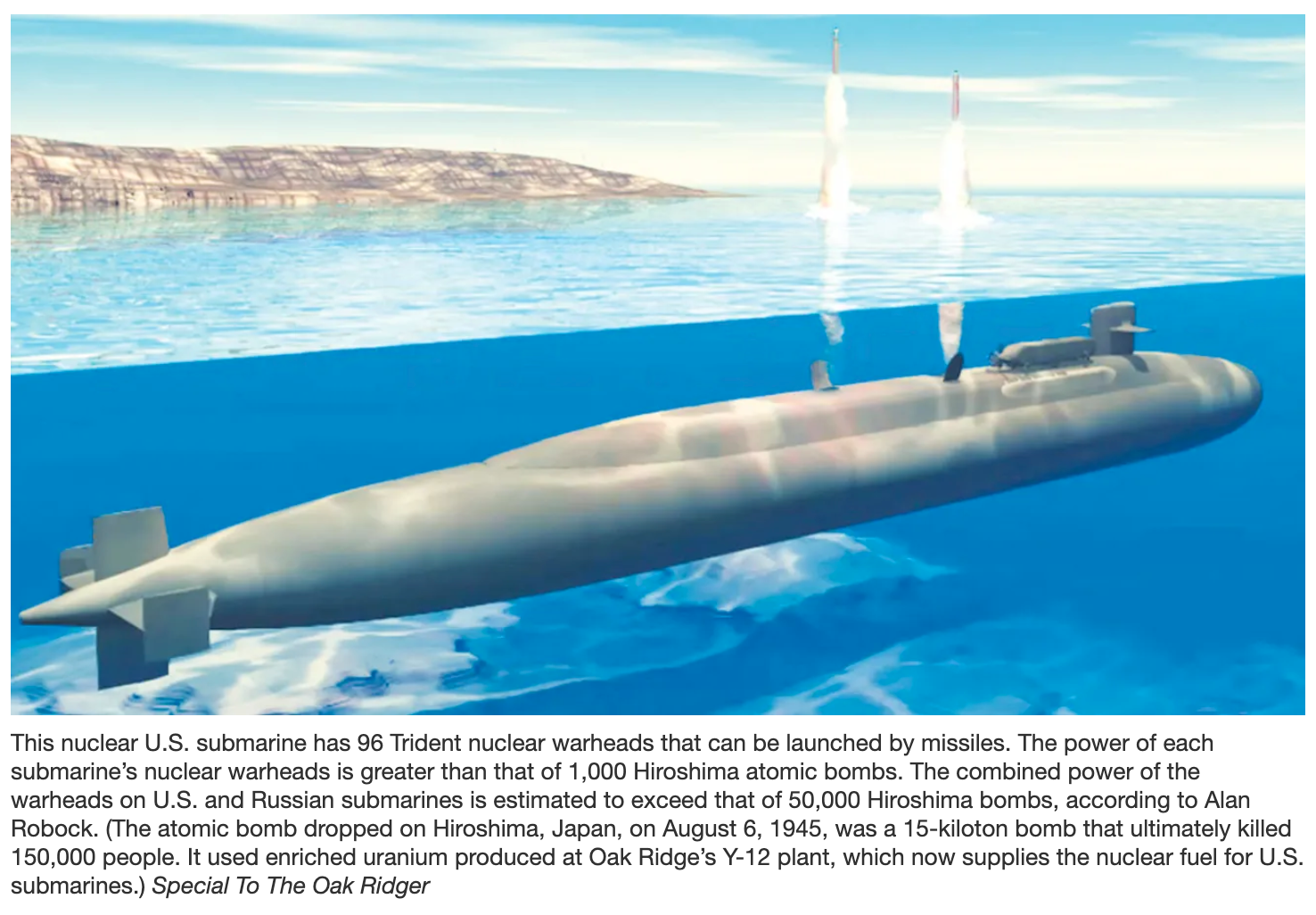 "Regretfully, being rational does not work…Wise women and men have rationally explained, researched, and estimated what will happen to the world in nuclear war. They've talked and lobbied for decades. But the boys with nuclear toys continue their march toward oblivion."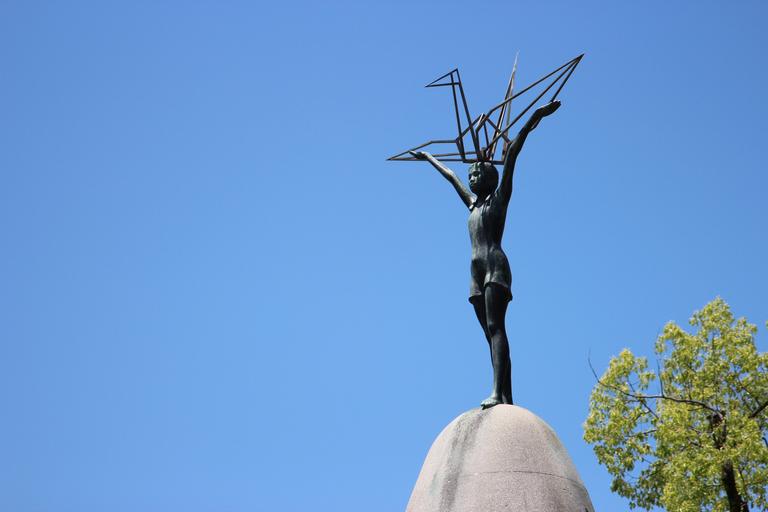 Plain Talk: On this Memorial Day, consider getting rid of instruments of death – Buzz Davis

"One cannot level one's moral lance at every evil in the universe. There are just too many of them. But you can do something and the difference between doing something and doing nothing is everything."

Daniel Berrigan – from the book "Daniel Berrigan: Essential Writings.
"It's long past time to demystify the nuclear enterprise, to strip away the fear and trembling, and ask how many weapons are needed to do what."

We Don't Need a Better Nuclear Arsenal to Take on China – Fred Kaplan, SLATE News