Through comprehensive research, public education and effective citizen action, Nuclear Watch New Mexico seeks to promote safety and environmental protection at regional nuclear facilities; mission diversification away from nuclear weapons programs; greater accountability and cleanup in the nation-wide nuclear weapons complex; and consistent U.S. leadership toward a world free of nuclear weapons.
New & Updated

"Under Work Processes, the document says contrary to the requirements, Triad failed to perform work consistent with the approved instructions, procedures or other appropriate needs."
BY MAIRE O'NEILL, LOS ALAMOS REPORTER | May 31, 2023 losalamosreporter.com
Plutonium Facility PF4 at Los Alamos National Laboratory. Photo Courtesy LANL
Jill Hruby, the Department of Energy Undersecretary for Nuclear Security and Administrator for the National Nuclear Security Administration has issued a preliminary notice of violation (PNOV) to Triad National Security, LLC citing five Severity Level II violations linked to four nuclear safety events between February and July 2021 at the Los Alamos National Laboratory Plutonium Facility PF4.
A DOE investigation into the facts and circumstances associated with the four events alleges multiple violations of DOE nuclear safety requirements by Triad National Security, LLC, the management and operations contractor for LANL. The events were summarized as follows:
On February 11, 2021, fissionable materials placed in an area contrary to the criticality safety posting exceeded criticality safety mass-control requirements.
On March 3, 2021, a glove breach released radioactive contamination resulting in skin contamination of three workers.
On March 31, 2021, an over-filled water bath resulted in flooding of a vault containing fissionable materials.
Lastly, on July 19, 2021, a water tank for the wet vacuum system in LANL's PF4 overflowed into the negative pressure chilled cooling water (NPCCW) tank, which then flowed into the glovebox ventilation system that supplies multiple rooms and gloveboxes containing fissionable materials.
"We must do everything to prevent Putin's plan to deploy nuclear weapons in Belarus…It directly violates our constitutional non-nuclear status and would secure Russia's control over Belarus for years ahead. And it would further threaten the security of Ukraine and all of Europe," — exiled opposition leader Sviatlana Tsikhanouskaya.
By Mariya Knight, Uliana Pavlova and Helen Regan, CNN | May 28, 2023 cnn.com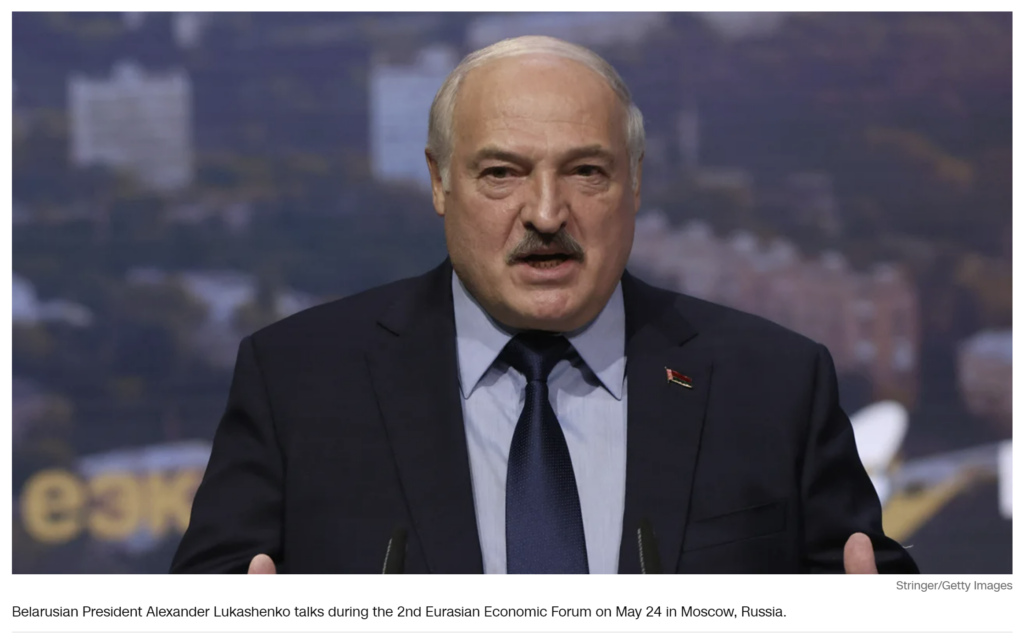 (CNN)—Belarus President Alexander Lukashenko has claimed that nations who are willing "to join the Union State of Russia and Belarus" will be given nuclear weapons, days after confirming the transfer of some tactical nuclear weapons from Moscow to Minsk had begun.
Lukashenko, a close ally of Russian President Vladimir Putin, made the comments in an on-camera interview released Sunday on the state-run Russia 1 channel.
During the interview, Lukashenko said, "no one minds Kazakhstan and other countries having the same close relations that we have with the Russian Federation."
"It's very simple," he added. "Join the Union State of Belarus and Russia. That's all: there will be nuclear weapons for everyone."
"We can begin uncovering this route to a safer, saner world when we recognize that a great many people and governments cling to nuclear weapons because of their desire for national security. After all, it has been and remains a dangerous world, and for thousands of years nations (and before the existence of nations, rival territories) have protected themselves from aggression by wielding military might….
But what if global governance were strengthened to the extent that it could provide national security? "
By Lawrence S. Wittner, Professor of History Emeritus at SUNY/Albany and the author of Confronting the Bomb (Stanford University Press) HISTORY NEWS NETWORK | May 21, 2023 historynewsnetwork.org
It should come as no surprise that the world is currently facing an existential nuclear danger.  In fact, it has been caught up in that danger since 1945, when atomic bombs were used to annihilate the populations of Hiroshima and Nagasaki.
Today, however, the danger of a nuclear holocaust is probably greater than in the past.  There are now nine nuclear powers―the United States, Russia, Britain, France, China, Israel, India, Pakistan, and North Korea―and they are currently engaged in a new nuclear arms race, building ever more efficient weapons of mass destruction.  The latest entry in their nuclear scramble, the hypersonic missile, travels at more than five times the speed of sound and is adept at evading missile defense systems.

"This is more than a missed opportunity. With the world facing the acute risk that nuclear weapons could be used for the first time since Hiroshima and Nagasaki were bombed, this is a gross failure of global leadership. Simply pointing fingers at Russia and China is insufficient. We need the G7 countries, which all either possess, host or endorse the use of nuclear weapons, to step up and engage the other nuclear powers in disarmament talks if we are to reach their professed goal of a world without nuclear weapons" — ICAN Executive Director Daniel Hogsta
Update 20 May 2023: the G7 leaders have just issued the final communique from their summit in Hiroshima. It claims they have "taken concrete steps to strengthen disarmament and non-proliferation efforts, towards the ultimate goal of a world without nuclear weapons with undiminished security for all" but it doesn't say what these steps are. That's because it can't.
What we got from the leaders' discussion on nuclear weapons yesterday was a rehash of ideas and proposals that have failed to deliver progress over the past three decades. They did not announce anything new or concrete. They couldn't even bring themselves to follow the G20 and TPNW member states by condemning all nuclear threats. Instead they reserved their condemnation for Russia's and North Korea's threats, which, while justified, fails to acknowledge how the G7's own nuclear doctrines are based on the threat to use nuclear weapons and so contribute to the acute danger these weapons pose to everyone.
---
The G7's detailed statement "G7 Leaders' Hiroshima Vision on Nuclear Disarmament", issued on May 19, falls far short of providing any meaningful outcomes for nuclear disarmament. After months of preparation and amid high expectations, the leaders are missing the moment to make the world safer from nuclear weapons, instead of confronting nuclear threats with a concrete, credible plan for nuclear disarmament – like the Treaty on the Prohibition of Nuclear Weapons- they are barely even paying lip service to the horrors of Hiroshima, the first city attacked by nuclear weapons.
"Disclosure under New START Treaty follows Russia's decision to suspend its participation in the nuclear agreement"
ALJAZEERA | May 16, 2023 aljazeera.com
The United States has announced it has 1,419 deployed nuclear warheads in its arsenal, as it urged Russia to release its data.
The US Department of State said it was releasing the information publicly as part of its commitments under the New START Treaty, appearing to reverse an earlier decision not to share the data.
"A storage facility cannot be "interim" without a final, designated location. Such a site does not exist. And when it comes to anything nuclear, there's no such thing as interim or temporary."
MY VIEW, THE SANTA FE NEW MEXICAN | May 13, 2023 santafenewmexican.com
The federal government's longstanding failure to build a repository for nuclear waste should not be left for New Mexico to solve.
Yet a decision last week by the Nuclear Regulatory Commission to issue a license to "temporarily" store tons of spent nuclear fuel in New Mexico could mean waste from commercial power plants across the nation will end up buried in the state. It's bad news for us, of course, but it's catastrophic for a nation that has never fully come to grips with the reality of nuclear power.
To recap: The commission said it will allow Holtec International to build and operate a nuclear waste storage facility near the Lea and Eddy County line in far southeast New Mexico.
This, despite the clear message from New Mexico's congressional delegation, governor and statewide elected officials that the state is not interested in being the one-size-fits-all nuclear storage solution for the country. New Mexico already hosts the Waste Isolation Pilot Plant. It stores transuranic waste, a byproduct of the country's nuclear defense program.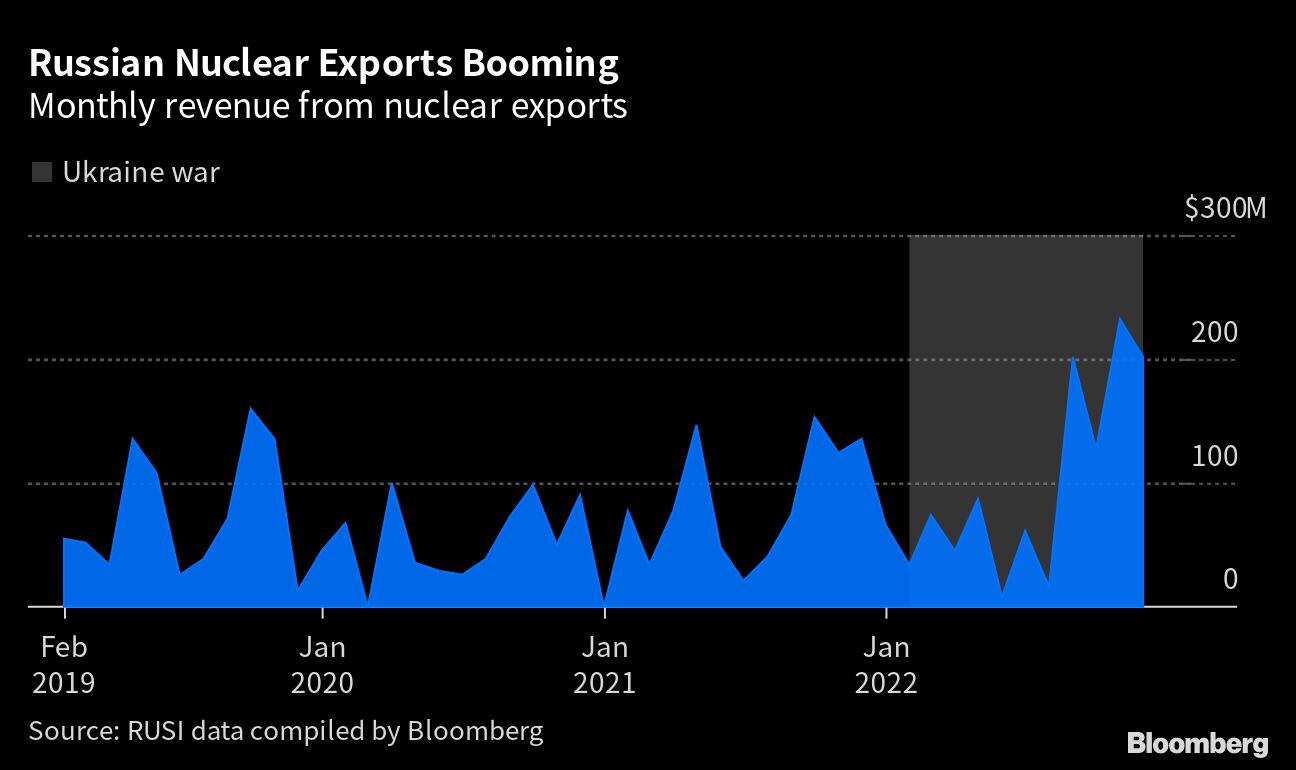 "Cutting the heart out of a nuclear power plant is a surgical procedure that only a few specialists are equipped to handle…"
Bloomberg News | May 13, 2023 mining.com
Among the oldest and most experienced is Germany's Nukem Technologies Engineering Services GmbH, which for decades has offered its unique services in Asia and Africa and across Europe. Nukem engineers helped contain radiation from the destroyed reactors in Chernobyl and Fukushima. They helped lead the clean-up of an atomic-fuel factory in Belgium. In France, the company devised ways to treat waste from the International Thermonuclear Experimental Reactor.
With researchers predicting that cleaning up after aging nuclear power plants will evolve into a $125 billion global business in the near future, Nukem should be ideally positioned to capitalize on the moment.
Except for one thing: the company is wholly owned by Rosatom Corp., the Kremlin-controlled nuclear giant, putting it in the center of an uncomfortable standoff.
"This is a bad idea, full stop. Placing a nuclear storage facility in the heart of oil and gas operations is a recipe for ecological disaster and unnecessarily puts New Mexicans at risk,
Bottom line, the world's most active oil and gas producing field is not the right place for a long-term nuclear waste storage site. Holtec needs to understand that New Mexico is not the nation's dumping ground and should stop misleading the public about the dangers their proposal presents." — Land Commissioner-elect Stephanie Garcia Richard
Adrian Hedden, Carlsbad Current-Argus | May 9, 2023 currentargus.com
Federal nuclear officials gave the green light to a project which would store high-level nuclear waste at a facility in southeast New Mexico, despite concerns from state and federal leaders it would expose residents to radiation.
Holtec International, headquartered in Jupiter, Florida, applied in 2017 for a 40-year license to store 8,680 metric tons of spent nuclear fuel rods in 500 cannisters from power plants across the country, using a surface-level facility in a remote desert area near the border of Eddy and Lea counties.
That would be the first of 20 phases of the project that could ultimately include more than 100,000 metric tons in a total of 10,000 canisters holding the waste.
"AI could harm human health via its impacts on the social and upstream determinants of health through: the control and manipulation of people, use of lethal autonomous weapons and the effects on work and employment"
By Frederik Federspiel, Ruth Mitchell, Asha Asokan, Carlos Umana, David McCoy – BMJ GLOBAL HEALTH | May 9, 2023 gh.bmj.com
Dr. Ruth Mitchell (IPPNW Board Chair) and Dr. Carlos Umaña (IPPNW Co-President) co-author BMJ Global Health publication, "Threats by artificial intelligence to human health and human existence". The 5 expert authors state, "AI could harm human health via its impacts on the social and upstream determinants of health through: the control and manipulation of people, use of lethal autonomous weapons and the effects on work and employment".
CRITICAL EVENTS

Mountain Cloud Zen Center
7241 Old Santa Fe Trail, Santa Fe, NM 87505
Attendance in person is encouraged.
This event will also be web streamed at

sit.mountaincloud.org


passcode: mountain22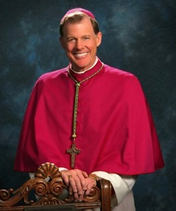 Santa Fe Archbishop John C. Wester will lead a discussion on the need for nuclear disarmament at the Mountain Cloud Zen Center in Santa Fe, NM. He will be introduced with a brief overview of the issues by Sangha member Jay Coghlan, Director of Nuclear Watch New Mexico. Both in person attendees and online participants will have the opportunity for questions and answers.
John C. Wester was ordained a Roman Catholic priest in 1976 and installed as auxiliary bishop of San Francisco in 1998. He was appointed Bishop of Salt Lake City in 2007. He was subsequently installed as the twelfth Archbishop of Santa Fe on June 4, 2015. He has taken up the cause of nuclear disarmament because more money is spent on nuclear weapons in his Santa Fe Archdiocese than any other diocese in the country.
Archbishop Wester believes that humanity is entering a new and more dangerous arms race. To help counter that he is promoting interfaith dialogue and effort toward a future world free of nuclear weapons. This includes an event with the working title of A World Without Nuclear Weapons, From Reflection to Action: An Interfaith Remembrance of the Trinity Test on the afternoon of Sunday, July 16, 2023, the 78th anniversary of the Trinity Test. This will be held at the Santa Maria de la Paz Center at 11 College Ave., Santa Fe, NM (just before the Santa Fe Community College). This event has added significance in advance of the scheduled release of the major Hollywood film Oppenheimer on July 21.
In August Archbishop Wester will travel to Japan with the Archbishop of Seattle to commemorate the 78th anniversaries of the atomic bombings with the Bishops of Hiroshima and Nagasaki. Together, they will appeal for and work toward a future world free of nuclear weapons. Their efforts follow Pope Francis' guidance, under whose leadership the Vatican was the first to sign and ratify the Treaty on the Prohibition of Nuclear Weapons.

NUKEWATCH IN WASHINGTON
Nuclear Watch New Mexico was in DC the last week of April, talking to congress and top officials on critical nuclear weapons and waste issues as part of the Alliance for Nuclear Accountability's 35th annual DC Days 2023.
Interfaith Panel Discussion on Nuclear Disarmament - August 9
Interfaith Panel Discussion on the 77th Anniversary of the Atomic Bombing of Nagasaki, Japan
Posts Related to: NUCLEAR SAFETY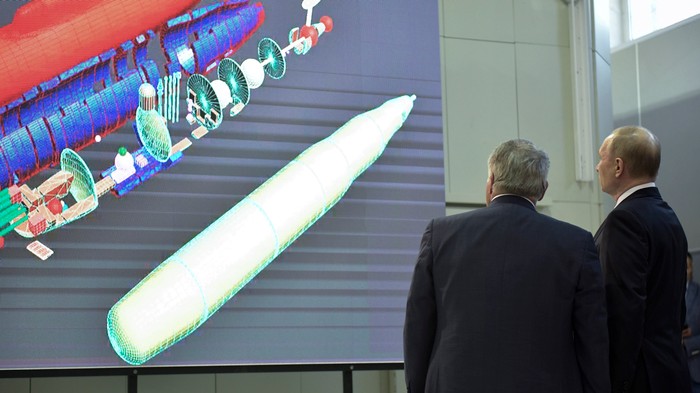 "Mutually Assured Destruction" has been the MO of the world's nuclear powers for decades. If Russia points a giant nuclear warhead toward the U.S., we would gear up to point an even more massive missile their way, and then, in theory, Russia shrugs its shoulders and says, "Eh, not worth it." They would be completely "deterred" from advancing a nuclear attack based on the reality that doing this would mean the entire country, continent, and, ultimately the entire world, would become obliterated as we know it; the cost and the risk greatly outweigh any benefit. Supposedly. According to this thesis, the existence of nuclear weapons makes the cost of war seem frighteningly high and thus "discourage[s] states from starting any wars that might lead to the use of such weapons" (Kenneth Waltz, "The Spread of Nuclear Weapons: More May Better,") The idea that nuclear weapons make conventional war safer is widely used as framing for why we need nukes at all, with one specific reason being spread wide and far that nuclear weapons can still be the equalizer against an adversary's superior conventional forces.
But a watchdog group argued Los Alamos lab adopting a higher radiation limit for workers than other labs is to create more leeway when it ramps up plutonium pit production.
By Scott Wyland [email protected] | May 6, 2022 santafenewmexican.com
"The collective worker doses would probably go up once they start actual manufacturing," said Scott Kovac, research and operations director for the nonprofit Nuclear Watch New Mexico.
…
Jay Coghlan, the executive director for Nuclear Watch New Mexico, said the agency in charge of nuclear security is pushing the lab to crank up pit production, yet it won't install what's known as a "safety class active confinement system" that would prevent a heavy radioactive release during an earthquake, catastrophic fire or a serious accident.
"This is a longstanding recommendation that Los Alamos [lab] and NNSA refuse to honor while continually downplaying the risk of expanded pit production," Coghlan said.
Los Alamos National Laboratory allows workers to have a higher yearly radiation exposure than other national labs do and has not followed a longtime recommendation by safety officials to install a ventilation system in its plutonium facility they say would better protect workers and the public during a serious radioactive breach, according to a recent government watchdog's recent report.
The report, some critics contend [see our quotes above], is of concern as the lab pursues production of nuclear bomb cores, or pits, at nearly triple the yearly amount it has ever made before.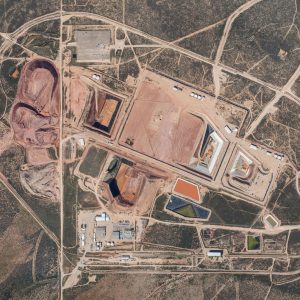 Los Alamos National Laboratory (LANL) has given itself a Categorical Exclusion (CX) under National Environmental Policy Act (NEPA) for the removal, relocation, and examination of transuranic (TRU) waste drums at Waste Control Specialists (WCS). These drums are similar to the ones that forced WIPP to close in 2014. LANL officials decided that formal environmental assessments, with public input, of the movement of the possibly exploding waste drums are not needed.


The Department of Energy is seeking to modify the nuclear waste permit for southeastern New Mexico's Waste Isolation Pilot Plant. Dragging out WIPP's operations decades past the original 20-year agreement violates the social contract made with New Mexicans. WIPP is being equipped to take the waste that will be generated from production of plutonium pits for nuclear warheads, and it was never supposed to do that. An expansion of WIPP will impact the entire country, not just residents of southeastern New Mexico.
View the videos below for more information, and, if you live in an area that may be endangered by these nuclear waste transportation risks, please consider making your own "This is My Neighborhood" video!
Background Information – Problems with Nuclear Waste


Playlist: Problems with Nuclear Waste
---
Mixed Waste Landfill Facts
Mixed Waste Landfill Facts