Arsenal of Information
---
---
---
Dossiers:
UN Treaty to Prohibit Nuclear Weapons
B61-12 Enhanced Nuclear Bomb
LRSO: New Nuclear Cruise Missile
US Nukes at Incirlik AFB, Turkey
Trump Admin and Nuclear Weapons Policy
Kirtland AFB Nuclear Weapons Complex
Flashpoint: NATO-Russia
Flashpoint: North Korea
MOX / Plutonium Disposition
Fukushima Disaster and Updates
Nuke Lab Contractors Illegal Lobbying
Revolving Door: The Case of Heather Wilson
Marshall Islands Lawsuit
Plutonium Pit Production at LANL
Nuclear Testing Since 1945
Atomic Histories
---
Nuclear Watch Interactive Map of the
Nuclear Weapons Complex
View full size
Facilities:
Kansas City Plant
Lawrence Livermore National Labs
Los Alamos National Laboratory
Nevada National Security Site
Pantex Plant
Sandia National Laboratories
Savannah River Site
Washington DC
Waste Isolation Pilot Plant (WIPP)
Y-12 National Security Complex
---
Nuclear Weapons Enterprise Twitter Feeds:
---
Facility Spotlight, August, 2017:
"... And these safety challenges aren't confined to Los Alamos. The Center's probe revealed worker safety risks, previously unpublicized accidents, and dangerously lax management practices at other nuclear weapons-related facilities. The investigation further found that penalties for these practices were relatively light, and that many of the firms that run these facilities were awarded tens of millions of dollars in profits in the same years that major safety lapses occurred. Some were awarded new contracts despite repeated, avoidable accidents, including some that exposed workers to radiation."
- Patrick Malone and R. Jeffrey Smith in their series entitled "Nuclear Negligence" for the Center for Public Integrity.
---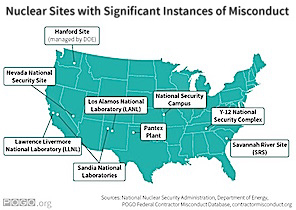 Nuclear Weapons Complex Misconduct
Dec. 3, 2015. POGO: Updated Federal Contractor Misconduct Database, focussing on Nuclear Complex (see report at POGO)
---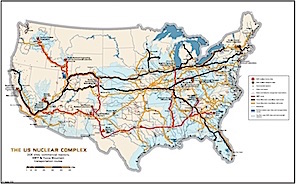 Click the image to view and download this large printable map of DOE sites, commercial reactors, nuclear waste dumps, nuclear transportation routes, surface waters near sites and transport routes, and underlying aquifers. This map was prepared by Deborah Reade for the Alliance for Nuclear Accountability.
Quote of the Week

---
"The fact that we live in a world with unpredictable national leaders that could start a nuclear war at any time should not be used as an excuse against the nuclear weapons ban treaty. Instead, that is exactly why we must have a nuclear weapons ban treaty, just like we already have for chemical and biological weapons. Nuclear weapons abolition will be long and hard in coming, but just like the abolition of slavery, it will come. New Mexicans have a special responsibility to help win this historic struggle. So let's roll up our sleeves and get the job done, in large part by pressuring our politicians and religious leaders for a future world free of nuclear weapons."
- Nuclear Watch Executive Director Jay Coghlan, regarding ICAN win of the Nobel Peace Prize: view/download press release, Oct. 6, 2017
---
LANL's Central Mission
Los Alamos Lab officials have recently claimed that LANL has moved away from primarily nuclear weapons to "national security", but what truly remains as the Labs central mission? Here's the answer from one of its own documents: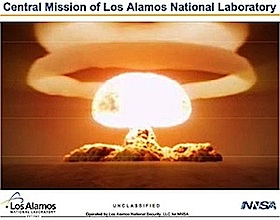 LANL's "Central Mission"- Presented at: RPI Nuclear Data 2011 Symposium for Criticality Safety and Reactor Applications
(PDF) 4/27/11
---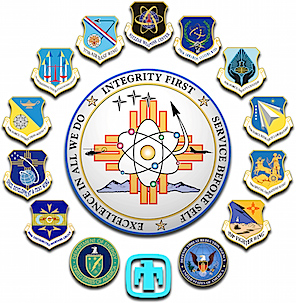 Dossier:
The Kirtland AFB Nuclear Weapons Complex
Kirtland Air Force Base, which abuts and shares some runways with the Albuquerque airport, has become a major nuclear weapons complex of it's own. It hosts the Air Force's Nuclear Weapons Center, Sandia National Laboratories, and what is probably the nation's (and perhaps the world's) largest repository of nuclear weapons, estimated at up to 2,500 warheads... (read more)
---
Follow the Money!

---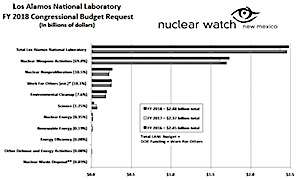 LANL FY 2018 Budget Request
Click to view full PDF with annotations table
Note that the percentage of the LANL budget request for core nuclear weapons activities has risen to 70%.
---
NNSA FY 2017 Budget Request
- Nuclear Watch Analysis/Compilation (PDF)
---
Congressional Budget Office report:
Projected Costs of Nuclear Forces 2014-2023

CBO presentation based on the report: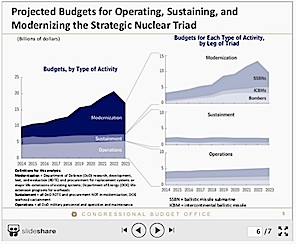 Click to view presentation
---
Stockpile Stewardship and Management Plan
- View/Download FY 2017 SSMP (PDF)
- SSMP Analysis of Hans Kristensen, FAS: Nuclear Transparency and the Stockpile Stewardship and Management Plan (PDF)
- View/Download FY 2015 SSMP (PDF)
- NWNM Analysis (PDF) / Analysis Summary (PDF)
---
Nuclear Watch Media
---
Santa Fe, Sept 7, 2017:
Rep. Ted Lieu and Jay Coghlan on KSFR Radio
Congressman Lieu (D.CA) was given the Leadership Award by Alliance for Nuclear Accountability in May of this year for his sponsorship of HR 669, a bill to restrict the president's sole authority to launch nuclear war (mirrored in the Senate by S.200 introduced by Sen. Ed Markey D.MA).
(Nukewatch director Jay Coghlan is the current chairman of ANA.)
"Living on the Edge" with David Bacon, 101.1 FM
***Archived Podcast***
---
Jay Coghlan, Nukewatch Director Interview
With David Bacon on Living on the Edge, KSFR, Aug 3, 2017. Archived podcast here
---
Sept 7, 2017:
Rep. Ted Lieu and Jay Coghlan on KSFR.
Watch here for details.
---
KUNM FM: LANL's Long Environmental Cleanup
KUNM public radio discussion of Los Alamos cleanup, and Nukewatch lawsuit Archived podcast here
---
NukeWatch YouTube Channel
See our playlists of key video clips.
---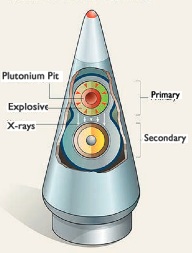 Successful Citizen Activism Against
Expanded U.S. Plutonium Pit Production
This is the unsung story of successful citizen activism against repeated government attempts to expand the production of plutonium pit cores, which has always been the choke point of resumed U.S. nuclear weapons production. This history is a critical part of the march toward a future world free of nuclear weapons.
(View/download full report- PDF)
July 14, 2016:
Debate Is On Over Making More Nuclear Triggers At Los Alamos Lab
"The National Nuclear Security Administration is under orders from Congress to produce as many as 80 new nuclear weapons triggers a year by around 2030, and Los Alamos National Laboratory is the only place in the country that is equipped to make them now... The plans for a higher-capacity plutonium pit production facility make Los Alamos key - some call the lab 'ground zero'..." (ref: Albuquerque Journal)

Updated March 2017: NukeWatch Fact Sheet:
"Plutonium Pit Production at LANL"
(View/download PDF)
---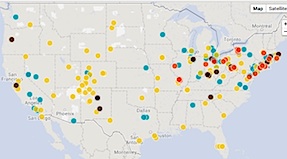 Waste Lands: America's Forgotten Nuclear Legacy
The Wall St. Journal has compiled a searchable database of contaminated sites across the US. (view)
Related WSJ report:
A Nuclear Cleanup Effort Leaves Questions Lingering at Scores of Old Sites, Legacy of US Arms Buildup...
---
Doom Towns
A graphic novel by Andy Kirk with artist Kristian Purcell
"The U.S. tested nearly a thousand atomic weapons in the Nevada desert 125 miles north of Las Vegas.... Did they really build fake towns out in the desert and then blow the whole place up with atomic bombs? And the answer is yes, in fact, they did do that...
"The purpose as stated by the civil defense agencies of creating these "Doom Towns" and then widely disseminating on film their being destroyed was to encourage Americans to be concerned about the possibility of civilians being the target of nuclear attack." (source)
---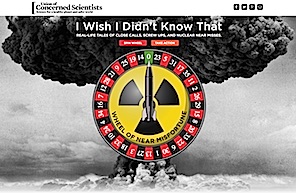 What is both sobering and addictive?
This "Wheel of Near Misfortune" created by Union of Concerned Scientists- don't miss it!
Dr. Perry's Nuclear Nightmare
Dr. William J. Perry, the 19th Secretary of Defense, shares his nuclear nightmare in this video produced by the William J. Perry Project.
---
Beyond the Summit:
New Approaches to Nuclear Security
William Perry: "Danger of a nuclear catastrophe is greater than during the Cold War. Our public is blissfully unaware. Consequently, the policies that this country follows are in no way commensurate to the danger."
---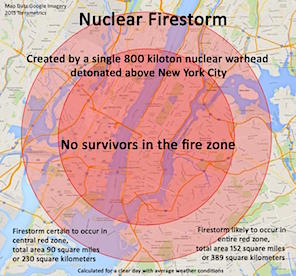 What would happen if an 800-kiloton nuclear warhead detonated above midtown Manhattan?
You should read this.
---
Homeland Security Wants You To Be Ready-
for a Nuclear Attack
The US has belligerently refused to have anything to do with the nuclear weapons prohibition treaty, in spite of President Obama's 2009 Prague speech and his Nobel Peace Prize. Instead Obama set us on a path to remake anew all our nuclear weapons and delivery systems to the tune of a trillion dollars over the next 30 years, assuring our nuclear arsenal "superiority" through the lives of our grandchildren and great grandchildren. But no worries! The Dept. of Homeland Security has put up a webpage with instructions on how to be "ready" for a nuclear attack. OK then!
---
---
Jan 26, 2017
Doomsday Clock: 2 1/2 Minutes to Midnight
"It is ever more important that senior leaders across the globe calm rather than stoke tensions that could lead to war, either by accident or miscalculation." (The Bulletin, Jan 26, 2017)
---
Recent visitors - click to enlarge
---
Help us boost public awareness of the reality and risks of nuclear weapons today. Please share Nukewatch.org with your friends using the buttons below:
---

"If you really want a future world free of nuclear weapons, you can hardly make a better investment than to give to Nuclear Watch New Mexico. They need and deserve your support so that they can carry on their groundbreaking work. I urge you to be generous with them!" - Danielle Brian, Executive Director, Project on Government Oversight.
Please support our work!
Remember, donations are tax-deductible.

New & Updated

---
October 19, 2017:
GOP Appointee Sean Sullivan, Chair of Defense Nuclear Facility Safety Board,
Has Secretly Urged Trump to Abolish It
The Center for Public Integrity, whose 6-part series last summer exposed "Nuclear Negligence" at the US nuclear weapons labs, is reporting that GOP appointee Sean Sullivan, now chair of the Defense Nuclear Facility Safety Board has secretly urged Trump to abolish it.
"The five-member Defense Nuclear Facilities Safety Board is chartered by Congress, and has helped persuade the federal government to impose tighter safety rules and regulations at most of the eight nuclear weapons sites- employing more than 40,000 workers- where nuclear weapons and their parts are produced or stored."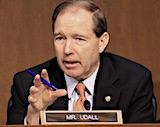 New Mexico Senator Tom Udall said in a written statement to CPI, "Repeated, serious safety and security lapses at the labs, including the two in New Mexico, are among the reasons for strengthening - not eliminating the outside oversight board. These incidents have demonstrated that there is a need for a strong watchdog that does not have a direct financial or political stake in the success of the labs."
Senator Udall successfully attached an amendment to the Senate version of the National Defense Authorization Act that would thwart any efforts to shut down the DNFSB, but the Senate version and a House version will have to be 'reconciled' in the weeks ahead.
"Bob Alvarez, a former senior Energy Department official, said the current wrangle over the board's future is alarming. 'DOE doesn't really regulate these guys... Without the defense board, the public wouldn't know about some of 'the hazards the government is imposing on them.'"
"Asked for comment, Sullivan said in a phone conversation that he regards his letter as a privileged communication with the White House, and declined to comment about it."
(see full report at CPI)
---
October 18, 2017:
NATO Nuclear Strike Exercise Underway With Czech and Polish Participation
Hans Kristensen, FAS Nuclear Information Project Director, reports that NATO has begun its annual nuclear strike exercise at Büchel Air Base in Germany and Kleine Brogel Air Base in Belgium- each location has 20 US B61 nuclear weapons.
"This is the exercise that practices NATO's nuclear strike mission with dual-capable aircraft (DCA) and the B61 tactical nuclear bombs the US deploys in Europe. In addition to nuclear-capable aircraft from Belgium, Germany, Italy and the Netherlands, local spotters have also seen Czech Gripens and Polish F-16s. The United States will likely also participate with either F-16s from Aviano AB in Italy or F-15Es from RAF Lakenheath in England.
"The non-nuclear aircraft from Czech Republic and Poland are participating under NATO's so-called SNOWCAT (Support of Nuclear Operations with Conventional Air Tactics) program, which is used to enable military assets from non-nuclear countries to support the nuclear strike mission without being formally part of it.
"The nuclear exercise has not been officially announced and NATO is very tight-lipped about it... interesting because NATO only a few weeks ago complained that Russia was not being transparent about its Zapad exercise." (source: HK/NatoWatch.org)
NATO: "NATO is adjusting its nuclear posture in reaction to the new adversarial relationship with Russia". For more, see our dossier: Flashpoint: NATO-Russia
Meanwhile,
"The US is creating a military infrastructure near Russia's borders for the application of a sudden nuclear strike."
So said Viktor Poznihir, first Deputy Chief of the Main Operations Directorate, to the Moscow international security conference of the Russian Armed Forces, April 26.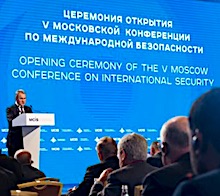 Poznihir said that US missile defense system launchers can be used with a wide range of missiles, including nuclear-armed Tomahawk cruise missiles...creating a "powerful hidden impact component for the application of a surprise nuclear missile attack on the Russian Federation". (source)
You probably never heard about that. The western press, along with NATO and Washington DC have turned a deaf ear to Russian concerns. It all reminds one of what happened in 1983 when Able Archer, one nuclear exercise too many in a fraught year, helped convince Soviet high command that the feared American first strike attack was imminent; preparations were made on their side for nuclear war. Thing is, the US command had no idea how alarmed the Soviets were and did not realize that the US had unknowingly brought the world to the brink of armageddon; we only found out in the 1990s how the Soviet side had perceived our actions.
Fmr. Sec. Def. William Perry: "I believe that today the likelihood of a nuclear catastrophe is actually greater than it was during the Cold War."
Russian President Putin said to a meeting with international journalists: "Your people do not feel a sense of the impending danger- this is what worries me. How do you not understand that the world is being pulled in an irreversible direction, while they pretend that nothing is going on. I don't know how to get through to you anymore" And "It is worth wondering what the US response would be if Russia had put its missiles in Canada near the US border, had destabilized Mexico and was talking of putting missiles there too. To top it off, imagine if Russia were applying sanctions on the US for all of this 'aggression'." (ref)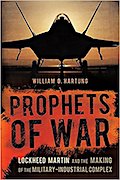 Note that the original sin in the deterioration of relations between the US and Russia was the expansion of NATO in the late 1990s. There was a moment in fact when the entry of Russia in NATO was floated, until someone realized NATO had to have an adversary to justify it's existence as a military alliance, buying trillions of dollars of weapons... It's also worth noting the oversize role played in the NATO expansions by Lockheed Martin, outlined in detail by William Hartung in his book "Prophets of War: Lockheed Martin and the making of the military industrial complex". Today, Lockheed is the prime contractor for the THAAD Missile Defense System; it is also the developer and contractor for the Aegis Ballistic Missile Defense System.
Stephen Cohen: Have 20 Years of NATO Expansion Made Anyone Safer?

---

For immediate release: October 6, 2017:
International Campaign to Abolish Nuclear Weapons Wins Nobel Peace Prize- NukeWatch Calls on New Mexico Politicians and Santa Fe Archbishop To Support Drive Toward Abolition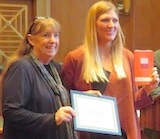 Beatrice Fihn, ICAN Executive Director, receiving an Alliance for Nuclear Accountability award in 2017, presented by Marylia Kelley of ANA member group Tri-Valley CAREs. (Jay Coghlan, Nuclear Watch Director, is currently the ANA board president.)

Santa Fe, NM. Nuclear Watch New Mexico strongly applauds the awarding of the Nobel Peace Prize to the International Campaign to Abolish Nuclear Weapons (disclosure: NukeWatch is one of ICAN's ~400 member groups around the world). This award is especially apt because the peoples of the world are now living at the highest risk for nuclear war since the middle 1980's, when during President Reagan's military buildup the Soviet Union became convinced that the United States might launch a pre-emptive nuclear first strike. Today, we not only have Trump's threats to "totally destroy" North Korea and Kim Jong-un's counter threats, but also renewed Russian fears of a US preemptive nuclear attack... Generally unknown to the American taxpayer, our government has quietly tripled the lethality of the US nuclear weapons stockpile..."
(view/download complete press release)
---
October 6, 2017:
Nobel Peace Prize For International Campaign to Abolish Nuclear Weapons


"The Norwegian Nobel Committee has decided to award the Nobel Peace Prize for 2017 to the International Campaign to Abolish Nuclear Weapons (ICAN). The organization is receiving the award for its work to draw attention to the catastrophic humanitarian consequences of any use of nuclear weapons and for its ground-breaking efforts to achieve a treaty-based prohibition of such weapons. We live in a world where the risk of nuclear weapons being used is greater than it has been for a long time. Some states are modernizing their nuclear arsenals, and there is a real danger that more countries will try to procure nuclear weapons, as exemplified by North Korea. Nuclear weapons pose a constant threat to humanity and all life on earth." (ref)
The award was the lead story this morning on Germany's Deutsche Welle with a video interview with Yanthe Hall of ICAN Germany.
Democracy Now, Oct. 6: Amy Goodman interviews Tim Wright, Asia-Pacific director of ICAN on the Nobel award and the ban treaty. (watch segment).
(see also Nukewatch dossier on the Ban Treaty)
---
October 4, 2017:
Chomsky on US Nukes: "Some of the most dangerous developments under Trump trace back to Obama initiatives."


Noam Chomsky: "The most dangerous of these has barely been reported. A very important study in the Bulletin of the Atomic Scientists, published in March 2017, reveals that the Obama nuclear weapons modernization program has increased 'the overall killing power of existing US ballistic missile forces by a factor of roughly three- and it creates exactly what one would expect to see, if a nuclear-armed state were planning to have the capacity to fight and win a nuclear war by disarming enemies with a surprise first strike."
-From an interview with David Barsamian, recounted in Global Discontents: Conversations on the Rising Threats to Democracy, by Chomsky and Barsamian, to be published this December. (ref)
Note that, unreported in mainstream US press, Viktor Poznihir, first Deputy Chief of the Main Operations Directorate told the Moscow Security Conference on April 26 of this year that "the US is creating a military infrastructure near Russia's borders for the application of a sudden nuclear strike." (more)
Also of note: Glenn Greenwald in The Intercept, Sept 28: Yet Another Major Russia Story Falls Apart. Is Skepticism Permissible Yet?
---
October 2, 2017:
The U.S. Sprayed, Injected and Fed Radiation to Countless Innocents in
Secret Cold War-Era Testing
- Military scientists exposed American civilians to radiation without their knowledge or consent.
- "Behind the Fog" documents a dark chapter of "large-scale organizational deviance"...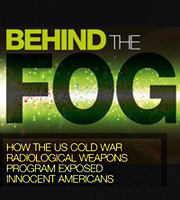 From the publisher:
"Martino-Taylor documents the coordinated efforts of a small group of military scientists who advanced a four-pronged secret program of human-subject radiation studies that targeted unsuspecting Americans for Cold War military purposes... Agency and academic partnerships advanced, supported, and concealed the studies from the public at large who ultimately served as unwitting test subjects.
"'They targeted the most vulnerable in society... They targeted children. They targeted pregnant women in Nashville. People who were ill in hospitals. They targeted wards of the state. And they targeted minority populations.'
"Martino-Taylor's comprehensive research illuminates a dark chapter of government secrecy, the military-industrial-academic complex, and large-scale organizational deviance in American history. In its critical approach, Behind the Fog effectively examines the mechanisms that allow large-scale elite deviance to take place in modern society." (ABC News story / publisher's book page)
---
September 27, 2017:
Hawaii, California Preparing for North Korean Nuclear Attack
A startling headline, but alas, true. Precautionary measures no doubt, in case the angry war of words goes to military violence and a possible nuclear exchange. It's unlikely Kim would fire a first strike at the US; but in response to a US strike on North Korea, well maybe. Apparently, some people are seeing the 'military option' becoming more likely.
- Hawaii residents told to prepare for nuclear attack as tensions reach new high
"The state will begin testing a siren warning system, a wailing sound, in November. It would give people about 12 to 15 minutes to get to safety, after which they would be required to stay indoors for 48 to 72 hours."
- North Korea: California's plans for nuclear attack revealed
"The threat of a nuclear attack on California is real enough that a regional task force circulated a document to help the state prepare for a 'catastrophic' strike." (refs:Independent.co.uk)
Note: Hans Nichols, NBC pentagon correspondent, tweeted on September 18:
"Mattis just dropped by Pentagon bullpen; 'There are many military options, in concert with our allies'... Mattis confirms military options against N Korea that do not put Seoul at risk: 'Yes there are are, but I will not go into details.'"
October 10, 2017:
University of Hawaii sent an email to students Monday with tips on how to prepare for a nuclear attack
October 16, 2017:
USS Michigan spotted at South Korean port- with 2 SEAL Delivery Vehicle silos attached on top in plain sight. These teams are practicing for strikes deep into 'enemy territory', possibly 'decapitation' missions. The Michigan can also launch 150 Tomahawk missiles. (source: Business Insider- with photos)
All this illustrates the urgency to move to a world free of nuclear weapons. In that regard, the treaty prohibiting nuclear weapons is open for countries to sign now at the UN in New York. Note: Last July, both North Korea and the U.S. 'skipped' the vote on the treaty (CBS). Note also that NATO, in a Sept. 20 press release, denounced the treaty, calling it "at odds with the existing non-proliferation and disarmament architecture." (NB: the 'architecture' which has successfully allowed the nuclear powers to keep their nuclear arsenals, even "modernize" them so as to be "effective" through the tail end of the 21st century).
---
NukeWatch fact sheet, September 26, 2017:
Expanded Plutonium Pit Production at LANL Will Not Result in Significant Positive Effect On Job Creation and the Regional Economy
The National Nuclear Security Administration's own documents have explicitly stated that expanded pit production would have no significant positive effect on job creation and the regional economy of northern New Mexico. Nuclear Watch argues that expanded plutonium pit production could actually have negative effect if it blocks other economic alternatives such as comprehensive cleanup, which could be the real job producer. Moreover, given LANL's poor safety and environmental record, expanded plutonium pit production could have a seriously negative economic impact on northern New Mexico in the event of any major accidents.
- (see fact sheet, Sept 26)
---

September 15, 2017:
Interview with Dan Zak, "Almighty" author
A Texas public radio interview with the very knowledgable and thoughtful Dan Zak, author of "Almighty" (see Books and Films). Dan discusses The Lieu-Markey bills to restrict presidential authority to launch nuclear war, the B61-12 nuclear bomb and its new capabilities, the planned trillion-dollar "modernization" of the US nuclear arsenal, North Korea, deterrence, and the Oak Ridge Y-12 break-in of 2012. (audio podcast here)
---
For immediate release: September 15, 2017:
Chromium Groundwater Contamination at Los Alamos Lab Far Greater Than Previously Expected; LANL's Treatment Plan Must Be Drastically Changed
Santa Fe, NM. The Los Alamos National Laboratory (LANL) has detected far more hexavalent chromium (Cr) contamination than previously estimated in the "sole source" regional groundwater aquifer that serves Los Alamos, Santa Fe and the Espanola Basin. Sampling in July from a new well meant to inject treated groundwater back into the aquifer detected chromium contamination five times greater than the New Mexico groundwater standard of 50 micrograms per liter (ug/L). (View/download the full press release) See Chromium Plume Map
Press:
- Further tests are needed after tainted well sample, officials say
Santa Fe New Mexican, September 19, 2017
- High chromium levels found at one Los Alamos well
Albuquerque Journal, September 18, 2017
- Mortandad Canyon chromium plume may be wider than expected
Los Alamos Monitor, September 18, 2017
- Cancer-causing chemicals appear to spread in regional aquifer near LANL
Santa Fe New Mexican, September 16, 2017
---
September 11, 2017:
Talking Points: The 2016 LANL Cleanup Consent Order Should Be Rescinded
The 2005 LANL Cleanup Consent Order was all about the enforceable schedules. It required DOE and LANL to investigate, characterize, and clean up hazardous and mixed radioactive contaminants from 70 years of nuclear weapons research and production. It stipulated a detailed compliance schedule that the Lab was required to meet...
Under Gov. Martinez, NMED Secretary Ryan Flynn granted more than 150 compliance milestone extensions at the Lab's request, effectively eviscerating it.
In June 2016 the New Mexico Environment Department (NMED), the Department of Energy (DOE) and Los Alamos National Security, LLC (LANS) signed a revised Consent Order governing cleanup at the Los Alamos National Laboratory (LANL). The new Consent Order is a big step backward in achieving comprehensive, genuine cleanup at the Lab. The revised 2016 CO was a giveaway by NMED to DOE and the Lab, negotiated to allow DOE's budget to drive cleanup, not what is needed to permanently protect our water.
NMED should have kept the original, enforceable 2005 Consent Order that it fought so hard for under the Richardson Administration, modified as needed for the cleanup schedule and final compliance date. View/download the complete talking points
---
Controversy After Another Test of the B61-12 Nuclear Smart Bomb
The editor-in-chief of Russia's National Defense magazine, Igor Korotchenko, warned that the second test of the B61-12 could indicate that the US is speeding up its rearmament program while "both Washington and Brussels are considering the scenario of a limited nuclear war in Europe." He added that NATO forces have already conducted drills in the Baltic Sea, including mock nuclear strikes on Russia. "During regular exercises, including those in the Baltic Sea, the air forces of NATO countries have repeatedly carried out combat training tasks involving tactical nuclear strikes on targets located in the northwest of our country," Korotchenko told RIA Novosti (ref).
- NNSA press release on the B61-12 tests: (view/download PDF)
- There are an estimated 180 B61 nuclear bombs stored at NATO bases in Italy, Belgium, the
Netherlands, Germany and Turkey.
- For more on the B61-12 nuclear smart bomb, see our B61 Dossier.
German opposition calling for removal of US nuclear weapons
In August, Martin Schulz, head of the SPD party and candidate for the chancellorship in this fall's elections, said he would have the American nuclear weapons removed from Germany if he was elected. "As chancellor, I will commit Germany to having the nuclear weapons stationed here withdrawn from our country." (ref).

A few days later, Germany's Foreign Minister and Vice-Chancellor Sigmar Gabriel (photo at left) joined Schulz's call for the removal of the US nukes. "I agreed with Mr. Schulz's point that we need to get rid of the nuclear weapons that are in our country."
"Germany has an important voice within NATO and the European Union, and ... it must be used to call for disarmament and arms control." Gabriel said it was critical for the United States and Russia to resume a dialogue on disarmament instead of slipping further into mutual recriminations and a new arms race spiral. (ref)
Now the US is bullying Sweden not to sign Nuclear Weapons Prohibition Treaty
Love our nukes or you're on your own....
Neutral Sweden, which voted for the Nuclear Weapons Prohibition Treaty in July, has been told by General Mattis that if they actually sign the treaty in September as expected, it would "negatively impact" relations with the US. Svenska Dagbladet said "The implication is that if the government signs the convention banning nuclear weapons, including on Swedish territory, it would impact both defense cooperation during peace time and the possibility of military support from the USA in a crisis situation."
In August, Sweden's Foreign Minister Margot Wallström wrote that the government intended to sign the treaty, and "Sweden's vote in favor was entirely in line with our disarmament policy as part of a broader security policy". (ref)
---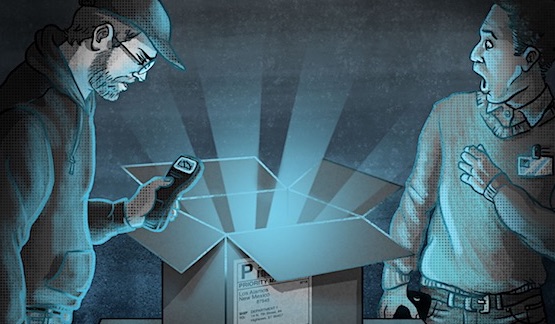 A six-part series of lengthy investigative reports from the Center for Public Integrity entitled "Nuclear Negligence".
July-August, 2017:
Nuclear Negligence
- "Nuclear Negligence" Part 6:
Nuclear weapons contractors repeatedly violate shipping rules for dangerous materials.
- June 28, "Nuclear Negligence" Part 5:
Repeated radiation warnings go unheeded at sensitive Idaho nuclear plant
- June 27, "Nuclear Negligence" Part 4:
More Than 30 Nuclear Experts Inhale Uranium After Radiation Alarms at a Weapons Site Are Switched Off
- June 26, "Nuclear Negligence" Part 3:
Light Penalties and Lax Oversight Encourage Weak Safety Culture at Nuclear Weapons Labs
- June 20, "Nuclear Negligence" Part 2:
Safety Problems at a Los Alamos Laboratory Delay U.S. Nuclear Warhead Testing and Production
- June 18, 2017, "Nuclear Negligence" Part 1:
Repeated Safety Lapses Hobble Los Alamos National Laboratory's Work On The Cores Of U.S. Nuclear Warheads

Resources:
- Nukewatch Press Release 6/19/17: Some Background on Plutonium Pit Production at Los Alamos
- NukeWatch Fact Sheet: Plutonium Pit Production
- Jay Coghlan, ABQJournal: Why new nuclear 'pit' production at LANL is unnecessary
---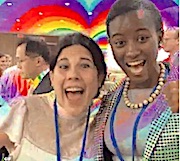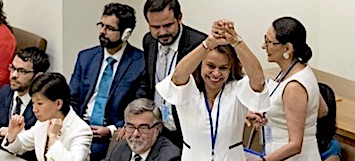 July 7, 2017:
UN Adopts Treaty on the Prohibition of Nuclear Weapons
- The treaty prohibits nations from developing, testing, producing, manufacturing, transferring, possessing, stockpiling, using or threatening to use nuclear weapons. It also prohibits them from assisting, encouraging or inducing anyone to engage in any of those activities. In addition, nations must not allow nuclear weapons to be stationed or deployed on their territory. (See FAQs on the treaty provisions at ICAN)
ICAN's executive director, Beatrice Fihn: "We hope that today marks the beginning of the end of the nuclear age. It is beyond question that nuclear weapons violate the laws of war and pose a clear danger to global security... No one believes that indiscriminately killing millions of civilians is acceptable- no matter the circumstance- yet that is what nuclear weapons are designed to do. Today the international community rejected nuclear weapons and made it clear they are unacceptable." (ref: ICAN) (for more, see Nukewatch dossier on the Ban Treaty)
- Perry Project statement: UN Adopts New Treaty on the Prohibition of Nuclear Weapons
- Arms Control Assoc: New Nuclear Weapons Prohibition Treaty Marks a Turning Point
- Union of Concerned Scientists: Historic Treaty Makes Nuclear Weapons Illegal
- Ploughshares Fund: A Stunning Rebuke To The Nuclear-Armed States
- US, UK, France joint statement: "We do not intend to sign, ratify or ever become party to it."
---
Trident System and Nuclear Weapons Hacking

On May 31, British American Security Information Council released a detailed survey of the vulnerabilities of UK's Trident nuclear force to hacking, finding that "A cyber-attack may target the submarine, command and control, or the missile launch system. It can attempt to disrupt or change launch coordinates to divert the original course of the missile, or to disrupt or neutralize the warheads themselves..."
See our file: Trident and Nuclear Hacking
---
The Nuclear Enterprise is More Problematic Than Ever- And It Has a Dark Side
The cloud hanging over the future of nuclear power grew darker recently with the bankruptcy of Westinghouse over cost overruns by the principle contractor, Shaw, and the huge hit, roughly $7 billion, that its corporate owner Toshiba had to take on it, pushing Toshiba itself to the brink of bankruptcy.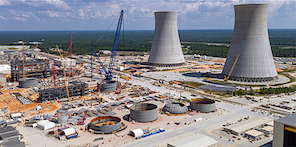 Ironically, Toshiba's AP1000 nuclear power plant model was meant to reduce construction and operation costs through standardization. (see photo at left)
The bankruptcy "is a powerful signal of the end of the fantasy of a nuclear revival", Daniel Hirsch, director of the program on environmental and nuclear policy at UCSC, told the Christian Science Monitor. (ref)
With Westinghouse's reactor design off the table, nuclear supporters have pinned their hopes on next-generation technologies such as small modular reactors (SMRs). But we're a long way from there. DOE's website states that "demonstrating the viability of SMRs will require overcoming many technical, regulatory, financial and institutional challenges". (ref)
View Small Modular Reactors Fact Sheet, By Arjun Makhijani and Michele Boyd:
No Solution For The Cost, Safety, And Waste Problems Of Nuclear Power
"Nuclear energy is, simply, in a rapidly accelerating crisis"
- Only 2 of Japan's 42 commercial reactors are back online since the Fukushima meltdowns following the earthquake and tidal wave of 2011.
- Four global nuclear industry giants- French utilities Électricité de France (EDF) and Areva, US-based Westinghouse and Japanese conglomerate Toshiba- face crippling debts and possible bankruptcy because of their investments in nuclear power. (ref)
"With the French nuclear industry crippled and Toshiba-Westinghouse out of the nuclear construction business, the West is effectively ceding the future of nuclear energy to China, Korea and Russia." (ref)
Meltdowns may be rare, but when they do happen, the disaster lasts forever.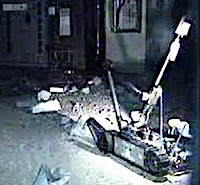 Six years ago several reactors at the Fukushima plant in Japan experienced meltdowns following an earthquake and tidal waves. And six years on, thousands of gallons of radioactive water still flow out into the sea every day. Humans can't get close enough to the reactor cores to see what exactly is happening, even robots are quickly fried by the high levels of radiation.
- April 26: "Experts: Japan 'wants to just drop tanks' of Fukushima nuclear waste into ocean. Americans worried over plumes hitting West Coast. Fukushima Radiation Alert: Concern 'nuclear chain reaction' could occur at plant; Reactors are still melting down and spewing radioactivity; Fuel has burned through containment..." (ref) See also: Dying robots and failing hope...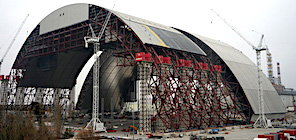 31 years ago this last week the nuclear reactor at Chernobyl exploded, releasing 400 times more radiation than the Hiroshima bomb. Recently, the concrete 'sarcophagus' built in the following years was about to crumble and collapse, which would have released a huge cloud of radiation again. An international effort is now completing a new dome (at a cost of $1.5 billion) which will cover the still highly toxic site. That these workers have had to execute at a distance of no less than 300 yards from the now 31 year old disaster site is testament to the difficulty of dealing with the long-lived hazards of the nuclear enterprise. Here is a new NOVA documentary on the construction of this latest tomb for Chernobyl: NOVA: "Building Chernobyl's MegaTomb". See also the Fukushima file and the Chernobyl at 30 file.
Nuclear energy is not clean energy.
But even the proper and successful running of nuclear reactors has produced a vast and dangerous buildup of radioactive spent fuel, most of which is stored above ground in water filled tanks. The Union of Concerned Scientists' latest report sounds the alarm on this: "The US currently has some 79,000 tonnes of spent fuel in at least 76 power-station cooling ponds and secure dry stores across the country. Another 2000 tonnes are added each year. The stores contain an estimated 444,000 petabecquerels of radioactivity, which is some 50 times more than released from all atmospheric nuclear weapons tests."
"US spent fuel pools are densely packed and at severe risk of a fuel fire in the event of an earthquake or terrorist attack that drained cooling water from the pools," says UCS's Edwin Lyman of the in Washington DC. (ref) and (ref)
And of course, all the industrialized countries are scrambling to find ways to dispose of the lethal byproduct of the supposed clean energy produced by nuclear power- for example:
- Brussels plans to saddle UK with EU nuclear waste
- Photos reveal covert op moving highly dangerous nuclear waste through Scotland at night
- Canadian government delays approval of nuclear waste dump on Lake Huron
- Battle to stop nuclear waste being buried in a French village
- Where to put all Japan's radioactive waste is now the burning issue
- Nuclear Waste Disposal Disaster in Germany
- Burying the atom: Europe struggles to dispose of nuclear waste
- Kitty Litter, Ocean Burial, Shooting It at the Sun, The Worst Ways to Stash Nuclear Waste

While the costs of nuclear power keep rising, green energy gets cheaper every year.
So why are we still subsidizing nuclear?
Green energy is now at price parity or cheaper than carbon fuels, and is far cheaper than nuclear with none of the lethal byproduct. And yet some states are subsidizing nuclear power and slow-walking alternative energies, precisely the opposite of what should be happening:
- Lifeline for Nuclear Plants Is Threatening Wind and Solar Power
- Paying Nuclear Losers for 'Clean' Power Upends U.S. Markets




From left: Hanford in Washington, Rocky Flats in Colorado, Los Alamos Area G in New Mexico
Then there's the waste from nuclear weapons production
Billions of dollars are spent every year in the effort to clean up the nuclear waste produced so profligately during the headlong rush to build tens of thousands of nuclear weapons during the cold war.
- One site, the Hanford site in Washington State, is considered to be "the most toxic place in America".
- The Rocky Flats site in Colorado was shut down by an FBI raid in June of 1989 due to radioactive pollution spread in the Denver region. (ref) Billions were spent in a cleanup effort ending in 2005, but doubts remain. (ref)
- At Los Alamos Lab here in New Mexico barrels of nuclear weapons production waste are still piled outdoors, awaiting shipment to the WIPP storage site in Carlsbad, New Mexico. WIPP has just partially re-opened after a several year long closure following the explosion of a barrel of waste from LANL, one of many packed with the wrong kind of kitty litter.
- Santa Fe New Mexican, April 23: LANL's Area G at center of nuclear cleanup effort
- See our page on the Nukewatch lawsuit regarding LANL cleanup.
- See our LANL Area G file
---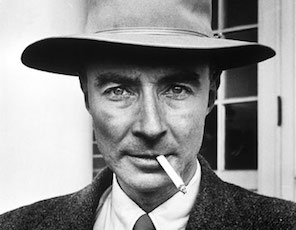 "If atomic bombs are to be added... to the arsenals of a warring world, ...then the time will come when mankind will curse the names of Los Alamos and Hiroshima. The people of this world must unite or they will perish." -Robert Oppenheimer, Director of the Manhattan Project at Los Alamos, acceptance speech, Army-Navy "Excellence" Award, Nov. 1945
---
Critical Events

---
Oslo, October 6, 2017:
ICAN Awarded Nobel Peace Prize
Below, Aaron Maté interviews Rick Wayman, Director of Operations and Programs at Nuclear Age Peace Foundation, and a board member of the Alliance for Nuclear Accountability (Nuclear Watch NM is also a member).
---
Vatican, Nov. 10-11, 2017:
Vatican Nuclear Disarmament Conference
Archbishop Tomasi said that the conference is conceived as a follow-up to the Treaty on the Prohibition of Nuclear Weapons, passed July 7 at the United Nations. Pope Francis has said "The doctrine of nuclear deterrence has become ineffective against 21st century threats like terrorism, asymmetrical conflicts, environmental problems and poverty... [the urgency to ban them is] even greater when we consider the catastrophic humanitarian and environmental consequences that would follow from any use of nuclear weapons, with devastating, indiscriminate and uncontainable effects, over time and space." (more info)
---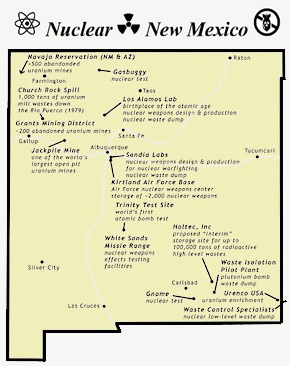 Nuclear New Mexico
Click to see NukeWatch's annotated map of nuclear sites, including those on the way, in The Land of Enchantment
---
NukeWatch gets a Santa Fe Mayor's Award
In addition to our work toward limiting and ultimately eliminating nuclear weapons, NukeWatch also works to protect Northern New Mexico aquifers from the radioactive wastes dumped over the last 70 years of atomic bomb production at Los Alamos Lab.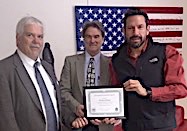 This week, Nukewatch was given the Santa Fe Mayor's Sustainability Award in the category of Environment for that work. (more)

Above: Scott Kovac, Jay Coghlan, Mayor Javier Gonzales
---
Nuclear Watch Legal Actions Ongoing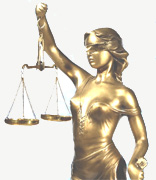 - Cleanup Lawsuit
See all related docs: NukeWatch lawsuit against DOE & LANS (LANL's corporate manager), re failure to execute cleanup of radioactive wastes.
- UPF Lawsuit
OREPA, NukeWatch, and NRDC lawsuit against the Uranium Processing Facility (UPF) -the 'tip of the spear' for the $trillion dollar nuclear modernization project.
---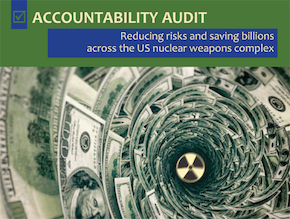 ANA Report 2017: Accountability Audit
This year's report examines the extraordinary spending at Department of Energy nuclear facilities and examines ways to reduce risks and save billions of dollars across the U.S. nuclear weapons complex. (View/download PDF)
---
Alliance For Nuclear Accountability 2016 Report
Out-of-control U.S. nuclear weapons programs accelerate spending, proliferation, health and safety risks: The Trillion Dollar Trainwreck (PDF)
---
Newsletters and Calendars
---
- The Bulletin's Nuclear Roundup
Daily nuclear news; subscribe or view online. Very good selection.
- Ploughshares' Early Warning
"Daily news on the issues we're following from the desk of Joe Cirincione." Subscribe or view online.
- AM Nukes Roundup
A good one from Rethink Media. Compiles all of the day's top news and opinion pieces on nuclear issues- subscribe or view online.
- Proliferation News
From the Carnegie Nuclear Policy Program- subscribe or view online.
- Nuclear Policy News (CSIS)
Subscribe or view online. Very good selection. Note that CSIS's top ten corporate donors include Lockheed Martin, Northrup-Grumman, Boeing, General Dynamics and Leonardo-Finmeccanica.
- Nuclear Calendar FCNL
Extensive email listing of all nuclear-related events, from the Friends Committee on National Legislation. Subscribe or view online.
- National Security Legislative Calendar
From the Council for a Livable World. (ref)
- NucNews
Very extensive daily dump of nuclear-related news items; unfortunately hard on the eyes and often redundant, but again, extensive.
---
FAS Nuclear Notebooks
---
- US nuclear forces 2017
- Russian nuclear forces 2017
- Indian nuclear forces 2017
- Chinese nuclear forces 2016
- Pakistan Nuclear forces 2016
- more
---
---
Twitter Feeds
---
---
---
Nuclear News
---
Growing threat: Cyber and nuclear weapons systems
Have 20 Years of NATO Expansion Made Anyone Safer?
A dozen reasons for the economic failure of nuclear power
NATO conducts annual nuclear defense drill in Western Europe
How to survive a nuclear bomb in DC (yes, really
Germans: US withdrawal from Iran deal would push the EU to Russia and China
NYT OpEd: Mr. Trump Alone Can Order a Nuclear Strike. Congress Can Change That.
Rick Perry's Department of Energy Is Worse Than You Could Even Imagine
Trump denounces as 'pure fiction' a widely carried NBC report that he wanted a ten-fold increase in US nuclear weapons stockpile
University of Hawaii emailed students tips on how to prepare for a nuclear attack
Trump's overhaul of US nuclear weapons policy may make nuclear war more likely
Understanding the Threat Posed by Hypersonic Weapons
Here's the Leaked Anti-Leak Training Email Sent to DOE Staff
ICYMI- Eric Schlosser: World War Three, by Mistake
NATO seeking to revive cold war-era climate - Russian Foreign Minister Lavrov
What would it take to trigger war between Russia and NATO? Just a spark
B-52s Useless Without New Long-Range Nuclear Cruise Missiles - US STRATCOM Chief
START from the Beginning: 25 Years of US-Russian Nuclear Weapons Reductions
Dennis Kucinich Speaks at UN for Nuclear Weapons Ban
The Kyshtym disaster 60 years on: "...People have become a sort of radioactive waste."
Anti-Nuclear Groups Redouble Efforts to Prevent Unimaginable Human Catastrophe
Expected WIPP roof collapse raises anxiety
The effects of a single terrorist nuclear bomb
Top German Politicians Want US Nuclear Weapons Out: Did Anti-Nuclear Actions Propel Issue Into National Elections?
Preemptive or preventative strikes: The Dangerous Misunderstanding at the Core of the North Korea Debate
North Korea: Hawaii residents told to prepare for nuclear attack as tensions reach new high
California's plans for North Korean nuclear attack revealed
French president Macron sets out a renewed vision for Europe
Probe opened into 'potential criminality' in South Carolina nuke plant project
The Memo: Fears escalate over North Korea
Lavrov reminded UN a West-inspired coup d'état started Ukraine crisis, not Russia
71% of Germans in favor of signing nuke ban treaty
Trump at UN threatens to 'totally destroy' North Korea
UT System regents commit up to $4.5M for a bid to run Los Alamos
Cancer-causing chemicals appear to spread in regional aquifer near LANL
Theresa May under growing pressure to sign UN anti-nuclear treaty
No nuclear weapon is safe from cyberattacks
North Korea's Threat Pushes Japan to Reassess Its Might and Rights
North Korea responds to latest U.N. sanctions with second missile over Japan
Finland's incredible permanent nuclear waste storage facility
Turkey signs deal for Russian S-400 air defense missiles
Germany has put most arms exports to Turkey on hold: minister
5 Lies Nikki Haley Just Told About The Iran Deal
U.N. nuclear watchdog chief says Iran playing by the rules
Deutsche Welle: Nuclear waste: Where to store it for eternity?
Trump review leans toward proposing mini-nuke
North Korea's nuclear plans are actually very clear. It's far less obvious what Donald Trump will do
Director of Air Force School of Advanced Nuclear Deterrence Studies at Kirtland AFB facing charges of raping 4 year-old girl
Germany: Caught between America and Russia again
Foreign Minister Gabriel joins call to withdraw US nukes from Germany
Huge pacifist sentiment in Germany supports removal of US nuclear weapons
SPD's Martin Schulz wants US nuclear weapons out of Germany
We Need to Stop Using Russia as a Political Football
'Russiagate' Allegations, Irresponsibly Promoted by Congress and the Media, Have Become a Grave Threat to American National Security
Navy Families Sue Fukushima Operators for Wrongful Death
Lockheed, Raytheon get $900 million each to Develop New Nuclear Cruise Missile
GBSD: Northrop, Boeing Win Initial Deal to Replace Land-Based Nuclear ICBMs
---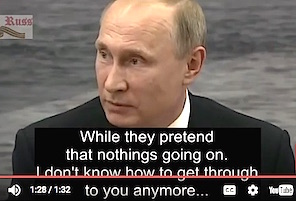 In Europe and Russia, There's Talk of War
-Jill Dogherty, Wilson Center (ref)
See our report: Nuclear Flashpoints: NATO-Russia
---
What Putin Wants
Alexei Arbatov details the basis for an understanding between the US and Russia from Putin's perspective; this event organized and hosted by the Graduate Initiative in Russian Studies at the Middlebury Institute of International Studies on May 13, 2016.
See our report: Nuclear Flashpoints: NATO-Russia
---
Current nuclear stockpiles
For country reports and other details see original annotated infographic at Ploughshares.org.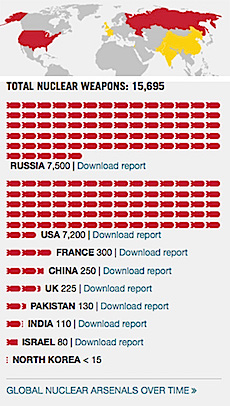 ---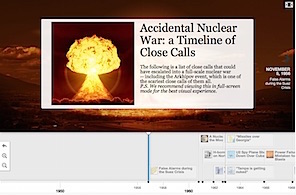 Accidental nuclear war- think it can't happen?
It almost did, quite a few times. See this timeline of nuclear close calls, presented by The Future of Life Institute.
---
Don't Bank on the Bomb 2015
View/download Report PDF
---
Where will the Trump Administration Take US Nuclear Weapons Policies?


President Trump has called for a new Nuclear Policy Review to be delivered later this year. The last NPR was done in 2010. (read on at our dossier on the developing Trump admin nuclear policies)
---
Why You Should Care About Nukes
"Thanks to the Future of Life Institute for helping support this video and to Max Tegmark for guest narrating. For info about divesting from nuclear weapons companies, go to FLI Responsible Investing."
---
Radioactive Quotes

---
"The probability of global catastrophe is very high, and the actions needed to reduce the risks of disaster must be taken very soon. Wise public officials should act immediately, guiding humanity away from the brink. If they do not, wise citizens must step forward and lead the way."
- Bulletin of the Atomic Scientists
---

Every little bit helps!
Remember: contributions are tax-deductible.
*Go to donations page* Thanks for your support!