Arsenal of Information
---
---
---
Dossiers:
UN Nuclear Weapons Ban Conference
B61-12 Enhanced Nuclear Bomb
LRSO: New Nuclear Cruise Missile
US Nukes at Incirlik AFB, Turkey
Trump Admin and Nuclear Weapons Policy
Kirtland AFB Nuclear Weapons Complex
Flashpoint: NATO-Russia
Flashpoint: North Korea
MOX / Plutonium Disposition
Fukushima Disaster and Updates
Nuke Lab Contractors Illegal Lobbying
Revolving Door: The Case of Heather Wilson
Marshall Islands Lawsuit
CMRR-Nuclear Facility
Conference on the Humanitarian Impact
Nuclear Testing Since 1945
Atomic Histories
---
Nuclear Watch Interactive Map of the
Nuclear Weapons Complex
View full size
Facilities:
Kansas City Plant
Lawrence Livermore National Labs
Los Alamos National Laboratory
Nevada National Security Site
Pantex Plant
Sandia National Laboratories
Savannah River Site
Washington DC
Waste Isolation Pilot Plant (WIPP)
Y-12 National Security Complex
---
Nuclear Weapons Enterprise Twitter Feeds:
---
Facility Spotlight, June, 2017:
"Asked about the persistence of the Los Alamos Lab's problems, former NNSA director Neile Miller smiled and said her colleagues at the nuclear oversight agency sometimes told the following joke: If Washington sent all three of America's nuclear weapons labs an order to study how to 'jump', they would all respond differently. Lawrence Livermore, she said, would convene a conference and produce a three-inch stack of reports about 'jumping.' Officials at Sandia would simply jump. But at Los Alamos, she said, officials would instinctively respond with a '**ck you, we're not jumping'"
- Reported by Patrick Malone and R. Jeffrey Smith in part 2 of their series entitled "Nuclear Negligence" for the Center for Public Integrity.
---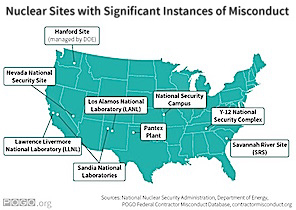 Nuclear Weapons Complex Misconduct
Dec. 3, 2015. POGO: Updated Federal Contractor Misconduct Database, focussing on Nuclear Complex (see report at POGO)
---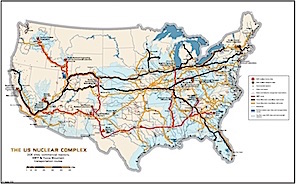 Click the image to view and download this large printable map of DOE sites, commercial reactors, nuclear waste dumps, nuclear transportation routes, surface waters near sites and transport routes, and underlying aquifers. This map was prepared by Deborah Reade for the Alliance for Nuclear Accountability.
Quote of the Week

---
"A cyberattack could falsely alert a country's early-warning networks that an enemy has launched a nuclear weapon and elicit an immediate retaliatory attack. Online hackers could manipulate communication systems into launching unauthorized missiles. Hackers could infiltrate missile command systems and launch or dismantle the weapons on site."
- Annie Lehman-Ludwig, Brown Political Review
---
LANL's Central Mission
Los Alamos Lab officials have recently claimed that LANL has moved away from primarily nuclear weapons to "national security", but what truly remains as the Labs central mission? Here's the answer from one of its own documents: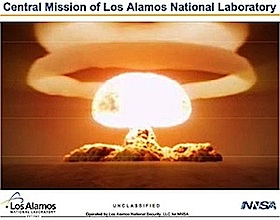 LANL's "Central Mission"- Presented at: RPI Nuclear Data 2011 Symposium for Criticality Safety and Reactor Applications
(PDF) 4/27/11
---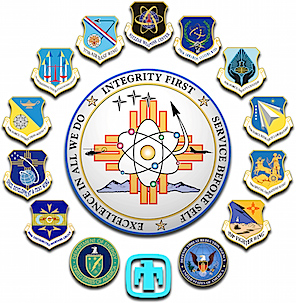 Dossier:
The Kirtland AFB Nuclear Weapons Complex
Kirtland Air Force Base, which abuts and shares some runways with the Albuquerque airport, has become a major nuclear weapons complex of it's own. It hosts the Air Force's Nuclear Weapons Center, Sandia National Laboratories, and what is probably the nation's (and perhaps the world's) largest repository of nuclear weapons, estimated at up to 2,500 warheads... (read more)
---
Follow the Money!

---
NNSA FY 2017 Budget Request
- Nuclear Watch Analysis/Compilation (PDF)
---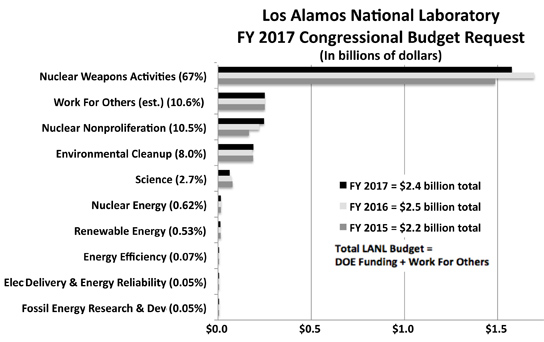 LANL FY 2017 Budget Request
Click to view full PDF incl. annotations
---
Lawrence Livermore FY 2017 Budget Request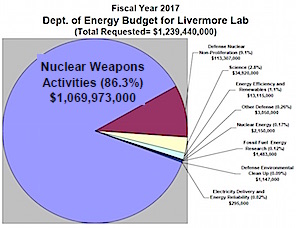 For Livermore Lab, Nuclear Weapons Activities still dominate the budget, increasing to over 86%.
Chart by Tri-Valley CARES
---
Congressional Budget Office report:
Projected Costs of Nuclear Forces 2014-2023

CBO presentation based on the report: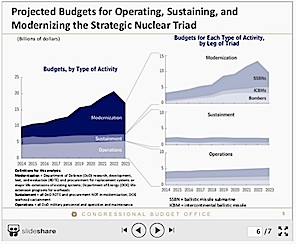 Click to view presentation
---
Stockpile Stewardship and Management Plan
- View/Download FY 2017 SSMP (PDF)
- SSMP Analysis of Hans Kristensen, FAS: Nuclear Transparency and the Stockpile Stewardship and Management Plan (PDF)
- View/Download FY 2015 SSMP (PDF)
- NWNM Analysis (PDF) / Analysis Summary (PDF)
---
Nuclear Watch Media
---
KUNM FM: LANL's Long Environmental Cleanup
KUNM public radio discussion of Los Alamos cleanup, and Nukewatch lawsuit Archived podcast here
---
Jay Coghlan, Nukewatch Director Interview
Earth Matters Radio re legacy of the US nuclear weapons program on the 70th anniversary of the Hiroshima/Nagasaki bombings. Thursday Aug 6 at 10 am and 8 pm on 89.1FM. Archived podcast here
---
NukeWatch YouTube Channel
See our playlists of key video clips.
---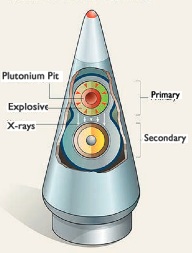 Successful Citizen Activism Against
Expanded U.S. Plutonium Pit Production
This is the unsung story of successful citizen activism against repeated government attempts to expand the production of plutonium pit cores, which has always been the choke point of resumed U.S. nuclear weapons production. This history is a critical part of the march toward a future world free of nuclear weapons.
(View/download full report- PDF)
July 14, 2016:
Debate Is On Over Making More Nuclear Triggers At Los Alamos Lab
"The National Nuclear Security Administration is under orders from Congress to produce as many as 80 new nuclear weapons triggers a year by around 2030, and Los Alamos National Laboratory is the only place in the country that is equipped to make them now... The plans for a higher-capacity plutonium pit production facility make Los Alamos key - some call the lab 'ground zero'..." (ref: Albuquerque Journal)

Updated March 2017: NukeWatch Fact Sheet:
"Plutonium Pit Production at LANL"
(View/download PDF)
---
May 23:
Missile Defense Agency Launches Hypersonic Defense Program
---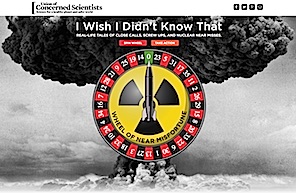 What is both sobering and addictive?
This "Wheel of Near Misfortune" created by Union of Concerned Scientists- don't miss it!
---
Dr. Perry's Nuclear Nightmare
Dr. William J. Perry, the 19th Secretary of Defense, shares his nuclear nightmare in this video produced by the William J. Perry Project.
---
Beyond the Summit:
New Approaches to Nuclear Security
William Perry: "Danger of a nuclear catastrophe is greater than during the Cold War. Our public is blissfully unaware. Consequently, the policies that this country follows are in no way commensurate to the danger."
---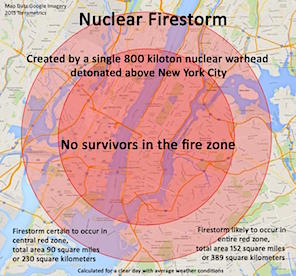 What would happen if an 800-kiloton nuclear warhead detonated above midtown Manhattan?
You should read this.
---
Recent visitors - click to enlarge
---
Help us boost public awareness of the reality and risks of nuclear weapons today. Please share Nukewatch.org with your friends using the buttons below:
---

"If you really want a future world free of nuclear weapons, you can hardly make a better investment than to give to Nuclear Watch New Mexico. They need and deserve your support so that they can carry on their groundbreaking work. I urge you to be generous with them!" - Danielle Brian, Executive Director, Project on Government Oversight.
Please support our work!
Remember, donations are tax-deductible.

New & Updated

---
"Workers' lives are endangered while contractors running nuclear weapons plants make millions."
June 26: "Nuclear Negligence" Part 3
Light Penalties and Lax Oversight Encourage Weak Safety Culture at Nuclear Weapons Labs
The third lengthy investigative report from the Center for Public Integrity in the "Nuclear Negligence" series; this one ran in USA Today and other papers in the Gannett chain.
It's been a bad week for Los Alamos. Following the first lengthy CPI report of safety and security failings, NNSA administrator Frank Klotz released an official statement defending the "improved" safety culture there. And then 4 days later we learned that LANL had shipped "special nuclear materials" (uranium, plutonium) to Lawrence Livermore and Savannah River National Labs via commercial air cargo rather than by ground, a dangerous violation of security procedures because changes in air pressure might cause the containers to fail. Klotz had to release another statement this time saying the failure to follow safe procedures was "absolutely unacceptable".
The latest CPI report notes: "Even when the Energy Department imposed a significant financial penalty against one contractor in 2014, it amounted to a tiny share of the government's costs to repair the contractor's disastrous mishap. That case involved the Los Alamos National Laboratory, which lost 90 percent of its potential good performance profit in 2014 after its errors caused nuclear waste to be improperly packed in an underground New Mexico storage cavern, where it exploded. That amounted to a penalty of $57 million. But this was less than four percent of the estimated $1.5 billion cost to the federal government, so far, of cleaning up and dealing with the resulting mess..." (source)
---
June 20: "Nuclear Negligence" Part 2
Safety Problems at a Los Alamos Laboratory Delay U.S. Nuclear Warhead Testing and Production
"Jerry McKamy, a former NNSA nuclear physicist and now a senior expert at the Defense Nuclear Facilities Safety Board, ...made it clear in a trade journal article last December that the nuclear complex's poor handling of criticality safety has been endemic."
"McKamy wrote that 'DOE and its contractors have repeatedly shown they are not capable of anticipating and preventing serious criticality safety problems.' They have persistently ignored 'written and credible warnings by criticality safety and management experts.'"
---

For immediate release: June 19, 2017:
Some Background on Plutonium Pit Production at the Los Alamos Lab
Santa Fe, NM. "Why expand plutonium pit production when apparently it can't be done safely and may decrease, not increase, our national security? One strong reason is the huge contractor profits to be had under the one trillion dollar-plus 'modernization' of the nuclear weapons stockpile and production complex initiated under Obama, which Trump promises to expand. Far from just 'modernization', existing nuclear weapons are being given new military capabilities despite denials at the highest levels of government..."
- View/download the full press release
- NukeWatch Fact Sheet: Plutonium Pit Production
---
June 18, 2017: "Nuclear Negligence" Part 1
Repeated Safety Lapses Hobble Los Alamos National Laboratory's Work On The Cores Of U.S. Nuclear Warheads
First in the series "Nuclear Negligence", by Patrick Malone and R. Jeffrey Smith for the Center of Public Integrity. Simultaneously published in the Washington Post.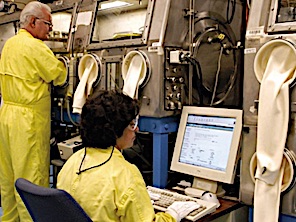 Los Alamos National Lab Plutonium Facility #4

Some excerpts:
"Los Alamos violated nuclear industry rules for guarding against a criticality accident three times more often last year than the Energy Department's 23 other nuclear installations combined, that report said. Because of its shortcomings, federal permission has not been granted for renewed work with plutonium liquids, needed to purify plutonium taken from older warheads for reuse, normally a routine practice."
"Moreover, a year-long investigation by the Center makes clear that pushing the rods too closely together in 2011 wasn't the first time that Los Alamos workers had mishandled plutonium and risked deaths from an inadvertent burst of radiation. Between 2005 and 2016, the lab's persistent and serious shortcomings in "criticality" safety have been criticized in more than 40 reports by government oversight agencies, teams of nuclear safety experts, and the lab's own staff."
"And these safety challenges aren't confined to Los Alamos. The Center's probe revealed a frightening series of glaring worker safety risks, previously unpublicized accidents, and dangerously lax management practices. The investigation further revealed that the penalties imposed by the government on the private firms that make America's nuclear weapons were typically just pinpricks, and that instead the firms annually were awarded large profits in the same years that major safety lapses occurred. Some were awarded new contracts despite repeated, avoidable accidents, including some that exposed workers to radiation."
First in the series "Nuclear Negligence" by Patrick Malone for the Center of Public Integrity. Simultaneously published in the Washington Post.
Updates:
* Statement from Frank Klotz, NNSA Administrator, regarding the CPI article and series.
- See also: NukeWatch Fact Sheet: Plutonium Pit Production

"Many citizens, scientists and laymen alike, view nuclear-weapons abolition as an essential milestone in the development of human civilization, a moral, ideological and practical campaign that could catalyze the transformation of international relations and improve the outlook for civilization at a critical time." -James Doyle

June 15, 2017: Final Negotiations Underway on Nuclear Weapons Ban Treaty
- Live stream- UN Web TV
- Draft Nuclear Weapons Ban Treaty View/download PDF
- An Open Letter from Scientists in Support of the UN Nuclear Weapons Negotiations
- Selected Elements of a Treaty Prohibiting Nuclear Weapons
- Statements and working papers to the conference
- We have a dossier on the background and trajectory of this initiative, and we'll keep it up to date with news and developments: Ban Treaty dossier.
- For further in-depth coverage of these negotiations, see the Reaching Critical Will and ICAN websites. Also note the ban treaty blog at ICAN for daily news and developments.
---
Mattis "Open To Rethinking" New ICBMs and Nuclear Cruise Missiles
Pressed by Sen. Dianne Feinstein, who opposes the planned nuclear cruise missile (LRSO), Defense Secretary Mattis told a Senate Budget Hearing June 14 he's open to rethinking the triad, as well as the LRSO.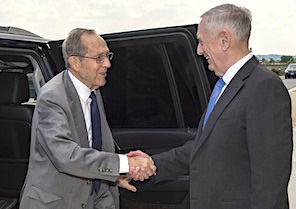 Mattis said he would be consulting with former Defense Secretary William Perry, who has advocated eliminating one leg of the triad by phasing out the land-based intercontinental ballistic missiles. Perry met with Mattis on the day of the hearing, and later tweeted, "Very wide ranging, candid, and productive discussion with Sec Def Mattis at the Pentagon today."
Perry is also strongly opposed to developing new nuclear cruise missiles, which he says are "uniquely destabilizing" weapons, because an adversary cannot tell a conventional missile from a nuclear-armed version, risking miscalculation in a crisis.
"I register loud and clear the potential destabilizing view that some people see this weapon bringing and I'm taking that on board," Mattis said. (story ref)
Note that both ICBMs and the nuclear cruise missiles - the two weapons systems most frequently seen by experts as unnecessary and dangerous, are Air Force systems, and that Heather Wilson, a long time pal of the weapons contractors, is now Secretary of the Air Force.
---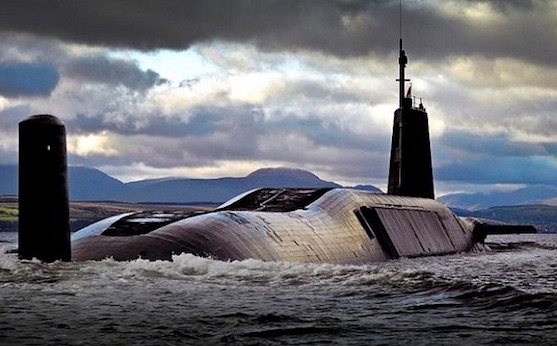 US/UK Trident: A Hackable Doomsday Machine?
Earlier this year we learned that in June 2016, an unarmed Trident nuclear missile launched from a British submarine off the coast of Florida targeting a point in the south Atlantic instead turned around and headed for Georgia, and had to be destroyed in mid-flight. In our coverage of the incident, we wondered whether "the mishap" may have been caused by a hack. (see "Trident Malfunction and Hacking")
Consider that the recent WannaCry worm infected 300,000 computer systems in 160 countries, and weeks later we still don't know who did it. If such a worm were able to infect defense computers in several nuclear powers, and trigger a full-blown nuclear exchange wiping out civilization, it could be that the surviving remnants would never know how or why it happened. It may be hard to consider such an absurd and meaningless annihilation of everything we hold dear in our world, but the scenario is not impossible.
On May 31, British American Security Information Council released a major in-depth and detailed survey of the vulnerabilities of Britain's Trident nuclear force to hacking:
Hacking UK Trident: A Growing Threat (View/download PDF) Some excerpts:
- "A cyber-attack may target the submarine, command and control, or the missile launch system. It can attempt to disrupt or change launch coordinates to divert the original course of the missile, or to disrupt or neutralize the warheads themselves...
- "To imagine that critical digital systems at the heart of nuclear weapon systems are somehow immune or can be confidently protected by dedicated teams of network managers is to be irresponsibly complacent. When states invest hundreds of billions of dollars in offensive nuclear weapon systems, the incentives are there amongst adversaries to develop capabilities that could neutralize that threat."
- "Relying as it does upon numerous computers, complex software and endless lines of code, the Trident system is undeniably vulnerable to cyber interference.... The overall impact is one of far greater instability and uncertainty of outcomes. When considering the consequences of nuclear weapons use, and the widespread recognition that once a nuclear exchange starts between nuclear armed states it is very unlikely to remain limited, is this really an acceptable future?"
Note the report's remarks regarding the June 2016 incident: "The failure could have several explanations... It was also consistent with the injection of malware into the failing component or into the system transmitting telemetry data from the missile. In other words, if there had been a hack, this is possibly what it would have looked like."
- A related must-read: NYTimes: A Cyberattack 'the World Isn't Ready For' "this is a nuclear bomb compared to WannaCry"
---

Nuclear Weapons: Who Pays, Who Profits?
From a presentation made by William D. Hartung, the director of the Arms and Security Project at the Center for International Policy, at a conference on "Reducing the Threat of Nuclear War" held at MIT in May:
"Not only is it unnecessary to embark on a three decade, $1 trillion effort to build a new generation of nuclear weapons, but it's dangerous... The ultimate cost of the trillion dollar buildup is the risk it poses to the future of life on earth."


Hartung goes on to describe "the huge opportunity costs" associated with spending vast sums on nuclear weapons we don't need. He used an online interactive infographic created by the Future of Life Institute that lets one choose alternative ways to spend that trillion dollars. "I tried it, and I found out we could buy the following things instead of wasting a trillion dollars on a new generation of nuclear weapons:"
100 Million School Lunches: $235 million
10,000 High School Science Teachers for one year: $553 million
Salvage and Protect All Superfund Toxic Waste Sites for one year: $681 million
Provide Federal Funding for Planned Parenthood for one year: $528 million
Health Insurance for 1 Million Families for one year: $16.8 billion
End Homelessness for one year: $20 billion
Fix All Deficient Bridges in the U.S.: $71 billion
Altogether, the above investments represent only about 10 percent of the $1 trillion the Pentagon wants to spend on nuclear weapons over the next three decades.
(Try the tool yourself)
Hartung notes: "There is one option offered by the Future of Life Institute tool that would put a serious dent in the $1 trillion spending total:
- Burn a $1 Million Pile of Cash Every Hour for Thirty Years: $262 Billion.
Still only a quarter of the total.
"Burning piles of cash would be a waste of money, to be sure, but it would be a far better,
and far safer, use of the funds than spending them on extending a nuclear arms race that puts us all at risk." - William Hartung: "Nuclear Weapons- Who Pays, Who Profits?"
---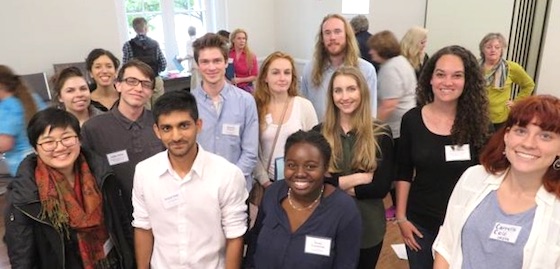 Photo: Ralph Hutchison, Courtesy Oak Ridge Environmental Peace Alliance
75 Young Activists From 20 States Joined ANA's DC Days This Year
75 activists from nuclear weapon sites in 20 states participated in the Alliance for Nuclear Accountability's DC Days 2017.
"They came from communities near nuclear weapons research, production and waste sites, such as Hanford, Wash., where there had recently been a tunnel cave-in that had 4,000 workers scrambling for safety; Lawrence Livermore labs in California; Colorado's Rocky Flats; and the Los Alamos labs, Sandia labs and the Waste Isolation Pilot Plant in New Mexico; a Kansas City plant that manufactures thousands of non-nuclear parts for weapons; Pantex in Texas; Oak Ridge facilities in Tennessee; and the Savannah River Site in South Carolina. Each has its own toxic, grim history.
"We urged policymakers to cut wasteful, dangerous weapons programs and accelerate warhead dismantlement. With accountability and public oversight, taxpayers could save billions that could be redirected to cleaning up the enormous toxic mess at these sites. We would be far more secure than we would be by building new bomb plants or modernizing nuclear weapons, which the U.S. government plans now."
"The activists learned about the U.S. nuclear legacy and current plans, and they were trained in the most effective ways to lobby. One said, 'It seemed as though lobbying the government and positively influencing legislation are impossible. This trip has told me otherwise.'" (ref)
More about DC Days
---
The Nuclear Enterprise is More Problematic Than Ever- And It Has a Dark Side
The cloud hanging over the future of nuclear power grew darker recently with the bankruptcy of Westinghouse over cost overruns by the principle contractor, Shaw, and the huge hit, roughly $7 billion, that its corporate owner Toshiba had to take on it, pushing Toshiba itself to the brink of bankruptcy.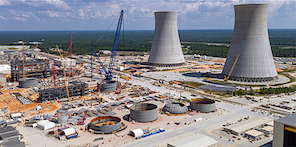 Ironically, Toshiba's AP1000 nuclear power plant model was meant to reduce construction and operation costs through standardization. (see photo at left)
The bankruptcy "is a powerful signal of the end of the fantasy of a nuclear revival", Daniel Hirsch, director of the program on environmental and nuclear policy at UCSC, told the Christian Science Monitor. (ref)
With Westinghouse's reactor design off the table, nuclear supporters have pinned their hopes on next-generation technologies such as small modular reactors (SMRs). But we're a long way from there. DOE's website states that "demonstrating the viability of SMRs will require overcoming many technical, regulatory, financial and institutional challenges". (ref)
View Small Modular Reactors Fact Sheet, By Arjun Makhijani and Michele Boyd:
No Solution For The Cost, Safety, And Waste Problems Of Nuclear Power
"Nuclear energy is, simply, in a rapidly accelerating crisis"
- Only 2 of Japan's 42 commercial reactors are back online since the Fukushima meltdowns following the earthquake and tidal wave of 2011.
- Four global nuclear industry giants- French utilities Électricité de France (EDF) and Areva, US-based Westinghouse and Japanese conglomerate Toshiba- face crippling debts and possible bankruptcy because of their investments in nuclear power. (ref)
"With the French nuclear industry crippled and Toshiba-Westinghouse out of the nuclear construction business, the West is effectively ceding the future of nuclear energy to China, Korea and Russia." (ref)
Meltdowns may be rare, but when they do happen, the disaster lasts forever.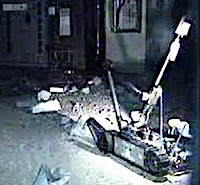 Six years ago several reactors at the Fukushima plant in Japan experienced meltdowns following an earthquake and tidal waves. And six years on, thousands of gallons of radioactive water still flow out into the sea every day. Humans can't get close enough to the reactor cores to see what exactly is happening, even robots are quickly fried by the high levels of radiation.
- April 26: "Experts: Japan 'wants to just drop tanks' of Fukushima nuclear waste into ocean. Americans worried over plumes hitting West Coast. Fukushima Radiation Alert: Concern 'nuclear chain reaction' could occur at plant; Reactors are still melting down and spewing radioactivity; Fuel has burned through containment..." (ref) See also: Dying robots and failing hope...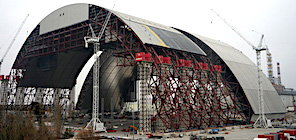 31 years ago this last week the nuclear reactor at Chernobyl exploded, releasing 400 times more radiation than the Hiroshima bomb. Recently, the concrete 'sarcophagus' built in the following years was about to crumble and collapse, which would have released a huge cloud of radiation again. An international effort is now completing a new dome (at a cost of $1.5 billion) which will cover the still highly toxic site. That these workers have had to execute at a distance of no less than 300 yards from the now 31 year old disaster site is testament to the difficulty of dealing with the long-lived hazards of the nuclear enterprise. Here is a new NOVA documentary on the construction of this latest tomb for Chernobyl: NOVA: "Building Chernobyl's MegaTomb".
See also the Fukushima file and the Chernobyl at 30 file.
Nuclear energy is not clean energy.
But even the proper and successful running of nuclear reactors has produced a vast and dangerous buildup of radioactive spent fuel, most of which is stored above ground in water filled tanks. The Union of Concerned Scientists' latest report sounds the alarm on this: "The US currently has some 79,000 tonnes of spent fuel in at least 76 power-station cooling ponds and secure dry stores across the country. Another 2000 tonnes are added each year. The stores contain an estimated 444,000 petabecquerels of radioactivity, which is some 50 times more than released from all atmospheric nuclear weapons tests."
"US spent fuel pools are densely packed and at severe risk of a fuel fire in the event of an earthquake or terrorist attack that drained cooling water from the pools," says UCS's Edwin Lyman of the in Washington DC. (ref) and (ref)
And of course, all the industrialized countries are scrambling to find ways to dispose of the lethal byproduct of the supposed clean energy produced by nuclear power- for example:
- Brussels plans to saddle UK with EU nuclear waste
- Photos reveal covert op moving highly dangerous nuclear waste through Scotland at night
- Canadian government delays approval of nuclear waste dump on Lake Huron
- Battle to stop nuclear waste being buried in a French village
- Where to put all Japan's radioactive waste is now the burning issue
- Nuclear Waste Disposal Disaster in Germany
- Kitty Litter, Ocean Burial, Shooting It at the Sun, The Worst Ways to Stash Nuclear Waste

While the costs of nuclear power keep rising, green energy gets cheaper every year.
So why are we still subsidizing nuclear?
Green energy is now at price parity or cheaper than carbon fuels, and is far cheaper than nuclear with none of the lethal byproduct. And yet some states are subsidizing nuclear power and slow-walking alternative energies, precisely the opposite of what should be happening:
- Lifeline for Nuclear Plants Is Threatening Wind and Solar Power
- Paying Nuclear Losers for 'Clean' Power Upends U.S. Markets




From left: Hanford in Washington, Rocky Flats in Colorado, Los Alamos Area G in New Mexico
Then there's the waste from nuclear weapons production
Billions of dollars are spent every year in the effort to clean up the nuclear waste produced so profligately during the headlong rush to build tens of thousands of nuclear weapons during the cold war.
- One site, the Hanford site in Washington State, is considered to be "the most toxic place in America".
- The Rocky Flats site in Colorado was shut down by an FBI raid in June of 1989 due to radioactive pollution spread in the Denver region. (ref)
- At Los Alamos Lab here in New Mexico barrels of nuclear weapons production waste are still piled outdoors, awaiting shipment to the WIPP storage site in Carlsbad, New Mexico. WIPP has just partially re-opened after a several year long closure following the explosion of a barrel of waste from LANL, one of many packed with the wrong kind of kitty litter.
- Santa Fe New Mexican, April 23: LANL's Area G at center of nuclear cleanup effort
- See our page on the Nukewatch lawsuit regarding LANL cleanup.
- See our LANL Area G file
The intersection of nuclear weapons and nuclear power: the MOX boondoggle
POGO, April 28, 2017: "The MOX project- designed to take weapons-grade plutonium and dispose of it by converting it into fuel for nuclear power plants- sounds good in theory. But, this partially constructed plant is a staggering four decades behind schedule, and an estimated 17 billion dollars over budget. It is plagued with technical and safety concerns, and doesn't have a single utility client locked in to purchase the fuel it is supposed to produce. The MOX project should be permanently mothballed- and the President should not only make shutting it down a priority, but should also point to it as an example of the kind of bad deal he intends to thwart." Read the complete statement by Danielle Brian and Pete Sepp: No More For MOX
Updates:
- Trump's Budget: $270 million to Terminate MOX, Pursue Downblending
- Trump admin dropping deep borehole nuclear waste burial plan
---
June 11, 2017:
A Defining Moment:
Stopping The Next Nuclear Bomb Plant
"The Oak Ridge Environmental Peace Alliance and Nuclear Watch New Mexico invite you to be part of history- we are filing a legal challenge to the Uranium Processing Facility (UPF) nuclear bomb plant the government wants to build in Oak Ridge, TN. Your part- help fund the lawsuit. You can find out more and contribute to the legal fund at www.orepa.org."
---
NukeWatch gets a Santa Fe Mayor's Award
In addition to our work toward limiting and ultimately eliminating nuclear weapons, NukeWatch also works to protect Northern New Mexico aquifers from the radioactive wastes dumped over the last 70 years of atomic bomb production at Los Alamos Lab.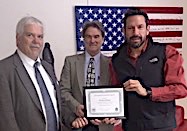 This week, Nukewatch was given the Santa Fe Mayor's Sustainability Award in the category of Environment for that work. (more)

Above: Scott Kovac, Jay Coghlan, Mayor Javier Gonzales
---
Cleanup Lawsuit: NukeWatch v. DOE, LANS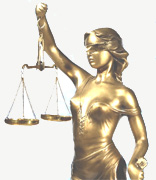 See all docs related to the ongoing Nuclear Watch lawsuit against DOE and LANS (the corporate manager of Los Alamos Lab), over multiple missed deadlines and failures to execute cleanup of radioactive wastes at the Los Alamos site: Cleanup Lawsuit.
---
Critical Events

---
Now through July 7:
Public Comment period through July 7
Defense Nuclear Safety Board review: Understanding the Safety Posture of the Plutonium Facility at Los Alamos National Lab.
See archived video of public hearing June 7, 2017
Public comment period through July 7. (more)
---
June 15 - July 7, United Nations, NYC:
2nd Session, Nuclear Ban Treaty Negotiations
Live stream- UN Web TV
- More info at: ICAN / Reaching Critical Will
- ICAN: Ban Treaty Blog for daily news and updates.
- Bulletin Atomic Scientists: Ban Brief: updates,
background, implications, by ICAN's Tim Wright and Ray Acheson, director of Reaching Critical Will.
- More: see our dossier on the Ban Treaty effort
---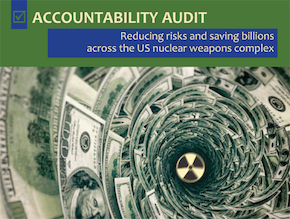 ANA Report 2017: Accountability Audit
This year's report examines the extraordinary spending at Department of Energy nuclear facilities and examines ways to reduce risks and save billions of dollars across the U.S. nuclear weapons complex. (View/download PDF)
---
Newsletters and Calendars
---
- The Bulletin's Nuclear Roundup
Daily nuclear news; subscribe or view online. Very good selection.
- Ploughshares' Early Warning
"Daily news on the issues we're following from the desk of Joe Cirincione." Subscribe or view online.
- Nuclear Policy News (CSIS)
Subscribe or view online. Very good selection. Note that CSIS's top ten corporate donors include Lockheed Martin, Northrup-Grumman, Boeing, General Dynamics and Leonardo-Finmeccanica.
- Nuclear Calendar FCNL
Extensive email listing of all nuclear-related events, from the Friends Committee on National Legislation. Subscribe or view online.
- National Security Legislative Calendar
From the Council for a Livable World. (ref)
- NucNews
Very extensive daily dump of nuclear-related news items; unfortunately hard on the eyes and often redundant, but again, extensive.
---
FAS Nuclear Notebooks
---
- US nuclear forces 2017
- Russian nuclear forces 2016
- Chinese nuclear forces 2016
- Pakistan Nuclear forces 2016
- more
---
---


Alliance For Nuclear Accountability 2016 Report
Out-of-control U.S. nuclear weapons programs accelerate spending, proliferation, health and safety risks: The Trillion Dollar Trainwreck (PDF)

---
Twitter Feeds
---
---
---
Nuclear News
---
A Cyberattack 'the World Isn't Ready For'
Sam Nunn on Russia: 'We Have a Choice Between Cooperation or Catastrophe'
Rising Nuclear Dangers: Steps to Reduce Risks in the Euro-Atlantic
Nuclear Facilities Face Urgent, Evolving Cyber Threat
Women and the Ban the Bomb Movement
Trump's Nuclear Modernization Dilemma
NNSA FY 2018 Budget- The Case of the Missing Numbers
Label on LANL chemical waste drum inaccurate, Denver lab learns- potentially volatile, dangerous
If a nuclear bomb goes off, this is the most important thing you can do to survive
Will production of nuclear 'pits' leave LANL?
Is President Trump setting the stage for a new nuclear arms race?
Oyster Creek Nuclear power plant going away, but not its radioactive waste
Radioactive Waste Still Flooding Columbia River, EPA Says
Panel Poses Questions on Plutonium Risks at Los Alamos Lab
North Korea's Latest Missile Test: Advancing Toward an Intercontinental Ballistic Missile (ICBM) While Avoiding US Military Action
North Korea Missile Test Appears to Tiptoe Over a U.S. Tripwire
On Cyberattacks and Accidental Nuclear War
North Korea orders mass production of new ballistic missile capable of striking Japan and major US military bases
Draft Nuclear Weapons Ban Treaty Released Today
Turkey denies Germany access to Incirlik - Germany likely to pull troops out
The Ugly: Post #3 on the NNSA's FY2018 Budget Request
Oyster Creek Nuclear power plant going away, but not its radioactive waste
Radioactive Waste Still Flooding Columbia River, EPA Says
ANA DC Days: Positive change is possible
Panel Poses Questions on Plutonium Risks at Los Alamos Lab
A fun romp through the atomic West
Detailed report on Nth Korea missile and nuclear weapons programs
---


May 14 DPRK Missile Test
Steep trajectory reached 1,300 miles altitude; a test of 1st and 2nd stage engines and atmospheric re-entry of warhead stage. More on our Flashpoints:DPRK page.
---
Where will the Trump Administration Take US Nuclear Weapons Policies?


President Trump has called for a new Nuclear Policy Review to be delivered later this year. The last NPR was done in 2010. (read on at our dossier on the developing Trump admin nuclear policies)
---
Current nuclear stockpiles
For country reports and other details see original annotated infographic at Ploughshares.org.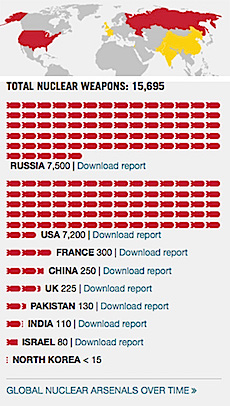 ---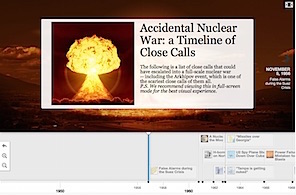 Accidental nuclear war- think it can't happen?
It almost did, quite a few times. See this timeline of nuclear close calls, presented by The Future of Life Institute.
---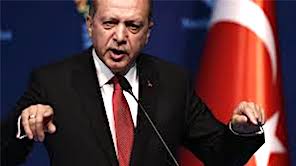 Erdogan bullies, slanders, threatens NATO Allies
Erdogan has recently called his NATO allies 'Nazi fascists', 'banana republics', and 'mass murderers', who need to learn 'how to behave', as if these nations were his vassal states. (ref) And the situation only gets worse: Erdogan has just banned German parliamentarians from visiting their troops at the NATO base. Turkey is no longer a safe place to park our NATO nukes.
May 23, 2017: Ploughshares president Joe Cirincione calls for the removal of our 50 nuclear weapons from Incirlik. More: see our Incirlik dossier
---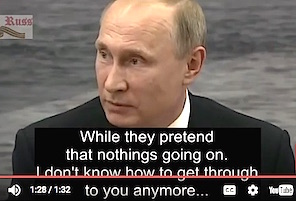 In Europe and Russia, There's Talk of War
-Jill Dogherty, Wilson Center (ref)
See our report: Nuclear Flashpoints: NATO-Russia
---
What Putin Wants
Alexei Arbatov details the basis for an understanding between the US and Russia from Putin's perspective; this event organized and hosted by the Graduate Initiative in Russian Studies at the Middlebury Institute of International Studies on May 13, 2016.
See our report: Nuclear Flashpoints: NATO-Russia
---
Did US promise not to expand NATO eastward?
"After speaking with many of those involved and examining previously classified British and German documents in detail, SPIEGEL has concluded that there was no doubt that the West did everything it could to give the Soviets the impression that NATO membership was out of the question for countries like Poland, Hungary or Czechoslovakia. Der Spiegel, November 6, 2009
---
---
Radioactive Quotes

---
"The probability of global catastrophe is very high, and the actions needed to reduce the risks of disaster must be taken very soon. Wise public officials should act immediately, guiding humanity away from the brink. If they do not, wise citizens must step forward and lead the way."
- Bulletin of the Atomic Scientists
"Nuclear war is more likely than one may hope, because it can start by mistake, miscalculation or terrorist provocation. There is a steady stream of accidents and false alarms that could trigger all-out war, and relying on never-ending luck is not a sustainable strategy." - from the 'Open Letter from Scientists in Support of the UN Nuclear Weapons Ban Negotiations'. See the full letter, signers to date, and sign-on form (please sign if you have, or are working toward, a PhD in a STEM field): Future of Humanity
---

Every little bit helps!
Remember: contributions are tax-deductible.
*Go to donations page* Thanks for your support!