Arsenal of Information
---
---
---
Dossiers:
Trump Admin and Nuclear Weapons Policy
Revolving Door: The Case of Heather Wilson
Kirtland AFB Nuclear Weapons Complex
LRSO: New Nuclear Cruise Missile
B61-12 Enhanced Nuclear Bomb
Flashpoint: NATO-Russia
Flashpoint: North Korea
Marshall Islands Lawsuit
Nuke Lab Contractors Illegal Lobbying
MOX / Plutonium Disposition
CMRR-Nuclear Facility
UN Nuclear Weapons Ban Conference
Conference on the Humanitarian Impact
Nuclear Testing Since 1945
Fukushima Disaster and Updates
Atomic Histories
---
Nuclear Watch Interactive Map of the
Nuclear Weapons Complex
View full size
Facilities:
Kansas City Plant
Lawrence Livermore National Labs
Los Alamos National Laboratory
Nevada National Security Site
Pantex Plant
Sandia National Laboratories
Savannah River Site
Washington DC
Waste Isolation Pilot Plant (WIPP)
Y-12 National Security Complex
Facility Spotlight, Feb. 17 2017:
Ctr. for Public Integrity Files Lawsuit v. DOE
FOIA request for performance evaluation reports 2006-2011 has been ignored for 18 months. Labs named in the complaint include the Lawrence Livermore National Laboratory, Los Alamos Labs, the Pantex Plant, Sandia National Labs, the Savannah River Site, the Kansas City Plant, and Y-12 in Oak Ridge, Tenn. (more)
---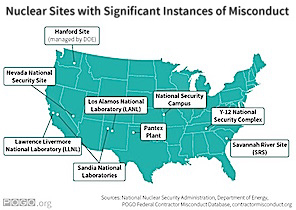 Nuclear Weapons Complex Misconduct
Dec. 3, 2015. POGO: Updated Federal Contractor Misconduct Database, focussing on Nuclear Complex (see report at POGO)
---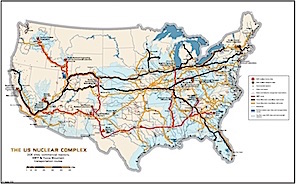 Click the image to view and download this large printable map of DOE sites, commercial reactors, nuclear waste dumps, nuclear transportation routes, surface waters near sites and transport routes, and underlying aquifers. This map was prepared by Deborah Reade for the Alliance for Nuclear Accountability.
Quote of the Week

---
"Most governments are frustrated that a small group of countries with a small fraction of the world's population insist on retaining the right to ruin life on Earth for everyone else with nuclear weapons, ignoring their disarmament promises in the non-proliferation treaty. In South Africa, the minority in control of the unethical Apartheid system didn't give it up spontaneously on their own initiative, but because they were pressured into doing so by the majority. Similarly, the minority in control of unethical nuclear weapons won't give them up spontaneously on their own initiative, but only if they're pressured into doing so by the majority of the world's nations and citizens."
- Max Tegmark , Prof. Physics, MIT. Open Letter from Scientists
"If you prohibit the production, possession, and use of these weapons and the assistance with doing those things, we're setting the stage to also prohibit the financing of the weapons. And that's one way that I believe the ban treaty is going to have a direct and concrete impact on the ongoing upgrades of existing nuclear arsenals, which are largely being carried out by private contractors."
- Susi Snyder, Don't Bank on the Bomb
---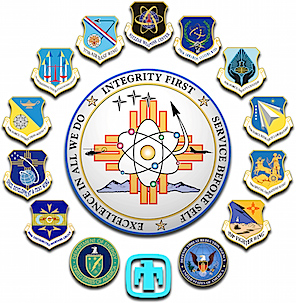 Dossier:
The Kirtland AFB Nuclear Weapons Complex
Kirtland Air Force Base, which abuts and shares some runways with the Albuquerque airport, has become a major nuclear weapons complex of it's own. It hosts the Air Force's Nuclear Weapons Center, Sandia National Laboratories, and what is probably the nation's (and perhaps the world's) largest repository of nuclear weapons, estimated at up to 2,500 warheads... (read more)
---
Follow the Money!

---
NNSA FY 2017 Budget Request
- Nuclear Watch Analysis/Compilation (PDF)
---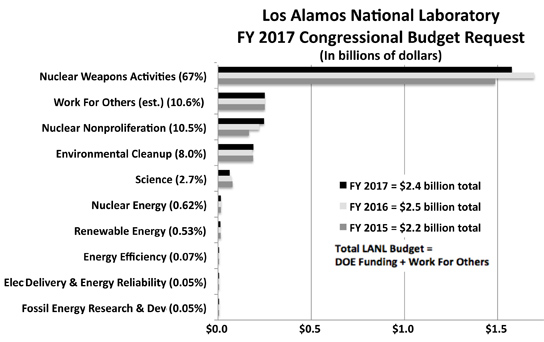 LANL FY 2017 Budget Request
Click to view full PDF incl. annotations
---
Lawrence Livermore FY 2017 Budget Request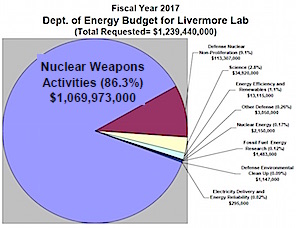 For Livermore Lab, Nuclear Weapons Activities still dominate the budget, increasing to over 86%.
Chart by Tri-Valley CARES
---
Congressional Budget Office report:
Projected Costs of Nuclear Forces 2014-2023

CBO presentation based on the report: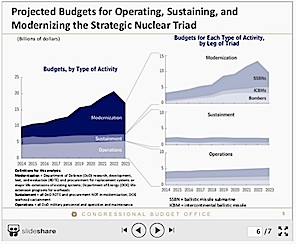 Click to view presentation
---
Stockpile Stewardship and Management Plan
- View/Download FY 2017 SSMP (PDF)
-SSMP Analysis of Hans Kristensen, FAS: Nuclear Transparency and the Stockpile Stewardship and Management Plan (PDF)
- View/Download FY 2015 SSMP (PDF)
- NWNM Analysis (PDF) / Analysis Summary (PDF)
---
Nuclear Watch Media
---
KUNM FM: LANL's Long Environmental Cleanup
KUNM public radio discussion of Los Alamos cleanup, and Nukewatch lawsuit Archived podcast here
---
Jay Coghlan, Nukewatch Director Interview
Earth Matters Radio re legacy of the US nuclear weapons program on the 70th anniversary of the Hiroshima/Nagasaki bombings. Thursday Aug 6 at 10 am and 8 pm on 89.1FM. Archived podcast here
---
NukeWatch YouTube Channel
See our playlists of key video clips.
---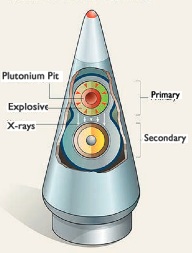 Successful Citizen Activism Against
Expanded U.S. Plutonium Pit Production
This is the unsung story of successful citizen activism against repeated government attempts to expand the production of plutonium pit cores, which has always been the choke point of resumed U.S. nuclear weapons production. This history is a critical part of the march toward a future world free of nuclear weapons. We gratefully dedicate it to Leroy Moore, longtime activist with the Rocky Mountain Peace and Justice Center, and J. Carson Mark, retired director of the Los Alamos Lab's Theoretical Division and ardent arms control advocate.
(View/download full report- PDF)
July 14, 2016:
Debate Is On Over Making More Nuclear Triggers At Los Alamos Lab
"The National Nuclear Security Administration is under orders from Congress to produce as many as 80 new nuclear weapons triggers a year by around 2030, and Los Alamos National Laboratory is the only place in the country that is equipped to make them now... The plans for a higher-capacity plutonium pit production facility make Los Alamos key - some call the lab 'ground zero'..." (ref: Albuquerque Journal)

April 23, 2015: NukeWatch Fact Sheet:
"Plutonium Pit Production at LANL"
(View/download PDF)
---
Why You Should Care About Nukes
"Thanks to the Future of Life Institute for helping support this video and to Max Tegmark for guest narrating. For info about divesting from nuclear weapons companies, go to FLI Responsible Investing."
---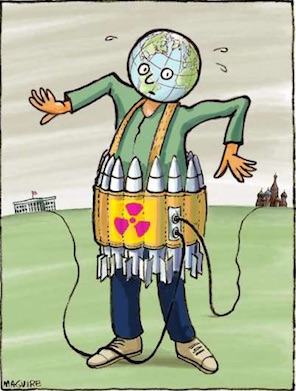 Nuclear Risk, 2016:
"Imagine that a man wearing a TNT vest were to come into the room and, before you could escape, managed to tell you that he wasn't a suicide bomber. He didn't have the button to set off the explosives. Rather, there were two buttons in very safe hands. One was in Washington with President Obama and the other in Moscow with President Putin, so there was nothing to worry about. You'd still get out of that room as fast as you can! <
"Just because we can't see the nuclear weapons controlled by those two buttons, why do we stay here? As if confronted by that man, we need to be plotting a rapid escape. Instead, we have sat here complacently for over 50 years, trusting that because Earth's explosive vest hasn't yet gone off, it never will. If you agree that it's high time we stopped sitting around and started solving this problem, please read on-" NuclearRisk.org.
---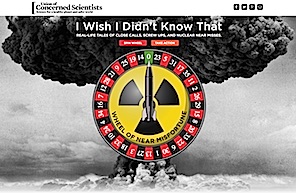 What is both sobering and addictive?
This "Wheel of Near Misfortune" created by Union of Concerned Scientists- don't miss it!
---
Dr. Perry's Nuclear Nightmare
Dr. William J. Perry, the 19th Secretary of Defense, shares his nuclear nightmare in this video produced by the William J. Perry Project.
---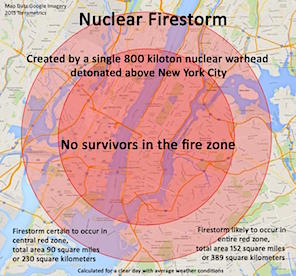 What would happen if an 800-kiloton nuclear warhead detonated above midtown Manhattan?
You should read this.
---
Recent visitors - click to enlarge
---
Help us boost public awareness of the reality and risks of nuclear weapons today. Please share Nukewatch.org with your friends using the buttons below:
---

"If you really want a future world free of nuclear weapons, you can hardly make a better investment than to give to Nuclear Watch New Mexico. They need and deserve your support so that they can carry on their groundbreaking work. I urge you to be generous with them!" - Danielle Brian, Executive Director, Project on Government Oversight.
Please support our work!
Remember, donations are tax-deductible.

New & Updated

---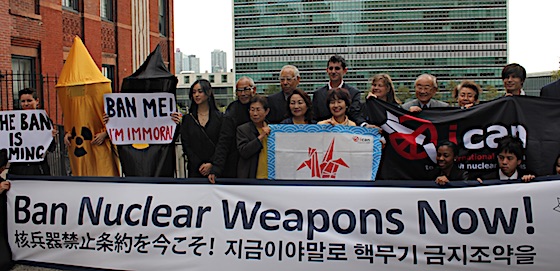 "Many citizens, scientists and laymen alike, view nuclear-weapons abolition as an essential milestone in the development of human civilization, a moral, ideological and practical campaign that could catalyze the transformation of international relations and improve the outlook for civilization at a critical time."-James Doyle
Negotiations on a Nuclear Weapons Ban Treaty Begin This Week at the UN
Today, March 27, begins the most important effort to get rid of nuclear weapons since the Non-Proliferation Treaty of 1968. The NPT didn't stop North Korea, India, and Pakistan from going nuclear. And the nuclear weapons states did not proceed toward full elimination of nuclear weapons, having stalled out the process at a count of roughly 15,000.
Nuclear weapons states are all opposed to a ban treaty, along with those non-nuclear states 'benefitting' from the US nuclear umbrella. But a large majority of nations will likely approve the ban, in order to stigmatize possession of nuclear weapons by any power as a key step toward effective de-nuclearization.
A ban treaty is also the last best chance to put the brakes on a "2nd nuclear age". There is growing pressure to build and deploy nuclear weapons that can be used in regional conflicts, under the guise of modernization and justified by the meme of a 'second nuclear age'. And in this so-called 'second nuclear age', nuclear weapons will not just be maintained to prevent anyone from using them (deterrence), but will be designed and deployed for more effective war-fighting (counterforce). Of course, breaking the nuclear taboo strikes most of us as extremely unwise and dangerous. But a wholesale transition to '2nd nuclear age' weaponry and posture might be less likely if the majority of nations have declared nuclear weapons to be illegal and prohibited.
Negotiations will be held in two sessions at the UN in New York. The first session begins today, March 27, and will last through March 31. The second, longer, session will be June 15 through July 7.
We have a dossier on the background and trajectory of this initiative, and we'll keep it up to date with news and developments: Ban Treaty dossier.
For further in-depth coverage of these negotiations, see the Reaching Critical Will and ICAN websites. Also note the ban treaty blog at ICAN for daily news and developments.
---
March 28, 2017:
An Open Letter from Scientists
in Support of the UN Nuclear Weapons Ban Negotiations
As of 3/28: 3,447 signers
Some excerpts: "Nuclear arms are the only weapons of mass destruction not yet prohibited by an international convention, even though they are the most destructive and indiscriminate weapons ever created.
"We scientists bear a special responsibility for nuclear weapons, since it was scientists who invented them and discovered that their effects are even more horrific than first thought.
"[Nuclear war] is more likely than one may hope, because it can start by mistake, miscalculation or terrorist provocation. There is a steady stream of accidents and false alarms that could trigger all-out war, and relying on never-ending luck is not a sustainable strategy.
"Many nuclear powers have larger nuclear arsenals than needed for deterrence, yet prioritize making them more lethal over reducing them and the risk that they get used.
"But there is also cause for optimism. On March 27 2017, an unprecedented process begins at the United Nations: most of the world's nations convene to negotiate a ban on nuclear arms, to stigmatize them like biological and chemical weapons, with the ultimate goal of a world free of these weapons of mass destruction. We support this, and urge our national governments to do the same, because nuclear weapons threaten not merely those who have them, but all people on Earth."
- See the full Open Letter, signers to date, and sign-on form (please sign if you have, or are working toward, a PhD in a STEM field!): Future of Humanity.
---
March 24: The White House officially sent the Senate Armed Services Committee the nomination of Heather Wilson for Air Force Secretary this week. A confirmation hearing could come soon. It's important Wilson be rejected for this post.

Talking Points: Reject Heather Wilson As Air Force Secretary
Donald Trump promised to drain the swamp in Washington, DC. Instead, he added to the muck by nominating Heather Wilson to be the next Air Force Secretary.
According to two Department of Energy Inspector General reports, ex-congresswoman Heather Wilson entered into a contract with the Sandia National Laboratories while she was still in office. Sandia, which was in her district, started paying her $10,000 a month the day after she stepped down from Congress. She then went on to get a similar contract with the Los Alamos National Laboratory, also for $10,000 a month. These contracts were for "consulting services" that had no written work requirements, and her billing justifications did "not meet even minimum standards" for federal payments.
DOE made both labs pay the government back the ~$430,000 they paid Wilson. There is no public record of her paying back one red cent.
According to an article by the Center for Public Integrity, Wilson was in effect double-dipping, being paid by both LANL and Sandia to be at the same meetings. The Center's article also links to damning emails exchanged between Wilson and the manager of Sandia Labs, the defense giant Lockheed Martin, obtained through the Freedom of Information Act.
Contrary to Wilson's denials, a Washington Post article quoted DOE Inspector General Gregory Friedman (now retired) as saying that Wilson was "deeply, deeply involved" in illegal lobbying efforts by Lockheed Martin to extend its $2.4 billion Sandia management contract without competition. Lockheed subsequently paid a pittance of $4.7 million to settle those charges with the Department of Justice.
Bottom line: As Air Force Secretary, Heather Wilson would oversee Lockheed Martin's problem-plagued $1 trillion dollar F-35 Joint Strike Fighter, and other contracts with the world's largest defense contractor. Heather Wilson was a paid consultant for the Sandia Corporation, a wholly owned subsidiary of Lockheed Martin. In order to keep the Sandia Labs contract without competition, Lockheed Martin's Sandia Corporation violated federal anti-lobbying laws, in which the DOE Inspector General said Wilson was heavily involved (but she denies). Because of this clear conflict of interests and skirting of federal anti-lobbying law, the Senate should help drain the swamp by rejecting Heather Wilson's nomination as Air Force Secretary.
Tell your Senators to reject this nomination:
New Mexico Senators:
Martin Heinrich 202.224-5521
Tom Udall 202.226.6778
Capitol switchboard for all other senators: 202.224-3121
- Download/print these talking points (PDF)
- See Nukewatch's dossier on the Wilson scandals
- Albuquerque Journal March 24: Heather Wilson's Air Force nomination moves forward
---
March 19, 2017, A major investigative report by the LA Times:
This Troubled, Covert Agency Is Responsible For Trucking Nuclear Bombs Across America Each Day
"The terror threat is significant, If you are in one of the communities along the route, you have something to worry about."- 'high level DOE official'


Some excerpts:
"The unmarked 18-wheelers ply the nation's interstates and two-lane highways, logging 3 million miles a year hauling the most lethal cargo there is: nuclear bombs.
"The covert fleet, which shuttles warheads from missile silos, bomber bases and submarine docks to nuclear weapons labs across the country, is operated by the Office of Secure Transportation, a troubled agency within the U.S. Department of Energy so cloaked in secrecy that few people outside the government know it exists.
"The $237-million-a-year agency operates a fleet of 42 tractor-trailers, staffed by highly armed couriers, many of them veterans of the Iraq and Afghanistan wars, responsible for making sure nuclear weapons and components pass through foggy mountain passes and urban traffic jams without incident.
"The transportation office is about to become more crucial than ever as the U.S. embarks on a $1-trillion upgrade of the nuclear arsenal that will require thousands of additional warhead shipments over the next 15 years.
"The increased workload will hit an agency already struggling with problems of forced overtime, high driver turnover, old trucks and poor worker morale- raising questions about its ability to keep nuclear shipments safe from attack in an era of more sophisticated terrorism.
"'We are going to be having an increase in the movements of weapons in coming years and we should be worried,' said Robert Alvarez, a former deputy assistant Energy secretary who now focuses on nuclear and energy issues for the Institute for Policy Studies in Washington. 'We always have to assume the worst-case scenario when we are hauling nuclear weapons around the country.'
"'The terror threat is significant,' said one high-level Energy Department official, who spoke on condition of anonymity because he was not authorized to discuss the program publicly. 'If you are in one of the communities along the route, you have something to worry about.'"
- There's more.... read the full report at LATimes.com
N.B. OST is headquartered at Kirtland AFB.
---
Trump Budget: Cuts to DOE, But Increase For NNSA
The Trump FY 2018 budget earmarks $28.0 billion for DOE. That is a $1.7 billion or a 5.6 percent decrease from the FY 2017 continuing resolution (CR) level. However, DOE's National Nuclear Security Administration would see a $1.4 billion increase, or 11 percent more than last year's CR level.
"That increase could be especially good news for NNSA's Office of Secure Transportation, the little-known agency that moves nuclear warheads around the country in 42 tractor-trailers, according to a recent investigation by the Los Angeles Times." [see above]. (ref)
For all the details: View/download the White House Budget Blueprint PDF
---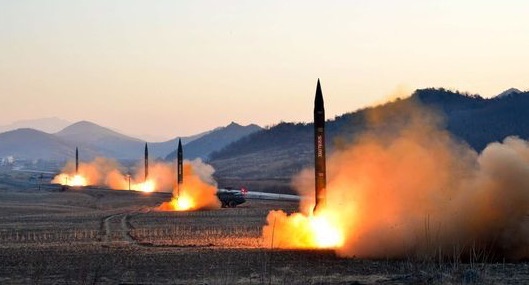 March 8, 2017:
Crunch Time Approaching on North Korea
The DPRK launches 4 intermediate-range missiles toward Japan. US begins deployment of THAAD in South Korea. China calls on both sides to step back; suggests DPRK stop nuke testing and missile launches, and the US stop military exercises in South Korea. US rejects Chinese plan. Nikki Haley to UN: 'All options are on the table'".
Updates and backgrounder to the crisis on our Flashpoints:DPRK page.
---
March 4, 2017:
How US Nuclear Force Modernization is Undermining Strategic Stability:
The Burst-Height Compensating Super-Fuze
By Hans M. Kristensen, Matthew McKinzie, Theodore A. Postol
"The US nuclear forces modernization program has been portrayed to the public as an effort to ensure the reliability and safety of warheads in the US nuclear arsenal, rather than to enhance their military capabilities. In reality, however, that program has implemented revolutionary new technologies that will vastly increase the targeting capability of the US ballistic missile arsenal. This increase in capability is astonishing- boosting the overall killing power of existing US ballistic missile forces by a factor of roughly three- and it creates exactly what one would expect to see, if a nuclear-armed state were planning to have the capacity to fight and win a nuclear war by disarming enemies with a surprise first strike.

Click image to enlarge
"The revolutionary increase in the lethality of submarine-borne US nuclear forces comes from a 'super-fuze' device that since 2009 has been incorporated into the Navy's W76-1/Mk4A warhead as part of a decade-long life-extension program. We estimate that all warheads deployed on US ballistic missile submarines now have this fuzing capability. Because the innovations in the super-fuze appear, to the non-technical eye, to be minor, policymakers outside of the US government (and probably inside the government as well) have completely missed its revolutionary impact on military capabilities and its important implications for global security...
"The W76 upgrade reflects a 25-year shift of the focus of US hard-target kill capability from land-based to sea-based ballistic missiles. Moreover, by shifting the capability to submarines that can move to missile launch positions much closer to their targets than land-based missiles, the US military has achieved a significantly greater capacity to conduct a surprise first strike against Russian ICBM silos.
"... In spite of its severe limitations, this growing defense system could appear to both Russia and China as a US attempt to reduce the consequences of a ragged Russian or Chinese retaliation to a US first strike against them.
"We cannot foresee a situation in which a competent and properly informed US president would order a surprise first strike against Russia or China. But our conclusion makes the increased sea-based offensive and defensive capabilities we have described seem all the more bizarre as a strategy for reducing the chances of nuclear war with either Russia or China..."
(Read more, w/ detailed graphs and charts, at The Bulletin)
---
March 3, 2017:
Defense Science Board Recommends "A More Flexible Nuclear Enterprise"
Sometimes, maybe, the status quo is something we need to safeguard, not disrupt. That may be the case when it comes to a new push to abandon the US-Russian mutual prohibition on deployment of low-yield nuclear weapon systems as part of theater warfighting doctrine.
Since the late 1980s both US and Soviet, now Russian, policy has been to not develop and deploy 'tactical' nuclear weapons, including theater range missiles, because it was agreed that it would be very difficult to prevent a 'tactical' exchange in a regional conflict from progressing rapidly to a civilization-ending 'strategic' exchange.
But new doubts are arising about the credibility of a strategic deterrent in the case of a local or regional conflict- one which, for example, the US could be involved in, even though the stakes may not put essential US security at risk. In such cases some US warfighters would like to have the option of threatening counterforce and intermediate range strikes using low-yield nukes. Or, they argue, what if an adversary uses a tactical nuke to "escalate to de-escalate"? Some want to be able to respond in kind. These doubts about classical deterrence, along with a 'multipolar' landscape of nuclear-armed states, are the basis for the nuclear boosters' meme of "The Second Nuclear Age").
- Pentagon Panel Urges Trump Team to Expand Nuclear Options, Roll Call, Feb 2, 2017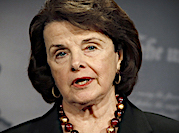 Senator Feinstein: Bad Idea. Don't Do It.
Sen. Dianne Feinstein, (D.CA) Senate Intelligence Committee Vice-Chair, argues that the potentially rapid and uncontrollable progression from tactical use to strategic exchange means there is effectively "No Such Thing as 'Limited' Nuclear War".
"Let me be crystal clear: There is no such thing as "limited use" nuclear weapons, and for a Pentagon advisory board to promote their development is absolutely unacceptable. This is even more problematic given President Trump's comments in support of a nuclear arms race.
"As Deputy Defense Secretary Robert Work testified in 2015, 'Anyone who thinks they can control escalation through the use of nuclear weapons is literally playing with fire. Escalation is escalation, and nuclear use would be the ultimate escalation.'
"Nuclear weapons present us with a paradox: We spend billions of dollars building and maintaining them in the hope that we never have to use them. The sole purpose of nuclear weapons must be to deter their use by others. Designing new low-yield nuclear weapons for limited strikes dangerously lowers the threshold for their use. Such a recommendation undermines the stability created by deterrence, thereby increasing the likelihood of sparking an unwinnable nuclear war." (read full statement, Washington Post, March 3, 2017)
Update: Former Secretary of Defense William Perry agrees with Sen. Feinstein.
---
February 28, 2017:
FOIA Docs Reveal MOX Contractor Totally Failed NNSA Assessment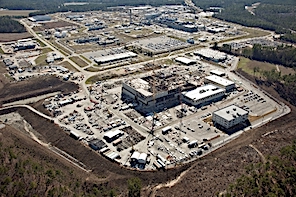 SRS Watch, our fellow ANA member organization, has obtained through FOIA request the scathing National Nuclear Security Administration's FY 2016 assessment of the performance of the contractor in the mismanaged plutonium fuel (MOX) construction project at the DOE Savannah River Site in South Carolina. Here are some excerpts from their report:
"NNSA repeatedly states that CB&I AREVA MOX Services provided inaccurate and misleading information, stopping just short of stating that the company lied. Some major findings on the performance of MOX Services, charged with designing and constructing the MOX plant, include:
- "The contractor lacked the fiduciary will to plan and execute work to fully benefit the project and taxpayer"
- "There continued to be a lack of transparency and openness in external communications with key project stakeholders by the contractor including continued release of misleading and inaccurate project information."
- "The contractor continued to increase the amount of legal positioning and posturing throughout many of the project deliverables and activities including claims and notices of impact/change under the contract that did not have any valid or plausible bases."
- "The over 70% physical completion figures reported by the contractor are patently false." (This inaccurate figure has continually been stated by pro-MOX politicians without any proof; DOE claimed in a September 2016 report - linked below- that construction was 28% complete.)
- "NNSA disagrees with the majority of the input provided by the contractor to justify its self-rating of Excellent (92%) for the Integrated Project Management criteria." In contrast, NNSA gave the contractor a 0% rating.
- "The contractor's Management Team continued to impose unnecessary activities upon the Government due to poor functional performance, lack of planning, lack of attention to detail, and continued misaligned corporate posturing."
- "There continued to be too many delays and impacts to planned and ongoing work and an overall increased amount of unfinished work and final attributes to be completed."

Tom Clements, director of SRS Watch, commented, "This report card makes it clear that not only has CB&I AREVA MOX Services utterly failed in its construction performance but the company also been actively misleading the government and the public about its chronic shortcomings. This assessment confirms that the MOX project should be shut down and that investigations into waste, fraud, abuse, mismanagement and corruption must be ramped up. A first action of Secretary of Energy Perry should be to halt the dead-end debacle the MOX project has become and tell MOX Services 'You're fired.'"
View/download the full SRS Watch report: MOX: A Project in Disarray (PDF)
View/download the FY 2016 MOX Services performance evaluation, obtained Feb. 21, 2017 by SRS Watch: (PDF) More related docs linked here
---

Costs Jump in Nuclear Weapons vs. Cleanup; Nuclear Weapons Winning over Environmental Protection
For immediate release, February 23, 2017:
Santa Fe, NM. America is at a crossroads, having to choose between an unnecessarily large, exorbitant, nuclear weapons stockpile, and cleanup that would protect the environment and water resources for future generations. Expanded nuclear weapons research and production, which will cause yet more contamination, is winning.
The Obama Administration launched a trillion dollar nuclear weapons "modernization" program, which President Trump may expand. In contrast, cleanup of the first Cold War mess has been cut from a high of $8.5 billion in 2003 to $5.25 billion in 2016, even though comprehensive cleanup would produce far more jobs than nuclear weapons programs.
Read the full press release for all the details.
---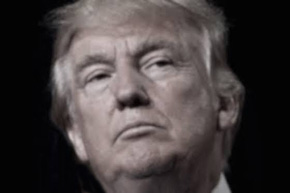 Where will the Trump Administration Take US Nuclear Weapons Policies?
* Updates, Feb. 27, March 1
The new administration's attitude and policies on nuclear weapons are clearly a work in progress. Trump's own pronouncements on the subject have been spotty and sometimes contradictory. He has called for a new Nuclear Policy Review to be delivered later this year. The last NPR was done in 2010.
President Trump's perceived enthusiasm for upending the status quo, along with a lack of clear indications where he wants to take it, have invited influencers to try and guide his developing policies. Certain quarters are pressing for production of 'more usable' nukes- tactical nuclear weapons for battlefield use... (read on at our dossier on the developing Trump admin nuclear policies)
---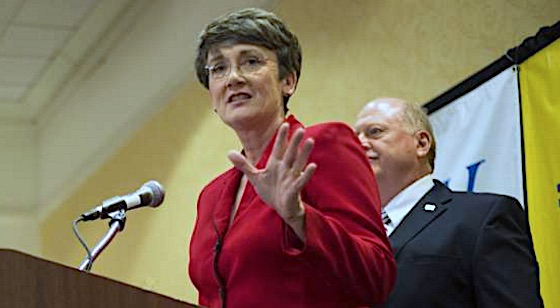 President Trump promised to "drain the swamp".
Then why did he nominate Heather Wilson for Air Force Secretary?
February 8, 2017
Patrick Malone at the Center for Public Integrity has done an extensive report on the shenanigans of Heather Wilson, Pres. Trump's nominee for Air Force Secretary, and perhaps the most egregious example of the Congressional-Contractor-Lobbyist-Regulator complex, what Trump himself called "the swamp" which he promised to "drain". Published February 8, 2017 at both Politico and the CPI website, with the latter version including emails between Wilson and Lockheed's subsidiary Sandia Corp.
(For more info and history, see the NukeWatch dossier on Heather Wilson)
---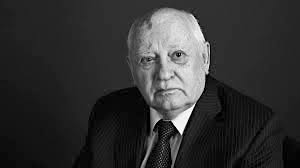 Mikhail Gorbachev: "It all looks as if the world is preparing for war."
Jan 26, 2017, Time Magazine, excepts:
"The world today is overwhelmed with problems. Policymakers seem to be confused and at a loss. But no problem is more urgent today than the militarization of politics and the new arms race. Stopping and reversing this ruinous race must be our top priority.
"The current situation is too dangerous.
More troops, tanks and armored personnel carriers are being brought to Europe. NATO and Russian forces and weapons that used to be deployed at a distance are now placed close to each other, as if to shoot point-blank.
"Politicians and military leaders sound increasingly belligerent and defense doctrines more dangerous. Commentators and TV personalities are joining the bellicose chorus. It all looks as if the world is preparing for war.
"Today the nuclear threat once again seems real. Relations between the great powers have been going from bad to worse for several years now. The advocates for arms build-up and the military-industrial complex are rubbing their hands.
"We must break out of this situation. We need to resume political dialogue aiming at joint decisions and joint action. The focus should once again be on preventing war, phasing out the arms race, and reducing weapons arsenals. The goal should be to agree, not just on nuclear weapons levels and ceilings, but also on missile defense and strategic stability.
"In the modern world, wars must be outlawed, because none of the global problems we are facing can be resolved by war- not poverty, nor the environment, migration, population growth, or shortages of resources...
"I propose that a Security Council meeting at the level of heads of state adopt a resolution stating that nuclear war is unacceptable and must never be fought... " (read the full op-ed at Time online)
---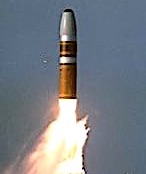 Disclosure of Trident Missile Launch Gone Awry
Causes a Furor in UK

"Reports state that the missile was meant to fly over 5,600 miles to a target off the coast of Africa, but instead went awry, flying in the complete opposite direction towards the US..."
Was the Trident hacked?
---
NukeWatch gets a Santa Fe Mayor's Award
In addition to our work toward limiting and ultimately eliminating nuclear weapons, NukeWatch also works to protect Northern New Mexico aquifers from the radioactive wastes dumped over the last 70 years of atomic bomb production at Los Alamos Lab.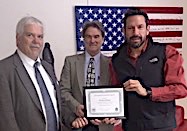 This week, Nukewatch was given the Santa Fe Mayor's Sustainability Award in the category of Environment for that work. (more)

Above: Scott Kovac, Jay Coghlan, Mayor Javier Gonzales
---
Cleanup Lawsuit: NukeWatch v. DOE, LANS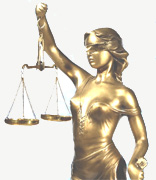 See all docs related to the ongoing Nuclear Watch lawsuit against DOE and LANS (the corporate manager of Los Alamos Lab), over multiple missed deadlines and failures to execute cleanup of radioactive wastes at the Los Alamos site: Cleanup Lawsuit.
---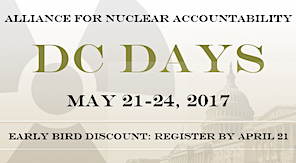 ANA 29th Annual DC Days May 21-24
The Alliance for Nuclear Accountability's 29th Annual DC Days will take place from May 21-24, 2017. We expect over 60 activists, from newcomers to experienced hands, to hold over 80 meetings with congressional and executive branch offices.

In addition to key Senate and House offices that ANA members - as constituents - can uniquely access, the Alliance will target the key Armed Services and Appropriations Committees, the Government Accountability Office and the Defense Nuclear Facilities Safety Board. Executive branch meetings will likely include the Department of Energy, the National Nuclear Security Administration, the State Department, the EPA, the Nuclear Regulatory Commission, and the Office of Management and Budget, often with their senior leadership.

To register for ANA's 2017 DC Days, click here. For the early-bird discount, register and pay prior to April 21. Funding is available for youth scholarships to cover partial costs of registration, transportation and DC housing: contact your local ANA member group to apply. (ANA members include Nuclear Watch New Mexico.) (more info at ANA) / (register)
---
Critical Events

---
March 27-31, United Nations, NYC:
1st Session, Nuclear Ban Treaty Negotiations
Related Events:
March 25-26: Campaigner meetings
View/download PDF booklet prepared by ICAN explaining the potential impact of the treaty, and how the negotiations have come about.
- More info at: ICAN / Reaching Critical Will
- ICAN: Ban Treaty Blog for daily news and updates.
- Bulletin Atomic Scientists: Ban Brief: updates,
background, implications, by ICAN's Tim Wright and Ray Acheson, director of Reaching Critical Will.

March 28, United Nations, NYC:
US Nuclear Modernization Under President Trump: Implications for the Ban Treaty Process
ANA workshop w/ Jay Coghlan (NukeWatch), Ralph Hutchison (OREPA), Marylia Kelley (TriValley Cares), Hans Kristensen (FAS), Matthew McKinzie (NRDC), Rick Wayman (NAPF). For accredited participants
10am-1pm UN Conference Room B (see flier)

June 15 - July 7, United Nations, NYC:
2nd Session, Nuclear Ban Treaty Negotiations
June 18: Women's March to Ban the Bomb (info)
---
Now through April 5, 2017:
Public comment period:
LANL new rad waste storage permit request
Los Alamos National Laboratory (LANL) is proposing to increase the storage of hazardous and radioactive waste to support continued mission operations. Your comments are being sought for a proposed hazardous waste Permit Modification Request (PMR) to store more mixed transuranic (TRU) waste at Tech Area-55. The PMR proposes to add three hazardous waste storage units- one outside and two inside Plutonium Facility-4.
LANL plans to store, at its nuclear bomb component production facility, containers with combustibles that are too dangerous to ship to WIPP, a 2100-foot deep geological repository. What could go wrong?
Comments are due April 5, 2017 at 5pm.
- Fact sheet on the Permit Modification Request (View/download PDF)
- A sample comment letter (download DocX)
---
Newsletters and Calendars
---
- The Bulletin's Nuclear Roundup
Daily nuclear news; subscribe or view online. Very good selection.
- Ploughshares' Early Warning
"Daily news on the issues we're following from the desk of Joe Cirincione." Subscribe or view online.
- Nuclear Policy News (CSIS)
Subscribe or view online. Very good selection.
- Nuclear Calendar FCNL
Extensive email listing of all nuclear-related events, from the Friends Committee on National Legislation. Subscribe or view online.
- National Security Legislative Calendar
From the Council for a Livable World. (ref)
- NucNews
Very extensive daily dump of nuclear-related news items; unfortunately hard on the eyes and often redundant, but again, extensive.
---
FAS Nuclear Notebooks
---
- US nuclear forces 2017
- Russian nuclear forces 2016
- Chinese nuclear forces 2016
- Pakistan Nuclear forces 2016
- more
---
---


Alliance For Nuclear Accountability Report
Out-of-control U.S. nuclear weapons programs accelerate spending, proliferation, health and safety risks: The Trillion Dollar Trainwreck (PDF)

---
Twitter Feeds
---
---
---
Nuclear Facilities' Twitter Feeds:
---
Nuclear News
---
---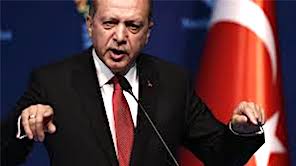 Erdogan bullies, slanders, threatens NATO Allies
Erdogan insists on staging Turkish election rallies all over Europe. The rallies have been banned in Germany, Austria, Netherlands, and Denmark, where large numbers of Turkish citizens live. A German state minister said: "Internal Turkish conflicts have no place in Germany. Election appearances which put at risk domestic peace in our country must be banned."
But Erdogan has lashed out, calling Germany, Netherlands, Austria, Denmark, 'Nazi fascists', 'banana republics', and 'mass murderers', who need to learn 'how to behave', as if these nations were his vassal states. (ref) Last year, following the failed coup and bloody aftermath, Hans Kristensen (Federation of American Scientists) wrote in regard to the NATO airbase at Incirlik where US nuclear weapons are parked, "The security situation in Turkey and in the base area no longer meet the safety requirements that the United States should have for storage of nuclear weapons. You only get so many warnings before something goes terribly wrong. It's time to withdraw the weapons." (ref)
Indeed. And the situation gets worse all the time. Turkey is no longer a safe place to park our NATO nukes.
More: see our Incirlik dossier
---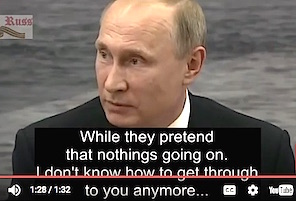 In Europe and Russia, There's Talk of War
-Jill Dogherty, Wilson Center (ref)
See our report: Nuclear Flashpoints: NATO-Russia
---
What Putin Wants
Alexei Arbatov details the basis for an understanding between the US and Russia from Putin's perspective; this event organized and hosted by the Graduate Initiative in Russian Studies at the Middlebury Institute of International Studies on May 13, 2016.
See our report: Nuclear Flashpoints: NATO-Russia
---
Dr. James Doyle :
OPLAN 2045: A Road-Map To the Complete Elimination of Nuclear Weapons by 2045
- (Bulletin of the Atomic Scientists PDF)



Dr. James Doyle is an independent nuclear security specialist supported by the Ploughshares Fund and a non-resident associate of the Belfer Center for Science and International Affairs at Harvard University. Dr. Doyle also serves on Nuclear Watch New Mexico's steering committee.
(more articles by James Doyle)

---
LANL's Central Mission
Los Alamos Lab officials have recently claimed that LANL has moved away from primarily nuclear weapons to "national security", but what truly remains as the Labs central mission? Here's the answer from one of its own documents: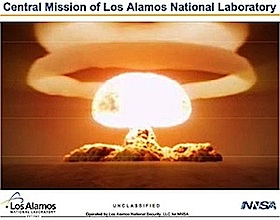 LANL's "Central Mission"- Presented at: RPI Nuclear Data 2011 Symposium for Criticality Safety and Reactor Applications
(PDF) 4/27/11
---
Current nuclear stockpiles- for country reports and other details see original annotated infographic at Ploughshares.org.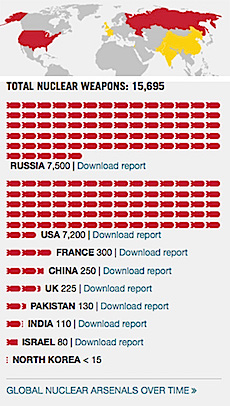 ---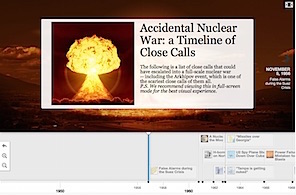 Accidental nuclear war- think it can't happen?
It almost did, quite a few times. See this timeline of nuclear close calls, presented by The Future of Life Institute.
---
---
Radioactive Quotes

---
"I can go into my office and pick up the telephone, and in 25 minutes 70 million people will be dead."

Richard Nixon to reporters in 1974, when he was threatened with impeachment, quoted by Elaine Scarry in her book Thermonuclear Monarchy

[link]
---

Every little bit helps!
Remember: contributions are tax-deductible.
*Go to donations page* Thanks for your support!