Arsenal of Information
---
---
---
Dossiers:
UN Nuclear Weapons Ban Conference
B61-12 Enhanced Nuclear Bomb
LRSO: New Nuclear Cruise Missile
US Nukes at Incirlik AFB, Turkey
Trump Admin and Nuclear Weapons Policy
Kirtland AFB Nuclear Weapons Complex
Flashpoint: NATO-Russia
Flashpoint: North Korea
MOX / Plutonium Disposition
Fukushima Disaster and Updates
Nuke Lab Contractors Illegal Lobbying
Revolving Door: The Case of Heather Wilson
Marshall Islands Lawsuit
CMRR-Nuclear Facility
Conference on the Humanitarian Impact
Nuclear Testing Since 1945
Atomic Histories
---
Nuclear Watch Interactive Map of the
Nuclear Weapons Complex
View full size
Facilities:
Kansas City Plant
Lawrence Livermore National Labs
Los Alamos National Laboratory
Nevada National Security Site
Pantex Plant
Sandia National Laboratories
Savannah River Site
Washington DC
Waste Isolation Pilot Plant (WIPP)
Y-12 National Security Complex
---
Nuclear Weapons Enterprise Twitter Feeds:
---
Facility Spotlight, May, 2017:
Sen. Claire McCaskill to DOE
"DOE's history of poor contract management is well documented, and ongoing challenges have led to DOE's continued appearance on the GAO's high risk list since 1990."
- View/download Sen. McCaskill's letter to DOE
regarding GAO Fraud Risk Report
- Letter refers to: GAO PDF
---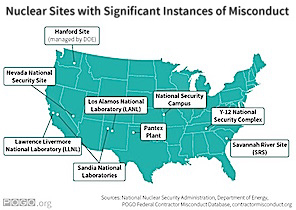 Nuclear Weapons Complex Misconduct
Dec. 3, 2015. POGO: Updated Federal Contractor Misconduct Database, focussing on Nuclear Complex (see report at POGO)
---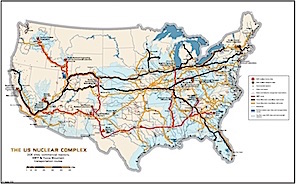 Click the image to view and download this large printable map of DOE sites, commercial reactors, nuclear waste dumps, nuclear transportation routes, surface waters near sites and transport routes, and underlying aquifers. This map was prepared by Deborah Reade for the Alliance for Nuclear Accountability.
Quote of the Week

---
Re: US nuclear 'modernization' with planned cost of $1 trillion over 30 years:
"It would be far better- and far safer- to simply burn a million-dollar pile of cash every hour for 30 years; cheaper too- cost would be only $262 billion."
- William Hartung, in his presentation to the MIT conference "Reducing the Threat of Nuclear War", May 6, 2017. (ref)
---
LANL's Central Mission
Los Alamos Lab officials have recently claimed that LANL has moved away from primarily nuclear weapons to "national security", but what truly remains as the Labs central mission? Here's the answer from one of its own documents: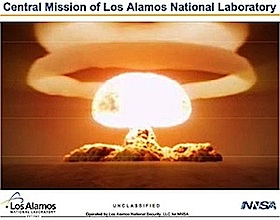 LANL's "Central Mission"- Presented at: RPI Nuclear Data 2011 Symposium for Criticality Safety and Reactor Applications
(PDF) 4/27/11
---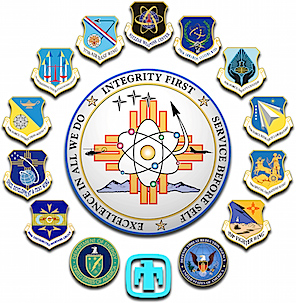 Dossier:
The Kirtland AFB Nuclear Weapons Complex
Kirtland Air Force Base, which abuts and shares some runways with the Albuquerque airport, has become a major nuclear weapons complex of it's own. It hosts the Air Force's Nuclear Weapons Center, Sandia National Laboratories, and what is probably the nation's (and perhaps the world's) largest repository of nuclear weapons, estimated at up to 2,500 warheads... (read more)
---
Follow the Money!

---
NNSA FY 2017 Budget Request
- Nuclear Watch Analysis/Compilation (PDF)
---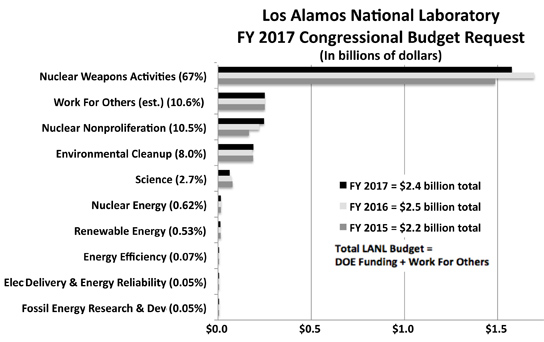 LANL FY 2017 Budget Request
Click to view full PDF incl. annotations
---
Lawrence Livermore FY 2017 Budget Request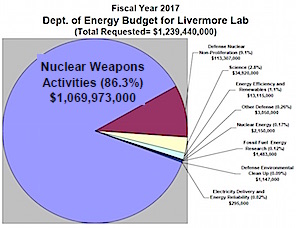 For Livermore Lab, Nuclear Weapons Activities still dominate the budget, increasing to over 86%.
Chart by Tri-Valley CARES
---
Congressional Budget Office report:
Projected Costs of Nuclear Forces 2014-2023

CBO presentation based on the report: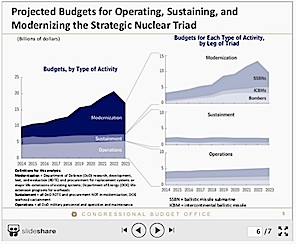 Click to view presentation
---
Stockpile Stewardship and Management Plan
- View/Download FY 2017 SSMP (PDF)
- SSMP Analysis of Hans Kristensen, FAS: Nuclear Transparency and the Stockpile Stewardship and Management Plan (PDF)
- View/Download FY 2015 SSMP (PDF)
- NWNM Analysis (PDF) / Analysis Summary (PDF)
---
Nuclear Watch Media
---
KUNM FM: LANL's Long Environmental Cleanup
KUNM public radio discussion of Los Alamos cleanup, and Nukewatch lawsuit Archived podcast here
---
Jay Coghlan, Nukewatch Director Interview
Earth Matters Radio re legacy of the US nuclear weapons program on the 70th anniversary of the Hiroshima/Nagasaki bombings. Thursday Aug 6 at 10 am and 8 pm on 89.1FM. Archived podcast here
---
NukeWatch YouTube Channel
See our playlists of key video clips.
---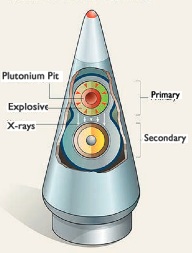 Successful Citizen Activism Against
Expanded U.S. Plutonium Pit Production
This is the unsung story of successful citizen activism against repeated government attempts to expand the production of plutonium pit cores, which has always been the choke point of resumed U.S. nuclear weapons production. This history is a critical part of the march toward a future world free of nuclear weapons. We gratefully dedicate it to Leroy Moore, longtime activist with the Rocky Mountain Peace and Justice Center, and J. Carson Mark, retired director of the Los Alamos Lab's Theoretical Division and ardent arms control advocate.
(View/download full report- PDF)
July 14, 2016:
Debate Is On Over Making More Nuclear Triggers At Los Alamos Lab
"The National Nuclear Security Administration is under orders from Congress to produce as many as 80 new nuclear weapons triggers a year by around 2030, and Los Alamos National Laboratory is the only place in the country that is equipped to make them now... The plans for a higher-capacity plutonium pit production facility make Los Alamos key - some call the lab 'ground zero'..." (ref: Albuquerque Journal)

Updated March 2017: NukeWatch Fact Sheet:
"Plutonium Pit Production at LANL"
(View/download PDF)
---
Dr. James Doyle :
OPLAN 2045: A Road-Map To the Complete Elimination of Nuclear Weapons by 2045
This and other recent articles by James Doyle
---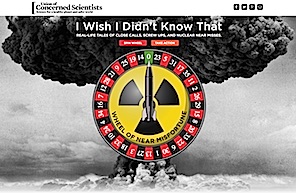 What is both sobering and addictive?
This "Wheel of Near Misfortune" created by Union of Concerned Scientists- don't miss it!
---
Dr. Perry's Nuclear Nightmare
Dr. William J. Perry, the 19th Secretary of Defense, shares his nuclear nightmare in this video produced by the William J. Perry Project.
---
Beyond the Summit:
New Approaches to Nuclear Security
William Perry: "Danger of a nuclear catastrophe is greater than during the Cold War. Our public is blissfully unaware. Consequently, the policies that this country follows are in no way commensurate to the danger."
---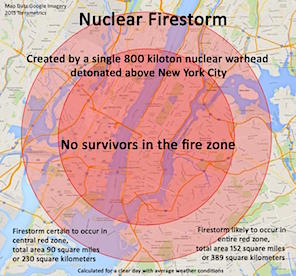 What would happen if an 800-kiloton nuclear warhead detonated above midtown Manhattan?
You should read this.
---
Recent visitors - click to enlarge
---
Help us boost public awareness of the reality and risks of nuclear weapons today. Please share Nukewatch.org with your friends using the buttons below:
---

"If you really want a future world free of nuclear weapons, you can hardly make a better investment than to give to Nuclear Watch New Mexico. They need and deserve your support so that they can carry on their groundbreaking work. I urge you to be generous with them!" - Danielle Brian, Executive Director, Project on Government Oversight.
Please support our work!
Remember, donations are tax-deductible.

New & Updated

---
May 22, 2017:
Draft Nuclear Weapons Ban Treaty Released Today
View/download PDF
---
May 21, 2017:
Lab Fire Highlights Ongoing LANL Waste Problems
"The incident highlighted, once again, a pattern of consistent mismanagement in the maintenance and cleanup of some of the most dangerous materials on Earth.
"This pattern of problems also has prompted the Defense Nuclear Facilities Safety Board to question whether the facility should continue to operate and handle increasing quantities of plutonium in coming years. On Friday, the board said it will hold a June 7 hearing in Santa Fe to question a number of experts about the lab's ability to safely carry out future nuclear missions at PF-4 (the "plutonium building")... The Department of Energy plans to increase manufacturing of plutonium pits at Los Alamos over the coming decades. Two test pits were built last year, and as many as 50 to 80 pits could be built each year by 2030, a significant ramp up in the presence and handling of highly radioactive plutonium.
"'Fattening up our already bloated nuclear weapons stockpile is not going to improve our national security,' said Jay Coghlan, the director of Nuclear Watch New Mexico, in a news release issued Friday. 'New Mexicans desperately need better funded schools and health care, not expanded plutonium pit production that will cause more pollution and threaten our scarce water resources.'" (see report, Santa Fe New Mexican)
---

For immediate release, May 19, 2017:
A Preview of Trump's Budget: More Nuclear Bombs and Plutonium Pit Production
Santa Fe, NM. "The proposed level of funding for the National Nuclear Security Administration's (NNSA)'s Total Weapons Activities is $10.2 billion, a full billion above what was requested for FY 2017. In March, Trump's "skinny budget" stated NNSA's funding priorities as 'moving toward a responsive nuclear infrastructure', and 'advancing the existing warhead life extension programs'.
"Concerning Life Extension Programs, rather than merely maintaining and extending the lives of existing nuclear weapons as advertised, they are being given new military capabilities, despite denials at the highest levels of government. A current example is the B61-12 Life Extension Program, which is transforming a "dumb" nuclear bomb into the world's first highly accurate "smart" nuclear bomb.
"With respect to the Los Alamos National Laboratory (LANL), "responsive infrastructure" no doubt means accelerating upgrades to existing plutonium facilities and likely building two or three new underground "modules", all for the purpose of quadrupling plutonium pit production from 20 to 80 pits per year. (Plutonium pits are the fissile cores of nuclear weapons.)"
Read the full press release for all the details.
Update:
Nukewatch's comprehensive analysis will be published in the first week of June. In the meantime, some key elements:
FY 2018 Budget Justification / FY 2018 Budget Request for NNSA
DOE Laboratory Tables / NNSA Federal Salaries and Expenses, Weapons Activities...
---
Nuclear Waste Storage Tunnel Collapse at Hanford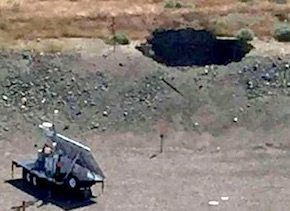 May 9, 2017:
A large section of the ceiling of a transport tunnel now used for storage of radioactive waste at Hanford fell into the tunnel. The DOE says there is no evidence of radiation release, and workers were told to return to the site on May 11.
The tunnel is one of two that run into the Plutonium Uranium Extraction Facility, also known as PUREX. The PUREX building is the length of three football fields and was used to recover plutonium from irradiated fuel rods. The facility has been idle for years but remains "highly contaminated," DOE said.
Eight flatbed railroad cars loaded with radioactive material were parked there in 1965. (A much larger nearby tunnel built in 1964 has 28 railroad cars with radioactive waste.) (ref)
Edwin Lyman, a senior scientist at the Union of Concerned Scientists, said there is still cause for concern. "It appears that this is a potentially serious event," he said. "Collapse of the earth covering the tunnels could lead to a considerable radiological release." See Lyman interviewed on C-span May 12 on the cave-in and the wider problems and history of Hanford: (C-span)
Former Energy Department official Robert Alvarez said, 'according to a 1997 DOE report, inspection of the tunnels 'is not feasible because of radiation levels in excess of five roentgens per hour.'
Fixing the damaged tunnel could prove difficult. The Energy Department said on its Web site that officials are looking at options that would provide a barrier between the contaminated equipment in the tunnel and the outside air that would not cause the hole in the tunnel's roof to widen further.
Although the Trump administration has vowed to slash the budgets of most Energy Department programs, the administration does not plan to skimp on the one charged with the Hanford cleanup and with other nuclear sites. It has requested $6.5 billion for the agency's environmental management program for 2018. The budget for Hanford alone is about $2.3 billion in the current fiscal year, about $1.5 billion of that going to the management and treatment of approximately 56 million gallons of radioactive liquid waste stored in underground storage tanks. (refs)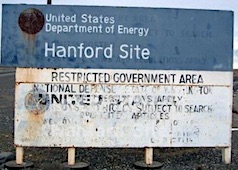 - The cleanup of the Hanford site, which is half the size of Rhode Island, has cost $19 billion to date and is not expected to be finished until 2060, at an additional cost of $100 billion. (ref)
- Washington Attorney General Bob Ferguson filed a lawsuit last fall against the Energy Department and its contractor, Washington River Protection Solutions, contending vapors released from underground nuclear waste tanks posed a serious risk to workers. (ref)
- Nuclear waste disposal: What can we learn from the Hanford tunnel collapse?
---
Energy Secretary Perry Visits LANL, Promises Cleanup of Nuclear Wastes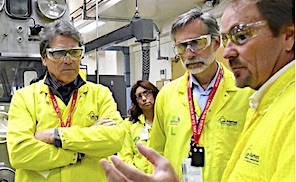 from l.: Sec. Perry, Lab Dir. McMillan, PU Sciences' Yarbrough

Albuquerque Journal, May 10:
"Perry said the US can 'No longer continue to kick the can down the road' when it comes to cleaning up long-term radioactive and hazardous waste at the nation's nuclear labs, and that he wants to send a clear message to Americans that 'their families are not going to live in fear of a country that's got waste scattered around places it doesn't need to be....' There are too many places where 'the lives and health of our citizens are in jeopardy, because the federal government has failed to respond appropriately by removing this waste in a timely way...' He wants to send a clear message to Americans that 'their families are not going to live in fear of a country that's got waste scattered around places it doesn't need to be... I want to get things done. I'm a realist, and I realize we're not going to clean it up overnight. We're going to make progress.'" (source)
---
CSIS: 'Undisclosed Lobbyists" for Weapons Contractors
FAIR, May 8, 2017:
Lockheed Martin-Funded Experts Agree: South Korea Needs More Lockheed Martin Missiles
Adam Johnson writes: "As tensions between the United States and North Korea continue to rise, one think tank, the Center for Strategic and International Studies (CSIS), has become a ubiquitous voice on the topic of missile defense, providing Official-Sounding Quotes to dozens of reporters in Western media outlets. All of these quotes speak to the urgent threat of North Korea and how important the United States's deployment of the Terminal High Altitude Area Defense (THAAD) missile system is to South Korea...
"In the past year, FAIR has noted 30 media mentions of CSIS pushing the THAAD missile system or its underlying value proposition in US media, most of them in the past two months. Business Insider was the most eager venue for the think tank's analysts, routinely copying and pasting CSIS talking points in stories warning of the North Korean menace."
"Last August (8/8/16), the New York Times revealed internal documents of CSIS (and the Brookings Institution) showing how the think tanks acted as undisclosed lobbyists for weapons manufacturers..." (ref)
**Note that the top 10 corporate donors to CSIS include 5 top defense contractors: Lockheed, Northrup-Grumman, Boeing, General Dynamics and Leonardo-Finmeccanica. (source: csis.org)
---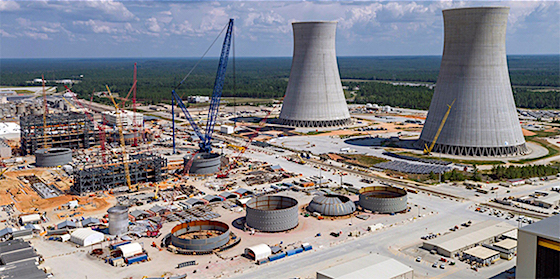 Two new AP1000 units being added to Georgia Power's Plant Vogtle nuclear station located near Waynesboro, Ga.
(August 2016). Courtesy: Georgia Power
The Nuclear Enterprise is More Problematic Than Ever- And It Has a Dark Side
The cloud hanging over the future of nuclear power grew darker recently with the bankruptcy of Westinghouse over cost overruns by the principle contractor, Shaw, and the huge hit, roughly $7 billion, that its corporate owner Toshiba had to take on it, pushing Toshiba itself to the brink of bankruptcy. Ironically, Toshiba's AP1000 nuclear power plant model was meant to reduce construction and operation costs through standardization.
The bankruptcy "is a powerful signal of the end of the fantasy of a nuclear revival", Daniel Hirsch, director of the program on environmental and nuclear policy at UC Santa Cruz, told the Christian Science Monitor. (ref)
With Westinghouse's reactor design off the table, nuclear supporters have pinned their hopes on next-generation technologies such as small modular reactors (SMRs). But we're a long way from there. DOE's website states that "demonstrating the viability of SMRs will require overcoming many technical, regulatory, financial and institutional challenges". (ref)
View Small Modular Reactors Fact Sheet, By Arjun Makhijani and Michele Boyd:
No Solution For The Cost, Safety, And Waste Problems Of Nuclear Power
"Nuclear energy is, simply, in a rapidly accelerating crisis"
- Only 2 of Japan's 42 commercial reactors are back online since the Fukushima meltdowns following the earthquake and tidal wave of 2011.
- Four global nuclear industry giants- French utilities Électricité de France (EDF) and Areva, US-based Westinghouse and Japanese conglomerate Toshiba- face crippling debts and possible bankruptcy because of their investments in nuclear power. (ref)
"With the French nuclear industry crippled and Toshiba-Westinghouse out of the nuclear construction business, the West is effectively ceding the future of nuclear energy to China, Korea and Russia." (ref)
Meltdowns may be rare, but when they do happen, the disaster lasts forever.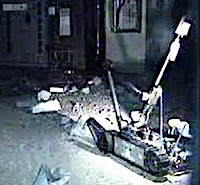 Six years ago several reactors at the Fukushima plant in Japan experienced meltdowns following an earthquake and tidal waves. And six years on, thousands of gallons of radioactive water still flow out into the sea every day. Humans can't get close enough to the reactor cores to see what exactly is happening, even robots are quickly fried by the high levels of radiation.
- April 26: "Experts: Japan 'wants to just drop tanks' of Fukushima nuclear waste into ocean. Americans worried over plumes hitting West Coast. Fukushima Radiation Alert: Concern 'nuclear chain reaction' could occur at plant; Reactors are still melting down and spewing radioactivity; Fuel has burned through containment. Expert: It's unprecedented- could've been 12 Chernobyls." (ref)
- Radiation Level at Fukushima Is So High It Killed Two Robots
- Dying robots and failing hope: Fukushima clean-up falters six years ...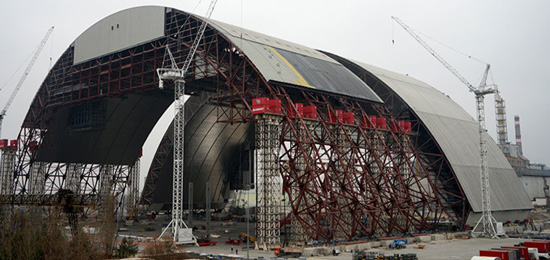 31 years ago this last week the nuclear reactor at Chernobyl exploded, releasing 400 times more radiation than the Hiroshima bomb. Recently, the concrete 'sarcophagus' built in the following years was about to crumble and collapse, which would have released a huge cloud of radiation again. An international effort is now completing a new dome (at a cost of $1.5 billion) which will cover the still highly toxic site. That these workers have had to execute at a distance of no less than 300 yards from the now 31 year old disaster site is testament to the difficulty of dealing with the long-lived hazards of the nuclear enterprise. Here is a new NOVA documentary on the construction of this latest tomb for Chernobyl: NOVA: "Building Chernobyl's MegaTomb".
See also the Fukushima file and the Chernobyl at 30 file.
Nuclear energy is not clean energy.
But even the proper and successful running of nuclear reactors has produced a vast and dangerous buildup of radioactive spent fuel, most of which is stored above ground in water filled tanks. The Union of Concerned Scientists' latest report sounds the alarm on this: "The US currently has some 79,000 tonnes of spent fuel in at least 76 power-station cooling ponds and secure dry stores across the country. Another 2000 tonnes are added each year. The stores contain an estimated 444,000 petabecquerels of radioactivity, which is some 50 times more than released from all atmospheric nuclear weapons tests."
"US spent fuel pools are densely packed and at severe risk of a fuel fire in the event of an earthquake or terrorist attack that drained cooling water from the pools," says UCS's Edwin Lyman of the in Washington DC. (ref) and (ref)
And of course, all the industrialized countries are scrambling to find ways to dispose of the lethal byproduct of the supposed clean energy produced by nuclear power- for example:
- Brussels plans to saddle UK with EU nuclear waste
- Photos reveal covert op moving highly dangerous nuclear waste through Scotland at night
- Canadian government delays approval of nuclear waste dump on Lake Huron
- Battle to stop nuclear waste being buried in a French village
- Where to put all Japan's radioactive waste is now the burning issue
- Nuclear Waste Disposal Disaster in Germany
- Kitty Litter, Ocean Burial, Shooting It at the Sun, The Worst Ways to Stash Nuclear Waste

While the costs of nuclear power keep rising, green energy gets cheaper every year.
So why are we still subsidizing nuclear?
Green energy is now at price parity or cheaper than carbon fuels, and is far cheaper than nuclear with none of the lethal byproduct. And yet some states are subsidizing nuclear power and slow-walking alternative energies, precisely the opposite of what should be happening:
- Lifeline for Nuclear Plants Is Threatening Wind and Solar Power
- Paying Nuclear Losers for 'Clean' Power Upends U.S. Markets




From left: Hanford in Washington, Rocky Flats in Colorado, Los Alamos Area G in New Mexico
Then there's the waste from nuclear weapons production
Billions of dollars are spent every year in the effort to clean up the nuclear waste produced so profligately during the headlong rush to build tens of thousands of nuclear weapons during the cold war.
- One site, the Hanford site in Washington State, is considered to be "the most toxic place in America".
- The Rocky Flats site in Colorado was shut down by an FBI raid in June of 1989 due to radioactive pollution spread in the Denver region. (ref)
- At Los Alamos Lab here in New Mexico barrels of nuclear weapons production waste are still piled outdoors, awaiting shipment to the WIPP storage site in Carlsbad, New Mexico, which is just reopening after a several year long closure following the explosion of a barrel of waste from LANL, one of many packed with the wrong kind of kitty litter.
- Santa Fe New Mexican, April 23: LANL's Area G at center of nuclear cleanup effort
- See our page on the Nukewatch lawsuit regarding LANL cleanup.
- See our LANL Area G file
The intersection of nuclear weapons and nuclear power: the MOX boondoggle
POGO, April 28, 2017: "The MOX project- designed to take weapons-grade plutonium and dispose of it by converting it into fuel for nuclear power plants- sounds good in theory. But, this partially constructed plant is a staggering four decades behind schedule, and an estimated 17 billion dollars over budget. It is plagued with technical and safety concerns, and doesn't have a single utility client locked in to purchase the fuel it is supposed to produce. The MOX project should be permanently mothballed- and the President should not only make shutting it down a priority, but should also point to it as an example of the kind of bad deal he intends to thwart." Read the complete statement by Danielle Brian and Pete Sepp: No More For MOX
Updates:
- Trump's Budget: $270 million to Terminate MOX, Pursue Downblending
- Trump admin dropping deep borehole nuclear waste burial plan
---
Flashpoint NATO-Russia and Able Archer, 1983
Just as the majority of the world's nations are now in the process of drafting a treaty to prohibit nuclear weapons, former leaders are warning we are closer to a nuclear war than at any time in the last 50 years.



"He promised he wouldn't start a war; Russia wouldn't start a war. And America says they won't start a war either. Then, how come we keep making bombs for a war if there's no-one to start it?" - Samantha Smith, 10 yrs old, commenting on her phone conversation with Yuri Andropov, Soviet Premier, 1983. (left: Slate.com)

Able Archer 1983, a timely and important reminder
Recently, a declassified report lifted the veil on the events of a week in November 1983, the year KAL007 was shot down and America watched "The Day After", when we had in fact, a very close brush with World Death. The Able Archer story is a timely and important reminder of the variety of things that can happen to drive a situation to the brink of nuclear disaster when there is posturing and provocation and no trust. Read Slate Magazine's in depth report:
"The World Almost Ended One Week in 1983". - Flashpoint NATO-Russia:
Provoking Russia, as it must be said NATO is now doing in moving troops to the Russian borders, is extremely dangerous. Russia is the only nation that rivals the US in its nuclear arsenal. In fact, the US and Russia combined hold approximately 94% of the world's nuclear weapons, so a full scale nuclear exchange between these two would most definitely be the death of civilization, and likely of our species. Many of those weapons are still to this day on "hair-trigger".
And yet, provocative actions, belligerent posturing, and, especially on the US side, vilification of the "enemy" abound. Contact channels meant to serve to dampen and defuse misunderstandings during the Cold War have atrophied or been dropped. US troops are conducting military exercises on the Russian border in the Baltics.
New smarter bombs and delivery vehicles are under development in both countries. The US, which has a defense budget 9x as large as the Russian, is set to spend one trillion dollars over the next 3 decades on a wholesale "modernization" of our arsenal of nuclear bombs and delivery systems, including new bombs, bombers, ICBMs, nuclear cruise missiles, and submarines.
During the years of the Cold War, US-Soviet nuclear standoff forced both sides to see the avoidance a nuclear war as an imperative element of national security. Some of the leaders of those times who are still with us, William Perry, George Schultz, Mikhail Gorbachev, are all sounding the alarm, warning that we have become reckless and insouciant about a possible armed conflict with each other going nuclear. They have all publicly expressed worry that today's military and political leaders were not schooled in that long period of the imperative of conflict prevention.
Fmr. Secretary of Defense Bill Perry: "The nuclear danger today is more acute than at any time since the Cuban Missile Crisis of 1962." "What we're talking about is no less than the end of civilization." (ref)
Russian Prime Minister Dmitry Medvedev: The US and Russia now "on the verge of a military clash". (ref)
Prof. Stephen Cohen: "Powerful forces are out to make sure that there will be no improved relationship with Russia." (ref)
Russian President Putin: "I don't know how to get through to you anymore." (ref) "Somebody is trying to provoke war between the United States and Russia." (ref)
Fmr. Soviet President Mikhail Gorbachev: "It all looks as if the world is preparing for war... the nuclear threat once again seems real."
---

(l.) Conference President Elayne Whyte of Costa Rica, and (r.) Tim Wright of ICAN
"Many citizens, scientists and laymen alike, view nuclear-weapons abolition as an essential milestone in the development of human civilization, a moral, ideological and practical campaign that could catalyze the transformation of international relations and improve the outlook for civilization at a critical time." -James Doyle

A Successful First Session of Nuclear Weapons Ban Treaty Negotiations
The first of two sessions of the Ban Treaty discussions at the UN has ended; participants from the 130 countries and the civil society groups participating are pleased with the outcome and optimistic about the prospects of a full ban treaty being voted in July. Countries' and NGOs' suggestions regarding terms and details of an eventual prohibition treaty which were put forward during the week will be used by conference President Whyte to prepare a draft treaty for consideration by the parties prior to the second session, June 15 to July 7 of this year.
The conference brought some fairly surreal opposition, including a senior US general opining that without nuclear weapons wars would be much worse, and US Ambassador to the UN Nikki Haley leading a protest boycott in front of the UN against the effort. While Haley's stunt did get her the lion's share of the American press coverage of the talks, the US, along with its allies and the other nuclear weapons states, are clearly isolated on the issue.

Docs:
United Nations Conference To Negotiate a Legally Binding Instrument
to Prohibit Nuclear Weapons, Leading Toward Their Total Elimination
- Selected Elements of a Treaty Prohibiting Nuclear Weapons
- Statements and working papers to the conference

We have a dossier on the background and trajectory of this initiative, and we'll keep it up to date with news and developments: Ban Treaty dossier.
For further in-depth coverage of these negotiations, see the Reaching Critical Will and ICAN websites. Also note the ban treaty blog at ICAN for daily news and developments.
Note: ICAN has posted a Flickr album of annotated high-def photos of the UN Ban Treaty negotiations.
---

Above, from left to right: Rick Wayman, Nuclear Age Peace Foundation; Marylia Kelley, Tri-Valley Cares (Lawrence Livermore); Ralph Hutchison, OREPA (Y-12); Jay Coghlan, Nuclear Watch NM (Los Alamos, Sandia), and Hans Kristensen, Federation of American Scientists.
March 28, 2017, UN, NYC:
Ban Treaty Conference: Alliance for Nuclear Accountability Panel Discussion
See video clips of some of the speakers:

---
NukeWatch gets a Santa Fe Mayor's Award
In addition to our work toward limiting and ultimately eliminating nuclear weapons, NukeWatch also works to protect Northern New Mexico aquifers from the radioactive wastes dumped over the last 70 years of atomic bomb production at Los Alamos Lab.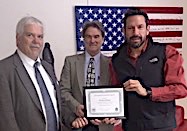 This week, Nukewatch was given the Santa Fe Mayor's Sustainability Award in the category of Environment for that work. (more)

Above: Scott Kovac, Jay Coghlan, Mayor Javier Gonzales
---
Cleanup Lawsuit: NukeWatch v. DOE, LANS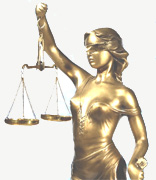 See all docs related to the ongoing Nuclear Watch lawsuit against DOE and LANS (the corporate manager of Los Alamos Lab), over multiple missed deadlines and failures to execute cleanup of radioactive wastes at the Los Alamos site: Cleanup Lawsuit.
---
Critical Events

---
June 15 - July 7, United Nations, NYC:
2nd Session, Nuclear Ban Treaty Negotiations
- More info at: ICAN / Reaching Critical Will
- ICAN: Ban Treaty Blog for daily news and updates.
- Bulletin Atomic Scientists: Ban Brief: updates,
background, implications, by ICAN's Tim Wright and Ray Acheson, director of Reaching Critical Will.
- ICAN has posted a Flickr album of annotated high-def photos of the March session of the UN Ban Treaty negotiations.
- June 18: Women's March to Ban the Bomb (info)
- More: see our dossier on the Ban Treaty effort
---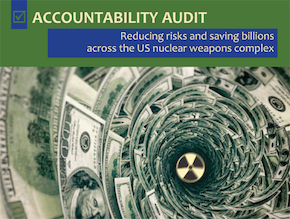 ANA Report 2017: Accountability Audit
This year's report examines the extraordinary spending at Department of Energy nuclear facilities and examines ways to reduce risks and save billions of dollars across the U.S. nuclear weapons complex. (View/download PDF)
---
Newsletters and Calendars
---
- The Bulletin's Nuclear Roundup
Daily nuclear news; subscribe or view online. Very good selection.
- Ploughshares' Early Warning
"Daily news on the issues we're following from the desk of Joe Cirincione." Subscribe or view online.
- Nuclear Policy News (CSIS)
Subscribe or view online. Very good selection. Note that CSIS's top ten corporate donors include Lockheed Martin, Northrup-Grumman, Boeing, General Dynamics and Leonardo-Finmeccanica.
- Nuclear Calendar FCNL
Extensive email listing of all nuclear-related events, from the Friends Committee on National Legislation. Subscribe or view online.
- National Security Legislative Calendar
From the Council for a Livable World. (ref)
- NucNews
Very extensive daily dump of nuclear-related news items; unfortunately hard on the eyes and often redundant, but again, extensive.
---
FAS Nuclear Notebooks
---
- US nuclear forces 2017
- Russian nuclear forces 2016
- Chinese nuclear forces 2016
- Pakistan Nuclear forces 2016
- more
---
---


Alliance For Nuclear Accountability 2016 Report
Out-of-control U.S. nuclear weapons programs accelerate spending, proliferation, health and safety risks: The Trillion Dollar Trainwreck (PDF)

---
Twitter Feeds
---
---
---
Nuclear News
---
Turkey blocks Nato partnerships in row with Austria
Trump budget plan boosts funding for N.M. national labs
How To Dismantle A Nuclear Weapon
Hey, NATO, Let's Move Those 50 US Thermonuclear Weapons Out of Turkey
Trump admin dropping deep borehole nuclear waste burial plan
Trump's Budget: $270 million to Terminate MOX, Pursue Downblending
North Korea orders mass production of new ballistic missile capable of striking Japan and major US military bases
Draft Nuclear Weapons Ban Treaty Released Today
Turkey denies Germany access to Incirlik - Germany likely to pull troops out
North Korea's Latest Missile Test: Advancing Toward an Intercontinental Ballistic Missile (ICBM) While Avoiding US Military Action
North Korea Missile Test Appears to Tiptoe Over a U.S. Tripwire
On Cyberattacks and Accidental Nuclear War
Lockheed F-35s, due to port B61-12s, now lined up in bases just a few minutes flight time from Russia
Hanford waste tunnel collapse renews nuclear safety concerns
U.S. Military: 'We Are Prepared to Use Nuclear Weapons'
At Los Alamos, Perry vows clean-up effort at national labs
Radioactive Cats and Nuclear Priests: How to Warn the Future About Toxic Waste
Trump Administration Revives Nevada Plan as Nuclear Waste Piles Up
Satellite images show expansion of Russian nuclear weapons sites on Kola Peninsula
Radioactive waste storage tunnel collapses at Hanford- workers told to "take cover"
Brussels plans to saddle UK with EU nuclear waste
Kitty Litter, Ocean Burial, Shooting It at the Sun, The Worst Ways to Stash Nuclear Waste
---


May 14 DPRK Missile Test
Steep trajectory reached 1,300 miles altitude; a test of 1st and 2nd stage engines and atmospheric re-entry of warhead stage. More on our Flashpoints:DPRK page.
---
Where will the Trump Administration Take US Nuclear Weapons Policies?


President Trump has called for a new Nuclear Policy Review to be delivered later this year. The last NPR was done in 2010. (read on at our dossier on the developing Trump admin nuclear policies)
---
Current nuclear stockpiles
For country reports and other details see original annotated infographic at Ploughshares.org.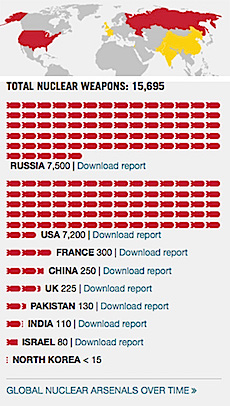 ---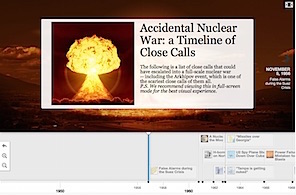 Accidental nuclear war- think it can't happen?
It almost did, quite a few times. See this timeline of nuclear close calls, presented by The Future of Life Institute.
---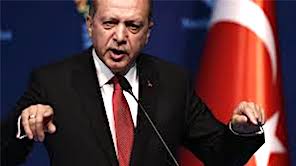 Erdogan bullies, slanders, threatens NATO Allies

Erdogan has recently called his NATO allies 'Nazi fascists', 'banana republics', and 'mass murderers', who need to learn 'how to behave', as if these nations were his vassal states. (ref) And the situation only gets worse: Erdogan has just banned German parliamentarians from visiting their troops at the NATO base. Turkey is no longer a safe place to park our NATO nukes.
May 23, 2017: Ploughshares president Joe Cirincione calls for the removal of our 50 nuclear weapons from Incirlik. More: see our Incirlik dossier
---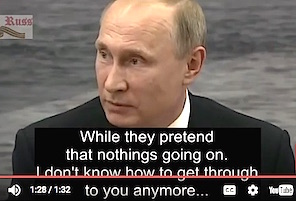 In Europe and Russia, There's Talk of War
-Jill Dogherty, Wilson Center (ref)
See our report: Nuclear Flashpoints: NATO-Russia
---
What Putin Wants
Alexei Arbatov details the basis for an understanding between the US and Russia from Putin's perspective; this event organized and hosted by the Graduate Initiative in Russian Studies at the Middlebury Institute of International Studies on May 13, 2016.
See our report: Nuclear Flashpoints: NATO-Russia
---
Did US promise not to expand NATO eastward?
"After speaking with many of those involved and examining previously classified British and German documents in detail, SPIEGEL has concluded that there was no doubt that the West did everything it could to give the Soviets the impression that NATO membership was out of the question for countries like Poland, Hungary or Czechoslovakia. Der Spiegel, November 6, 2009
---
---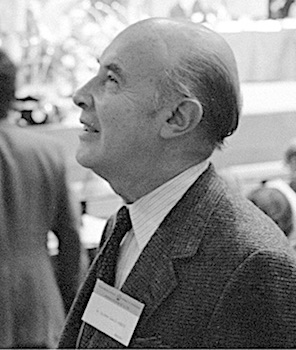 García-Robles' Nobel Medal Sold at Auction
Alfonso García Robles drafted the 1967 Treaty for the Prohibition of Nuclear Weapons in Latin America and the Caribbean. He was awarded the Nobel Peace Prize in 1982. He died in 1991. The Treaty of Tlatelolco, as it became known, was the first of its kind and is credited with keeping Latin America and the Caribbean free of nuclear weapons.
"A towering landmark in non-proliferation and disarmament, the Treaty's principles, safeguards and verification measures remain highly influential today." -Christie's, presenting the Nobel medal for auction April 28, 2017, New York City. (It brought $487,500) (ref)
---
Radioactive Quotes

---
May 2017. "Nuclear weapons are morally unacceptable. They are intended to kill civilians indiscriminately. Their continued existence undermines the moral credibility of every country that relies on them. The treaty to ban them, as a first step towards their elimination, will have real and lasting impact."
- Beatrice Fihn, executive director, ICAN
- View/download Ban Treaty Draft
---

Every little bit helps!
Remember: contributions are tax-deductible.
*Go to donations page* Thanks for your support!