Arsenal of Information
---
---
---
Dossiers:
Trump's Nuclear Posture Review
Flashpoint: North Korea
Flashpoint: NATO-Russia
UN Treaty to Prohibit Nuclear Weapons
Plutonium Pit Production at LANL
B61-12 Enhanced Nuclear Bomb
LRSO: New Nuclear Cruise Missile
Kirtland AFB Nuclear Weapons Complex
MOX / Plutonium Disposition
Fukushima Disaster and Updates
Nuke Lab Contractors Illegal Lobbying
Nuclear Testing Since 1945
Atomic Histories
---
Nuclear Watch Interactive Map of the
Nuclear Weapons Complex
View full size
Facilities:
Kansas City Plant
Lawrence Livermore National Labs
Los Alamos National Laboratory
Nevada National Security Site
Pantex Plant
Sandia National Laboratories
Savannah River Site
Washington DC
Waste Isolation Pilot Plant (WIPP)
Y-12 National Security Complex
---
Nuclear Weapons Enterprise Twitter Feeds:
---
Facility Spotlight, August, 2017:
"... And these safety challenges aren't confined to Los Alamos. The Center's probe revealed worker safety risks, previously unpublicized accidents, and dangerously lax management practices at other nuclear weapons-related facilities. The investigation further found that penalties for these practices were relatively light, and that many of the firms that run these facilities were awarded tens of millions of dollars in profits in the same years that major safety lapses occurred. Some were awarded new contracts despite repeated, avoidable accidents, including some that exposed workers to radiation."
- Patrick Malone and R. Jeffrey Smith in their series entitled "Nuclear Negligence" for the Center for Public Integrity.
---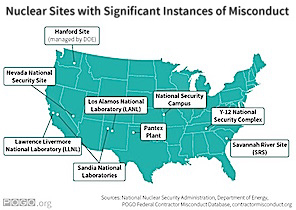 Nuclear Weapons Complex Misconduct
Dec. 3, 2015. POGO: Updated Federal Contractor Misconduct Database, focussing on Nuclear Complex (see report at POGO)
---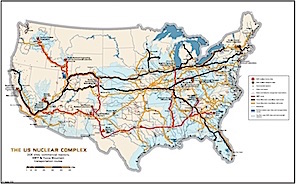 Click the image to view and download this large printable map of DOE sites, commercial reactors, nuclear waste dumps, nuclear transportation routes, surface waters near sites and transport routes, and underlying aquifers. This map was prepared by Deborah Reade for the Alliance for Nuclear Accountability.
Quote of the Week

---
"Life on Earth is at the ever-increasing risk of being wiped out by a disaster, such as sudden global nuclear war, a genetically engineered virus or other dangers we have not yet thought of... I think the human race has no future if it doesn't go into space." - Stephen Hawking [d. 3/14/18] (Guardian)
---
LANL's Central Mission
Los Alamos Lab officials have recently claimed that LANL has moved away from primarily nuclear weapons to "national security", but what truly remains as the Labs central mission? Here's the answer from one of its own documents: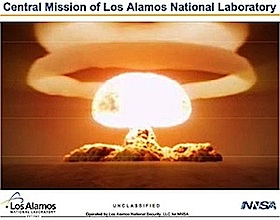 LANL's "Central Mission"- Presented at: RPI Nuclear Data 2011 Symposium for Criticality Safety and Reactor Applications
(PDF) 4/27/11
---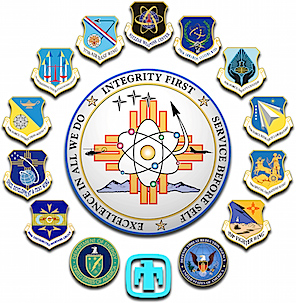 Dossier:
The Kirtland AFB Nuclear Weapons Complex
Kirtland Air Force Base, which abuts and shares some runways with the Albuquerque airport, has become a major nuclear weapons complex of it's own. It hosts the Air Force's Nuclear Weapons Center, Sandia National Laboratories, and what is probably the nation's (and perhaps the world's) largest repository of nuclear weapons, estimated at up to 2,500 warheads... (read more)
---
Follow the Money!

---
LANL FY 2018 Budget Request
Click to view full PDF Lab Table data
Note that the percentage of the LANL budget request for core nuclear weapons activities has risen to 70%.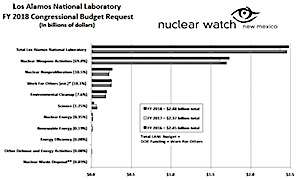 ---
Sandia FY 2018
Click to view full PDF Lab Table data
Five years ago Sandia Labs was less than 50% nuclear weapons. That is no longer true because of "Life Extension Programs" that give existing nuclear weapons new military capabilities.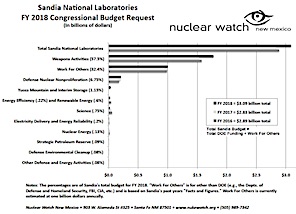 ---
NNSA FY 2017 Budget Request
- Nuclear Watch Analysis/Compilation (PDF)
---
Congressional Budget Office report:
Projected Costs of Nuclear Forces 2014-2023

CBO presentation based on the report: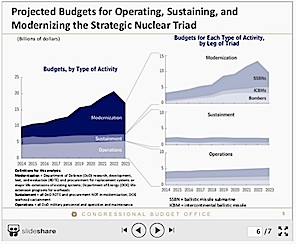 Click to view presentation
---
Stockpile Stewardship and Management Plan
- View/Download FY 2018 SSMP (PDF)
- View/Download FY 2017 SSMP (PDF)
- SSMP Analysis of Hans Kristensen, FAS: Nuclear Transparency and the Stockpile Stewardship and Management Plan (PDF)
- View/Download FY 2015 SSMP (PDF)
- NWNM Analysis (PDF) / Analysis Summary (PDF)
---
Nuclear Watch Media
---
Santa Fe, Feb. 9, 2018:
Jay Coghlan, Nukewatch Director Interview
'Living on the Edge', KSFR Radio. Jay speaks about the Doomsday Clock and the Trump Nuclear Posture Review. Archived podcast here.
---
Santa Fe, Sept 7, 2017:
Rep. Ted Lieu and Jay Coghlan on KSFR Radio
Congressman Lieu (D.CA) was given the Leadership Award by Alliance for Nuclear Accountability in May of this year for his sponsorship of HR 669, a bill to restrict the president's sole authority to launch nuclear war (mirrored in the Senate by S.200 introduced by Sen. Ed Markey D.MA).
(Nukewatch director Jay Coghlan is the current chairman of ANA.)
"Living on the Edge" with David Bacon, 101.1 FM
***Archived Podcast***
---
Jay Coghlan, Nukewatch Director Interview
With David Bacon on Living on the Edge, KSFR, Aug 3, 2017. Archived podcast here
---
KUNM FM: LANL's Long Environmental Cleanup
KUNM public radio discussion of Los Alamos cleanup, and Nukewatch lawsuit Archived podcast here
---
NukeWatch YouTube Channel
See our playlists of key video clips.
---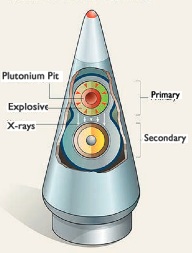 Successful Citizen Activism Against
Expanded U.S. Plutonium Pit Production
This is the unsung story of successful citizen activism against repeated government attempts to expand the production of plutonium pit cores, which has always been the choke point of resumed U.S. nuclear weapons production. This history is a critical part of the march toward a future world free of nuclear weapons. (View/download full report- PDF)
Updated March 2017: NukeWatch Fact Sheet:
"Plutonium Pit Production at LANL"
(View/download PDF)
NukeWatch fact sheet, September 26, 2017:
Expanded Plutonium Pit Production at LANL Will Not Result in Significant Positive Effect On Job Creation and the Regional Economy
(View/download PDF)
---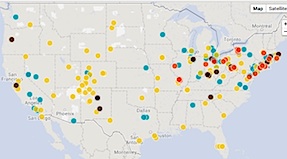 Waste Lands: America's Forgotten Nuclear Legacy
The Wall St. Journal has compiled a searchable database of contaminated sites across the US. (view)
Related WSJ report:
A Nuclear Cleanup Effort Leaves Questions Lingering at Scores of Old Sites, Legacy of US Arms Buildup...
---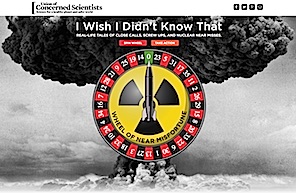 What is both sobering and addictive?
This "Wheel of Near Misfortune" created by Union of Concerned Scientists- don't miss it!
Dr. Perry's South Asian Nuclear Nightmare
Dr. William J. Perry, the 19th Secretary of Defense, shares his South Asian nuclear nightmare in this video produced by the William J. Perry Project.
---
Erdogan's Turkey- Our Nuclear Ally
Feb. 12. Erdogan calls Trump a double-faced liar and crook. And we store 50 nuclear weapons there... good idea?
See our Turkey/Incirlik file.
Dr. Perry's Nuclear Nightmare
Dr. William J. Perry, the 19th Secretary of Defense, shares his nuclear nightmare in this video produced by the William J. Perry Project.
---
Beyond the Summit:
New Approaches to Nuclear Security
William Perry: "Danger of a nuclear catastrophe is greater than during the Cold War. Our public is blissfully unaware. Consequently, the policies that this country follows are in no way commensurate to the danger."
---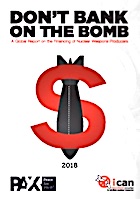 The only report detailing the global investments by financial institutions in companies producing nuclear weapons.
Don't Bank on the Bomb: 2018 Report
---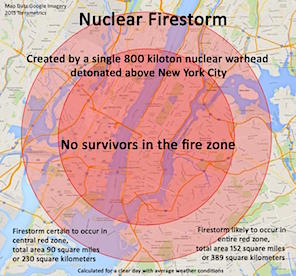 What would happen if an 800-kiloton nuclear warhead detonated above midtown Manhattan?
You should read this.
---
---
Recent visitors - click to enlarge
---
Help us boost public awareness of the reality and risks of nuclear weapons today. Please share Nukewatch.org with your friends using the buttons below:
---

"If you really want a future world free of nuclear weapons, you can hardly make a better investment than to give to Nuclear Watch New Mexico. They need and deserve your support so that they can carry on their groundbreaking work. I urge you to be generous with them!" - Danielle Brian, Executive Director, Project on Government Oversight.
Please support our work!
Remember, donations are tax-deductible.

New & Updated

---
March 13, 2018:
In Surprise Move, Trump Tweets He'll Meet With Kim Jong Un by May
Tillerson blindsided, returns early from Africa, but is tweet-fired before he touches down. (ref)
Trump said he disagreed with Tillerson on Iran; CIA director Pompeo, an Iran hardliner, to become Secretary of State.
---
March 11, 2018:
On the 7th Anniversary of Fukushima Disaster, It's Still a Long Way From Over
7 years on, the decontamination process scheduled for March 2018 has been suspended due to "extremely high" radiation levels (one hour, you're dead). (ref)
Below are some recent updates. But note in particular the in-depth account of the USS Reagan sailors who were irradiated in the disaster. Nine of the plaintiffs have died while TEPCO continues to fight their lawsuit.
- Injustice at Sea- the irradiated sailors of the USS Reagan
- 7 Years on, Sailors Exposed to Fukushima Radiation Seek Their Day in Court
- After Alarmingly High Radiation Levels Detected, What Are the Facts in Fukushima?
- Radiation levels still 3x safe levels, some areas higher than 2016
- Japan's chief nuclear regulator says the 2011 accident is not over
- Tepco's 'ice wall' fails to freeze Fukushima's toxic water buildup
- A $320 Million Ice Wall Still Can't Contain Radioactive Water Near Fukushima
- Fukushima Ice Wall Failing, Water Seepage Into Nuclear Reactors Still A Problem
- Ongoing court cases
---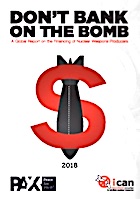 March 10, 2018:
Don't Bank on the Bomb 2018 Report
View/download Report PDF
Don't Bank on the Bomb's 2018 report found that 22 financial institutions comprehensively prevented any involvement in nuclear weapon producing companies in 2017, up from 18 in 2016 and 13 in 2015: including Norway's Government Pension Fund, Australia's Future Super, U.S.-based fund manager Green Century and Denmark's MP Pension, which manages pensions for Danish academics.
There were a further 41 institutions that excluded nuclear weapon producers from their investments, but whose policy was not all-inclusive, up from 36 in 2016 and 40 in 2015.
Of the $525 billion invested, $81 billion more than a year previously, more than half came from the top 10 investors, all U.S.-based, led by Blackrock, Capital Group and Vanguard, the report said.
"The small group of countries that have nuclear weapons are modernizing and even expanding their arsenals.
"At the same time, a large majority of countries around the world are calling for an end to this new nuclear arms race."
"Author of the report Susi Snyder: 'The Nuclear Ban Treaty has sparked momentum towards divestment, shown by 10% fewer investors in nuclear weapon producers, and an increase in financial institutions comprehensively prohibiting any investment. Investments are not neutral, these companies should be congratulated for standing on the side of humanity.'" (ref) / (ref2)
---
March 8, 2018:
Pentagon Gearing Up for Space Warfare
The Trump administration's new defense policy calls for conducting military and other operations in response to space attacks, mainly by China and Russia.
"'Space is a warfighting domain just like the air, ground, maritime, and cyberspace domains,' AF Gen. John Hyten, Commander, Strategic Command.
"Hyten also revealed that U.S. adversaries will deploy hypersonic strike vehicles- that can travel at more than 7,000 miles per hour- in the next few years.
"China has conducted at least seven tests of hypersonic vehicles, and Russia has conducted several hypersonic missile tests [including one on March 11]. Hypersonic vehicles are designed to defeat missile defenses.
"Hyten urged speeding up U.S. development of hypersonic strike weapons as well as what he termed conventional prompt strike weapons." (ref: Pentagon Gearing Up For Space Warfare)
Hypersonics Heating Up
The arms race has already gone hypersonic, especially with Putin's announcement of several new hypersonic delivery systems in the works (see below). But the US and China have also been urgently developing this new class of weaponry as well.
Best recent survey of the status- and difficulties posed by Mach 20 speeds: "The US is Accelerating Development of Its Own 'Invincible' Hypersonic Weapons"
---
March 8, 2018:
Amid Heightened Tension, Markey, Merkley, Feinstein, and Sanders Press Trump Administration to Jumpstart New Strategic Talks with Russia
Read their letter in full at Rep. Markey's site.
---
March 6, 2018:
Senators Say DOE May Have Reimbursed Contractor For Fighting Whistleblower Retaliation Claims
So someone at a nuclear weapons lab screws up, or cheats, or is less than honest, and it's covered up by the corporate management; and someone blows the whistle. The Lab retaliates against the whistleblower, who then files a claim against The Lab. The Lab hires attorneys to fight the claim. Then The Lab gets reimbursed by DOE for the legal expenses. So, taxpayer funds were used to silence and defeat whistleblowers?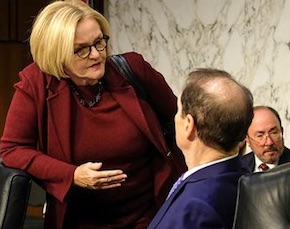 "'Whistleblowers are an invaluable resource for weeding out waste, fraud and abuse- the last thing the government should be doing is paying the legal fees of contractors who've retaliated against whistleblowers,' McCaskill, the top Democrat on the Senate Homeland Security and Governmental Affairs Committee, said in a statement."
"Sens. Claire McCaskill (Mo.) and Ron Wyden (Ore.) asked about the situation in a Tuesday letter to Energy Secretary Rick Perry, citing documents that appear to show that the National Nuclear Security Administration (NNSA) paid more than $24 million to the partnership of Lawrence Livermore National Laboratory for costs from a series of whistleblower cases." (more at The Hill)
---
US and Russia Nuclear Arsenals: Different Frames Make for Dangerous Times
The worrisome aspects of Trump's Nuclear Posture Review represented the arguments of the "Second Nuclear Age" hawks, i.e. that the world is no longer bi-polar, that the US needs more small nukes widely deployed so as not to be caught with either no response or a strategic response in regional conflicts, where the adversary might doubt we would go strategic. Thus US 'deterrence' had weakened. In this view, numerous smaller, widely deployed nukes are meant to sustain 'deterrence' into the more chaotic "Second Nuclear Age".
On the other hand, the Russian response is framed by their overriding anxiety that the US, with its missile defense systems surrounding Russia, and NATO troops on Russian borders, is intent on developing the ability to win a nuclear war with Russia. Russia is afraid of the destabilization of the Cold War strategic equilibrium model, wherein neither side sought an advantage so great that it might consider a surprise attack. ABMs - anti-ballistic missile systems- were banned so that neither side could hope to launch a first strike and take out the remaining retaliatory missiles with a missile defense system.
Putin's speech to the Federal Assembly March 1, 2018:
"Back in 2001, the US announced its withdrawal from the Anti-Ballistic Missile Treaty. Russia was categorically against this. We saw the Soviet-US ABM Treaty signed in 1972 as the cornerstone of the international security system...
"Together with the Strategic Arms Reduction Treaty, the ABM Treaty not only created an atmosphere of trust but also prevented either party from recklessly using nuclear weapons, which would have endangered humankind, because the limited number of ballistic missile defense systems made the potential aggressor vulnerable to a response strike.
"We did our best to dissuade the Americans from withdrawing from the treaty. All in vain. The US pulled out of the treaty in 2002...
"Despite our numerous protests and pleas, the American machine has been set into motion, the conveyer belt is moving forward. There are new missile defense systems installed in Alaska and California; as a result of NATO's expansion to the east, two new missile defense areas were created in Western Europe: one has already been created in Romania, while the deployment of the system in Poland is now almost complete..." (transcript):
The Russian high command stated last year that they in fact did now think the US was working to develop this capability (ref). The Trump Nuclear Posture Review, with its emphasis on war-fighting nukes, only reinforced Russian command fears that the US could be preparing for a fight. The weapons systems Putin announced last week were all noted for their ability to defeat missile defenses and thus, in the Russian view, to preserve 'MAD'- mutually assured destruction- the Cold War's solution to preventing a nuclear war.
Defeating missile defenses, from Putin's speech to the Federal Assembly, March 1:
- The Sarmat ICBM "is untroubled by even the most advanced missile defense systems."
- A nuclear-powered, nuclear-capable cruise missile: "invincible against all existing and prospective missile defense and counter-air defense systems."
- A high-speed, deep ocean nuclear drone "There is simply nothing in the world capable of withstanding them."
- The RS-26 "Avangard" (aka YU-71) A nuclear-capable hypersonic glide vehicle that can travel at 20 times the speed of sound. "It flies to its target like a meteorite, like a ball of fire"

The intersection of these two contrasting frames of reference could see misunderstandings, confusion, and conflict. Putin seemed to feel obliged to make a clear warning.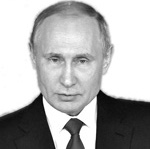 "We are greatly concerned by certain provisions of the revised Nuclear Posture Review, which... reduce the threshold for use of nuclear arms... in response to conventional arms attacks and even to a cyber-threat."
"As such, I see it as my duty to announce the following.
Any use of nuclear weapons against Russia or its allies, weapons of short, medium or any range at all, will be considered a nuclear attack on this country. Retaliation will be immediate, with all the attendant consequences."
But he continued: "There should be no doubt about this whatsoever. There is no need to create more threats to the world. Instead, let us sit down at the negotiating table and devise together a new and relevant system of international security and sustainable development for human civilisation. We have been saying this all along. All these proposals are still valid. Russia is ready for this."
And in closing, "I hope that everything that was said today would make any potential aggressor think twice, since unfriendly steps against Russia such as deploying missile defenses and bringing NATO infrastructure closer to the Russian border become ineffective in military terms and entail unjustified costs, making them useless for those promoting these initiatives.
"It was our duty to inform our partners of what I said here today under the international commitments Russia had subscribed to. When the time comes, foreign and defense ministry experts will have many opportunities to discuss all these matters with them, if of course our partners so desire." (more details- see full speech transcript)
Stephen Cohen: How Washington Provoked- and Perhaps Lost- a New Nuclear-Arms Race
---
March 2, RT:
"Russian lawmakers emphasize that Putin's address was a call for peace and talks"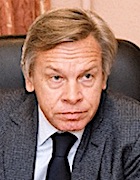 "Senator Aleksey Pushkov said in comments to RT that he thought that the main message of Putin's address to the international community was very clear: 'don't even think of using any kind of weapons against Russia and don't have any illusions about Russia's strength in the military field.'
"Pushkov noted that certain circles in the United States tend to calm themselves by calling Russia 'a weak regional power' but the presentation made by the Russian president had made it absolutely clear that any speculations about Russia's supposed weakness were total nonsense.
"However, the senator also stressed that the display of strength was not aimed at intimidation. Putin suggested a reconsideration of the western strategy of strategic encirclement, as well as the US strategy of creating new weapons that can overcome the Russian strategic nuclear potential.
"'He says this is meaningless, you will not achieve anything so let us sit down and talk. I am absolutely sure that now we will see a hysterical reaction from the US mass media, but it is important to stress that there is a second part to Putin's message- it is not just a display of our capabilities, it is also an offer to discuss and come to some solutions,' Pushkov told RT."
---

For Immediate Release March 1, 2018:
The Regional Coalition of LANL Communities: Benefits for the Select Few
Santa Fe, NM- According to media reports, Andrea Romero, Executive Director of the Regional Coalition of LANL Communities, is accused of charging some $2,200 dollars of unallowable travel costs, such as alcohol and baseball tickets, while lobbying in Washington, DC for additional funding for the Los Alamos National Laboratory (LANL).
Worse, there's the matter of her private company being funded by the lab contractor. LANS. "It is, at a minimum, unseemly for the Executive Director of the Regional Coalition, which lobbies for increased LANL funding, to receive funding for her private business from LANS, who runs LANL. Ultimately that funding for her private business comes from the American taxpayer."
- (All the details, see full press release PDF)
- New Mexican, March 2: Funds for ostrich farm fuel criticism of regional coalition
---

For Immediate Release February 28, 2018:
Major LANL Cleanup Subcontractor Implicated in Fraud-
Entire Los Alamos Cleanup Should Be Re-evaluated
Santa Fe, NM. On December 17, 2017, the Department of Energy awarded a separate $1.4 billion contract for cleanup at the Los Alamos National Laboratory to Newport News Nuclear BWXT-Los Alamos, aka 'N3B'. This award followed a DOE decision to pull cleanup from LANL's prime contractor, Los Alamos National Security, after it sent an improperly prepared radioactive waste drum that ruptured underground at the Waste Isolation Pilot Plant. That incident contaminated 21 workers and closed WIPP for nearly three years, costing taxpayers at least $1.5 billion to reopen.
Tetra Tech Inc is a major subcontractor for N3B in the LANL cleanup contract. Tetra Tech is part of Tech2 Solutions, and will be responsible for the groundwater and storm water programs at LANL that are of intense interest to the New Mexico Environment Department and citizen environmentalists. To date, these programs have been supported by several New Mexico small businesses that will be displaced by Tetra Tech.
Serious allegations of fraud by Tetra Tech were raised long before the LANL cleanup contract was awarded. The US Navy found that the company had committed widespread radiological data falsification, doctored records and supporting documentation, and covered-up fraud at the Hunters Point Naval Shipyard cleanup project in San Francisco, CA.
See media links and excerpts, all the details in the full press release (PDF)
---

For Immediate Release February 26, 2018:
Detailed NNSA Budget Documents Accelerates Nuclear Weapons Arms Race
Late Friday February 23, the Trump Administration released the detailed FY 2019 budget for the National Nuclear Security Administration (NNSA), the semi-autonomous nuclear weapons agency within the federal Department of Energy. Overall, NNSA is receiving a $2.2 billion boost to $15.1 billion, a 17% increase above the FY 2018 enacted level. Of that, a full $11 billion is for the budget category [Nuclear] "Weapons Activities", 18% above the FY 2018 level.
Some highlights:
- NNSA gets a 17% boost while the Dept. of Energy cuts sustainable transport, renewable energy by 33%.
- The LRSO: Funding tripled to $654 million for the new nuclear cruise missile's refurbished W80-4 warhead.
- The B61-12 will get a 30% boost in funding for further work on the nuclear smart bomb to be deployed in Europe.
- Plutonium pit production funding doubled for accelerated production.
- No increase for weapons dismantlement. Note there are some 2000+ nuclear bombs sitting in storage at Kirtland AFB in Albuquerque, still awaiting dismantlement.
- No increase in funding for radioactive waste cleanup, even though in a number of cases funding is already insufficient to meet legal milestones.
- The Uranium Processing Facility at the Y-12 Plant (Oak Ridge, TN), and the Chemistry and Metallurgy Research Replacement Project at Los Alamos, both troubled budget-busters already, will see their funding boosted.
See all the details in the full press release (view/download PDF)
---

For Immediate Release, February 22, 2018:
NNSA Releases Draft Environmental Assessment for LANL Rad Lab;
Raises Plutonium Limit 10 Times for Expanded Pit Production
Santa Fe, NM. Today the National Nuclear Security Administration announced an Environmental Assessment to increase the amount of plutonium used in the Radiological Laboratory Utility and Office Building (aka the "Rad Lab") at the Los Alamos National Laboratory from 38.6 grams of plutonium-239 equivalent to 400 grams. This 10-fold increase is significant because it will dramatically expand materials characterization and analytical chemistry capabilities in the Rad Lab in support of expanded plutonium pit production for future nuclear weapons designs. It also re-categorizes the Rad Lab from a "radiological facility" to a "Hazard Category-3" nuclear facility. (See all the details in the full press release)
- Albuquerque Journal, February 22: NNSA wants more plutonium in Los Alamos facility
- Al Jazeera, February 23: US takes steps to resume plutonium pit production for nukes
** Comment period is open. We'll post sample comments you can use on Tuesday the 20th.
---
February 18, 2018:
NTI Report Presented at Munich Security Conference Calls for "Re-evaluation" of Forward Basing of Nuclear Weapons Across Europe.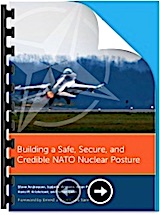 The report underscores the strong arguments for NATO to move to a safer, more secure, and more credible nuclear posture without forward-deployed U.S. nuclear weapons in Europe.
"Now is the time and the opportunity to ask whether those weapons are more of a security risk than an asset to NATO and whether they increase or reduce the risk of nuclear use." Authors: Steve Andreasen, Isabelle Williams, Brian Rose, Hans M. Kristensen, and Simon Lunn; Foreword by Ernest J. Moniz and Sam Nunn. (source: NTI)
View/download NTI report (PDF)

Op Ed published at the outset of the conference:
Preventing Nuclear Conflict in Europe
"Reducing and eliminating nuclear risks is an existential interest that all countries share. We have entered a new era, in which a fateful error- triggered by an accident, miscalculation, or blunder - could trigger a nuclear catastrophe.
"In the Euro-Atlantic region today, the risks of such an error are compounded by heightened tensions between NATO and Russia- and little communication between military and political leaders. In the absence of some positive initiative, we will continue to drift toward danger. In Munich, the EASLG will call on governments to work together to mitigate the risks of nuclear conflict."
Authors: Des Browne, a former British defense secretary, Vice Chairman of the Nuclear Threat Initiative and Chair of the European Leadership Network; Wolfgang Ischinger, former German Ambassador to the United States, Chairman of the Munich Security Conference; Igor S. Ivanov, former Russian Foreign Minister and Secretary of the Security Council of the Russian Federation from 2004 to 2007, President of the Russian International Affairs Council; Sam Nunn, a former leading US senator, Co-Chairman of the Nuclear Threat Initiative.
- The Euro-Atlantic Security Leadership Group (EASLG)
- Preventing Nuclear Conflict in Europe
- Recommendations to Improve Security and Reduce Nuclear Risks
17 Feb, 2018:
Former Secretary of Defense William Perry interview with Sophie Shevardnadze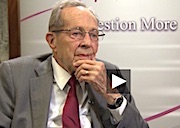 Meanwhile, William Perry, who is on an outreach trip to Russia, appeared on the "SophieCo" show for RT.
"Perry, who previously had stated that NATO's eastward expansion during his tenure as defense secretary was a mistake and largely responsible for the current confrontation between Moscow and Washington, said that NATO's rapid expansion has not necessarily strengthened the alliance, and the US should rethink its hostility towards Russia.
"Although Russia and China were recently singled out by the US government as the greatest challenge to US national interests, Perry said that he did not agree with the Pentagon's "judgment" and thought Washington should focus instead on strengthening its relationship with Russia.
"Neither the US nor Russia want a nuclear war. Neither the US nor Russia want nuclear terrorism. Neither the US nor Russia want nuclear proliferation. So we have areas where we have strong and important agreements. We ought to be working together in those areas to solidify points on which we agree. So that's a potential that we're not exploiting." (watch interview)
- William J. Perry Project "works to ensure that nuclear weapons are never used again"
---

For Immediate Release, February 12, 2018:
Trump's Budget Dramatically Increases Nuclear Weapons Work
Santa Fe, NM. In keeping with the Trump Administration's recent controversial Nuclear Posture Review, today's just released FY 2019 federal budget dramatically ramps up nuclear weapons research and production.
The National Nuclear Security Administration (NNSA), the Department of Energy's semi-autonomous nuclear weapons agency, is receiving a $2.2 billion overall boost to $15.1 billion, a 17% increase above the FY 2018 enacted level. Of that, a full $11 billion is for the budget category (Nuclear) "Weapons Activities", 18% above the FY 2018 level.
Digging deeper under Weapons Activities, "Directed Stockpile Work" is increased from $3.3 billion to $4.7 billion, or 41%... (read the full press release)
Feb. 8: NukeWatch Director Jay Coghlan was interviewed on KSFR's "Living On The Edge" regarding the Nuclear Posture Review- Listen to the archived podcast here.
---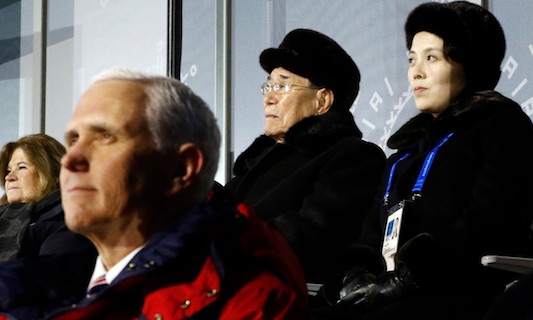 Behind VP Pence: Kim Yong Nam, President of the Presidium of North Korean Parliament, and Kim Yo Jong, sister of leader Kim Jong Un (photo: Washington Post)
February 11, 2018:
Pence Snubs Peace Initiative at Winter Olympics
Experts have been saying for some time that there is no good military solution to the Korea crisis. The best way to see the crisis defused would of course start with a rapprochement of the two Koreas. In fact the State Dept. recently said that the US would have no objection to a unified Korea as long as it was de-nuclearized. So that path was in the wind, but when the two Koreas initiated a peace and reconciliation effort at the Olympics, US Vice President Pence refused to go along.
"Pence spent the days leading up to Friday's opening ceremonies warning that the North was trying to 'hijack the message and imagery of the Olympic Games' with its 'propaganda.'
"But the North was still welcomed with open arms to what South Korean President Moon Jae-in called 'Olympic games of peace' and the U.S. appeared to be the one left out in the cold.
"Pence sat stone-faced in his seat as Moon and North Koreans officials stood together with much of the stadium to applaud their joint team of athletes. White House officials stressed that Pence had applauded only for the American team, but Asia experts said the vice president's refusal to stand could be seen as disrespectful to the hosts.
"While South Korean President Moon did not hesitate to shake hands and smile with his North Korean visitors, Pence didn't appear to even look in the direction of the North Korean delegation during the Friday event." (source: WaPo)
Seems the Trump administration would rather make threats than talk.
- Pence's Anti-North Korea PR Campaign Bombs
- US Vice-President Mike Pence rains on Olympic parade with Korea team snub
Update March 10::
Trump Makes Surprise Announcement He'll Meet Kim Jong Un by May.
Secretary of State Tillerson, who the day before had said we were "a long way" from such a meeting, was not informed in advance of the President's decision. He was touring an AIDS hospital project in Africa at the time. After the announcement he fell ill, and has cancelled other appointments. Tillerson then returned early from Africa, but was tweet-fired before he touched down. (ref) Trump said he disagreed with Tillerson on Iran; CIA director Pompeo, an Iran hardliner, to become Secretary of State. (ref)
---
Goat Rodeo in the Pentagon Map Room
Why Was the NPR Pulled and Re-issued Several Times?
The initial draft leaked online showed the entire Korean peninsula- North and South- as part of North Korea. Whoops. Then the official version was released fixing that problem, but showing Taiwan as part of the People's Republic of China. Double whoops! Then that was taken down for several hours, and a third version released, which restored Taiwan as a separate entity. But in that last version the entire Kuril island archipelago, administered by Russia, but partly claimed by Japan, was disappeared. So, how's that "pivot to Asia" going, guys? (ref)
---
Nuclear Posture Review, International Reaction:
Feb. 8, British American Security Information Council:
Trump's Nuclear Posture Review endangers Europe
"The US' pursuit of new nuclear weapons is likely to worsen tensions with Russia. As a strategy, it does little to deal with Russia's underlying security concerns, could entrench Russian protestations over US military deployments in Europe, and could further divide European allies.
"If President Trump delivers on the NPR... Europe could be caught between a new nuclear arms race. Since the end of the Cold War, Europe has worked productively alongside the United States and Russia to decrease the saliency of nuclear weapons on the continent, through arms control, dialogue and confidence-building measures. It is incumbent on Europeans to defend this vision and assert that with new nuclear weapons come new insecurities." (ref)
---

Germany's Foreign Minister Calls On Europe to Lead Disarmament Push
Sigmar Gabriel, German Foreign Minister: "The US Administration's decision to develop new tactical nuclear weapons shows that the spiral of a new nuclear arms race has already been set in motion. As at the time of the Cold War, we in Europe are particularly at risk. For this reason, we in Europe in particular must launch new arms control and disarmament initiatives. (ref)

---
Mixed reactions in Japan
While the Abe government welcomed the Trump NPR, with its emphasis

on 'extended deterrence', Japanese press was more critical. An editorial in the Asahi Shimbun was titled "By backing Trump nuclear policy, Japan has sold its soul". Featured in Japan Times was an opinion piece by Gwynn Dyer, "The Pentagon's alarming nuclear posture review" saying "The U.S. is once again playing with the notion of a "limited" nuclear war- and everybody else is very unhappy about it."

---
China: Washington's Reverse On Nuclear Strategy Harms Security Interests Of All
Ren Guoqiang, National Defense Ministry spokesman reaffirmed China's policy of "no first use of nuclear weapons at any time under any circumstances".


Ren said that China has always exercised the utmost restraint in the development of nuclear weapons and limited its nuclear capabilities to the minimum required for national security. As the country that possesses the world's largest nuclear weapons arsenal, the US should conform to the irreversible world trend of peace and development rather than run in the opposite direction.
"We hope the US will discard its Cold War mentality, shoulder its own special and primary responsibility in nuclear disarmament, correctly understand China's strategic intention and take a fair view on China's national defense and military development." (ref)
- China Commentary:
"By ringing a false nuclear alarm in the review, Washington is merely trying to find excuses to seek absolute nuclear supremacy. Yet the Trump administration needs to understand that, instead of making itself safer, more nuclear weapons would only bring to it more security risks.
"For decades, major countries have endeavored to reduce global nuclear stockpiles in hopes of forestalling a human catastrophe.
"It is vital that, rather than undercut the efforts, Washington should stop backtracking on its nuclear policy, follow the trend of the times, and work with the rest of the international community to truly reduce the nuclear threat facing humankind." (ref)
---
Russian Ministry of Foreign Affairs Comment on the new US Nuclear Posture Review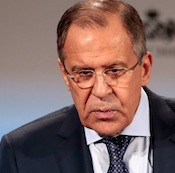 "We are deeply disappointed with the new US Nuclear Posture Review, which was made public on February 2. ... Of special concern are the US plans to modify existing SLCMs to 'provide a low-yield option' and also to create a low-yield warhead for the Trident II SLBMs. Nuclear weapons with such options are clearly designed as battlefield weapons. This will greatly increase the temptation of using them, especially considering the right to a disarming first strike as set out in the new US doctrine. Assurances that the implementation of these plans will not lower the nuclear threshold can at least be interpreted as a desire to delude the international community."
"Of course, we will have to take into account the new US plans and to take measures to enhance our security. (ref)
---
February 2, 2018:
Nuclear Posture Review, Released Today, Met with Criticism and Alarm
View/download NPR PDF- Note this is the updated full document which replaces the original which was pulled from the DoD website Feb. 3. DoD is also offering an executive summary, translated into Russian, Chinese, Korean, Japanese, and French. (View/download PDF)
DoD Press Briefing at the Pentagon: (Youtube)
Arms Control Association Press Briefing: (transcript and audio)
More in our dossier: Trump's Nuclear Posture Review
---

Nobel Prize Award Ceremonies
The International Campaign to Abolish Nuclear Weapons (ICAN) received the Nobel Peace Prize Sunday, Dec 10 in Oslo, Norway. ICAN has been the driving force behind the Treaty to Prohibit Nuclear Weapons voted this summer at the UN and now open for signatures. Nuclear Watch NM is proud to be one of ICAN's 400 affiliated organizations worldwide.
---
Please support our work!
Remember, donations are tax-deductible.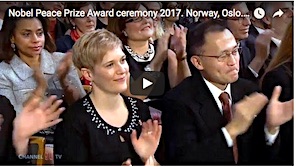 Nobel Peace Prize 2018 award ceremony
Watch the full ceremony on our Ban Treaty dossier page.
---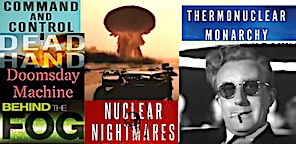 Best Nuclear Books and Films
There's lots to see in our Books and Films section!
---
Critical Events
April 3, 2018:
Comments Deadline: WIPP Modification
Requested Modification to the Hazardous Waste Facility Permit for the Waste Isolation Pilot Plant
April 3 Deadline for comments on DOE's WIPP expansion plan
Here is a sample comment letter you can use.
For more info, see: DOE's "Announcement of Public Comment and Information Meetings" (PDF)
More info at the Nuclear Watch Blog
---
Extended to April 25, 2018:
LANL Rad Lab DEA Comments Period Extended to April 25
"The National Nuclear Security Administration (NNSA) is extending for 30 days the public comment period for the Draft Environmental Assessment of Proposed Changes for Analytical Chemistry and Materials Characterization at the Radiological Laboratory/Utility/Office Building."
The Draft EA is available on the DOE NEPA website. A copy of the Draft EA is also available for review at Los Alamos National Laboratory Reading Room, 94 Cities of Gold Road, Pojoaque, NM 87501.
Comments may be submitted to the U.S. mail or e-mail address given below:
U.S. Mail: NNSA Los Alamos Field Office
ATTN: CMRR Project Management Office
3747 West Jemez Road
Los Alamos, NM 87544
E-mail: RLUOBEA@hq.doe.gov

NukeWatch will post some sample comments in this space April 11.
---
Heads up: DC Days 2018
Alliance for Nuclear Accountability's DC Days 2018 will take place May 21-23, with a training day on May 20. Learn how to work with Washington DC and lobby our representatives and staff effectively. Note that a limited number of youth scholarships are available for interested participants under 30 yrs.
- Contact Nukewatch re scholarships
- Read about last year's DC Days events here.
- Online registration opens February 1. (go here)
New Mexico action alert:
Stop plans for a high-level radioactive waste dump!
Please call the New Mexico congressional delegation and ask them to oppose the Nuclear Waste Policy Amendments Act of 2017 (H.R. 3053) This dangerous bill could come up on the US House floor soon. If passed into law, H.R.3053 would eliminate a major hurdle for companies proposing to store deadly, cancer-causing high-level nuclear reactor waste at 'interim' storage sites planned for Texas and New Mexico. (read more)
---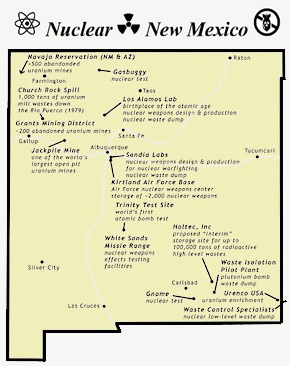 Nuclear New Mexico
Click to see NukeWatch's annotated map of nuclear sites, including those on the way, in The Land of Enchantment
---
Nuclear Watch Legal Actions Ongoing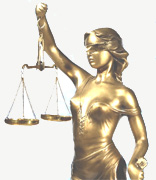 - Cleanup Lawsuit
See all related docs: NukeWatch lawsuit against DOE & LANS (LANL's corporate manager), re failure to execute cleanup of radioactive wastes.
- UPF Lawsuit
OREPA, NukeWatch, and NRDC lawsuit against the Uranium Processing Facility (UPF) -the 'tip of the spear' for the $trillion dollar nuclear modernization project.
---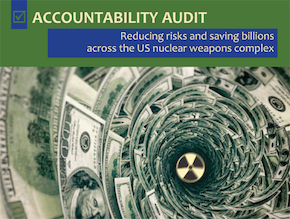 ANA Report 2017: Accountability Audit
This year's report examines the extraordinary spending at Department of Energy nuclear facilities and examines ways to reduce risks and save billions of dollars across the U.S. nuclear weapons complex. (View/download PDF)
---
Alliance For Nuclear Accountability 2016 Report
Out-of-control U.S. nuclear weapons programs accelerate spending, proliferation, health and safety risks: The Trillion Dollar Trainwreck (PDF)
---
Newsletters and Calendars
---
- The Bulletin's Nuclear Roundup
Daily nuclear news; subscribe or view online. Very good selection.
- Ploughshares' Early Warning
"Daily news on the issues we're following from the desk of Joe Cirincione." Subscribe or view online.
- AM Nukes Roundup
A good one from Rethink Media. Compiles all of the day's top news and opinion pieces on nuclear issues- subscribe or view online.
- Proliferation News
From the Carnegie Nuclear Policy Program- subscribe or view online.
- Nuclear Policy News (CSIS)
Subscribe or view online. Very good selection. Note that CSIS's top ten corporate donors include Lockheed Martin, Northrup-Grumman, Boeing, General Dynamics and Leonardo-Finmeccanica.
- Nuclear Calendar FCNL
Extensive email listing of all nuclear-related events, from the Friends Committee on National Legislation. Subscribe or view online.
- National Security Legislative Calendar
From the Council for a Livable World. (ref)
- NucNews
Very extensive daily dump of nuclear-related news.
---
FAS Nuclear Notebooks
---
- US nuclear forces 2018
- North Korean Nuclear Capabilities 2018
- Russian nuclear forces 2017
- Indian nuclear forces 2017
- Chinese nuclear forces 2016
- Pakistan Nuclear forces 2016
- more
---
---
Twitter Feeds
---
---
---
Trump, Feb. 12: on the US nuclear arsenal


"We're modernizing and creating a brand new nuclear force. And frankly, we have to do it because others are doing it. If they stop, we'll stop. But they're not stopping. So, if they're not gonna stop, we're gonna be so far ahead of everybody else in nuclear like you've never seen before. And I hope they stop. And if they do, we'll stop in two minutes. And frankly, I'd like to get rid of a lot of 'em. And if they want to do that, we'll go along with them. We won't lead the way, we'll go along with them... But we will always be number one in that category, certainly as long as I'm president. We're going to be far, far in excess of anybody else." (ref) (read on at our dossier on Trump's 2018 Nuclear Posture Review)
---
Annotated List of Nuclear Close Calls
An extensive and annotated list of dozens of "broken arrows"- incidents in which nuclear weapons were misplaced, stolen, damaged, or even detonated.
Compiled by Sarah Witmer at Wagingpeace.org, who notes: "These close calls emphasize the lack of proper security for nuclear weapons, and the lack of training and overall competence of militaries and leaders who possess nuclear weapons. There have been far more incidents than those listed here, and likely many that militaries and world leaders withhold as classified."(view list)
---
Nuclear News
---
The Trump-Kim Summit and North Korean Denuclearization: The Good, the Bad, and the Ugly
Cost of new nuclear subs is 'eye watering,' Navy secretary says
Stephen Cohen: How Washington Provoked- and Perhaps Lost- a New Nuclear-Arms Race
Amid Heightened Tension, Markey, Merkley, Feinstein, and Sanders Press Trump Administration to Jumpstart New Strategic Talks with Russia
Pres. Putin March 1, 2018 Address to the Federal Assembly (transcript)
Is China seeking "quantum surprise?"
Your retirement account probably funds nuclear weapons - here are the top 20 biggest companies and investors
Pentagon Gearing Up for Space Warfare
The Pentagon Budget as Corporate Welfare for Weapons Makers
William Hartung; How the Pentagon Devours the Budget
US-Russia agenda now contains just one issue: the prevention of war
New high-level nuclear waste facility application OK'd in southeast NM
B61-12 tail kit program sees funding shifts as two bombs stay in arsenal
Senators say DOE may have reimbursed contractor for fighting whistleblower claims
Russia accuses Trump of getting Europe ready for nuclear war
Addressing Fears About the Nuclear Posture Review and Limited Nuclear Use
The Director of the Scariest Movie We've Ever Seen Still Fears Nuclear War the Most
US takes steps to resume plutonium pit production for nukes
NNSA wants more plutonium in Los Alamos facility
Why Russia is Emerging as the World's Indispensable Diplomatic Power
'Low-Yield' Nukes Are a Very High Threat
How post-ISIS scramble for advantage in Syria raises risk of wider war
Nuclear weapons testing on U.S. soil is as pointless as it is dangerous
China reiterates non-first-use principle of nuclear weapons at Munich conference
In Munich, Warnings Of Nuclear Confrontation, 'Major Interstate Conflict'
Preventing Nuclear Conflict in Europe
New NTI Report Questions Need for Forward-Deployed U.S. Nuclear Weapons in Europe
Kissinger, Shultz Warn Senate Armed Services Committee of Rising Nuclear Perils
Ending the Reign of the Nuclear Monarchs
Trump's Massive Giveaway to the Pentagon
NTI Report: US wasting billions on B61 nuclear bombs that serve no purpose and are security liability in Europe, Turkey
Lawrence Wilkerson: I Helped Sell the False Choice of War Once. It's Happening Again.
US policy doc hints at 'limited' nuclear arms use, alarming Russians
Asahi Shimbun Editorial: By backing Trump nuclear policy, Japan has sold its soul
The Pentagon's alarming nuclear posture review
The Discrimination Problem: Why Putting Low-Yield Nuclear Weapons on Submarines Is So Dangerous
Daniel Ellsberg Thinks We're in Denial About Nuclear War
Court: Idaho nuclear waste documents won't be made public
Sean Sullivan, chairman, Defense Nuclear Facilities Safety Board Steps Down Amid Internal Turmoil
Trump's Nuclear Posture Review endangers Europe
EU, NATO Face Growing Threat of Inadvertent Military Clash- Munich Security Report
The People Who Made a Nuclear-Weapons-Prohibition Treaty Possible
Trump's request for even more nuclear weapons is flawed overkill
To Counter Russia, U.S. Signals Nuclear Arms Are Back in a Big Way
Resisting Nuclear Weapons Means Resisting Injustice and Oppression
EPA orders cleanup at St. Louis nuclear waste site. What does it mean for the nation's other toxic messes?
Is it time for a 21st-century version of "The Day After"?
Trump Seeks New, Smaller, Nukes To Make Enemies Think He'd Actually Use Them
Trump's Nuke Plan Raising Alarms Among Military Brass
S.C. governor's nuclear advisors support SRS pit production, German fuel repatriation
Donald Trump Is Playing a Dangerous Game of Nuclear Poker
Air Force Gen. Paul Selva, vice chairman, Joint Chiefs of Staff: Leaked NPR Draft Misinterpreted on Nuclear Response to Cyber
Moldova Pres: "Our people want their country to be neutral. They don't want NATO here- NATO means war. I don't want my people to be used as cannon fodder."
San Francisco wants to build 12,000 new homes on a former nuclear test site- but the project is in turmoil after the Navy found evidence of a botched and "falsified" cleanup
A microscopic fungus could mop up our "mind-boggling amount" of Cold War-era nuclear waste
Playing for pits: NM senators battle Sth Carolina officials for the job of making plutonium pits for nuclear bombs
Heinrich questions DOE nominee on WIPP, Los Alamos
Trump Nuclear Plan Requires Big Fixes In Decaying Warhead Industrial Complex
The Swedish Environmental Court's NO to the final repository for spent nuclear fuel - a triumph for the environmental movement and the science
Trump's Draft Nuclear Posture Review Degrades National Security
Nuclear Posturing: Trump's official nuclear policy isn't that different from his predecessors'. That's what makes it so scary.
---
Current nuclear stockpiles
For country reports and other details see original annotated infographic at Ploughshares.org.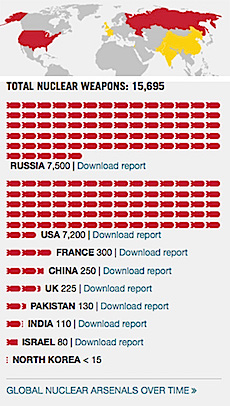 ---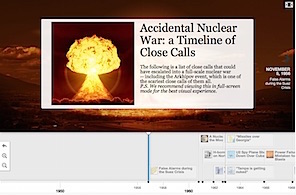 Accidental nuclear war- think it can't happen?
It almost did, quite a few times. See this timeline of nuclear close calls, presented by The Future of Life Institute.
---
Radioactive Quotes

---
"Now is the time and the opportunity to ask whether those weapons are more of a security risk than an asset to NATO and whether they increase or reduce the risk of nuclear use."
- NTI Report "Building a Safe, Secure, and Credible NATO Nuclear Posture", presented to the Munich Security Conference February, 2018. (source: NTI)
---

Every little bit helps!
Remember: contributions are tax-deductible.
*Go to donations page* Thanks for your support!