Through comprehensive research, public education and effective citizen action, Nuclear Watch New Mexico seeks to promote safety and environmental protection at regional nuclear facilities; mission diversification away from nuclear weapons programs; greater accountability and cleanup in the nation-wide nuclear weapons complex; and consistent U.S. leadership toward a world free of nuclear weapons.
New & Updated
Xcel is based in Minneapolis, Minn., and operates in eight states around the U.S. Its two nuclear power plants are both based in Minnesota. Monticello is about 40 miles northwest of Minneapolis and has a population of about 15,000 people.
By Kaitlyn Radde, NPR | March 19, 2023 npr.org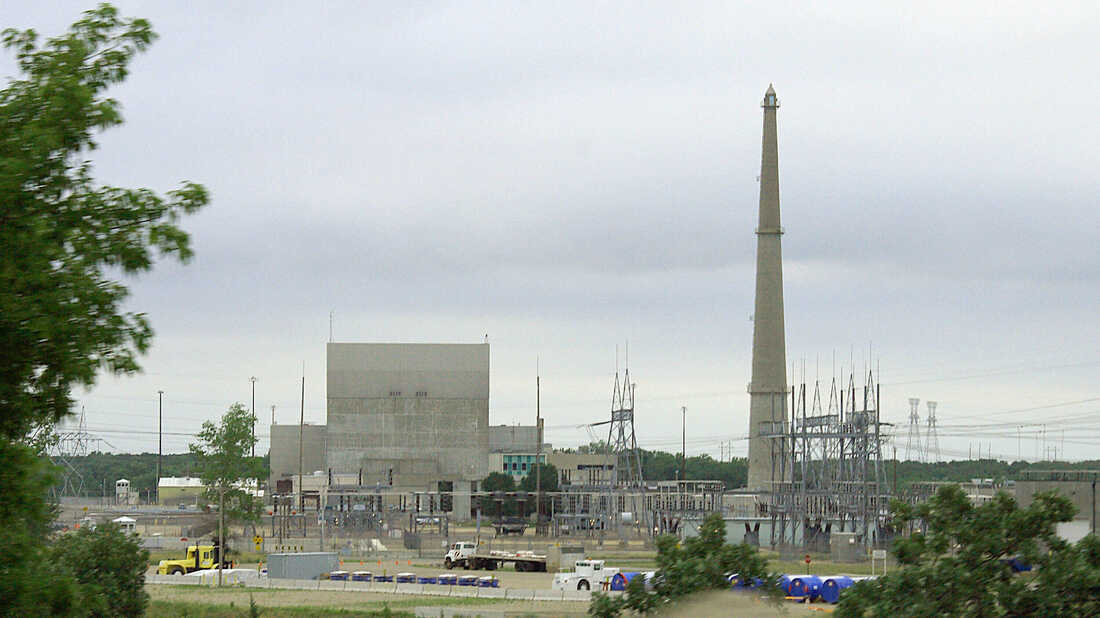 Minnesota officials are monitoring the cleanup of a 400,000 gallon leak of contaminated water from a nuclear power plant in the city of Monticello run by the energy giant Xcel Energy. Officials said there is no danger from the leak.
The leak was detected nearly four months ago and reported to state and federal regulators. The federal Nuclear Regulatory Commission posted a notice publicly at the time, but the company and state agencies did not notify the general public until last week.
"Xcel Energy took swift action to contain the leak to the plant site, which poses no health and safety risk to the local community or the environment," the company announced in a statement on Thursday. Ongoing monitoring has confirmed that the leak "is fully contained on-site and has not been detected beyond the facility or in any local drinking water," the company said.
CRITICAL EVENTS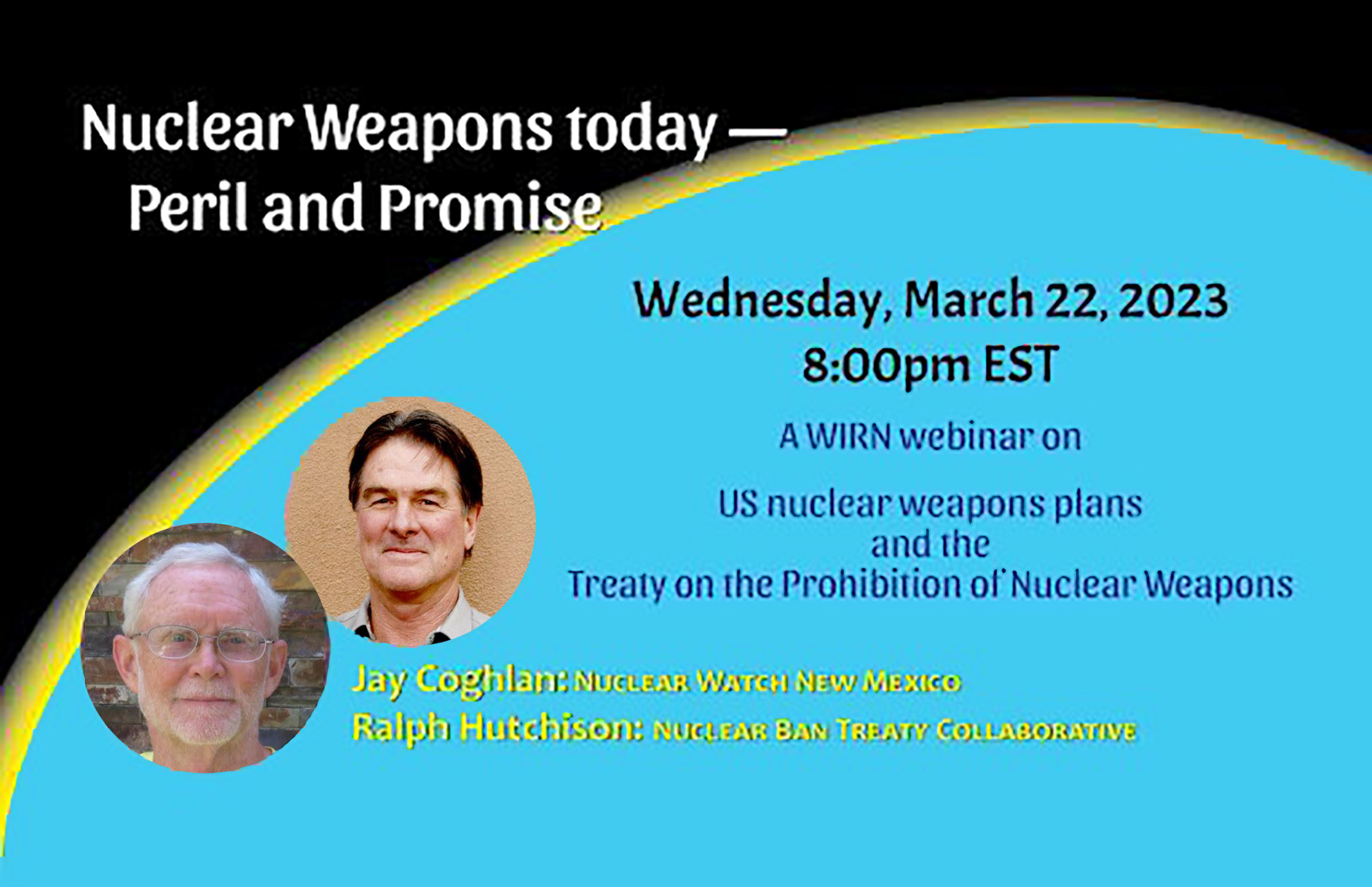 The Bulletin of the Atomic Scientists has set the Doomsday Clock to 90 seconds before midnight, but some have said that's not even close enough. Indeed, with the US abandoning nuclear proliferation treaties, spending a trillion dollars in an upgrade of its nuclear arsenal, and conducting a proxy war with nuclear-armed Russia, we are staring a nuclear holocaust in the face.
This webinar will present an update on current US nuclear weapons plans, including the Biden Nuclear Posture Review, current modernization of production facilities and weapons systems, the FY23 & FY 24 nuclear weapons budgets, the US role in the global nuclear arms race, and the role of war profiteers.
It will also present an update on the Treaty on the Prohibition of Nuclear Weapons, review the outcome of the First Meeting of States Parties and preview the Second Meeting of States Parties, and will discuss actions and opportunities for building grassroots support for the US to join the Treaty.
ACTION ALERTS

CARLSBAD, N.M. (KRQE) – New Mexico's Environment Department is taking public comment regarding the storage of nuclear waste in the state. The department is also re-extending the deadline for submitting comment.
So far, more than 20,000 containers of radioactive waste have been stored at the Waste Isolation Pilot Plant (WIPP) under a waste disposal permit. Now, the state's Environment Department is considering renewing that permit to allow operations to continue with some adjustments.
In 1999, the New Mexico Environment Department first granted the initial disposal permit to the U.S. Department of Energy. Since then, mixed transuranic waste, hazardous waste with radioactive elements heavier than uranium, has been stored near Carlsbad, New Mexico. Now, the permit to continue disposal operations is being reworked. The full draft permit is available here.
Interfaith Panel Discussion on Nuclear Disarmament - August 9


The Department of Energy is seeking to modify the nuclear waste permit for southeastern New Mexico's Waste Isolation Pilot Plant. Dragging out WIPP's operations decades past the original 20-year agreement violates the social contract made with New Mexicans. WIPP is being equipped to take the waste that will be generated from production of plutonium pits for nuclear warheads, and it was never supposed to do that. An expansion of WIPP will impact the entire country, not just residents of southeastern New Mexico.
View the videos below for more information, and, if you live in an area that may be endangered by these nuclear waste transportation risks, please consider making your own "This is My Neighborhood" video!
---
Mixed Waste Landfill Facts
Posts Related to: NUCLEAR SAFETY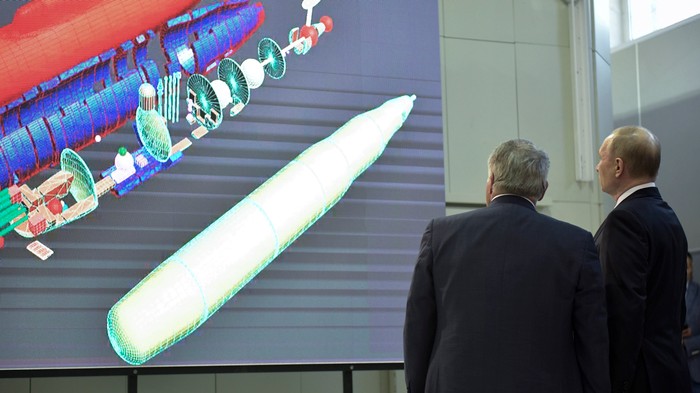 "Mutually Assured Destruction" has been the MO of the world's nuclear powers for decades. If Russia points a giant nuclear warhead toward the U.S., we would gear up to point an even more massive missile their way, and then, in theory, Russia shrugs its shoulders and says, "Eh, not worth it." They would be completely "deterred" from advancing a nuclear attack based on the reality that doing this would mean the entire country, continent, and, ultimately the entire world, would become obliterated as we know it; the cost and the risk greatly outweigh any benefit. Supposedly. According to this thesis, the existence of nuclear weapons makes the cost of war seem frighteningly high and thus "discourage[s] states from starting any wars that might lead to the use of such weapons" (Kenneth Waltz, "The Spread of Nuclear Weapons: More May Better,") The idea that nuclear weapons make conventional war safer is widely used as framing for why we need nukes at all, with one specific reason being spread wide and far that nuclear weapons can still be the equalizer against an adversary's superior conventional forces.
But a watchdog group argued Los Alamos lab adopting a higher radiation limit for workers than other labs is to create more leeway when it ramps up plutonium pit production.
By Scott Wyland swyland@sfnewmexican.com | May 6, 2022 santafenewmexican.com
"The collective worker doses would probably go up once they start actual manufacturing," said Scott Kovac, research and operations director for the nonprofit Nuclear Watch New Mexico.
…
Jay Coghlan, the executive director for Nuclear Watch New Mexico, said the agency in charge of nuclear security is pushing the lab to crank up pit production, yet it won't install what's known as a "safety class active confinement system" that would prevent a heavy radioactive release during an earthquake, catastrophic fire or a serious accident.
"This is a longstanding recommendation that Los Alamos [lab] and NNSA refuse to honor while continually downplaying the risk of expanded pit production," Coghlan said.
Los Alamos National Laboratory allows workers to have a higher yearly radiation exposure than other national labs do and has not followed a longtime recommendation by safety officials to install a ventilation system in its plutonium facility they say would better protect workers and the public during a serious radioactive breach, according to a recent government watchdog's recent report.
The report, some critics contend [see our quotes above], is of concern as the lab pursues production of nuclear bomb cores, or pits, at nearly triple the yearly amount it has ever made before.
Los Alamos National Laboratory (LANL) has given itself a Categorical Exclusion (CX) under National Environmental Policy Act (NEPA) for the removal, relocation, and examination of transuranic (TRU) waste drums at Waste Control Specialists (WCS). These drums are similar to the ones that forced WIPP to close in 2014. LANL officials decided that formal environmental assessments, with public input, of the movement of the possibly exploding waste drums are not needed.