Arsenal of Information
---
---
---
Dossiers:
UN Treaty to Prohibit Nuclear Weapons
B61-12 Enhanced Nuclear Bomb
LRSO: New Nuclear Cruise Missile
US Nukes at Incirlik AFB, Turkey
Trump Admin and Nuclear Weapons Policy
Kirtland AFB Nuclear Weapons Complex
Flashpoint: NATO-Russia
Flashpoint: North Korea
MOX / Plutonium Disposition
Fukushima Disaster and Updates
Nuke Lab Contractors Illegal Lobbying
Revolving Door: The Case of Heather Wilson
Marshall Islands Lawsuit
Plutonium Pit Production at LANL
Nuclear Testing Since 1945
Atomic Histories
---
Nuclear Watch Interactive Map of the
Nuclear Weapons Complex
View full size
Facilities:
Kansas City Plant
Lawrence Livermore National Labs
Los Alamos National Laboratory
Nevada National Security Site
Pantex Plant
Sandia National Laboratories
Savannah River Site
Washington DC
Waste Isolation Pilot Plant (WIPP)
Y-12 National Security Complex
---
Nuclear Weapons Enterprise Twitter Feeds:
---
Facility Spotlight, August, 2017:
"... And these safety challenges aren't confined to Los Alamos. The Center's probe revealed worker safety risks, previously unpublicized accidents, and dangerously lax management practices at other nuclear weapons-related facilities. The investigation further found that penalties for these practices were relatively light, and that many of the firms that run these facilities were awarded tens of millions of dollars in profits in the same years that major safety lapses occurred. Some were awarded new contracts despite repeated, avoidable accidents, including some that exposed workers to radiation."
- Patrick Malone and R. Jeffrey Smith in their series entitled "Nuclear Negligence" for the Center for Public Integrity.
---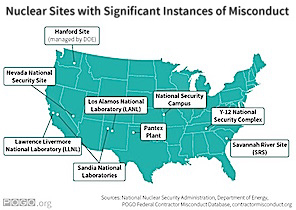 Nuclear Weapons Complex Misconduct
Dec. 3, 2015. POGO: Updated Federal Contractor Misconduct Database, focussing on Nuclear Complex (see report at POGO)
---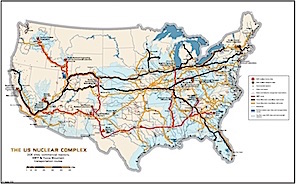 Click the image to view and download this large printable map of DOE sites, commercial reactors, nuclear waste dumps, nuclear transportation routes, surface waters near sites and transport routes, and underlying aquifers. This map was prepared by Deborah Reade for the Alliance for Nuclear Accountability.
Quote of the Week

---
"First and foremost, we must have the faith, courage and will to believe that total nuclear disarmament can occur." - Art Laffin, from Nuclear disarmament is possible if we have faith and act on it, National Catholic Reporter, Dec 14, 2017
---
LANL's Central Mission
Los Alamos Lab officials have recently claimed that LANL has moved away from primarily nuclear weapons to "national security", but what truly remains as the Labs central mission? Here's the answer from one of its own documents: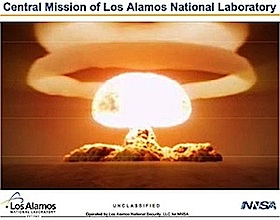 LANL's "Central Mission"- Presented at: RPI Nuclear Data 2011 Symposium for Criticality Safety and Reactor Applications
(PDF) 4/27/11
---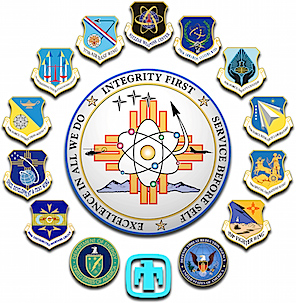 Dossier:
The Kirtland AFB Nuclear Weapons Complex
Kirtland Air Force Base, which abuts and shares some runways with the Albuquerque airport, has become a major nuclear weapons complex of it's own. It hosts the Air Force's Nuclear Weapons Center, Sandia National Laboratories, and what is probably the nation's (and perhaps the world's) largest repository of nuclear weapons, estimated at up to 2,500 warheads... (read more)
---
Follow the Money!

---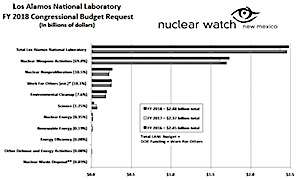 LANL FY 2018 Budget Request
Click to view full PDF with annotations table
Note that the percentage of the LANL budget request for core nuclear weapons activities has risen to 70%.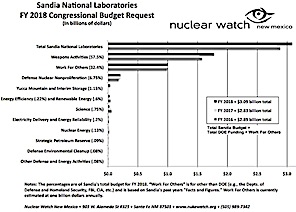 Sandia FY 2018 Budget Request
Click to view full PDF with annotations table
---
NNSA FY 2017 Budget Request
- Nuclear Watch Analysis/Compilation (PDF)
---
Congressional Budget Office report:
Projected Costs of Nuclear Forces 2014-2023

CBO presentation based on the report: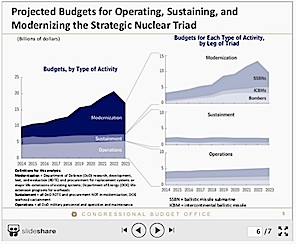 Click to view presentation
---
Stockpile Stewardship and Management Plan
- View/Download FY 2018 SSMP (PDF)
- View/Download FY 2017 SSMP (PDF)
- SSMP Analysis of Hans Kristensen, FAS: Nuclear Transparency and the Stockpile Stewardship and Management Plan (PDF)
- View/Download FY 2015 SSMP (PDF)
- NWNM Analysis (PDF) / Analysis Summary (PDF)
---
Nuclear Watch Media
---
Santa Fe, Sept 7, 2017:
Rep. Ted Lieu and Jay Coghlan on KSFR Radio
Congressman Lieu (D.CA) was given the Leadership Award by Alliance for Nuclear Accountability in May of this year for his sponsorship of HR 669, a bill to restrict the president's sole authority to launch nuclear war (mirrored in the Senate by S.200 introduced by Sen. Ed Markey D.MA).
(Nukewatch director Jay Coghlan is the current chairman of ANA.)
"Living on the Edge" with David Bacon, 101.1 FM
***Archived Podcast***
---
Jay Coghlan, Nukewatch Director Interview
With David Bacon on Living on the Edge, KSFR, Aug 3, 2017. Archived podcast here
---
KUNM FM: LANL's Long Environmental Cleanup
KUNM public radio discussion of Los Alamos cleanup, and Nukewatch lawsuit Archived podcast here
---
NukeWatch YouTube Channel
See our playlists of key video clips.
---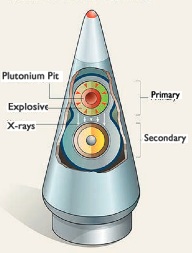 Successful Citizen Activism Against
Expanded U.S. Plutonium Pit Production
This is the unsung story of successful citizen activism against repeated government attempts to expand the production of plutonium pit cores, which has always been the choke point of resumed U.S. nuclear weapons production. This history is a critical part of the march toward a future world free of nuclear weapons.
(View/download full report- PDF)
Updated March 2017: NukeWatch Fact Sheet:
"Plutonium Pit Production at LANL"
(View/download PDF)
---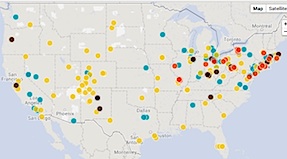 Waste Lands: America's Forgotten Nuclear Legacy
The Wall St. Journal has compiled a searchable database of contaminated sites across the US. (view)
Related WSJ report:
A Nuclear Cleanup Effort Leaves Questions Lingering at Scores of Old Sites, Legacy of US Arms Buildup...
---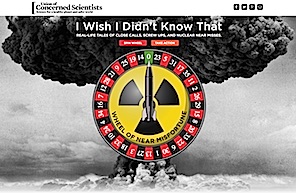 What is both sobering and addictive?
This "Wheel of Near Misfortune" created by Union of Concerned Scientists- don't miss it!
Dr. Perry's South Asian Nuclear Nightmare
Dr. William J. Perry, the 19th Secretary of Defense, shares his South Asian nuclear nightmare in this video produced by the William J. Perry Project.
---
Beyond the Summit:
New Approaches to Nuclear Security
William Perry: "Danger of a nuclear catastrophe is greater than during the Cold War. Our public is blissfully unaware. Consequently, the policies that this country follows are in no way commensurate to the danger."
---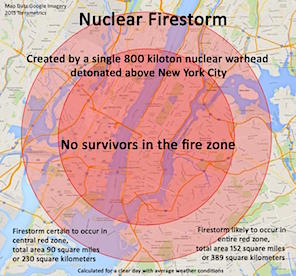 What would happen if an 800-kiloton nuclear warhead detonated above midtown Manhattan?
You should read this.
---
---
Recent visitors - click to enlarge
---
Help us boost public awareness of the reality and risks of nuclear weapons today. Please share Nukewatch.org with your friends using the buttons below:
---

"If you really want a future world free of nuclear weapons, you can hardly make a better investment than to give to Nuclear Watch New Mexico. They need and deserve your support so that they can carry on their groundbreaking work. I urge you to be generous with them!" - Danielle Brian, Executive Director, Project on Government Oversight.
Please support our work!
Remember, donations are tax-deductible.

New & Updated

---
December 10. 2017:
ICAN Honored: 2017 Nobel Peace Prize Ceremony
6.36 - Address of Nobel Committee leader Berit Reiss-Andersen on the choice of ICAN
for the 2017 Peace Prize (view transcript)
35.12 - Presentation of the award to ICAN's Beatrice Fihn and Setsuko Thurlow
44.22 - ICAN Director Beatrice Fihn address (view transcript)
1.03.55 - Setsuko Thurlow address (view transcript)
---
Dec 5, 2017:
Daniel Ellsberg: The Doomsday Machine: Confessions of a Nuclear War Planner
Daniel Ellsberg recounts his experiences and lessons learned as a nuclear war planner for the Pentagon at the transition to the Kennedy administration. He recalls being tasked to review the

strategic warfighting plans in effect under Eisenhower, and discovering that they called for "hitting every city- actually every town- above 25,000 population" in Russia and China and East Europe. Pressed for an estimate of death toll, the pentagon came up with 600 million dead. And that was not counting US and West European death tolls. "I thought, 'This is the most evil plan that has ever existed. It's insane.'"
Referring to US and Russian ICBM forces still to this day on alert: "Here is what we now know: the United States and Russia each have an actual Doomsday Machine." Democracy Now interview with transcript
Harper's Magazine excerpt, Dec 6, 2017 / Dave Davies excellent NPR interview / at Amazon
---
A Perpetual Menace: Nuclear Weapons Today, Tomorrow, Forever?
A panel discussion at the Woodrow Wilson School of Public and International Affairs, Nov.2017.


- Bruce Blair, Research Scholar, Program on Science and Global Security, Princeton; author of "The Logic of Accidental Nuclear War" (Brookings Inst. 1993). Blair addresses the enduring and, in fact, escalating risks of maintaining nuclear weapons arsenals. (8.57)
- Sharon Weiner, Assoc. Prof. School of International Service at American University; author of "Our Own Worst Enemy?: Institutional Interests and the Proliferation of Nuclear Weapons Expertise" (MIT Press, 2011). Weiner speaks on the trillion-dollar "modernization" program. (31.53)
- Ambassador Whyte-Gomez, President, UN Conference to Negotiate Instrument to Prohibit Nuclear Weapons, talks about why the Ban Treaty came about, and of the extension to the nuclear weapons sphere the work of establishing norms on an international level to regulate the behavior of states in regard to these weapons. "We strongly believe that the Treaty on the Prohibition of Nuclear Weapons is a response from the responsible citizens of the world." (49.26)
---
Harper's Magazine, December issue:
Destroyer of Worlds: Taking stock of our nuclear present
Eight essays from notable experts and authors, including:
- Nuclear Citizenship, Elaine Scarry, author of "Thermonuclear Monarchy"
"Nuclear weapons have persisted not because they resist dismantling, but because they have infantilized and miniaturized our political institutions... Over this seven-decade affair with nuclear weapons, we've forgotten that we still have the constitutional tools to eliminate them. We have both the moral responsibility and the legal means to enable legislatures and citizens to recover their rightful stature, and to rid the world, finally, of these obscene instruments of devastation."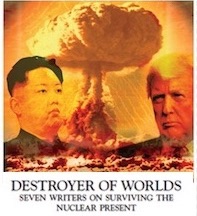 - Countermeasures, Theodore Postol (MIT): An expert view of the history and prospects of missile defense.
- Our Bomb, Mohammed Hanif, author of "A Case of Exploding Mangoes", gives a thoughtful rumination on Pakistan's nuclear weapons.
- What We Lost When We Lost Bert the Turtle, Alex Wellerstein, historian of nuclear weapons, author of the Nuclear Secrecy blog, and creator of the "NukeMap", looks at the history of nuclear civil defense.
- Haywire, Eric Schlosser, author of "Command and Control".
"In retrospect, the fact that the Cold War ended without a single city disappearing in a nuclear explosion seems nothing short of miraculous...Technological advances continued to compress time and increase the risk of a nuclear catastrophe. Today, the time frame of an attack has been reduced to mere seconds."- Schlosser
---
November 29:
North Korea Launches New ICBM w/ Range to Reach Washington DC.
North Korea's Hwasong-15 missile, launched Nov. 28, reached an altitude of 4,500 kilometers, ten times the altitude of the international space station; on an attack trajectory it could hit any city in the US, including Wash. DC.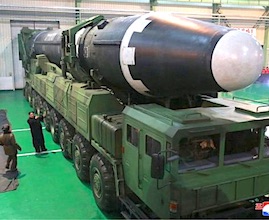 Kim Jong Un with the Hwasong-15 on mobile launcher

Kim Jong Un: "Now we have finally realized the great historic cause of completing the state nuclear force, the cause of building a rocket power."
The official KCNA news agency said the missile was more sophisticated than any previously tested and was capable of carrying a "super-large heavy (nuclear) warhead".
The Hwasong-15 was launched from a mobile launcher, in the middle of the night, and had likely been refueled while in a horizontal position, details which make 'taking out' the missile site problematic- or impossible.
ICAN Director Beatrice Fihn tweeted, "We strongly condemn North Koreas latest missile test. Developing & threatening to use nuclear weapons is prohibited under #nuclearban treaty and we urge all states to strengthen the norm against these weapons of mass destruction by joining the Treaty."

** Update Dec 5, 38North: "It now appears that the Hwasong-15 can deliver a 1,000-kg payload to any point on the US mainland. North Korea has almost certainly developed a nuclear warhead that weighs less than 700 kg, if not one considerably lighter." (more- latest analysis)
Dec.6: See a further analysis of the new missile at The Diplomat
---
November 23, 2017:
Why Are We About To Spend a Trillion Dollars On Our Nuclear War-Fighting Arsenal, And Who Benefits?
In 1988, as Gorbachev was bringing an end to the Cold War, Georgi Arbatov, director of the Soviet Academy of Sciences' Institute for US and Canada Studies, told the US, "We are going to do a terrible thing to you- we are going to deprive you of an enemy." (ref). As the Soviet Union collapsed and disappeared, there was talk of a "peace dividend": military and nuclear cutbacks, and of an era of peace and prosperity- except perhaps for the weapons contractors.
But soon enough, the Global War on Terror provided an enemy, one requiring the dizzying growth of the intelligence and surveillance complex and the militarization of the CIA, a huge increase in special forces, JSOC, and like-styled private contractors, and of course, drone warfare.
But our nuclear arsenal? Thousands of city-destroying nuclear weapons and high-tech delivery vehicles? To keep that going, and indeed to refresh and renew it, an adversary at that level was needed, and only one country could fit that bill. Even though Russia's defense budget only amounts to one-ninth the US total, Russia has the only nuclear arsenal in the world that rivals the US, so Russia it would be.
Under Pres. Clinton, then Bush, NATO, a US led nuclear military alliance mind you, marched right up to Russia's borders, with further plans to encircle the Black Sea. Russia began to protest, warning of bad consequences if the US pursued NATO expansion to Georgia and Ukraine. To which the US and NATO said, "None of your business" and went ahead with plans to do just that. Was all this just an abysmal lack of intelligent statecraft? Or were some elements purposely looking to provoke Russia into an adversarial relationship, to confirm it's role as principle threat, justifying massive military spending, and most particularly, full-blown 'modernization' of the nuclear arsenal?
In any case, it worked, and at a time when a majority of the world's nations are moving to prohibit nuclear weapons, the US leads the remaining nuclear nations with the litany that it is not the time to talk of reducing nuclear weapons in 'the present context of renewed tensions with Russia'. In fact, we've launched a trillion-dollar "modernization" of our entire nuclear war arsenal.


William Hartung writes: "The US nuclear arsenal already represents overkill on an almost unimaginable scale. Independent experts from US war colleges suggest that about 300 warheads would be more than enough to deter any country from launching a nuclear attack on the United States.
"Why the desire for so many nukes? There is, in fact, a dirty little secret behind the massive US arsenal: it has more to do with the power and profits of this country's major weapons makers than it does with any imaginable strategic considerations." (ref)
William Hartung is director of the Arms and Security Project at the Center for International Policy. He has also served as a Senior Research Fellow in the New America Foundation's American Strategy Program, and is former director of the Arms Trade Resource Center at the World Policy Institute.
* Special Report: in Modernizing Nuclear Arsenal, U.S. Stokes New Arms Race
"By the time Obama left office in January 2017, the risk of Armageddon hadn't receded. Instead, Washington was well along in a modernization program that is making nearly all of its nuclear weapons more accurate and deadly."
* Massive Overkill in Nuclear Politics
Brought to you by its chief beneficiary: the military-industrial complex.
"The US nuclear arsenal already represents overkill on an almost unimaginable scale"... Our 4,000 nuclear weapons "could essentially destroy the planet". -William Hartung, Nov. 16, 2017
* 'The Nuclear Enterprise Is on Autopilot'
Nation interview with William Hartung on nuclear overkill
* Prophets of War: Lockheed Martin and the making of the military industrial complex
-William Hartung, Nation Books, 2011
* 'Russiagate' Zealots (Mainly Democrats) Have Become a Major Threat to US National Security
"At an international summit in Vietnam last week, President Trump took necessary steps to reduce the perils of the new Cold War with Russia. Liberal Democrats call it "treasonous." - Prof. Stephen F. Cohen, November 15, 2017
NATO Expansion:
* 1997: US Foreign Policy leaders warned against expansion of NATO in letter to Pres. Clinton
* Russia Wary of NATO Expansion- Ukraine and Georgia Want In
* Russia Talks Tough in Response to NATO's Eastward Expansion
* Stephen Cohen: Have 20 Years of NATO Expansion Made Anyone Safer?
* Dec. 14: Documents show that top US, Germany & UK officials assured Gorbachev & Shevardnadze
that NATO would not expand toward the Russian borders
---
November 14, 2017:
Senate Foreign Relations Committee holds hearing regarding President's sole authority to use nuclear weapons
Sen. Bob Corker (R-Tenn.) has announced that the Senate Foreign Relations Committee would hold a hearing November 14 on "the executive's authority to use nuclear weapons".

Sen. Corker: "This...will be the first time since 1976 that this committee or our House counterparts have looked specifically at the authority and process for using U.S. nuclear weapons. This discussion is long overdue, and we look forward to examining this critical issue."
Both Rep. Ted Lieu (D-Calif.) and Sen. Ed Markey (D-Mass.) introduced bills this year that would bar Trump- or any president- from launching a preemptive nuclear attack before Congress approves a declaration of war. Those bills have stalled in the Republican-controlled House and Senate. (source: The Hill)
- Watch archived video of the hearing
Deepika Choudhary at ReThinkMedia.org has compiled a hyperlinked table of the extensive press coverage the Senate Hearing received: (view/download PDF)
Nov.14 Politico interview with William Perry: Don't Count on the Cabinet to Stop a Trump-Ordered Nuclear Strike

The particular problem of ICBMs
Note that the presidential authority to launch a nuclear strike alone stems from the Cold War, when the US feared a Soviet missile strike against US ICBM silos; our missiles had to be launched before theirs hit, and Soviet missiles would reach targets in the US in 20-30 minutes, so there would be no time to consult a larger circle.
This is one of the reasons Former Secretary of Defense William Perry and General James Cartwright, former Commander of the US Strategic Command, cited in a letter to President Trump on October 31, urging him to abandon the ICBM leg of the triad, rather than forging ahead with an expensive full replacement ICBM arsenal. Because of the 'use 'em or lose 'em' logic, plus the fact that ICBMs cannot be recalled once launched, their letter identifies this leg of the triad as the most susceptible to an unintended or accidental nuclear war. (see letter)
- The Air Force hasn't waited for the Nuclear Posture Review to be released this winter, already awarding contracts to Northrup Grumman and Boeing for the 'modernized' ICBM force, called Ground Based Strategic Deterrent, or GBSD. (Lockheed is also in the competition - the Air Force will 'down-select' from three companies to two for the next phase of the program.) (ref)
James Doyle, The Bulletin, October 25:
"Ballistic missiles armed with nuclear warheads are enablers of apocalypse." (read article)
---
November 12, 2017:
NNSA Wants More Secrecy, Less Oversight For Nuclear Production Complex
The head of NNSA- the federal agency that produces U.S. nuclear weapons- has privately proposed to end public access to key safety reports from the Defense Nuclear Facilities Safety Board- a federal watchdog group that monitors ten sites involved in weapons production. Administrator Frank Klotz said recent media stories about safety lapses that relied partially on the board's weekly disclosures were potentially 'counterproductive to the NNSA's mission'.
The proposal represented the second effort by federal officials in recent months to curtail public access to information about persistent safety problems in the nuclear production complex, which the Center for Public Integrity documented in articles published from June to August.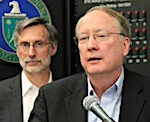 LANL Dir. Charles McMillan (left)
NNSA Administrator Frank Klotz

The Center's articles detailed a series of alarming safety problems, including the mishandling of plutonium at Los Alamos and a federal laboratory in Idaho; the mis-shipment of hazardous materials, including nuclear explosive materials; and the repeated contamination of work areas and scientists by radioactive particles. The articles were based in part on the board's reports.
The Santa Fe New Mexican article that irritated Klotz built on CPI's recent reporting about unsafe handling of plutonium that has plagued Los Alamos for more than a decade, placing workers in danger and causing setbacks to the lab's national security mission. Soon after those accounts were published, Los Alamos National Laboratory Director Charles McMillan and Kim Davis Lebak, the top NNSA official assigned to oversee work at Los Alamos, announced plans to retire.
- Source: "Energy undersecretary wants nuclear safety reports hidden from public"
- See the Center for Public Integrity series "Nuclear Negligence".
** Update, Nov 17: An editorial in the Albuquerque Journal North reports approvingly that "a proposal based on Klotz's idea has been withdrawn". (Keep open the window on nuclear labs' work)
---
November 10, 2017:
Vatican Hosts Conference for Nuclear Disarmament November 10-11
From November 10-11 the Vatican is hosting a summit on creating a world free of nuclear weapons, with the participation of 11 Nobel Peace prize laureates, representatives from NATO, Russia, the United States, Iran and South Korea among others, as well as bishops and members of various Catholic institutions. (ref)
Excerpts from Pope Francis's address to the Conference Nov 10: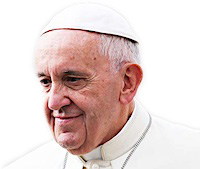 "I offer a cordial welcome to each of you and I express my deep gratitude for your presence here and your work in the service of the common good.
"A certain pessimism might make us think that 'prospects for a world free from nuclear arms and for integral disarmament', the theme of your meeting, appear increasingly remote. Indeed, the escalation of the arms race continues unabated and the price of modernizing and developing weaponry, not only nuclear weapons, represents a considerable expense for nations. As a result, the real priorities facing our human family, such as the fight against poverty, the promotion of peace, the undertaking of educational, ecological and healthcare projects, and the development of human rights, are relegated to second place.
"Nor can we fail to be genuinely concerned by the catastrophic humanitarian and environmental effects of any employment of nuclear devices. If we also take into account the risk of an accidental detonation as a result of error of any kind, the threat of their use, as well as their very possession, is to be firmly condemned. For they exist in the service of a mentality of fear that affects not only the parties in conflict but the entire human race. International relations cannot be held captive to military force, mutual intimidation, and the parading of stockpiles of arms. Weapons of mass destruction, particularly nuclear weapons, create nothing but a false sense of security. They cannot constitute the basis for peaceful coexistence between members of the human family, which must rather be inspired by an ethics of solidarity...
"Furthermore, weapons that result in the destruction of the human race are senseless even from a tactical standpoint... Suffice it to note that nuclear technologies are now spreading, also through digital communications, and that the instruments of international law have not prevented new states from joining those already in possession of nuclear weapons. The resulting scenarios are deeply disturbing if we consider the challenges of contemporary geopolitics, like terrorism or asymmetric warfare.
"At the same time, a healthy realism continues to shine a light of hope on our unruly world. Recently, for example, in a historic vote at the United Nations, the majority of the members of the international community determined that nuclear weapons are not only immoral, but must also be considered an illegal means of warfare. This decision filled a significant juridical lacuna, inasmuch as chemical weapons, biological weapons, anti-human mines and cluster bombs are all expressly prohibited by international conventions. Even more important is the fact that it was mainly the result of a "humanitarian initiative" sponsored by a significant alliance between civil society, states, international organizations, churches, academies and groups of experts..."
(See Francis's full address here)
Note that all popes, since the first use of the atom bomb, have called for nuclear disarmament. An exception was made for the policy/theory of deterrence. Pope Francis has led a change in Vatican policy on the issue of deterrence and called for complete nuclear disarmament and a total ban.
In 2015, Pope Francis launched a global petition from the United Nations to abolish nuclear weapons.
This year, the Holy See was among the first to sign and ratify the Treaty to Prohibit Nuclear Weapons.
- Pope Francis's message to UN Conference negotiating the Ban Treaty, March 2017
- Nov. 5, 2017: Heed the pope's warning on nuclear war- it's saved us before (The Hill)
---

For immediate release, October 31, 2017:
Congressional Budget Office: Cost of Nuclear Weapons Upgrades and Improvements Increases to $1.2 Trillion
Today, in Washington, DC, the Congressional Budget Office released its new report, "Approaches for Managing the Costs of U.S. Nuclear Forces, 2017 to 2046". The Congressional Budget Office estimates that the most recent detailed plans for nuclear forces, which were incorporated in the Obama Administration's 2017 budget request, would cost $1.2 trillion in 2017 dollars over the 2017-2046 period: more than $800 billion to operate and sustain (that is, incrementally upgrade) nuclear forces and about $400 billion to modernize them.... Driving this astronomical expense is the fact that instead of maintaining just the few hundred warheads needed for the publicly claimed policy of "deterrence," thousands of warheads are being refurbished and improved to fight a potential nuclear war. This is the little known but explicit policy of the U.S. government... (read full press release)
See House Armed Services Committee Ranking Member Adam Smith (D-WA) statement on the CBO report.
And see: Letter from William J. Perry and James E. Cartwright to President Trump warning that CBO's new estimate "should be a wake up call that current plans to rebuild the nuclear arsenal are unsustainable and must be rethought. Now is the time to stop and ask ourselves: which weapons do we need to maintain deterrence in the future, and which can we do without?"
---

For immediate release, October 27, 2017:
Santa Fe City Council: LANL Cleanup Order Must Be Strengthened & Expanded
and Plutonium Pit Production Suspended Until Safety Issues Are Resolved
Santa Fe, NM. On the evening of Wednesday October 25, the Santa Fe City Council passed a resolution requesting that the New Mexico Environment Department strengthen the revised Los Alamos National Labs cleanup order to call for additional characterization of legacy nuclear wastes, increased cleanup funding, and significant additional safety training. The resolution also called for the suspension of any planned expanded plutonium pit production until safety issues are resolved. (view/download full press release) (view/download City Council resolution)
---
October 19, 2017:
GOP Appointee Sean Sullivan, Chair of Defense Nuclear Facility Safety Board,
Has Secretly Urged Trump to Abolish It
The Center for Public Integrity, whose 6-part series last summer exposed "Nuclear Negligence" at the US nuclear weapons labs, is reporting that GOP appointee Sean Sullivan, now chair of the Defense Nuclear Facility Safety Board has secretly urged Trump to abolish it.
"The five-member Defense Nuclear Facilities Safety Board is chartered by Congress, and has helped persuade the federal government to impose tighter safety rules and regulations at most of the eight nuclear weapons sites- employing more than 40,000 workers- where nuclear weapons and their parts are produced or stored."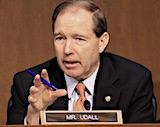 New Mexico Senator Tom Udall said in a written statement to CPI, "Repeated, serious safety and security lapses at the labs, including the two in New Mexico, are among the reasons for strengthening - not eliminating the outside oversight board. These incidents have demonstrated that there is a need for a strong watchdog that does not have a direct financial or political stake in the success of the labs."
Senator Udall successfully attached an amendment to the Senate version of the National Defense Authorization Act that would thwart any efforts to shut down the DNFSB, but the Senate version and a House version will have to be 'reconciled' in the weeks ahead.
"Bob Alvarez, a former senior Energy Department official, said the current wrangle over the board's future is alarming. 'DOE doesn't really regulate these guys... Without the defense board, the public wouldn't know about some of 'the hazards the government is imposing on them.'"
"Asked for comment, Sullivan said in a phone conversation that he regards his letter as a privileged communication with the White House, and declined to comment about it."
(see full report at CPI)
---
October 18, 2017:
NATO Nuclear Strike Exercise Underway With Czech and Polish Participation
Hans Kristensen, FAS Nuclear Information Project Director, reports that NATO has begun its annual nuclear strike exercise at Büchel Air Base in Germany and Kleine Brogel Air Base in Belgium- each location has 20 US B61 nuclear weapons.
"This is the exercise that practices NATO's nuclear strike mission with dual-capable aircraft (DCA) and the B61 tactical nuclear bombs the US deploys in Europe. In addition to nuclear-capable aircraft from Belgium, Germany, Italy and the Netherlands, local spotters have also seen Czech Gripens and Polish F-16s. The United States will likely also participate with either F-16s from Aviano AB in Italy or F-15Es from RAF Lakenheath in England.
"The non-nuclear aircraft from Czech Republic and Poland are participating under NATO's so-called SNOWCAT (Support of Nuclear Operations with Conventional Air Tactics) program, which is used to enable military assets from non-nuclear countries to support the nuclear strike mission without being formally part of it.
"The nuclear exercise has not been officially announced and NATO is very tight-lipped about it... interesting because NATO only a few weeks ago complained that Russia was not being transparent about its Zapad exercise." (source: HK/NatoWatch.org)
NATO: "NATO is adjusting its nuclear posture in reaction to the new adversarial relationship with Russia". For more, see our dossier: Flashpoint: NATO-Russia
Meanwhile,
"The US is creating a military infrastructure near Russia's borders for the application of a sudden nuclear strike."
So said Viktor Poznihir, first Deputy Chief of the Main Operations Directorate, to the Moscow international security conference of the Russian Armed Forces, April 26.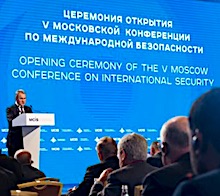 Poznihir said that US missile defense system launchers can be used with a wide range of missiles, including nuclear-armed Tomahawk cruise missiles...creating a "powerful hidden impact component for the application of a surprise nuclear missile attack on the Russian Federation". (source)
You probably never heard about that. The western press, along with NATO and Washington DC have turned a deaf ear to Russian concerns. It all reminds one of what happened in 1983 when Able Archer, one nuclear exercise too many in a fraught year, helped convince Soviet high command that the feared American first strike attack was imminent; preparations were made on their side for nuclear war. Thing is, the US command had no idea how alarmed the Soviets were and did not realize that the US had unknowingly brought the world to the brink of armageddon; we only found out in the 1990s how the Soviet side had perceived our actions.
Fmr. Sec. Def. William Perry: "I believe that today the likelihood of a nuclear catastrophe is actually greater than it was during the Cold War."
Russian President Putin said to a meeting with international journalists: "Your people do not feel a sense of the impending danger- this is what worries me. How do you not understand that the world is being pulled in an irreversible direction, while they pretend that nothing is going on. I don't know how to get through to you anymore" And "It is worth wondering what the US response would be if Russia had put its missiles in Canada near the US border, had destabilized Mexico and was talking of putting missiles there too. To top it off, imagine if Russia were applying sanctions on the US for all of this 'aggression'." (ref)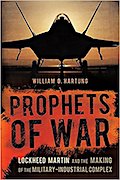 Note that the original sin in the deterioration of relations between the US and Russia was the expansion of NATO in the late 1990s. There was a moment in fact when the entry of Russia in NATO was floated, until someone realized NATO had to have an adversary to justify it's existence as a military alliance, buying trillions of dollars of weapons... It's also worth noting the oversize role played in the NATO expansions by Lockheed Martin, outlined in detail by William Hartung in his book "Prophets of War: Lockheed Martin and the making of the military industrial complex". Today, Lockheed is the prime contractor for the THAAD Missile Defense System; it is also the developer and contractor for the Aegis Ballistic Missile Defense System.
Stephen Cohen: Have 20 Years of NATO Expansion Made Anyone Safer?

---

Nobel Prize Award Ceremonies
The International Campaign to Abolish Nuclear Weapons (ICAN) received the Nobel Peace Prize Sunday, Dec 10 in Oslo, Norway. ICAN has been the driving force behind the Treaty to Prohibit Nuclear Weapons voted this summer at the UN and now open for signatures. Nuclear Watch NM is proud to be one of ICAN's 400 affiliated organizations worldwide.
Please support our work!
Remember, donations are tax-deductible.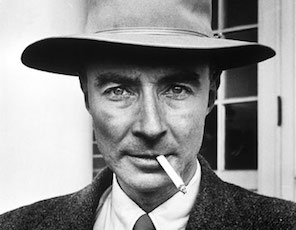 "If atomic bombs are to be added... to the arsenals of a warring world, ...then the time will come when mankind will curse the names of Los Alamos and Hiroshima. The people of this world must unite or they will perish." -Robert Oppenheimer, Director of the Manhattan Project at Los Alamos, acceptance speech, Army-Navy "Excellence" Award, Nov. 1945
---
Critical Events

---
Oslo, December 10, 2017:
Nobel Prize Award Ceremonies
The International Campaign to Abolish Nuclear Weapons (ICAN) received the Nobel Peace Prize Dec 10 in Oslo, Norway. Watch the inspiring ceremonies at left.
---
New Mexico action alert:
Stop plans for a high-level radioactive waste dump!
Please call the New Mexico congressional delegation and ask them to oppose the Nuclear Waste Policy Amendments Act of 2017 (H.R. 3053) This dangerous bill could come up on the US House floor soon. If passed into law, H.R.3053 would eliminate a major hurdle for companies proposing to store deadly, cancer-causing high-level nuclear reactor waste at 'interim' storage sites planned for Texas and New Mexico. (read more)
---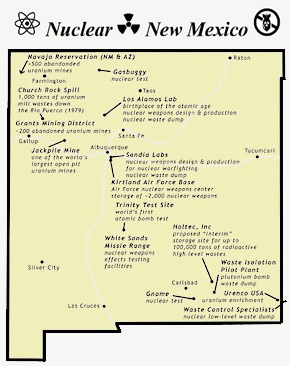 Nuclear New Mexico
Click to see NukeWatch's annotated map of nuclear sites, including those on the way, in The Land of Enchantment
---
Nuclear Watch Legal Actions Ongoing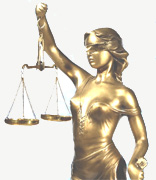 - Cleanup Lawsuit
See all related docs: NukeWatch lawsuit against DOE & LANS (LANL's corporate manager), re failure to execute cleanup of radioactive wastes.
- UPF Lawsuit
OREPA, NukeWatch, and NRDC lawsuit against the Uranium Processing Facility (UPF) -the 'tip of the spear' for the $trillion dollar nuclear modernization project.
---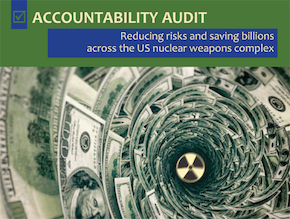 ANA Report 2017: Accountability Audit
This year's report examines the extraordinary spending at Department of Energy nuclear facilities and examines ways to reduce risks and save billions of dollars across the U.S. nuclear weapons complex. (View/download PDF)
---
Alliance For Nuclear Accountability 2016 Report
Out-of-control U.S. nuclear weapons programs accelerate spending, proliferation, health and safety risks: The Trillion Dollar Trainwreck (PDF)
---
Newsletters and Calendars
---
- The Bulletin's Nuclear Roundup
Daily nuclear news; subscribe or view online. Very good selection.
- Ploughshares' Early Warning
"Daily news on the issues we're following from the desk of Joe Cirincione." Subscribe or view online.
- AM Nukes Roundup
A good one from Rethink Media. Compiles all of the day's top news and opinion pieces on nuclear issues- subscribe or view online.
- Proliferation News
From the Carnegie Nuclear Policy Program- subscribe or view online.
- Nuclear Policy News (CSIS)
Subscribe or view online. Very good selection. Note that CSIS's top ten corporate donors include Lockheed Martin, Northrup-Grumman, Boeing, General Dynamics and Leonardo-Finmeccanica.
- Nuclear Calendar FCNL
Extensive email listing of all nuclear-related events, from the Friends Committee on National Legislation. Subscribe or view online.
- National Security Legislative Calendar
From the Council for a Livable World. (ref)
- NucNews
Very extensive daily dump of nuclear-related news items; unfortunately hard on the eyes and often redundant, but again, extensive.
---
FAS Nuclear Notebooks
---
- US nuclear forces 2017
- Russian nuclear forces 2017
- Indian nuclear forces 2017
- Chinese nuclear forces 2016
- Pakistan Nuclear forces 2016
- more
---
---
Twitter Feeds
---
---
---
Annotated List of Nuclear Close Calls
An extensive and annotated list of dozens of "broken arrows"- incidents in which nuclear weapons were misplaced, stolen, damaged, or even detonated.
Compiled by Sarah Witmer at Wagingpeace.org, who notes: "These close calls emphasize the lack of proper security for nuclear weapons, and the lack of training and overall competence of militaries and leaders who possess nuclear weapons. There have been far more incidents than those listed here, and likely many that militaries and world leaders withhold as classified."(view list)
---
Where will the Trump Administration Take US Nuclear Weapons Policies?


We're starting to see intimations of what may lay in store for us in the upcoming Nuclear Posture Review due later this winter, and it's not good. (read on at our dossier on the developing Trump admin nuclear policies)
---
Nuclear News
---
62 newly released classified videos of nuclear tests
National Catholic Reporter: Nuclear disarmament is possible if we have faith and act on it
PFP demolition shutdown- More Hanford workers possibly contaminated with plutonium
Newly Declassified Documents: Gorbachev Told NATO Wouldn't Move Past East German Border
Daniel Ellsberg, 'Nuclear War Planner', reflects on "insane" nuclear war strategies and still looming dangers
Report: Hanford Tank Waste Will Take Longer To Treat, And Cost More
Nuclear annihilation 'one tantrum away', Nobel peace prize winner warns
This Plane Could Start a Nuclear War With North Korea, Russia, China or Anyone
US, Russia missile treaty in jeopardy as tensions escalate
2017 Nobel Peace Prize Award Ceremony
Pope prays for nuclear disarmament
NNSA Document Confirms MOX Plant at SRS Being Reviewed for Production of Plutonium Pits
Deterrence in Retreat: How the Cold War's Core Principle Fell Out of Fashion
Changing Nuclear Weapons Policy in the Trump Era: Implications for Europe
Democracy Now interview: Former Nuclear War Planner Daniel Ellsberg on his new book: "The Doomsday Machine"
The Hwasong-15: The Anatomy of North Korea's New ICBM
German top diplomat says sustainable security in Europe is impossible without Russia
Radioactive Waste And The Hidden Costs Of The Cold War
U.S. agency holding nuke bombs grapples with oversight
The New Hwasong-15 ICBM: A Significant Improvement That May be Ready as Early as 2018
Did American Missile Defense Fail in Saudi Arabia?
UCS: Hyping US Missile Defense Capabilities Could Have Grave Consequences
Bulletin interview w/ Ira Helfand: He helped found two groups that won the Nobel Peace Prize
U.N. Conference on Disarmament Issues starts in Hiroshima
US Nuclear Waste Dump Threatened By Rising Sea Levels, Putting Entire Pacific At Risk
Regional Coalition Of LANL Communities Opposes Elimination Of Defense Nuclear Facilities Safety Board
Greenpeace sounds alarm on nuclear safety with new break-in
Los Alamos National Laboratory names Terry Wallace new director
North Korea signals intent to 'complete' its nuclear force
NNSA, Air Force Complete Two Additional B61-12 Life Extension Program Qualification Flight Tests At Tonopah Test Range
Harper's Dec: Destroyer of Worlds- Taking stock of our nuclear present w/ Elaine Scarry, Theodore Postol, Eric Schlosser, Alex Wellerstein, Rachel Bronson
Russia says Donald Trump is provoking North Korea into nuclear war and is moving missiles onto Moscow's doorstep
Thank God for Pope Francis: Historic Leadership for a Nuclear Weapons Free World
'The Nuclear Enterprise Is on Autopilot' - interview with William Hartung on nuclear overkill
Stephen Cohen: 'Russiagate' Zealots (Mainly Democrats) Have Become a Major Threat to US National Security
Hartung: Massive Overkill in Nuclear Politics
Special Report: in Modernizing Nuclear Arsenal, U.S. Stokes New Arms Race
The President and the Bomb- Adam Shatz, London Review of Books
The False Allure Of Escalation Dominance
Listen Liberals: Russia Is Not Our Enemy
Who is Really Driving Nuclear-Weapons Production?
Perry & Cartwright: Spending less on nuclear weapons could actually make us safer
Exclusive: Interview with Gen. Robin Rand, Head of Air Force Global Strike Command
William Perry: Don't Count on the Cabinet to Stop a Trump-Ordered Nuclear Strike
Address of His Holiness Pope Francis to Vatican Conference on Banning Nuclear Weapons
NNSA Administrator Frank Klotz wants nuclear safety reports hidden from public
'One Person Shouldn't Be in Charge of the Fate of the World'
Theoretical quark fusion found to be more powerful than hydrogen fusion
Trillion-dollar nuclear arms plan sets up budget brawl
NNSA Completes Cruise Missile Nuclear Warhead W80-1 Upgrade
NNSA: Production of Super-fuze Subsystem for W76-1/Mk4A Sub-launched Nuclear Warhead Completed
NYT Ed. Interactive: Trump's Nuclear Arsenal
Ballistic missiles: Limit them first. Then ban them.
---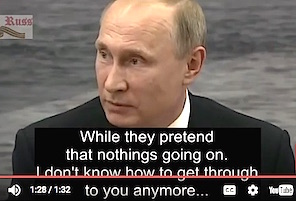 In Europe and Russia, There's Talk of War
-Jill Dogherty, Wilson Center (ref)
See our report: Nuclear Flashpoints: NATO-Russia
---
Current nuclear stockpiles
For country reports and other details see original annotated infographic at Ploughshares.org.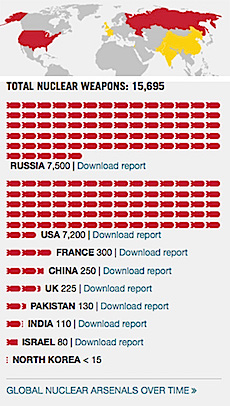 ---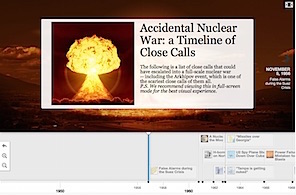 Accidental nuclear war- think it can't happen?
It almost did, quite a few times. See this timeline of nuclear close calls, presented by The Future of Life Institute.
---
Don't Bank on the Bomb 2015
View/download Report PDF
---
Radioactive Quotes

---
"The probability of global catastrophe is very high, and the actions needed to reduce the risks of disaster must be taken very soon. Wise public officials should act immediately, guiding humanity away from the brink. If they do not, wise citizens must step forward and lead the way."
- Bulletin of the Atomic Scientists
---

Every little bit helps!
Remember: contributions are tax-deductible.
*Go to donations page* Thanks for your support!