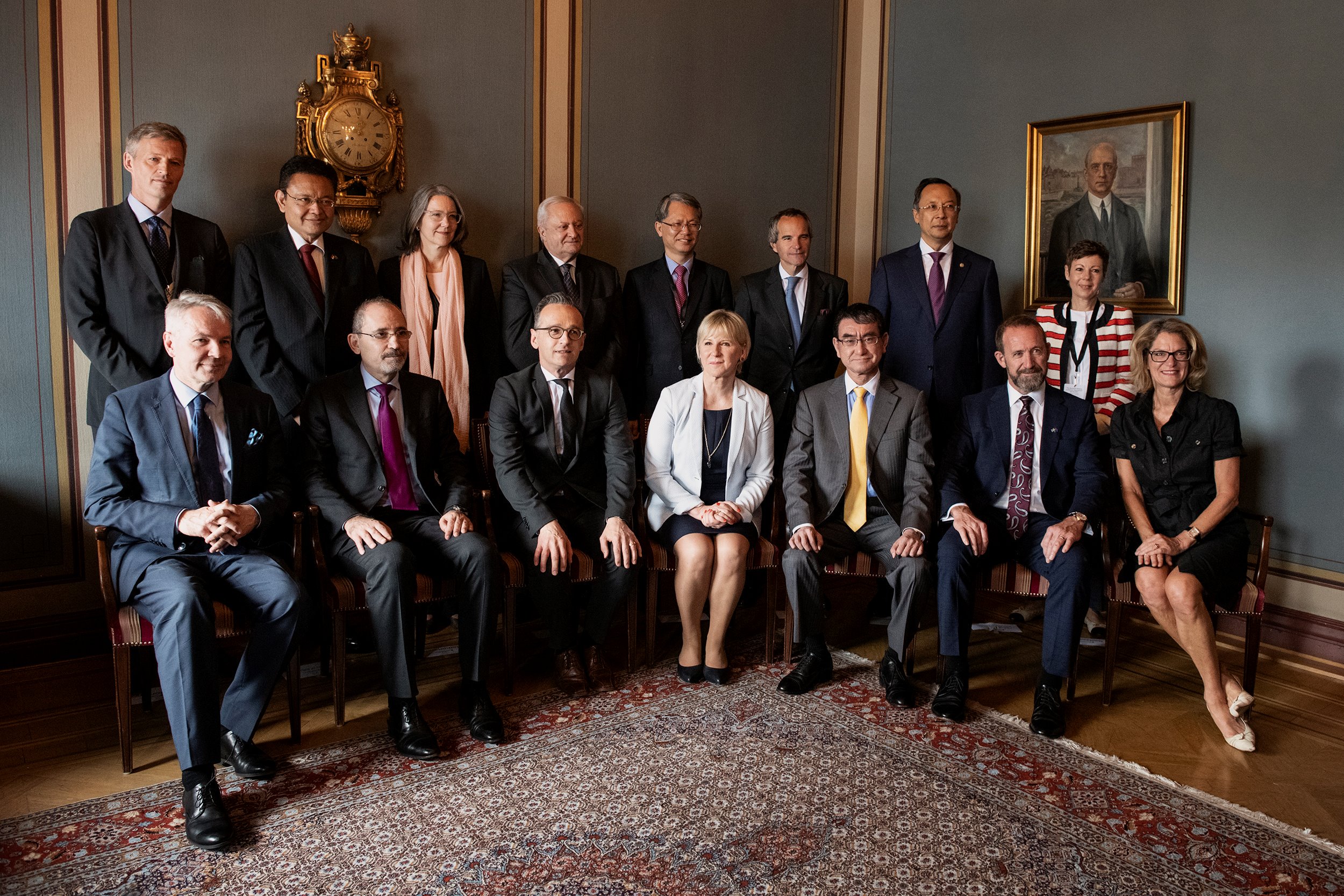 By Alicia Sanders-Zakre
Foreign ministers and high-level representatives from 15 non-nuclear-armed countries gathered in Stockholm on Tuesday to discuss advancing disarmament, amidst an ever-deteriorating arms control, disarmament and nonproliferation landscape. The resulting joint statement falls far short of the creative thinking and urgency required to rebut current nuclear threats, including an impetuous U.S. President with the launch codes and an effort to dramatically increase the production of radioactive nuclear bomb cores at Los Alamos National Laboratory.
Swedish Foreign Minister Margot Wallström convened the June 11 meeting, which was announced in a Swedish working paper on disarmament "stepping stones" at last month's Nuclear Nonproliferation Treaty (NPT) preparatory committee for the 2020 Review Conference. German Foreign Minister Heiko Maas announced on Twitter that a follow up conference will take place in Berlin next year.
Maas emphasized the growing disarmament and nonproliferation crisis in a June 11 statementand the German Foreign Ministry called for "concrete" and "realistic" steps to take torward disarmament in a tweet the same day.
"I remain convinced that a world free of nuclear weapons can only be achieved by building trust, delivering on commitments and showing brave political leadership," Wallström said Tuesday through a Twitter account of the Swedish Foreign Ministry.
However, the recommendations in the joint statement the conference adopted are a far cry from the "brave political leadership" that is desperately needed to counteract increasingly worrying global and national trends on disarmament and nonproliferation.
The statement reiterates the need for the denuclearization of North Korea, recognizes the "precarious state" of the Iran nuclear deal (but stops short of calling for its preservation). It reaffirms support for a weapons-of-mass-destruction-free zone in the Middle East (which all NPT states-parties agreed to pursue at the 1995 Review Conference) and it calls for further progress on disarmament (which is mandated by Article VI of the NPT). Preserving the one remaining treaty capping U.S. and Russian deployed, strategic nuclear forces (the New Strategic Arms Reduction Treaty) which expires in 2021 unless extended, "would be a key contribution to preserving strategic stability," the statement notes, but the foreign ministers shy away from explicitly calling on U.S. and Russian leaders to take this step.
At the ministerial meeting, representatives discussed a range of incremental steps to reduce nuclear risks without actually reducing nuclear warheads, including nuclear-armed states being more forthcoming about circumstances under which they would use nuclear weapons, nuclear-armed states reducing the role of nuclear weapons in their security policies, strengthening assurances to states without nuclear weapons that nuclear weapons will not be used against them, theoretical research into how nuclear disarmament could be verified, and addressing fissile material production.
None of these steps are bad, but none of them are new either. It is important to fulfill past commitments and doing so would be a step in the right direction for international peace and security. However, current drastic security conditions demand much more than just reaffirming the need to live up to past promises, some of which date back to the entry into force of the NPT itself nearly fifty years ago. Sweden, Argentina, Canada, Ethiopia, Finland, Germany, Indonesia, Japan, Jordan, Kazakhstan, New Zealand, Norway, Spain, South Korea and Switzerland were trying to take positive steps. But there should not have to be a convening of 15 foreign ministers and high-level representatives to remind the international community to do what they agreed to do over a decade ago.
We live in a world where nearly 15,000 nuclear weapons remain stockpiled by nine countries, nearly half of which are split between the United States and Russia, and at least several hundred of which are ready to be launched within minutes. Here in the United States, President Donald Trump has the sole and unchecked authority to launch nuclear weapons at any time and for any reason. The Trump administration has withdrawn from arms control and nonproliferation treaties left and right, from the Arms Trade Treaty to the landmark 1987 Intermediate-Range Nuclear Forces Treaty to the Joint Comprehensive Plan of Action, and has most recently made concerning and unfounded accusations that Russia may be violating the Comprehensive Test Ban Treaty.
And right here in New Mexico, the Trump administration is trying to get Los Alamos National Laboratory to pump out 30 radioactive cores for nuclear weapons (plutonium pits) per year by 2030 – nearly three times the number that Los Alamos has ever produced in a single year. The new 80 plutonium pit per year requirement, which envisions 30 plutonium pits produced at Los Alamos and 50 pits per year produced at the Savannah River Site in Georgia, has no justification.
The foreign ministers in Stockholm were right that we are in a state of arms control, nonproliferation and disarmament crisis and that now is the time for brave political leadership. But their joint statement calling for advancing a number of past ideas and promises simply doesn't cut it.
Alicia Sanders-Zakre is a volunteer with Nuclear Watch New Mexico.