Mountain Cloud Zen Center
7241 Old Santa Fe Trail, Santa Fe, NM 87505
Attendance in person is encouraged.
This event will also be web streamed at

sit.mountaincloud.org


passcode: mountain22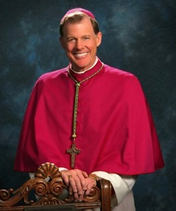 Santa Fe Archbishop John C. Wester will lead a discussion on the need for nuclear disarmament at the Mountain Cloud Zen Center in Santa Fe, NM. He will be introduced with a brief overview of the issues by Sangha member Jay Coghlan, Director of Nuclear Watch New Mexico. Both in person attendees and online participants will have the opportunity for questions and answers.
John C. Wester was ordained a Roman Catholic priest in 1976 and installed as auxiliary bishop of San Francisco in 1998. He was appointed Bishop of Salt Lake City in 2007. He was subsequently installed as the twelfth Archbishop of Santa Fe on June 4, 2015. He has taken up the cause of nuclear disarmament because more money is spent on nuclear weapons in his Santa Fe Archdiocese than any other diocese in the country.
Archbishop Wester believes that humanity is entering a new and more dangerous arms race. To help counter that he is promoting interfaith dialogue and effort toward a future world free of nuclear weapons. This includes an event with the working title of A World Without Nuclear Weapons, From Reflection to Action: An Interfaith Remembrance of the Trinity Test on the afternoon of Sunday, July 16, 2023, the 78th anniversary of the Trinity Test. This will be held at the Santa Maria de la Paz Center at 11 College Ave., Santa Fe, NM (just before the Santa Fe Community College). This event has added significance in advance of the scheduled release of the major Hollywood film Oppenheimer on July 21.
In August Archbishop Wester will travel to Japan with the Archbishop of Seattle to commemorate the 78th anniversaries of the atomic bombings with the Bishops of Hiroshima and Nagasaki. Together, they will appeal for and work toward a future world free of nuclear weapons. Their efforts follow Pope Francis' guidance, under whose leadership the Vatican was the first to sign and ratify the Treaty on the Prohibition of Nuclear Weapons.