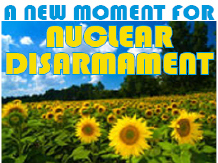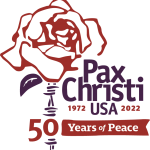 Pax Christi USA paxchristiusa.org | January 10, 2021 
 NOTE: The following press release is from the Archdiocese of Santa Fe announcing a press conference on Tuesday, January 11th, where the Archbishop will discuss his pastoral letter, "Living in the Light of Christ's Peace: A Conversation Toward Nuclear Disarmament". Pax Christi USA has eagerly anticipated the archbishop's letter and we wanted to share the release with our membership who can watch the press conference at the link provided in the email. As we approach the 25th anniversary of our statement on the morality of nuclear deterrence, signed by 75 U.S. Catholic bishops in 1998, we welcome this extraordinary, prophetic letter and look forward to the conversation it generates within the U.S. Catholic Church, supporting Pope Francis' statement at Hiroshima in 2019, "The use of atomic energy for purposes of war is immoral, just as the possessing of nuclear weapons is immoral."
---
ALBUQUERQUE – Monday, January 10, 2022 – IMMEDIATE RELEASE – Most Reverend John C.Wester, Archbishop of Santa Fe, will hold a press conference for accredited media to discuss is pastoral letter, "Living in the Light of Christ's Peace: A Conversation Toward Nuclear Disarmament" on Tuesday, January 11, 2022 at 9:00 a.m. MST via Zoom (https://us02web.zoom.us/j/83010373874?pwd=QTkvTkZpNDRlbDBiNWd3dU9IRnhWUT09). The press conference will be livestreamed at https://youtu.be/kHS2C1wIBeQ.
Archbishop Wester will release his pastoral letter on the urgent need for nuclear disarmament and avoiding a new nuclear arms race. Pope Francis has made clear statements about the immorality of possessing nuclear weapons, moving the Church from past conditional acceptance of "deterrence" to the moral imperative of abolition. The Archdiocese of Santa Fe has a special role to play in advocating for nuclear disarmament given the presence of two nuclear weapons laboratories and the United States of America's largest repository of warheads located within its boundaries. He therefore believes the archdiocese has a unique role to play in encouraging a future world free of nuclear weapons.
Archbishop Wester states, "The Archdiocese of Santa Fe has a special responsibility not only to support the Treaty on the Prohibition of Nuclear Weapons, but also to encourage its active implementation." He goes on to "…invite us to have a conversation together about what it means to follow the risen, nonviolent Jesus who calls us to be peacemakers, put down the sword, and love everyone, even the enemies of our nation."
Archbishop Wester's pastoral letter has the support of four Nobel Peace Prize laureates.
Beatrice Fihn, Executive Director of the International Campaign to Abolish Nuclear Weapons (ICAN) and the recipient of the 2017 Nobel Peace Prize states, "We welcome the leadership of Archbishop John Wester in taking His Holiness Pope Francis' message of support for nuclear weapons abolition and the Treaty on the Prohibition of Nuclear Weapons to the heart of the U.S. nuclear weapons enterprise in New Mexico. Archbishop Wester courageously joins the global community of religious leaders working to make the dream of a world free of nuclear weapons a reality."
The pastoral letter and a summary will be available online (https://archdiosf.org/living-in-the-lightof-christs-peace) on Tuesday, January 11, 2022 at 7:00 a.m. MST.