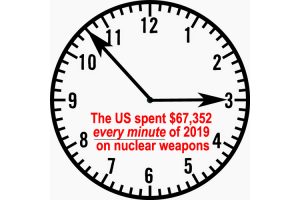 According to a new report by the Nobel Prize-winning International Campaign to Abolish Nuclear Weapons, or ICAN, the U.S. spent $35.4 billion on nuclear weapons in 2019.  This figure includes $11.1 billion to the National Nuclear Security Administration, a semi-autonomous agency within the Department of Energy, and $24.3 billion to the Department of Defense. That amount equals spending $67,352 every minute of 2019 on nuclear weapons.  In this time of the global COVID-19 pandemic, some question whether these taxpayers' dollars could fund the needed masks, gloves, personal protective equipment and other equipment for medical professionals and patients, as well as for essential workers across the country.  https://www.icanw.org/global_nuclear_weapons_spending_2020 
As Alicia Sanders-Zakre, former Nuclear Watch New Mexico intern and current Policy and Research Coordinator for the International Campaign for the Abolition of Nuclear Weapons (ICAN), who is the primary author of the report, Enough is Enough:  2019 Global Nuclear Weapons Spending, said in this week's Update:
"The billions spent on nuclear weapons in 2019 didn't save lives – it was a waste of resources needed to address real security challenges, including pandemics and climate change."
Read the June 2020 ICAN pamphlet: LET'S BE REALISTS:  Eleven answers to common questions and comments about nuclear weapons
The report, entitled, "Enough is Enough:  2019 Global Nuclear Weapons Spending," carefully reviewed the nuclear weapons budgets of nine nuclear-armed countries.
They are:  China, France, India, Israel, North Korea, Pakistan, Russia, the United Kingdom, and the U.S.  In 2019, the nine countries spent $72.9 billion on the weapons.  Together, the countries possess more than 13,000 nuclear weapons and spent $138,699 every minute of 2019 on them.  This $72.9 billion represents an increase of $7.1 billion from 2018.
But these billions of dollars spent in the U.S. and the other nine nuclear-armed countries are not the total expenditures.  They pay for only the operating and development costs for nuclear warhead and nuclear-capable delivery systems.  They do not include the cleanup, or remediation, of the environment contaminated by the operation, use, and development of nuclear weapons, nor do they include the health care and compensation needed by the unknowing and unwilling victims harmed by the production and use of nuclear weapons.