"It's the lowest score on the lowest bar of so-called cleanup," said Jay Coghlan, executive director of Nuclear Watch New Mexico. "I'm going to very much point my finger at the weak and defective 2016 consent order."
Coghlan is among the critics who have bashed this cleanup agreement crafted under Republican Gov. Susana Martinez, saying it weakened the original 2005 order by eliminating real deadlines and imposing few penalties for slow or deficient work.
By Scott Wyland, The Santa Fe New Mexican | January 7, 2023 santafenewmexican.com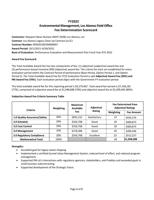 The contractor in charge of cleaning up Los Alamos National Laboratory's legacy waste will receive the lowest percentage of its yearly bonus in its four years at the lab, mainly because of deficiencies in worker safety and packaging waste for shipping.
Newport News BWXT, commonly known as N3B, received 77% of its bonus fees for the year ending in October, the lowest since it began cleaning up the lab's pre-1999 waste in 2018 and the first time the portion fell below 80%.
The U.S. Energy Department's Environmental Management Field Office at Los Alamos issues the scorecards that determine how much of a bonus fee N3B will get in a given year under its $1.4 billion, 10-year contract for the cleanup work.
The contractor will be awarded about $7.16 million out of a possible $9.2 million, according to the 2022 scorecard.