Santa Fe County Nuclear Waste Emergency Response Town Hall
In response to community concerns about the proposed increased shipments of more dangerous forms of plutonium along New Mexico State Road 599, Santa Fe County District 2 Commissioner Anna Hansen will host a Nuclear Waste Emergency Response Town Hall on Tuesday, October 19th from 6 to 7:30 pm.  Town Hall Nuclear Waste Flyer 10-19-21 The Department of Energy (DOE) has made elaborate plans to transport plutonium nuclear weapons triggers to Los Alamos National Laboratory (LANL) for processing.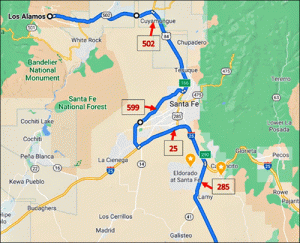 The triggers are currently stored at the Pantex facility, north of Amarillo, Texas.  Questions and comments from the public are encouraged during the Town Hall. Town Hall Nuclear Waste Meeting Agenda 10-19-21
The proposed route is approximately 3,300 miles.  Interstate 40 at Clines Corners would be the primary route to U.S. Route 285.  The shipments would then head north to Interstate 25, past the Eldorado communities, before connecting with the 599 Bypass around Santa Fe.  Much of the bypass is located within Commissioner Hansen's district.  From the bypass, the shipments would travel north on 285 to Pojoaque, then west on 502 to LANL.  After processing, the shipments would follow the reverse route to Interstate 40 and east to the Savannah River Site in South Carolina for further processing.  The shipments would once more head west to the Waste Isolation Pilot Plant (WIPP), near Carlsbad, New Mexico.  Up to 47 metric tons of what is called "surplus" plutonium could be shipped, processed and disposed at WIPP.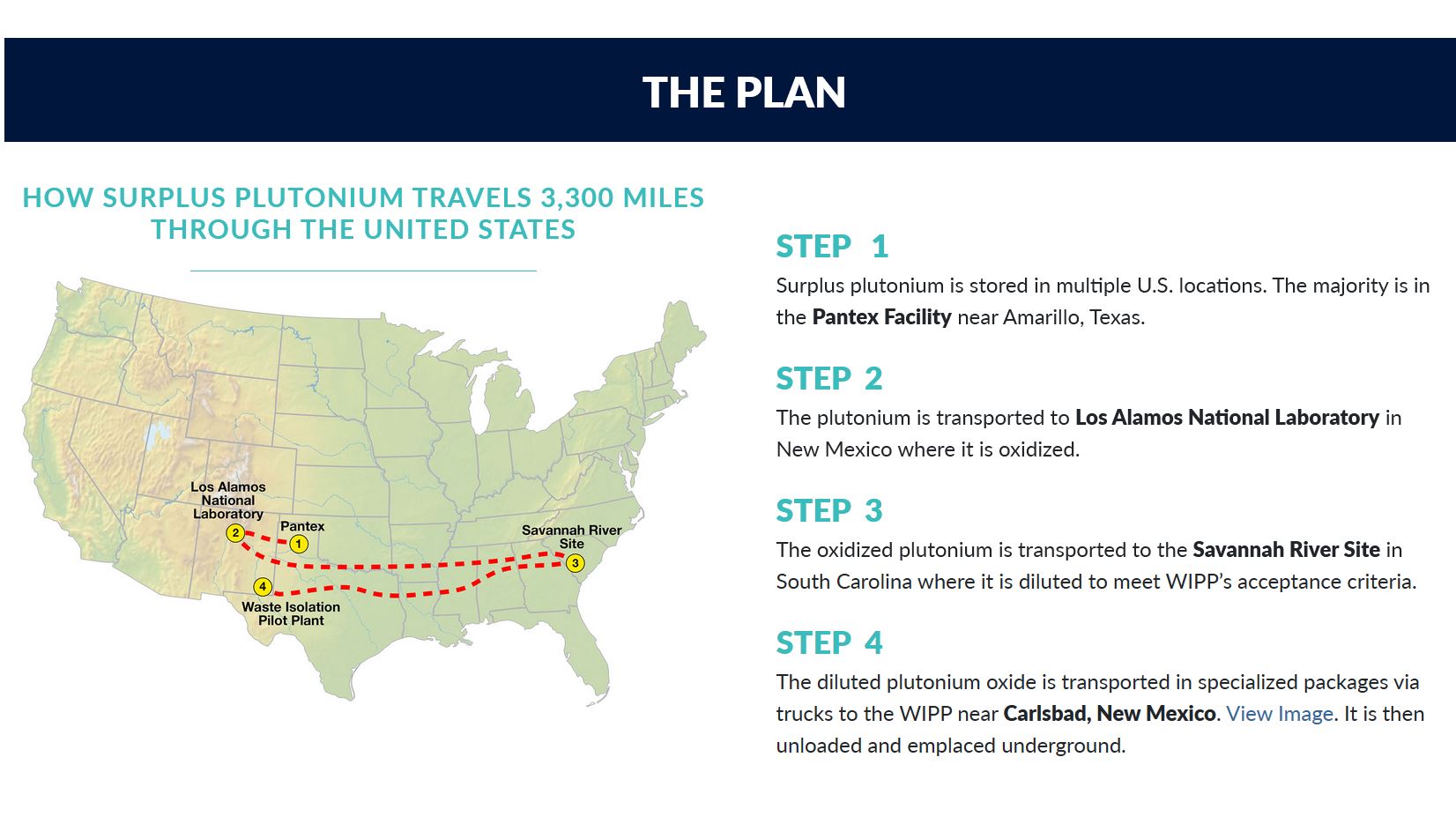 In response to constituent concerns, Santa Fe County Commissioners Hank Hughes and Anna Hamilton held a similar Town Hall at the Arroyo Hondo Fire Station in August.  https://www.sfreporter.com/news/2021/08/10/waste-on-wheels/
During the October 19th Town Hall, Cynthia Weehler, citizen activist and former chemistry teacher, will present highlights of the DOE's proposal to expand the WIPP repository, including the transportation of additional weapons-grade plutonium throughout Santa Fe County.  www.kob.com/new-mexico-news , www.santafenewmexican.com/opinion/my_view/speak-out-on-the-future-of-wipp/
Santa Fe County Fire Chief Jackie L. Lindsey will give a presentation about Santa Fe County's emergency preparedness and response in the unlikely event of a toxic and radioactive waste incident.  https://www.santafecountynm.gov/fire/fire_chief_and_command_staff
New Mexico State Representative Tara Lujan will also be in attendance.  https://nmlegis.gov/Members/Legislator?SponCode=HLUTA
The Town Hall is being held at the Nancy Rodriguez Community Center, at One Prairie Dog Loop, in Santa Fe, which is off County Road 62 between the Agua Fria Fire Station and La Familia Medical Center.
For more information, please contact Anna Hansen, Santa Fe County Commissioner, at 505-986-6329, or [email protected].  https://www.santafecountynm.gov/county_commissioners/anna_hansen