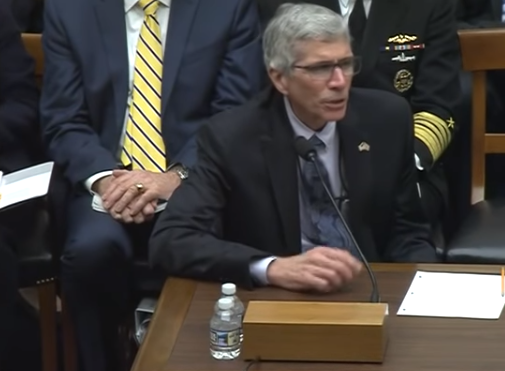 A planned South Carolina facility will be able to produce 50 plutonium nuclear-weapon cores a year by 2030, despite a Department of Energy-funded study that says 2035 is more realistic, according to a top official with DOE's National Nuclear Security Administration (NNSA).
BY DAN LEONE | exchangemonitor.com
"We have been working on scenarios to bring it back in time to '30," Charles Verdon, NNSA deputy administrator for defense programs, told Nuclear Security & Deterrence Monitor Tuesday after a hearing of the House Armed Services strategic forces subcommittee.
In congressional testimony this year, NNSA Administrator Lisa-Gordon Hagerty has repeatedly mentioned the study — an engineering analysis completed by Parsons Government Services in 2018 — in the same breath as her appeals to lawmakers that the agency can only meet the Pentagon's demand for 80 cores a year by 2030 by building the South Carolina facility while also producing cores in New Mexico.
– The full referenced Parson engineering analysis can be viewed here, & a summary here –
NNSA remains silent on meeting national Environmental Policy Act requirements for public environmental review.
"We conducted … an engineering assessment, and the best way to get there, given the risk mitigation factors, is to repurpose the facility at Savannah River Site and produce the remaining 50 pits per year starting at 2030 at Savannah River Site," Gordon-Hagerty told the House panel on Tuesday.
Verdon did not detail the alternative "scenarios" that NNSA subject matter experts believe will get the South Carolina plant to its target throughput by 2030.  Whatever they are, it will cost $410 million to find out.
That is the amount of fiscal 2020 funding the NNSA requested from Congress to bring the planned Savannah River Plutonium Processing Facility to the project management milestone known as Ccritical Decision 1, or CD-1.
"The CD-1 work will dot the "i's" and cross the "t's" to see if what the subject matter experts identified is a path forward," Verdon said.
The Donald Trump administration's Defense Department last year put the NNSA on the hook to annually produce 80 war-ready cores — or plutonium pits — by 2030. The cores would go into W87-1 warheads for the next-generation intercontinental ballistic missiles the Pentagon plans to deploy starting around 2030.
To get all 80 cores on time, the NNSA is upgrading existing pit-production infrastructure at the Los Alamos National Laboratory in New Mexico to make 30 pits a year by 2026. However, the lion's share of the work — 50 pits a year by 2030 — will go to Savannah River's Plutonium Processing Facility.
This year in Congress, lawmakers in both chambers and on both sides of the aisle have paled at the two-state pit-production complex's estimated $30 billion life-cycle cost.
The Parson engineering analysis said centering pit-production at Los Alamos might save the agency $15 billion or so, compared with the planned two-state strategy. Those savings appealed to House Armed Services strategic forces subcommittee Chairman Jim Cooper (D-Tenn.), who on Tuesday asked Gordon-Hagerty for a private briefing about the Parsons' study's conclusion.
"Let's see if we can't save a bit here," he said.
Last month, Sen. James Inhofe (R-Okla.), chair of the Senate Armed Services Committee, held up the Parsons engineering analysis as evidence that the NNSA might have trouble pumping out as many pits as the Pentagon requesgted.
"NNSA's own analysis it suggests that reaching the 80 [pits a year] by 2030 is going to be a problem," Inhofe told Gordon-Hagerty in a March 28 committee hearing.
Gordon-Hagerty, however, has stuck to her guns about producing pits in two states. "Doing it [solely] at Los Alamos will not get us to the required 80 pits per year," the NNSA chief said Tuesday in the House.
Parsons' engineering analysis acknowledged that Los Alamos' aging facilities might not be able to surge up to an annual production rate of 80 pits. The study pointed out the potential danger of trying to upgrade those 1970s-era plutonium facilities — which are not solely used for pits, as the planned plant in South Carolina would be — while at the same time leaning on them to produce all the pits needed for future warhead refurbishments.
Either way, Gordon-Hagerty said Tuesday, "when we talk about pit production, that's only 11 years away. This is a major challenge."