Was DOE uranium enrichment plant responsible for star athlete's cancer death?
BY: Cincinnati Investigative Journalist Duane Pohlman, WKRC | local12.com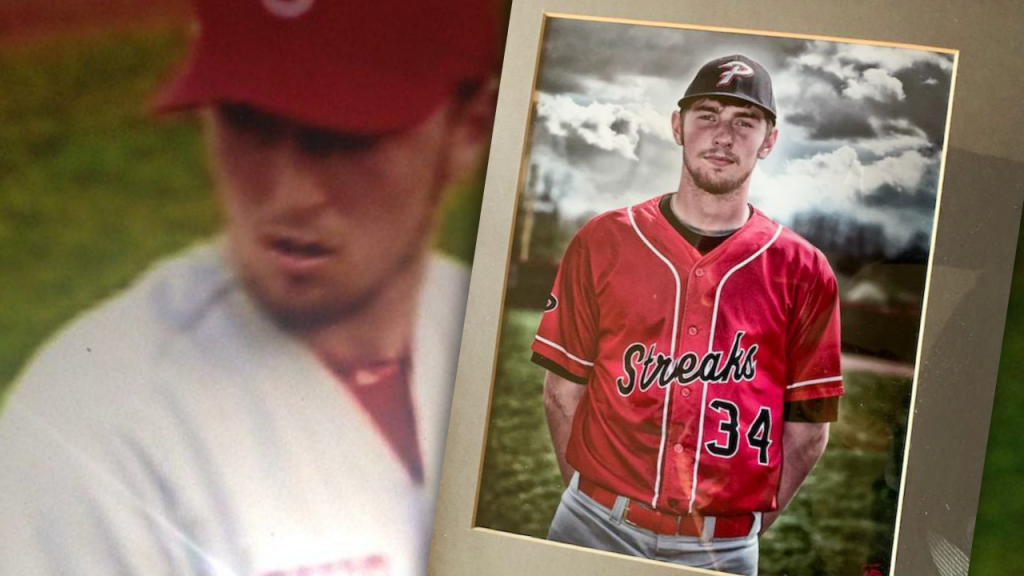 PIKETON, Ohio (WKRC) – For the first time, Larry Farmer, the father of a local, All-American baseball pitcher, sat down for an exclusive interview with Local 12's Chief Investigative Reporter Duane Pohlman to talk about the life and death of his famous son, Zach Farmer, who passed away from leukemia five years ago, blaming his death on radioactive elements he believes drifted to his former family home from the now-closed Portsmouth Gaseous Diffusion Plant.
A LEGEND THAT LIVED TO BE ON THE MOUND
Larry says Zach — the legendary southpaw from Piketon — was a natural from the beginning.
"No one could hit off him," Larry said with a grin, adding that his son would routinely have 15 to 19 strikeouts a game, often leading the Piketon Red Streaks to victory.

"He lived to be on the mound," his dad said, looking away and pausing to recall his son's brilliant playing days.
At Piketon High School, Zach achieved more than nearly every other baseball player in Ohio history, including 599 strikeouts (No. 2 in Ohio High School Athletic Association history) and an overall record of 38-7, (No. 3 on the OHSAA list). He was even incredible at the plate with a head-spinning .505 batting average.
Zach was honored with just about every award and accolade a high school athlete could achieve, including being named an All-American three times. Larry took pride in his son's accomplishments, helping coach him along the way, but he says he was just as proud of his son's character.
"He always wanted to give back," Larry said, recalling how his son would give time to younger children who looked up to him.
It was no surprise that long before he graduated from Piketon High School, Zach was well known to baseball scouts, who wanted to sign him.
"He had a lot of pro scouts everywhere we went," Larry recalled.
Zach was aiming to play in the MLB but wanted to be a Buckeye first, signing a student-athlete scholarship while he was still at Piketon.
"He just liked Ohio State," Larry said, pointing to a box full of offers he still has from dozens of other universities who tried to recruit Zach to play for them.
A TOUGH DAY
In 2014, as a freshman, Zach was on his way to greatness at Ohio State too. He had appeared in 10 games, struck out 34 players who faced him and played in 49 innings when Larry says he began getting sick.
"He had flu-like symptoms," Larry explained, recalling the moment when Zach told him he couldn't make the mound in a game against Purdue.
Zach reassured his dad that he would get over it quickly and be ready to play against Louisville days later.
But Zach didn't get over the sickness. On Wednesday, Zach went into the hospital.
"I was in the woods and he called me and said I need to come up," Larry recalled, saying that day he drove to be with his son at the Ohio State University's James Cancer Hospital.
Soon after he arrived, Larry says the doctor delivered the diagnosis: acute myeloid leukemia (AML), an aggressive cancer that often kills in months. When Zach was told, Larry says, "He pulled the cover up over his head."
Larry's eyes begin to water, describing the moment simply as a "tough day."
AN ODD FORM OF LEUKEMIA
Zach was just 19 years old and he was now facing an aggressive cancer that usually strikes people in their 60s. Larry thought that was odd.
"It was odd to the doctors too," he explained, recalling how medical staff began asking questions about where he and Zach lived.
The National Cancer Institute and Centers for Disease Control and Prevention (CDC) list exposure to radiation as a leading cause of adult AML.
A HOTSPOT?
When Larry began to realize the link to radiation, he says he started thinking about his family's home, which bordered a U.S. government fence that wrapped around the Portsmouth Gaseous Diffusion Plant, a massive complex with hundreds of mammoth buildings designed for one purpose: manufacturing enriched uranium, most of it for arming America's atomic arsenal.
Built in 1952, the plant remains one of the largest facilities of its kind in the world, once producing enormous amounts of enriched uranium for weapons and later for fuel in reactors until production ceased in 2000.
Since then, the plant has been vacant.
According to the National Conference of State Legislatures, 2.2 million tons of hazardous waste is now stored on the site, including 21,000 metal cylinders of depleted uranium hexafluoride. In all, 415 facilities and structures at the old plant are contaminated. And Larry's former family home, where he raised Zach and his sisters, is located a little more than a mile away on the southeast side, the same direction as the wind usually blows here.
"We lived in a hotspot," Larry said, conceding he never gave it much thought until Zach got sick.
RADIOACTIVE ELEMENTS SHUT DOWN A SCHOOL
Zahn's Corner Middle School is approximately four miles to the north from the Portsmouth plant. In 2017, an air quality monitor across the road from the school detected neptunium-23. In 2018, it picked up up americium-241. Both are known to cause cancer.
The U.S. Department of Energy (DOE), which oversees the plant and all air monitors on and near the property, reported the findings last year. After additional testing revealed enriched uranium particles on surfaces inside the school, Zahn's Corner was closed in May of last year.
In response to our questions, a spokesperson at DOE's Portsmouth/Paducah Project Office responded, stating, in part, there is "…no radioactivity detected above naturally occurring levels," insisting, "There is no public health or safety risk from radioactive material preventing Zahn's Corner Middle School from opening."
Wes Hairston, superintendent of the Scioto Valley Local Schools, says the school board made the right call to close the Zahn's Corner, even if the DOE says there is no risk to staff and students.
"Any level of radiation, in my mind, is not something that is suitable for children," Hairston said.
THE "WRONG PLACE"
While the contamination and closure of the school jolted many in Piketon and across Pike County, Larry says the news of radioactive contamination hit him especially hard. The home where he raised his family is four times closer to the plant than Zahn's Corner.
"I blame myself for livin' there," Larry said, admitting he moved from that house shortly after his son was diagnosed.
As his son battled the leukemia, Larry says he and Zach talked about the house and its proximity to the plant.
"We probably lived in the wrong place," Larry recalled Zach telling him from the hospital bed.
Larry purchased some property and began building a new home and life many miles away from the home where he raised his family. At the same time, he constantly drove to Columbus with Zach or to be with him while he endured agonizing treatments.
"I seen him cryin'," Larry said, recalling a day where his son tried to hide the pain. "Never seen him cry." Larry paused and looked away.
"IT'S GOT YOU"
Zach was not a quitter, so he battled through the pain to make it back to the mound.
"That's all he wanted to do, just get back and play the game," Larry recalled.
For a moment, it looked like he would. In 2015, the cancer was in remission. But it came back and Larry says it was a meaner version.
In July 2015, Larry watched as a doctor told his son the hardest truth.
"She just said, 'Zach, it's got you,' " Larry recalled, now tearing up and struggling to find words to describe the devastation of the moment.
At 7:57 on the morning of Aug. 4, 2015, Zach Farmer passed away. Larry says he lost more than a son that day.
"That was my best friend," Larry said, smiling through the tears that he'd been fighting to hold back.
BLOWING IN THE WIND
On March 29 last year, the Piketon baseball team unveiled a monument out front of the stadium where Zach once dominated.
Zachary D. Famer Field is now the place where other players can pause to read about one of the greatest baseball players to take any field in Ohio. Larry was there to unveil the monument. He'd rather be with his son.
Zach lost his life to leukemia, but in answering my questions, Larry makes it clear he believes the cancer was caused by what the wind carried from that plant next door.
Duane Pohlman: What killed your son?
Larry: The waste off this A-plant.
Pohlman: The Portsmouth Gaseous Diffusion plant?
Larry: Sure. That's what I believe.
Pohlman: So, you believe the government's responsible for the death of your son?
Larry: Yeah.