Russia and China are boosting bilateral cooperation on nuclear weapons strategies as they accused the United States of disrupting non-proliferation measures during a high-level meeting of the top five nuclear powers.
BY TOM O'CONNOR | newsweek.com January 30th, 2019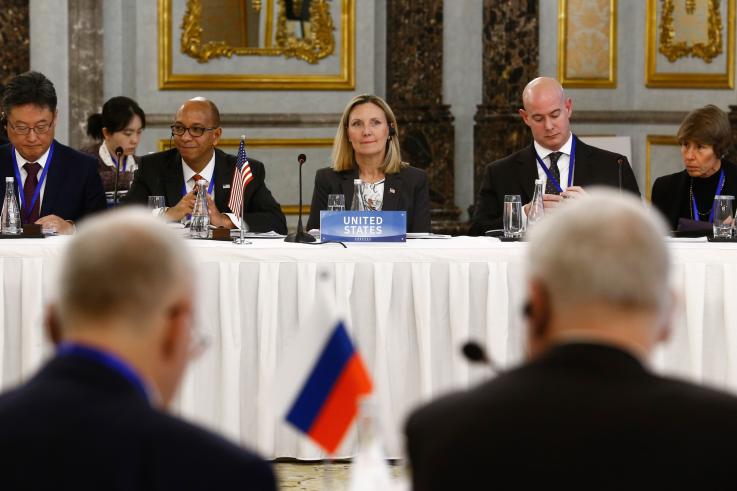 Representatives of the so-called "Nuclear Five" met Wednesday in Beijing, at a time of heightened tensions between the Eastern and Western permanent members of the United Nations Security Council. The grouping included China, France, Russia, the United Kingdom and the U.S., signatories of the Treaty on the Non-Proliferation of Nuclear Weapons (NPT), a landmark document that sought to curb the spread of weapons of mass destruction during a decades-long arms race between Washington and Moscow.
As the White House threatened to scrap another Cold War-era weapons treaty, China and Russia have sought to align their approach in the face of what they considered to be a destabilizing U.S. position.
"Issues of our cooperation and Chinese-Russian and Russian-Chinese coordination will surely be the focus of our attention," Russian Deputy Foreign Minister Sergey Ryabkov said, according to the state-run Tass Russian News Agency. "It is very productive work. In 2016, we approved the statement on strategic stability at the level of the leaders. It is just an example of how Russia and China are registering joint common positions more precisely."
The U.S. has accused Russia of violating the 1987 Intermediate-range Nuclear Forces (INF) treaty, which established a mutual ban on ground-launched nuclear and conventional missiles within the ranges of around 310 and 3,420 miles. Washington argues that Russia's new Novator 9M729 missile violates the treaty, while Moscow claims that the extensive U.S. missile shield in Europe could be used offensively as well, effectively breaching the deal.
Both deny the other's point and the Russian Defense Ministry exhibited its 9M729 for the first time earlier this month in a bid to dismiss Washington's assertions about its capabilities, which Moscow officials claimed could extend less than 300 miles. Bilateral talks have so far failed, with both sides accusing one another of not cooperating and fresh round of U.S-Russia dialogue was expected amid the "Nuclear Five" talks in Beijing, which was not a party to the INF—another reason the White House felt the treaty to be obsolete.
China, however, has been a major supporter of the NPT, which Foreign Ministry spokesperson Geng Shuang told a press briefing Wednesday played an "important role in preventing the proliferation of nuclear weapons, promoting the nuclear disarmament process and promoting the peaceful use of nuclear energy."
"As a staunch supporter of multilateralism, China has always firmly supported the purposes and objectives of the treaty," he added. "It believes that under the current situation, the international community should adhere to multilateralism and comprehensively and promote the nuclear non-proliferation, nuclear disarmament and peaceful use of nuclear energy determined by the treaty in a balanced manner, noting that China was "Pillars, through practical consultations, seek practical measures, noting that China was "resolutely opposed to double standards" in regards to non-proliferation affairs.
Washington's ties with Beijing were also strained as the world's two leading economic powers struggled to end their months-long trade war of tit-for-tat tariffs, but Under Secretary of State for Arms Control and International Security Affairs Andrea Thompson tweeted Wednesday that the U.S. would "be following up w/ China on our decision at Nov 2018 US-China Diplomatic & Security Dialogue to deepen engagement to advance shared commitment to nonproliferation of weapons of mass destruction."
Russia and China have warned of a potential "arms race" sparked by President Donald Trump's 2019 Missile Defense Review released earlier this month. The document calls for new, advanced defenses, such as space-based sensors to allow the U.S. to intercept any missile, including new hypersonic weapons currently being developed by all three leading military powers.
In addition to the "Nuclear Five" attending Wednesday's meeting, which was set to continue Thursday, at least four other nations not part of the NPT are believed to possess nuclear weapons. These include India, Pakistan, North Korea and Israel, which has neither confirmed nor denied its arsenal.
The Trump administration has embarked on a historic peace process with North Korea in an effort to get Pyongyang to denuclearize. North Korean supreme leader Kim Jong Un has called for security assurances, however, with his administration pointing to the example of Libyan leader Muammar el-Qaddafi, who forfeited his country's own burgeoning nuclear program in 2003 in exchange for better relations with Washington, only to be later overthrown and killed by an insurgency backed by the U.S. and Western allies.