New Mexico's local colleges are training students to work in a plutonium pit factory. What does this mean for their future — and the world's?
By Alicia Inez Guzmán, SEARCHLIGHT NEW MEXICO | June 7, 2023 searchlightnm.org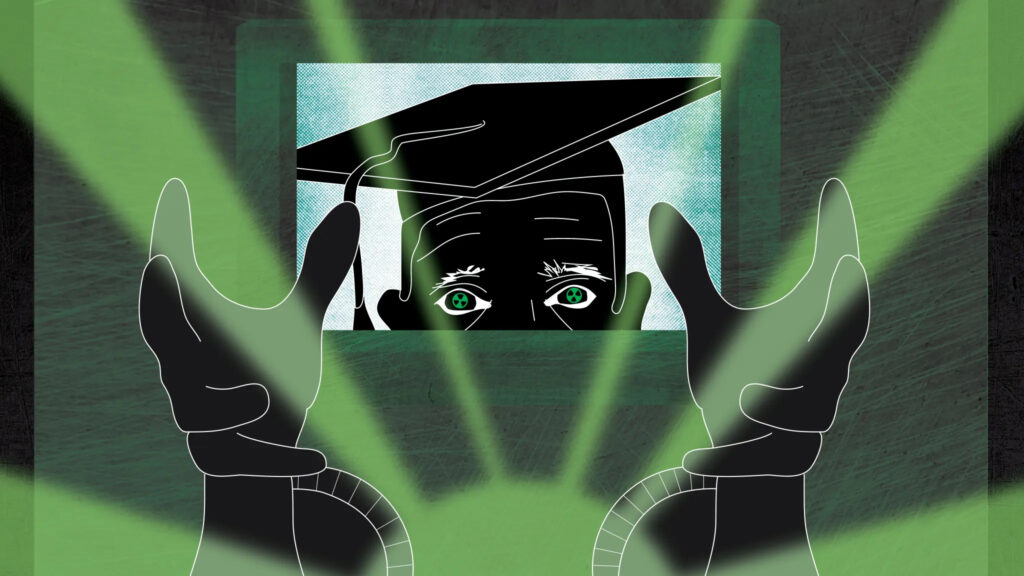 Illustration by Kevin Beaty
Every day, thousands of people from all parts of El Norte make the vertiginous drive up to Los Alamos National Laboratory. It's a trek that generations of New Mexicans have been making, like worker ants to the queen, from the eastern edge of the great Tewa Basin to the craggy Pajarito Plateau.
All in the pursuit of "good jobs."
Some, inevitably, are bound for that most secretive and fortified place, Technical Area 55, the very heart of the weapons complex — home to PF-4, the lab's plutonium handling facility, with its armed guards, concrete walls, steel doors and sporadic sirens. To enter "the plant," as it's known, is to get as close as possible to the existential nature of the nuclear age.
For 40 years, some 250 workers were tasked, mostly, with research and design. But a multibillion-dollar mission to modernize the nation's nuclear arsenal has brought about "a paradigm shift," in the words of the Defense Nuclear Facilities Safety Board, a federal watchdog. Today, the plant is in the middle of a colossal expansion — growing from a single, aged building to what the safety board calls "a large-scale production facility for weapon components with the largest number of workers in its history."
---