FOIA Documents Confirm Profiteers Still Pursuing Scheme to Dump Highly Radioactive German Spent Fuel (Graphite "Pebbles") at SRS – Should be Terminated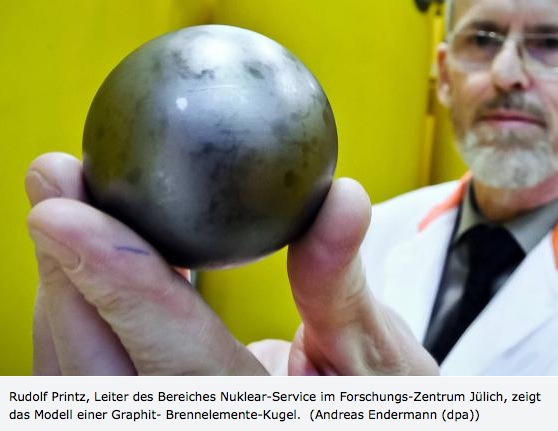 SRS and the German entity Jülicher Entsorgungsgesellschaft für Nuklearanlagen (JEN) are still working on the scheme to import German highly radioactive graphite spent fuel from the Jülich, Germany storage site to SRS for reprocessing and dumping.  That this bad idea to import the nuclear waste in large CASTOR casks is continuing has been confirmed in documents obtained by SRS Watch in response to a Freedom of Information Act (FOIA) request received on April 7, 2020.
SRS Watch first alerted the public in 2013 – at a SRS Citizens Advisory Board meeting – that the US-Germany waste deal was at hand, forcing SRS to admit that was indeed the case.  Pursuit of he deal has been dragging on since 2012.

The last SRS-JEN agreement expired on February 29, 2020 but a new agreement runs through February 2021, though what work is continuing is vague – they don't want you to know what's up – and how much JEN is paying SRS is hidden.  The spent fuel in questions is in the form of uranium-impregnated balls (pebbles) that were used in the AVR and THTR gas-cooled reactors, closed for decades. Some of the uranium is HEU from the US, but the US DOE's National Nuclear Security Administration (NNSA) has determined there is no proliferation risk in leaving the spent fuel for disposal in Germany, which was always the plan until profiteers entered the scene:  DOE memo on no proliferation risk of AVR spent fuel August 1 2013
FOIA response documents, dated April 2, 2020 – SRS-JEN "Work for Others Agreement," Modification #7, signed February 2020:
SRO-2020-00565-F Clements final letter rc vd April 7 2020
WFO mod #7 FOIA rc vd April 7 2020
As the reactors involved were the experimental gas-cooled AVR & THTR reactors – and not research reactors – it is illegal to export this material for reprocessing and dumping.
SRS Watch also obtained  SRS-JEN "Work for Others Agreement" #6, September 2019, and two attached documents indicated plans to import 33 unirradiated graphite balls and a small amount of irradiated graphite material, but that import plan has run into snags.
FOIA response cover SRS JEN Nov 21 2019
FOIA response SRS JEN WFO agreement signed Sep 3 2019
FOIA response SRS JEN WFO attachment 1 unirradiated balls signed Oct 15 2019
FOIA response SRS JEN WFO attachment 2 irradiated balls signed Oct 15 2019
Based on information obtained by a member of the German Bundestag and posted on April 13, 2020, there has been no export of these materials to SRS, as issuance of export licenses remain stalled and under review: "Nuclear waste Jülich: No fuel exported to the USA yet" – "Atommüll Jülich: Noch kein Export von Brennstoff in die USA erfolgt" – see blog post:  https://www.hubertus-zdebel.de/atommuell-juelich-noch-kein-export-von-brennstoff-in-die-usa-erfolgt/
SRS Watch has asked DOE to terminate the "Work for Others" agreement with JEN.  There has so far been no response from DOE. See February 20, 2020 post of SRS Watch here: https://srswatch.org/terminate-scheme-between-srs-and-germany-to-dump-highly-radioactive-german-spent-fuel-at-srs/