The Trump administration's recent discussions on whether the U.S. should resume nuclear testing for the first time since 1992 have raised alarm among watchdogs and, if carried out, might affect Los Alamos National Laboratory's nuclear "stockpile stewardship."

ARTICLE BY: SCOTT WYLAND | santafenewmexican.com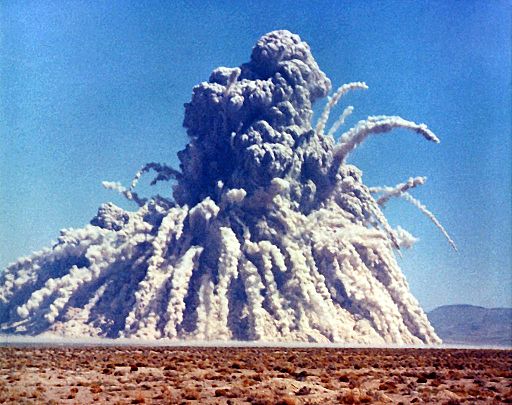 National security officials at the White House last month talked about lifting the 28-year moratorium on explosive nuclear tests, less as a technical necessity than in response to unconfirmed reports that Russia and China are conducting low-yield tests, according to the Washington Post.
At the moment, there are no actual plans to pursue underground nuclear testing, but talks will remain ongoing and tests will remain an option to consider, two unnamed sources told the Post. Another source said officials were leaning toward other ways to deal with China and Russia.
Nuclear nonproliferation advocates say it is significant that Trump officials are even floating the idea of reviving tests that were halted after the Cold War ended.
The National Nuclear Security Administration declined to comment for this story.
"This is really troubling to even be discussing explosive nuclear testing," said Alexandra Bell, senior policy director at the nonprofit Center for Arms Control and Non-Proliferation. "We absolutely don't need to conduct explosive nuclear tests in order to maintain the safety, security and effectiveness of our arsenal."
In fact, the purpose isn't to test a bomb's performance, but to prod Russia and China to the negotiating table for a trilateral agreement, Bell said, calling it an unnecessary political ploy, especially with China.
China is well aware the U.S. did about 1,000 nuclear tests between 1945 and 1992 and that it has a far superior nuclear capability, said Bell, who was a senior adviser for the State Department's undersecretary for arms control and international security.
Bell and other opponents of nuclear testing say it also would give license to China, Russia, Iran, North Korea and rogue nations to freely launch their own explosive tests.
Nuclear testing was moved underground in the early 1960s after concerns grew about the aboveground tests' devastating environmental impacts and threats to public health. A moratorium on nuclear tests went into place at the tail end of George H.W. Bush's presidency.
The discussion of resuming the tests is the latest in the Trump administration's move toward dissolving pacts aimed at keeping the world's nuclear powers in check.
President Donald Trump withdrew from the Iran nuclear deal in 2018, let an intermediate-range missile treaty with Russia expire last year and announced plans to pull out of the Open Skies Treaty that allows 35 countries — including the U.S. and Russia — to aerially observe each other's military activities.
Trump is also noncommittal about extending the New START pact, which limits U.S. and Russian nuclear arsenals. Ratified under Barack Obama, it will expire Feb. 5.
Regionally, the rebirth of explosive nuclear testing could pull resources away from the Los Alamos lab's computer modeling and other high-tech simulations used to gauge a bomb's effectiveness, said Jay Coghlan, executive director of Nuclear Watch New Mexico.
"It's actually against NNSA's and the lab's business interests to support a return to testing," Coghlan said. "The lack of testing is their cash cow. And the whole exorbitantly expensive stockpile stewardship program is based on just that."
Online Now
Celebrate the Class of 2020
Submit online graduate profiles to share with family and friends free. Upgrade to be included in the 2020 keepsake graduation edition printing June 28.
At a forum earlier this year, lab Director Thom Mason talked about how the lab conducts computer simulations based on data gleaned from the 1,000 explosive nuclear tests.
Some older plutonium pits — the explosive cores that detonate warheads — are checked to ensure they haven't deteriorated, Mason said. He didn't say whether the lab does that work.
A common test is to create a small burst that doesn't cause a nuclear chain reaction in a weapon — known as criticality — but is strong enough to gauge its components.
Mason said the day might come when explosive nuclear tests resume, but he didn't indicate whether he approved of the idea.
Democratic presidential candidate Joe Biden in a statement called the White House's discussion to bring back underground nuclear testing "reckless" and "irresponsible." The tests would have a destabilizing effect politically throughout the world, Biden said.
Bell said the best way to stop countries like China and Russia from doing any tests is to give the full teeth to the Comprehensive Test Ban Treaty.
Drafted in 1996, 184 countries have signed it, including the U.S. However, the U.S. is among the eight countries that must ratify it before it is enacted.
National labs and top military officials are required every year to ensure the safety and effectiveness of the nuclear stockpile without explosive testing. However, the Energy Department's 2020 stockpile stewardship plan contains language that suggests it is ready to return to such testing if necessary.
Many nuclear tests were conducted both above and below ground at the Nevada Test Site, which changed its name in 2010 to the Nevada National Security Site.
One anti-nuclear activist said it was ironic the White House is contemplating a return to nuclear testing as the 75th anniversary of the Trinity Site blast approaches.
Trinity is the code name of the first atomic bomb test. The detonation took place July 16, 1945, near a Southern New Mexico military base.
"It's just mind-blowing for me that we're considering starting some level of testing again when we haven't even cleaned up or taken care of the mess that developed out of all the testing that was done in the '40s, '50s and '60s," said Tina Cordova of the Tularosa Basin Downwinders Consortium. "I want to know which community is going to say, 'It's OK to do this in my backyard.' "
Underground testing has fewer environmental impacts, but there is still harm that's done with blasts and radiation of that magnitude, Cordova said.
"They tell you [it's] safe, until it's not, and then it's catastrophic," she said.