From Tri-Valley CAREs: On NIF, Nuclear Weapons and Fusion Hype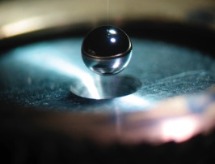 "On December 13, the Department of Energy (DOE) and Livermore Lab held a press conference and, with maximum hoopla, announced that an experiment at the National Ignition Facility earlier that month had achieved fusion "ignition".
Physicist MV Ramana, who is currently with the University of British Columbia and was previously at Princeton's Nuclear Futures Laboratory and its Program on Science and Global Security, wrote this article for a science and tech magazine.  For more information on what did and did not happen at NIF, we highly recommend it:"
Clean Energy or Weapons? What the 'Breakthrough' in Nuclear Fusion Really Means
SCIENCE – THE WIRE | December 19, 2022 science.thewire.in
On December 13, the US Department of Energy announced that the National Ignition Facility had reached a "milestone": the achievement of "ignition" in nuclear fusion earlier in the month.
While the step has been described as a milestone in clean energy, generating electricity commercially or at an industrial scale through fusion is likely unattainable in any realistic sense – at least within the lifetimes of most readers of this article.
The main utility that the facility offers nuclear weapons designers and planners is by providing a greater understanding of the underlying science and modernizing these weapons.
---
The Guardian [Letters]: Nuclear fusion 'holy grail' is not the answer to our energy prayers
Dr Mark Diesendorf questions the claim that nuclear fusion is safe and clean, while Dr Chris Cragg suspects true fusion power is a long way off. Plus letters from Dick Willis and Martin O'Donovan
"It is great news that scientists have succeeded in getting more energy out of fusion than they put in. It brings to mind a quote from a past director of the Central Electricity Generating Board: 'One day you may get more energy out of nuclear fusion than you put in, but you will never get more money out than you put in.'" – Martin O'Donovan (Ashtead, Surrey)
THE GUARDIAN: LETTERS | December 19, 2022 theguardian.com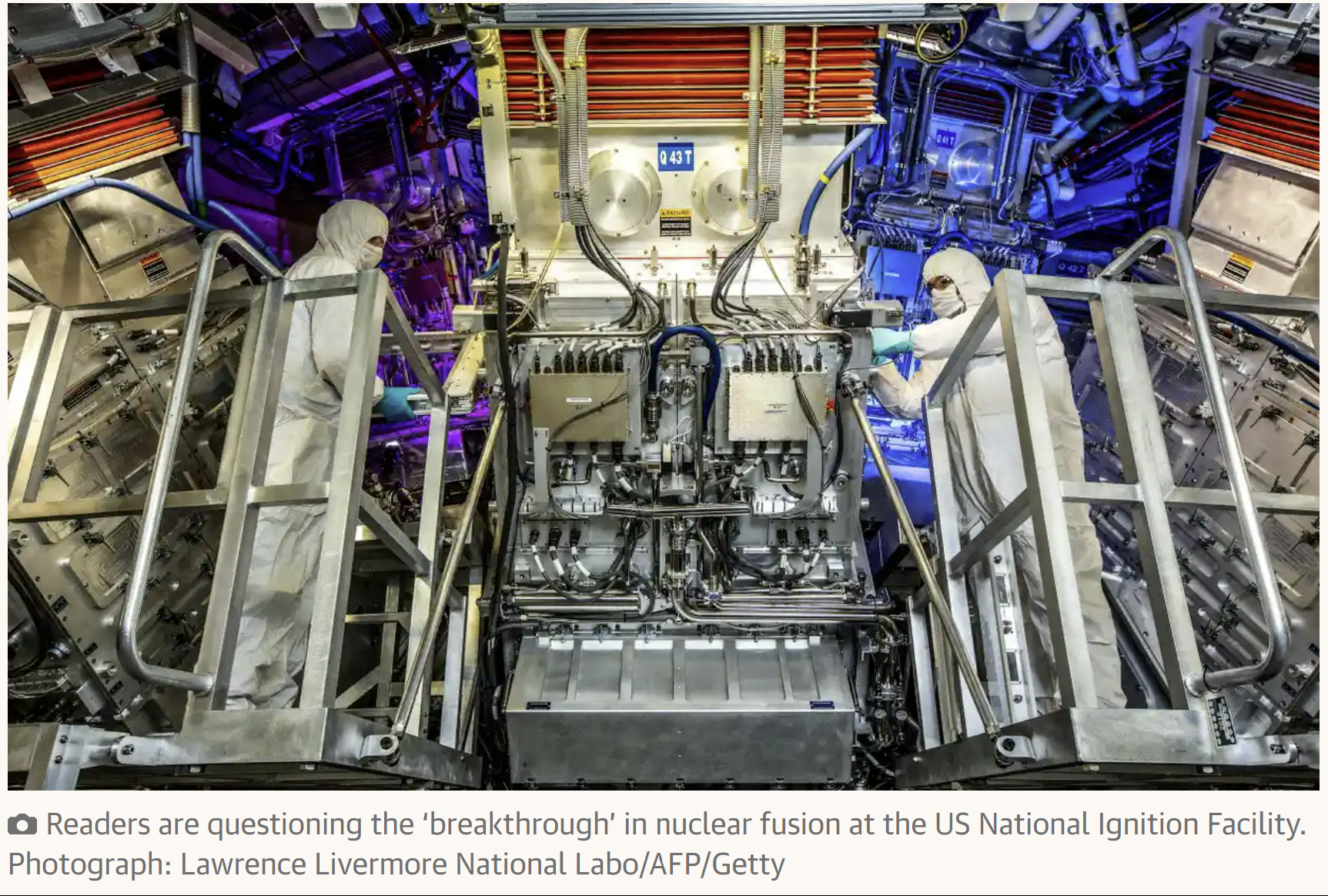 You report on the alleged "breakthrough" on nuclear fusion, in which US researchers claim that break-even has been achieved (Breakthrough in nuclear fusion could mean 'near-limitless energy', 12 December). To go from break-even, where energy output is greater than total energy input, to a commercial nuclear fusion reactor could take at least 25 years. By then, the whole world could be powered by safe and clean renewable energy, primarily solar and wind.
The claim by the researchers that nuclear fusion is safe and clean is incorrect. Laser fusion, particularly as a component of a fission-fusion hybrid reactor, can produce neutrons that can be used to produce the nuclear explosives plutonium-239, uranium-235 and uranium-233. It could also produce tritium, a form of heavy hydrogen, which is used to boost the explosive power of a fission explosion, making fission bombs smaller and hence more suitable for use in missile warheads. This information is available in open research literature.
The US National Ignition Facility, which did the research, is part of the Lawrence Livermore National Laboratory, which has a history of involvement with nuclear weaponry.
Dr Mark Diesendorf
University of New South Wales