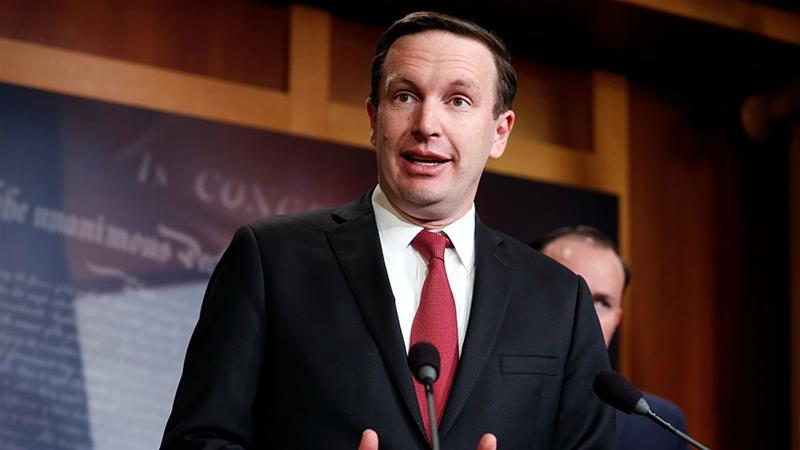 Democrats warn Trump may use 'emergency' loophole to sell missiles to Saudi Arabia without congressional approval.
WILLIAM ROBERTS | aljazeera.com
Washington, DC – Democrats in the United States Senate have warned that the Trump administration is preparing to approve a major new arms sale to Saudi Arabia, using an "emergency" loophole to bypass Congress.
"I am expecting that the administration is going to notice a major arms sale through emergency powers," Senator Chris Murphy, a Democrat, told Al Jazeera on Thursday, after he said an administration official gave the Senate Foreign Relations Committee "informal notice" of the forthcoming announcement.
US arms control law allows Congress to reject weapons sales to foreign countries but an exemption in the law allows the president to waive the need for congressional approval by declaring a national security emergency.
The White House referred requests for comment to the State Department. The State Department referred Al Jazeera to a department spokeswoman's comments to reporters on Wednesday in which she said, "We do not comment to confirm or deny potential arms sales for transfers until Congress is formally notified."
"My guess is that if they are declaring an emergency it has to do with Iran but there is no new emergency inside Yemen, there is no new emergency why Saudi Arabia needs precision-guided missiles," Murphy said. Tensions between Iran and the US mounted this month, a year after Trump pulled the US out of the landmark 2015 nuclear deal in which Iran agreed to curb its nuclear programme in exchange for sanctions relief.
'Terrible mistake'
Senator Bob Menendez, the top Democrat on the Senate Foreign Relations Committee who has previously blocked missile sales to Saudi Arabia and the United Arab Emirates, warned the administration would be making "a terrible mistake".
In a statement, Menendez said he would "pursue all appropriate legislative and other means to nullify" the planned sale and he warned US weapons makers could be subject to criminal and civil penalties if they export weapons under "potentially invalid licenses".
Calling Saudi Arabia "one of the worst human rights abusers in the world", Menendez said the US's reputation would suffer from "delivering deadly weapons to governments that clearly intend to misuse them".
The munitions the Trump administration wants to sell are precision-guided missiles fired from combat aircraft that Saudi Arabia and UAE jets have used previously in Yemen, causing civilian deaths, senators said.
The dispute with senators over arms sales comes amid a broader divergence between Congress and the Trump administration over the handling of the US strategic relationship with Saudi Arabia.
Congress would be very unlikely to give approval to any arms sale to Saudi Arabia that may be linked to civilian deaths in Yemen. Earlier this year, the House and Senate approved a resolution that would have ended US involvement in the Saudi-UAE war in Yemen. Trump vetoed the measure and Congress failed to muster sufficient votes to override the president.
Members of Congress have also been outraged over the murder Saudi writer Jamal Khashoggi, who was killed last October in the Saudi consulate in Turkey.
US intelligence has concluded that Saudi Crown Prince Mohammed bin Salman ordered the murder, a conclusion the kingdom denies.
The potential arms sales "is very much of a concern because we have not seen the administration take significant action with respect to the Khashoggi murder," Democratic Senator Tim Kaine told Al Jazeera.
"And the administration has been approving Part 810 transfers of nuclear know-how to the Saudis without informing Congress, which is completely contrary to previous precedent," Kaine said.
The Trump White House and Department of Energy have approved secret licences for a number of US nuclear power companies to share information with Saudi Arabia which is pursuing plans to build civilian nuclear power plants, according to a February report by the House Oversight and Reform Committee.
'Very concerned'
Arms control advocates fear that without strong international safeguards, a Saudi nuclear power programme would be used by Riyadh as a cover for developing nuclear weapons.
"When you put those things together with additional reporting of Saudi development of missile programmes and things like that, we are very, very concerned about what they are doing," Kaine said.
Senator Lindsey Graham, a Republican, said the Trump administration should not pursue the arms deal "right now".
"I am not going to do business as usual with the Saudis until we have a better reckoning of the MBS situation," Graham told Al Jazeera.
Under the Arms Control Act of 1976, Congress requires presidents to notify it of any pending arms sale, and in the case of sales to the Middle East to certify that any shipments would not adversely affect Israel's qualitative military advantage over its regional neighbours. Congress can block any arms sale simply by passing a resolution of disapproval.