Controversy continues to brew following revelations of repeated shoreline collapses into the Detroit River of a property contaminated with uranium, PCBs and other dangerous chemicals from an abandoned Manhattan Project contract facility in Detroit, Michigan.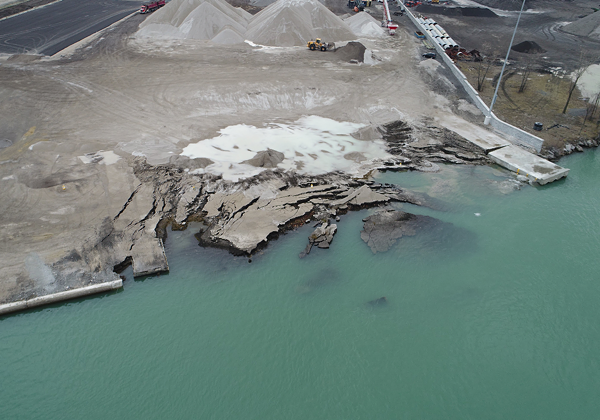 The most recent collapse into the river occurred on November 26 or 27, 2019 but was not reported until a week later with a tip off to the Windsor Star newspaper just across the river in Canada. A previous collapse into the river occurred in October 2011 did not apparently result in remediations. The old Revere Copper and Brass site, now known as Detroit Bulk Storage, was used in the 1940s to process more than a thousand tons of uranium that was rolled into fuel rods to make the fissionable material for the first atomic bombs at the end of World War II. The facility continued to operate as part of the nation's atomic bomb assembly line well into the 1950s before winding down and eventually abandoned in 1984. It is considered just one of hundreds of nuclear weapons contractor sites that make up America's forgotten nuclear "waste land."
Of public concern, a 2011 assessment by the U.S. National Institute for Occupational Safety and Health  concluded the "potential exists for significant residual radiation" in the contaminated earth under the Revere Copper and Brass facility. Since the 2019 collapse, the Michigan Department of Environment, Great Lakes and Energy (EGLE) has been surveying the site  by taking radiation measurements in and around the broken ground and water samples from the Detroit River. All of the measurements are reporting "normal" radiation levels. These measurements do not reveal what might have been in the water more than a week earlier before the plume was carried down river.  Nevertheless, the international community on both sides of the Detroit Riveris remains disturbed that the November collapse went unnoticed and downriver communities were not alerted for seven days.  Both Detroit and Windsor have municipal drinking water intake and treatment facilities in proximity to the contaminated site but there are no real time radiation monitoring systems at the intakes that could alert public health officials.
Local environmentalists are pointing out that these recurring avalanches disturb river sediment and resuspend uranium and other hazardous materials into the river water.
The State of Michigan's top drinking water protection official is offering assurance that the state is doing everything it can to safeguard public health. However, the obvious protective actions should be focusing on remediation of the contamination at the abandoned Revere Copper and Brass site.  State and Federal officials are meeting with Michigan residents already outraged and frigthened by the mass poisoning of the City of Flint, Michigan's drinking water system with another heavy metal, lead.