To mark the International Day for the Total Elimination of Nuclear Weapons, September 26, Veterans For Peace is publishing an Open Letter to President Biden: Just Say NO to Nuclear War!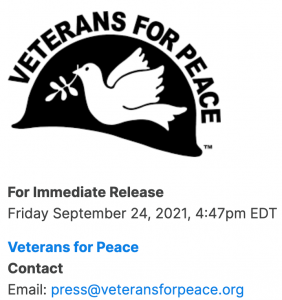 ST. LOUIS, MO –
Veterans For Peace, with over 140 chapters in the United States and affiliates abroad, is calling on President Biden to step back from the brink of nuclear war by declaring and implementing a policy of No First Use and by taking nuclear weapons off hair-trigger alert. The full letter will be published on the VFP website and offered to mainstream newspapers and alternative news sites: Click here to view.
While timed to coincide with the UN-declared International Day for the Total Elimination of Nuclear Weapons, a major motivation for the letter is the Nuclear Posture Review, currently underway.
The letter therefore states, "As veterans who have fought in multiple U.S. wars, we are concerned about the very real danger of a nuclear war that would kill millions of people and could possibly even destroy human civilization. Therefore we are asking to have input into the Nuclear Posture Review that your administration has recently initiated."
The letter goes on to raise questions about the lack of transparency regarding the composition of the Nuclear Posture Review team. Retired Marine Corps Major Kenneth Mayers, part of VFP's Nuclear Abolition Working Group that drafted the letter, says, "These concerns have been intensified by a 9/23/21 Washington Post report stating, 'The Defense Department has removed a top political appointee in charge of nuclear policy from her position, prompting concern among disarmament advocates that the Pentagon is sidelining those with less hawkish views as the Biden administration develops its official policy on nuclear weapons.'"
After urging the President to take 10 steps toward the total elimination of nuclear weapons, the letter closes with the following statement:
It will be a real leap forward for transparency and for our democracy if representatives of peace and disarmament NGO's are given access to this critically important process. We represent millions of people who want nothing more than to see the United States make a dramatic "Pivot to Peace." What better place to start than to step back from the brink of nuclear war? The Billions of U.S. tax dollars saved could be applied to the very real national security threats of the Climate Crisis and the Covid-19 pandemic. What better legacy for the Biden Administration than to begin a process that could lead to worldwide nuclear disarmament!
###
Veterans For Peace is a global organization of Military Veterans and allies whose collective efforts are to build a culture of peace by using our experiences and lifting our voices. We inform the public of the true causes of war and the enormous costs of wars, with an obligation to heal the wounds of wars. Our network is comprised of over 140 chapters worldwide whose work includes: educating the public, advocating for a dismantling of the war economy, providing services that assist veterans and victims of war, and most significantly, working to end all wars.