"Counting on luck is not a winning strategy," – Santa Fe Archbishop John Wester.
By Nathan Brown [email protected] THE SANTA FE NEW MEXICAN | July 16, 2023 santafenewmexican.com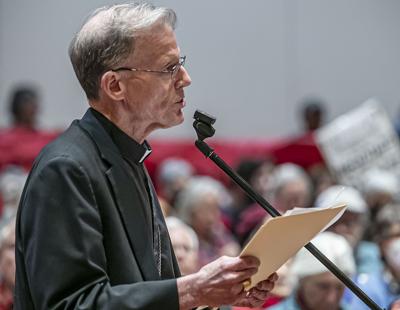 On July 16, 1945, the world was changed forever by a flash in the New Mexico desert.
The state's link to that fateful day — from the builders of the first atomic bomb, to its 1945 detonation in a test at Trinity Site, to the victims of contamination decades later — gives New Mexico a special responsibility to lead the way to a peaceful future free of nuclear weapons, Archbishop of Santa Fe John Wester said Sunday afternoon…
…Seventy-eight years after the device was exploded in a test north of Alamogordo, its reverberations are still being felt. Wester has made nuclear disarmament one of his key causes. He and representatives of other faiths and anti-nuclear groups organized a prayer and remembrance ceremony Sunday afternoon at the Santa María de la Paz Community Hall on the anniversary of the Trinity test north of Alamogordo and a 1979 uranium mill spill near Church Rock.
"These are two examples of nuclear colonialism in rural New Mexican communities and what makes today such a politically and emotionally charged day," said Myrriah Gómez, author of Nuclear Nuevo México, a book that examines the state's nuclear history in the context of the Spanish and American colonialism that preceded it.
Gómez said the national laboratories that employ so many New Mexicans could be repurposed to discover cures for diseases such as cancer and Alzheimer's.