"The former vice president said the largest readiness issue facing the military is America's strained relationship with NATO. "They're worried as hell about our failure to confront Russia diplomatically or other ways, and worried about 'America First' meaning 'America Alone,'" he said."
By: STEVE BEYNON | STARS AND STRIPES/ stripes.com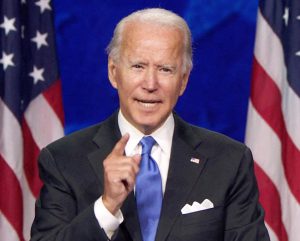 WASHINGTON — Former Vice President Joe Biden said Thursday that he supports drawing down troops in the Middle East but if elected president would keep a small force there to prevent extremists from posing a threat to the United States and its allies.
"These 'forever wars' have to end. I support drawing down the troops. But here's the problem, we still have to worry about terrorism and [the Islamic State]," Biden told Stars and Stripes in a telephone interview.
He also said he does not foresee major reductions in the U.S. defense budget as the military refocuses its attention to potential threats from "near-peer" powers such as China and Russia.
Stars and Stripes has also requested an interview with President Donald Trump.
Biden spoke a day after Gen. Frank McKenzie, commander of U.S. Central Command, said that the U.S. plans to cut the troop level in Iraq from 5,200 to 3,000 by the end of the month.
He said the force in Afghanistan will drop from about 8,600 to 4,500 by November, as President Trump seeks to fulfill a key campaign promise to end "endless wars."
Biden said conditions in Syria, Afghanistan and Iraq are so complicated that he cannot promise full withdrawal of troops in the near future.
However, he supports a small U.S. military footprint whose primary mission would be to facilitate special operations against the Islamic State, or ISIS, and other terror organizations.
"I think we need special ops capacity to coordinate with our allies," Biden said, adding there should be a maximum of "1,500 to 2,000" on the ground, a smaller force that what he would likely inherit from Trump.
However, Biden said the military should not meddle in the political dynamics of the countries where they operate. He said U.S. forces must be able to coordinate with allies to train and lead to "take out terrorist groups who are going to continue to emerge."
President Barack Obama, whom Biden served as vice president, abandoned efforts to maintain a military presence in Iraq after the end of major fighting. Obama removed all U.S. troops in 2011, a move critics said contributed to the rise of the Islamic State.
Despite the ongoing operations abroad, the pandemic at home, and increased government spending, Biden does not foresee major cuts to the Pentagon budget.
In fact, he said defense spending could increase in a Biden Administration.
"I don't think [budget cuts] are inevitable, but we need priorities in the budget," Biden said.
Republicans have long accused the Democrats of hollowing out the military through Obama era spending cuts, due in part to a bipartisan system of mandatory budget cuts known as "sequestration."
"Rebuilding the military" through spending increases has been hailed by the Republicans as a major achievement of the Trump Administration.
Biden said, however, that the Defense Department desperately needs to innovate in emerging technology such as beefing up its cyberwarfare capabilities and unmanned aircraft.
"We have to focus more on unmanned capacity, cyber and IT, in a very modern world that is changing rapidly," Biden said. "I've met with a number of my advisors and some have suggested in certain areas the budget is going to have to be increased."
Should he become commander in chief, Biden said he would press for an inclusive military able to maintain its dominant position as the world's most powerful force.
He has vowed to better equip the National Guard, which often trains and deploys with outdated equipment and has said transgender people should be able to openly serve in the military.
The former vice president said the largest readiness issue facing the military is America's strained relationship with NATO. "They're worried as hell about our failure to confront Russia diplomatically or other ways, and worried about 'America First' meaning 'America Alone,'" he said.
"First thing I'm going to have to do, and I'm not joking: if elected I'm going to have to get on the phone with the heads of state and say America's back, you can count on us."