Decommissioned Reactors OK-ed for Landfills in Big Gift to Nuclear Industry
By: Jeff Ruch & Kirsten Stade | peer.org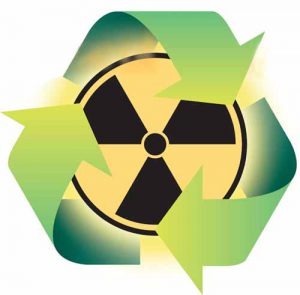 Washington, DC —The Nuclear Regulatory Commission is finalizing a year-long drive to functionally deregulate disposal of massive amounts of radioactive waste. NRC's  plan would allow commercial nuclear reactors to dump virtually all their radioactive waste, except spent fuel, in local garbage landfills, which are designed for household trash not rad-waste,  according to comments filed today by Public Employees for Environmental Responsibility (PEER).
Today marks the end of public comments for an NRC "interpretative rulemaking" that would, in effect, abrogate longstanding requirements that virtually all such waste must be disposed of in licensed radioactive waste sites meeting detailed safety standards and subject to NRC inspection and enforcement.  Instead, NRC would grant generic exemptions for unlicensed waste handlers.
NRC declares its "intent" that these newly exempt disposal sites would be limited to "very low-level radioactive wastes" – a term undefined by statute – which NRC considers to be "below 25 millirem per year."  Yet, NRC's definition would allow public exposure to the equivalent to more than 900 chest X-rays over a lifetime, create a cancer risk twenty times higher than the Environmental Protection Agency's acceptable risk range, thousands of times the risk goal for Superfund sites, or enough radiation to cause every 500th person exposed to get cancer.
"Once an exempt entity accepts radioactive waste, it enters a regulatory black hole, with no one  accountable for it," stated PEER Pacific Director Jeff Ruch, pointing out that NRC's plan eliminates the need for radiation monitoring, health physics personnel, design standards, and NRC inspections – all now required of licensed operators.  "Unlicensed radioactive waste dumps could operate in ways that endanger communities free from any NRC oversight."
NRC's cryptic justification merely indicates that the plan "would provide an efficient means by which the NRC may issue specific exemptions for disposal" but ignores impacts that would –
Transform many municipal dumps into radioactive repositories, with no safeguards for workers, nearby residents, or adjoining water tables;
Allow unlicensed radioactive waste dumps to expose the public to 2.5 times higher levels of radiation than the NRC now allows for licensed low-level radioactive waste sites, thus creating a strong incentive to send all the radioactive waste to unlicensed dumps; and
Eliminate the public's ability to find out radioactive waste is being dumped near them.
At present, the U.S. has 104 commercial nuclear power plants, many of which are beginning, or will soon start, the decommissioning process.  Removing the need for licensed sites to handle the staggering amounts of debris from old reactors would be a major cost savings for that industry.
"NRC's deregulation will make it nearly impossible to trace recycled radioactive waste flowing through the stream of American commerce," added Ruch, noting that it may also create a market for the U.S. to import radioactive waste for cheaper disposal. "This plan would plunge the U.S. into the wild, wild West of radioactive waste disposal, on a par with a Third World nation."
###