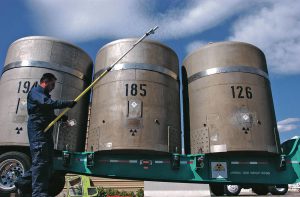 Albuquerque Journal
By Mark Oswald / Journal Staff Writer
Sunday, January 13th, 2019 at 12:01am
U.S. Sen. Tom Udall is encouraging Gov. Michelle Lujan Grisham's new administration to reconsider a state government decision made just before she took office Jan. 1 that changes how radioactive waste volume is measured at the Waste Isolation Pilot Plant, in effect allowing more waste to placed in the underground repository near Carlsbad.
Udall said last week that limits on how much waste WIPP can hold were critical to federal-state negotiations that led to WIPP's creation "and were a major reason New Mexico agreed to this mission in the first place."
"I am encouraging the new administration to take a hard look at this action, and hopeful that it will pause and reconsider this last-minute change that has major ramifications for our state," the senator said in an email statement.
The controversial state permit modification for WIPP, approved by then-New Mexico Environment Department Secretary Butch Tongate on Dec. 21, changes the way waste volume is calculated to exclude empty space inside waste packaging. With the alteration, WIPP becomes only about a third full instead of 50 percent full.
And there have been indications that the federal Department of Energy – which oversees the nation's nuclear weapons operations – wants to bring new kinds of waste to WIPP, which the additional space could accommodate. That's one reason activists opposed the volume calculation change.
In May, DOE Secretary Rick Perry said in a letter to a key member of the U.S. Senate Armed Services Committee that 34 tons of excess weapons-grade plutonium was headed to WIPP. Perry at the time was pulling the plug on a troubled, costly and long-delayed effort at the DOE's Savannah River Site in South Carolina turn the plutonium into fuel rods for nuclear power plants.
Perry confirmed that DOE is removing plutonium from South Carolina, adding, "We are currently processing plutonium for shipment to the Waste Isolation Pilot Plant and intend to continue to do so."
"I certify that the Department will work with the state of New Mexico to address the capacity issues related to receipt of the full 34 metric tons at WIPP," Perry wrote in his letter to U.S. Sen. Deb Fischer, R-Neb.
Udall said at the time he had serious questions about whether there was enough room at WIPP to store additional waste from Savannah River, given "the clear legal limits" in the 1992 federal act creating WIPP that resulted "following a lawsuit New Mexico won against DOE when I served as Attorney General."
Udall added: "If DOE is asking New Mexico to take on additional waste missions beyond what is authorized by current law, unilateral action (by DOE) is absolutely not an option."
WIPP now takes transuranic waste, largely contaminated items and material leftover from plutonium work, including protective clothing. Changing what kind of waste WIPP can hold would require another permit change.
Udall said last week, "If New Mexico is being asked to take on additional waste missions beyond what is authorized by current law, New Mexicans need to have a say – and we should only agree to a new agreement that is in the overall best interest of New Mexico. There needs to be ample time for public input and awareness, and we must ensure that the safety of workers and the public is protected long into the future."
James Kenney is Lujan Grisham's recently dubbed secretary-designate of the state environment department. He said in an interview last week that he needs more time to analyze the previous administration's decision on WIPP volume measurements before speaking on it, but the topic remains "high on (his) list" of priorities.
The change in how the volume of waste is measured came after a request by DOE and WIPP operating and managing contractor Nuclear Waste Partnership, LLC. There was public comment period and a three-day public hearing in Carlsbad.
The plutonium that had been slated for conversion to fuel in South Carolina would likely be first diluted with an inert, cement-like material, essentially turning it into waste, an idea called "dilute and dispose" that was conceived by the Obama administration as cheaper than trying to make the excess weapons plutonium into fuel rods.
Critics like Don Hancock, a WIPP watchdog at the Albuquerque-based Southwest Research and Information Center, have said there's no way WIPP can take all the weapons-grade plutonium under "dilute and dispose," and still make room for all the transuranic waste from Los Alamos National Laboratory and other national labs that it was built for.
But members of the Carlsbad community, including Mayor Dale Janway and city councilors, spoke out in support of the volume measurement change at the public hearing in October, saying it was would just allow a more efficient use of WIPP's space for storing waste from DOE sites.
A consultant for WIPP's operators declined to answer questions at the hearing about whether they wanted to take other kinds of wastes, but emphasized that the permit modification that has since been approved did not include requests for other waste streams or types of waste.
Parties have 30 days to appeal the Martinez administration's decision and groups like Hancock's have said they will continue to fight the permit modification.