An informational meeting on Nov. 20 turned confrontational
ARTICLE BY MELISSA SIMON | simivalleyacorn.com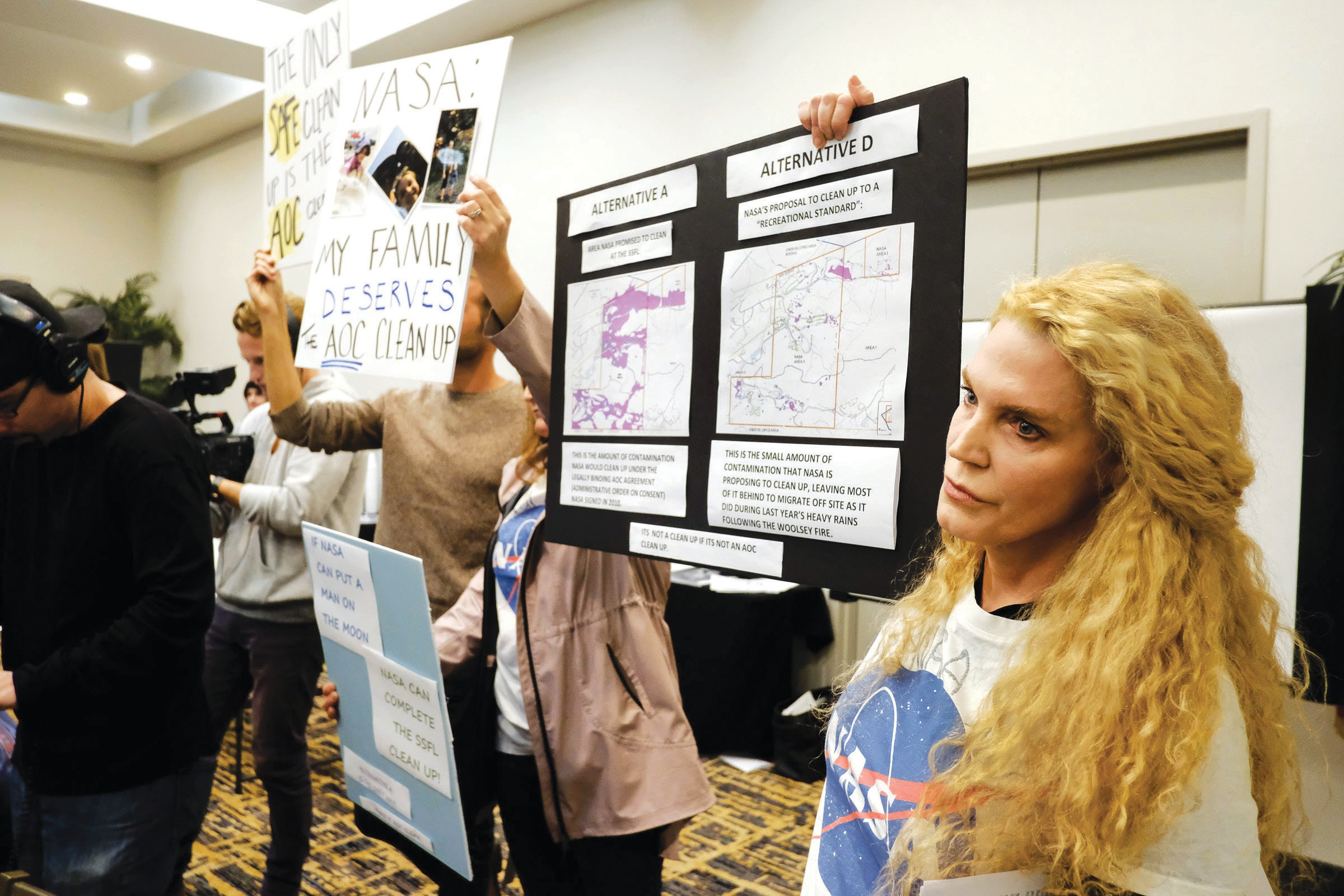 A public meeting regarding the long-delayed cleanup at the Santa Susana Field Lab last week got heated when police were called in to remove one of the activists waiting to give feedback on a recently released environmental impact study.
Dan Hirsch, president of the nonprofit nuclear policy organization Committee to Bridge the Gap, had planned to present a slideshow while giving his three minutes of testimony during a Nov. 20 event held by NASA at Best Western Posada Royale Hotel in Simi Valley. The three-minute time was allotted to anyone who chose to share comments related to the field lab.
But the longtime site cleanup activist said he was met with opposition from NASA officials, who physically tried to block the setup of a projector that he brought with him and then later called police to have him removed from the venue.
The confrontation lasted about 15 minutes, he said. And while he was waiting quietly in line to give his comments, Hirsch said police showed up and asked him to leave voluntarily or he would be charged with trespassing.
"I wasn't going to resist and I did leave voluntarily because I'm not the kind of person that chains myself to a tree or hangs from a banner. I've never done civil disobedience in my life," said Hirsch, a retired director of the Environmental and Nuclear Policy program at UC Santa Cruz.
"NASA was trying to prevent a presentation that would have been damning. As much as I've seen government try to avoid its obligation to public criticism of its proposals, I've never seen a situation where they block you from giving your testimony and then have you removed."
Last week's meeting was one of two held by NASA to collect feedback from the public on its draft supplemental environmental impact statement, which was released Oct. 25 and identifies an additional 370,000 cubic yards of soil at SSFL that must be removed as part of the cleanup.
NASA is responsible for about 450 acres of the 2,850-acre field lab that was used for nuclear energy and rocket engine testing. Boeing Co. owns 2,000 acres of the site, and the U.S. Department of Energy oversees the remaining 400 acres, which includes Area IV where a partial nuclear meltdown occurred in 1959.
Asked about the incident last week, Peter Zorba, NASA's SSFL project director, said the goal of the meeting was to allow anyone who wanted to comment on the supplemental report a place to do so equally and respectfully.
Hirsch's actions, he said, were disruptive and didn't adhere to the open house format, which was clearly outlined in handouts given to attendees when they walked in and was also sent out ahead of time via email to people who receive SSFL updates.
"Security asked (Hirsch) several times to take (the projector) down. He didn't respect that and so Simi police were called to remove him," Zorba said.
"But that was just (one) moment . . . and the remainder of the time we had good dialogue and we were able to connect with community members, even those who don't agree with the (proposed) cleanup."
Simi Valley Police Cmdr. Steve Shorts said at least four officers responded to the hotel and were there for about 20 minutes. The Simi cops assisted two private security officers and one NASA special agent.
"We weren't there for a very long time, but if things had gotten out of control that could have tied up resources that may have been needed elsewhere," Shorts said.
"We're there to help when needed, but the field lab is a hot-button issue and if they're going to potentially have issues, then they should staff (security) accordingly."
Shorts said police were ultimately called in because NASA had rented the space and was therefore in charge of the rules governing the public meeting.
"We didn't witness anything, but some of the people . . . said (Hirsch) was within his rights," the commander said. "We don't know. But because NASA rented the space and wanted him to leave, he would have been trespassing if he didn't."
Despite the disturbance, Zorba said the open house events were productive.
"We realize not everyone shares the same opinion we do, but I think folks were interested to learn what's going on," he said.
Hirsch said he also attended the second meeting held Nov. 21 in West Hills, where he was able to voice his opinion without incident. He said he didn't bring the projector, but there were some activists who wore buttons that said "NASA fact-checker" who stood near the experts to provide their side of the information.
The public comment period for the new environmental study runs through Dec. 9. Statements can be mailed to Zorba at 5800 Woolsey Canyon Road, Canoga Park, CA 91304 or emailed to [email protected].
Moving forward
Contamination at the field lab was supposed to be cleaned up by 2017, but disagreements between responsible agencies and activists over how much site remediation is needed continues to cause delays. Complete cleanup is now estimated to be by 2034.
NASA's supplemental report released last month is the most recent step taken by the agency to keep moving forward with work.
The agency signed an agreement with the California Department of Toxic Substances Control in 2010 committing to certain levels of cleanup. Its recent supplemental report highlights additional soil that will need to be removed from the SSFL property.
"It's not contaminated, but we do have more dirt that needs to be addressed since the 2014 agreement," he said.
But Hirsch said he doesn't believe that. He asserts NASA found more contaminated soil than they were previously aware of and when the agency does settle on its remediation plans, it won't adhere to the 2010 agreement.
"NASA had to do the supplemental because they discovered they created much more contamination than they previously realized," Hirsch said. "Any logical person would think that means more cleanup, but instead they decided to breach the agreement and leave up to 90% not cleaned up."
In response, Zorba said the agency remains fully committed to a safe cleanup based on the best technology.
The final supplemental report outlining the preferred course of action is slated for release in spring or summer 2020.