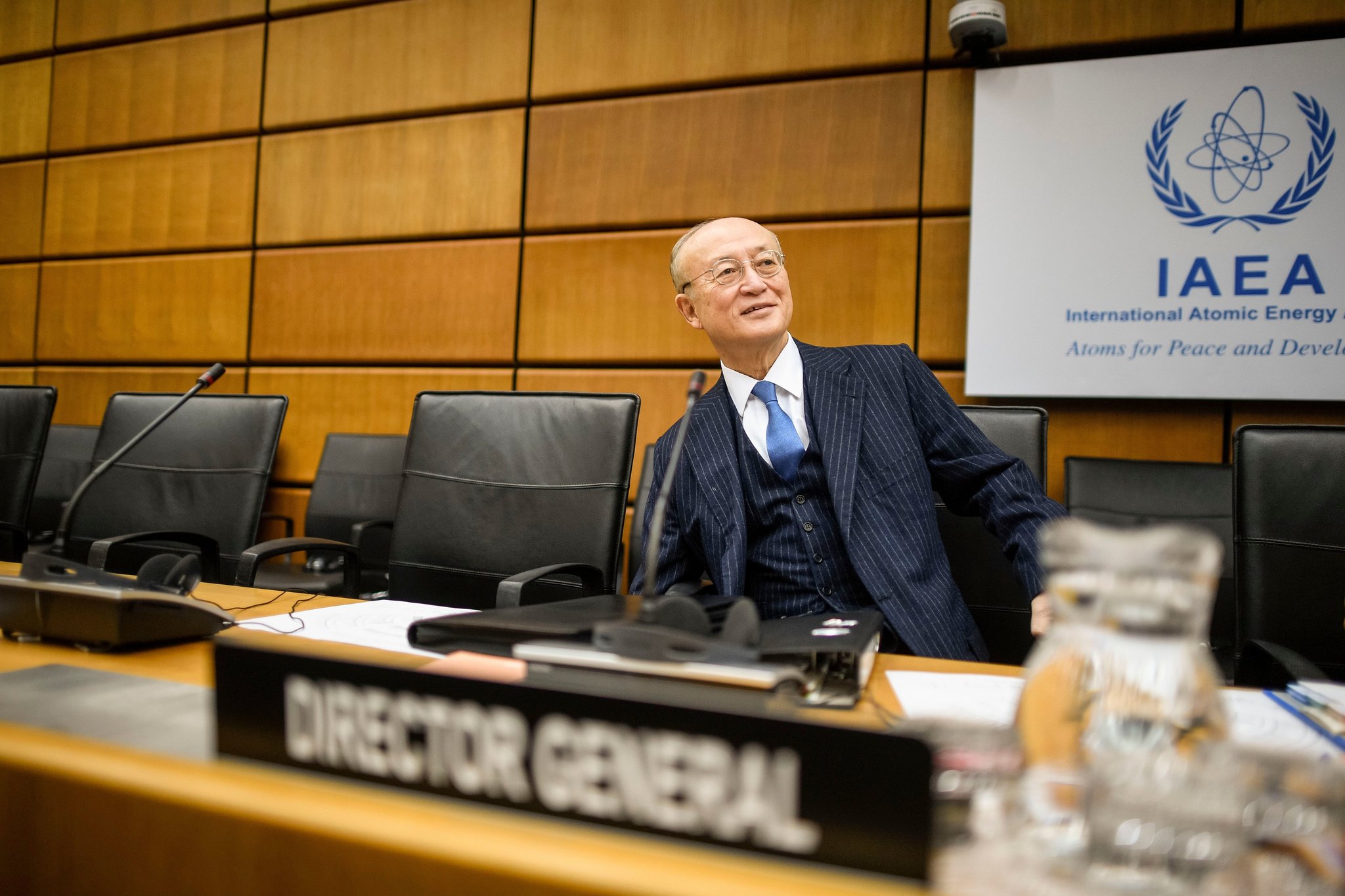 BY MEGAN SPECIA & DAVID E. SANGER | nytimes.com July 22, 2019
Yukiya Amano, a Japanese diplomat who played a central role in inspecting Iran's compliance with the landmark 2015 nuclear deal as the head of the International Atomic Energy Agency in Vienna, has died, the organization announced on Monday. He was 72.
The agency, part of the United Nations, did not cite a cause of death or say when and where he died, but word had begun to spread last week that Mr. Amano had planned to step down from his position as director-general after nearly a decade because of an unspecified illness. He was two years into a third term as the agency's leader.
His death left the agency leaderless at a critical moment: just as Iran is edging away from the nuclear agreement and beginning carefully calibrated violations of the limits on how much nuclear material it can produce, and at what level of purity.
That puts the I.A.E.A., which is still conducting inspections inside Iran, in the position of monitoring how close Iran may be getting to producing a nuclear weapon. Mr. Amano had to maneuver amid the competing pressures of powerful governments, as President Trump pressed for more intrusive inspections and European nations tried to keep the deal together.
At his death, Mr. Amano was engaged in a diplomatic challenge with little or no precedent: He was trying to convince Iran to stay within the strictures of the nuclear deal even though Mr. Trump had abandoned it last year. His effort worked until recent weeks, when Iran began inching away from compliance in order to force Europe to compensate it for American-imposed sanctions on its oil revenues.
Finding a replacement for Mr. Amano will not be easy; large and small powers always struggle over who should run the agency. Mr. Amano was sometimes accused by the Iranians and others of being too solidly in Washington's camp. But in Washington, the Trump administration and critics of the Iran deal — including the Israelis — argued that Mr. Amano was not aggressive enough in demanding access to suspected nuclear sites and that he too easily accepted Iranian declarations about the history of its nuclear program.
At his death, however, even some of the I.A.E.A.'s critics inside the Trump administration praised Mr. Amano's efforts to navigate some of the world's most perilous nuclear politics. John Bolton, for one, President Trump's national security adviser, said in a statement that Mr. Amano's death was a "great loss for Japan, the United States, and to many, many people from around the world."
Even the Iranians said they mourned the man with whom they had argued with over what the agency could inspect and what they thought was off-limits. Seyed Abbas Araghchi, Iran's deputy foreign minister and a negotiator on the nuclear deal, said on Twitter on Monday that he had worked closely with Mr. Amano.
"I commend his skillful & professional performance," as the head of the agency, Mr. Araghchi wrote.
Fluent in English and French, Mr. Amano often showed that he was in full command of both the technical details of producing nuclear fuel and the politics of keeping that fuel from being turned into nuclear weapons.
But reserved and discreet, he, like many a Japanese diplomat, seemed careful not to make news, suggesting that he was more at home in back rooms.
"This is not a job in which making public demands is often very productive,'' he said in an interview in 2016. "If you are going to get into an argument with a country that may be thinking of building nuclear weapons, it's best not to make them feel in a corner."
Born in 1947 in Yugawara, Japan, an area southwest of Tokyo known for its hot springs, Mr. Amano was a product of the postwar generation that was intent on rebuilding a destroyed country — and traumatized by the destruction of Hiroshima and Nagasaki. The specter of those attacks, two years before his birth, drove Mr. Amano to a life of diplomacy, he often said.
He joined the Ministry of Foreign Affairs in 1972, as soon as he had graduated from the University of Tokyo, which feeds the ministry future diplomats. He was posted in Laos, Brussels and Washington, but his focus was on disarmament issues.
Ichiro Fujisaki, a former Japanese ambassador to the United States, recalled Mr. Amano as "eager to learn everything."
Mr. Fujisaki said that when Mr. Amano was Japan's permanent representative to international organizations in Vienna, he had visited Geneva, where Mr. Fujisaki was then a diplomat. Mr. Amano had learned ballroom dancing and said that he had been invited to compete in the European Championship, Mr. Fujisaki recalled. But Mr. Amano decided not to take part because he didn't want anyone in Tokyo "to think that he was not concentrating on the job," Mr. Fujisaki said.
In rising to lead the I.A.E.A., Mr. Amano emerged as the compromise candidate to succeed the more fiery Mohamed El Baradei of Egypt, who had crossed swords with Washington over its faulty intelligence on Iraq's nuclear weapons ambitions. Mr. Amano was the first Asian diplomat to hold the director-general's job.
In 2011, after an earthquake and tsunami destroyed a Japanese nuclear reactor and began to spread radiation, making nearby towns uninhabitable, Mr. Amano found himself in the unusual position of calling out his own government for responding too slowly and failing to level with the Japanese people about the severity of the accident.
Historians have concluded that Japan badly mishandled the incident and hid many of the worst details.
Mr. Amano re-emerged at the center of diplomacy in the summer of 2015, when John Kerry, then the secretary of state, and his Iranian counterpart, Mohammad Javad Zarif, were closing in on what became the complex agreement to allow Iran to enrich small amounts of uranium but not enough to produce a weapon.
The arrangement hinged on Mr. Amano's ability to enforce inspection provisions, providing the raw data to assure that Iran was in compliance and that it would take more than a year for the country to amass enough nuclear material to make a bomb. He did so, and inspectors remain to this day.
But his critics said that when Iran submitted an account of its past nuclear activity, he let them whitewash history — an allegation reinforced by documents that Israel stole from an Iranian nuclear archive last year, showing that the Iran had worked on weapons designs through 2003.
Mr. Amano's own report said that those efforts had continued, in smaller ways, through 2009.
He died before he could tackle what he often said would be the hardest problem: verifying that North Korea was dismantling its nuclear complex. During his tenure, Mr. Amano established a team to prepare for the resumption of I.A.E.A. inspections in North Korea if an agreement were reached between Washington and Pyongyang. But while President Trump heralded his agreement with Kim Jong-un in Singapore last year, and predicted rapid action, Mr. Amano's team has yet to be invited back into North Korea.
Karin Kneissl, a former foreign minister of Austria, praised Mr. Amano's for continuing his "sober and professional" approach to his work at the I.A.E.A. even after the American withdrawal from the Iran agreement had created the current climate of animosity between Washington and Tehran.
With the agency acting as "the guardian of this agreement," as she put it, maintaining a technical approach rather than getting involved in the politics of the matter was crucial.
---
Motoko Rich and Makiko Inoue contributed reporting.
A version of this article appears in print on , Section A, Page 24 of the New York edition with the headline: Yukiya Amano, 72, Head Of Global Nuclear Monitor.
Original article: nytimes.com