The two atomic bombs dropped on Japan in 1945 killed and maimed hundreds of thousands of people, and their effects are still being felt today.
By the end of 1945, the bombing had killed an estimated 140,000 people in Hiroshima, and a further 74,000 in Nagasaki. In the years that followed, many of the survivors would face leukemia, cancer, or other terrible side effects from the radiation.
"Each person had a name. Each person was loved by someone. Let us ensure that their deaths were not in vain."
- Setsuko Thurlow, survivor of the August 1945 atomic bombing of Hiroshima Nobel Peace Prize acceptance speech, December 2017
The uranium bomb detonated over Hiroshima on 6 August 1945 had an explosive yield equal to 15,000 tonnes of TNT. It razed and burnt around 70 per cent of all buildings and caused an estimated 140,000 deaths by the end of 1945, along with increased rates of cancer and chronic disease among the survivors.
A slightly larger plutonium bomb exploded over Nagasaki three days later levelled 6.7 sq km.  of the city and killed 74,000 people by the end of 1945. Ground temperatures reached 4,000°C and radioactive rain poured down.
Last year, Bloomberg conducted a review of "correspondence between the commission and owners of 60 plants" and made some terrifying discoveries. According to their own risk assessments, "54 of their [60] facilities weren't designed to handle the flood risk they now face."

By: Haley Zaremba / oilprice.com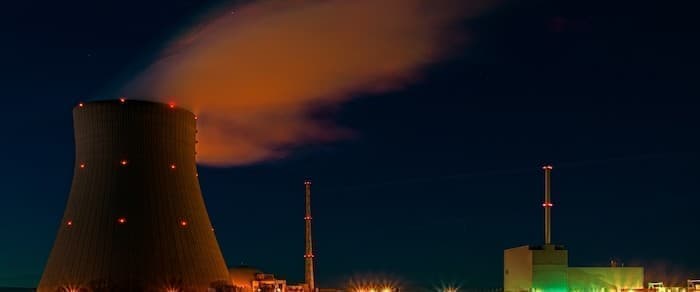 The United States is not only one of the first and foremost nuclear powers of the world, it has also long been the nuclear powerhouse of the planet, being responsible for a whopping two thirds of global nuclear energy production. Domestically, the United States' nuclear power plants account for approximately 20 percent of the nation's total electricity and produce over 50 percent of the entire country's carbon-free energy generation.  But these superlatives, both global and domestic, won't last. As nuclear energy grows around the world, the industry is in deep trouble in the U.S., where the aging nuclear fleet has been battered by a flood of cheap shale oil and natural gas, and is now barely clinging to life thanks to hefty government subsidies and leaving the shockingly high cost of radioactive waste maintenance to the taxpayers.
On August 9, 2020, Dr. Hideko Tamura Snider, author of "One Sunny Day" and "When A Peace Tree Blooms," joined WILPF US Disarm/End Wars Committee and #HiroshimaNagasaki75 in describing her experiences before, during and after the Hiroshima bomb, and appealing to us all, "I depend on all of your energy, please continue what you are doing to rule out violent means, especially this inhumane, horrible weapon…. We are not barbarians, we are humans, and let us be truly and fully human…."
https://youtu.be/KYzuoGuqg34
75th Anniversary Timeline webinars at the WILPF US Disarm Committee YouTube channel – https://bit.ly/wilpfus-disarmyoutube
"Our mission is to stop the arms race…it's a security risk and phenomenally expensive. This has become a business model and it's deadly." – Glenn Carroll, coordinator of Nuclear Watch South

By: GORDON JACKSON / thebrunswicknews.com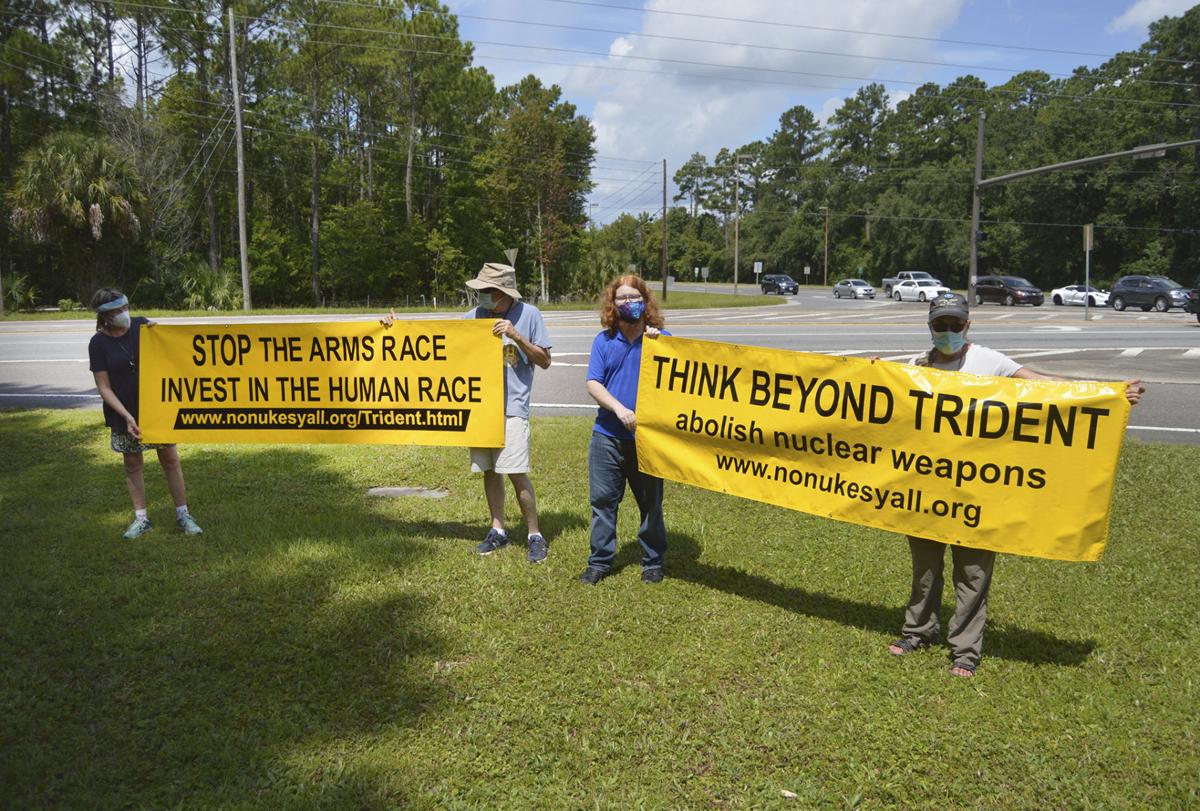 ST. MARYS / Organizers of an annual protest against nuclear weapons at Naval Submarine Base Kings Bay expected a large crowd to commemorate the 75th anniversary of the first atomic bomb dropped on Hiroshima, Japan, to help hasten the end of World War II.
Five people ended up standing outside a base gate Thursday holding signs with anti-nuclear weapons messages.
Glenn Carroll, coordinator of Nuclear Watch South, said the ongoing COVID-19 pandemic compelled many who were planning to attend to stay home for health concerns. But Carroll said her trip from Atlanta to join others with concerns about nuclear weapons Thursday was worth the time.
"Today, all these years later, the Trump administration is much more focused on acquiring new nuclear weapons systems than constraining or eliminating them. And the White House seems all too eager to walk away from the treaties and tools that were built to reduce these weapons' greatest risks."
MONICA MONTGOMERY | thebulletin.org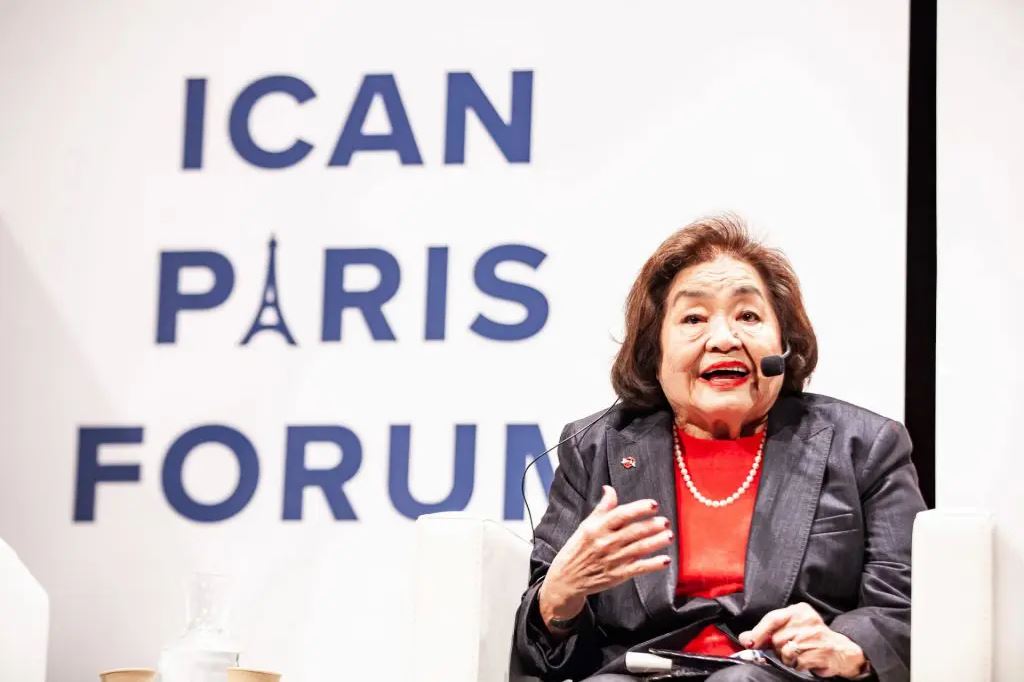 In late February, Adm. Charles Richard, head of US Strategic Command, told a House committee that the innovations going into a new nuclear warhead are what make him "proud to be an American."
He was referring to the W93, a new nuclear warhead that will be used on submarine-launched ballistic missiles and that the Trump administration wants $53 million to start work on this year. While the design and timeline remain unclear, the administration forecasts that the price tag for developing and building this new weapon will reach over $1 billion per year in the next four years. The W93 would join or replace at least three other submarine-launched nuclear warheads that already exist and for which billions already have been and are still being spent to modernize.
Pope Francis calls for a 'world without nuclear weapons' during visit
Pontiff urges disarmament as he tours Japan's atomic bomb sites and meets survivors of the 1945 attacks
ARTICLE BY: JUSTIN MCCURRAY | theguardian.com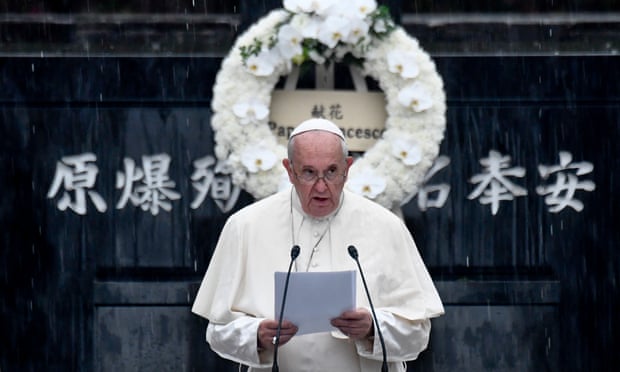 Pope Francis has condemned the "unspeakable horror" of nuclear weapons during a visit to Nagasaki, one of two Japanese cities destroyed by American atomic bombs towards the end of the second world war.
Speaking on the second day of the first papal visit to Japan for 38 years, Francis urged world leaders to end the stockpiling of nuclear weapons, saying it offered their nations a false sense of security.
"Convinced as I am that a world without nuclear weapons is possible and necessary, I ask political leaders not to forget that these weapons cannot protect us from current threats to national and international security," he told hundreds of people at the city's rain-drenched atomic bomb hypocenter park on Sunday.
Earlier, Francis had placed a wreath and prayed at the foot of a memorial to the 74,000 people who died instantly and in the months after the US dropped a nuclear bomb on Nagasaki on 9 August 1945, three days after it had carried out a nuclear attack on Hiroshima, in which 140,000 people died by the end of the year.