Updates
"The coronavirus pandemic demonstrates why we should get cleanup done once and for all," said Jay Coghlan, executive director of Nuclear Watch New Mexico. "What we do as humans ebbs and flows with history, but the radioactive and toxic wastes that we leave behind last longer than our recorded history. We should be acting now."
ARTICLE BY: SUSAN MONTOYA BRIAN | santafenewmexican.com
The U.S. government's efforts to clean up Cold War-era waste from nuclear research and bomb making at federal sites around the country has lumbered along for decades, often at a pace that watchdogs and other critics say threatens public health and the environment.
Now, fallout from the global coronavirus pandemic is resulting in more challenges as the nation's only underground repository for nuclear waste finished ramping down operations Wednesday to keep workers safe.
"I can't understand why this administration does not value cleanup and would risk breaking the legal commitments [the Department of Energy] has made to the state of New Mexico with budget numbers like that," Heinrich said. "Why is the cleanup number so abysmal in this budget?"
ARTICLE BY: SCOTT WYLAND | santafenewmexican.com March 3, 2020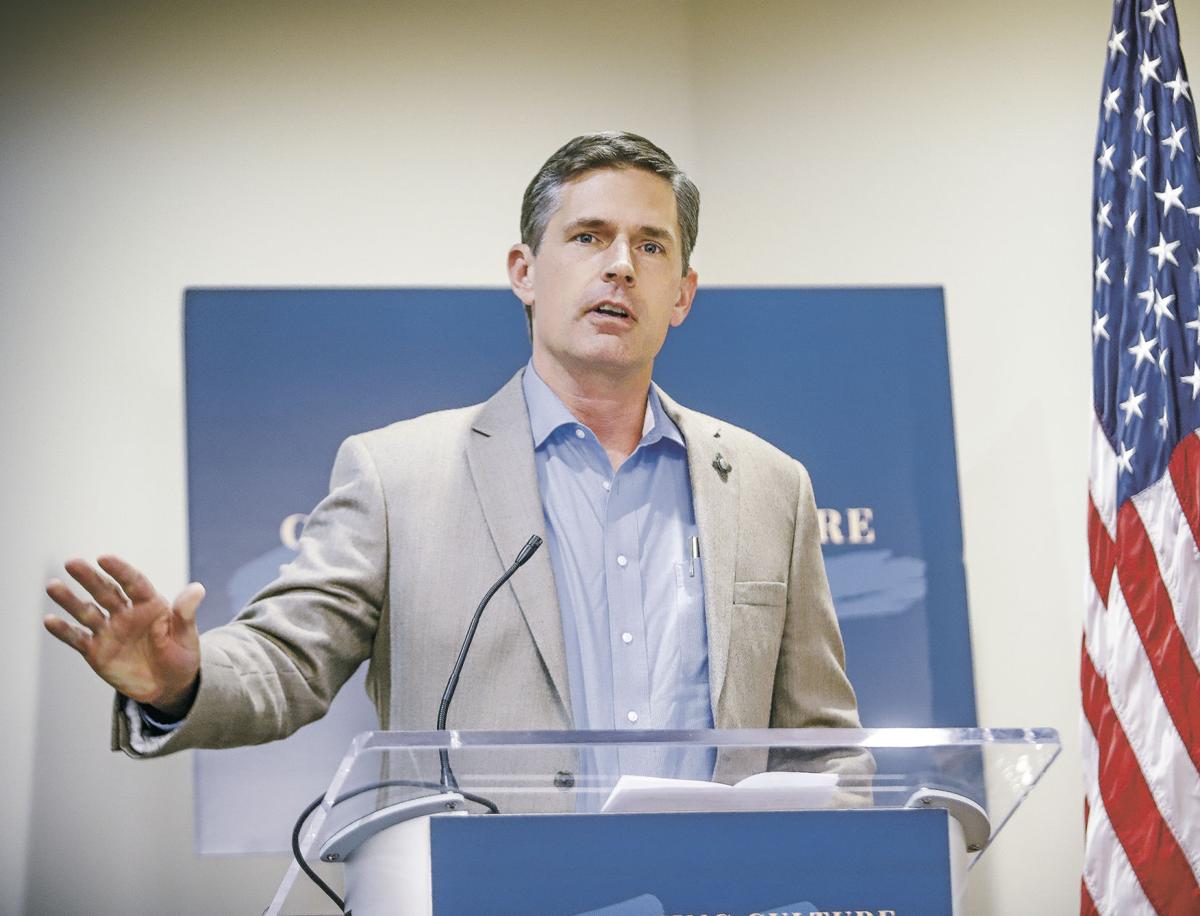 U.S. Sen. Martin Heinrich fired tough questions and caustic comments at Energy Secretary Dan Brouillette on Tuesday over the proposed $100 million cut in Los Alamos National Laboratory's cleanup program for radioactive waste it produced during the Manhattan Project and Cold War.
"To have a 46 percent cut in Los Alamos cleanup is stunning," said Jay Coghlan, executive director of Nuclear Watch New Mexico. "We've got nuclear weapons on steroids and cleanup is the poor stepchild subject to the whims of DOE."
BY: Scott Wyland swyland@sfnewmexican.com Feb 13, 2020 | Santa Fe New Mexican
Los Alamos National Laboratory's long-term environmental cleanup program would be cut by $100 million under the U.S. Energy Department's proposed budget for 2021.
The agency's preliminary "budget in brief" shows a proposed 46 percent reduction in funding for the lab's environmental management, which handles cleanup of legacy waste generated before 1999, including during the Manhattan Project and Cold War.
A mile-long, highly toxic chromium plume under the Sandia and Mortandad canyons and the massive radioactive waste buried in Area G are the results of shoddy disposal that occurred around the lab before environmental regulations were enacted in the 1970s.
Meanwhile, the Energy Department wants to increase spending by 25 percent on nuclear weapons to help meet the Trump administration's goal of having LANL and Savannah River Site in South Carolina produce a combined 80 plutonium pits a year by 2030.

Los Alamos Labs hit with $222,313 fine for safety violations. Meanwhile, clean-up of legacy sites may permanently seal waste in the ground.
BY LEAH CANTOR | sfreporter.com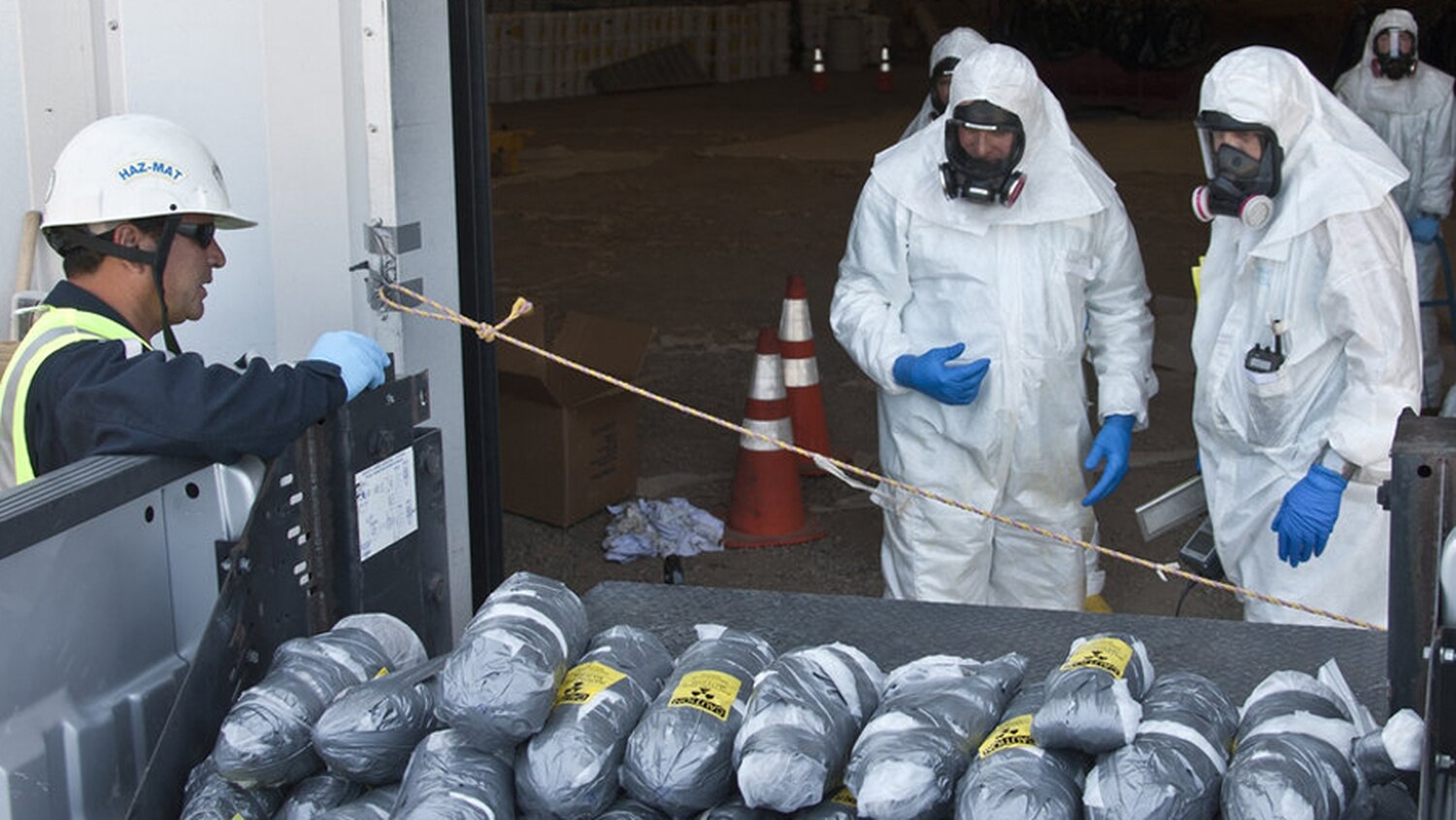 Even as Los Alamos National Labs takes on contracts for new weapons manufacturing, taxpayers are still shelling out for the clean-up costs of contamination dating back to atomic bomb testing. The latest clean-up proposals will likely leave hazardous waste in the ground. Meanwhile, recent hazardous waste safety violations add up to $222,313.
N3B, the company recently contracted by the US Department of Energy to complete a significant portion of remaining clean-up efforts, gave a presentation to the public at the Santa Fe Community College on Thursday as part of a series of community meetings leading up to the process to decide methods for cleaning up several contaminated legacy waste sites around LANL.
…The DOE reported that 1,168 of 2,123 contaminated sites have been cleaned and 10,000 cubic meters of radioactive waste removed, leaving 5,000 cubic meters of waste remaining identified for clean-up. Yet, according to watchdog group Nuke Watch New Mexico, that leaves 690,251 cubic meters of waste permanently buried on-sight in unlined pits and shafts above a regional aquifer that provides drinking water for San Ildefonso Pueblo, Española, Los Alamos and Santa Fe, among other communities. Nuke Watch Executive Director Jay Coghlan tells SFR this number is from analysis of publicly available LANL documents and data.

August 22, 2019
The Department of Energy's (DOE's) Environmental Management Los Alamos (EMLA) field office has repeatedly claimed that "> [i.e., more than] ½ of legacy cleanup has been completed."1 This claim doesn't explain how this is measured. Does it mean ½ of the time, ½ of the cost, ½ of the sites, or ½ of the wastes? However it is measured, New Mexicans need to know that DOE and the Los Alamos National Laboratory (LANL) are NOT talking about real comprehensive cleanup.
When EMLA and its cleanup contractor (N3B) talk about cleanup, they mean specific narrow measures for specific sites, including much paperwork and studies instead of actual cleanup. Contrary to EMLA's self-proclaimed openness and transparency, the claim of greater that half-completed cleanup is based on decisions made without public input to leave the vast majority of radioactive and toxic wastes permanently buried above our precious groundwater.
While some Lab cleanup started in the late 1980s, tracking of the cleanup budget didn't start until 1997, which is the date used as the beginning of "prior costs" in recent DOE Congressional Budget Requests. 2 EMLA's current estimated date for completion of planned cleanup is 2037. That would be 22 years down and 18 to go, if we look at 1997 to 2037, which would be ½ of the time if EMLA completes its planned cleanup by 2037. If decisions are made to remove more wastes, which would be the right thing to do, cleanup could last for decades more while generating 100's of high-paying jobs. Real, comprehensive cleanup would be well worth the wait!
BY MAIRE O'NEILL | losalamosreporter.com
The message was clear at Wednesday evening's Environmental Management Cleanup Forum at Fuller Lodge hosted by the Department of Energy's Environmental Management Los Alamos (EM-LA) Field Office and legacy cleanup contractor N3B. That message, according to EM-LA manager Doug Hintze was that the Department of Energy is changing its way of doing business as far as community participation.
Jay Coghlan, NukeWatch NM Director, said about the meeting: "They had too much of an opportunity to control the questions through written submissions and pick and choose what they want. Future meetings should be quite different with open and free discussion," he said. "I'm fully-prepared to push for the transparency that they claim that they're operating with."
"We're not asking for input – you've been giving us input. We're asking for participation to make sure you understand the risks that we have, the challenges including funding, the cleanup standards and so forth. We're asking for your participation," he told a packed room.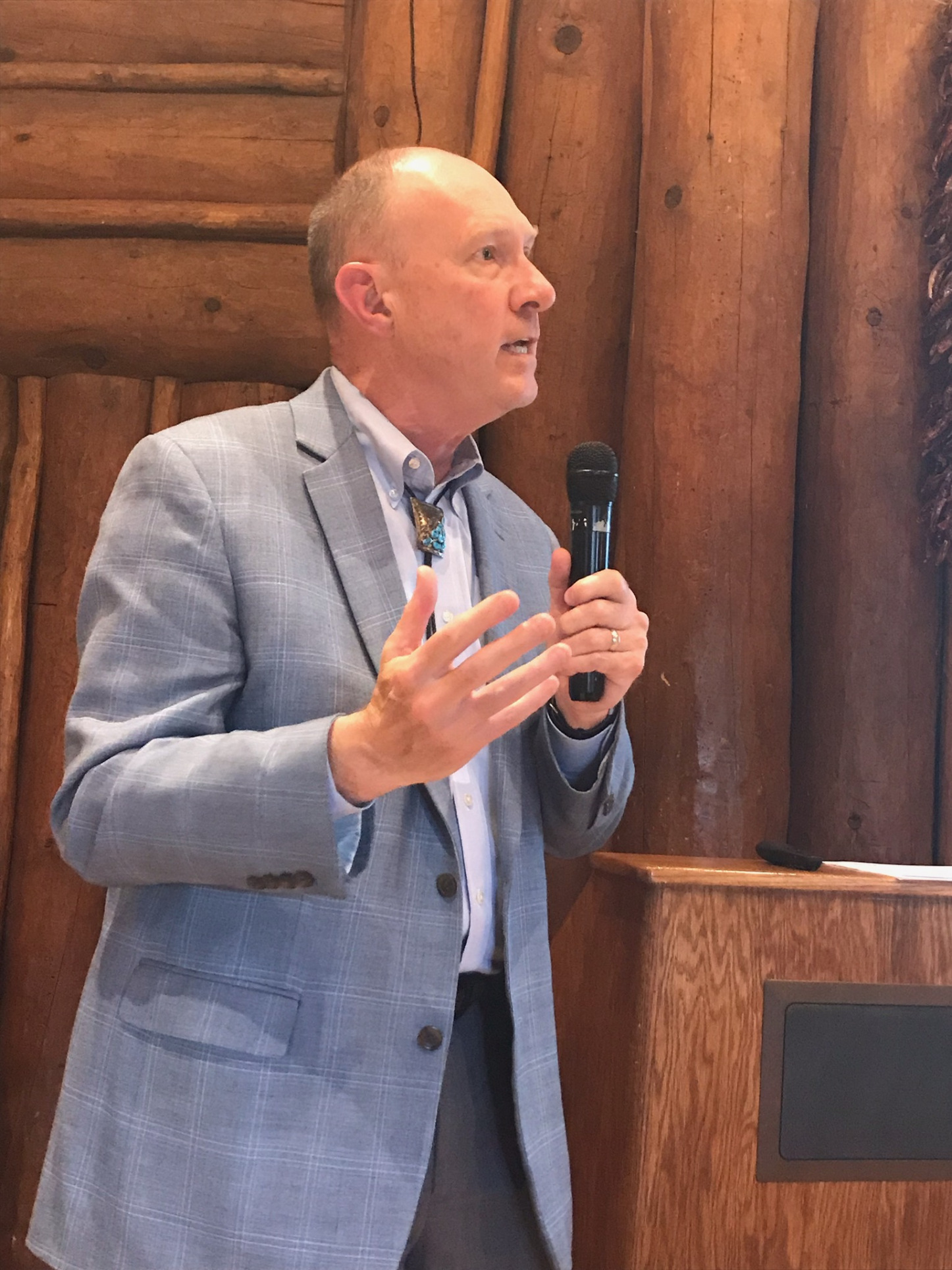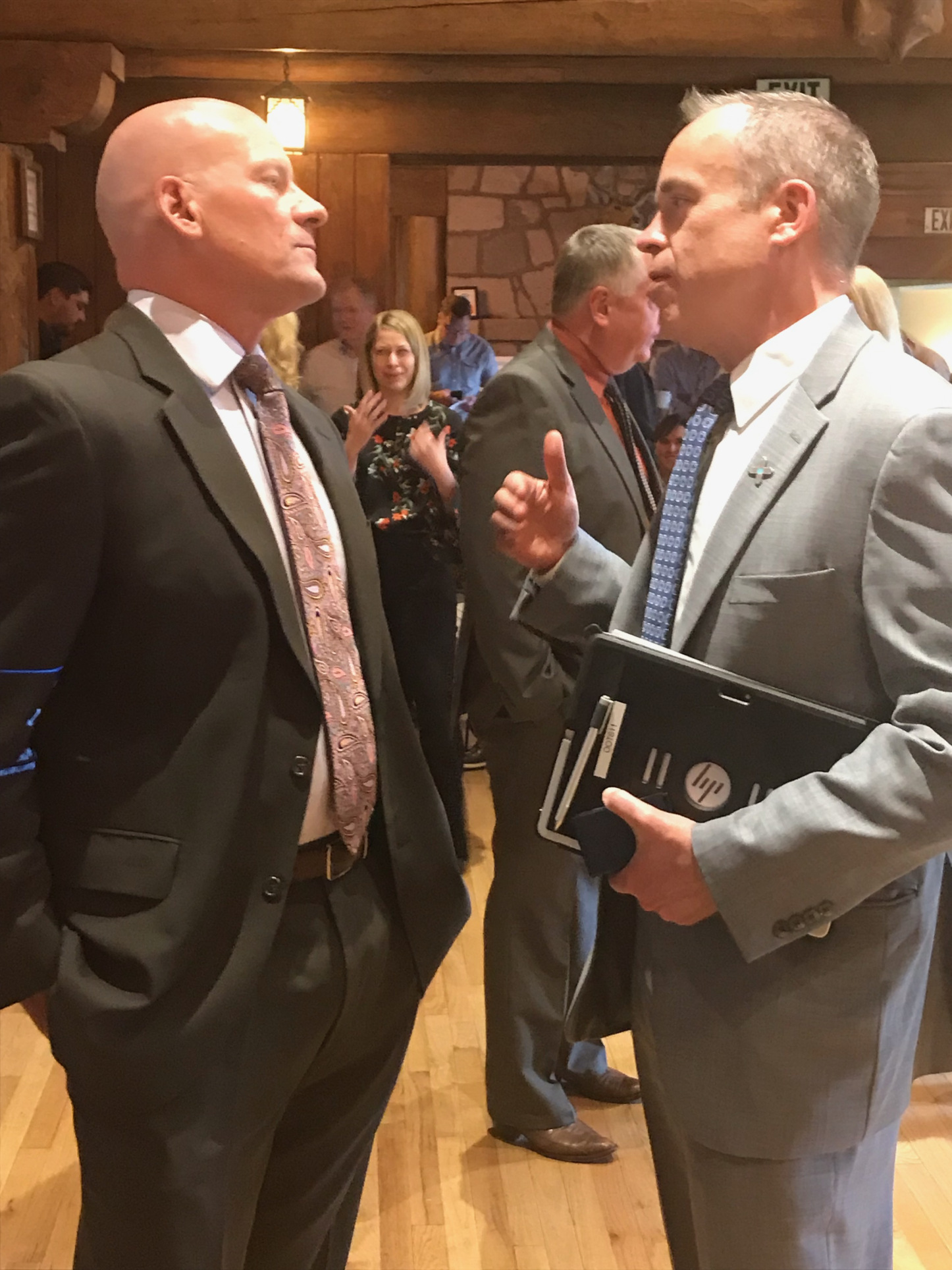 Coghlan told the Los Alamos Reporter that EM-LA "have repeated rhetoric for full and complete transparency.
"They're making the claim that more than half the cleanup is completed. This of course is representative of hidden decisions already made to leave behind the vast majority of waste. So this meeting was just a complete sham and it was carefully controlled really, to make it all look warm and fuzzy when it's not," he said.
Over the last decade funding for the Los Alamos National Laboratory's (LANL's) nuclear weapons programs has increased 20%. However, funding for needed cleanup has remained flat at one-tenth of the almost $2 billion requested for nuclear weapons programs in FY 2020. Nuclear weapons funding is slated to keep climbing under the $1.7 trillion 30-year nuclear weapons "modernization" program begun under Obama. Trump is adding yet more money, and is accelerating the new arms race with Russia by adding two new types of nuclear weapons. Cleanup funding, on the other hand, is doomed to stay flat for the next two decades because the New Mexico Environment Department (NMED) under Gov. Martinez gutted a 2005 "Consent Order" that would have forced the Department of Energy (DOE) and LANL to get more money for cleanup.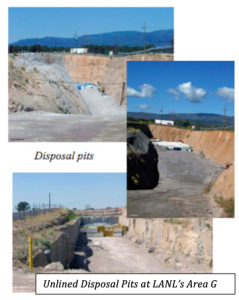 The Road to Genuine Los Alamos Lab Cleanup
Summary
Funding for nuclear weapons is still the priority at the Lab
$1.7 trillion 30-year "modernization" program total current estimate across the nation
LANL receives $2 billion annually for nuclear weapons work
Legacy Cleanup Program at LANL is getting started with new contractor
Current cleanup estimate is $4.1 billion remaining to finish by 2036
LANL cleanup has been receiving $195 to $220 million per year

Summary: The State of New Mexico should again demonstrate the political will it successfully displayed in 2005 when it compelled the federal Department of Energy to agree to an enforceable Consent Order governing cleanup at the Los Alamos National Laboratory. At the Lab's request the Martinez Administration eviscerated that Consent Order with more than 150 milestone extensions. Further, in a process riddled with conflicts of interest, it negotiated a revised 2016 Consent Order that subordinated cleanup to the budget that DOE wants. The need to protect New Mexico's environment and precious water resources should drive the Lab's cleanup budget, not DOE's planned budget of expanded nuclear weapons research and production. The incoming Biden Administration could offer new opportunity to renegotiate a Consent Order that is in the Land of Enchantment's best interests. The present New Mexico State Administration should pursue that opportunity.
Why renegotiate the 2016 Consent Order?
• In June 2016 the New Mexico Environment Department (NMED), the Department of Energy (DOE) and Los Alamos National Security, LLC (then the Lab's contractor) signed a revised Consent Order governing cleanup at the Los Alamos National Laboratory (LANL). The new Consent Order was an unfortunate step backwards in compelling comprehensive, genuine cleanup at the Lab.
• The State of New Mexico should have kept the original, enforceable 2005 Consent Order that it fought so hard for under the Richardson Administration (including successfully defending itself against DOE lawsuits), modified as needed for cleanup schedules and a final compliance date.
• Under Gov. Martinez, the revised 2016 Consent Order was a giveaway by NMED to DOE and the Lab, surrendering the strong enforceability of the old Consent Order. As documented below, it is clearly the reverse of the 2005 Consent Order, whose underlying goal was to make DOE and LANL get more money from Congress for accelerated cleanup.
• The inevitable outcome is slow cleanup with no plans for comprehensive cleanup. DOE proposed a 46% cut to LANL cleanup funding in FY 2021. In contrast, funding for LANL's nuclear weapons research and production programs that caused the need for cleanup to begin with has doubled over the last decade. The planned expansion of those programs will result in more contamination and radioactive and hazardous wastes.
• The incoming Biden Administration could possibly offer better opportunity for renegotiating a Consent Order with DOE that is in New Mexico's best interests.
Worcester Polytechnic Institute Project 2020
PLUTONIUM-239 AND CHROMIUM-6 CONTAMINATION AT LOS ALAMOS NATIONAL LABORATORY
Analyzing contaminant migration and assessing remediation
The goal of this project is to raise questions regarding the problem of groundwater contamination migration at Los Alamos National Laboratory to guide discussion of remediation approaches on the property.
Notable Documents
It seems we can't find what you're looking for. Perhaps searching can help.
Archived Resources
It seems we can't find what you're looking for. Perhaps searching can help.