The senator-turned-lobbyist-turned-senator-turned-lobbyist had a paid board seat at one nuclear company and lobbied for two others. Then he joined the Senate.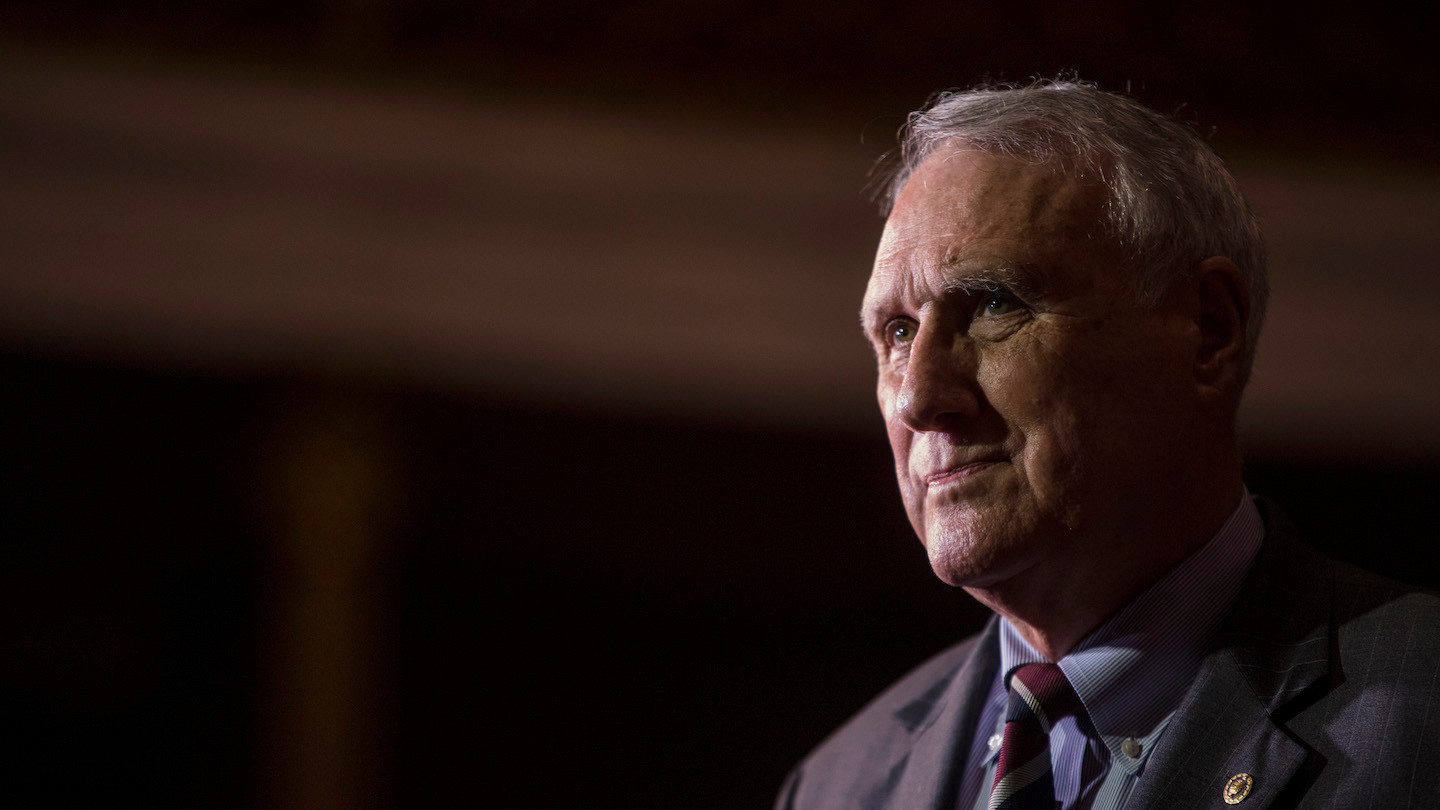 By Alex Kotch
readsludge.com | JAN 10, 2019 4:10PM EST
After almost 30 years of a program to clean up dangerous defense waste at the Hanford nuclear site in southeastern Washington, the Department of Energy now wants to change the rules to make the job easier and save money. If approved, the proposal poses new dangers to the health and safety of people and the environment — not just in southeastern Washington, but at nuclear sites around the country.
After Sen. John McCain's death in August 2018, Arizona Gov. Doug Ducey appointed former Republican Senator Jon Kyl to replace him—despite Kyl having spent years lobbying his former colleagues for an array of defense, utility, nuclear, tech, and social media companies that have business before the chamber. Government watchdogs warned of potential ethics issues, but Kyl was allowed to step aside from his K Street job and work on legislation without acknowledging conflicts of interest or recusing himself.
News broke on Monday that Kyl is rejoining his previous employer, lobbying firm Covington & Burling, after his four-month stint in the Senate.
After leaving the Senate for the second time, Kyl filed his required financial disclosure document at the last minute on Jan. 3, having gotten a deadline extension for a report that was originally due a few weeks after he took office. This new information, as well as previous lobbying records, reveals a slew of potential conflicts of interest surrounding the Arizona Republican.
A Sludge investigation has found that Kyl voted for legislation that will likely increase profits for several companies that employed him right up until the moment he joined the Senate—two of his former defense industry lobbying clients and a nuclear weapons company where he was a paid board member.
'Diversifying' the U.S. Nuclear Arsenal
Kyl, using his influence as a sitting U.S. senator on multiple committees that oversee the weapons industry, co-wrote an op-ed with former acting CIA director Michael Morell that was published in the Washington Post on Nov. 29 and titled "Why America needs low-yield nuclear warheads now."
"To convince Moscow that there are no possible benefits to limited nuclear escalation, the United States needs to diversify its nuclear delivery system options on the lower levels of the escalatory ladder, including adding submarine-launched missiles and sea-launched cruise missiles with low-yield nuclear warheads," Kyl and Morell wrote.
What Kyl, and the Post, did not reveal is that just three months before penning the op-ed, Kyl was getting paid by National Technology & Engineering Solutions of Sandia, which operates a top nuclear weapons manufacturer, Sandia National Laboratories, to sit on its board of managers, and he owns stock in the Sandia's parent company, Honeywell. Not long before, he had lobbied his colleagues in Congress on behalf of two defense companies that manufacture sea-launched missiles capable of carrying nuclear warheads—whose profits will likely increase as a result of an appropriations bill that Kyl voted for in September.
The Senate Ethics Committee should hold immediate hearings analyzing what went wrong here and commit to installing a system to prevent this debacle from recurring. – Jeff Hauser, Revolving Door Project
As a member of the Senate Armed Services Committee and the Homeland Security and Governmental Affairs Committee, which oversees "the organization and management of U.S. nuclear export policy," Kyl voted for the Energy and Water, Legislative Branch, and Military Construction and Veterans Affairs Appropriations Act of 2019. The bill increased the Department of Energy's nuclear weapons budget, including a new allotment of $65 million for the development of a submarine-launched, low-yield nuclear warhead originally designed by nuclear company Sandia and transported by Lockheed Martin's Trident II D5 Fleet Ballistic Missile. That missile employs motor systems manufactured by Northrop Grumman, for which Kyl lobbied as recently as the fourth quarter of 2017. The conference committee statement on the bill lists $2.6 million in direct funding for Sandia National Laboratories.
From April 2017 to September 2018, when he rejoined the Senate, Kyl was a member of the Board of Managers of National Technology & Engineering Solutions of Sandia, LLC, according to his financial disclosure. During that time period, the company compensated him with $26,500 for his board work. The Honeywell-owned Sandia's subsidiary, Sandia National Laboratories, engineers nuclear weapons as well as other defense, security, and energy products. The company is one of several that the Department of Energy pays to produce and protect nuclear warheads in federally-owned facilities.
Kyl owns up to $15,000 worth of corporate securities stock in Honeywell, a multi-industry conglomerate that operates an aerospace division.
As recently as the third quarter of 2015, Kyl lobbied Congress for Raytheon on the sale of its Patriot missile systems in Germany and Poland. The company manufactures sea-launched missiles designed to carry nuclear warheads.
While Kyl and his defense industry clients have been pushing for more of these weapons, others in Congress and the defense community have warned of their potential dangers.
In a May 2018 letter to Rep. Jim McGovern (D-Mass.), multiple former secretaries of State, Defense Department officials, and former members of Congress wrote of the new nuclear warheads being developed for Trident missiles, "There is no need for such weapons and building them would make the United States less safe. These so-called 'low-yield' weapons are a gateway to nuclear catastrophe and should not be pursued."
Sen. Ed Markey (D-Mass.) stated his strong opposition to the development of the new low-yield W76-2 nuclear warheads, a Trump administration priority, on the Senate floor in June. "I have seen no documents, reports, or studies justifying the W76-2 or supporting its immediate development, and serious questions remain unanswered."
"It just makes no sense to spend money to develop new nuclear weapons," Markey added. "In doing so, we are making America and the world less safe, not more. We are throwing away decades of American leadership trying to move the world away from nuclear weapons and the existential threat they pose to all of us."
During his recent fourth months in Congress, Kyl voted for other bills intended to maintain or increase U.S. military obligations, as David Dayen pointed out in The Intercept. He cosponsored a December 19 resolution stating that the U.S. should continue its military operations in Syria. He voted against a resolution to pull the U.S. out of the war in Yemen that has killed TK civilians and subjected millions of children to the world's largest famine. And he voted for the $674 billion Defense Department funding package, a $19.8-billion increase from the 2018 fiscal year.
Kyl has also been involved with the U.S. Global Leadership Coalition, a nonprofit advised by former politicians, former military officers, and corporate CEOs that advocates for a "strong" federal International Affairs Budget. From March 2016 to September 2018, Kyl was an unpaid member of the group's National Advisory Council and co-chair of its Arizona Advisory Committee.
Coalition members include defense contractors Boeing and Lockheed Martin. Among the coalition's "national partners" include Lockheed, and a Lockheed official sits on the board of its Center for U.S. Global Leadership. The coalition recently lobbied on the 2019 Defense budget, among other things.
Prior to his Senate return, Kyl advocated for new nuclear weapons. In January 2018 he promoted the idea on Fox News. Kyl was appointed to the National Defense Strategy Commission and co-authored its latest set of defense recommendations, published in November, some of which Kyl echoed in his Washington Post op-ed.
"Kyl exploited a loophole in our financial disclosure rules, and shame on the other 99 Senators for not calling him out on it the minute he entered that supposedly august body," Jeff Hauser, executive director of the Revolving Door Project at the Center for Economic and Policy Research, told Sludge. "When you run for the Senate, you're compelled by law to open your finances up to the public, but by being appointed, Kyl evaded that responsibility. That's why Kyl was able to take actions in office that benefited his past and future paymasters without public awareness, let alone any form of sign-off from voters. The Senate Ethics Committee should hold immediate hearings analyzing what went wrong here and commit to installing a system to prevent this debacle from recurring."
"It'd be one matter if the people of Arizona had elected Kyl, knowing about all of these potential conflicts," Mandy Smithberger, director of the Straus Military Reform Project at the Project on Government Oversight, told Sludge. "But to have someone with all of these personal financial conflicts appointed, and then placed on the key committees that would benefit these companies, is exactly the kind of swampy behavior that makes taxpayers lose confidence in our lawmakers."
Kyl and Covington & Burling did not respond to a request for comment. A spokesperson for the Senate Armed Services Committee did not answer Sludge's questions.
In his financial disclosure, Kyl kept the identities of nine of his clients secret, making it impossible to determine whether additional potential conflicts of interest plagued his 2018 Senate stint.
Kyl can't officially lobby for two years, a required congressional cooling-off period, and he says he'll work primarily out of Arizona. However, he is allowed to work at his old lobbying firm in any capacity that does not require him to officially register as a lobbyist, an arrangement that many watchdogs have called a loophole in the ethics rules.
The former senator has benefited from the defense sector in more ways than lobbying contracts, stock investments and board seats. Over his long federal career, Kyl's campaigns received $428,000 in contributions from PACs and individuals in the sector, according to the Center for Responsive Politics.