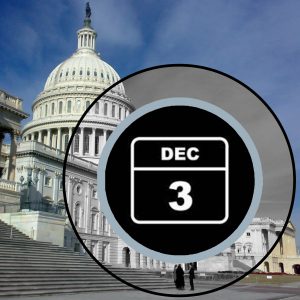 Congress passed a continuing resolution that keeps the government running until December 3. It freezes funding at 2021 levels which at least prevents short-term budget increases for nuclear weapons modernization programs and has no "anomalies" (i.e. exceptions) for these programs. That said, Biden passed on most of Trump's nuclear weapons excesses forward in his FY 2022 budget, so it's not like it makes a whole lot of difference.
Mitch McConnell agreed to let the Democrats raise the national debt ceiling, thereby averting national and international economic disaster. How gracious of him.
Democrats and Republicans joined together to roll Biden on the money in the FY 2023 Defense Authorization Act for the entire military (including the National Nuclear Security Administration (NNSA). These bipartisan porkmeisters added $23.9 billion for $768 billion in total defense spending. The new bogeyman China was repeatedly invoked as the rationale (in comparison China now spends around $250 billion annually on its military).

The Senate Armed Services Committee Report on the FY 2023 Defense Authorization Act makes "recapitalizing and modernizing the U.S. nuclear triad" the #3 objective of US policy, right behind strengthening the Armed Forces and increasing the budget.
Good news: The Biden administration has restored US nuclear transparency by releasing the nuclear weapons stockpile number: 3,750 warheads in the active stockpile. That said, "Since September 30, 2017, the United States has dismantled 711 nuclear warheads. Approximately 2,000 additional nuclear warheads are currently retired and awaiting dismantlement." https://www.state.gov/transparency-in-the-u-s-nuclear-weapons-stockpile/
Bad news: So that's only around 175 warheads being dismantled each year. That's pretty abysmal, but figures because the production plants are too busy building the stockpile back up with so-called "Life Extension Programs" that endow existing weapons with new military capabilities and preparing for new-design nuclear weapons.
The Stealthy F-35 Fighter Jet Is One Step Closer to Carrying Nuclear Weapons
"A pair of F-35s from Nellis Air Force Base in Nevada released dummy nuclear bombs at a nearby test range this month, moving the advanced stealth fighter closer to carrying the world's most powerful weapons into combat, the Air Force said Monday. The flights on Sept. 21 marked the "graduation" test exercise necessary for the Air Force variant of the F-35 to move ahead with what's called the nuclear design certification process, according to the service's press release."
On that note, the F-35s will carry the B61-12, the world's first nuclear smart bomb. One of the NNSA's main selling points (embraced by Heinrich's office as well) was that the B61-12 would enable retirement of the huge 1.2 megaton B83. But guess what?! NNSA is now keeping the B83 as well!
The Department of Defense's person-in-charge of the Nuclear Posture Review was kicked out, right as we ought to look at the $1.7 trillion costs of modernization. Further, as Senator Angus King (I-ME) put it, China is changing everything about the Nuclear Posture Review. This is not good!
Accelerating nuclear arms race:
The big news: The deal between the U.S., UK and Australia to give new nuclear-powered submarine down under. This is Proliferation with a capital P given that those subs run on highly enriched uranium. This is, again, all about China (which they know). The French are livid because the Aussies nixed a $20 billion deal with them. What strategic or geopolitical benefits there might be is murky since these subs won't happen sooner than 15 years. Hail to the accelerating nuclear arms race! [But to be clear, the Aussie subs are not envisioned to carry nuclear weapons. Instead they will be attack submarines meant to help contain China to the Far East Pacific.]
As the Bulletin of Atomic Scientists put it:
"The UK and US have announced they will support Australia in development of a nuclear submarine fleet and will provide (conventionally armed) Tomahawk cruise missiles. This is one of those exceedingly rare and exceedingly significant announcements that come along only every decade or so. The announcement literally turns existing precedence and practice on their heads in order to extend traditionally northern hemisphere cooperation to Australia and bolster its role in countering an increasingly assertive China." https://thebulletin.org/2021/09/the-australian-submarine-agreement-turning-nuclear-cooperation-upside-down/
U.S., UK aid to Australia's acquisition of nuclear submarines "sheer act of nuclear proliferation": Chinese envoy "This contradicts the purpose, objective and core obligation of the NPT to the detriment of the international nuclear non-proliferation regime with the NPT at its core and on-going international efforts on this front," Wang stated. He described the trilateral move as "sheer act of nuclear proliferation". (Xinhua)
See also: Australia could be 'nuclear war target' in new Aukus defence pact, warns furious China (The Independent)
There is reason to be concerned about growing tensions between China and the U.S. over Taiwan.
"As such confrontations intensify, the balance of power around Taiwan is fundamentally shifting, pushing a decades-long impasse over its future into a dangerous new phase. After holding out against unification demands from China's communist rulers for more than 70 years, Taiwan is now at the heart of the deepening discord between China and the United States. The island's fate has the potential to reshape the regional order and even to ignite a military conflagration — intentional or not… China's military might has, for the first time, made a conquest of Taiwan conceivable, perhaps even tempting. The United States wants to thwart any invasion but has watched its military dominance in Asia steadily erode. Taiwan's own military preparedness has withered, even as its people become increasingly resistant to unification. All three have sought to show resolve in hopes of averting war, only to provoke countermoves that compound distrust and increase the risk of miscalculation."

https://www.nytimes.com/2021/10/09/world/asia/united-states-china-taiwan.html
Former Diplomat: China Should Rethink 'No First Strike Policy' China should review its "no first strike policy" regarding a potential nuclear conflict, a former Chinese diplomat said, citing pressure from the United States' own nuclear weapons… "The strategic pressure on China is intensifying as [the US] has built new military alliances and as it increases its military presence in our neighborhood," he said. (The Defense Post)
Putin withdrew an offer to freeze nuclear weapons production, saying U.S. wanted intrusive verification and control.
Moscow — The Russian military said Monday that it had successfully test-fired a hypersonic "Tsirkon" missile from a submarine for the first time. The high-tech missile is a key component of what President Vladimir Putin touts as Russia's new, "invincible" generation of weapons.
Nuclear: Russia fears as Putin's new terrifying nuclear-tipped torpedo exposed by satellite Russia has sparked a wave of fears after what appears to be a massive nuclear-tipped torpedo belonging to the Kremlin's navy was captured on satellite imaging. The weapon looks to be around the size of a bus and US intelligence indicates it is an "Intercontinental Nuclear-Powered Nuclear-Armed Autonomous Torpedo".
Arms race between S and N Korea: On September 16, both North and South Korea tested ballistic missiles, ratcheting up tensions exponentially in what was already one of the most volatile regions on the planet.
"Iran Nears an Atomic Milestone Edging close to a bomb's worth of fuel is seen as a tactic to pressure the Biden administration into agreeing to a quick renewal of the 2015 nuclear deal… "There's an eerie similarity between what we're seeing in Iran with enrichment and in North Korea with the cruise missile test," said Rose Gottemoeller, a former arms control official in several administrations who now works at Stanford University. "They're both trying to set the negotiating table in their favor as the Biden administration finally turns to them."
---