The interest in this question has gone up immensely over the past 50 days, since Russia first invaded Ukraine on February 24, and since Russian President Vladimir Putin announced that his country's nuclear forces had been placed on "high alert" just a few days later on the 27th.
In 1986, there were 70,000 nuclear weapons on the planet—an entirely terrifying number. Nuclear weapons analysts estimate that the world's nine nuclear states—China, France, India, Israel, North Korea, Pakistan, Russia, the United Kingdom and the United States—have around 13,000 nuclear warheads in total today (Arms Control Association). That build-down started when U.S. President Ronald Reagan and Mikhail Gorbachev, former president of the Soviet Union, agreed under the INF Treaty on the Soviet Union destroying 889 of its intermediate-range missiles and 957 shorter-range missiles, and the U.S. destroying 677 and 169 respectively (Bulletin of the Atomic Scientists).
 What are the specifics of where the remaining nuclear weapons possessed by the U.S. and Russia are located? How powerful are they, and, most relevantly, what is the readiness levels of these weapons to launch?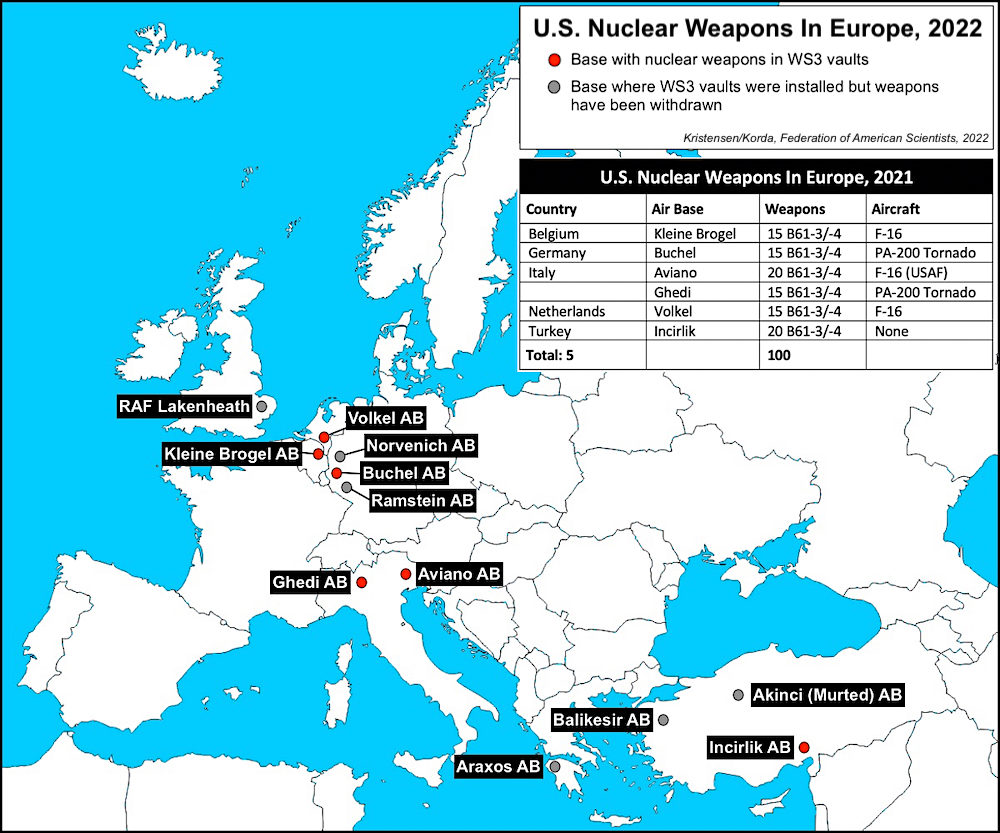 HOW MANY WEAPONS IN THE UNITED STATES?
WHAT ARE THE LIMITS? On April 8, 2010, the United States and Russia signed New START, a legally binding, verifiable agreement that limits each side to 1,550 strategic nuclear warheads deployed on 700 strategic delivery systems (ICBMs, SLBMs and heavy bombers) and limits deployed and nondeployed launchers to 800 (Arms Control Association).
WHAT ARE THE ACTUAL NUMBERS? At the beginning of 2021, the U.S. maintained an estimated stockpile of approximately 3,800 nuclear warheads for delivery by 800 ballistic missiles and aircraft (Arms Control Association).