Through comprehensive research, public education and effective citizen action, Nuclear Watch New Mexico seeks to promote safety and environmental protection at regional nuclear facilities; mission diversification away from nuclear weapons programs; greater accountability and cleanup in the nation-wide nuclear weapons complex; and consistent U.S. leadership toward a world free of nuclear weapons.
New & Updated
A Reduced Operations Alternative is not only a reasonable alternative but is in the actual best interests of the nation.
Such an alternative would best preserve stockpile reliability by foregoing production of new pits that may deviate from tested designs; conservatively maintain the existing, extensively tested nuclear weapons stockpile; augment and accentuate nonproliferation programs, especially the development of monitoring and verification technologies that could help underpin a future world free of nuclear weapons; and augment and accentuate cleanup programs that are truly comprehensive, permanently eliminating the threat to groundwater.
October 18, 2022
LANL SWEIS COMMENTS
NNSA Los Alamos Field Office
3747 W. Jemez Road
Los Alamos, NM 87544
Via lanlsweis@nnsa.doe.gov
Dear National Nuclear Security Administration:
Nuclear Watch New Mexico hereby submits these scoping comments on the new Los Alamos National Laboratory (LANL) Site-Wide Environmental Impact Statement (SWEIS).
---
---
Executive Summary
First, NNSA should complete a new nation-wide programmatic environmental impact statement on expanded plutonium pit production. A new LANL Site-Wide Environmental Impact Statement should then be "tiered" off of that document and address all of these issues outlined in these scoping comments, and in particular the site-specific impacts of expanded plutonium pit production. In the event that NNSA continues its arguably illegal behavior in not completing a new PEIS, a new draft LANL SWEIS should nevertheless analyze the issues outlined in these scoping comments, particularly expanded plutonium pit production.
Continue reading
ACTION ALERTS
It seems we can't find what you're looking for. Perhaps searching can help.
It seems we can't find what you're looking for. Perhaps searching can help.
Interfaith Panel Discussion on Nuclear Disarmament - August 9

It seems we can't find what you're looking for. Perhaps searching can help.
Posts Related to: NUCLEAR SAFETY
Luján, Members of Congress Introduce Legislation to Expand Compensation for Individuals Impacted by Radiation Exposure
Washington, D.C. – Today, Congressman Ben Ray Luján (D-N.M.), the U.S. House Assistant Speaker, introduced legislation to expand compensation for individuals exposed to radiation while working in and living near uranium mines or downwind from nuclear weapon test sites.
Tens of thousands of individuals, including miners, transporters, and other employees who worked directly in uranium mines, along with communities located near test sites for nuclear weapons, were exposed during the mid-1900s to dangerous radiation that has left communities struggling from cancer, birth defects, and other illnesses.

BY MARK OSWALD / JOURNAL STAFF WRITER
Saturday, June 1st, 2019 at 12:05am Copyright © 2019 Albuquerque Journal
SANTA FE – A building at Los Alamos National Laboratory with a price pegged at more than $1 billion apparently has some bad plumbing.
A federal safety oversight board recently reported that the operations staff at the Radiological Laboratory Utility Office Building found a leak in the building's radioactive liquid waste system.
…
Jay Coghlan of Nuclear Watch New Mexico, a frequent LANL critic who called attention to the recent safety board report, said the plumbing problem is symptomatic of the lab's history of safety issues, which has included using the wrong kind of cat litter as a desiccant when packing a radioactive waste drum. A reaction in the drum caused it to breach in 2014 and contaminate the nation's nuclear waste storage facility near Carlsbad.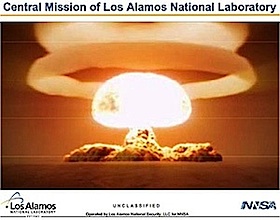 Falling short of the bare minimum in the eyes of the DOE is a far cry from where the public expects or needs LANL to be.
The Albuquerque Journal Editorial Board has a great editorial except for this part – 
Because LANL is home to some of the best and brightest in the nuclear industry. It is the home of the Manhattan Project. And its future is important not only to the prosperity of our state, but also to our national security.

Forum on June 14 in Aiken, SC on Expanded Production of Plutonium "Pits" – for Nuclear Weapons – to Give Voice to Concerns in Face of DOE's Failure to Engage and Inform the Public about the Risky Proposal
Columbia, SC– The controversial proposal by the U.S. Department of Energy to expand production of plutonium "pits"- the core of all nuclear weapons – will be the subject of a public forum in Aiken, South Carolina on Friday, June 14, 2019.  The event is free and open to all members of the public.
In response to DOE's lack of public engagement about the proposal and its potential environmental and health impacts, three public interest groups that work on DOE and nuclear weapons issues have taken the initiative on the matter. The questionable proposal by DOE's National Nuclear Security Administration is to expand pit production at the Savannah River Site into the shuttered MOX plant – a totally new and unproven mission for SRS – and at the Los Alamos National Lab to 80 or more pits per year.  Such pit production for new and "refurbished" nuclear weapons may help stimulate a new nuclear arms race. The vague proposal is far from finalized and is unauthorized and unfunded by Congress.