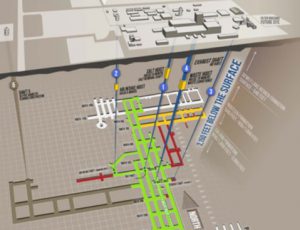 The Waste Isolation Pilot Plant (WIPP), located outside Carlsbad, NM. is the nation's only geologic repository for defense-generated transuranic waste. The Department of Energy (DOE) is accepting comments on its 2019-2024 "Strategic Plan", which should be focused on closing WIPP. But the Plan focuses on extending WIPP's lifetime to 2050 and beyond. WIPP's disposal phase was extended until 2024 (in 2010), and the last expected year of final closure of the WIPP facility (i.e., date of final closure certification) was to be 2034. There was always a 10-year period for final closure after the disposal operations ceased.
But, instead, the WIPP Strategic Plan is stocked full of new projects that will extend WIPP's life another 25 years at least. Yet, WIPP officials don't mention how or when they plan to modify the State Permit with the new proposed date. DOE's own waste-handling inefficiencies and mistakes have caused this delay that the people of New Mexico are now paying for by having WIPP open longer than planned. We are asking everyone to oppose DOE's "WIPP Forever" plans by sending in comments. See below.
DOE's plan to extend WIPP's life until 2050 is partially based on a new "Volume of Record" waste accounting system that would not count the total volume of the outermost container that contained multiple drums. This would effectively increase the capacity of WIPP. See More Here. But the Volume of Record magic accounting plan is still under appeal in the New Mexico courts and without it, WIPP would reach its legal capacity well before 2050.
Also in the works is a plan for a new shaft. Originally billed as a replacement exhaust shaft to help WIPP recover from the 2014 exploding drum event that shut down the repository for three years, the proposed new shaft is now designed to increase WIPP's capacity. WIPP officials have repeatedly stated that after a new filter building (currently under construction) is complete, WIPP will have returned to its pre-2014 capacity without the new shaft. The $75 million new fifth shaft will increase the mining and waste handling capacity by 25% at any given time.
One would think that increasing the annual disposal capacity of WIPP would help keep WIPP on track to stop receiving waste by the original date of 2024. But along with increased mining and disposal capacity, DOE's new Strategic Plan would extend WIPP's waste disposal deadline to at least 205o.
In a circular fashion, the Strategic Plan states, "The primary goal of this five-year plan is to maintain a high level of safety for the workers, public, and the environment, while we recapitalize the infrastructure and modernize the site moving WIPP towards the next 20-30 years of safely emplacing waste…We will focus on these objectives until they are completed to establish a path for TRU waste disposal through 2050." Actually, the State can cause closure to start when it wants to, so our voices must be heard by New Mexico state officials.
Forty years ago, Congress designated WIPP as a research and development facility designed for demonstrating the safe disposal of plutonium-contaminated wastes from nuclear weapons production activities.  It has a limited mission regarding the types and volumes of waste and a limited lifetime.  It is not to be the only repository.
There are currently five other proposals to possibly bring new wastes to WIPP. They are: Greater-Than-Class C low-level waste; elemental mercury; high-level waste from tanks at Hanford and other sites; commercial waste from West Valley, New York; and 60,000 pounds of weapons grade plutonium, which would create the world's largest underground weapons grade plutonium ore body. Any one of these could keep WIPP open even longer.
The draft Strategic Plan is a wish list for surface and underground infrastructure projects to support expanding the amount of waste disposal and operating lifetime.  Public comments are due to DOE by September 30th.
The WIPP Strategic Plan is Here.
What's lacking in the Strategic Plan is any discussion of better storage (including Hardened Onsite Storage) at generator sites or planning of other future repositories. And plans to produce plutonium pits from now until forever will generate TRU forever.
Sample WIPP Strategic Plan comments are here
email:[email protected]
Mr. Bobby St. John
Waste Isolation Pilot Plant
PO Box 2078
Carlsbad, NM 88220
Comments on the proposed new shaft #5 are due by October 16th.
The WIPP new shaft proposal is here
We will post sample new shaft comments soon!