ABOUT
Description and Current Mission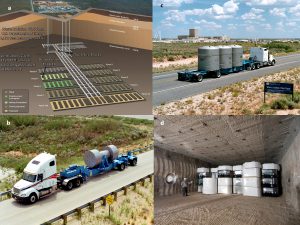 The Waste Isolation Pilot Plant (WIPP) is the nation's only deep geologic long-lived radioactive waste repository. Located 26 miles southeast of Carlsbad, New Mexico, WIPP permanently isolates defense-generated transuranic (TRU) waste 2,150 feet underground in an ancient salt formation.
WIPP was constructed for disposal of defense-generated TRU waste from DOE sites around the country. TRU waste consists of clothing, tools, rags, residues, debris, soil and other items contaminated with small amounts of plutonium and other man-made radioactive elements. The waste is permanently disposed of in rooms mined in an underground salt bed layer over 2000 feet from the surface.
TRU waste began accumulating in the 1940s with the beginning of the nation's nuclear defense program. As early as the 1950s, the National Academy of Sciences recommended deep disposal of long-lived TRU radioactive wastes in geologically stable formations, such as deep salt beds.
Sound environmental practices and strict regulations require such wastes to be isolated to protect human health and the environment.
Bedded salt is free of fresh flowing water, easily mined, impermeable and geologically stable — an ideal medium for permanently isolating long-lived radioactive wastes from the environment. However, its most important quality in this application is the way salt rock seals all fractures and naturally closes all openings.
History of WIPP
Throughout the 1960s, government scientists searched for an appropriate site for radioactive waste disposal, eventually testing a remote desert area of southeastern New Mexico where, 250 million years earlier, evaporation cycles of the ancient Permian Sea had left a 2,000-foot-thick salt bed.
In 1979, Congress authorized WIPP, and the facility was constructed during the 1980s. Congress limited WIPP to the disposal of defense-generated TRU wastes in the 1992 Land Withdrawal Act. In 1998, the U.S. Environmental Protection Agency certified WIPP for safe, long-term disposal of TRU wastes.
On March 26, 1999, the first waste shipment arrived at WIPP from Los Alamos National Laboratory in New Mexico.
WIPP's disposal rooms are nearly a half mile below the surface (2,150 feet). By comparison, the Empire State Building is only 1,454 feet high.
Browse this page to keep updated on NukeWatch and other local community groups efforts to STOP FOREVER WIPP
The mission of the Stop Forever WIPP Coalition is to stop WIPP expansion and ensure health and safety issues are fully addressed.
STAY INFORMED:
It seems we can't find what you're looking for. Perhaps searching can help.
Video Presentation on WIPP Expansion - February 5, 2022
Community Responses & Criticisms to WIPP Forum July 7
The U.S. Department of Energy and the Office of Environmental Management held a Presentation and "Community Forum" for Santa Fe on the Waste Isolation Pilot Plant (WIPP), formatted as a hybrid in-person and Zoom meeting on Thursday, July 7, 2022.
Nuclear Watch New Mexico is extremely disappointed and unsatisfied with the outcome of this "forum" and is not alone in criticizing both the substance of the meeting and the format. See more criticisms below from others who attended:
Read the following Letter to the Editor in the Santa Fe New Mexican paper, July 19:
On the Mark
Kudos to Scott Wyland for his balanced and accurate description of what occurred during the July 7 community forum to address the public's concerns about proposals and plans related to the storage of plutonium-contaminated waste at the Waste Isolation Pilot Plant outside Carlsbad. ("Critics unhappy with nuclear panel," July 9)
As a virtual participant, I judged the forum to be nothing more than a dog-and-pony show by the U.S. Department of Energy and WIPP's managers: They never intended to have a meaningful and open exchange about the public's concerns. With a seeming ethos of "asking forgiveness is easier than obtaining permission, we shouldn't be surprised if this and future Energy Department proposals are just more stealth actions, which will ultimately turn The Land of Enchantment into America's Nuclear Waste Dump.
---
More Recent LTEs:
My View Cynthia Weehler
WIPP 'chat' fell short of exchange of information
"Let's chat about WIPP," said General Manager Reinhardt Knerr ("Letters to the Editor," July 7) on the day of his planned public forum for the good people of Northern New Mexico.
Well, let's do chat. Your community meeting for the public was a chat disaster. Chats are back-and-forth exchanges of information. Chats don't gag one side so the other is the only one talking. Your "chat" was a mind-numbing, 48-slide Power Point and lecture advertising the Waste Isolation Pilot Plant.
After this, we were told — as if we were children — to write any questions we had on index cards and turn them in to the enforcer — er, I mean moderator. He then chose the questions he wanted answered and, for a few more minutes, a one-way "chat" occurred. After that, "participants" were invited into a room, only a few at a time, to talk one on one with the presenters. This "divide and conquer" strategy meant no one but the two "chatting" could hear the question and the answer.
Watch the video recording of the full meeting with the chat included below or on YouTube here
This wasn't our first rodeo dealing with the Department of Energy, and we were prepared to ask for what would meet our needs. I stood at the end of the formal presentation to ask if I could speak for a moment — and that's as far as I got. I was told forcefully, "No ma'am" and, "You need to sit down." It was eerie to see the previously jolly demeanor of the presenters turn into a vision of your worst high school teacher.
The response was telling. I had no idea the Department of Energy/WIPP presenters were so frightened of the public. The very idea that we might actually try to interact with them turned them into autocratic bullies who were afraid of what we might "chat" about. The Department of Energy is afraid to meet with us as equals.
Because we have no power and are not even allowed to speak to this overbearing agency, we've asked our congressional representative to host a meeting between the Department of Energy and the public. We've asked the governor to meet with us to discuss this. Instead, we hear the "chatting" of crickets.
The Department of Energy is creating a whole new mission for WIPP that puts the public at incredibly increased risk. That alone should guarantee us a voice. Instead, we're offered an Orwellian "chat" that insults as it silences.
Cynthia Weehler is co-chair of 285ALL, grew up in Roswell and wants those at risk to know about it. She lives in Santa Fe. More reaction to the recent WIPP "chat" is available at santafenewmexican.com.
---
Citizens say WIPP conversation was anything but
One cannot hear with out deep anger the satisfaction and pride expressed by three men to an overflowing crowd at the recent "update" to the increasing capacity of the Waste Isolation Pilot Plant. From 300 shipments of radioactive waste across New Mexico highways into deep vaults, they seemed pleased that 600 is soon to become 680 a year, with ever-increasing shiploads a year indefinitely. While the Carlsbad salt beds are to encroach over time over these lethal containers, high-level radioactive waste remains dangerous to humans and the more than human life forms for millennia. Realizing this, Finland has isolated its radioactive waste on an island, Onkalo, filled the main access tunnel with rubble and concrete and sealed the entrance.
No one working on the project today will be alive, yet the radioactive waste receptacle must last for 100,000 years — that's as long back as the Ice Age, before homo sapiens had arrived; that is longer than any man-made structure has survived to date (more than pyramids, more than Stonehenge). As geologists agree, WIPP and its radioactivity will last forever. Who can guarantee that responsible guardianship of this area in New Mexico can be sustained? What "company" or what "government" will be here to safeguard what must be isolated from all others life forms, from the water, from escaping into the air? What language will be understood 100,000 years hence? Finland has chosen a skull and cross bones to mark the spot. What will New Mexicans choose?
---
Not a chat
Last night's Community Forum and Open House on WIPP, sponsored by the Department of Energy, had all the hallmarks of a meeting designed to shut out informed questions from local citizens. First, there were no handouts so we relied on a power point presentation that was difficult to see and no laser pointer to show complex information. Talk about acronyms, jargon, and bureaucratic terms with no explanation for the lay citizen! What are "upwinders?" Is my property north of WIPP an upwinder for plutonium powder accident? The U.S. Department of Energy presenter could hardly be heard? As a lay citizen, I came to learn and ask questions. There were too many barriers to do either with the poor AV system and no time for a majority of questions to be addressed. If DOE truly wants to provide information to the public, get some coaching on making clear presentations. Unless — all this was by design to create less than full transparency. You were out of luck if you had come to get information. You couldn't hear; you couldn't see; and there was no time left to address questions sufficiently.
---
Undemocratic
I attempted to record the WIPP town hall in Santa Fe on behalf of my organization, Available Media. At first I was told I could not video record at all. I reminded the security people that this is a democracy where freedom of the press is valued and was eventually assigned a corner of the small room allocated for the meeting. I recorded a long dialogue by WIPP representatives on their many accomplishments, along with thwarted attempts by the public to speak about their concerns. Some of our political representatives were there as well as leaders of communities concerned about transportation of surplus plutonium which is part of WIPP's planned expansion. None were allowed to speak. Some were treated rudely.
At the end of the hour-plus DOE dialogue, 15 minutes were allotted for audience questions. I watched the questions being carefully filtered. After the public meeting when individuals asked WIPP officials questions one on one and received answers, I was not allowed to record the exchanges. I fought for my country but this kind of repression was not what I fought for. Democracy took a blow last night in Santa Fe and we have WIPP officials and their henchman-like security people to thank for that.
---
Bait-and-switch meeting
The "community forum" that the manager of the DOE, Carlsbad Field Office promised to the people of Santa Fe on July 7, in which we could "chat about WIPP," was anything but a forum. DOE put on a dog-and-pony show and forbade the people, including an elected representative, to speak.
With this bait-and-switch meeting, indeed with the whole DOE scheme to extend the lifetime and mission of the Waste Isolation Pilot Plant in New Mexico, DOE is pissing on our boots and telling us it is raining.
---
Not helpful
I tried to "chat" with the Department of Energy officials about WIPP at their Santa Fe meeting as they had been invited us to do. About 200 people attended both in-person and online. Unfortunately, we weren't allowed to speak our questions directly and DOE left almost no time to answer them anyway. DOE seemed unprepared for the high turnout and was rude to members of the public, at least one journalist and at least one elected official. Many in-person attendees had to watch the presentation on TV and none of the online public could see, or chat with presenters, during the poster display.
DOE has long resisted describing future plans for expanding WIPP to the public, even refusing to allow the phrase "WIPP expansion" to be mentioned during hearings. The public was hoping finally to find some transparency on this issue from DOE, but that didn't happen at this meeting.
Deborah Reade
---
Watch the video recording of the full meeting with the chat included below or on YouTube here
WIPP Updates
"Continuing to develop weapons that don't just kill but have the potential to decimate the planet is a seemingly accepted part of modern life.
Yet on this anniversary of the bombing of Nagasaki, it is useful to consider whether humanity can find a different path forward."
OUR VIEW | The Santa Fe New Mexican | August 8, 2022 santafenewmexican.com
August is a particularly dark month in human history.
On Aug. 6 and Aug. 9, 1945, humanity revealed it had the ability to destroy itself; the United States chose to drop atomic bombs first on Hiroshima and then on Nagasaki to force Japan to surrender and end World War II. The destruction was horrific, with tens of thousands of people killed, buildings leveled and thousands more dying of lingering radiation sickness in the years that followed.
New Mexico played an outsized role in the bomb's deployment. It was developed by the Manhattan Project scientists in the then-secret city of Los Alamos and tested at White Sands. Today, Los Alamos National Laboratory continues its mission of solving national security challenges, with the current emphasis gearing up to manufacture the plutonium pits at the core of nuclear weapons.
By 2026, LANL is supposed to be ready to make 30 pits a year, with another 50 pits annually coming from the Savannah River Site in South Carolina by 2030.
STOP FOREVER WIPP! Specific News to WIPP Closing Plans
It seems we can't find what you're looking for. Perhaps searching can help.
Resources & Media
National Academy of Scientists Report
Review of the Department of Energy's Plans for Disposal of Surplus Plutonium in the Waste Isolation Pilot Plant 2020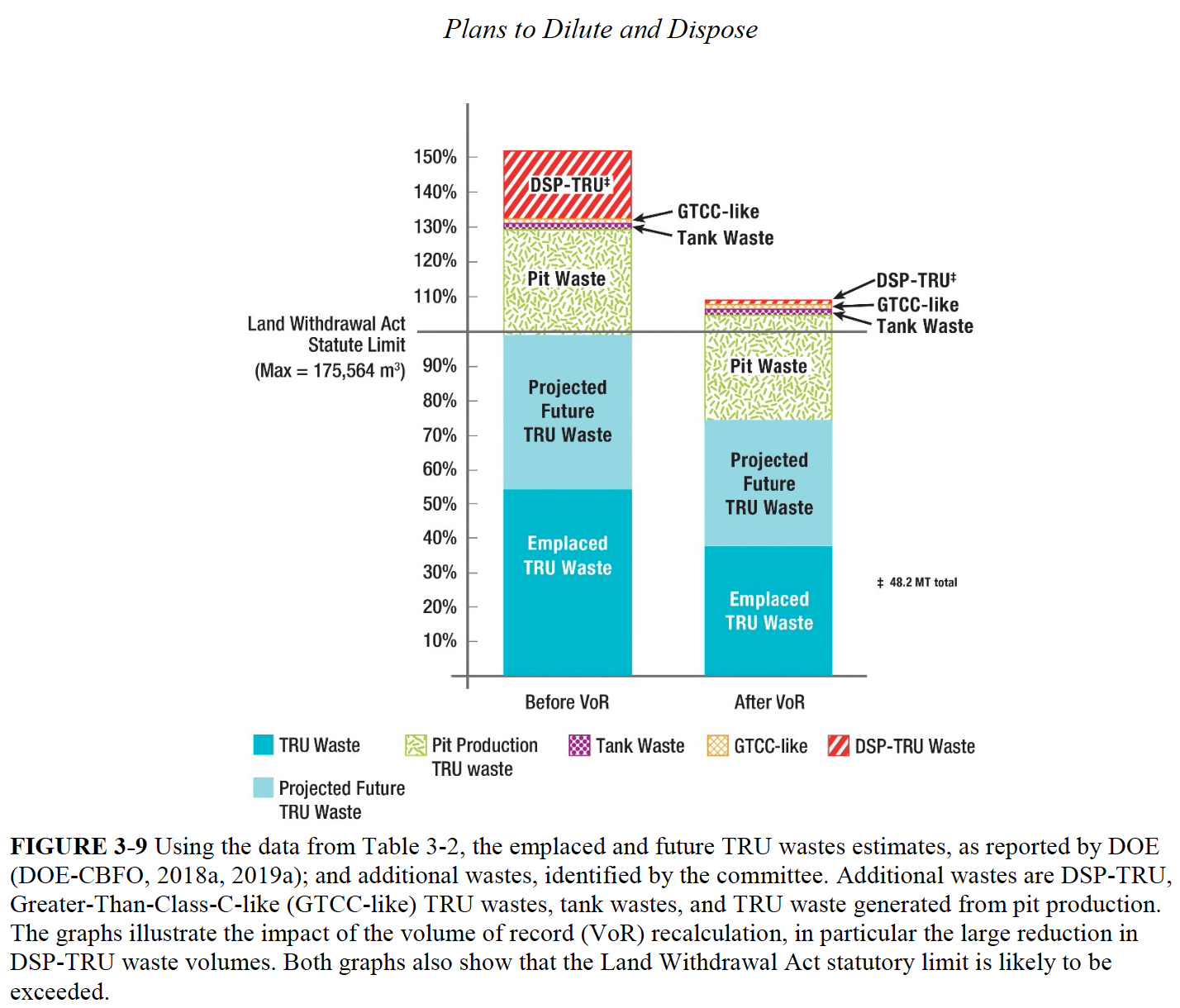 Action Alerts
It seems we can't find what you're looking for. Perhaps searching can help.
Quotes
It seems we can't find what you're looking for. Perhaps searching can help.