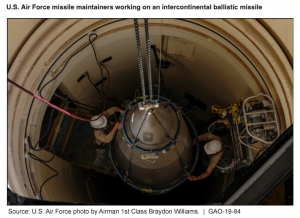 NUCLEAR WEAPONS:
NNSA Has Taken Steps to Prepare to Restart a Program to Replace the W78 Warhead Capability
GAO-19-84: Published: Nov 30, 2018. Publicly Released: Nov 30, 2018.
The National Nuclear Security Administration is preparing to restart a program to replace the W78 nuclear warhead, which is used in Air Force intercontinental ballistic missiles. The goal is to produce the first W78 replacement warhead in fiscal year 2030. Pending further study, this replacement warhead may also be used in Navy submarine launched ballistic missiles.