Through comprehensive research, public education and effective citizen action, Nuclear Watch New Mexico seeks to promote safety and environmental protection at regional nuclear facilities; mission diversification away from nuclear weapons programs; greater accountability and cleanup in the nation-wide nuclear weapons complex; and consistent U.S. leadership toward a world free of nuclear weapons.
New & Updated
"The disposal of contaminated water at the Fukushima Daiichi plant has been a longstanding problem for Japan as it proceeds with an decades-long decommissioning project. Nearly 1.2 million tonnes of contaminated water are currently stored in huge tanks at the facility."
BY: Yuka Obayashi and Kaori Kaneko, Reuters | readersupportednews.com
Nearly a decade after the Fukushima nuclear disaster, Japan's government has decided to release over one million tonnes of contaminated water into the sea, media reports said on Friday, with a formal announcement expected to be made later this month.
The decision is expected to rankle neighbouring countries like South Korea, which has already stepped up radiation tests of food from Japan, and further devastate the fishing industry in Fukushima that has battled against such a move for years.
"Adjusting U.S. nuclear weapons plans is notoriously difficult, as nearly every president has experienced. Yet it is urgent to halt and reverse the trend of increasing nuclear capabilities that lower the threshold for nuclear war and increase miscalculation risks."
BY: CHRISTINE PARTHEMORE AND ANDY WEBER | warontherocks.com
How might America's nuclear weapons plans change in the years ahead? Buoyed by the revelation of President Donald Trump describing a potential secret new nuclear weapon system to Bob Woodward, continuing U.S.-Russian dialogue on nuclear weapons, and the upcoming November elections, experts are speculating about what the next four years may mean for U.S. nuclear policy.
Former Vice President Joe Biden has indicated that, if elected, he would seek a posture aligned with his stated belief "that the sole purpose of the U.S. nuclear arsenal should be deterring — and, if necessary retaliating against — a nuclear attack." This would be a pivot from Trump's 2018 Nuclear Posture Review, which elevated the role of nuclear weapons in U.S. defense planning by, among other things, describing America's nuclear forces as a hedge against large-scale conventional attacks and strategic cyber attacks. The declaratory shift — along with elevation of so-called low-yield nuclear options that are considered more usable, and support for more dual conventional and nuclear systems that could be indistinguishable in the absence of verification measures — increased concern that the Trump administration viewed nuclear weapons as acceptable for warfighting, not just deterrence.
Trump administration officials want to broaden the New START accord and warn that the price of a new deal will rise after the election. Joe Biden supports a straight five-year extension of the deal.
BY: David E. Sanger and Andrew E. Kramer | nytimes.com
President Trump had a pre-election plan to show he had gotten something out of his mysteriously friendly relationship with President Vladimir V. Putin of Russia.
In the weeks before the election, the two men would announce that they had reached an agreement in principle to extend New START, the last remaining major arms control agreement between the two countries. It expires on Feb. 5, two weeks after the next presidential inauguration.
Mr. Trump has long refused to sign off on a clean five-year extension of the agreement, a step both leaders could take without Senate approval. He has described the Obama-era treaty as deeply flawed — the same thing he said about the North American Free Trade Agreement and the Iran nuclear accord — because it did not cover all of Russia's nuclear arms, or any of China's.
How the US poisoned Navajo Nation.
BY: Ranjani Chakraborty and Melissa Hirsch  | vox.com
For decades, Navajo Nation was a primary source for the United States' uranium stockpile during the nuclear arms race. It was home to more than 700 uranium mines, which provided jobs to Navajo residents. But the mining industry came with impending peril. Cases of lung cancer and other diseases began cropping up in a community that had previously had few of them. Land, air, and water was poisoned. And on July 16, 1979, the mining led to the biggest radioactive spill in US history.
October 21, 2020
Ms. Fana Gebeyehu-Houston
NEPA Document Manager
National Nuclear Security Administration
Lawrence Livermore National Laboratory
P.O. Box 808, L-293, Livermore, CA 94551-0808
By Email to:LLNLSWEIS@nnsa.doe.gov
Re: Scoping Comments on the LLNL SWEIS
Dear NEPA Document Manager:
I appreciate this opportunity to submit comments on the scope of the National Nuclear Security Administration's (NNSA) Site-Wide Environmental Impact Statement (SWEIS) for the continued operation of the Lawrence Livermore National Laboratory (LLNL) Main Site in Livermore, CA and Site 300 high explosives testing range near Tracy, CA.
Nuclear Watch New Mexico is a nonprofit watchdog organization based in Santa Fe, New Mexico. We seek to promote safety and environmental protection at nuclear facilities; mission diversification away from nuclear weapons programs; greater accountability and cleanup in the nation-wide nuclear weapons complex; and consistent U.S. leadership toward a world free of nuclear weapons.
Pursuant to the National Environmental Policy Act the purpose of scoping is: "early identification of concerns, potential impacts, relevant effects of past actions and possible alternative actions." Therefore, I ask that the analyses I am requesting be fully undertaken – and my questions fully answered – in the draft SWEIS.
First, I am skeptical of the timing of the initiation of this new SWEIS for LLNL during the COVID-19 pandemic and just before the November 3 election. As a prerequisite, the
National Nuclear Security Administration (NNSA) should have already begun a nationwide programmatic environmental impact statement (PEIS) on expanded plutonium pit
production which would then inform the LLNL SWEIS of the Livermore Lab's role in that national effort, which is not insignificant. Following that pit production PEIS, both a
LLNL and Los Alamos National Laboratory SWEIS should proceed in parallel. It is particularly striking that NNSA is claiming NEPA compliance while relying on an
outdated Complex Transformation Supplemental PEIS and LANL SWEIS, both completed in 2008, and refusing to prepare new or supplemental ones.
The public will get a chance to comment and learn more about Los Alamos National Laboratory's plans to release radioactive vapors into the atmosphere from several barrels of tritium-tainted waste.
BY: SCOTT WYLAND | santafenewmexican.com
The federal agency that oversees the lab scheduled the meeting for Oct. 20 after three New Mexico delegates — U.S. Sens. Tom Udall and Martin Heinrich and U.S. Rep. Ben Ray Luján — wrote a letter calling for more transparency and public participation.
An open forum on the release of vapors from Cold War waste is especially important for Pueblo people and others who live near the site, the delegates said in the letter to the National Nuclear Security Administration.
"We strongly believe that protecting public health and safety must always be the highest priority at Los Alamos," they wrote in the Oct. 1 letter. "Safety is particularly important when there is a possibility of a release to the environment involving radioactive or hazardous materials."
The agency has said ventilating the containers is necessary to relieve built-up radioactive hydrogen in their headspace, so they can be safely handled and shipped to a commercial storage site.
Continue reading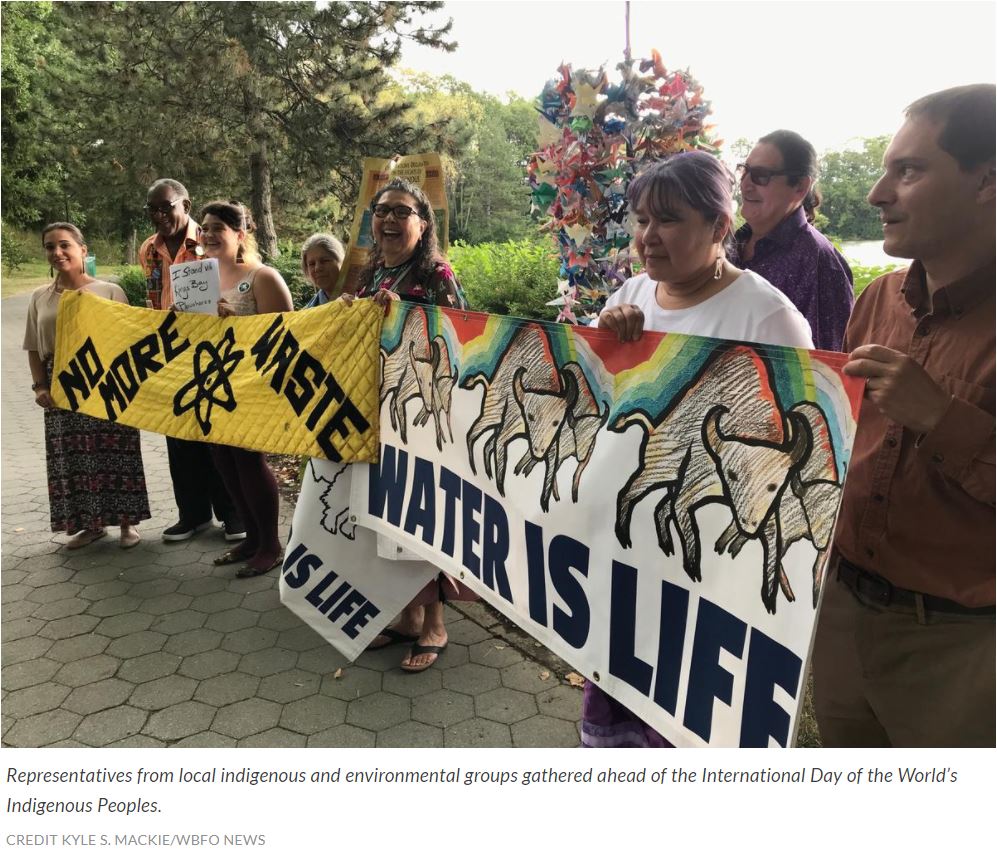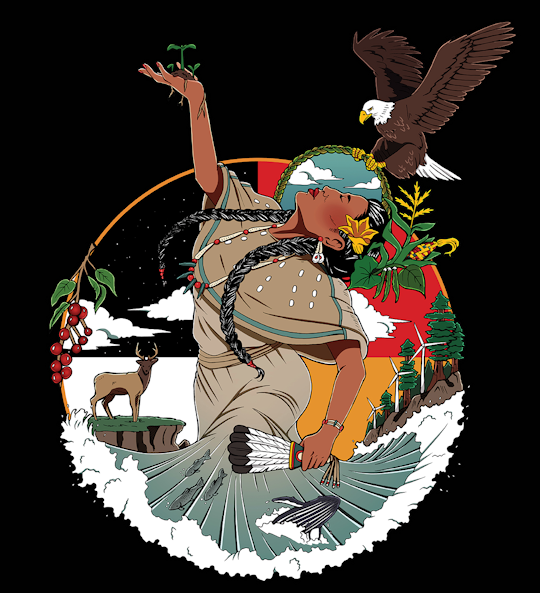 Today, on Indigenous People's Day 2020, we join our friends and speakers from indigenous rights and environmental groups from throughout the US in condemning nuclear colonialism. From uranium mining, milling, and processing, to atomic power and nuclear weapons, to radioactive waste – the resulting environmental injustices have disproportionately impacted Native Americans & other indigenous peoples.
---
Sarah Fields, Uranium Watch and Sierra Club Nuclear-Free CampaignLas Vegas, NV — Indigenous rights and environmental advocates from throughout the US condemned nuclear colonialism on what is recognized as "Columbus Day" Tuesday, October 11, 2016. Native Community Action Council held a press conference in front of the Thomas and Mac Moot Court at the Boyd Law School on the campus of UNLV for participants in the Native American Forum on Nuclear Issues at UNLV.
Defense Nuclear Facilities Safety Board (DNFSB) Report demonstrates beyond doubt that a FULL programmatic environmental impact statement on expanded plutonium pit production is needed, as well as new site-wide EIS for the Los Alamos Lab.
The 760 rem estimate is equal to 380,000 chest X-rays, said Dan Hirsch, retired director of programs on environment and nuclear policy at the University of California, Santa Cruz. "This is vastly above what's permissible for workers' exposure," Hirsch said, adding that far lower doses can cause cancer.
BY: SCOTT WYLAND | santafenewmexican.com
Los Alamos National Laboratory is storing hundreds, maybe thousands, of barrels of radioactive waste mixed with incompatible chemicals that have the potential to cause an explosion , putting workers and the public at risk, a government watchdog said in a report.
LANL personnel have failed to analyze chemicals present in hundreds of containers of transuranic nuclear waste, making it possible for an incompatible chemical to be mixed in and cause a container to burst, the Defense Nuclear Facilities Safety Board said in a September report.
Such an explosion would release radiation in doses lethal to workers and hazardous to the public, the safety board said. And yet the radiation levels that would be released have not been sufficiently estimated, it said.
Some of LANL's facilities store radioactive waste without any engineered controls or safeguards beyond the containers, the board wrote in a cover letter addressed to the U.S. Department of Energy.
Nuclear power is often promoted as one of the best ways to reduce our reliance on fossil fuels to generate the electricity we need, but new research suggests that going all-in on renewables such as wind and solar might be a better approach to seriously reducing the levels of carbon dioxide in the atmosphere.
BY: DAVID NIELD| sciencealert.com
Based on an analysis of 123 countries over a quarter of a century, the adoption of nuclear power did not achieve the significant reduction in national carbon emissions that renewables did – and in some developing nations, nuclear programmes actually pushed carbon emissions higher.
The study also finds that nuclear power and renewable power don't mix well when they're tried together: they tend to crowd each other out, locking in energy infrastructure that's specific to their mode of power production.
Given nuclear isn't exactly zero carbon, it risks setting nations on a path of relatively higher emissions than if they went straight to renewables.
The public information session will be hosted via Webex; people who wish to attend can join by following this link (meeting password GckhzZ5nv33), or call in by phone at 415-527-5035, access code 199 995 9074 if people do not have internet access.
Media Advisory
CONTACT: Peter Hyde, pahyde@lanl.gov
LOS ALAMOS, N.M., Oct. 8, 2020—The National Nuclear Security Administration is hosting a virtual public information session at 5 p.m. on Tuesday, Oct. 20, to inform the public about the process of venting Flanged Tritium Waste Containers (FTWCs) that are located at Los Alamos National Laboratory.
Flanged Tritium Waste Containers are pressure vessels specifically designed to contain waste metal that has been exposed to tritium. As the tritium ages and separates into helium and hydrogen, those gases can create pressure inside the container. This is expected and accounted for in the design.
To reduce the amount of waste stored on site, Los Alamos National Laboratory will ship the containers off-site to a licensed storage facility. In order to ship the containers, the pressurized gases inside the containers must be vented to meet regulatory requirements of the U.S. Department of Transportation (DOT).
The Department of Energy (DOE) has approved its plans to increase plutonium pit production at Los Alamos National Laboratory (LANL) by 50 percent as a way to comply with what is described in the 2018 Nuclear Posture Review as a need for "an effective, responsive, and resilient nuclear weapons infrastructure" that can "adapt flexibly to shifting requirements."
The Pentagon has stated it needs annual production of 80 plutonium pits, the triggers for nuclear weapons.  The DOE has approved its Supplement Analyses for four possible ways to execute this upgrade.
Continue reading
"NASA's absurd excuse for cleaning up so much less contamination than it promised is that it has discovered there is much more contamination at the site than it had previously realized," — cleanup activist Dan Hirsch, president of the Committee to Bridge the Gap
BY: Mike Harris | Ventura County Star vcstar.com
NASA has decided to clean up contaminated soil at its portion of the Santa Susana Field Laboratory site to a less stringent standard than it agreed to in a 2010 legally binding agreement with the state.
The federal agency announced its decision last week, outraging cleanup activists and some local officials.
The activists say NASA's planned cleanup, outlined in a formal Record of Decision, would leave 84% of its contaminated acres not remediated at the site outside Simi Valley.
That would violate a 2010 legally binding agreement — formally called an Administrative Order on Consent — NASA signed with the California Department of Toxic Substances Control to clean up its acres "to background," the most exacting standard.
"The proposed sites in Texas and New Mexico do not provide the deep geologic isolation required for permanent storage in order to minimize the risks of accidents, terrorism or sabotage which could disrupt the country's energy supply with catastrophic effects on the American economy," Abbott wrote to the president.
BY: ADRIANE HEDDEN | currentargus.com
Republican Texas Gov. Greg Abbott was the latest public official to oppose a proposed nuclear storage facility to be built near Carlsbad and Hobbs, along with another in West Texas.
In a Sept. 30 letter to President Donald Trump, Abbott wrote that he worried locating high-level nuclear waste facilities in the Permian Basin region could put the U.S.'s most active oil and gas field at risk.
Holtec International proposed building a consolidated interims storage facility (CISF) to hold spent nuclear fuel rods temporarily in southeast New Mexico while a permanent repository — as required by federal law — was developed.
Action Alerts
It seems we can't find what you're looking for. Perhaps searching can help.
Non-compliance with 2016 Consent Order causing unacceptable delays, threatening public health and the environment
Click above for more information on the entry into force of the Nuclear Ban Treaty
Nuclear Media
It seems we can't find what you're looking for. Perhaps searching can help.
More Nuclear News
For 50 years, Frank von Hippel has been working as a citizen-scientist to reduce the grave dangers to humankind from nuclear-weapon and nuclear-energy programs around the world. In this special collection of edited, illustrated and footnoted interviews, von Hippel describes in vivid personal detail the many policy battles he has taken on, the state of nuclear dangers today, and his hopes for a path forward.
Interviews by Tomoko Kurokawa | Journal for Peace and Nuclear Disarmament
Born into an illustrious scientific family that included his grandfather, Nobel laureate James Franck, a leader of the opposition within the Manhattan Project to the use of nuclear weapons against Japan, von Hippel got his PhD in physics from Oxford as a Rhodes Scholar. He was inspired by student activists opposed to the Vietnam War to move from teaching physics at Stanford into a career of policy activism based in Princeton University, where he co-founded the Program on Science and Global Security a leading international center for nuclear arms control, nonproliferation and disarmament research. During the 1980s, von Hippel joined the US citizens' uprising to "freeze" the nuclear arms race.
LANL Cleanup: What you can do
Please consider attending and giving public comments at local public meetings concerning cleanup at Los Alamos. Public comments do make a difference!
Follow NukeWatch and submit public written comments. We frequently comment on environmental impact statements and provide sample comments. Support Us: https://nukewatch.org/get-involved/donate/
Nuclear Watch New Mexico seeks to promote safety and environmental protection at regional nuclear facilities; mission diversification away from nuclear weapons programs; greater accountability and cleanup in the nation-wide nuclear weapons complex; and consistent U.S. leadership toward a world free of nuclear weapons.
Critical Events
It seems we can't find what you're looking for. Perhaps searching can help.
New & Updated
"After Brouillette and Gordon-Hagerty feuded last winter over the size of the NNSA's budget — a contest that broke in Gordon-Hagerty's favor when President Donald Trump requested roughly $20 billion as she recommended, instead of the $17.5 billion Brouillette preferred — Trump's second secretary of energy tightened his grip over the NNSA in ways that his predecessor, Rick Perry had not."
BY: EXCHANGEMONITOR

Secretary of Energy Dan Brouillette kept close tabs on then-National Nuclear Security Administration boss Lisa Gordon-Hagerty for months, sending chaperones to her meetings with Congress and monitoring her personal calendar before abruptly demanding her resignation last week, a source told Weapons Complex Morning Briefing.
It was a dramatic end to a year of strife between the two, who clashed over the size of the National Nuclear Security Administration's (NNSA) budget and provided the Washington nuclear policy establishment with the latest experimental data about exactly how much autonomy the NNSA and its nuclear weapons programs have from the broader DOE's nuclear-cleanup and energy programs.
Continue reading
"The proposed ISP facility imperils America's energy security because it would be a prime target for attacks by terrorists, saboteurs, and other enemies," read [Gov. Abbott's] letter. "Spent nuclear fuel is currently scattered across the country at various reactor sites and storage installations."
BY: Adrian Hedden | Carlsbad Current-Argus
Texas Gov. Greg Abbott continued to voice his disapproval against nuclear waste storage in the Permian Basin region in a letter last week to the federal Nuclear Regulatory Commission (NRC) opposing such a project in Andrews, Texas.
Interim Storage Partners (ISP), a joint venture between Waste Control Specialists and Orano USA, was formed in 2018 to request the NRC resume evaluation of an application submitted originally in 2016 to build a consolidated interim storage facility (CISF) that would hold spent nuclear fuel rods temporarily at the surface while a permanent repository is developed.
Abbott has been a frequent critic of the concept of a CISF and of siting such a facility in the Permian Basin, writing a letter to President Donald Trump in September to oppose CISFs in both Texas and New Mexico.
Was DOE uranium enrichment plant responsible for star athlete's cancer death?
BY: Cincinnati Investigative Journalist Duane Pohlman, WKRC | local12.com
PIKETON, Ohio (WKRC) – For the first time, Larry Farmer, the father of a local, All-American baseball pitcher, sat down for an exclusive interview with Local 12's Chief Investigative Reporter Duane Pohlman to talk about the life and death of his famous son, Zach Farmer, who passed away from leukemia five years ago, blaming his death on radioactive elements he believes drifted to his former family home from the now-closed Portsmouth Gaseous Diffusion Plant.
A LEGEND THAT LIVED TO BE ON THE MOUND
Larry says Zach — the legendary southpaw from Piketon — was a natural from the beginning.
"No one could hit off him," Larry said with a grin, adding that his son would routinely have 15 to 19 strikeouts a game, often leading the Piketon Red Streaks to victory.

"He lived to be on the mound," his dad said, looking away and pausing to recall his son's brilliant playing days.
At Piketon High School, Zach achieved more than nearly every other baseball player in Ohio history, including 599 strikeouts (No. 2 in Ohio High School Athletic Association history) and an overall record of 38-7, (No. 3 on the OHSAA list). He was even incredible at the plate with a head-spinning .505 batting average.
"Nuclear modernization plans may change. Flournoy's desire for a strong deterrent for China includes a nuclear deterrent. But given the costs of the ongoing nuclear modernization strategy, Flournoy wants to consider all options."
BY: Aaron Mehta | defensenews.com
WASHINGTON — On June 20, 2016, then-Vice President Joe Biden delivered keynote remarks at an event hosted by the Center for a New American Security, the think tank founded and, at that point, led by Michèle Flournoy.
Flournoy introduced Biden, praising him as a national security thinker and noting the ties between his staff at the White House and CNAS. Biden, in turn, acknowledged the little-kept secret of the defense world: that Flournoy was in line to become the first woman to serve as defense secretary under President Hillary Clinton.
"Well, madam secretary," Biden said with a laugh as the crowd applauded. "I'm writing a recommendation for her, you know."
The Clinton administration never materialized, following the election of President Donald Trump. But four years later, president-elect Biden is widely expected to fulfill his promise and tap Flournoy to lead the U.S. military.
"Given the importance of SWPF and this initial phase of its operation, updates must be frequent and honest by DOE, not delayed and incomplete," – Tom Clements, director of SRS Watch
Columbia, South Carolina – An independent safety board that monitors activities of the U.S. Department of Energy reports a "hard shutdown" during the initial startup of cesium removal from high-level nuclear waste at the Salt Waste Processing Facility (SWPF) at DOE's Savannah River Site (SRS).
This is the second time that DOE has failed to mention a significant startup problem at SWPF, potentially undermining trust in its reporting to the public on the initial operations of this key facility to process liquid high-level nuclear waste, according to the public interest organization Savannah River Site Watch (SRS Watch).  SWPF began "hot commissioning" involving radioactive liquid on October 5, 2020.
Several nuclear waste experts are urging members of Congress and the public to oppose any proposals to transport highly radioactive nuclear waste from power plants to temporary or long-term storage sites.
BY: Michael Gerstein mgerstein@sfnewmexican.com | santafenewmexican.com
Researchers with multiple groups dedicated to analyzing the potential consequences of nuclear waste storage said Friday they have major concerns with plans to transport spent fuel to other parts of the country — even for permanent storage at a place such as Yucca Mountain in Nevada.
Work on the Yucca Mountain Nuclear Waste Repository has been stalled for nearly a decade.
Waste is gathered at about 80 sites across the nation as the federal government continues looking for a permanent solution for highly radioactive spent nuclear fuel, spurring environmental and health worries.
The issue is of critical concern for New Mexico because Florida-based Holtec International has proposed creating a temporary storage facility about halfway between Carlsbad and Hobbs, where nuclear waste would be stored until the federal government forms a permanent facility.
More than 100 people tuned in to a virtual community engagement meeting hosted by the New Mexico Environment Department (NMED) Thursday evening where the proposed venting of four flanged tritium waste containers at Los Alamos National Laboratory, contain at Middle DP Road and the 2016 Consent Order were the main topics addressed.
BY: MAIRE O'NEILL | losalamosreporter.com
Stephanie Stringer, NMED Resource Protection Division Director, discussed a temporary authorization request from LANL for the venting of four flanged tritium waste containers currently stored at LANL. She said the containers were packaged at LANL's Weapon Engineering Tritium Facility in 1996 and 1997 and were moved to Technical Area 54 in 2007.
Stringer said radiolysis of tritiated water in the containers over time has potentially resulted in hazardous concentrations of flammable hydrogen and oxygen mixture in the headspace of the FTWCs. She said the containers where they're stored right now do not meet the Department of Transportation requirements and cannot be moved without releasing that pressure or treating the waste containers, so they need to be vented prior to transport, treatment and final disposal.
"It is difficult to imagine a military justification for such an increase in the number of nuclear bombers – even without New START."
BY: HANS KRISTENSEN | fas.org
The US Air Force is working to expand the number of strategic bomber bases that can store nuclear weapons from two today to five by the 2030s.
The plan will also significantly expand the number of bomber bases that store nuclear cruise missiles from one base today to all five bombers bases by the 2030s.
The expansion is the result of a decision to replace the non-nuclear B-1B bombers at Ellsworth AFB and Dyess AFB with the nuclear B-21 over the next decade-and-a-half and to reinstate nuclear weapons storage capability at Barksdale AFB as well.
The expansion is not expected to increase the total number of nuclear weapons assigned to the bomber force, but to broaden the infrastructure to "accommodate mission growth," Air Force Global Strike Command Commander General Timothy Ray told Congress last year.
On 7 July 2017, the Treaty on the Prohibition of Nuclear Weapons (TPNW) was adopted by the UN General Assembly. Just over three years later, the TPNW reached the 50 national ratifications needed to become international law. The treaty will enter into force on January 22, 2012, and nuclear weapons will become officially illegal under international law. This day will represent a culmination of years of campaigning for nuclear weapons to be reframed as a collective humanitarian problem, one which requires prohibition and elimination, rather than a national military defense asset that needs to be managed and even upgraded.
"Her resignation came after a budget dispute between the NNSA and Brouillette and other officials spilled into the open earlier this year."
BY: Ari Natter and Jennifer Jacobs | bloomberg.com
The U.S. official overseeing the nation's nuclear weapons stockpile resigned Friday after clashing with Energy Secretary Dan Brouillette.
Lisa E. Gordon-Hagerty, administrator of the National Nuclear Security Administration and undersecretary of Energy for nuclear security, resigned after being told by Brouillette's office that President Donald Trump had lost faith in her ability to do her job, according to two people familiar with the matter.
Some administration officials were disappointed that she'd been pushed out, saying that she was widely viewed by those in her field as capable, the people said.
"The dangers of tritium come from inhalation, ingestion, and absorption… when the radionuclide unites with carbon in the human body, plants, or animals, it becomes organically bound (OBT) and can remain in the human body for 450 to 650 days. One study found traces of tritium in the body 10 years after exposure."
November 4, 2020
The Los Alamos National Laboratory (LANL) proposes to vent up to 114,000 curies of radioactive tritium gas to the open atmosphere while claiming that it poses no public health and safety risks. Public outcry and congressional pressure prompted the National Nuclear Security Administration (NNSA) to host a public information virtual meeting on this issue on October 20. Due to the overwhelming turnout of some 150 interested citizens and ear-splitting technical difficulties NNSA is holding another public virtual meeting at 5:00 pm Thursday November 5.
Interested citizens can join the discussion at https://www.lanl.gov/environment/flanged-tritiumwaste-containers.shtml
If you wish to speak or ask questions you should pre-register at the same site.
Must Reads
It seems we can't find what you're looking for. Perhaps searching can help.
Quotes
Mikhail Gorbachev tells the BBC: World in 'colossal danger'
The former Soviet leader Mikhail Gorbachev has warned that current tension between Russia and the West is putting the world in "colossal danger" due to the threat from nuclear weapons. In an interview with the BBC's Steve Rosenberg, former President Gorbachev called for all countries to declare that nuclear weapons should be destroyed.
Trump has pursued normalisation of relations with North Korea – a state that openly tested and detonated nuclear devices – while withdrawing from a nuclear deal with Iran, which was strictly abided by all provisions and was not working on developing a nuclear bomb."
Trump's mismanagement of the nuclear issue in the Middle East is damaging the international nonproliferation regime.
– Navajo Nation President Jonathan Nez.
"The impact is not only physical, but spiritual and emotional."
Effects of radiation exposure on locals studied
On Monday, U.S. Sen. Tom Udall, D-N.M., served as chair of the Senate Indian Affairs Committee hearing in Albuquerque to examine radiation exposure effects in Indian Country. Udall was joined by U.S. Reps. Ben Ray Luján and Deb Haaland for the hearing at the Southwest Indian Polytechnic Institute. For much of the 20th century, New Mexicans were not warned about the health effects of working or living near uranium mines or nuclear test sites. Radiation exposure still affects residents today, including a disproportionate number of Native Americans.
— UN Secretary-General António Guterres