Through comprehensive research, public education and effective citizen action, Nuclear Watch New Mexico seeks to promote safety and environmental protection at regional nuclear facilities; mission diversification away from nuclear weapons programs; greater accountability and cleanup in the nation-wide nuclear weapons complex; and consistent U.S. leadership toward a world free of nuclear weapons.
New & Updated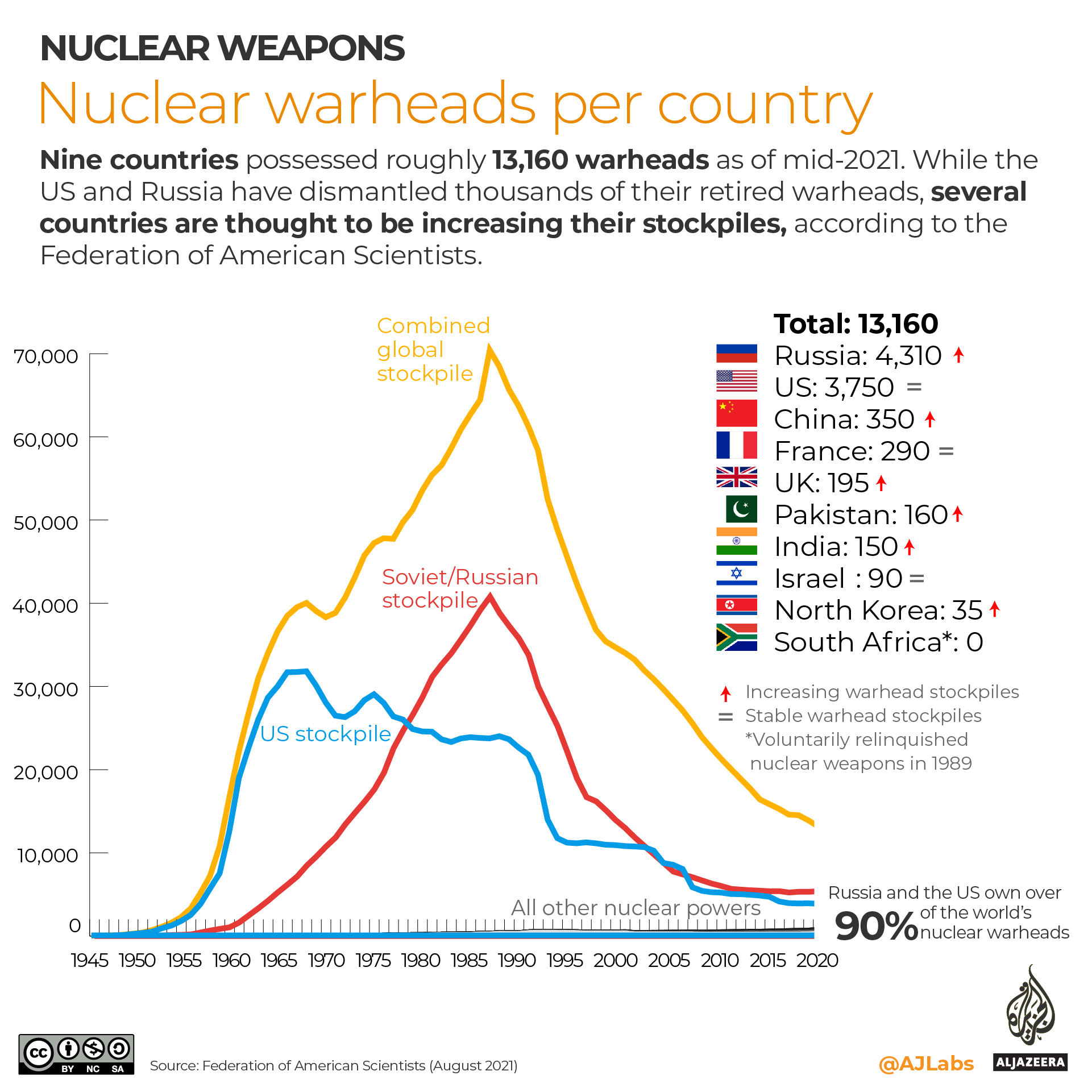 While 32 countries generate atomic energy, nine have nuclear weapons and seven countries have both.
By Mohammed Haddad and Hanna Duggal Al Jazeera aljazeera.com
Nuclear warheads per country
Nine countries possessed roughly 13,150 warheads as of August 2021, according to the Federation of American Scientists. More than 90 percent are owned by Russia and the US.
At the peak in 1986, the two rivals had nearly 65,000 nuclear warheads between them, making the nuclear arms race one of the most threatening events of the Cold War. While Russia and the US have dismantled thousands of warheads, several countries are thought to be increasing their stockpiles, most notably China.
According to the Pentagon's 2021 annual report (pdf), China's nuclear warhead stockpile is expected to more than triple and reach at least 1,000 by 2030.
The only country to voluntarily relinquish nuclear weapons is South Africa. In 1989, the government halted its nuclear weapons programme and in 1990 began dismantling its six nuclear weapons. Two years later, South Africa joined the Treaty on the Non-Proliferation of Nuclear Weapons (NPT) as a non-nuclear country.
With the 26th UN Climate Change Conference over, nations are making plans to move to green energy in a bid to tackle global warming.
But nuclear energy is a particular sticking point. While it is the largest source of low-carbon electricity in OECD countries, some nations have spoken out against the categorisation of nuclear energy as climate-friendly.
Across the globe, 34 countries harness the power of splitting atoms for generating electricity or for nuclear weapons. (Al Jazeera)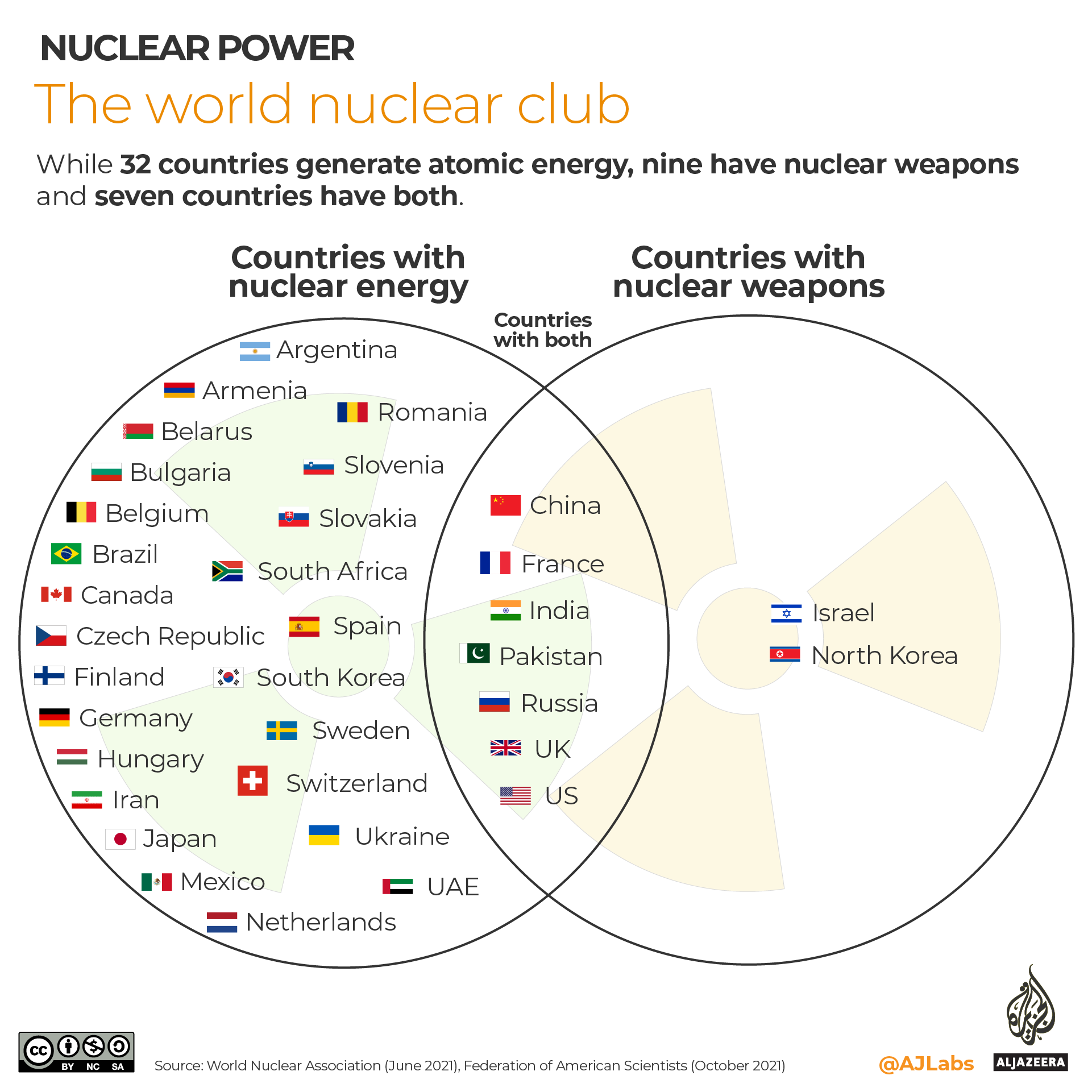 Global nuclear energy
Nuclear energy provides roughly 10 percent of the world's electricity. Of the 32 countries with nuclear power reactors, more than half (18) are in Europe. France has the world's highest proportion of its electricity – at 71 percent – coming from atomic power.
Up until 2011, Japan was generating some 30 percent of its electricity from nuclear reactors; however, following the Fukushima disaster, all nuclear power plants were suspended for safety inspections. As of 2020, just 5 percent of Japan's electricity came from nuclear power, according to the World Nuclear Association.
Nuclear power constitutes some 20 percent of the United States' electricity. About 60 percent of the country's energy comes from fossil fuels, including coal, natural gas and petroleum, with the remaining 20 percent coming from renewable sources – wind, hydro and solar.
ACTION ALERTS
It seems we can't find what you're looking for. Perhaps searching can help.
It seems we can't find what you're looking for. Perhaps searching can help.
Interfaith Panel Discussion on Nuclear Disarmament - August 9

It seems we can't find what you're looking for. Perhaps searching can help.
Posts Related to: NUCLEAR SAFETY
An October 27 press release from the Project on Government Oversight (POGO)
"Defense Board Catches Los Alamos Trying to Dodge Plutonium Safety Vulnerability" revolves around a new Defense Nuclear Facilities Safety Board (DNFSB) revelation of public safety vulnerability and seismic issues at TA-55 (The Lab's plutonium Technical Area).
The DNFSB has been very patient on the safety issues at TA-55. In a September 23, 2005 weekly report, they stated that LANL needed to try to justify a passive confinement strategy, continue plans to reduce radioactive materials, and to seismically upgrade the glove-box supports that have not already been upgraded. These issues are still unaddressed as of the latest DNFSB report.
Seismic issues run deep at Los Alamos. NNSA currently has plans to construct and operate the Chemistry and Metallurgy Research Replacement–Nuclear Facility (CMRR–NF) to support plutonium operations as a replacement for portions of the Chemistry and Metallurgy Research (CMR) facility, a 1950's structure that faces significant safety and seismic challenges. In 1999, a fault was discovered under the old CMR building, which has been neglected, contaminated, and has several abandoned wings. This fault was the major reason given to build a new facility 1.2 miles away at TA-55.
The Lab has big plans for plutonium. In December 2008, NNSA released a Record of Decision for its Complex Transformation Environmental Impact Statement that keeps manufacturing and research and development involving plutonium at Los Alamos and blesses the building of the CMRR-NF. This decision was a combination of two alternatives – a Distributed Centers of Excellence and a Capability-Based alternative. But to compensate for the nearby fault lines, the CMRR-NF is now being designed with 10-foot thick concrete floors and there are plans being designed to pump grout into a layer of fragile volcanic ash under the proposed facility. Current construction estimates for this facility are $2 billion.
The Lab has been negligent in taking care of its plutonium flagship, TA-55. It has not been a good steward of plutonium missions. Los Alamos is the wrong location, seismically. Congress must seriously consider ending this unnecessary plutonium work.