Through comprehensive research, public education and effective citizen action, Nuclear Watch New Mexico seeks to promote safety and environmental protection at regional nuclear facilities; mission diversification away from nuclear weapons programs; greater accountability and cleanup in the nation-wide nuclear weapons complex; and consistent U.S. leadership toward a world free of nuclear weapons.
New & Updated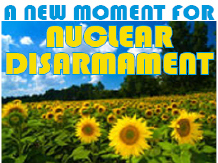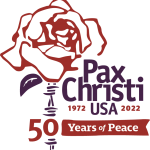 Pax Christi USA paxchristiusa.org | January 10, 2021 
 NOTE: The following press release is from the Archdiocese of Santa Fe announcing a press conference on Tuesday, January 11th, where the Archbishop will discuss his pastoral letter, "Living in the Light of Christ's Peace: A Conversation Toward Nuclear Disarmament". Pax Christi USA has eagerly anticipated the archbishop's letter and we wanted to share the release with our membership who can watch the press conference at the link provided in the email. As we approach the 25th anniversary of our statement on the morality of nuclear deterrence, signed by 75 U.S. Catholic bishops in 1998, we welcome this extraordinary, prophetic letter and look forward to the conversation it generates within the U.S. Catholic Church, supporting Pope Francis' statement at Hiroshima in 2019, "The use of atomic energy for purposes of war is immoral, just as the possessing of nuclear weapons is immoral."
---
ALBUQUERQUE – Monday, January 10, 2022 – IMMEDIATE RELEASE – Most Reverend John C.Wester, Archbishop of Santa Fe, will hold a press conference for accredited media to discuss is pastoral letter, "Living in the Light of Christ's Peace: A Conversation Toward Nuclear Disarmament" on Tuesday, January 11, 2022 at 9:00 a.m. MST via Zoom (https://us02web.zoom.us/j/83010373874?pwd=QTkvTkZpNDRlbDBiNWd3dU9IRnhWUT09). The press conference will be livestreamed at https://youtu.be/kHS2C1wIBeQ.
Archbishop Wester will release his pastoral letter on the urgent need for nuclear disarmament and avoiding a new nuclear arms race. Pope Francis has made clear statements about the immorality of possessing nuclear weapons, moving the Church from past conditional acceptance of "deterrence" to the moral imperative of abolition. The Archdiocese of Santa Fe has a special role to play in advocating for nuclear disarmament given the presence of two nuclear weapons laboratories and the United States of America's largest repository of warheads located within its boundaries. He therefore believes the archdiocese has a unique role to play in encouraging a future world free of nuclear weapons.
Archbishop Wester states, "The Archdiocese of Santa Fe has a special responsibility not only to support the Treaty on the Prohibition of Nuclear Weapons, but also to encourage its active implementation." He goes on to "…invite us to have a conversation together about what it means to follow the risen, nonviolent Jesus who calls us to be peacemakers, put down the sword, and love everyone, even the enemies of our nation."
Archbishop Wester's pastoral letter has the support of four Nobel Peace Prize laureates.
CRITICAL EVENTS
It seems we can't find what you're looking for. Perhaps searching can help.
It seems we can't find what you're looking for. Perhaps searching can help.

NUKEWATCH IN WASHINGTON
Nuclear Watch New Mexico was in DC the last week of April, talking to congress and top officials on critical nuclear weapons and waste issues as part of the Alliance for Nuclear Accountability's 35th annual DC Days 2023.
Interfaith Panel Discussion on Nuclear Disarmament - August 9
Interfaith Panel Discussion on the 77th Anniversary of the Atomic Bombing of Nagasaki, Japan
Posts Related to: NUCLEAR SAFETY
An October 27 press release from the Project on Government Oversight (POGO)
"Defense Board Catches Los Alamos Trying to Dodge Plutonium Safety Vulnerability" revolves around a new Defense Nuclear Facilities Safety Board (DNFSB) revelation of public safety vulnerability and seismic issues at TA-55 (The Lab's plutonium Technical Area).
The DNFSB has been very patient on the safety issues at TA-55. In a September 23, 2005 weekly report, they stated that LANL needed to try to justify a passive confinement strategy, continue plans to reduce radioactive materials, and to seismically upgrade the glove-box supports that have not already been upgraded. These issues are still unaddressed as of the latest DNFSB report.
Seismic issues run deep at Los Alamos. NNSA currently has plans to construct and operate the Chemistry and Metallurgy Research Replacement–Nuclear Facility (CMRR–NF) to support plutonium operations as a replacement for portions of the Chemistry and Metallurgy Research (CMR) facility, a 1950's structure that faces significant safety and seismic challenges. In 1999, a fault was discovered under the old CMR building, which has been neglected, contaminated, and has several abandoned wings. This fault was the major reason given to build a new facility 1.2 miles away at TA-55.
The Lab has big plans for plutonium. In December 2008, NNSA released a Record of Decision for its Complex Transformation Environmental Impact Statement that keeps manufacturing and research and development involving plutonium at Los Alamos and blesses the building of the CMRR-NF. This decision was a combination of two alternatives – a Distributed Centers of Excellence and a Capability-Based alternative. But to compensate for the nearby fault lines, the CMRR-NF is now being designed with 10-foot thick concrete floors and there are plans being designed to pump grout into a layer of fragile volcanic ash under the proposed facility. Current construction estimates for this facility are $2 billion.
The Lab has been negligent in taking care of its plutonium flagship, TA-55. It has not been a good steward of plutonium missions. Los Alamos is the wrong location, seismically. Congress must seriously consider ending this unnecessary plutonium work.

It seems we can't find what you're looking for. Perhaps searching can help.